As the larger landmass of the two major islands in New Zealand, the South Island (Te Waipounamu) is highly renowned for its majestic natural landscapes given its number of breathtaking glaciers, mountains and lakes. (Things to do in South Island)
Though you might be wondering now: "What's the difference between the two islands?" Well… the way I see it, the North Island (Te Ika-a-Māui) holds a greater deal of Māori culture and geothermal wonders — whereas the South Island is predominantly packed with rugged wilderness and thrilling adventures!
That being said, there is a wide range of spectacular activities that you can check off on your bucket list here. In fact, to make it hassle-free for you, I have listed below the top must-do's and must-see's for your New Zealand adventure in the South Island! The best part…? You can do most of these epic activities if you join a road trip adventure with Wild Kiwi!
Top photo of Mt. Cook from Shutterstock.com
.
#1 – Step into Fiordland National Park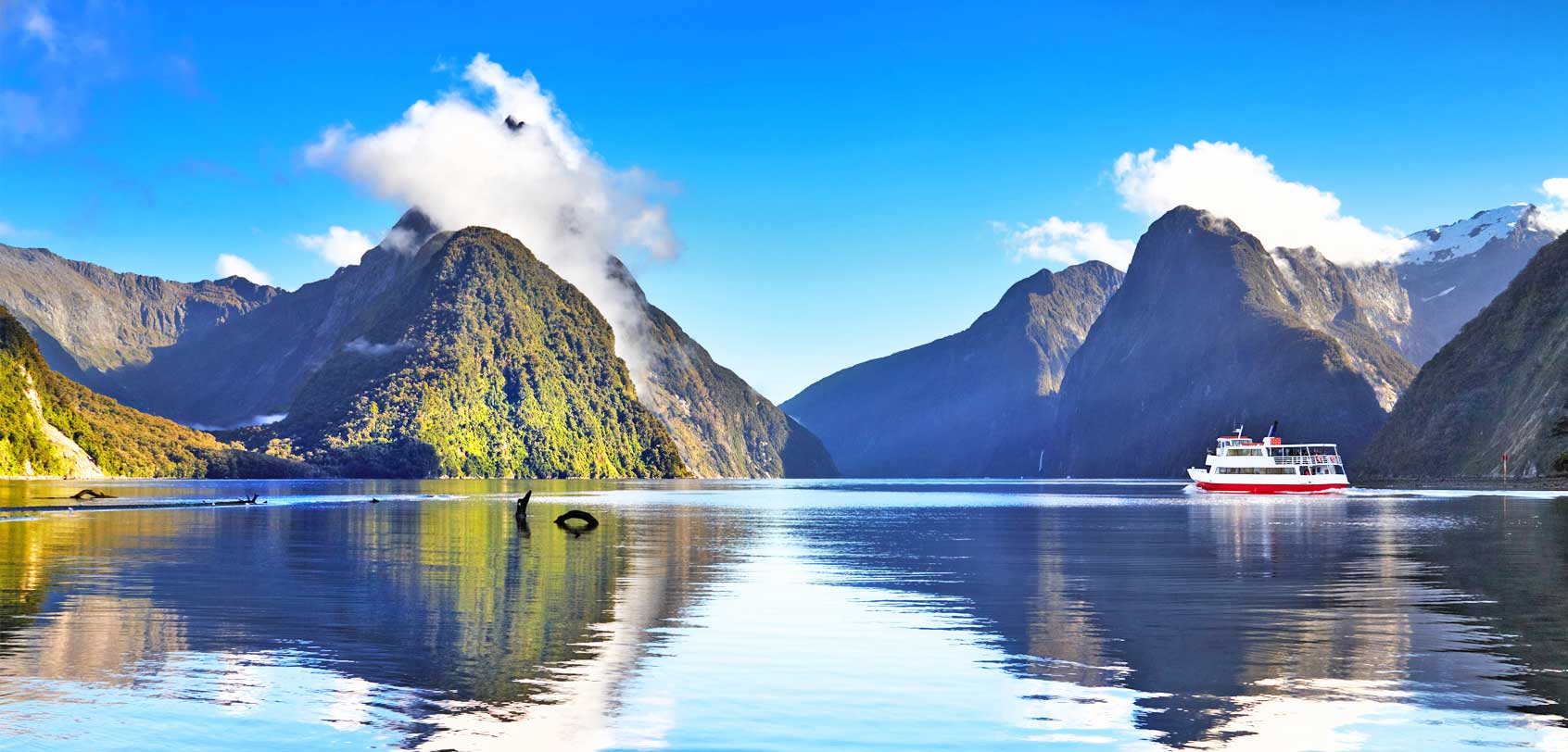 Milford Sound from Shutterstock.com
This is a famous UNESCO World Heritage site that is known for its glacier-carved fiord of Doubtful and Milford Sounds (large sea inlets) which can be explored by air, by boat or by foot. I personally visited Milford Sound by doing a scenic cruise through its waters, and you bet that I had a swell time witnessing the towering Mitre Peak in the distance as well as the sound's two majestic waterfalls: Lady Bowen Falls and Stirling Falls.
Though truth be told, en route to Milford Sound with Wild Kiwi, we had to make so many stops along the way because the surrounding terrain was just far too breathtaking — you'll understand what I mean when you get to this national park yourself!
Now for the array of activities that you can do in Milford Sound, you can choose from any of the below:
#2 – Explore Marlborough Sounds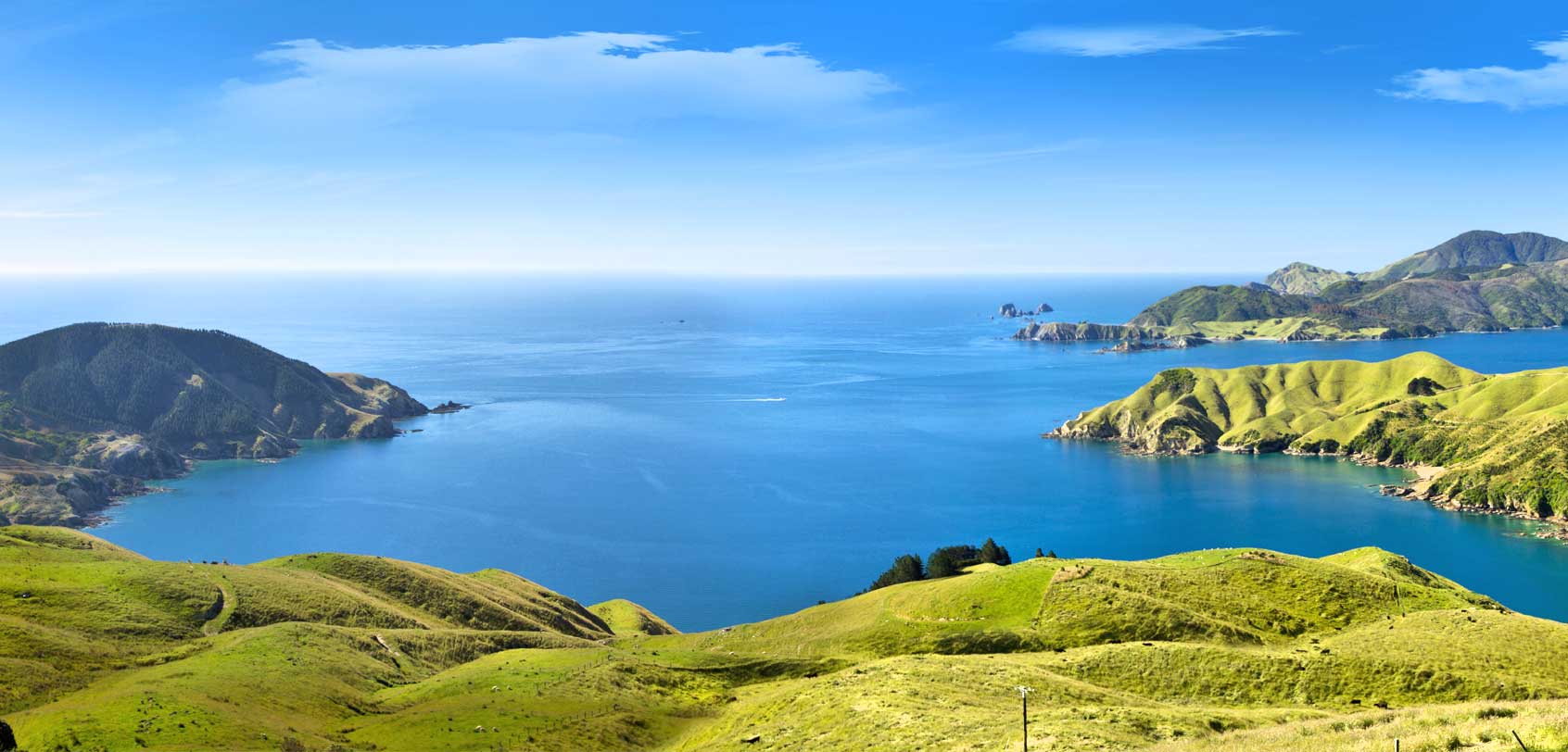 Marlborough Sounds from Shutterstock.com
Found at the northern end, the Marlborough Sounds is a collection of ancient sunken river valleys that you need to include on your things to do in South Island! After all, it is home to spectacular rugged coastlines, abundant marine reserves, pristine islands, and historic sites — needless to say, there is an array of activities that you can do here! Some of the notable ones are doing the Queen Charlotte Track, driving down the French Pass, swimming with dolphins, or just cruising around the Marlborough Sounds.
For a complete list of options, you can check by here.
.
#3 – Experience natural spas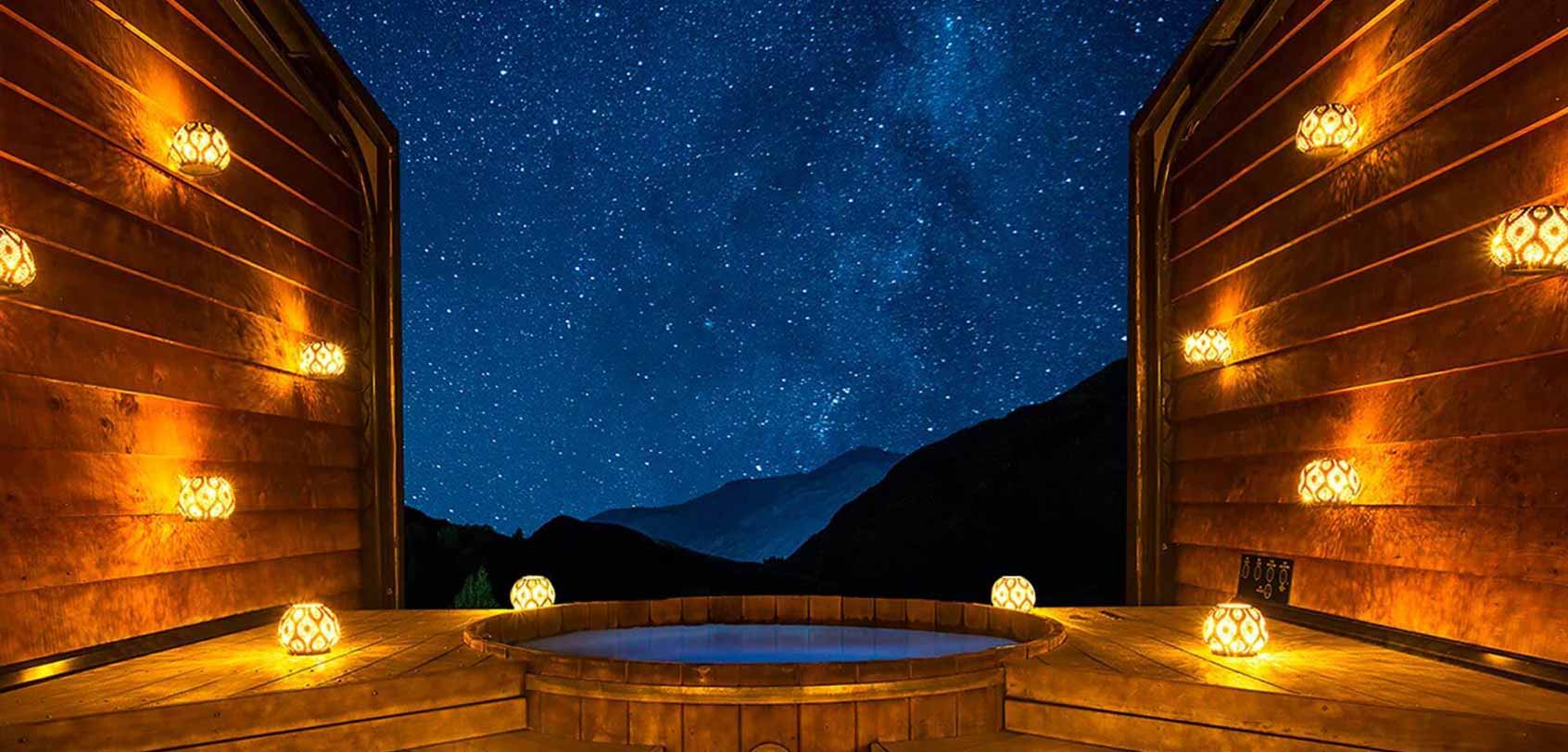 Photo from Onsen Hot Pools
The North Island may be full of geothermal spas, but the South Island has its own specialties too, namely…
Welcome Flat Hot Pools: It takes a bit of a hike through Copland Track to reach this place but you will surely be rewarded by stunning alpine views along the trail — not to mention, you'll have the pools at the end to enjoy that actually range in temperature and can accommodate up to 10 to 12 people.


.

Hanmer Springs Thermal Pools: This is a thermal pool complex that is an easy 90-minute drive from Christchurch! A great place to indulge, there are several types of pools for you to enjoy here such as sulphur pools, water jets, rock pools, and more!


.

Franz Josef Glacier Hot Pools: After a day of hiking, reward yourself with a relaxing dip in the Franz Josef Glacier Hot Pools. This is open until 9:00PM and you can choose to soak in one of the 3 main outdoor pools that range from 36 to 41 degree Celsius (if you want privacy, there are also private pools available).


.

Onsen Hot Pools: If you want something boutique and luxurious, the Onsen Hot Pools in Queenstown will be your best bet. With its high cliffside location that overlooks the Shotover River canyon, you are always guaranteed utter relaxation with a view!


.
#4 – Go fishing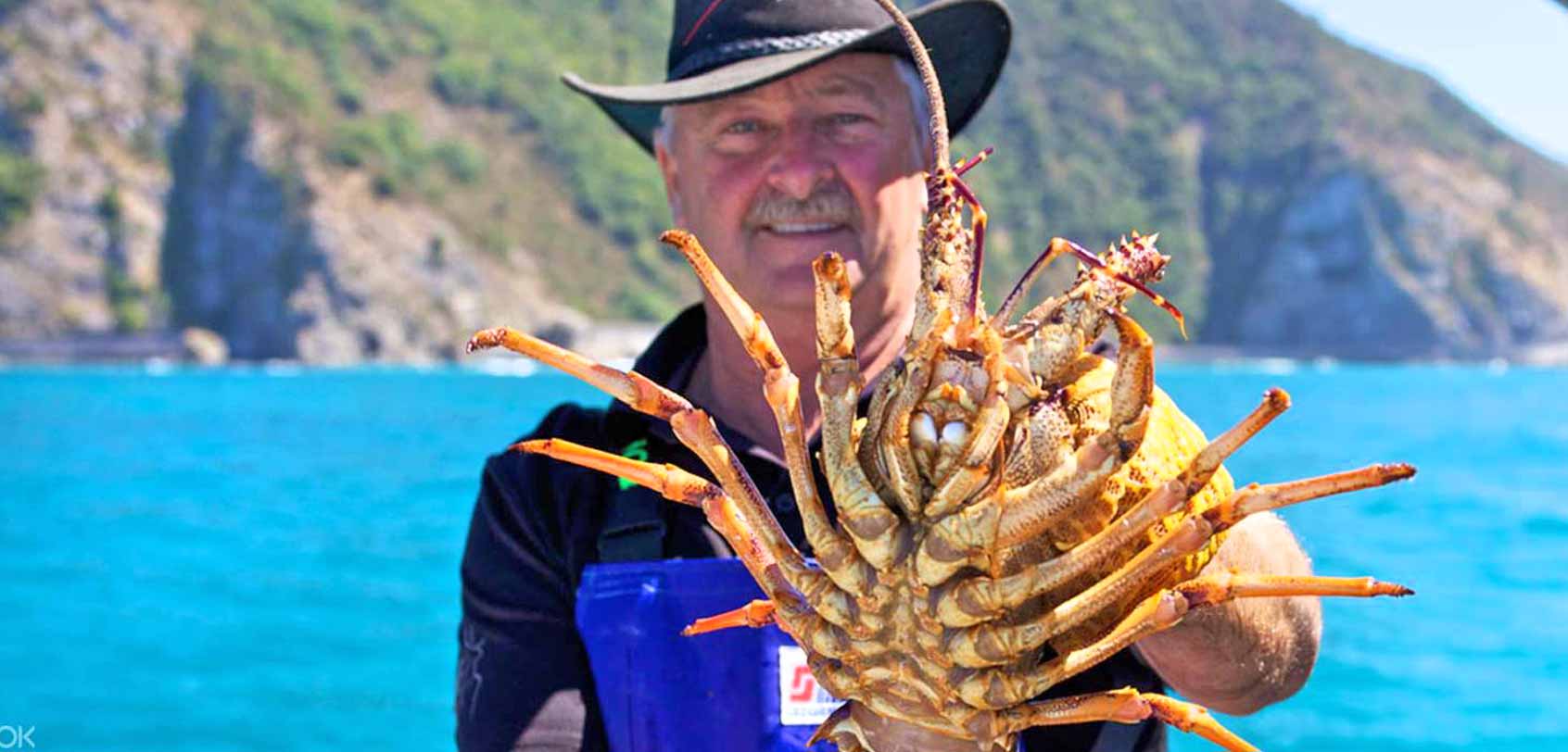 Famous for its abundant wildlife and rich sea resources, Kaikoura is a top choice destination for those looking for an excellent fishing experience! So with a special tour, I suggest hopping on board a boat to venture out to Kaikoura's fishing grounds. Rest assured, you'll be with a knowledgeable captain who will not only teach you how to fish but who will also tell you about the town's famous crayfish/lobsters. It will surely be all effortless though with the electric reels that they have so get ready to snap some photos to commemorate the affair! (You could even be lucky and find yourself swarmed by dolphins or seals while out in the sea!).
By the end of the tour, you can choose to release your catch back to the ocean or have them bagged so you can take them home fresh to cook and enjoy.
.
#5 – Go up high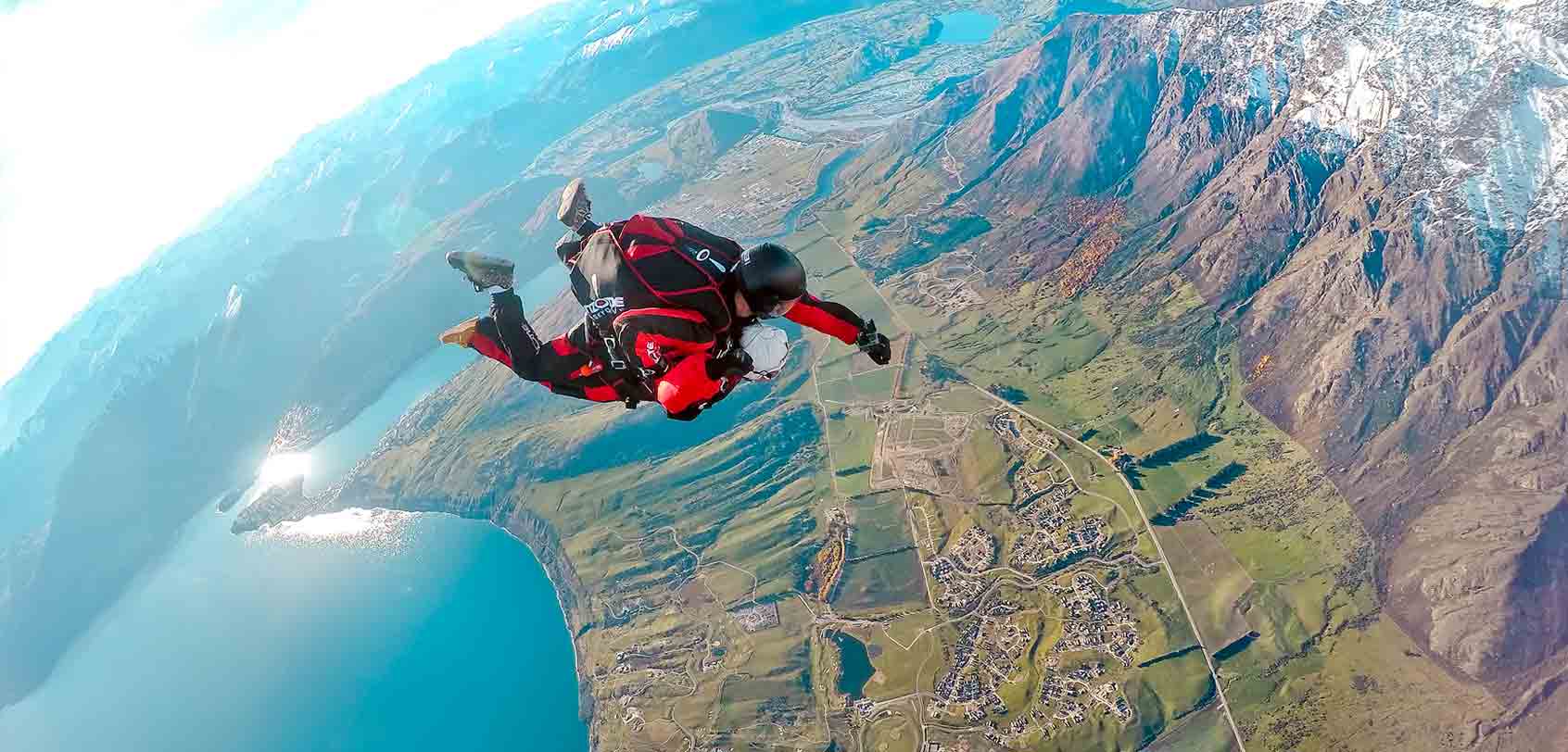 As the land of adventure and breathtaking landscapes, admiring New Zealand from up high is a MUST on your things to do in South Island!
Sky diving: Dive with highly-trained tandem skydiving instructors and free fall from thousands of feet in the air — it's sure to be an experience that will leave you speechless (and you'll even get to go home with bragging rights!). For this, I suggest doing it either in Queenstown or Wanaka.

Gondola Ride: For a less thrilling experience, you can also get 360-degree panoramic views of the South Island by taking a gondola ride and to date, you can either do this in Queenstown or Christchurch.


.

Hot Air Balloon Ride: Though if you want something a bit more unique yet still relaxing, choose to do a sunrise hot air balloon ride over Queenstown so that you can see the Southern Alps and Lake Wakatipu in all its golden glory. It will even come with a champagne breakfast full of pastries, fruits, and hot drinks. (To reserve your spot, book here).


.
#6 – Go jump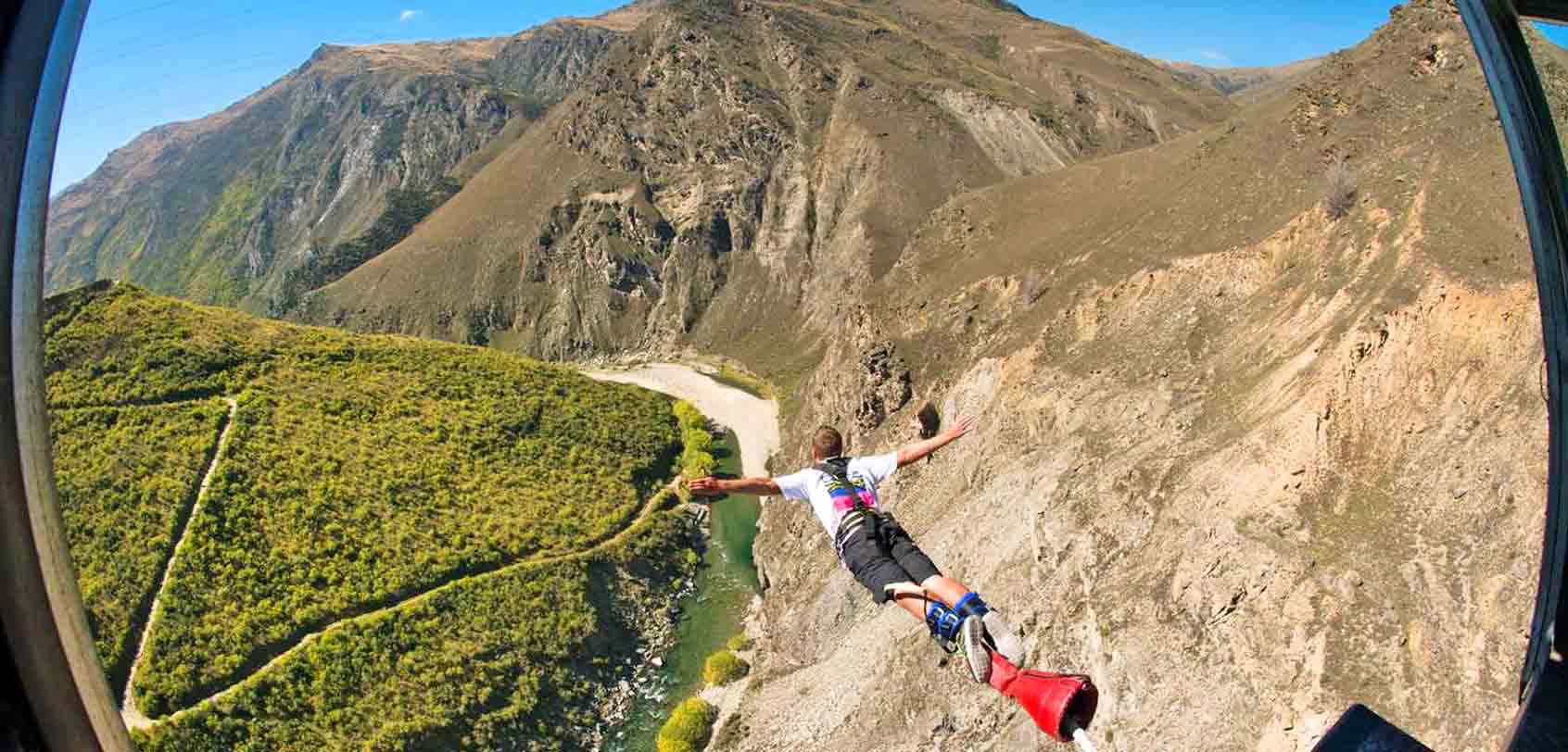 Did you know that New Zealand invented bungy jumping? …Well okay, technically, people in Oceania have been leaping from tall towers for centuries — BUT, it was a group of Kiwis who commercialized bungee / bungy jumping in the 1980's, and as you know: the rest is history. Given this fact, it will be a blast to challenge your fears and do a bungy jump in the country that started it all. For the best places, see below…
Kawarau Bridge Bungy: This is said to be the worlds 1'st commercial bungy jump where you get to jump 43 meters off from the Kawarau Bridge. If you want to share the thrill, you can also have a tandem bungy jump with a friend! (To reserve your spot, book here).


.

Nevis Bungy: This is New Zealand's highest bungy jump as it stands 134 meters over the Nevis River — as such, you're sure to have this as a precious memory! (To reserve your spot, book here. You can also pair this with the Nevis Swing as a here).


.

The Ledge Bungy: With this activity, you can jump above Queenstown and since it has a full body harness, you have the freedom to choose from several types of jumps (they even have a 'Jump Menu') or you can just invent/freestyle your own! (To reserve your spot, book here).


.
#7 – …Or "swing"!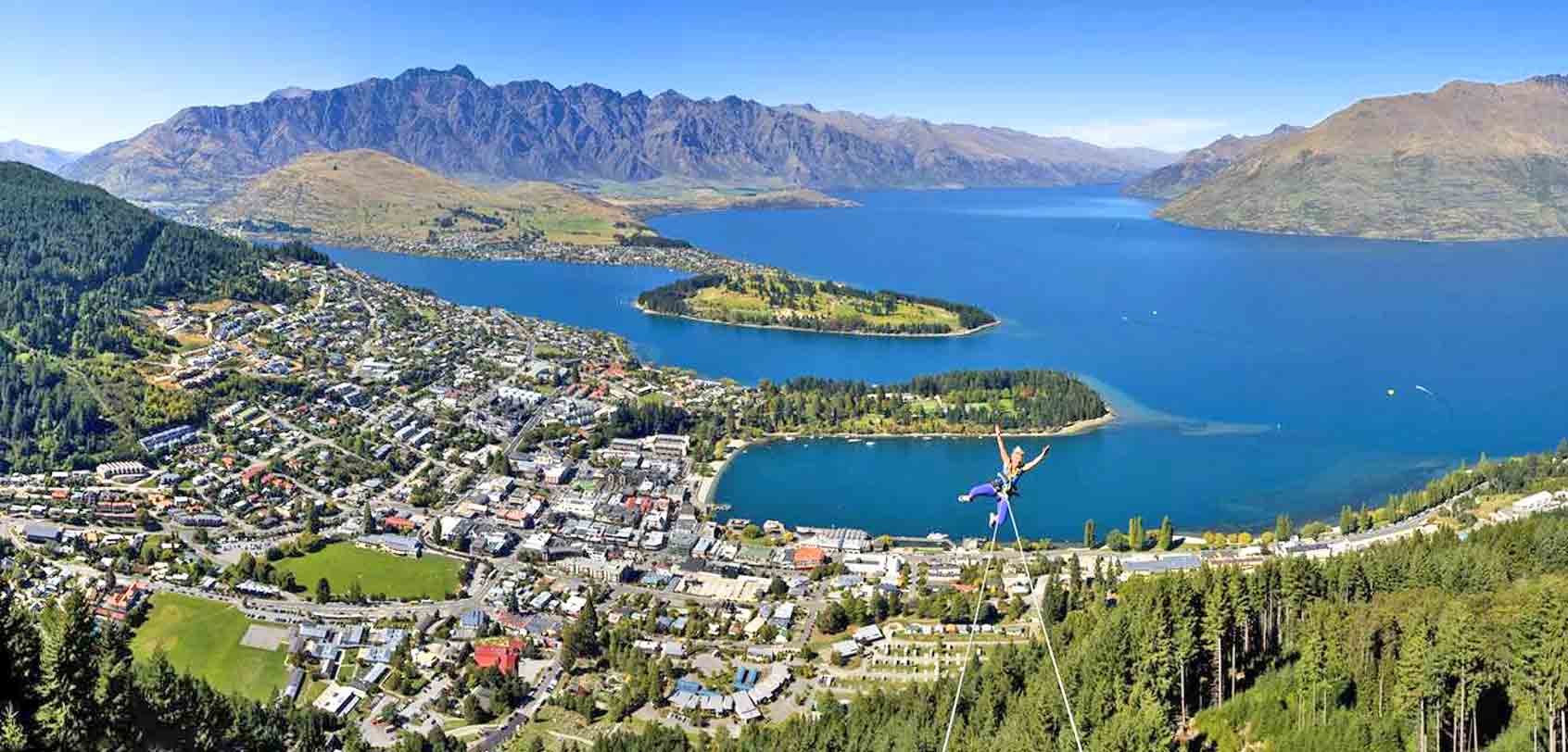 This is a bit similar to doing a bungy jump given that you'll still be 'jumping' — but you'll be swinging like how you would in a park when you were a child, but just ten times more thrilling.
Nevis Swing: This is not for the faint-hearted because you will stand 160 meters above the Nevis River and then you will drop to swing across the canyon at 120kph! With 300m arcs, you can swing forward. backward, in tandem, or 'back2back'. Either way, they have a 'Jump Menu' for you to choose from to double the fun! (To reserve your spot, book here. You can also pair this with the Nevis Bungy as a here).


.

The Ledge Swing: Much like The Ledge Bungy, this is located at the top of Queenstown's Skyline Gondola and it will set you flying 400 meters across and over Queenstown! (To reserve your spot, book here).


.
#8 – Go fast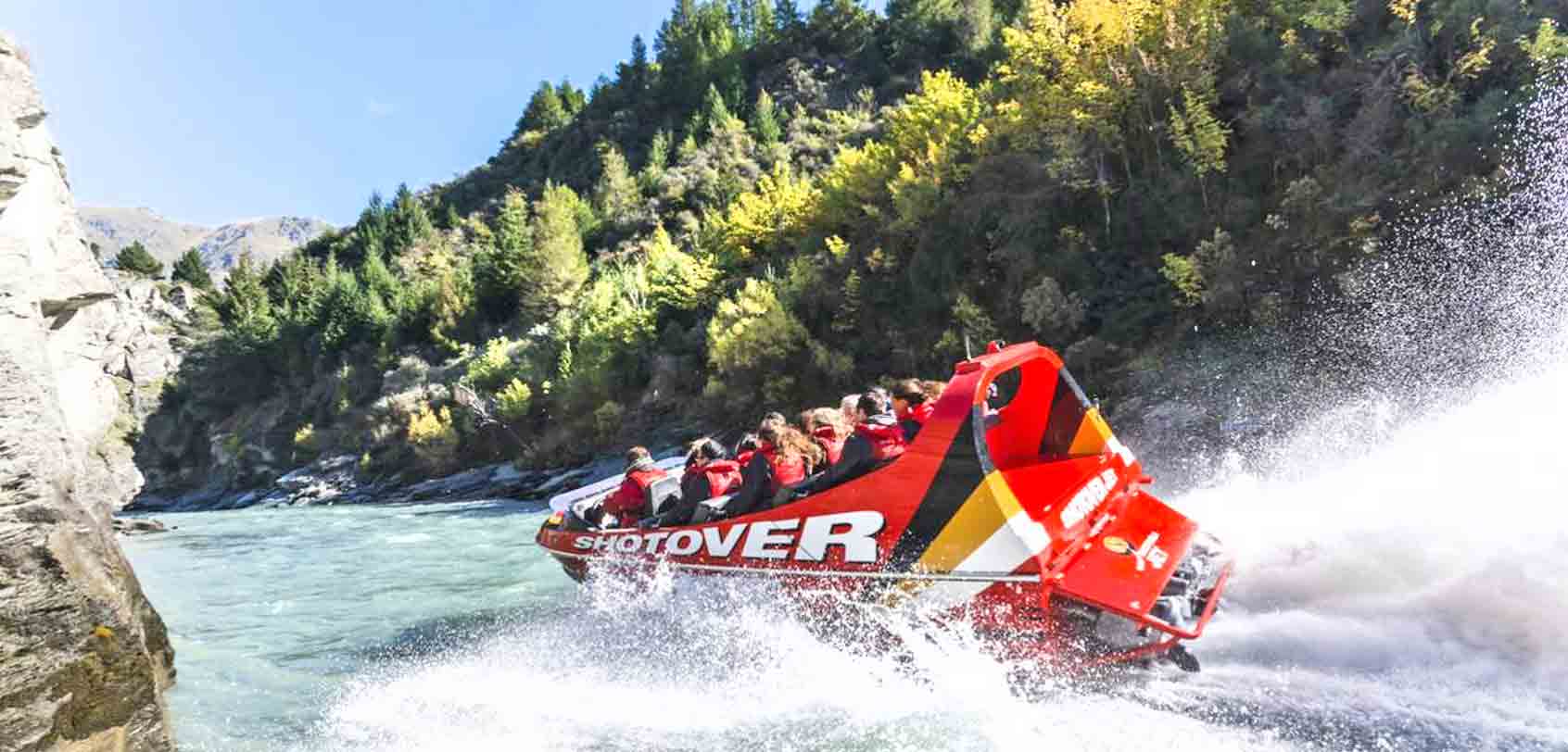 There are various things to do in South Island that will let you go through a thrilling yet fast experience…
Luge: Somewhat of a mix between a go-kart (without the engine) and a toboggan (without the snow), "Luge" is a fun and fast-paced adventure activity in Queenstown that is great for people of all ages! I enjoyed this so much and it is a fit for any age, so go and give this a try!


.

Shotover Jet Boat: This is an adrenaline-pumping activity that was invented by New Zealand. So if you like speed (at 85kph!), spins, and thrills combined with marvelous water scenery in Shotover River, going on a jet boating activity will be worth your while!


.

Kawarau Zipride: Want to know how it feels like to fly down like superman? With Kawarau's three 130-meter ziplines, you can! Choose from a solo or tandem ride to maximize the rush. (To reserve your spot, book here).


.
#9 – Kayaking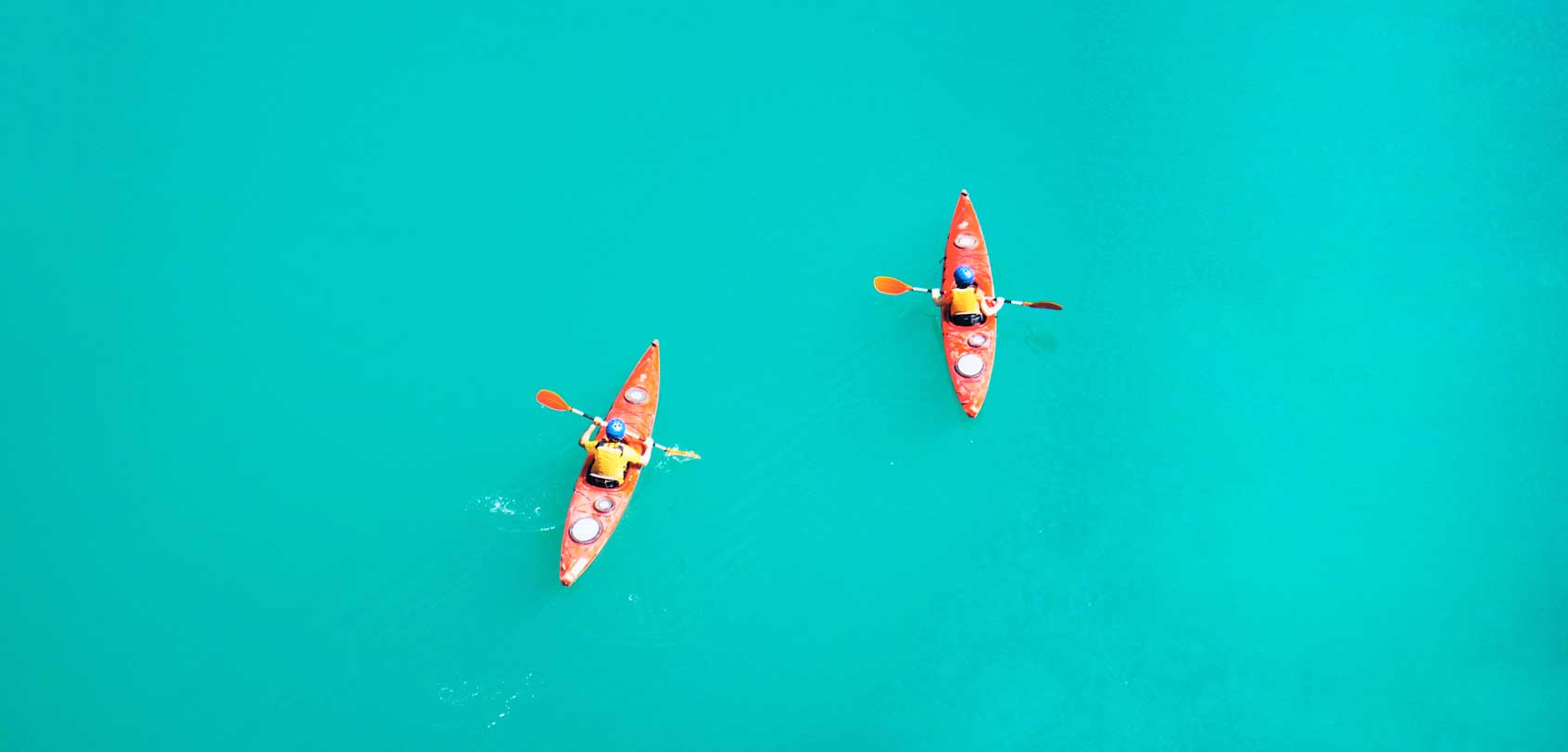 There are diverse kayaking opportunities in the South Island wherein you can get up close with the nature's wildlife as well as its spectacular coastal formations in clear subtropical waters. Some of the best places to do it are in Nelson Lakes National Park, Marlborough Sounds, Lake Tekapo, and Abel Tasman National Park among many others!
…Better yet, if you ever sight a body of water, look for the nearest kayaking shop to rent some for you and your family and friends!
.
#10 – Chase After Waterfalls, Rivers, Gorges & Lakes
With New Zealand's majestic natural terrain, there is always a gorgeous waterfall or lake nearby — wherever you may be. Some of the notable ones will be…
Lake Matheson: This lake offers awe-inspiring mirror reflections of Mt. Cook (the highest mountain in New Zealand) and Mt. Tasman. It basically involves a short circuit walk, and if I may share a tip, it's best to hike here during dawn or dusk in order to see the best lake reflections of the surrounding snowcapped mountains.


.

Lake Tekapo: Located south-west of Christchurch in the Mackenzie Basin, Lake Tekapo is a sight to behold with its milky-turquoise waters that are backdropped by alps and beautiful flora. Nearby on the shores of the lake, you will also find the 'Church of the Good Shepherd' which is a popular photo spot for visitors.


.

Lake Wanaka: This is New Zealand's 4th largest lake and a lot of people enjoy kayaking, jet-boating, rafting and swimming in its clear waters. Don't forget to spot the famous 'Wanaka Tree' that has taken the internet by storm!


.

Lake Pukaki: A stunning blue lake set in an alpine playground with Mt. Cook included. Here's a bit of trivia for you, this has been used as a backdrop for scenes in the 'Lord of the Rings' and 'The Hobbit' trilogies.


.

Hokitika Gorge: You will certainly fall in love with its pretty blue-green waters that are surrounded by lush native bush. What's more? The walk to Hokitika Gorge is so short so you should not miss it on your things to do in South Island!


.

Purakaunui Falls: This is an incredible cascading 3-tiered waterfall on the Purakaunui River and it is arguably the most phogotgraphed waterfall in Caitlins Forest Park!


.

Fantail Falls: A 23-meter waterfall that is nestled within Mt. Aspiring National Park along the Haast Highway. It is quite beautiful up close — but watch out for the sandflies because there are tons of them around there.


.

Thunder Creek Falls: Towering at 96 meters, this waterfall is also found in Mt. Aspiring National Park. When we visited here, there happened to be a rainbow at the foot of the falls and it was remarkable!


.

Pelorus Bridge: You'll find a bit of Middle-earth in this spot because this is actually the filming location in the scene of "The Hobbit: The Desolation of Smaug" when the dwarves were floating in barrels down a river.


.
#11 – Cycling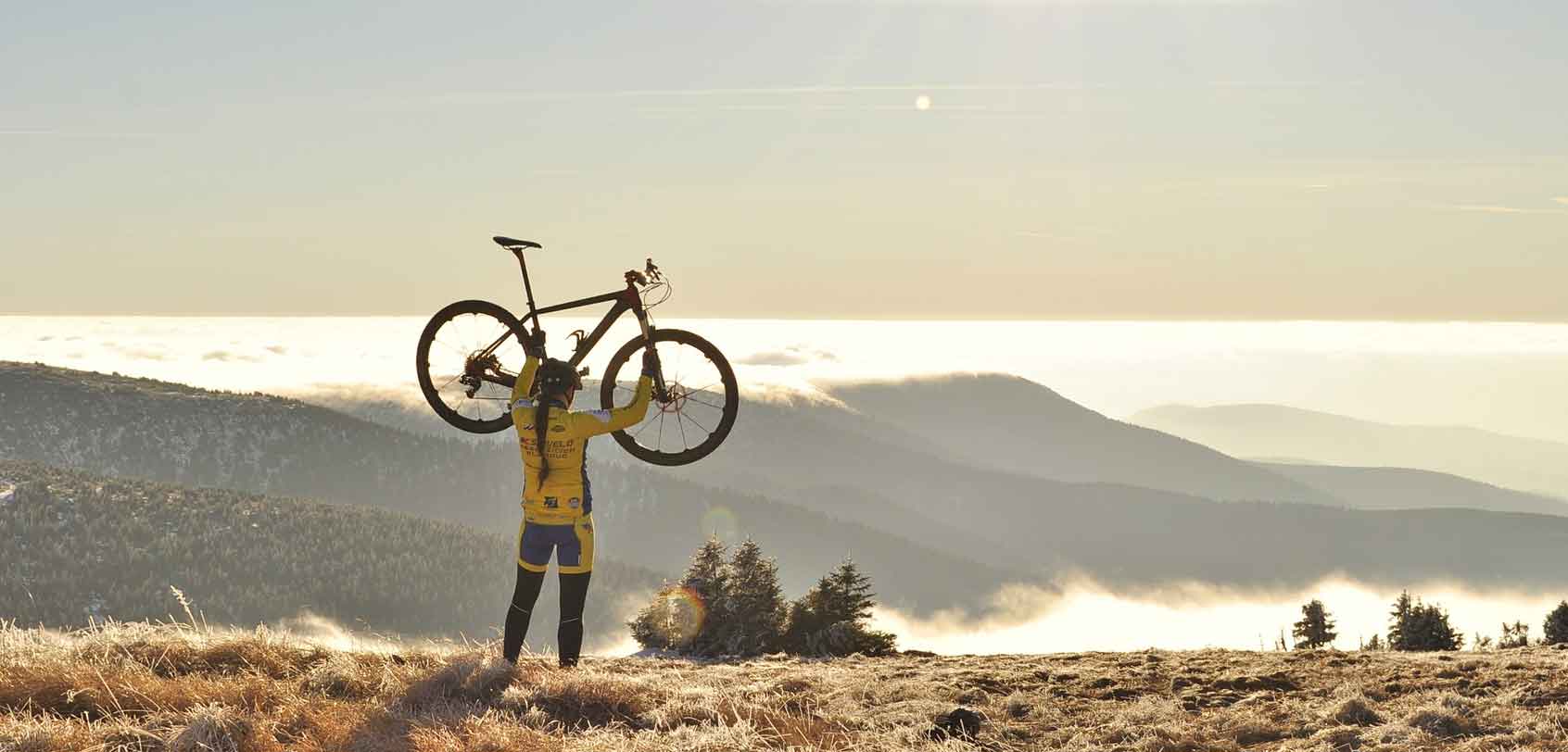 New Zealand's South Island has some of the world's most enjoyable trails such as…
#12 – Do city/town tours and stops
All throughout your road trip adventure, make sure that you do several stops along the way for your itinerary of things to do in South Island. Some of the key places — other than Christchurch and Queenstown — are…
Wanaka: A resort town famous for its lake, 'Wanaka Tree' and range of fun activities.
Punakaiki: The town's highlight is its 'Punakaiki Pancake Rocks', limestones that have eroded over millions and now look like pancake stacks.
Picton: A charming little town that is the main gateway between the North and South Island as well as inlets of the Marlborough Sounds.
Central Otago: If you're into wineries, this should be an area that you keep in mind. And as you bike or walk through, don't forget to try their famous pinot noir.
Dunedin: This is known for its Scottish and Maori heritage as well as Victorian and Edwardian architecture, so one of the places you should not miss is 'Larnach Castle', the only Australasia castle.


.
#13 – Try a quad bike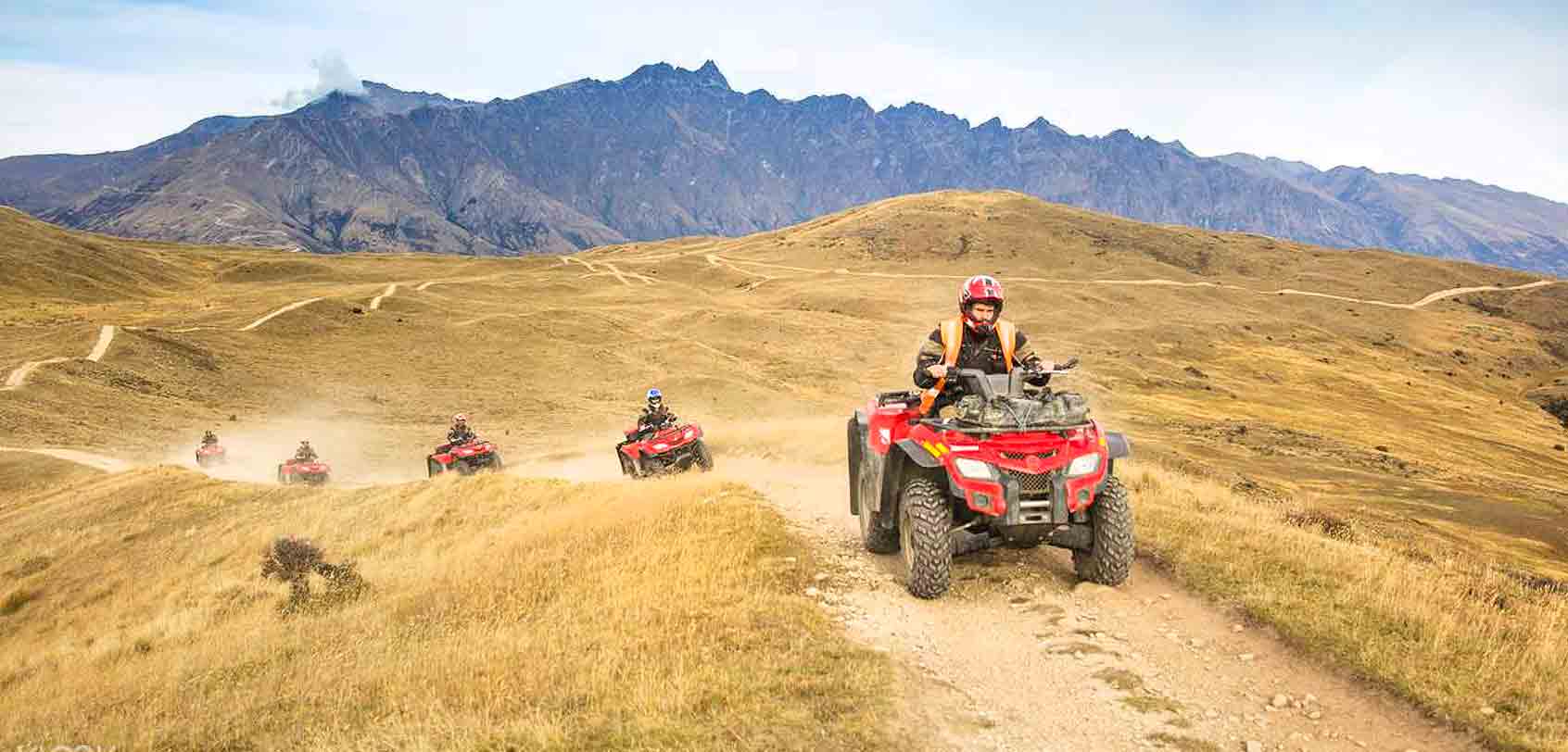 This could be the best fun that you can have on 'mini' four wheels!
With the help of professional guides, you can go through nearby trails in Queenstown for over 2.5 hours to enjoy panoramic views, splash over puddles and fly over hills. And at the end of the journey, you will sit down and relax with hot drinks as you enjoy the surrounding terrain. How's that for a quaint adventure? (To reserve your spot, book here).
.
#14 – Enjoy some glaciers and snow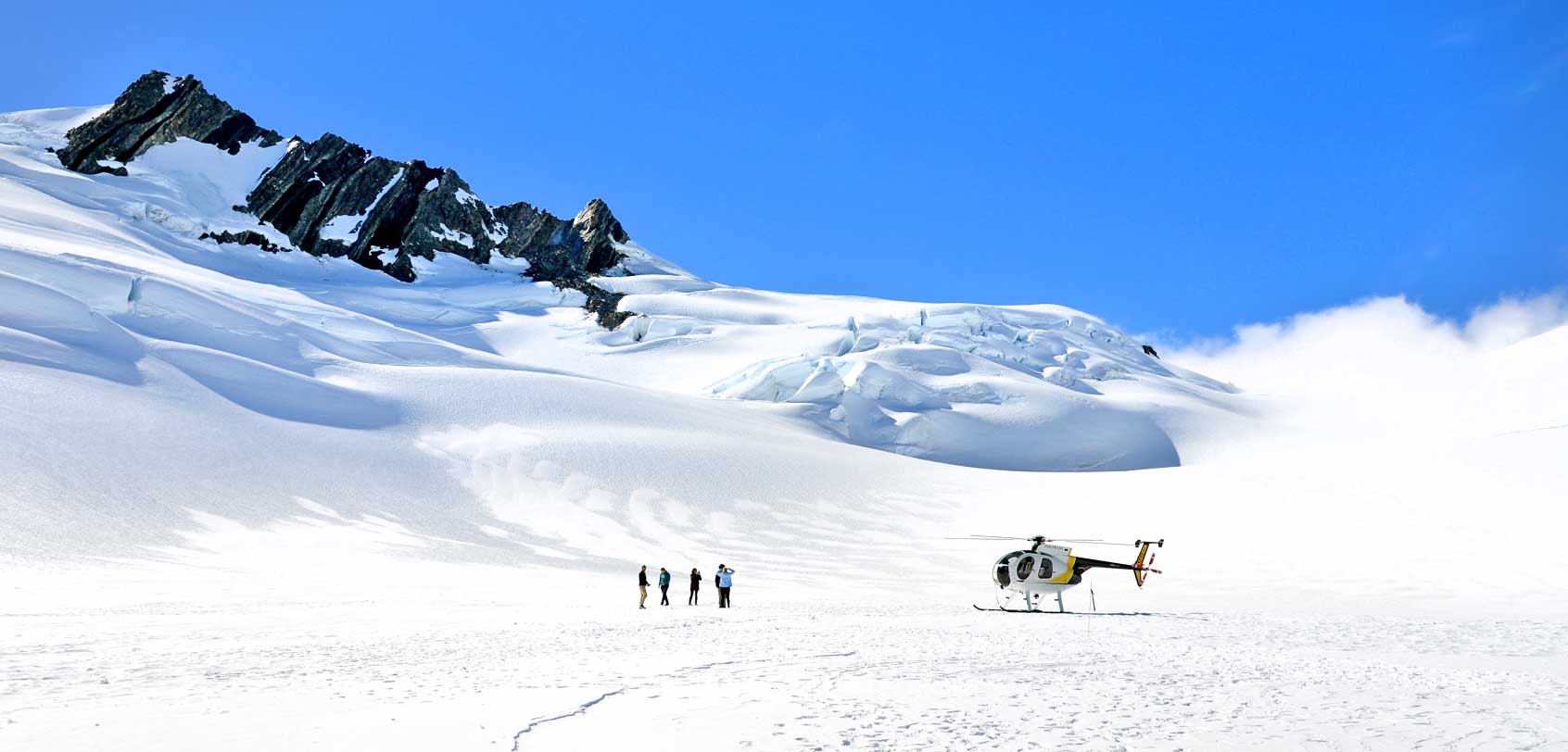 Franz Josef Glacier from Shutterstock.com
Naturally, if you want a 'chilling' experience, the South Island has no shortage of choices to offer…
Franz Josef Glacier Heli Hike: Through this once-in-a-lifetime tour, you'll go on an exhilirating helicopter ride and do a 3-hour hike through the most awesome glacier 'ice architecture'. Evidently, this is a pricey tour to make but it's an expense that will be worth your money and while — guaranteed. Though, if you only have the budget for just one tour in your whole Franz Josef visit, this is the experience you should invest it on. Just take note that this is weather dependent, so if the day turns out sour then no worries because there are other things for you to do around town. (To reserve your spot, book here).


.

Franz Josef Glacier Valley Walk: This is an activity that you must make if you have a lower budget or if the weather turned out bad (and you can't do a heli hike). You can do this with a guide or by yourself and it will take about 3 hours to go past the Waiho river bed in order to see the grand terminal face of the Franz Josef Glacier.


.

Fox Glacier Heli Hike: If you rather want to witness the glacier to the south, this heli hike tour to Fox Glacier is an option. Much like the Franz Josef Glacier Heli Hike, this will take you on a ride on a helicopter over the Fox Glacier and then land in an area where you can do a 4-hour guided hike. (To reserve your spot, book here.)


.

Cardrona Alpine Resort: This is one of New Zealand's most popular ski areas. No matter if you have no prior experience, you can enjoy and learn how to ski. Besides, there are beginner and intermediate levels to choose from. For those who are advanced skiiers, don't fret because the resort has extensive facilities and Olympic halfpipes.


.
#15 – Eat, eat, eat!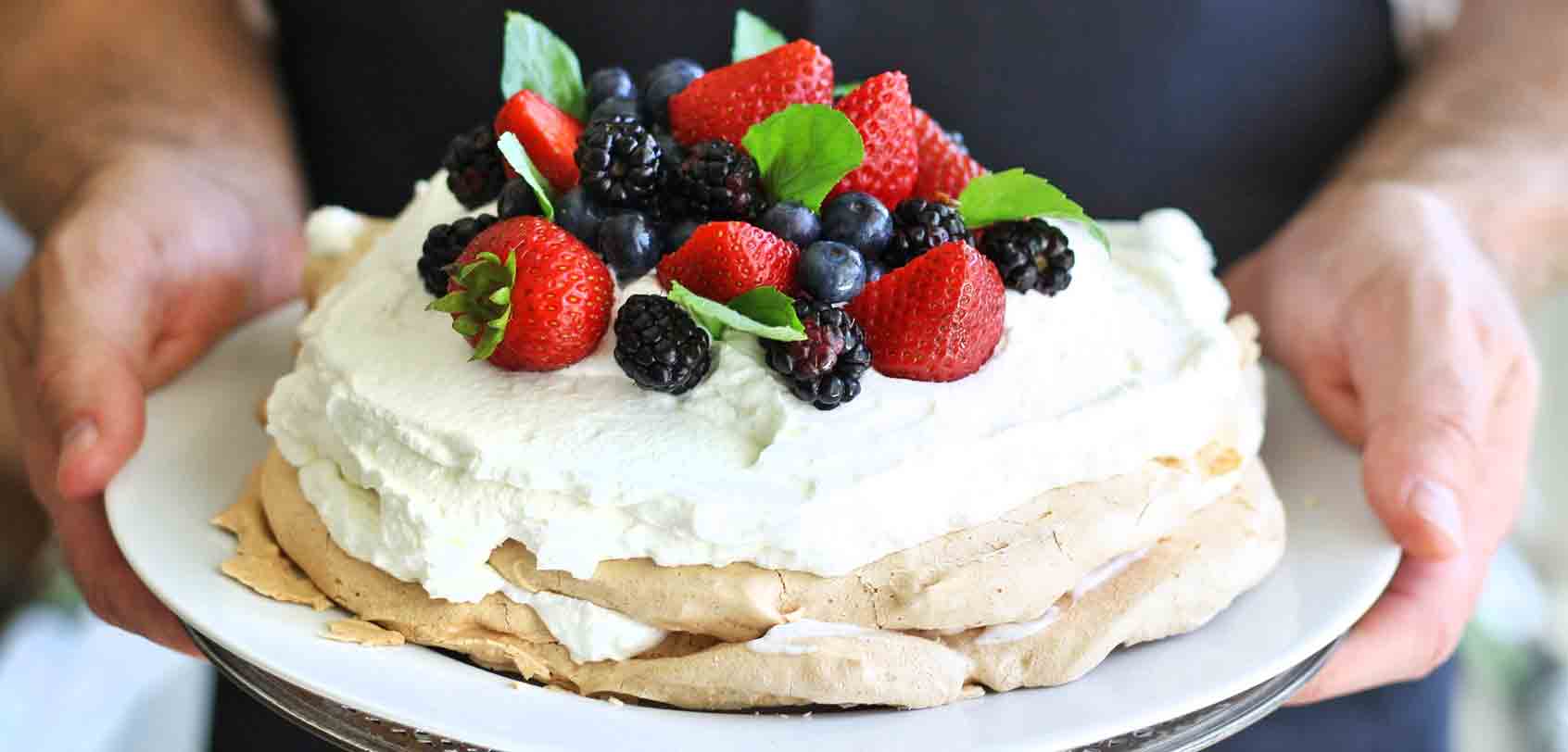 New Zealand's cuisine is largely influenced by America, Europe and Southeast Asia and closely-related to Australia. Whereas Maori cuisine is a different thing altogether; but to give you an idea, below is a list of food that you must try!
Afghans: Crunchy chocolate cookies
Crayfish: If you're from the Philippines like me, shelling out about NZ$80 might be overkill, but New Zealand fishermen pride themselves when catching this so give it a try!
Fish and chips: This might not be an original of New Zealand but it's a vital part of the local food
Hokey Pokey: A vanilla ice cream mixed with caramelized sugar
L&P (Lemon & Paeroa): This is a softdrink that's proudly made by Kiwis. I'm not into softdrinks but I love this for its sweet lemony taste
Lamb: This meat is cheaper in the country — after all, the sheep population is larger than New Zealand's human population!
Manuka honey: You'll find a lot of things in New Zealand mixed with this and it makes sense to bring home a jar as a souvenir too
Paua: A large sea snail that is eaten raw, fried, etc. (The shell of this snail is beautiful, by the way!)
Pavlova: I am in LOVE with this meringue dessert which has a crispy outer layer and soft inner core
Meat or mince pie: Kiwis love their mince pies and this is basically a pastry filled with meat and gravy
Tuatua: Eating this kind of shellfish is believed to be a Maori tradition
Whitebait fritter: A kind of omelette mixed with small juvenile fish


.
#16 – Go hiking or trekking / tramping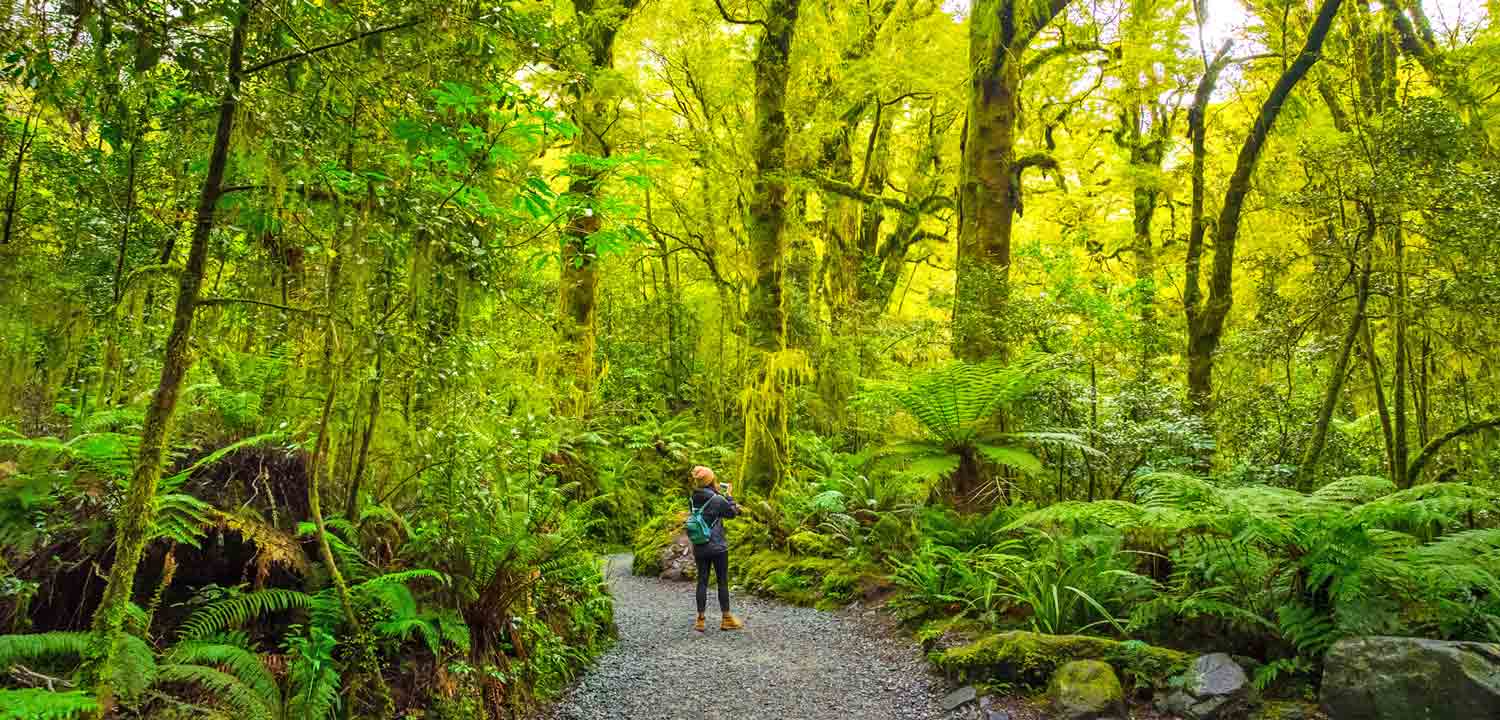 Milford Track from Shutterstock.com
Choose from any of the following…
#17 – Climb mountains and summits
With the South Island's topography, you should take advantage of the marvelous summits that it has:
Aoraki / Mt Cook: As New Zealand's highest mountain, you should not skip out on this beauty. If you're not prepared enough to climb its top, don't worry because there is an easily accessible trail called as the Hooker Valley Track (as I mentioned in #16) where you can get close to this beauty. While you're also in the area, go and visit Mt. John Observatory to witness clear starlit skies in the world's largest Dark Sky Reserve.


.

Mount Alfred: Found at the northern end of Lake Wakatipu, this is a popular 4 to 6-hour day hike which starts from the carpark in Gleorchy-Routeburn Road. The route is perfectly marked and is at 1.3km high with the whole trail rewarding you with great alpine and valley views.


.

Roy's Peak: This mountain stands between Wanaka and Glendhu Bay, and a lot of visitors have started to give this place a great deal of attention given the glorious views over Lake Wanaka, Mount Aspiring/Tititea and the surrounding bay that it offers from the top. The whole trail can last from 5 to 6 hours with about 16km return.


.
#18 – Go off road with a 4×4 adventure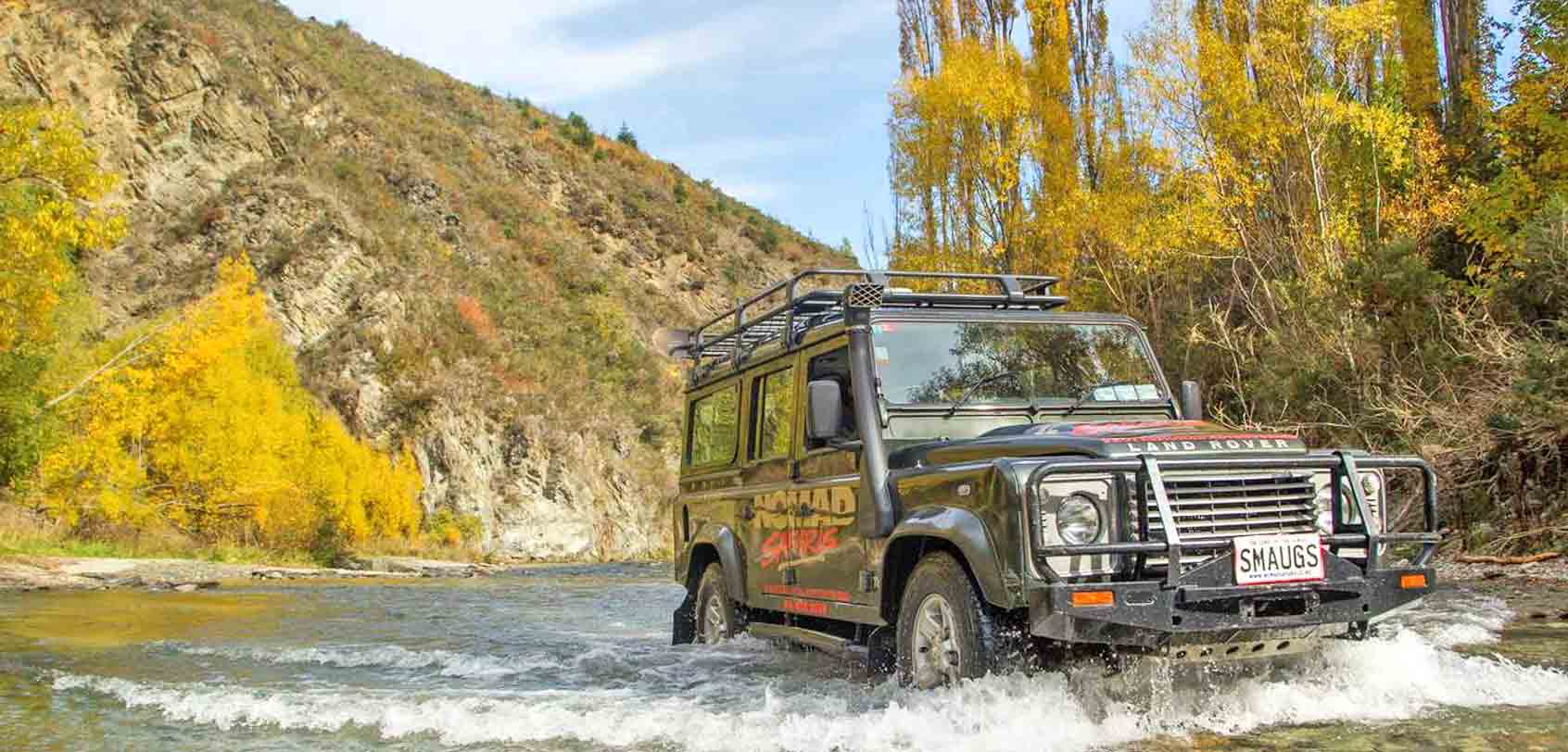 At #13, I suggested quad biking — for this time around, go bigger and go on a 4×4 tour as you journey across the rugged landscapes, dirt roads and winding paths around Queenstown (while also discovering Middle-eart locations along the way!).
With this 4×4 tour, there is actually a choice for you to either do a Skippers Canyon or Macetown journey. The former takes you along steep roads cut into sheer cliff faces, suspension bridges, and steep canyons while the latter takes you to the abandoned gold mining town of Macetown, some heritage sites, and some filming locations for LOTR. (To reserve your spot, book here).
.
#19 – Witness the wildlife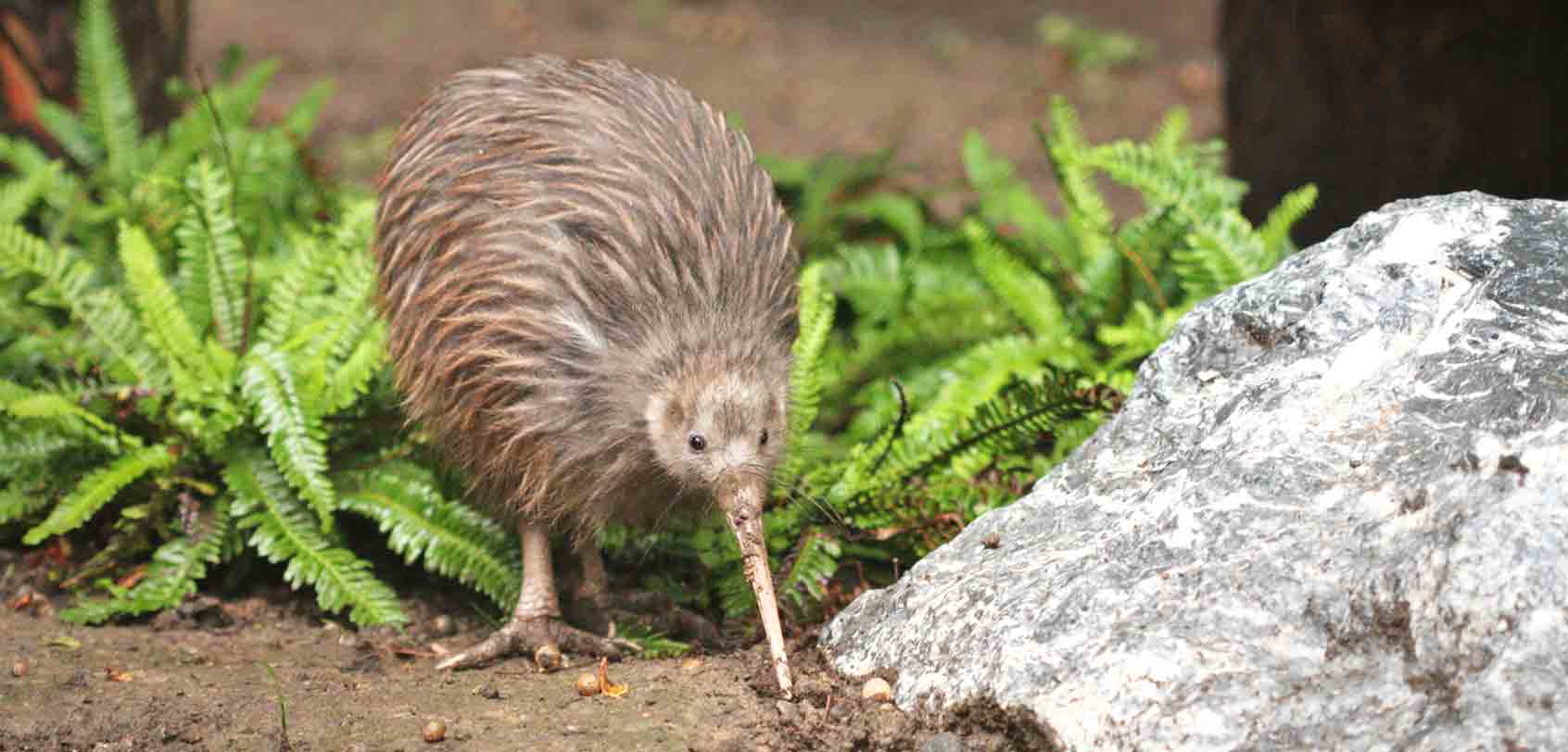 Kiwi from Shutterstock.com
New Zealand has long evolved into a continent with unique flora and fauna, so if you want to sight its local wildlife, go and visit any of the following spots…
Marlborough Sounds: Around its terrain and in Queen Charlotte Sound, it's quite typical to spot animals such as dolphins, penguins, shags, seals and whales in their natural environment.


.

Stewart Island: If you're into birds, this place is home to the largest and most diverse bird population in the country. Some of those that you can spot are kiwis, penguins, albatrosses, wekas and kakas.


.

Kaikoura: As I've previously mentioned in this entry, this town is home to a rich marine life and you can enjoy several activities such as..
#20 – Explore Middle-earth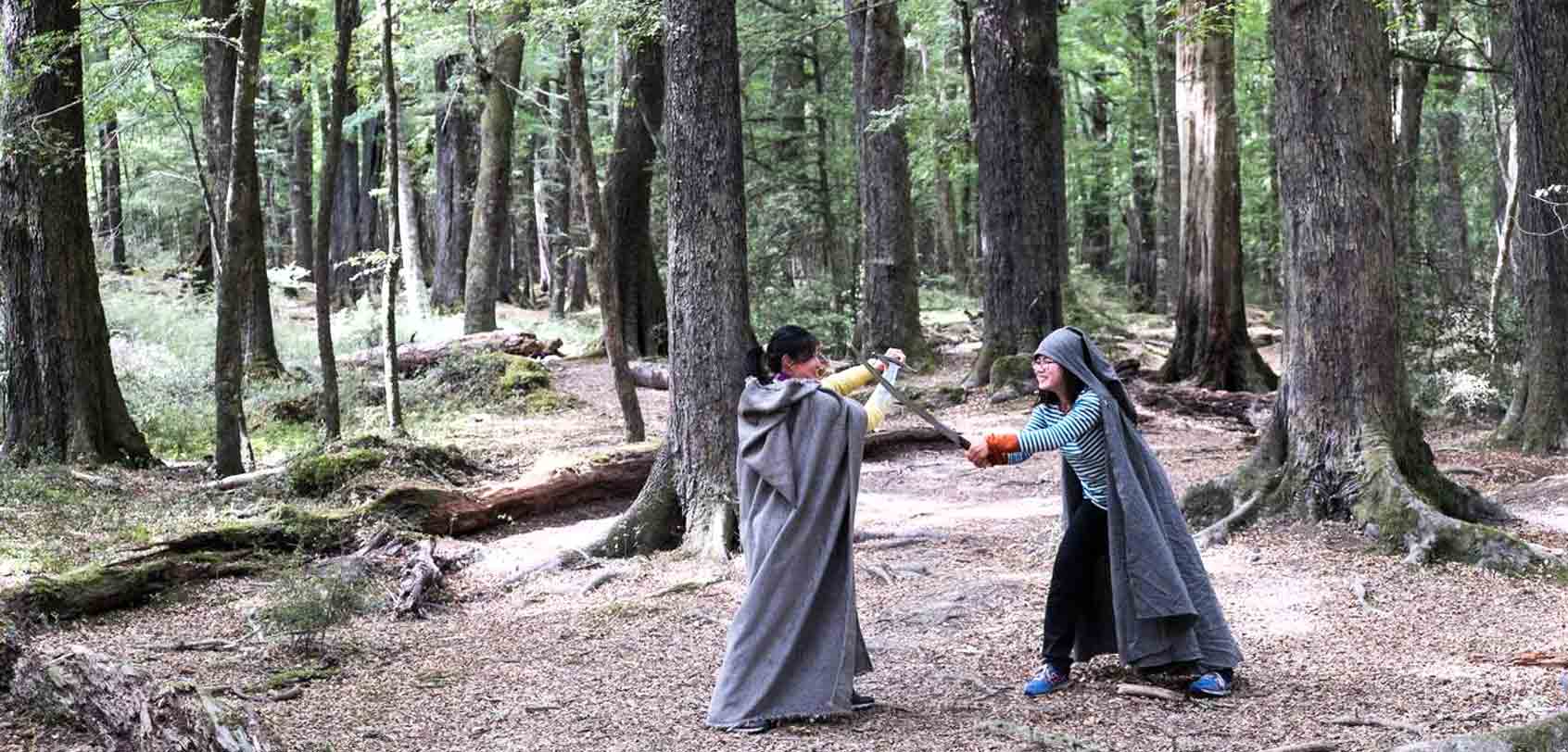 Apart from the aforementioned spots above that have been used or shown in the LOTR or The Hobbit trilogies, you can also do a more exclusive tour on a 4WD from Queenstown as you visit the films' cinescapes such as Glenorchy or Wakatipu Basin, Isengard, the 12 mile Delta, the Misty Mountains, the Pillars of the Kings, and more!
To top it off, you will also be visiting an old mining town where you can try gold panning — and naturally, your driver-slash-guide will provide all the commentary and trivia that you need throughout the tour.
.
.
YOU MIGHT ALSO LIKE
Older Post
Newer Post
Hey there! I am Aileen Adalid.
At 21, I quit my corporate job in the Philippines to pursue my dreams. Today, I am a successful digital nomad (entrepreneur, travel writer, & vlogger) living a sustainable travel lifestyle.

My mission? To show you how it is absolutely possible to create a life of travel too (no matter the odds), and I will help you achieve that through my detailed travel guides, adventures, resources, tips, and MORE!

NEW READER? START HERE!
CONTINENTS: 7 ~ COUNTRIES: 59