Antarctica is one of my utmost dream destinations! After all, I don't think there is any other place on Earth that is similarly pristine, remote and unique. For years, however, the closest chance that I had to "seeing" it was through a book or a screen… So when I was given the chance to travel to this southerly location in late 2017 with Hurtigruten, I just had to pinch myself to make sure that I wasn't dreaming!
I won't get too sappy because I've already done that when I first announced this epic trip (haha). Instead, since the voyage has already ended, what I want to do now is share with you the amazing 20-day Antarctica itinerary that I had — in the hopes that it will also inspire you to make this your reality sometime soon!
.
Antarctica Cruise Expedition: 20-Day Itinerary
Wanna go to Antarctica? Email [email protected] w/ code IAMAILEEN to get a discounted quote!
.
» PRE-TRAVEL GUIDE
When is the best time to visit Antarctica?
Antarctica is inaccessible to tourists for the majority of the year due to its extreme conditions — it IS called as the world's coldest and windiest place after all. In fact, winter temperatures can fall up to -70°C  (it even reached -94.7°C back in 2010 and -89.2 in 1983) and that comes together with 24 hours of darkness too!
Nevertheless, things get better during the summer season between November and March when the ice starts to break and the temperature gets warmer; hence, cruise expeditions are run during this time of the year and most landings are done at the tip of the continent along its west coast. The temperatures there average at only about 0°C to 8°C (with close to 24 hours of sunlight).
NOVEMBER

: This is said to be the time when you will see Antarctica in its most 'untouched' form! Icebergs are at their biggest, snow is pristine, and the penguins start to mate (with them laying eggs at the end of the month in their nests). However, the temperatures are still quite cold and polar ice is still breaking up so the downside of traveling to Antarctica in this month is that you might not be able to access some areas. Moreover, wildlife such as whales and penguins are more difficult to spot.


.

DECEMBER to EARLY FEBRUARY: December is said to be the BEST month for traveling to Antarctica. As the continent starts to warm up, it creates the perfect conditions for seals, penguins and whales — therefore, wildlife is a lot easier to find (including the cute little seal pups and penguin chicks who have just been born). Whales, in particular, are best seen in February. Also, since these are some of the months wherein there is more hours of sunlight, you'll have plenty of opportunities in the day to take wonderful photos.


.

MID-FEBRUARY to MARCH: There are several pros and cons for visiting during this time of the summer season. Let's start with the cons: temperatures start to get a bit colder, most wildlife would have already went out to sea, and landings will tend to be rockier and muddier. But for the 'pros': whales are still abundant for spotting, the penguin chicks are larger and starting to 'molt' (or shed their fur), and there are lesser vessels (so there's less competition for landings).
For my case, I landed in Antarctica sometime in early to mid-December with Hurtigruten's 20-day 'Ultimate Antarctica Experience' and I've seen a lot of different penguins, whales (orca + finback + humpback ones), seals, glaciers and massive icebergs. There were no problem with landings nor was there any competition (we were the only ship around during the days of our visit). Weather was also perfect averaging at about 2°C to 5°C, so I didn't wear too much layers; at one point, I even sweated a lot when we were hiking up a hill! The winds were still pretty strong though and there were times that it was cloudy; but for the most part, we had great sunny weather.
All in all, it's best to remember that every trip to Antarctica is unique. No matter if your friend went on a different trip in the same month and same cruise as you do, the experiences you'll both have will most likely be dissimilar because every voyage will depend on ice and weather conditions. This means that there can be days where you will experience and see amazing things that some others might not (if you're lucky!). For example: our ship sighted about 50 humpback whales while we were on our way to the Antarctic Peninsula and they say that this occurrence was quite rare in December!
What are ways to get there?
By cruise ship. This is the MOST common way to visit the Antarctic and to date, there are over 80 companies who belong to IAATO (International Association of Antarctica Tour Operators). The cruise can start and end from any of these locations: Ushuaia in Argentina, Punta Arenas in Chile, Bluff in New Zealand or Hobart in Australia.
Depending on the provider, the length of the trip, and the kind of cruise expedition that you pick, you can do additional activities or excursions in the Antarctic, as well as visit other Antarctic and sub-Atlantic islands along the way. It helps to note though that the size of the ship matters: in general, smaller ships are preferred because they can go to more places and do more landings. …Why more landings, you might ask? Well, according to IAATO guidelines, there can only be 100 people at a time on land — so, if your boat has more than 200 people, you might just spend only a few hours on the shore.
With this, I highly advise that you go for Hurtigruten's MS Fram ship, which is a small yet strong vessel that carries about 200 guests. This was the ship that I went with and every day, we did at least 2 landings to different locations (which was also packed with optional excursions like kayaking, camping, zodiac excursions, hikes, and others).
NOTE: Most of the Antarctic ships are NOT icebreakers since if they are, you will have a rough time crossing the seas like the Drake Passage (either way, the ships are ice-strengthened which are equally tough).

Also, unlike typical cruise ships that have ostentatious entertainment facilities, the ships that sail here have minimal entertainment on board; rest assured, there is enough to keep you busy including social events, workshops, as well as lectures from experienced staff who are typically made up of scientists. After all, this kind of adventure is more about relaxation and discovery.
By plane. There are 3 ways to do this: you can do a [1] 'fly over', a [2] direct flight, or a [3] fly-cruise option. First, as the name implies, a 'fly over' will just be a sightseeing flight wherein you will be above the continent for hours as you admire the views. This kind of flight only takes off from Australia and it will cost from $1,000 to $8,000. Second, direct commercial flights can be done from Argentina, Australia, Chile or South Africa — but they can be quite rare. (A quick Google search will lead you to some providers who schedule flight trips to the continent.) Lastly, the fly-cruise option will just cut your time on a cruise ship (to avoid the rough Drake Passage, for instance). These flights will take you to places like King George Island where you will then board your designated ship. Most of the time, prices for this start at $10,000 and departs from Chile.
By yacht. There are about a dozen of these charter yachts that offer 3 to 6 week trips to the Antarctic Peninsula from South America. Even if it can provide more freedom and flexibility, you must remember that it is pricier (starting at $1,000+ per day), more treacherous (the seas will rock you harder) and can require work (since most yachts would want you to help out.)
What locations will you typically visit or see on a cruise?
Like I've already mentioned, it will depend on the time, the cruise provider, and the expedition that you pick. For a start though, tourists from cruise ships will mainly visit either the Antarctic Peninsula (the northernmost part of mainland Antarctica) or the Ross Sea area (a deep bay which is the main destination of cruise ships leaving from Australia and New Zealand). Apart from this, you can visit other Antarctic and sub-Antarctic islands too.
For my journey with Hurtigruten's 20-day 'Ultimate Antarctica Experience', aside from landing in the Antarctic Peninsula, I also got to land in the Falkland Islands, South Georgia (the best widlife hub!), Deception Island, Half Moon Island and Cuverville Island.
How much does it cost to go on an Antarctic cruise expedition?
Antarctica is obviously NOT a budget destination given how most cruise expeditions start at a price of $5,000 per person. However, there's the possibility of paying only $4,000 if you manage to get a last minute deal in Ushuaia (the main starting point of cruise ships in Argentina) during November or December. This option is only ideal if you have the time and patience to wait for a chance to come by — which they say can be quite rare. Yet again, it's worth a shot!
For a more hassle-free experience, naturally, it's better to book in advance. Hurtigruten's expeditions usually start at $5,000  per person (my 20-day expedition's cost starts at $17,000).
But if I may add a tip: if you email Hurtigruten via [email protected] and mention my promo code 'IAMAILEEN', you will get a special discounted price quote!
Do I need a visa to go to Antarctica?
Since there is NO single country or government who owns nor controls Antarctica, visitors technically do NOT need visas. However, with the existence of the Antarctic Treaty's Protocol on Environmental Protection, it requires visitors (who are citizens of countries that are signatories of this treaty: including USA, Canada, EU, and Australia) to acquire a permit prior to visiting Antarctica. These permits are almost always acquired through tour operators.
EXAMPLE: If you booked via a cruise ship, permits are covered by the cruise company that you're going with. If visiting by air, you must check with your local government or airline if you have the right paperwork. If in doubt, you could always ask your Antarctica tour operator.
Meanwhile, like I've already discussed, most ships and vessels depart from ports in places like Argentina, Chile, Falkland Islands, New Zealand, and South Africa. Depending on your nationality, you might need a visa to be able to set foot on the ports of any of these said countries in order to start your voyage to Antarctica.
So for my case, since I'm a Philippine passport holder and my cruise started in Ushuaia, Argentina, I needed to apply for an Argentina Visa. As such, it is your responsibility to check if you need visas to any of the aforementioned starting ports.
What should I pack?
There is a LOT to take note of: from seasickness medicine to the proper clothing. For a complete list, read this comprehensive article: Antarctica Cruise Packing List.
What currencies should I bring?
Antarctica is not a country, so it does NOT have its own currency. However, there will be some places in the Antarctic Peninsula such as Port Lockroy (where you can find the Penguin Post Office museum and souvenir shop) and some research station facilities that will sell some stuff to visitors. With them, currencies like the USA dollars, Pound Sterling and Euro are generally accepted (together with MasterCard and Visa cards).
As dependent on your ship too, they can accept other currencies (e.g. Hurtigruten is a Norwegian company so they accept the Norwegian krone currency on board.)
NOTE: If you want a complete list of FAQ (Frequently Asked Questions) for Antarctica cruise expeditions, read here.
I must point out that our itinerary was based on the standard 'things to do' as per the 20-day plan of Hurtigruten; but like I said, all expeditions are dependent on ice, sea, and weather conditions… so what we have actually done wasn't entirely the same.
All things considered: it remained to be an epic adventure of sorts!
​.
» DAY 1: Buenos Aires, Argentina «
◘◘ At leisure: Buenos Aires and late night wanderings
Together with my friend, Jonas, it took us about 32 hours to travel to Buenos Aires — the reason being that we were flying from the Philippines which is entirely on the other side of the globe from Argentina. So to date, this is the longest flight I have ever taken and I was truly exhausted… but I surprised myself when I went out for drinks the moment that we landed. I know… I can't believe I did that either. I guess it helped that I had a pretty comfortable flight with Emirates' via their business seats — thanks to Hurtigruten for the help!
It's just that one of Jonas' friends happened to be in the city and he sounded pretty convincing when he talked about the lively nightlife of Buenos Aires. In the end, he brought us to a quaint bar and El Cuartito (which is a popular pizza place in town that's apparently called as a 'cultural heritage' of Buenos Aires). True enough it was famous because the place was packed! Either way, I did taste the cheesiest pizza there. But just before our new friend dragged us to a party, we had to back out because apart from the fact that it was already 2AM, our hours of flying were starting to really gnaw on us.
The next day, there were available tours that were being offered at an additional cost by Hurtigruten, but Jonas and I decided that we would just explore the city by ourselves and make it a 'chill day'. And as we walked around the streets of Buenos Aires, we were both surprised that it still exuded a rich European heritage and architecture as compared to other Latin America cities that were also conquered by Europeans before! Somehow, it felt more like I was in Spain.
For the rest of the day, we lounged at a nearby park that were packed with locals and then enjoyed a hearty dinner. I made sure to order a big slab of grilled beef meat because everyone has been telling me to do so; and sure enough, I can see why there's a hype for Argentina steaks! Before the day ended, we opted not do much anymore because we needed to wake up early for the next day.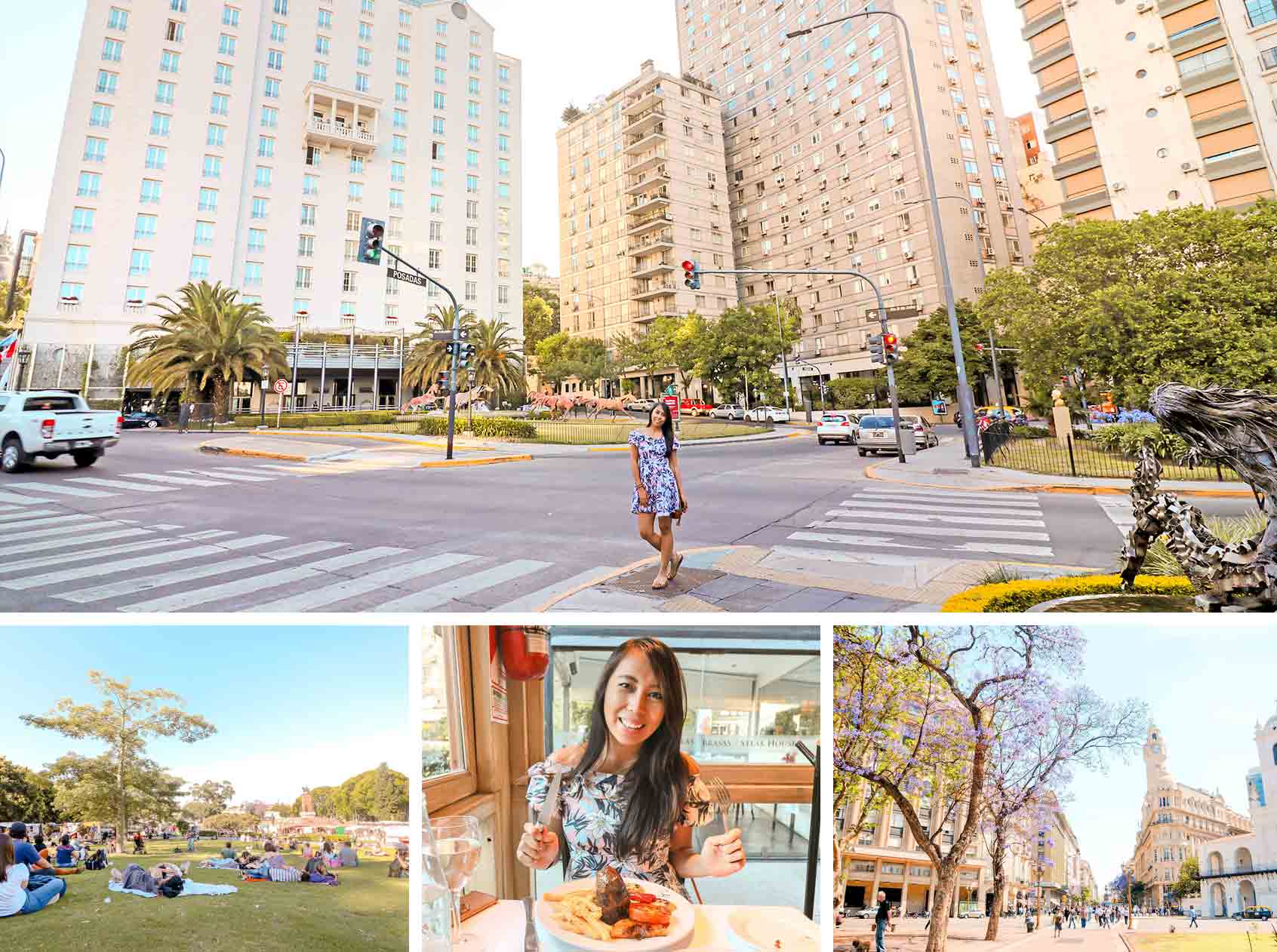 .
» DAY 2 & 3: Ushuaia, Argentina & The Sea «
◘◘ Embarkation at the 'End of the World': I finally met MS Fram, my 'home' for the next days!
At 5AM, we checked out of our hotel and boarded a chartered flight to Ushuaia, the city that is marketed as the southernmost city of the world (thereby gaining its name: the 'End of the World'). The flight took us 3 hours from Buenos Aires and it was a pleasant ride with great views of the Andes mountains — a lady from the UK who was seated beside me told me though that back when she first traveled to Antarctica, their flight to Ushuaia was turbulent and they even had a nasty landing. As someone who is afraid of flying, I was so happy that the weather on this day turned out great!
Now, albeit its ominous name, the city of Ushuaia is a beauty and it is surrounded by the picturesque Martial Mountains and the Beagle Channel. To pass the time before our ship's embarkation, we joined a tour to the Tierra del Fuego National Park. This place had such dramatic scenery filled with wildlife, lush forests, high mountains and glaciers! I was tempted to do a hike given the amazing views, but there wasn't time. Anyhow, the national park had a Restaurant Alakush which provided passport stamping which I advise that you don't miss out on.
In the afternoon, we finally got to meet our ship: the MS Fram!
'Fram' means forward and this ship honors the heritage of the original Fram which was a famous explorer ship of its time. It has over 7 decks that are filled with 127 cabins for guests, a restaurant, a cafe area, several observation desks and balconies, a well-equipped fitness room, saunas, a shop, lecture rooms and outdoor Jacuzzis (!!!). Upon check-in, we were told that we were upgraded by the hotel manager and so, we had an amazing suite at deck 6! Not to mention, while I was walking around the ship, it was apparent that they employed a LOT of Filipinos as their service crew so it made me feel more 'at home'.
Before the night started to creep in, we started to drift and sail away to our next destination: the Falkland Islands.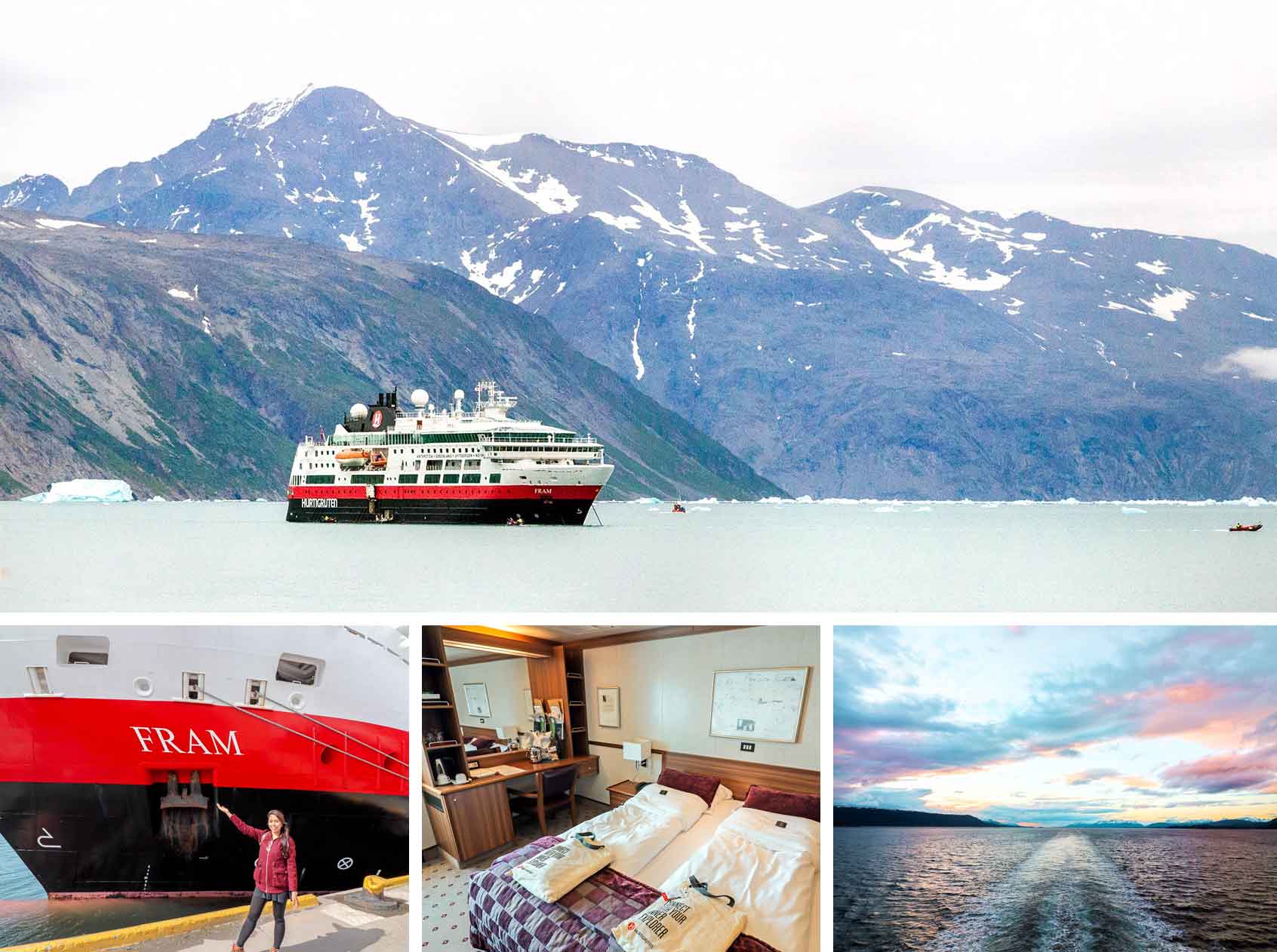 ◘◘ Sea day: sighted finback whales!
I was arrogant into thinking that if I survived 7 days of sailing in a yacht in Croatia, then I can survive sailing in the Southern Ocean — boy, was I wrong. The large swaying of the ship made me dizzy for most of the day! The seas weren't actually that rough and I even took a seasickness pill; but I guess that it being the first day, one has to be 'christened' into the experience. Yet again, I was incredulous because I saw that the people around me were doing perfectly fine!
…It seems that I missed out on the wonders of the so-called Sea Bands which could be purchased at the ship's shop (or you can purchase this online or at your local supermarket beforehand). I was hesitant at first though, because HOW can putting pressure on a certain part of my wrist help me in any way!?
Well apparently it helps a whole LOT because for the rest of the day, I felt fantastic! (If you happen to still be dizzy, the doctor on the ship also hands out these transdermal ear patches for further preventing nausea; I didn't get them though because the Sea Bands already helped, but I hope this can be a helpful info for you in the future).
One particular highlight of this sea day was that we sighted finback whales in the waters! This is the first whale sighting in my life and it was great to know that they are the 2nd largest mammals on earth after the blue whale.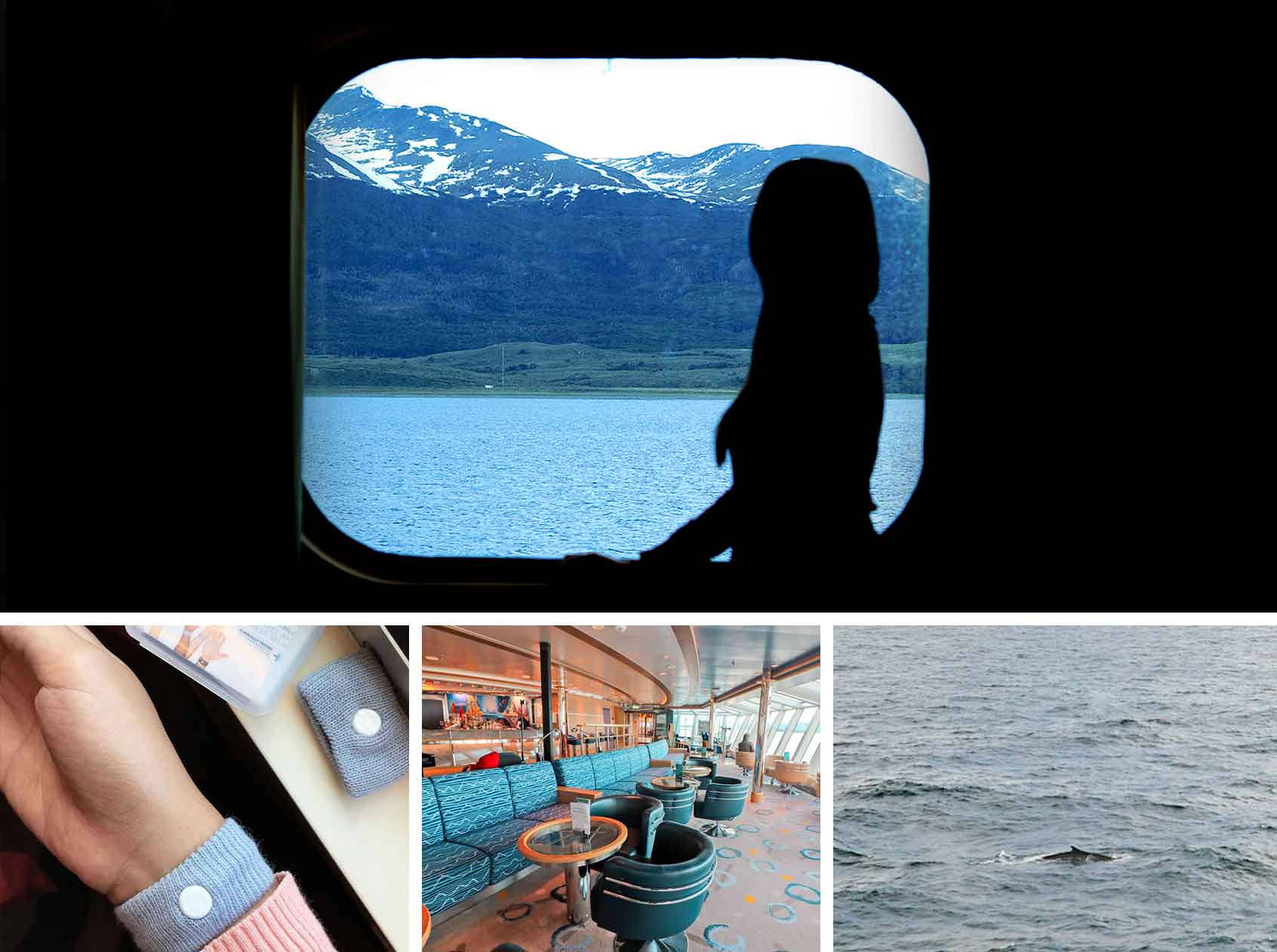 .
» DAY 4: West Falkland Islands «
◘◘ West Point Island: fist up-close encounter with albatrosses and penguins in the wild
The Falkland Islands (Islas Malvinas) are a remote South Atlantic archipelago and its West Point Island was our first landing. We each took turns getting off the ship via polarcirkel boats, and from afar, I could already see how West Point had amazing coastal scenery! Our expedition team leaders even kept pointing out that we were so lucky we had good weather that day since most of the time, the island is either wrapped in fog or rain.
Once there, we had to do a small hike to the other tip of the island in order to see the colonies of wild southern rockhopper penguins and black-browed albatrosses. This was my first up-close encounter with wild Antarctic animals of this sort and it was SO spectacular to see them all in NO more than just a meter away from where I stood! In fact, getting real close to them was no problem — they often pop up just right beside me. Anyhow, I really loved the cluster of black feathers near the black-browed albatrosses' eyes (it makes it look like they have eyeliners on fleek!) and some of the rockhopper penguins had eggs which they were warming up under their tiny feet.
To add, my experience was enhanced with the knowledgeable expedition team of Hurtigruten who were guiding and giving us all the info that we needed to know about the local flora and fauna.
TRIVIA: This island has a total population of only 2 (two)! It is owned by Roddy & Lily Napier and they run it as a sheep farm and a tourist attraction.
◘◘ Carcass Island: met the gentoo and magellanic penguins (SO CUTE!)
We made our way to the nearby Carcass Island in the afternoon to seek other kinds of penguins: magellanic and gentoo. (…We also managed to see leopard seals!) To get a glimpse of them though, we had to do a 10-kilometer hike from the landing port up to the beach and you bet that it was worth it: surrounding grand views aside, the penguins were just SO adorable — especially when they walk!
NOTE: We were advised to maintain a 5-meter distance from the penguins so as not to stress them (of course, touching is NOT allowed either). However, most of them were curious creatures so there were many instances wherein they were super close to us; which then makes for a great experience (other than it being a great opportunity for taking amazing photos and videos!). So simply put: we don't approach them, we let them approach us!
Magellanic penguins are 24 to 30 inches tall and they are recognizable by the two black stripes between the head and the breast, with the lower band shaped in an inverted horseshoe.
Meanwhile, gentoo penguins are 20 to 35 inches tall and easily recognized by the wide white strip that extends like a headband across the top of its head as well as its bright red-orange beak.
As for the leopard seals, we happened to see one of them stealthily surveying the shallow waters of the shore waiting for a careless prey… and indeed, one magellanic penguin took a wrong turn and there was a bit of a chase between the two of them in the sea. It was quite exhilarating when I witnessed this scene in flesh!
P.S. The penguin survived.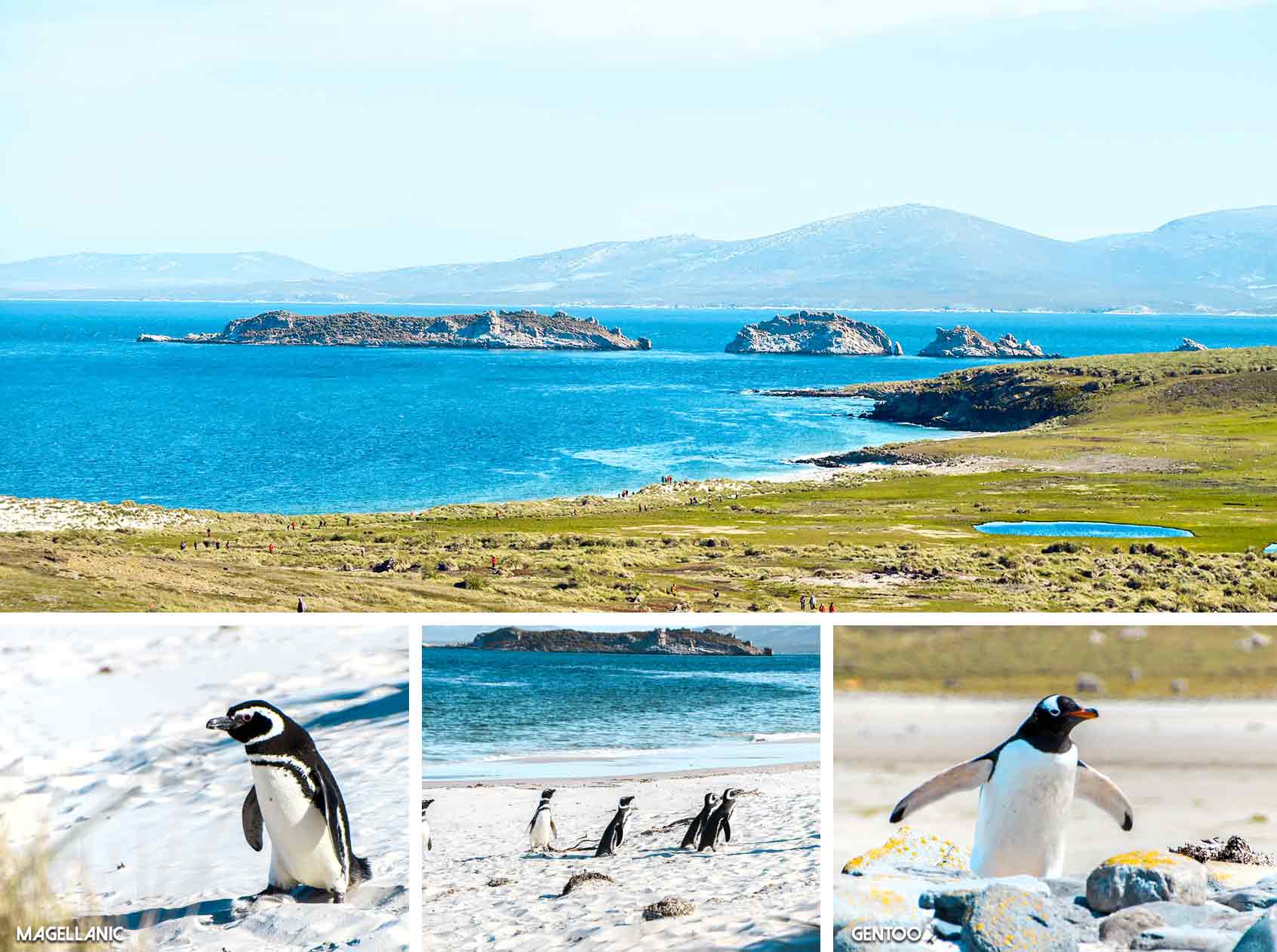 .
» DAY 5: Stanley, Falkland Islands «
◘◘ Lagoon Bluff Cove: off-road safari to sight gentoo, magellanic — and king penguins!
For this day, we visited Stanley, the capital of the Falkland Islands. By the way, these islands are actually a British Overseas Territory by choice (there's a long history about this which you can read up on online).
That being said, the locals here (which number at about 3,000+ only) are all British by birth or descent, and much like in Britain, they speak English, they drive their cars on the left, there are red telephone boxes, and the local currency (Falkland Islands pound) is equivalent to the British pound sterling.
Everyone had the chance to explore the town but before doing that, Jonas and I decided to join a group that visited a place called as the Bluff Cove Lagoon. To reach it, we had to do a 4×4 off-road safari and upon arrival, we were welcomed by over 1,000 breeding gentoo, magellanic, and king penguins — the 2nd largest penguins in the world (after the emperor penguins). The king penguins typically stand at 28 to 39 inches tall and I felt giddy thinking that some of them were at the same height as my little nephew, haha. (Sorry Gian, these king penguins were cuter and funnier than you).
Now, see the fluffy brown penguin in the photos below? That's a baby king penguin! They shed this brown coat for months through a process called moulting until they finally achieve the 'signature look' of adult king penguins. Seeing them now, they really look different, right? In fact, early explorers thought they were an entirely different animal when they first saw them.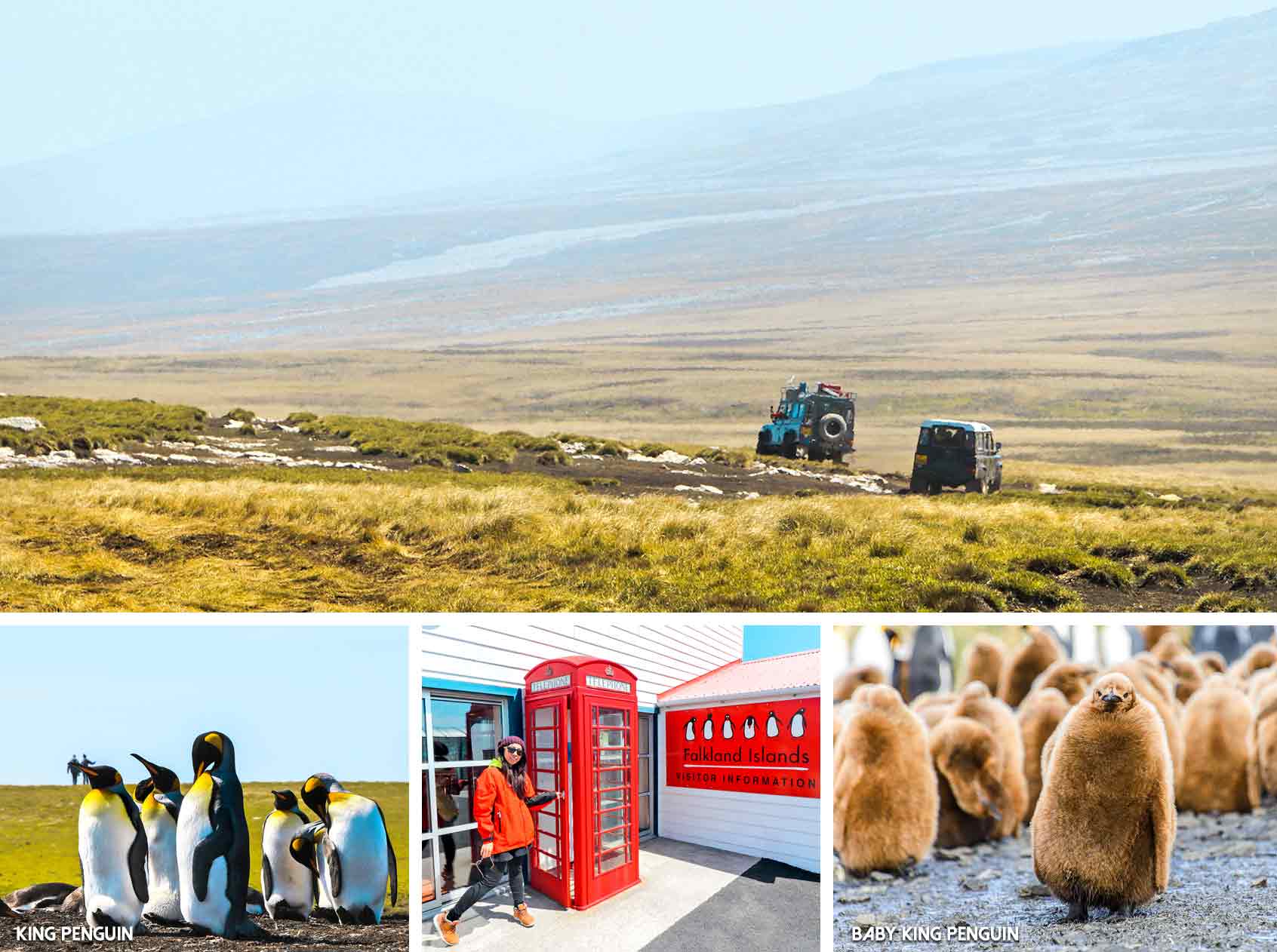 .
» DAY 6 & 7: Sea Days «
◘◘ Leisure and mandatory briefings: as per IAATO rules
After we bid farewell to the Falkland Islands, we were off yet again to the seas — and this time around, we had to do it for 2 full days. It was not a problem because I was fine: I didn't feel seasick anymore (thank goodness, the Sea Bands were really a lifesaver).
While we were at sea, we did a lot of things to fill up the time:
We had to do mandatory briefings as per IAATO regulations and other laws in preparation for our next landings in South Georgia and mainland Antarctica. For a start, in order to make a real and valuable contribution to the conservation of these destinations, we had to follow several rules and biosecurity measures. For the latter, it was very important for us to follow it so as to prevent the introduction or transfer of any foreign organic material to South Georgia and Antarctica's ecosystem, including animals, plants, seeds, soil and diseases. To do this, everyone had to vacuum their gear, bags, clothing as well as present our ship-issued boots for cleaning (as it will be the only footwear we will be allowed to go out in).
Every day, there were available movies and lectures that let us learn more about the wildlife and the islands we're visiting and they're all delivered by the expedition team that is made up of expert geologists, marine biologists, historians, and ornithologists among many others.
In other times, I would be at the outer decks of the ship which were perfect for lounging and for sighting sea birds. Let's not forget the sauna and the fitness facilities too! Most of the time though I was enjoying our suite and working online — YES, "online"! Thanks to the amazing internet connection that the ship offers, I stayed connected (and to think that we were sort of in the middle of 'nowhere').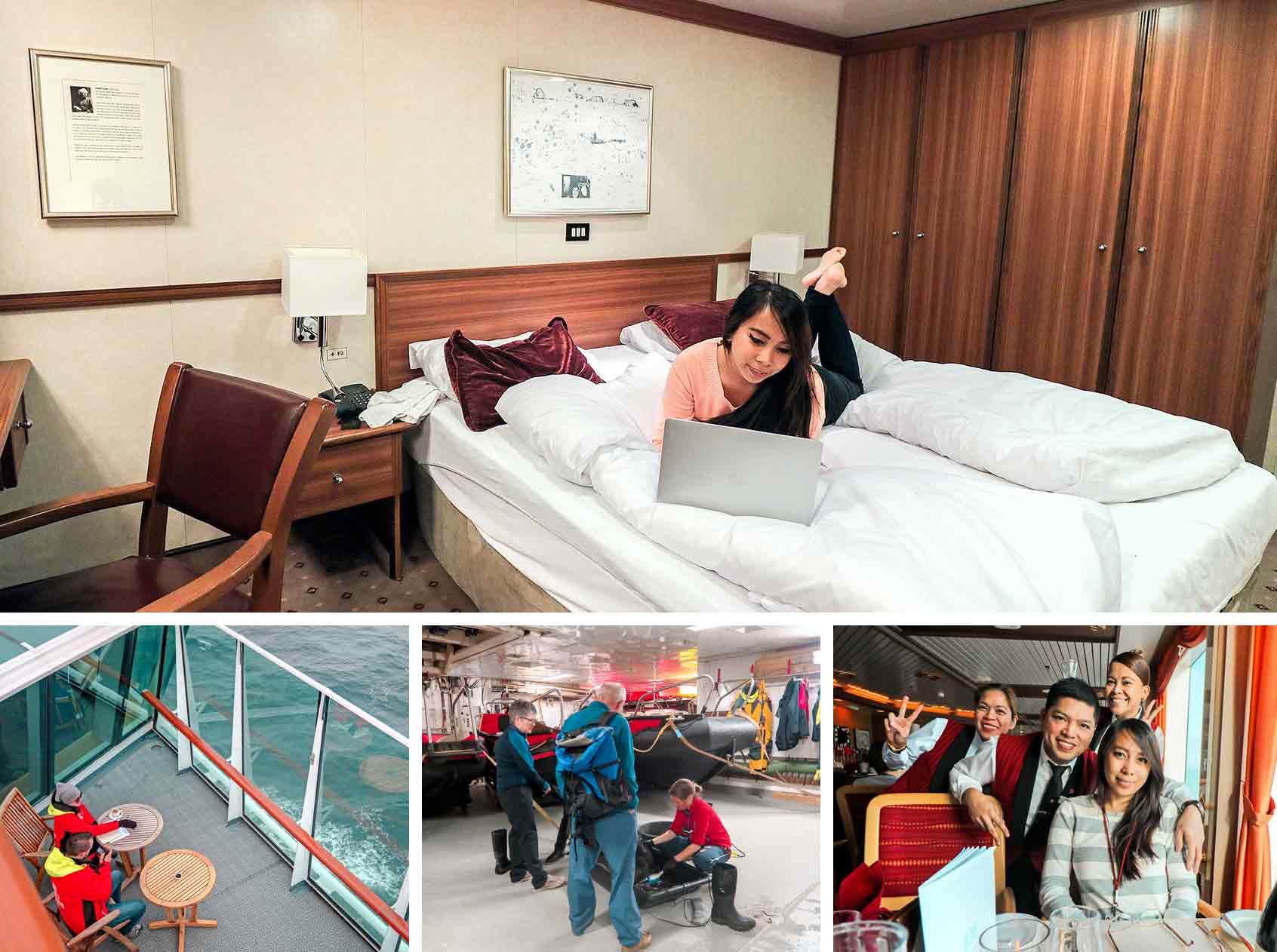 .
» DAY 8: North of South Georgia «
◘◘ Fortuna Bay: up close with colonies of fur seals, elephant seals and king penguins!
I was lost for words as soon as we made landing in South Georgia and the Sandwich Island's Fortuna Bay… not only because of the grand vistas but also because of the thousands of king penguins and elephant and fur seals that greeted us by the beach!!
We were practically surrounded by cuteness — but then again, we had to be vigilant when it comes to the fur seals who were quite aggressive (more details on this if you click the '+' icon below).
About Fur Seals
…See the fur seals in the photos below? Don't let that fluffy creature fool you because for the most part, they're some of the 'thugs' in Fortuna Bay. The thing is, they can be quite aggressive and they are also FAST even if they weigh about 90 to 215 kilograms!! So when we made landing at South Georgia, we were all told to remain vigilant because the whole of Fortuna Bay was filled with them and they can charge at anyone if they felt like it. And well, you bet that I felt like I was in a 'seal SURVIVAL GAME'!
It was all good fun though and they rarely 'attacked'. Plus, in time, the 'dominance display' between human and seal all just became second nature to us. (Mind you, the king penguins in the island also had to go through the same ordeal with the seals and I witnessed a lot of them tripping and running whenever a seal decides to charge at them).
★ So… why are the fur seals aggressive?
It's mostly the male ones that are always in attack mode. The main reason? They think we're out to steal their girls. LOL. I'm not joking! Competition for mates is fierce in the island — and so is space. However, they can attack with little to NO obvious provocation to any intruders (may it be human or penguin alike). Female fur seals also get aggressive to protect their pup; but during my time there, the females were all just lounging around while the pups are out and about playing far from them. Anyway, the pups can be feisty too since I did encounter one who hissed at me; but of course, it's not scary like the adult male ones because like what you might expect, it was freaking adorable.
★ What to do when the fur seals get aggressive?
We were all equipped with hiking sticks not just for 'hiking' but also for the seals. It was NOT an item to hit the fur seals with; it's just a precautionary tool that seem to make fur seals stop charging at you when you just point it at their direction.
Otherwise, you can clap your hands to startle them (as if payback for them startling you haha). If things get worse and you're surrounded by a lot of fur seals, you just need to make a lot of noise to kind of express dominance. Bottom line: you still always need to be careful because a seal's bite can be lethal. (I gotta say… this experience made me think that it would make for a good game app idea — "Survive the Seal Attack").
Fur seal 'thugs' aside, the terrain was just too spectacular: it was wild, rugged, and with everything combined, my time there truly felt like I was doing my own wildlife documentary! It's no wonder now why these islands are rated as the best Antarctic wildlife watching hub of all.
TRIVIA: South Georgia is NOT part of the Antarctic continent but it does lie south of the Antarctic Convergence (curve encircling Antarctica) and regarded as a sub-Antarctic island.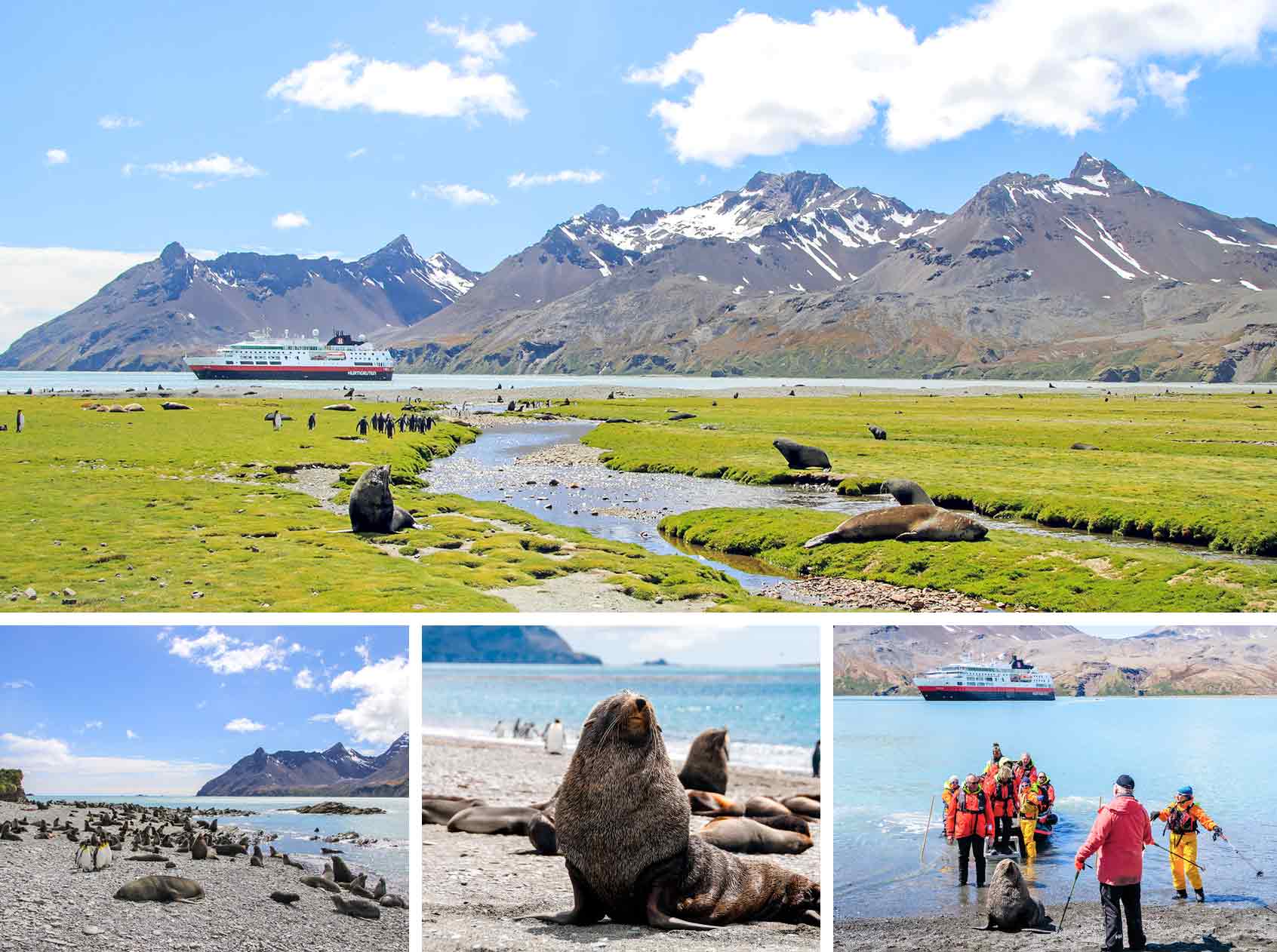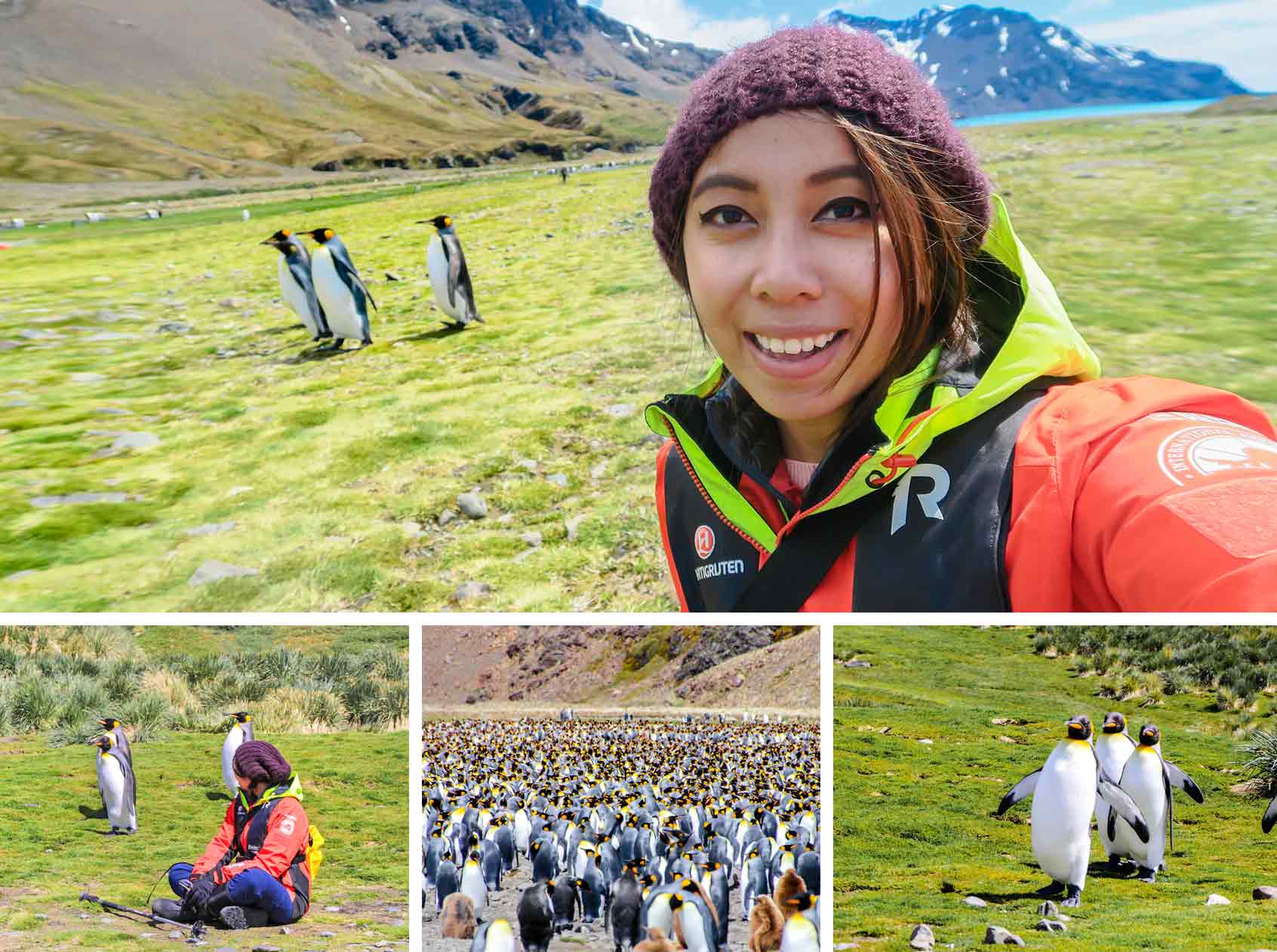 ◘◘ Shackleton hike: retracing the steps of a famed Antarctic explorer
South Georgia trails are rated as one of the world's most epic hikes — so I surely didn't pass up on doing the popular Shackleton Hike when there was an opportunity to do so in the afternoon!
TRIVIA: Ernest Shackleton is one of the famed great explorers of Antarctica and he once did a heroic rescue journey of survival through South Georgia for 35.5km in the height of the Antarctic winter.
Visitors to Antarctica have the chance to retrace his steps in the summer; but surely, with the time that we had, we can't do a full 35km hike. Still and the same, we had the chance to enjoy a 5km hike from Fortuna Bay which basically goes through the last leg of Shackleton as he made his way to Stromness. It may have been short, but I LOVED it!
Together with Hurtigruten's expert expedition leaders, we went through snow and glacier lakes backdropped by snow-capped mountains. The weather was perfect too so we had the chance to see the surrounding terrain in all its glory.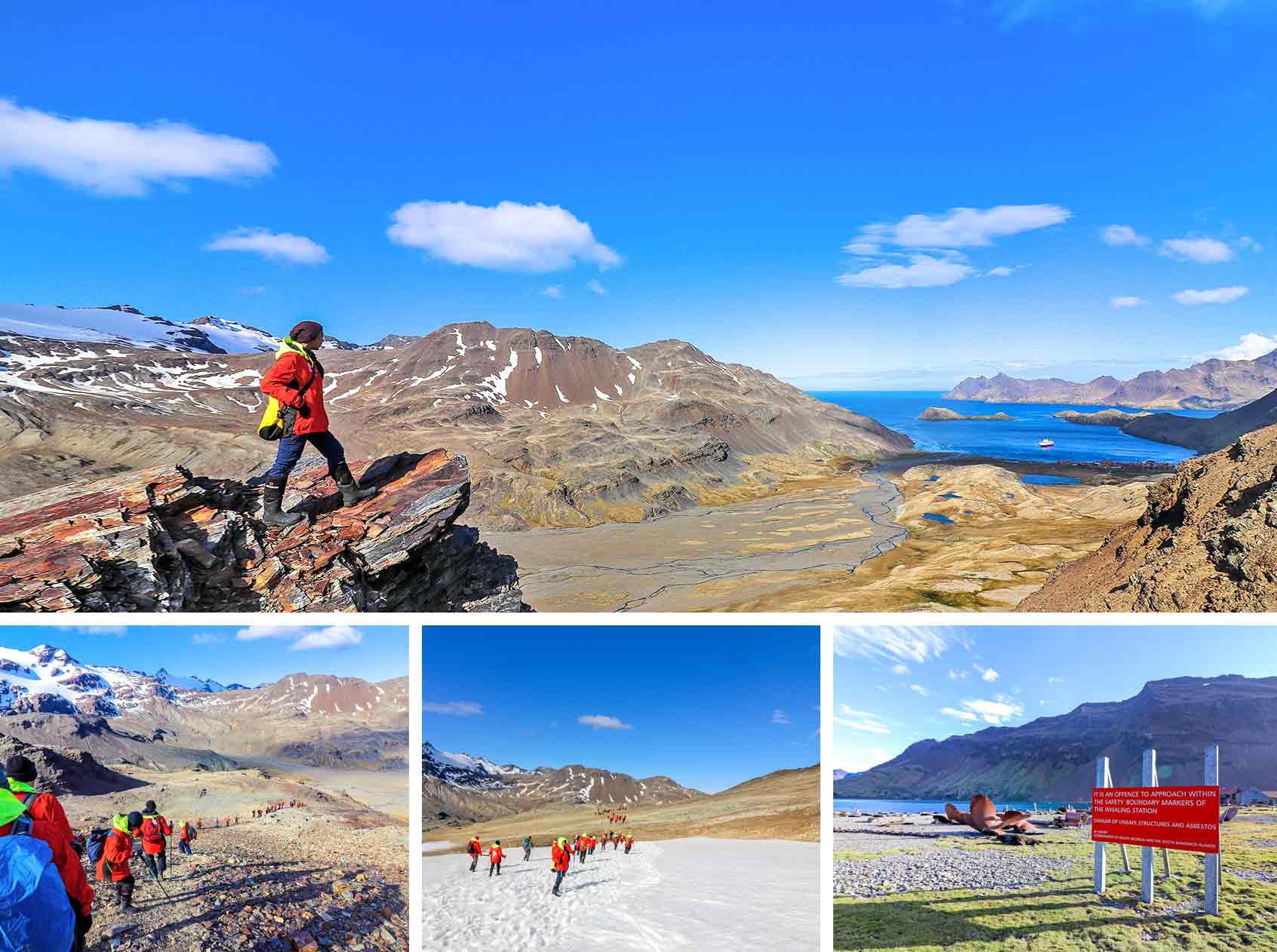 .
» DAY 9: Grytviken, South Georgia «
◘◘ Hiking: fand even more seals
Still in South Georgia, we landed this time in Grytviken Harbour which is an abandoned whaling station and also the location of Shackleton's grave. There were several activities to choose from while we were here: guided tours, cruising on polarcirkel boats, hiking, and kayaking — and as what you might have already guessed, Jonas and I went with hiking!
Afterwards, the remainder of the day was allotted for mingling with the seals at the harbour and chilling on the ship with some waffles and hot choco on hand. Speaking of which, I think I haven't mentioned the temperatures here, but I guess it's pretty obvious that it wasn't too cold (average of about 6°C).
.
» DAY 10: St. Andrews Bay, South Georgia «
◘◘ Jaw-dropping experience of a lifetime: me against almost a million of king penguins!!!
You've seen me mingling with thousands of king penguins in Fortuna Bay back in day #8, but here in St. Andrews Bay… they just rule in numbers, so I hang out with almost a MILLION of them!
This location is where you can find South Georgia's largest king penguin concentration (as well as elephant seals) and you cannot believe how surreal it was to hear all them 'chirping' at once! Things got even more magical when snow started to fall — which mind you, was also my first snowfall experience for 2017. Needless to say, I was brimming with happiness here and I wasn't even in mainland Antarctica yet!
One thing that you must know about St. Andrews Bay though is that due to its natural design and position in the Southern Ocean, it has a lot of swells (collection of waves typically loved by surfers but not by boaters or expeditioners like) and heavy surf. Therefore, visitors must visit on a good day, otherwise it will not be possible to get ashore; hence, I'm thankful that it was a good day then (though it was still quite misty).
To reach this huge colony, we actually had to cross a glacial stream first which would sometimes be easy but also challenging depending on the time of your arrival. For us, it was bordering on challenging but we all made it over the other side, thanks to the assistance of the expedition leaders. From there, we had to go up on the hills and boy… once I got to the top, my jaw literally dropped to the floor. The view was immensely breathtaking and vivid — that up until this day, I can still remember how incredible it all was!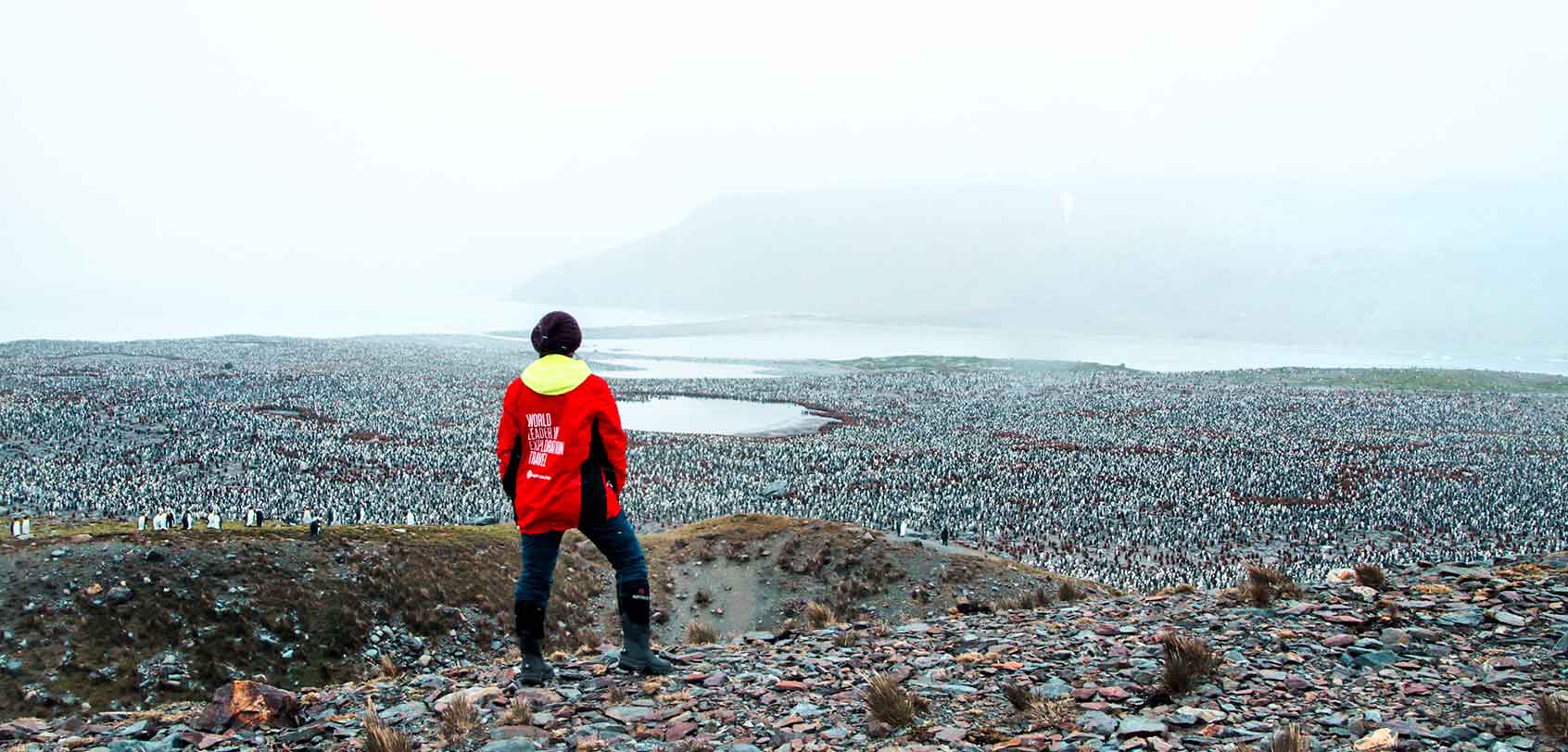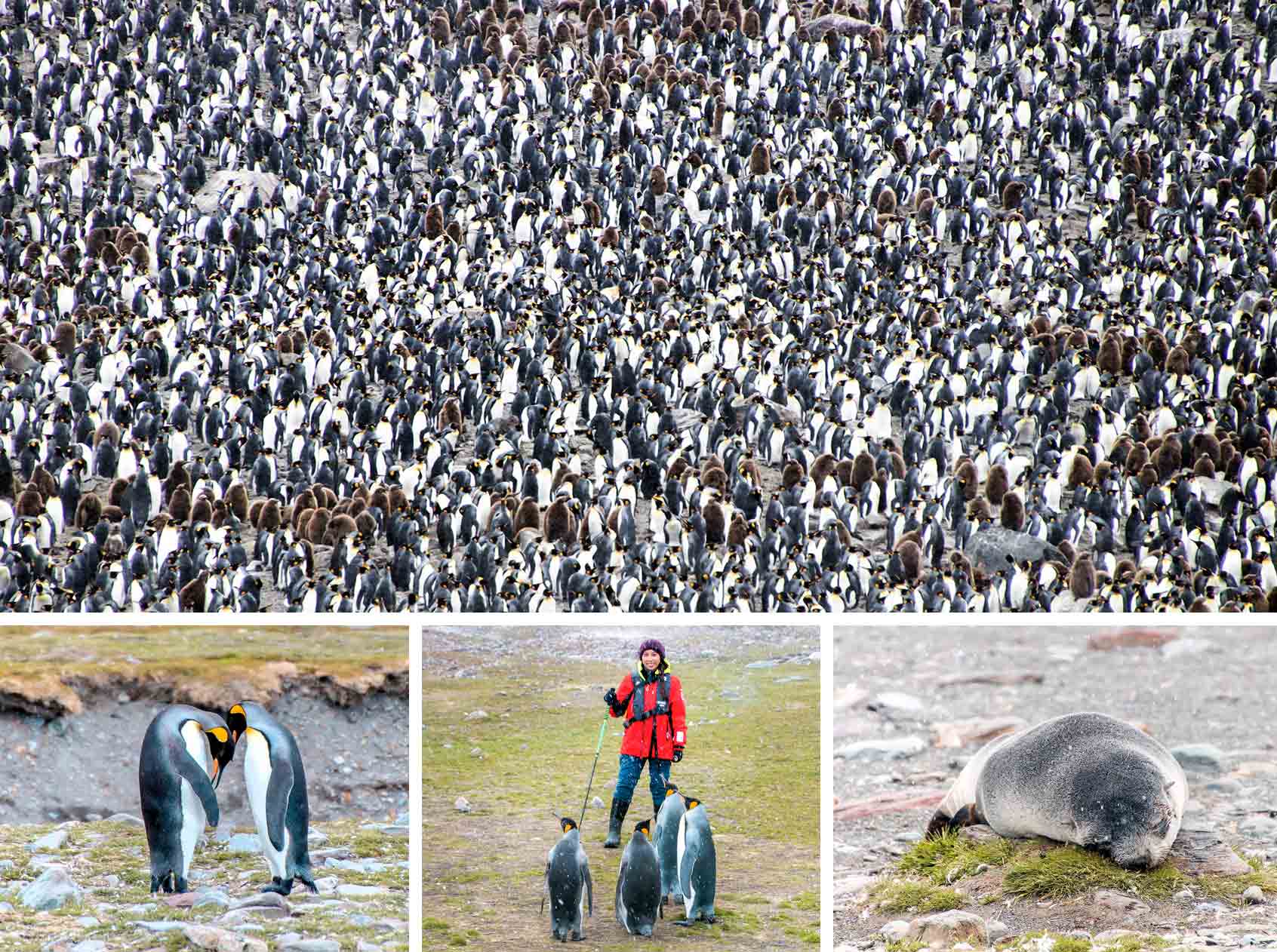 .
» DAY 11 & 12: Sea Days «
◘◘ Camping lottery: we got called out of the other hundreds of guests!
My contact in Hurtigruten signed Jonas and I up for the camping experience in Antarctica; however, we were told that even if we were VIP or even if I was the Queen of England, the participants for the 'Amundsen Night' of camping was done in a lottery. There were only about 15 tents so there will be 15 guests/couples who will be lucky enough to undergo this once in a life time activity.
During this seaday, the expedition team did the lottery draw and well, as you have already read above, our cabin number was called!!! (I hope my luck in this lifetime hasn't run out yet!)
◘◘ Meeting the captain: and a change of plans
What better way to spend the day at sea than to spend it with the ship's captain, right? Everyone had the chance to visit the bridge and see how things are run by the captain and his crew. For sure, I didn't pass up on it — and though I have little to no knowledge of  running a ship, the opportunity to learn more about how they work and navigate the seas was an awesome experience.
Meanwhile, we were supposed to head over to another island (South Orkney) before arriving at the tip of the Antarctic Peninsula; however, the swells in the water were horrible and unsafe for landing, so the captain decided that we will just head straight for Antarctica.
While we were on our way, we spotted a HUGE iceberg and it was the biggest one I've seen (yet)! …The best part? There were penguins resting on it (and I even got a cute footage of a penguin trying to get back on the iceberg and failing twice).
TRIVIA: About 91% of an iceberg is below the surface of the water, so you could imagine how massive this iceberg was underwater! And in case you don't know, an iceberg or ice mountain is a large piece of freshwater ice that has broken off a glacier or ice shelf and is floating freely in open water. Therefore, this guy has been floating around for a while!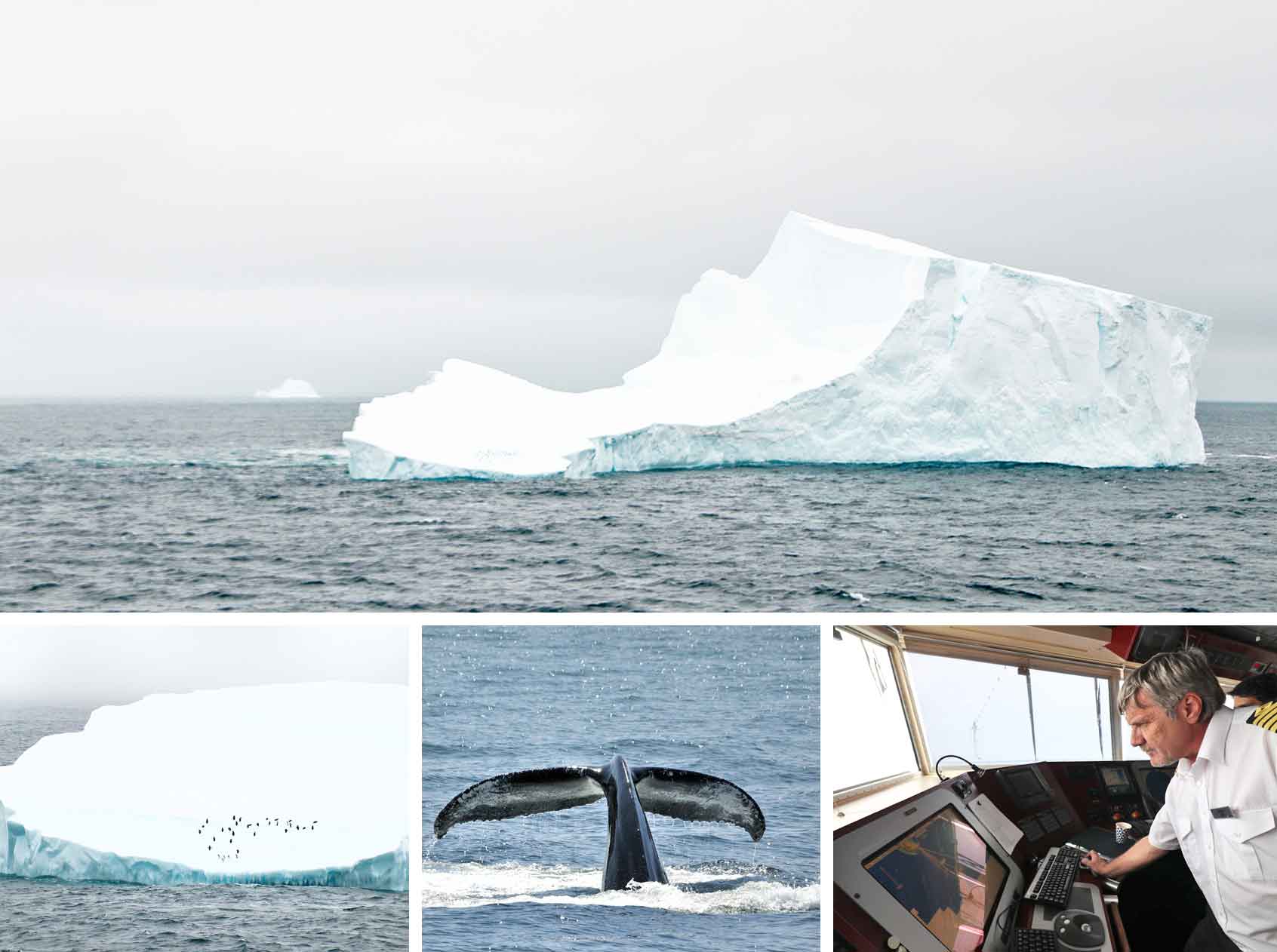 ◘◘ Sightings: Shag Rocks and humpback whales
For the 2nd sea day, we passed by 6 small islands that were called Shag Rocks. They were remote and uninhabited, except for a small gentoo penguin colony that seemed to have settled in one of the rocks. These islands were in the middle of the South Atlantic ocean on our way to South Georgia, and not too far away from this location, we encountered 2 humpback whales in the waters!
If you ask me… discovering remote places like these and sighting wildlife here and there really makes me feel like a true explorer!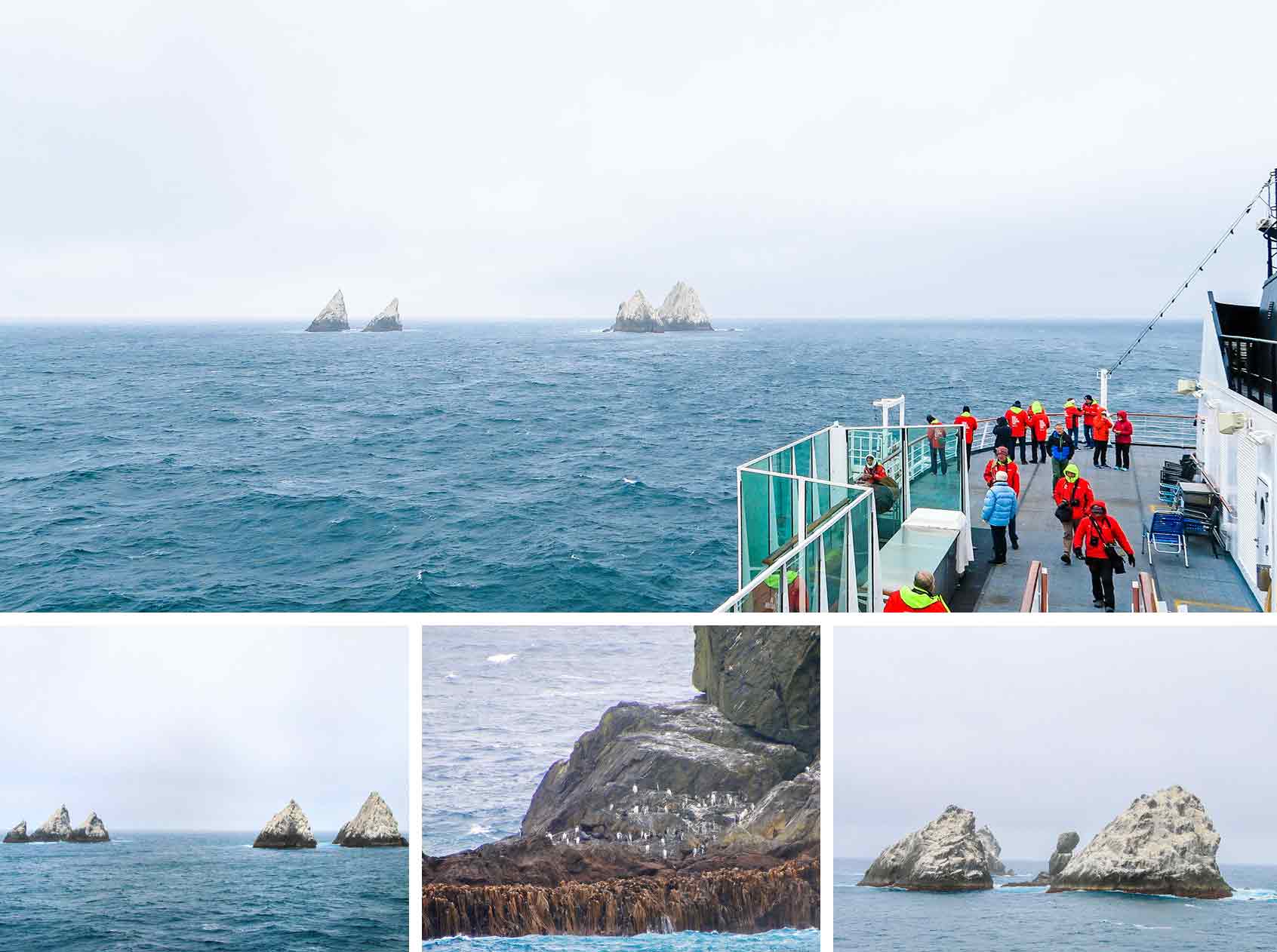 .
» DAY 13: Elephant Island, Antarctica «
◘◘ Arrival: finally reached the tip of Antarctica Peninsula!
FYI, the Antarctic Peninsula is the northernmost part of the mainland of Antarctica, and it's the location where cruise expeditions are allowed to go and visit to (anywhere further in and you'll just be asking for danger).
Our first stop in this peninsula is the outlying mountainous island called as Elephant Island. This is said to be an 'icon' because this used to be the home of 22 marooned members of Ernest Shackleton's fabled 1914 Imperial Trans-Antarctic Expedition for four and a half months while they awaited rescue. These men barely survived living in such horrible conditions underneath two overturned lifeboats, and if per chance you want to see a reenactment of this, you can watch the movie titled as 'The Endurance' (which is narrated by Liam Neeson).
We were supposed to land here and go around with the polarcirkel zodiac boats, but due to the swells, we had to remain on ship. It was fine though, and from where we were, we could see Point Wild in which there is a small colony of penguins. Somewhere on it too is a visible bronze bust or figurehead of a ship and this was from the Chilean Navy ship Yelcho that eventually rescued Shackleton's men.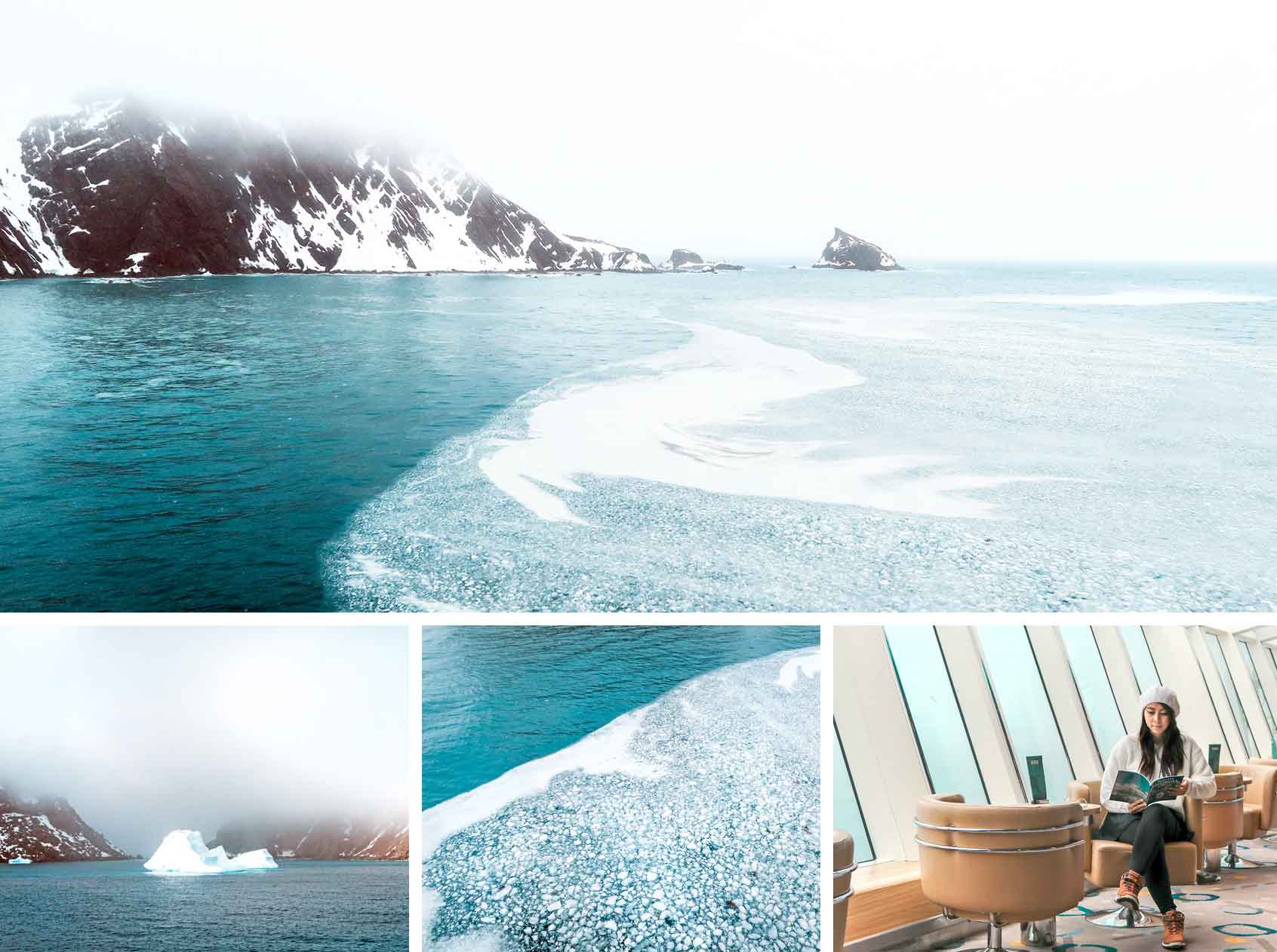 .
» DAY 14: Half Moon Island, Antarctica «
◘◘ Arctowski Station: first Antarctic research station I've set foot on (and first sighting of adelie penguins!)
Just off the coast in mainland Antarctica is King George Island of the South Shetland Islands which has the Henryk Arctowski Polish Antarctic Station: one of the most visited scientific stations in the continent — mostly because it is readily-accessible and that the Polish staff are friendly.
Established in 1977, the station is managed by the Polish Academy of Sciences and its main research areas include marine biology, oceanography, geology, geomorphology, glaciology, meteorology, climatology, seismology, magnetism and ecology. Visitors are free to come in, and the station's official stamp is available for use by anyone on their passport or on postcards. I initially wanted to send my postcards from here but I decided against it because I wanted send them from the mainland's Port Lockroy Penguin Post Office instead. I was up for the risk! (I say risk because it's possible that we might not land there if the weather isn't good; hence, I was hoping that it would be). I guess a more sound decision was sending half of my postcards from here just to be sure, but I didn't — so maybe, if you don't want the risk, you can send 2 sets or go 50:50 — or just let the ship send it for you. But of course, it's a lot better to do it myself, right?
Anyhow, on its beaches, we witnessed numerous whale bones (relics of the time when the site was used to process whales that were killed nearby) as well as penguins and seals. In fact, I met another penguin specie here: the adélie (pictured below) which is sadly one of the declining penguin species due to global warming. Their colony which was perched on top of a hill was inaccessible as it is a designated Area of Special Scientific Interest, but it was alright because there were several of them walking on the shore.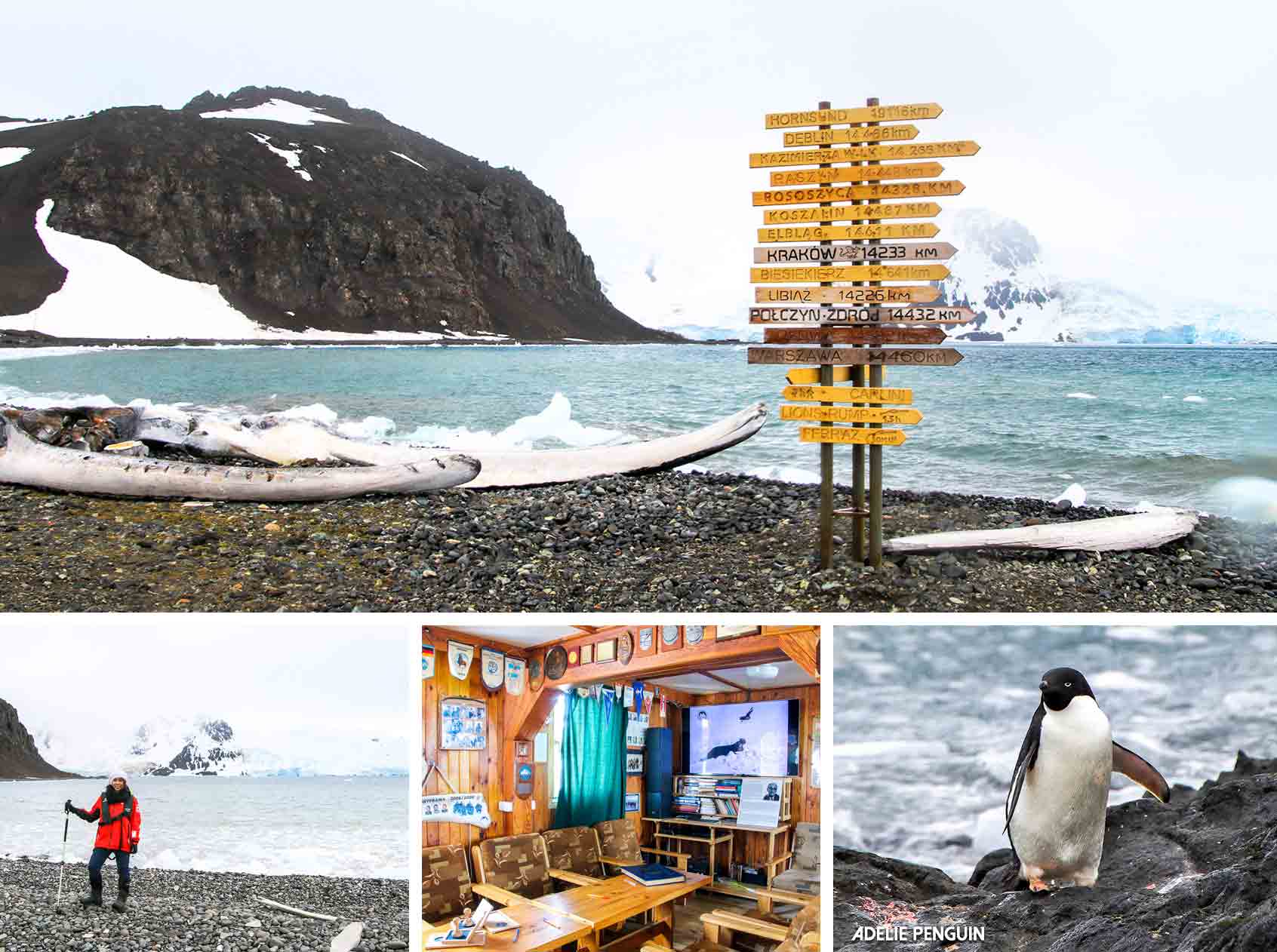 ◘◘ Snowshoe tour at the bottom of the globe: a surreal sight (with adorable chinstrap penguins afterwards!)
In the afternoon, I did snowshoeing in the nearby Half Moon Island with some other guests of the ship. This was actually my first time to do snowshoeing and it was fairly easy and enjoyable to do!
It was foggy for the most part of our experience, but in return, it made our surroundings look otherworldly. And once everything cleared up, everything just took my breath away! (One thing that I need to point out is that it's VERY important to wear shades or sunglasses while in Antarctica because there is such a thing as 'snow blindness'. Don't forget to put sunscreen either because the UV rays here are quite harsh.)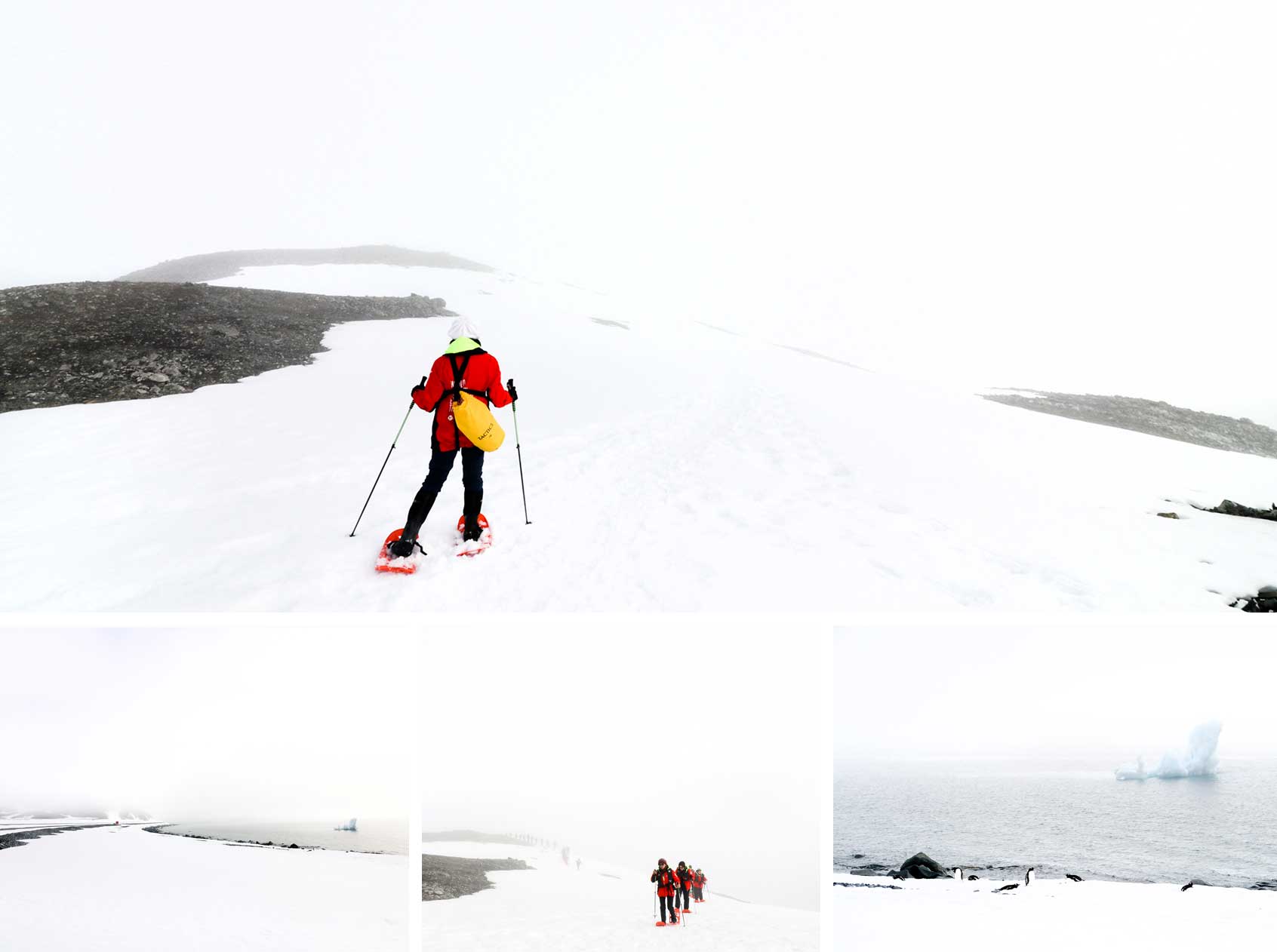 Say hello to Antarctica's chinstrap penguins! You can see why they're called this way because of the black feathers that run under their chin. It makes them look like they have a teeny tiny helmet, right? They're SO adorable and we found their colony in Half Moon Island.
TRIVIA: The breeding practices of chinstrap penguins are quite dramatic. Males would race to find the very best nests, and then wait for their mates to arrive. If a male can't find a nest to his liking, he may even force couples out of the nest that he has chosen (talk about forceful!). Once he has a nest, he will give his mate 5 days to show up — if she won't, he's moving on. But if his original mate catches him with another lady, these female penguins will fight over his affections! Aaaah… penguin love.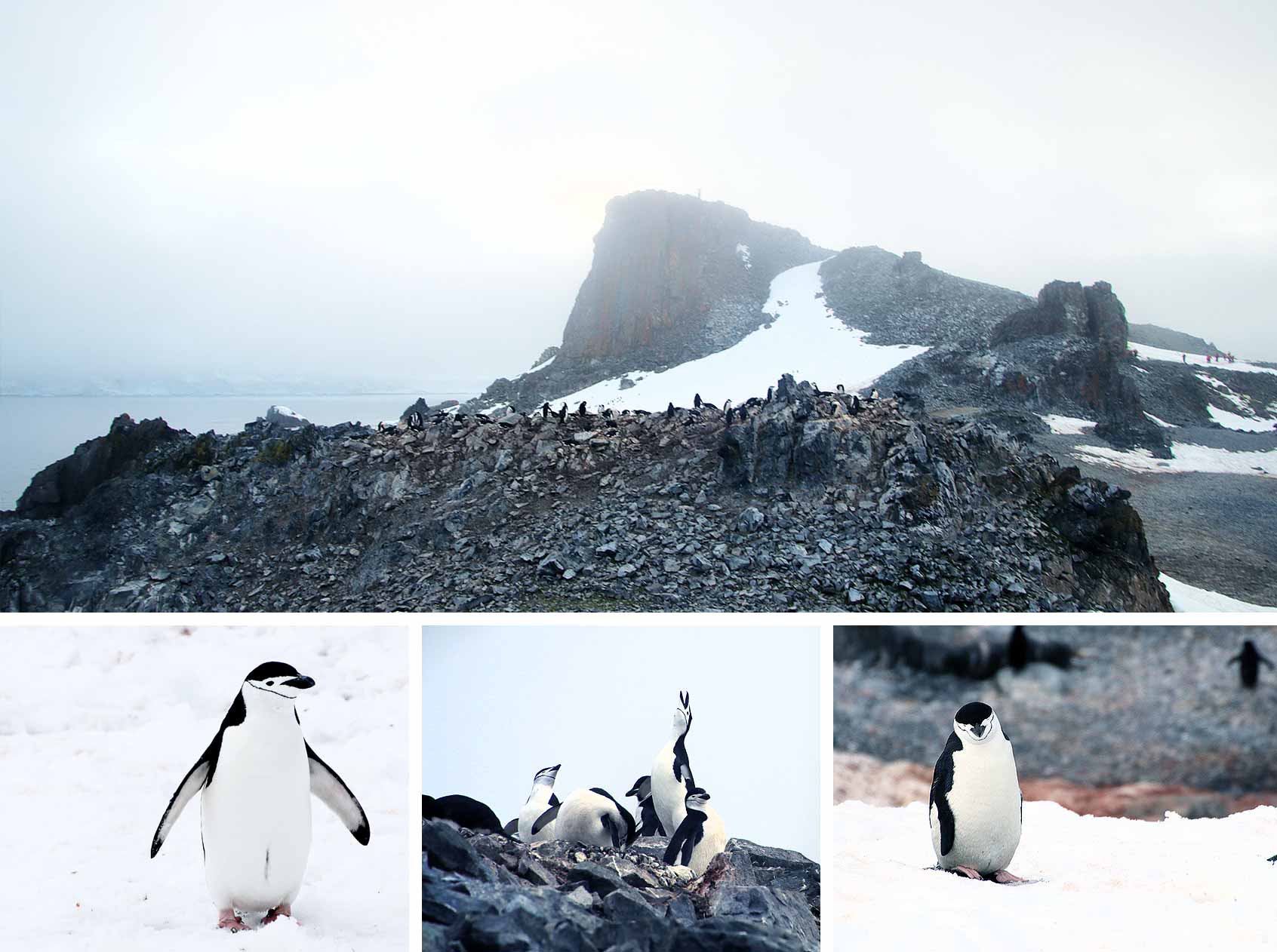 .
» DAY 15: Deception Island, Antarctica «
◘◘ Polarcirkelboat Cruise: all about the island
Deception Island, which is still a part of the South Shetland Islands archipelago, is a unique place because it is the caldera (volcanic 'crater') of an active volcano. Yep, you read that right and we went inside this place!
The thing is, a portion of the wall of the volcanic caldera had collapsed, flooding the interior and creating an amazing natural harbour. Access to this interior is only through a 200 metre-wide (660 feet) entrance known as Neptune's Bellows, so named for the winds which howl through. More so, there is a rock in the middle just under the water and the area to one side is also foul. Therefore, our ship had only 100 metres (330 feet) with which to navigate! Rest assured, we got in safely, naturally.
◘◘ Polar Plunge (!!!): at Pendulum Cove
I mean… I was already in Antarctica AND I was even inside a volcano, so why not try doing the first polar plunge of my life in the freezing waters?! (BUCKET LIST CHECKED!)
…Aaah — I can still feel the chill! But yeah, if you know me personally, it's NO news that I hate cold water (I mean, who doesn't?). In fact, you would have to force me to swim in European beaches for example, no matter if it's the summer. However, I knew that it's NOT everyday that someone can say that they've swam in Antarctica waters right?! (And inside a volcano at that). So after a considerable time of arguing with myself, I eventually ended up doing the plunge from head to toe!
After all, I did NOT want to regret NOT doing it!
How did it feel? …Refreshing! For me, the easiest part was AFTER the swim because for some reason (probably due to the numbing cold) I felt energized.  As for the hardest part? It was actually BEFORE the swim because the first time my skin came in contact with the 1.5°C waters, it felt like needles were prickling me all over! Not to mention the cold and harsh Antarctic winds. Would I do it again? …Probably, but I won't make a habit out of it. I'll do it again somewhere near the North Pole though, that's for sure!
TRIVIA: There was a time when you can dig holes in the sand (since the sand IS warm) so you can enjoy a 'hot spring' by the bay — but this is NO longer allowed under the Antarctic Treaty. Hence, people's perception that there are hot springs in Deception Island is not true; and believe me, even if it was still allowed to do that, there is no way that your plunge won't be cold.
You can also do a polar plunge in Whalers Bay of Deception Island, but the upside of doing it in Pendulum Cove is that once you get back on the beach after your swim, you'll get to enjoy brief moments of warm sand on your feet. (Of course I immediately dipped in the ship's hot outdoor jacuzzi after my polar plunge — after all, I needed to remind my body how it felt to be warm again!).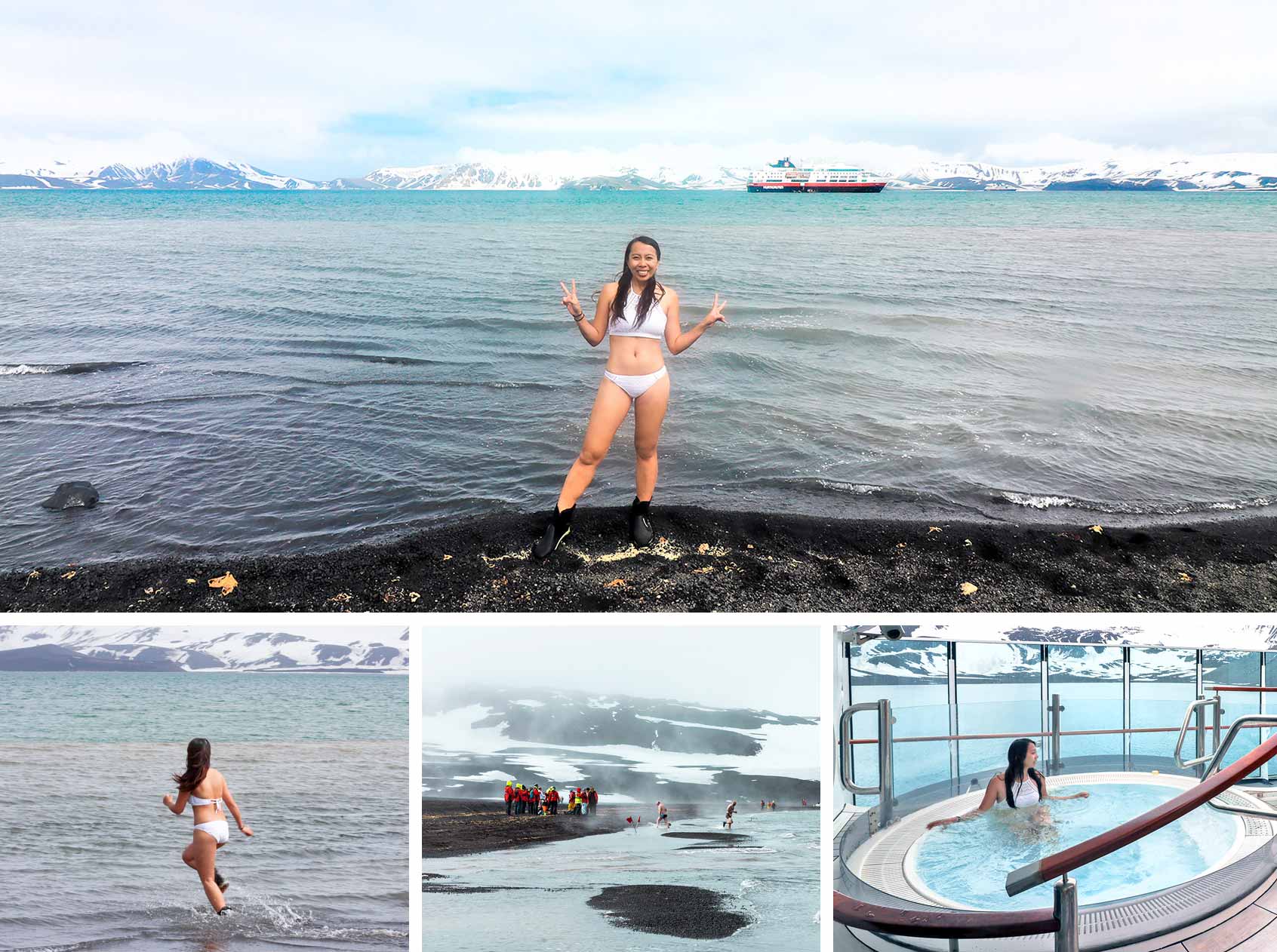 .
» DAY 16: Mainland Antarctica «
◘◘ Paradise Harbor: this is what dreams are made of!
We FINALLY arrived in mainland Antarctica of the Antarctic Peninsula! We first landed in Paradise Harbor, also known as Paradise Bay, and it is one of the only 2 harbors used for cruise ships to stop in the 'White Continent' (the other one is called Neko Harbour).
To get better views of the overall surroundings, we could hike up to the top of a nearby hill and as I stood there surround by snow, penguins, and icebergs, I was teary-eyed. Antarctica is everything that I expected it to be, and MORE! And I really couldn't believe that I was finally in this place, — a place that I only used to watch and read about.
NOTE: The temperature that day was only about 5°C and there wasn't much wind, so while we were hiking up, I started to sweat like crazy that I had to leave my jacket behind! Jonas even had to take off his clothes (while he was at it, he decided to do a snow angel in the snow without his top on haha).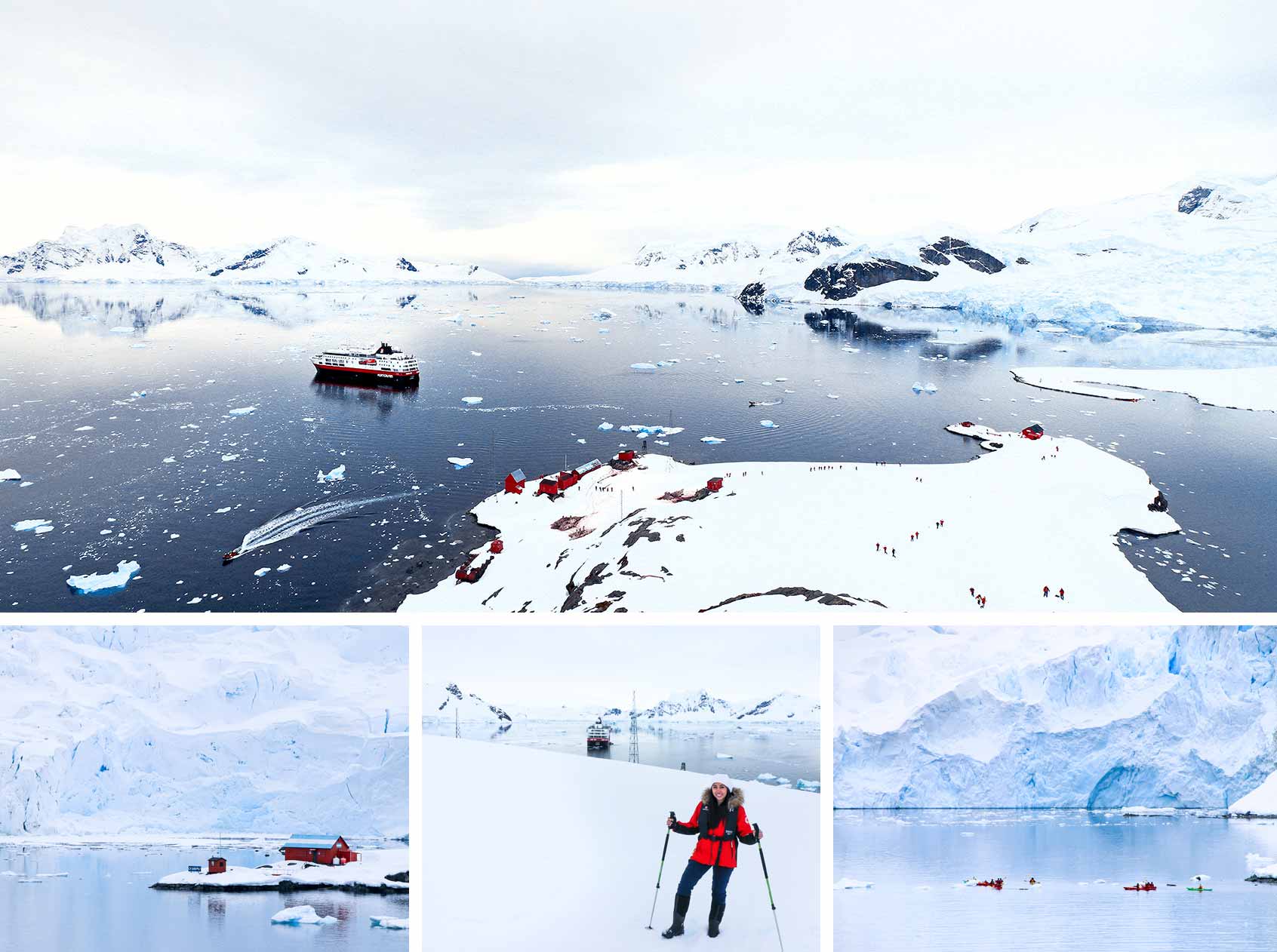 ◘◘ Cuverville Island: largest gentoo penguin colony
This island full of icebergs supports one of the largest known gentoo penguin colonies. Truth be told, given the right wind direction, this fact is immediately apparent from miles away due to their collective smell!
At this point, let me introduce you to the so-called 'penguin highways'. Early in the season, snow cover impedes but doesn't stop penguins accessing the sea from their nests, so they create this intricate network of penguin highways which they carve into the snow with their repeated walking.
For penguins who don't go through the highways, I had a swell time seeing them stumble around the snow. They really are a big ball of cuteness!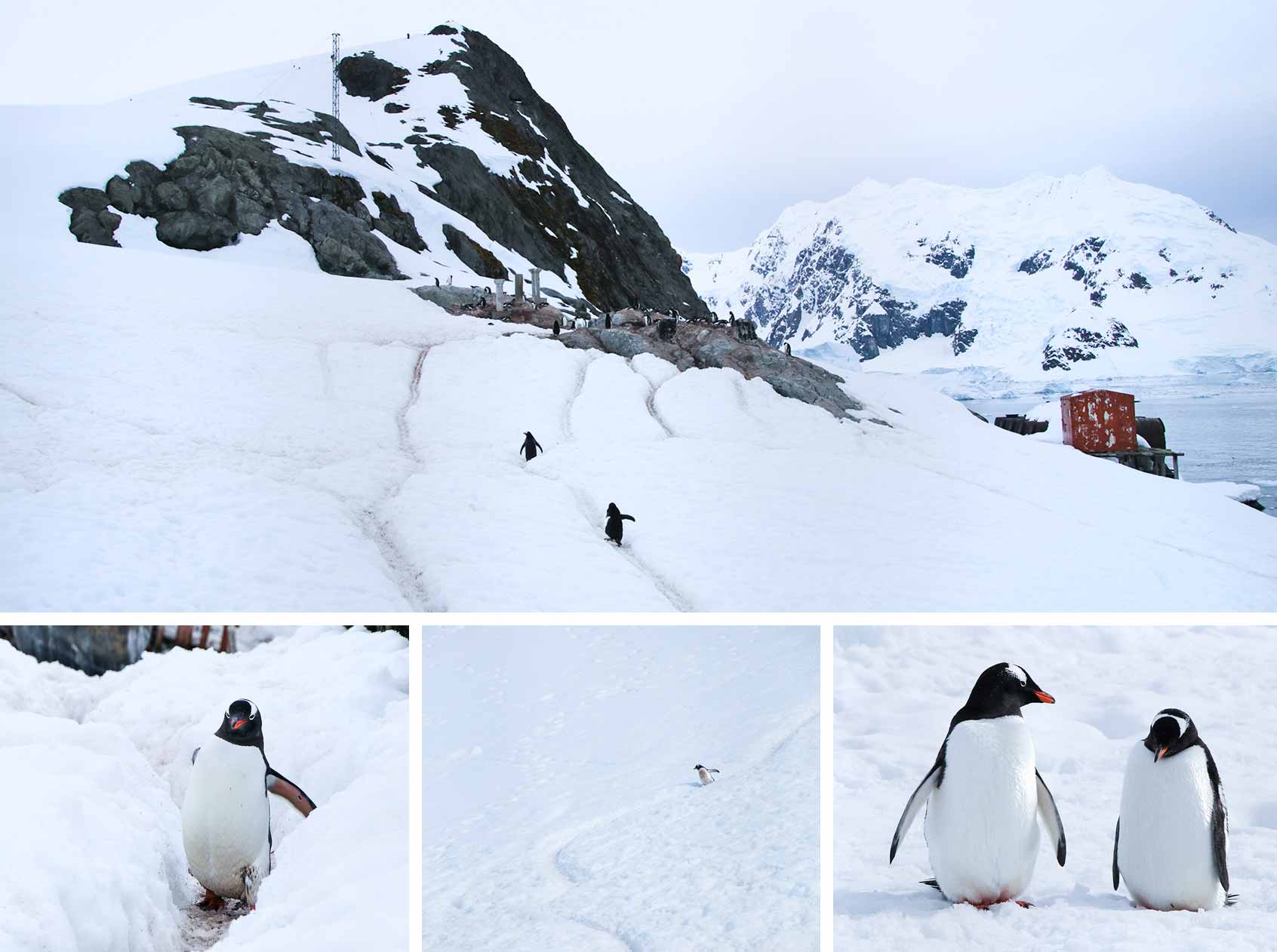 ◘◘ Amundsen Night: camping in the Antarctic!
Another bucketlist checked! This was the night when we finally did our camping, so in the true style of the early explorers, I slept under the Antarctic sky with only the thin wall of a tent separating me from the elements. After all, I've already survived a polar plunge inside an active volcano, so why not put it a step further and sleep in sub-zero conditions, right?
Indeed, it's truly a surreal experience to think that I've done something that NOT a lot of people in the world do. And I can't begin to describe how happy I was that my name was drawn for this!
…How was it to sleep in Antarctica?
VERY windy! The temperature quickly drops once the night creeps in so it was quite nasty; but we had very thick sleeping bags so I was all warm and cozy.
The sun set sometime after midnight and once we settled in, we only had the wind and the surrounding penguin noise to engulf our senses.
NO eating was allowed, and NO campfires as well as per Antarctic Treaty rules. So NO, we didn't warm up by the fire and drink hot cups of chocolate, nor did we roast some marshmallows haha. It was only us, the penguins, and the cold.
READ my detailed blog post about this here: [click].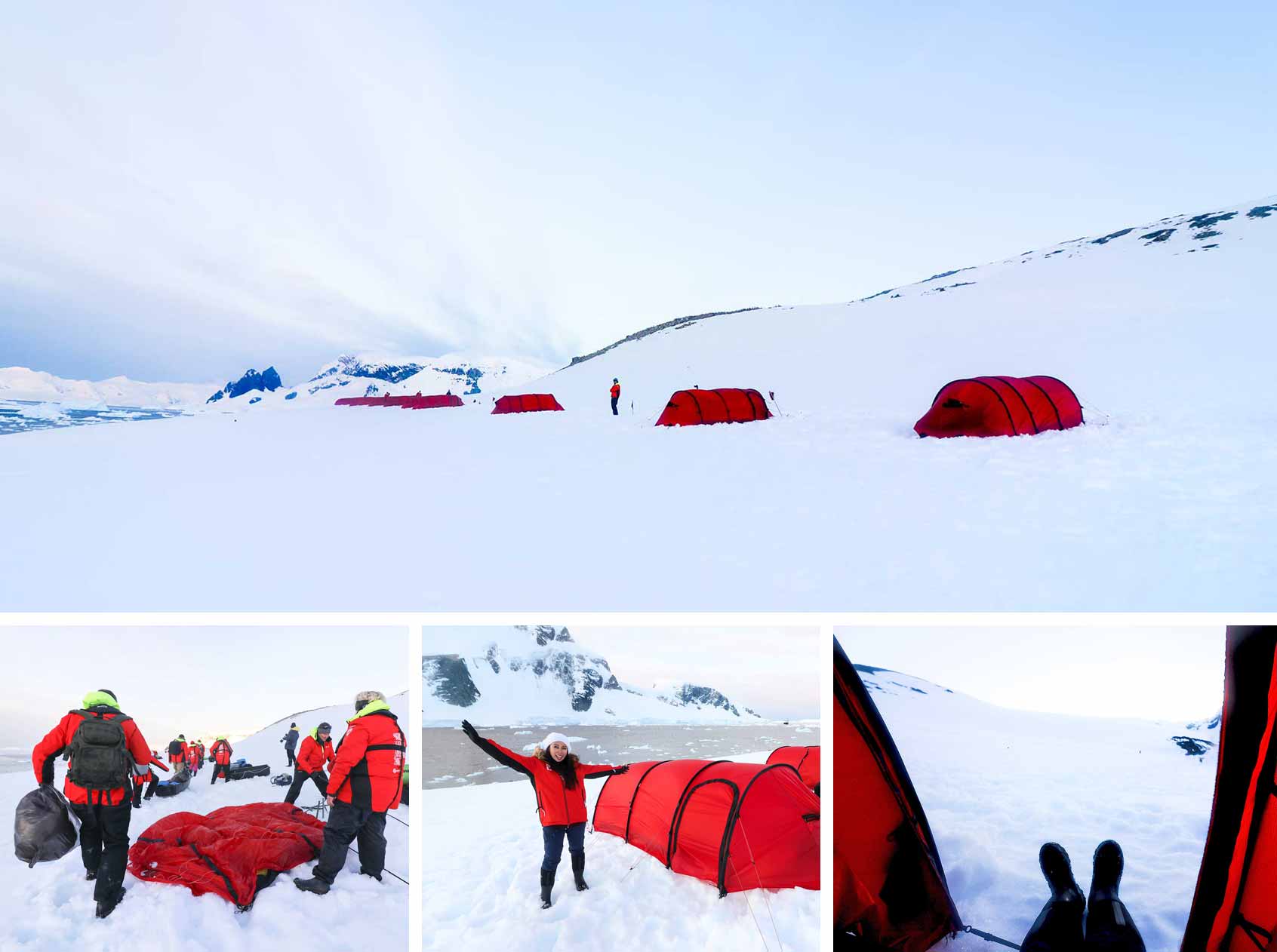 » DAY 17: Further in to Antarctica «
◘◘ Port Lockroy: the Penguin Post Office!
This was our final and last landing in Antarctica: the Penguin Post Office in Port Lockroy which is the world's most southerly post office that is typically run by a staff of 4 —humans; unfortunately, NOT penguins… but the post office IS surrounded by about 3,000 gentoo penguins!
Once we landed here, I made sure to buy some small souvenirs as well as send postcards to friends and family. I was so thankful that the conditions were great that day, otherwise I wouldn't have been able to visit this famous Penguin Post Office (and if the ship were to send my postcards instead, it will take longer because they will do it on the next expedition; provided that they can land of course).  Anyway, the stamps here cost only $1 each (you can buy postcards here or on the ship).
TRIVIA: During Operation Tabarin in 1944, the British set up two bases in the Antarctic Peninsula to establish a permanent presence in the Antarctic. They set up Base A at Port Lockroy and Base B at Whalers Bay, Deception Island. Since its restoration in 1996 by the Antarctic Heritage Trust (AHT), Base A on Goudier Island at Port Lockroy has become one of the most visited sites in Antarctica. It now operates as a museum, kept as it was in the 1950s, as well as a post office and souvenir shop with all proceeds going to the AHT, a non-profit organization dedicated to conserving this and other historical huts in Antarctica.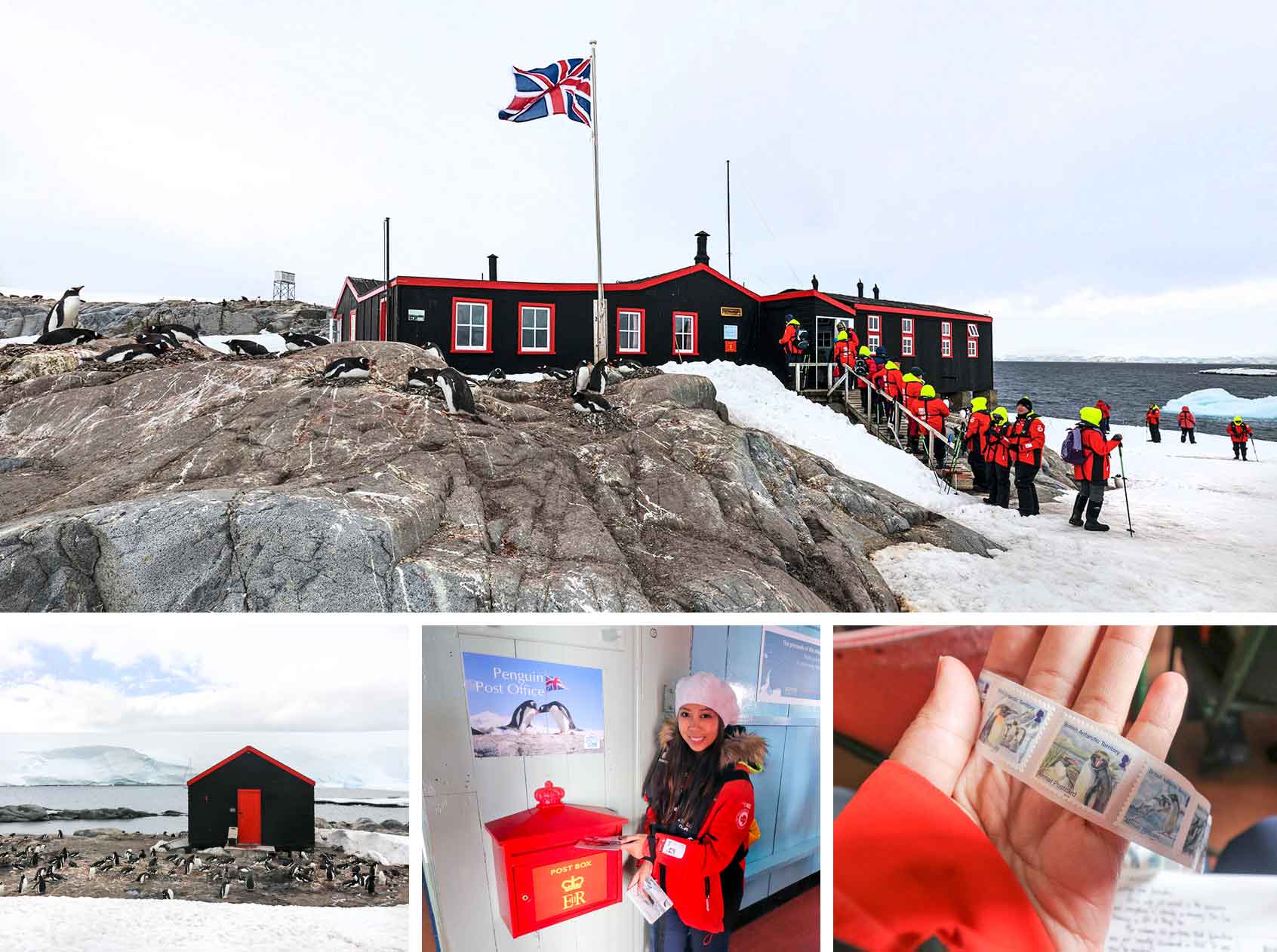 ◘◘ Lemaire Channel: a scenic channel further south
When we were back in the ship, the captain told us that we will attempt to sail in the scenic Lemaire Channel. With the right weather, this 11 kilometer-long (seven mile) and 1.6 kilometer-wide (one mile) channel can be strikingly beautiful. Well… the weather was good, but the ice wasn't too kind so we didn't go that far.
Nevertheless, we all enjoyed the superb scenery as we all settled in on the outer decks.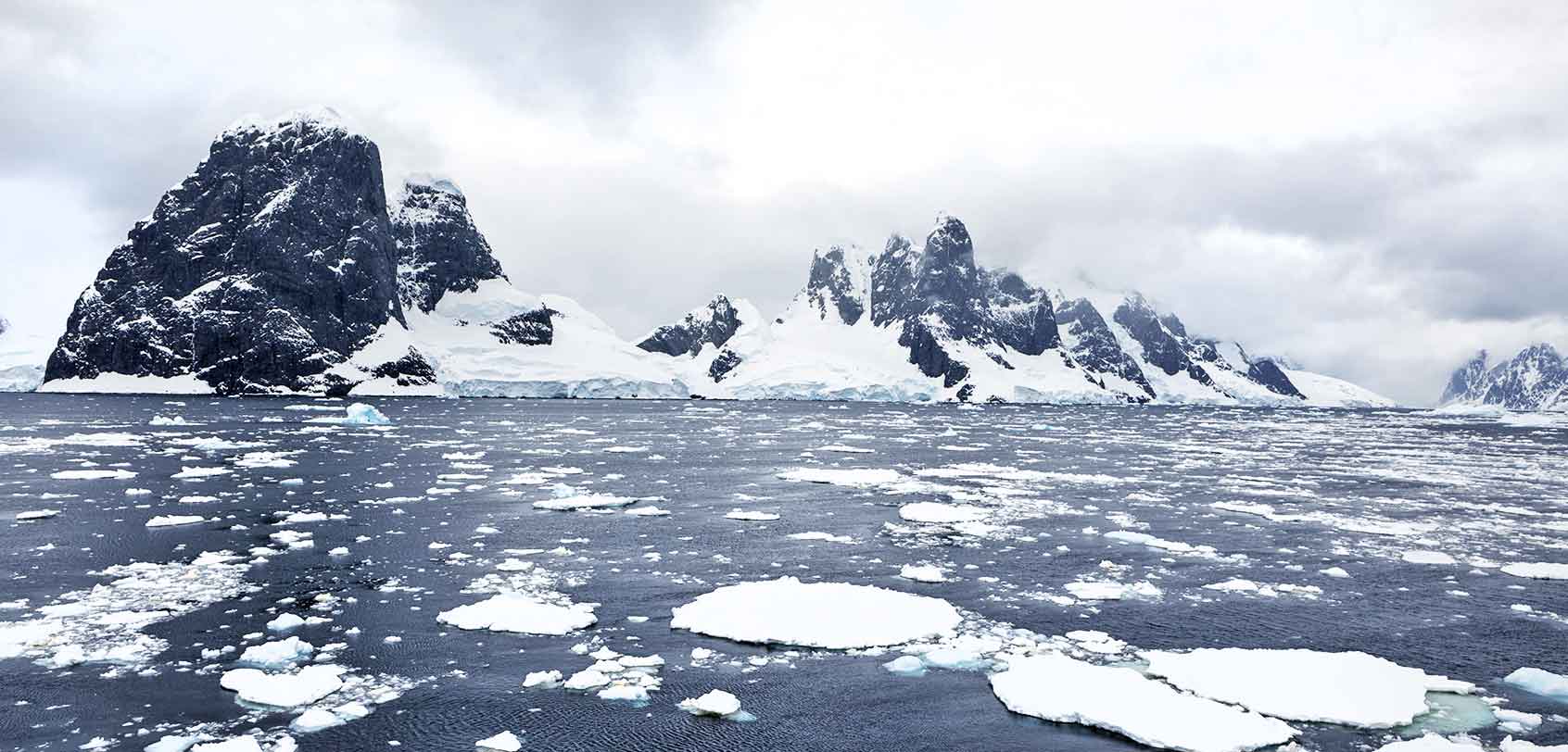 » DAY 18 & 19: Drake Passage «
◘◘ Drake Passage: world's roughest seas
Our Antarctica adventure has come to an end (*sigh*) and to go back to Ushuaia, Argentina, we had to cross the infamous Drake Passage. This is said to be world's roughest seas given that it is where the Atlantic, Pacific and Southern seas converge. There aren't any nearby landmass either so the currents here meet with NO resistance, resulting to it being the choppiest waters in the world!
However, one's experience here can either be called 'Drake Lake' or 'Drake Shake' and our ship's crossing was somewhere in the middle. It was swaying more than usual, but it was manageable.
But if I have to be honest… a part of me wanted to experience the Drake Shake just for the heck of it (lol) but I guess I shouldn't be wishing for that. All in all, if you're someone who doesn't want to get seasick, I think you'll be just fine either way. To add, I don't think that you should let the fear of experiencing this rough crossing deter you from experiencing this amazing expedition.
NOTE: For the remainder of our journey back to Argentina, we had farewell parties with the captain and everyone else, the Filipino crew put up an entertaining show, and we also had open jam sessions.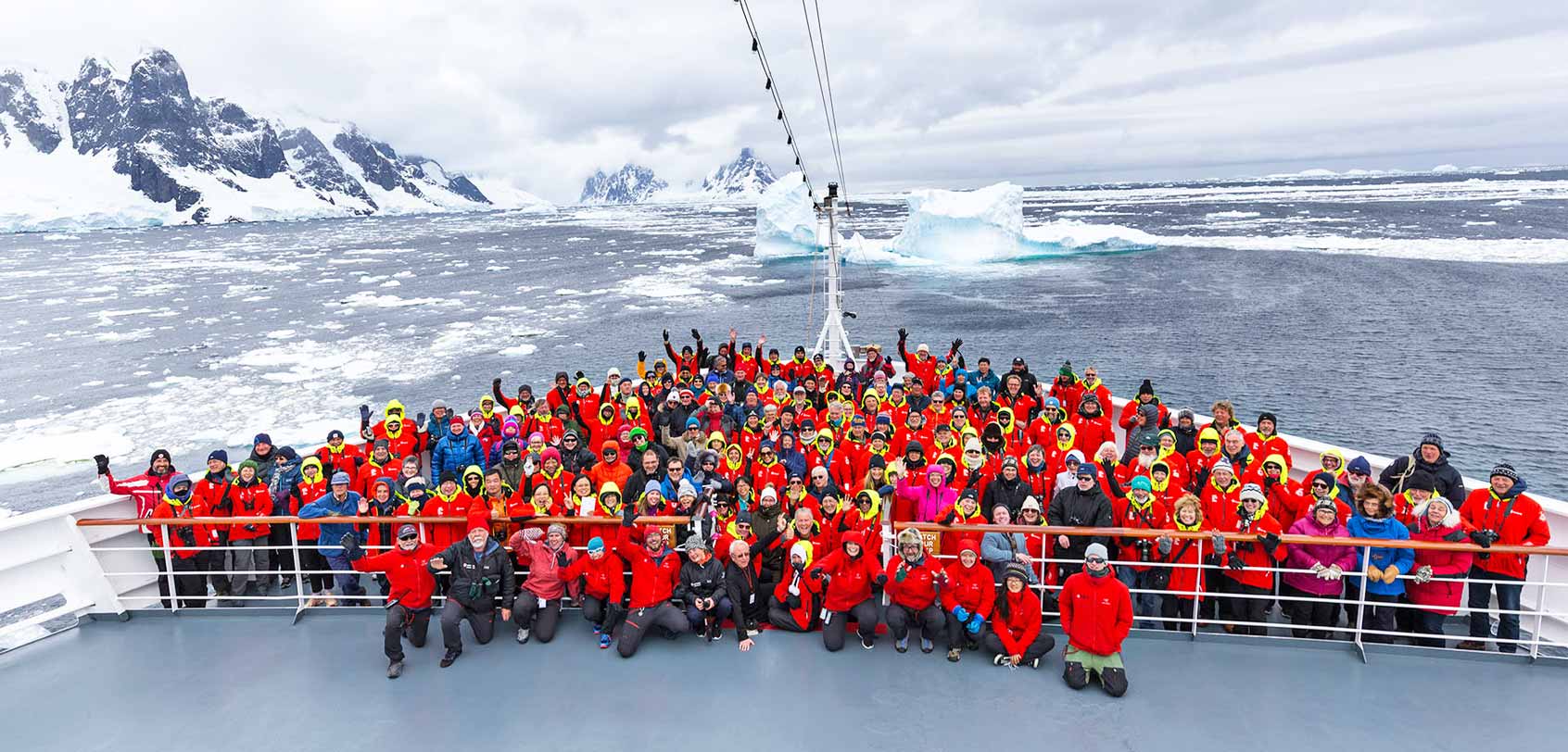 .
» DAY 20 & 21: Argentina «
◘◘ Ushuaia: and the last MS Fram hurrah
It was hard to say goodbye to everyone on the ship when we landed in Ushuaia; but it's safe to say that it's not 'really' goodbye — because of course, I absolutely wouldn't mind doing this expedition again! (Before boarding our plane back to Buenos Aires, we spent some time driving around Ushuaia to see some more of its terrain and surroundings.)
◘◘ Buenos Aires: a tango kind of night
Surely we wouldn't leave Argentina without witnessing their love for tango! So after settling in to our hotel, we joined Hurtigruten for dinner in a place where they were doing a tango show. I would have loved to participate in a milonga (a place/event where locals gather to dance tango) but this experience was already enough.
A lot of my companions were surprisingly not too knowledgeable about how tango is, and as someone who has been involved with ballroom dancing, I told them that it will be "amazing, intense, and sexy" with a grin on my face. As the show started and the couples swished back and forth on stage, I can't help but feel satisfied when I saw the look on everyone's faces!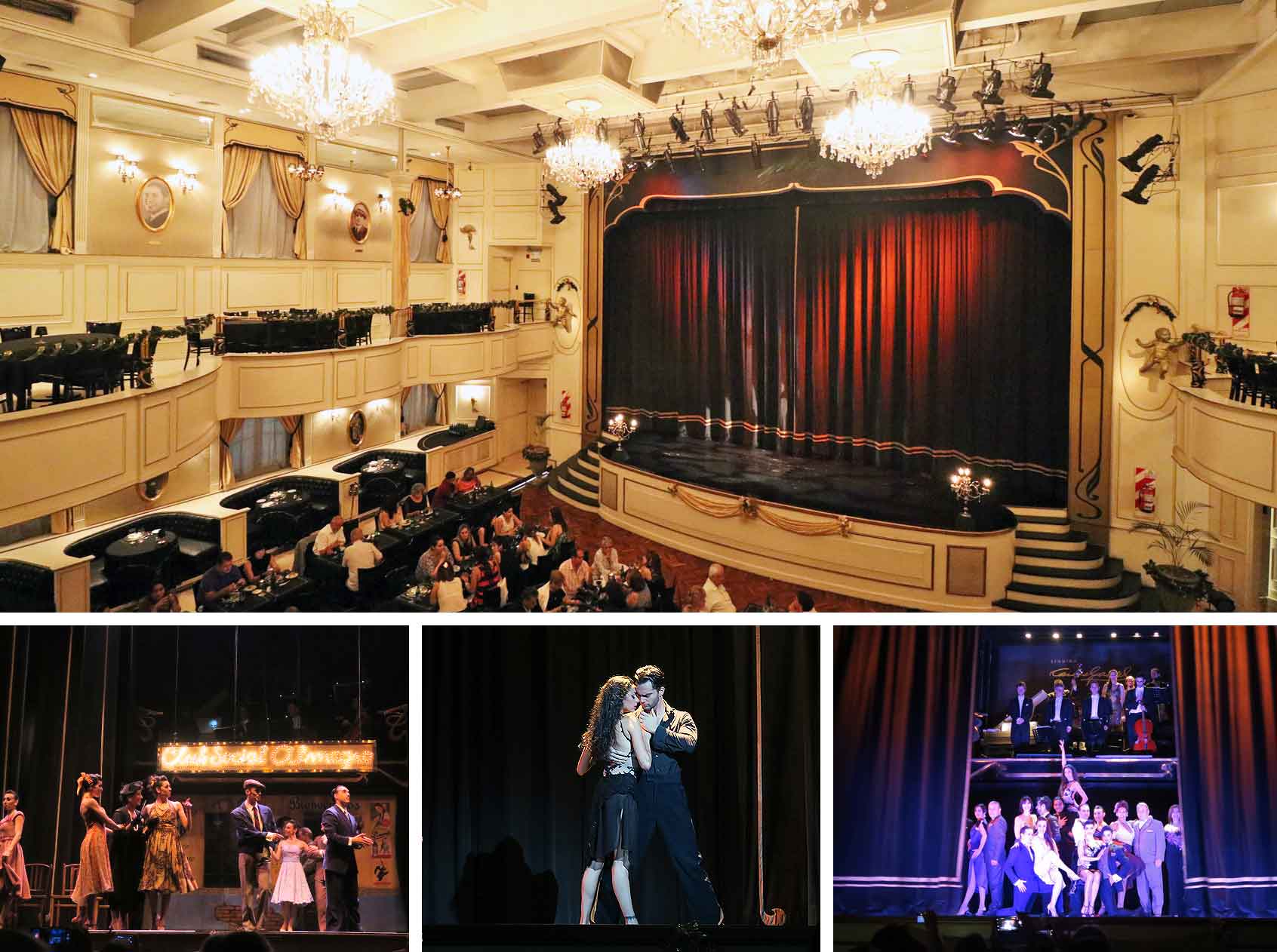 Wanna go to Antarctica? Email [email protected] w/ code IAMAILEEN to get a discounted quote!
.
This has been the BEST trip of my entire life and you bet that my time with Hurtigruten has been beyond fantastic — I honestly couldn't have asked for a better expedition company! So if you were like me who wants to start making Antarctic travel dreams come true, you should know by now who you should be going with. Overall, with all of what I've went through, all I just really wish for is that you all could experience this too.
…By the way, amidst all the beauty I've been seeing, there's one apparent fact that was quite alarming and which I'd like to highlight before ending this post: climate change is real and it is gradually turning Antarctica green. You see, one of the  other reasons why I wanted to go to Antarctica is because I'm a huge science buff: I wanted to learn and see things for myself with the guidance of experts — and thanks to Hurtigruten's knowledgeable crew, I have come to see and confirm that the Antarctic Peninsula has warmed up over the last years in a way that's frightening.
Glaciers are receding far too fast that they may vanish in a matter of decades, too many icebergs are calving and there's even a steady growth of moss. If nothing is done, the warming will not only potentially contribute to sea levels rising thereby posing a threat to millions of people who live in coasts or islands, but it will also pose a threat to the penguin species (among many other negative impacts).
Simply put: in years to come, Antarctica might not remain to be the same stunning 'White Continent' that we know of and love.
I implore you: climate change is a sad fact that we have to accept, face, and hopefully fix. Small 'green' steps and efforts may seem little but as a whole, it can snowball to something big — so let's try to do our part and Antarctica will remain to be one of the world's stunning destinations (which you will hopefully soon come to visit!)
READ: Antarctic Animals ~ Types of Wildlife You Will See in an Antarctica Cruise
What do you think of this Antarctica itinerary?
Is Antarctica one of your dream destinations? Why or why not?
Or have you sailed here before? How was it?
Categories: Activities, Animals & Wildlife, Antarctic Peninsula, Antarctica, Argentina, Cruises & Sailing, Experiences, Falkland Islands, Reviews, South America, South Georgia and the South Sandwich Islands, Travel & Adventure, Winter Adventures
Tags: Buenos Aires, Carcass Island, Cuverville Island, Deception Island, Elephant Island, Expeditions, Fortuna Bay, Grytviken, Half Moon Island, Hurtigruten, Invitations & Sponsorships, Islands, Itineraries, King George Island, Luxury Travel, Paradise Harbour, Port Lockroy, St. Andrews Bay, Stanley, Stromness, Things To Do, Ushuaia, West Point Island, Winter
YOU MIGHT ALSO LIKE
Older Post
Newer Post
Hey there! I am Aileen Adalid.
At 21, I quit my corporate job in the Philippines to pursue my dreams. Today, I am a successful digital nomad (entrepreneur, travel writer, & vlogger) living a sustainable travel lifestyle.

My mission? To show you how it is absolutely possible to create a life of travel too (no matter the odds), and I will help you achieve that through my detailed travel guides, adventures, resources, tips, and MORE!

NEW READER? START HERE!
CONTINENTS: 7 ~ COUNTRIES: 55
Stay updated with Aileen monthly! Sign up and receive exclusive updates, articles, giveaways, and so much more!
~Jigsaw by @Daniel_Sloss on Netflix https://t.co/kFxB6H1Q9g
21/04/2019 13:08:46

Supporting another person's success won't ever dampen yours.
21/04/2019 13:00:01