Japan is one of my top favorite destinations, and if you've been following my journey, it's an obvious thing since I've been doing multiple visits there every year — most of which is to the capital city of Tokyo. (Tokyo Itinerary)
Now of course, who hasn't heard of this vibrant city full of ancient traditions that are wonderfully contrasted by its bustling modernity? It's definitely on everyone's travel bucket list; and I'm sure that much like everyone else, you also want to make the most of this trip minus the stress of planning out your trip.
Well don't fret, because with my past experiences, know-how and 'passion', I'm here to help you out with this DIY Tokyo itinerary! After all, I know how daunting it can be to map Tokyo out — believe me, I've been there — and it IS, without a doubt, a dense and massive metropolitan city that can easily be a separate country of its own.
TRIVIA: With over 13.5+ million people across an area of 2,000+ km2, Tokyo (officially called as the Tokyo Metropolis) is actually comprised of: 23 special wards, 26 cities (Tama Area), 3 towns + 1 village (Nishi-Tama District), and several outlying islands. Now, not a lot of people know this… but the core or most populous part of Tokyo (which us travelers typically go off to) ONLY comprises a select few places within the 23 special wards.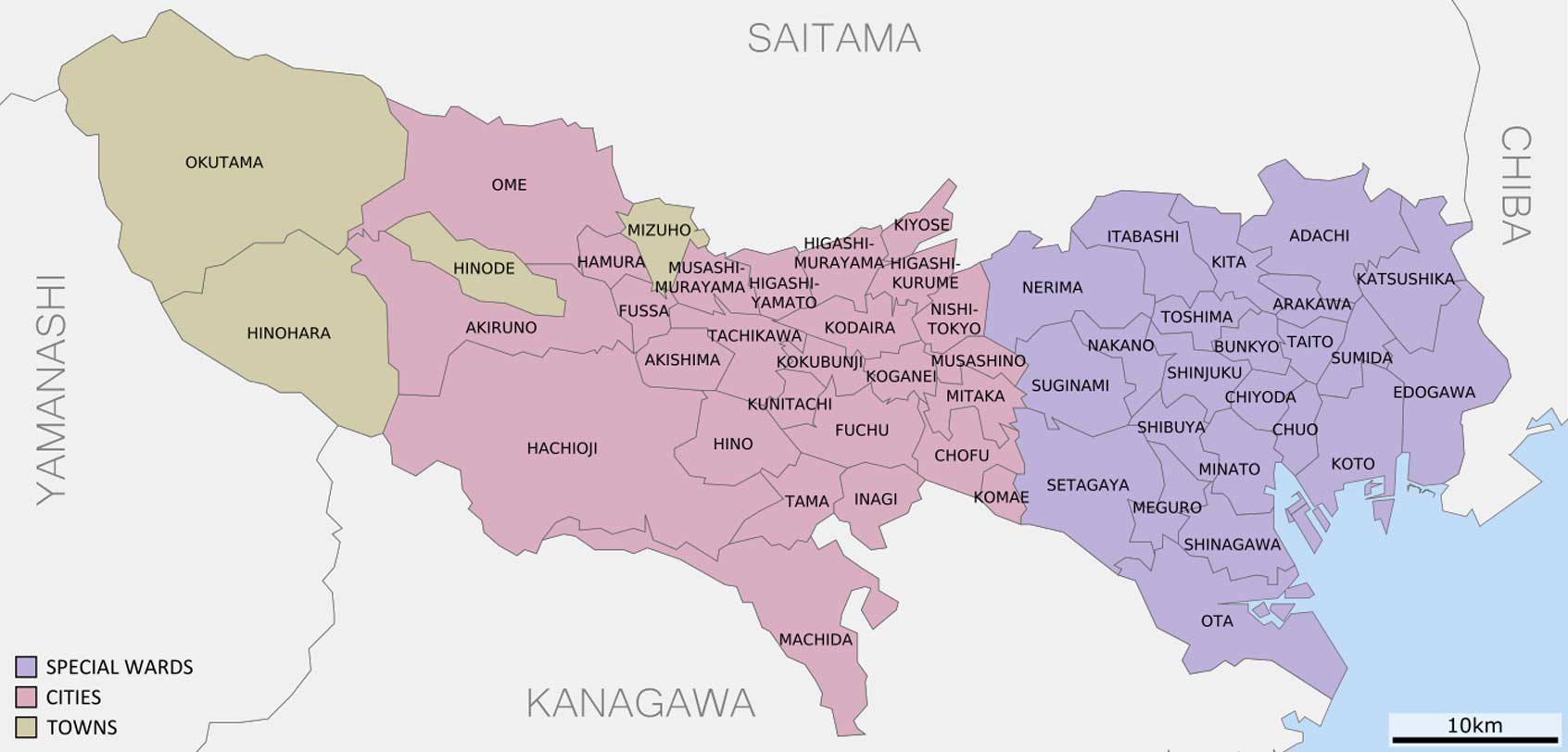 As seen above, the PURPLE area in Tokyo is where the 23 special wards are found, and only some of the places in these wards are where tourists typically visit.
(Image from Wikipedia)
Each of these special wards have their own major districts in which traveling from one district to another can take an hour — or even more! So YES, you will need some guidance; but like I said, I'm here to help you in every step of the way with the help of this Tokyo itinerary guide. It is also totally customizable to fit any number of days that you might be spending.
.
Come and check out my list of the 'Best Hotels in Tokyo' which features the top recommended choices for cheap to luxurious accommodation choices per city district.
.
.
Pre-Travel Guide for Tokyo
What is the currency in Tokyo, Japan?
Japanese yen (JPY / ¥) wherein ¥100~ is equal to USD $1~ or about €0.80~ or Php 50.00~ (this is as of January 2019). In the event that you want to exchange your money to JPY, do NOT exchange at the airport since the rates there are not competitive.
So what should you rather do? Either exchange your money at a bank or at a money exchanger in your home country (or in Tokyo's city center as a last resort, with World Currency Shop or Sakura Exchange branches like the one in Shibuya and Shinjuku as one of the best ones). You can also just withdraw from an ATM with your debit/credit card (do one big withdrawal to minimize fees with your bank). Speaking of cards, a lot of Tokyo's establishments accept credit cards but it's always advisable to have cash on hand (there are some smaller shops that do not accept international credit cards, as well as the fact that ticket machines in metro stations only accept cash especially if you want to reload your IC Card).
When is the best time to visit Tokyo?
ANY TIME! After all, Tokyo is a 'year round' destination. But depending on your preference, below are the country's seasons…
★

Spring

: (March to May) With little rainfall, clear skies and mild temperatures, this is one of the best times to visit Japan! And of course, how could anyone forget the famous sakura or cherry blossom season? In Tokyo in early to mid April, so you should schedule your trip during this period if you want to see everything clad in picturesque pink petals. Beware though because this is high season, so expect higher prices and bigger crowds. It's the same as well during Golden Week (concentration of national holidays) which happens late April to first week of May.

Summer

: (June to August) Be prepared for high humidity and smoldering heat — with June being rainy season. (If you want to escape this, head on ever instead to the mountains or to the northern island of Hokkaido.)
★

Autumn

: (late September to November) This is yet another great time for visiting Tokyo; besides, I personally love it when the trees turn into warmer hues. However, September is usually the time when typhoons visit the country, so it could be best to plan your Tokyo itinerary trip somewhere in late November (it's also the best time for seeing the full autumn colors in the capital).

Winter

: (December to February) As the temperatures drop, prices and airfares also drop. Take note though that it can get very chilly; but, supposing you're not that sensitive to the cold, this can be a fun time. (This is the best time to avoid the crowds in Tokyo; but take note that if it snows, it doesn't usually 'stick' or stay; plus, most places shut down from December 29 to January 3 for the shogatsu or New Year holiday).

How to travel to Tokyo?
International visitors typically arrive at Tokyo's Narita Airport (NRT), followed by Haneda Airport (HND). To get to any of these hubs, I recommend browsing through Skyscanner to find the best flight deals from your point of origin. If you're from the Philippines like me, Skyscanner also scans through Philippine Airlies and budget airlines such as Air Asia and Cebu Pacific in order to find which of them has the cheapest rate on the dates you choose.
From Narita Airport to Tokyo, you can:
Ride an airport limousine shuttle bus that goes to key points and areas in Tokyo (around 1,000 yen = $10~).
Ride the train. Depending on what district you're heading to, the price can vary. If you want to head off to Tokyo Station, riding the Narita Express (that will head over to Tokyo Station) will take 55 minutes and priced at around 2,900 yen = $28~ — or it comes for FREE if you hold a Japan Rail Pass (or JR Pass). Otherwise, there is Keisei Skyliner that heads to downtown Tokyo's Ueno Station.


Is it worth it to buy a JR Pass for your Tokyo itinerary? Read here.

Ride a taxi, which would be the most expensive at the range of 20,000 to 30,000 yen = $195~ to $295~.
Go for a private transfer if you want utmost convenience and ease, especially without having to drag your luggage around. This works best if you're coming together with other people so that you can share the cost and save more. (Uber is also a possible option to take, but a private transfer is usually at a better price — more so if you want a bigger car.
Otherwise, if you're coming from Haneda Airport, you can book through this service.)
Where to best stay (for accommodations)?
To search for the best hotel accommodation for your Tokyo itinerary at the best prices, I suggest checking out Agoda and Booking.com. But if you're rather interested in renting comfortable houses or apartments, check AirBnB (sign up via my link to get FREE $40 credit!).
If you want particular hotel names per city district, I prescribe that you read my post about the best hotels in Tokyo.
Take note that for your Tokyo itinerary, it's best to base yourself in the district that you'll be exploring the most. If you ask me though, Shinjuku and Shibuya are the best areas to base yourself due to the number of key places and shops that surround it. But of course, this isn't to say that the other areas are not ideal, because they can be as dependent on your preference and budget. For instance, Roppongi is great for nightlife, Asakusa is ideal for souvenir shopping, Ginza is best for luxury boutiques, Odaiba is good if you want to be close to Disneyland or DisneySea, and so on.
How can I go around Tokyo?
You could flag down a taxi, an Uber, ride the bus, rent a bike or go on foot; but if you want to be efficient and fast, the trains are the way to go! Now, Tokyo's train system is dense and extensive — so it can be very confusing. However, all throughout my stay in Tokyo, I've managed to make it less complicated by simply using Google Maps (mapping my point A and point B and then checking out the directions for the subway/train/bus. It even has real-time walking navigation and an offline option!)
TIPS:
– Google Maps does NOT work offline if you want routes or transportation schedules during your Tokyo itinerary, so I recommend that you get a pocket WiFi or a SIM Card to stay connected online.
– Tokyo's trains typically open around 5AM and close somewhere around 12AM or midnight. If you don't have an IC Card, purchasing local rail lines and subway tickets can only be done with cash or coins at the ticket machine. Credit cards are only applicable when buying long distance bullet train tickets.
– If you're traveling by train during rush hour, be wary that it can get crazy crowded. If you're a woman, you can ride the front carriages that are designated only for females (this is only during weekdays until 9AM).
– You will notice that in escalators, people stand on the left side so that those who are in a hurry can pass on the right.
– When riding taxis, the left rear door is operated automatically by the driver so don't try to open or close it by yourself.
– There are several train etiquettes that you should remember when in Japan, number one of which is to keep noise down to a minimum. For more details on this, read here: [coming soon]
So when it comes to local train tickets in Tokyo, there are several types that you can choose from but what I would highly recommend is that if you're only planning on traveling INSIDE Tokyo, buy the prepaid IC cards (like Suica) that can be used in any train or bus in the city.
NOTE: There is also the option of buying the Tokyo Subway Ticket which will give you UNLIMITED access to all subway lines of Toei and Tokyo Metro (but NOT JR lines, which is fine since most key places in Tokyo is accessible via Toei and Tokyo Metro).

There are options for this for 24 hours, 48 hours and 72 hours. Now, I only find this choice as economical IF, and only if, you are going to ride the train for MULTIPLE times in a day or a span of days. But if, let's say, you're only going to one place or district in a day, then just use your IC card as per normal.
On the other hand, if you're traveling outside of Tokyo, that's a different matter since I would then recommend that you consider buying a Japan Rail Pass or JR pass for unlimited rides. To see if buying this train pass will be worth it for your Japan itinerary, go and read my explanation here.
TIP: See the whole list of available JR train passes that you can get in Japan here!
How is the internet connection in Tokyo?
Japan has one of the fastest internet connections in the world so you'll be assured of great connection wherever you go. To add, most places even offer FREE WiFi — but in order to consistently stay connected online during your Tokyo itinerary, get your own pocket WiFi or SIM Card.
Should I get a visa to visit Tokyo?
If you're NOT a citizen of any of Japan's exempted countries, you are then required to avail a visa beforehand.
If you're from the Philippines, you can read my guide on how to get a Japan visa in Manila here.
Helpful Japanese phrases
Japan may be one of the most developed countries in the world, but there aren't a lot of people who speak English since everyone loves and prefers to speak the local language. However, this should not discourage you from traveling to this country because apart from the fact that there are a lot of apps that will help you understand and speak Japanese (e.g. Google Translate, etc.), the Japanese themselves are also gradually making improvements.
In fact, my recent trips surprised me when the same places in Tokyo that I've visited in the past years suddenly had ample English-speaking staff and signs (I think this can be contributed to the fact that the city has geared up for the 2020 Olympics).
Anyhow, below are some helpful Japanese phrases that will help you along the way! And even if you do encounter a Japanese who can speak English, it doesn't hurt to say a word or two in their language.
Hello: Konnichiwa (Kohn-nee-chee-wah)
Thank you (normal): Arigatō. (Ah-REE-gah-tohh)
Thank you (less formal): Arigatō gozaimas (Ah-REE-gah-tohh goh-zahy-mahs)
Thank you (informal): Dōmo (DOHH-moh)
Yes: Hai (Hai)
No: Iie (E-eh)
Goodbye (long term): Sayōnara (Sah-yohh-nah-rah)
Goodbye (informal): Ja ne (Jahh neh)
.
Excuse me: Sumimasen (Soo-mee-mah-SEN)
I'm sorry: Gomen nasai (Goh-men-nah-sahy)
Is there someone here who speaks English?: Dareka eigo ga hanasemasu ka? (Dah-reh-kah ey-goh gah hah-nah-seh-mahs kah?)
Help!: Tasukete! (Tahs-keh-teh!)
Cheers!: Kanpai! (Kan-pie!)
Anything else that I need to know?
Here are some other helpful travel and etiquette tips to remember for your Tokyo itinerary:
Cars drive on the left in Japan, so be mindful when crossing the street. In the same manner, try to always walk on the left side so as not to bump into other people.
There is no tipping culture in Tokyo or Japan in general. If you end up giving them something, they'll mostly be confused as to why and will surely end up giving the money back to you. Sometimes, it's even considered rude and insulting if you tip someone.
Most restaurants require customers to pay for their meals at the cash register which is usually by the entrance. (They will typically leave the bill at your table, so after eating, take it to the register and pay before leaving).
Some establishments and restaurants (and all private homes) have a sunken foyer entrance (genkan) with shelves of footwear by the door — a clear sign that you're expected to remove your shoes before entering.
If you are sick (have a cold, are coughing etc.), it's considered respectful to wear face or surgical masks in public. On that same note, do not blow your nose in public as it is considered uncouth. For more info about this, read here: [coming soon]
For more first-time traveler etiquette tips in Japan, come check out this post: [coming soon]
I bet you don't want to miss out on the top Japanese food dishes and drinks, so here's a list of things you MUST try: [coming soon]

***IMPORTANT NOTES:
– The following section is in a tabbed format; so, in order to see the next day's contents, just click the headings below.
– I will also cover other Japan destinations under the 'Extras' tab below so that you can consider these places if you happen to have more days for your Tokyo itinerary trip, or if you simply want to see more.
.
REMINDER: Going from one place to another within Tokyo can often take 30 minutes to an hour — or even more! (Always check by Google Maps to verify your travel times).

Therefore, even if it is humanly possible to go to ALL of the attractions listed below per day for your Tokyo itinerary, it's best that you DON'T because you will definitely be running around. This is why I suggest that you pick out the TOP spots that you really like and then save the rest for later, or for other days (in case you have more days in Tokyo).
.
Come and check out this list of the top things to do in Tokyo which features the best activities and tours in and out of the city!
.
.

I hope this all helped make things clearer for you as you map out your Tokyo itinerary. Feel free to also tweak it and make full use of the extra activity suggestions in order to make your trip shorter or longer and better fitting for your travel style.
All in all, do let me know how your trip goes and do enjoy!
What do you think of this Tokyo itinerary?
What are the top things that you would LOVE to do?
Or have you already been to Tokyo? How was it? Any other travel tips to add?
Categories: Asia, Itineraries & Things to Do, Japan, Travel & Adventure
Tags: Akihabara, Asakusa, Ginza, Harajuku, Honshu, Kanto, Odaiba, Roppongi, Shibuya, Shinjuku, Tokyo
YOU MIGHT ALSO LIKE
Older Post
Hey there! I am Aileen Adalid.
At 21, I quit my corporate job in the Philippines to pursue my dreams. Today, I am a successful digital nomad (entrepreneur, travel writer, & vlogger) living a sustainable travel lifestyle.

My mission? To show you how it is absolutely possible to create a life of travel too (no matter the odds), and I will help you achieve that through my detailed travel guides, adventures, resources, tips, and MORE!

NEW READER? START HERE!
CONTINENTS: 7 ~ COUNTRIES: 59
Join over 1 million people and receive exclusive giveaways, travel tips and so much more!