When I made a brief trip to the Philippines last April to visit family and friends, I encountered a small dilemma: "Where am I going to stay?"(Dusit Thani)
Of course the natural response would be: "At my parent's house!" Regrettably however, my folks' house is way far from the city center of Manila! In order to enjoy my trip to the fullest, it was best for me to base myself in Makati so that I can easily meet up not only with my family but with friends too.
I was only going to be there for less than a week — tops — that's why time was crucial. After all, I didn't mind shelling out extra money in order to get my own place that's near to 'everything'.
So since Makati was ultimately the 'place to be' for me, my dilemma was swiftly erased and that's because it was absolutely easy to think of the best accommodation for me! Where else but at Dusit Thani Manila?
– HOTEL & SERVICE –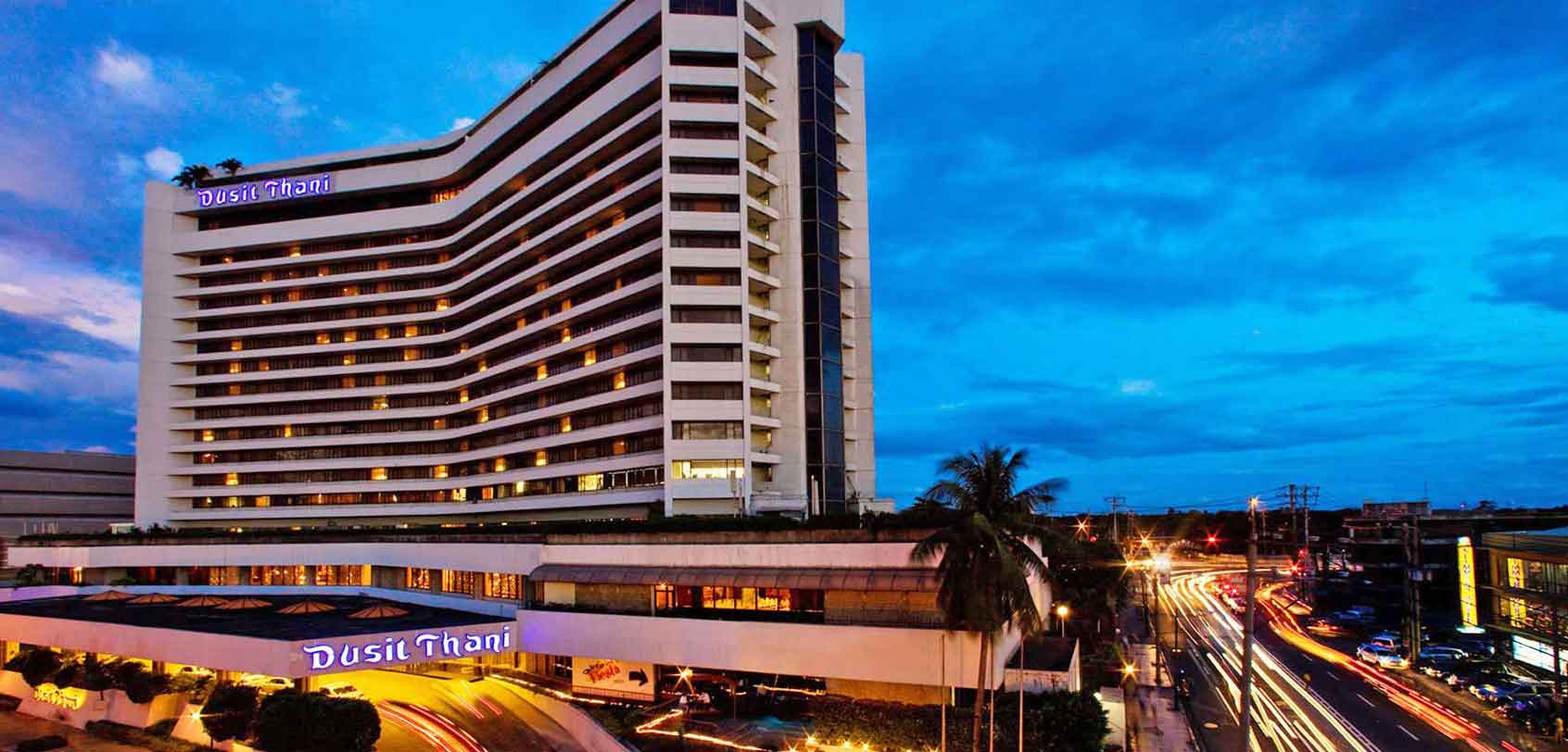 Prime Location. Towering beside Ayala Station in Edsa, this upscale hotel is just minutes away from some of the top 4 malls in the metro, namely: SM Makati, Glorietta, Landmark, and Greenbelt. Given this fact, you're surely surrounded by a lot of options that can keep you entertained, fulfilled, and refreshed.
Besides, Dusit Thani is smacked right in the heart of the capital's major financial, commercial and economic hub which is Makati. Needless to say and like what I've already mentioned above, you're going to be absolutely near to almost 'everything' that you might ever need during your stay.
Exquisite Furnishings. Dusit Thani is at its core a Thai-themed hotel and from the moment that I stepped into their lobby, I was greeted with big smiles by their staff who were clad in traditional clothing — which was quite a sight! This was followed by an astonishing golden display of their lobby which made perfect harmony of old and modern elements. Right then and there… I knew that I was in for a treat!
Superb Service Like No Other. This is the part where I knew that I made a great choice by booking myself into Dusit Thani.
When I checked in, I was a tad too early; but they were hospitable enough in doing their best in finding a room for me and making their cleaning staff tidy it all up asap. Unfortunately though, disaster stroke when I got into my room because it reeked of cigarette smoke!
It was so bad… so I was immensely disappointed as I went back downstairs to the lobby to inform them of the mishap. (At that time, I was starting to think that I've probably made the wrong hotel choice.)
I was calm and collected as I explained to them the condition of my room; however, the staff weren't. They were so anxious and apologetic! Now it took a while before I was finally placed into a new room. Naturally, I was still disappointed — until… the girl before me mentioned the word 'upgraded'.
She didn't exactly say what upgrade I got, so in my mind I was all: "It could be one level up like an executive room. It doesn't matter really as long as it doesn't smell bad."
But 'lo and behold ladies and gentlemen… when I stuck in my keys and entered my designated room, I was floored: they gave me a spacious executive suite!!!

Every fiber of my being felt like running back to the lobby and hugging the staff person that assisted me because what was displayed before was more than enough of a 'sorry'! Truth be told, this was my first ever upgrade and my first ever suite, so you can imagine how ecstatic I was — more so because this was truly a kind of service that made up for the hassle that I was initially put through.
Dusit Thani Manila, you guys are simply amazing and I definitely don't regret picking you because I have clearly made the right choice! ;)
.
– ACCOMMODATION –
There are various room types available in Dusit Thani (which you will see below). Rest assured, every room is curated with urban dwellers in mind; therefore the style and comfort which you will see and experience will definitely be paramount!
Deluxe Room – 30 sqm
Premier Room – 30 sqm
Grand Room – 73 sqm
*Club Executive Suite – 73 sqm
*Club Premier Room – 30 sqm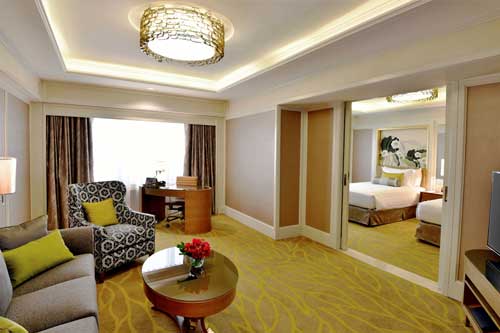 Premier Executive Suite – 73 sqm
Junior Suite – 45 sqm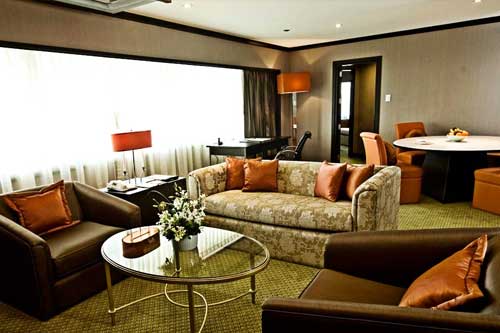 *Royal Suite – 129 sqm
*Presidential Suite – 187 sqm
*Includes access to Dusit Club Lounge, an exclusive 900sqm facility at the topmost floor of the hotel.
As a standard though, every room has at least the following features:
Complimentary wired and wireless high-speed internet
Complimentary daily replenishment of bottled water
Mini bar
Coffee/tea making facilities
Spacious work desk with ergonomic chair
Cable television with in-room entertainment system
Complete bath amenities (hairdryer, bathrobes, bedroom slippers and toiletry set)
Weighing scale
Iron and ironing board
In-room safe
Blackout curtains
Bedside and bathroom telephone
Bedside control panel with pilot reading lights
Selection of daily international and local newspapers and magazines
Pillow menu
Connecting rooms available upon request
Complimentary access to fitness centre, pool and sauna
Shoeshine service available upon request
Babysitting service upon request
Bible
Prayer mats available upon request / Kiblah
– AMENITIES –

DFiT Fitness Center. This place offers one of the best appointed centers of fitness in the country. With 973 square meters of state-of-the-art studio areas and sauna to meet any individual's fitness and wellness goals.
Swimming Pool with Sun Deck. Where adults and kids can have some fun under the sun! You will also find here a small bar and pavilion area that often hosts programs and events.
Devarana Spa. A peaceful sanctuary of anti-stress and relaxation like no other! This is truly one of the best havens for spa lovers in the metro that's worth trying out.
Business Centre. As the name suggests, this is a go-to place for professionals who need some quite time to do business and/or computer work processes.
Meeting Rooms and Event Halls. Dusit Thani has various meeting rooms for private meetings and small gatherings. When it comes to bigger events, they have the Mayuree Grand Ballroom (which can take in up to 1,000 guests) and the Poolside Pavilion Tent (for up to 300-400 guests).
Florist / Gift Shops / Beauty Salon.
– DINING –

Dusit Thani is actually one of the city's culinary hubs; hence, you can indulge in an eclectic mix of cuisines right in the comfort of this luxurious hotel!
The Pantry. Using only organic and locally-sourced produce and ingredients, The Pantry serves a mix of great Asian dishes. (This is also the area where breakfast is typically served). One corner has a 'Grab & Go' cafe area, and in the other, a bar space that's ideal for get-togethers or after dinner drinks.
Umu Japanese Restaurant. Using only organic and locally-sourced produce and ingredients, The Pantry serves a mix of Asian dishes. This is also the area where breakfast is typically served. One corner also has a 'Grab & Go' cafe area as well as a bar space that's ideal for get-togethers or after dinner drinks.
Benjarong Thai Restaurant. As it is a Thai hotel, of course, there has to be a superb Thai restaurant in the premises — and that's where Benjarong comes in. The menu features classic mouth-watering Thai recipes, partnered with a service staff that is all clad in traditional silk costumes.
– INFO –
Booking: See the BEST deals and prices for Dusit Thani at Agoda!
Address: Ayala Centre, 1223 Makati City Metro Manila, Philippines
Hotel Classification: 5-Star
Check-In: 2:00PM / Check-Out: 12PM
.
My stay at Dusit Thani Manila may have been short, but it was an absolutely pleasant staycation, which therefore made it an unforgettable experience in itself!
Add the way that they have went above and beyond to make up for their mistake upon my check-in, then I can say with confidence — and without a doubt — that Dusit Thani Manila is the kind of hotel that regard their guests' satisfaction as a prime priority.
First-class comfort. Perfect convenience. Timeless style. Prime service. Dusit Thani Manila surely has it all covered!
So what are you waiting for…? Come and book your stay NOW!
NOTE: Some images are from Dusit Thani Manila.
What do you think of Dusit Thani?
Would you like to book with them when you're in the Philippines? Why or why not??
Or have you stayed in Dusit Thani Manila before? How was it?
YOU MIGHT ALSO LIKE
Older Post
Newer Post
Hey there! I am Aileen Adalid.
At 21, I quit my corporate job in the Philippines to pursue my dreams. Today, I am a successful digital nomad (entrepreneur, travel writer, & vlogger) living a sustainable travel lifestyle.

My mission? To show you how it is absolutely possible to create a life of travel too (no matter the odds), and I will help you achieve that through my detailed travel guides, adventures, resources, tips, and MORE!

NEW READER? START HERE!
CONTINENTS: 7 ~ COUNTRIES: 59
Join over 1 million people and receive exclusive giveaways, travel tips and so much more!