If you ask me, Japan is a country I love visiting over and over again. Its cities, unique in their own ways, leave visitors like me in total awe of its culture, food, sceneries, and shopping destinations. (Citadines Shinjuku Tokyo)
As such, Tokyo — being the capital of Japan — is one of the favorite stops of tourists. After all, this city blends modern and traditional Japanese culture so well through the various experiences it offers: skyscrapers, temples, quaint coffee shops, restaurants, markets, and busy streets. Indeed, it is difficult not to fall in love with this city and country!
Thankfully, my visit in Tokyo was nothing short of amazing. For starters, I stayed in Shinjuku which is one of the busiest and most vibrant areas in Japan. All throughout my stay, I saw wonderful sites and did amazing activities in the day, and then I always got some well-deserved resting time in the night — thanks to Citadines Shinjuku Tokyo, a modern service apartment located in the heart of Shinjuku.
.
» THE HOTEL «
EXCELLENT SERVICE
. What is impressive about Citadines Shinjuku Tokyo is the quality of service they offer. The Japanese are known for their politeness, hard work, and helpfulness but the staff in this accommodation take things to another level. Apart from seeing all of those warm traits (despite the language barrier), the staff was also very attentive to my needs. Additionally, they were knowledgeable about directions, famous tourist spots to see, and must-visit restaurants in the metro which made my stay a lot more hassle-free.
CENTRAL LOCATION. 
For on-the-go travelers staying in this area, Citadines Shinjuku Tokyo is the perfect accommodation to book! Besides, it is exteremly near to major train stations such as Shinjuku Gyoenmae (5 mins) and Shinjuku San-chome train station (10 mins). The hotel is also walking distance to mini supermarkets and local Japanese restaurants.
COZY STAYCATION
. Like any other Citadines hotel you visit around the world, you will be welcomed by their trademark cozy ambiance. So you'll be assured that the interiors of the hotel are modern and elegant. Accent pieces with popping colors even add brightness to the place; whereas the fixtures complement each other, giving the hotel a polished look.
.
» THE ROOMS «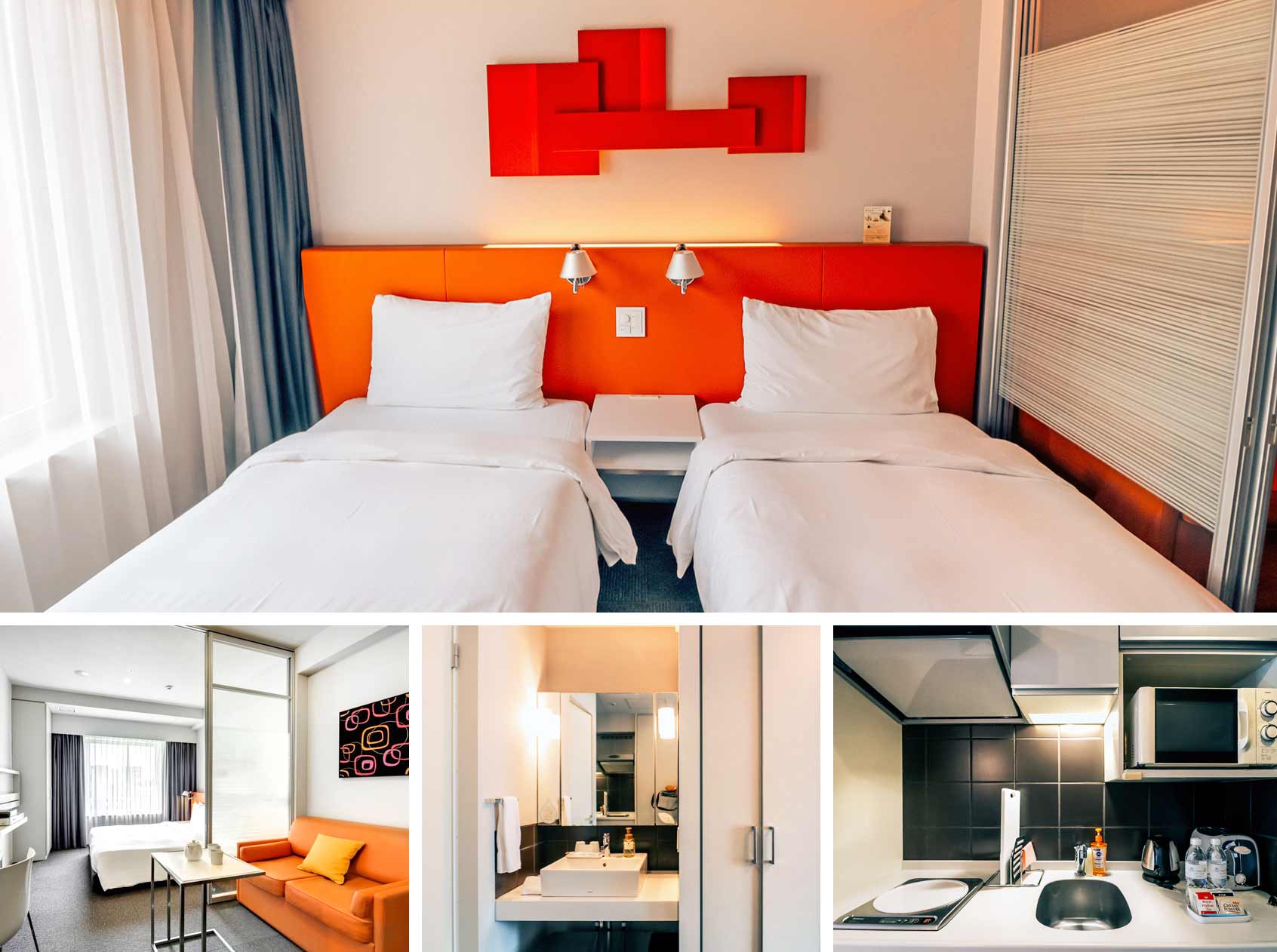 Citadines Shinjuku Tokyo offers 5 apartment room types – Studio Double, Studio Twin, Studio Executive Double, Studio Executive Twin, and Studio Premier. All rooms are equipped with Wi-Fi, LCD television, cable, and extra space for a living room and kitchenette.
Studio Double. This room is ideal for single travelers or couples. It includes a queen sized bed and a sofa which can be converted into a sofa-bed if needed. The floor-to-ceiling windows will surely leave guests impressed with the skyline the city has to offer. Similar to this unit is the Studio Twin, which offers the same amenities except it includes twin single beds – perfect for guests travelling for business or leisure.
Studio Executive Double and Studio Executive Twin. These units offer a bigger space, up to a maximum of 3 persons per unit (extra charges may apply). The Double room includes a queen sized bed while the Twin room includes 2 single beds. These units provide a slightly more spacious living and kitchen area.
Studio Premier. This room is perfect for travelers who value space. The studio premier units are the biggest units available at 31 sqm. Each unit is ensured to have a well-partitioned living and dining area – perfect for travelers who entertain visitors. The room includes a king-sized or two single beds in the sleeping area.
All in all, what I truly appreciate with Citadines is the honest and fair rates they offer. You get your money's worth with world class service and amenities, without spending too much.
.
» OTHER HOTEL AMENITIES «
Citadines Shinjuku Tokyo offers a Breakfast Lounge that offers hearty meals to start any day right. For people who cannot forego their fitness regimen, there is also a gym to burn those unwanted calories.
.
» INFO «
Booking: See the BEST deals and prices for Citadines Shinjuku tokyo at their own website.
Address: 1-28-13 Shinjuku Shinjuku-ku, Tokyo 160 0022, Japan
Hotel Classification: 4-Star
Check-In: 2:00PM / Check-Out: 11:00PM
Disclaimer: Thanks to Citadines Shinjuku Tokyo for sponsoring my stay; but as always, all thoughts that are expressed in this article are fully my own.
.
With all of this in mind, the hotel deserves a two-thumbs up for its one-of-a kind service and hospitality towards guests. Add the beautifully designed interiors and it will really make you feel at home during your stay in Tokyo!
BOOK YOUR STAY NOW
What do you think of Citadines Shinjuku Tokyo?
Would you like to stay with them? Why or why not?
Or have you stayed with them before? How was it?
YOU MIGHT ALSO LIKE
Older Post
Newer Post
Hey there! I am Aileen Adalid.
At 21, I quit my corporate job in the Philippines to pursue my dreams. Today, I am a successful digital nomad (entrepreneur, travel writer, & vlogger) living a sustainable travel lifestyle.

My mission? To show you how it is absolutely possible to create a life of travel too (no matter the odds), and I will help you achieve that through my detailed travel guides, adventures, resources, tips, and MORE!

NEW READER? START HERE!
CONTINENTS: 7 ~ COUNTRIES: 59
Join over 1 million people and receive exclusive giveaways, travel tips and so much more!