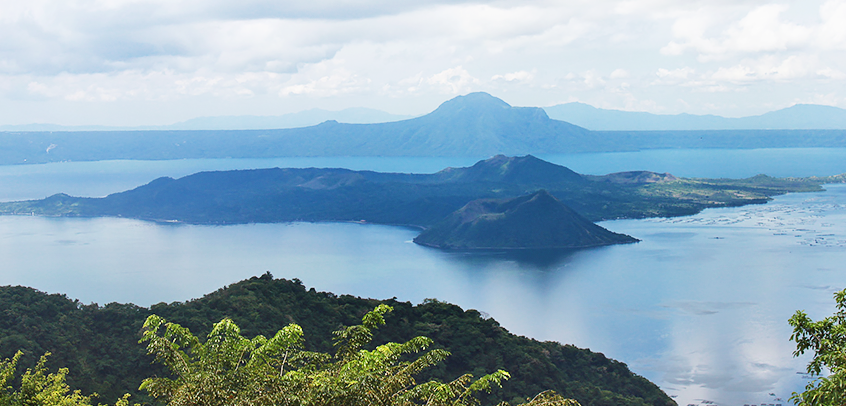 Tagaytay tourists love to admire the view of the volcano island called as 'Taal'. Most of them are contented by simply admiring it from the ridge or highlands of Tagaytay, while some (but not a lot) of them would choose to cross the water and hike to take a closer look at its 'crater lake'.
I was one of the latter. Now I've been to Tagaytay numerous times already and have never set foot on the volcano, until June this year. I was touring my friend into these parts at that time, and I thought, why not treat the both of us to an adventure so that we could both check 'Hike to Taal Volcano' off of our bucket lists? Right? And so we did!
What To Do First, you have to go to Tagaytay.
(Well hello, I am Captain Obvious!)
It can take you approximately 1 hour to reach Tagaytay from Manila (provided there's not much traffic). Now there are several ways that you can do this…
By Car
(I prefer this route since it usually brings less traffic) Go to the South Luzon Expressway (SLEX), and from there, take the Eton Greenfield exit. Afterwards, just follow the signs that lead you to Sta. Rosa, and then eventually to Tagaytay.
By Bus
Costing at around Php 120.00, a lot of bus companies offer rides to Tagaytay. It is said that it's best to choose those who are marked as "Mendez-Tagaytay-Nasugbu" or just ask the operators as to what Tagaytay bus would pass through SLEX and not through Cavite/Aguinaldo Highway. To best avoid traffic, go in the early morning. (My friends in DLSU said they once used the buses in Taft Terminal Station or in Cubao or in Araneta Center; just ask around if in doubt).
By Foot
Good luck. You crazy mofo, here's Google Maps to help you.
Second, once you reach Tagaytay, go to Talisay Bay.
You can hire a tricycle that can take you to Talisay, and then take you back to the Tagaytay City proper. There are also jeepneys in Tagaytay that regularly go to Talisay and back; you can check out the jeepney terminal near the Tagaytay Rotonda and ask them.
If you're driving a car, from Tagaytay Rotonda, turn left to Tagaytay-Calamba road and slow down your driving so you can catch the sign that would say "Talisay – Laurel" or "Ligaya Drive" because you will turn right on this road. Please drive carefully when taking this route since the road is narrow, winding, and steep.
Third, hire a boat to take you to Taal Volcano Island.
This is where I give you a travel tip! I had a pleasant experience with Angelo (who you can contact at: +63 9197280514) who manages a boat rental service in Talisay Bay. It's best if you text him first before going to that area so that he can meet you up at the Ligaya Drive and then lead you to where his boats are. We managed to get a deal of Php 1,000 from him (originally Php 1,500) that includes a round trip boat ride. This was a good deal because others asked us to pay them Php 2,500 to 3,000. Yikes.
Now since you're dealing with water, be prepared to be splashed here and there. But it's not really so bad especially if you're going out to the lake in a clear day.
FUN FACT: This 'cone' is NOT Taal Volcano. This is just one of its small craters called as 'Binintiang Malaki'. The actual/biggest crater mouth that has a lake in it, will be the place we'll be hiking to, called as the Volcano Island.
Now here's the cool part. It is said that "Taal has an island within a lake, that is also on an island within a lake, that is on an island" which basically means that: on the Philippine Island of Luzon is Taal which has the Volcano Island within the crater lake called as Taal Lake, and within this Volcano Island is yet another lake called as the Main Crater Lake — aaand this even has an island within it named as Vulcan Point Island. (That's some lake-ception and island-ception thing going on, for sure).
When You're There …You will see a lot of Koreans that for a moment, you might start thinking that your purpose there is to SEE and OBSERVE them in that island.
Kidding aside, once you reach the island which is Taal Volcano, you will see houses all around you, which means there are people living in this volcano island. And. That. Is. Crazy. Because Taal Volcano is still regarded as a 'permanent danger zone' by PHILVOCS (the Philippine Institute of Volcanology and Seismology).
Taal Volcano is the 2nd most active volcano in the Philippines with 33 historical eruptions. The most recent one happened last 1977, and sure, it's ages ago, BUT it has been showing lots of signs of unrest ever since 1991.
Anyhow, I hope the people here remain vigilant or just set roots elsewhere — preferably in a place that won't surprise them with an eruption…
Going up the crater lake is easy. The path is straight and you'll see a lot of people walking to and fro anyways, so you really won't get lost. No need to get a guide. You have two (2) options on how you can go up:
Go by foot
Go by horse
The horse will cost you Php 500 per pax that comes along with a guide, and since we were such 'first-time tourists' there and since it was also really hot, we thought, why not try a horse? Especially since Jonas hasn't rode a horse yet in his life…
But… meh, it wasn't a good decision to take a horse :P
Jonas' first-timer comment: "Hurts my ass so bad, and it's also uncomfortable to sit on it…" :))
I've rode a horse before for numerous times already due to trips to Baguio with my family and friends.. and well, I can still remember how it did hurt my ass, how it hurt my womanly parts (lol) and my stomach too — especially when the horse tries to run and gallop around.
Now, what is another reason as to why we hoped we didn't take a horse? Well, because most of the time, we just pity these horses that look like they haven't been fed for days. :( They were small and scrawny! That's why at times, I would envision my horse breaking his bones from my weight, so I decided to get off.
Additionally, if you have issues with 'personal space', be aware that the horse guides would often hop on to the horse too while you're riding it: sometimes they will tell you when they're about to do it, but sometimes (or most of the time) they don't. And then when you reach the top, the vendors there will keep pestering you in buying food for your guides and guilt-tripping you about how they're tired and are feeling very hot from the heat.
Anyways,I advice that you just don't take the horse nor the guide, and go on your own. And just some helpful reminders:
Be aware that the trail can get really stinky.

You'd expect it because these horses are everywhere, so naturally, their dung is everywhere as well.

The trail can get really dusty too.

Due to loose volcanic ash, so it's best that you bring something that covers your mouth and nose; like surgical masks (you'll see the Koreans wearing this too)

And it can get really hot too, so bring water.

Heat not only from the sun, but also because it's still an active volcano, so the ground is 'warm' and steam vents from rocks (here and there) can be seen, which adds to the very humid atmosphere.
This steam coming out from underneath the rocks/ground smelled like rotten eggs; and apparently,
it is caused by sulfur dioxide that is escaping out of the cracks on the ground called fumeroles.
It will take you around 30 minutes to reach the top, and when you reach there, like I said, the vendors will harass you before you can even reach the spot where you can get a good view of the lake. :|
And puh-lease, do me a favor and ignore the vendor who would ask you if you want to take a swing of a golf club in order to throw a golf ball into the lake… Like seriously woman, what are you doing to the environment? :(
Nonetheless, once you manage to evade them, there you will finally see the 'vulcan point' that has a lake in it. (Imagine, like I said previously, this is like lakeception because Taal Volcano has a lake in its crater and is within a lake, wherein it is an island that is a volcano. Aaaah, that should have hurt your brain a little bit.)
And of course, it was a GREAT view!
You will see in this photo that the 'edges' of the lake seemed a bit orange-y or reddish, right?
Well that's mainly because the rocks that are there by the lake have been affected by the hot water, while some yellow ones are mostly made up of iron salts. If you are one of those hikers that could manage to get really close to this lake crater, then you are lucky (and crazy!)
I've been told that the rocks are like in the hues of 'autumn' and look really lovely. Occasionally, small geysers will also form on the ground AND MELT YOUR SKIN OFF WITHIN A DISTANCE (lol, not really).
We took our swell time at this peak though, because we really needed to rest and cool ourselves off from the heat… And at times, we tried to take more pictures of the lake and us!
This is what happens when it's hot. I tend to look angrily at the camera. YAY.
Now, it's time to go down! Here's a view of how the trail looks like (hiking down) and also some other pictures of our surroundings because they're such great views too!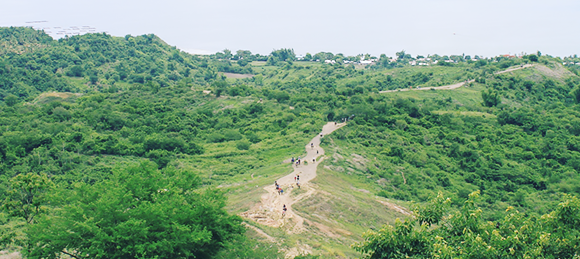 A view from the top, going down…
Again, this is 'Binintiang Malaki' (back view) one of Taal Volcano's craters. It's commonly mistaken as Taal Volcano itself.
In the distance is Mt. Maculot
We then met up with Angelo again so that he can lead us back to his boat/bangka and take us back to Talisay Bay. Overall: it was a swift and hassle-free 'deal' with Angelo and I would recommend him to you guys!
Again, here are directions on how you can go back to Tagaytay Rotonda and then eventually to Manila:
By Car
Just simply go back to the way you came from, which will then eventually lead you to Tagaytay-Calamba Road, and then eventually Tagaytay Rotonda (Jonas and I were driving a car at that time). To go back to Manila, simply follow the signs that say "Manila", this will eventually lead you back into SLEX.
By Bus
I actually don't know how you can go back to Tagaytay Rotonda from Talisay Bay since I don't know where the jeepneys/tricylces are stationed at (so it's really best if you have a deal with a tricycle driver). Once you are at the rotonda, just go to Olivarez Plaza or the Tagaytay Bus Stop near the rotonda, and take a bus there that goes back to Manila.
There! I hope I helped you guys out; if you have any further questions, please feel free to leave a comment below and I'll try my best to help!
Now about our experience, I can say that it was still great! Save for the hagglers, the heat, the dirt, and the smell, it was still worth it to see the crater lake; besides, it would be a shame to say that you've been to Tagaytay (for numerous times) without really witnessing Taal Volcano up close and actually landing there to see the volcano island yourself.
But of course, be aware that Taal is still an active volcano, so keep safe, and enjoy! :)
Have you ever been to Tagaytay? Did you hike to Taal Volcano?
If not, do you think you'll do it?
What do you love about Tagaytay?
YOU MIGHT ALSO LIKE
Older Post
Newer Post
Hey there! I am Aileen Adalid.
At 21, I quit my corporate job in the Philippines to pursue my dreams. Today, I am a successful digital nomad (entrepreneur, travel writer, & vlogger) living a sustainable travel lifestyle.

My mission? To show you how it is absolutely possible to create a life of travel too (no matter the odds), and I will help you achieve that through my detailed travel guides, adventures, resources, tips, and MORE!

NEW READER? START HERE!
CONTINENTS: 7 ~ COUNTRIES: 59
Join over 1 million people and receive exclusive giveaways, travel tips and so much more!