NAME: Aileen Adalid
BIRTHDAY: September
BIRTHPLACE: Batanes, PH
NATIONALITY: Filipino
LANGUAGES: 4 (English, Tagalog, Ivatan, Dutch)
STATUS: Single
NOMAD SINCE: April 5, 2013
At 21, I quit my corporate job in the Philippines to follow my dreams of traveling the world and building my own business. It all seemed crazy, especially because I was young and broke — but after a few months… I made it all happen! Today, I am a successful digital nomad (online entrepreneur & travel writer + vlogger) living a sustainable travel lifestyle.
In this website, I aim to:
Show how it is absolutely possible to create a life of travel despite odds and circumstances
Discuss the best types of experiences and resources that will help any kind of traveler in planning a memorable getaway or RTW (round-the-world) travel
I plan to accomplish these goals by:
Inspiring people through my personal adventures and life story
Sharing my detailed and information-packed articles that will revolve around travel hacks, guides, recommendations, and tips
ONLINE ENTREPRENEUR -
70%
ADVENTUROUS TRAVELER -
95%
CRAZY & IMPULSIVE SPIRIT -
50%

Read about my life story here!
Find out why I quit my job to start a life of travel & how you can do it too — all in just 5 steps!
.

Amazing, CRAZY, & unique: it's all here!
Read through fascinating posts that range from my crazy travel stories to fun facts — and MORE!
.
A travel lifestyle is exactly what it means: a life full of non-stop traveling!
I am leading this kind of lifestyle because traveling the world is my dream and passion. Given this fact, I do have a mission in mind: to visit every country here on Earth with my third world passport! However, I am in NO RUSH to accomplish this. I am just thankful that I am finally living my dream.
Some people have asked me: "What happens after you've traveled to every country on the globe?" I am sure that by that time, I would have a lot more knowledge about the world. Armed with that awareness and understanding, I plan to put up a feasible non-profit organization that I would control and own so that I can oversee effective projects that would answer to worldwide problems like poverty and pollution.
…For a moment there, I sounded like a contestant for a beauty pageant, haha! But this is really my next life goal because I have always been passionate about economical and environmental issues.
Currently though, I am what people would call a 'lifestyle traveler'. Some choose to work while on the road, others don't — but I am one of those who work.
I'm not exactly what you would call as an 'expat' because unlike expats, even if I stay for such a long period in a certain city, I am sure that I'll be leaving soon: I won't be staying permanently. However, both an 'expat' and a 'lifestyle traveler' are referred to as skilled professionals, making these two distinct from being an 'immigrant' (because 'immigrant' is usually a term used to call a manual laborer who migrates to a foreign country).
So, what kind of skilled professional am I? A location-independent professional — a digital nomad.
According to Wikipedia: "Digital nomads are individuals that leverage technology to perform their work; it's generally done in a nomadic manner wherein they work remotely — from home, away from home, while on the road — to accomplish tasks and goals that used to traditionally take place in a single stationary workplace. Digital nomads are entrepreneurs and professionals who are often business owners, web designers, graphic designers, software developers, and other types of knowledge workers who can perform work duties irrespective of physical location."
Simply put: a digital nomad makes full use of the technology (e.g. the internet) in order to work and earn an income whenever and wherever they are. That being said, do you want to learn how to become a digital nomad? Come read this guide!
Now, I am a digital nomad because of the kinds of 'jobs' that I have done and still do:
Business Owner – I currently own an online Amazon business named as Adalid Gear along with my business partner, Jonas. If you want to check it out, go to our main website at: http://AdalidGear.com
Technical Specialist – In the past, I have done online marketing, SEO, graphic and web design. This was my main source of income after I quit my corporate job in 2013 and before I had Adalid Gear.
Travel Writer – Today, I continue to write articles not only in this blog, but for other websites too. It's not a hardcore profession for me as it is more of an enjoyment — after all, writing has always been something that I love! This helps me earn money from time to time, but for the most part, the biggest 'perk' that it gives me are the partnerships that I get from airlines, companies, brands, hotels, resorts, etc. that offer me all-expenses-paid (FREE) trips in exchange for online exposure.
If you want to see my past graphic and web design portfolio, please go here.
If you want to know more about this lifestyle of working remotely, see my articles here.
Some travelers are aggressive, they hop from one country to another almost in like a frenzied manner.
Some travelers are 'chill', they travel slowly and they usually stay in a place for a longer period of time.
What's my traveling style? A bit of both. 
I would first set up a temporary 'home base' where I would stay in for at least a year. It's that long since I like to take my time — in this way, I get to have a 'fuller' experience of the culture and the way-of-life of the people.
For the duration of my stay, I would aim to travel to neighboring countries for a week or even up to a month or two. It really depends; though it's a common trend for me to go on trips in such a spontaneous manner (I usually don't plan ahead and it works!)
I first started this kind of traveling style in the Philippines back in 2013 which was right after I quit my corporate job. In 2014, I decided to stay in Belgium with my business partner for 2 years. This coming 2017, I plan to move to Spain next — let's see how that goes!
Overall, one thing is for sure: I may have that mission of traveling to every country in the world, yet I am NOT in a rush and I will definitely NEVER stop traveling!
I am Aileen. (Pronounced as "I-leen" and not "A-leen" ☺)
MY HOMETOWN
Born in Manila but raised in the green and hilly island of Batanes, I'm a proud full-blooded Ivatan. (Legit island girl!) I'm the youngest out of three siblings and I've lived in Batanes for almost 15 years. After graduating from high school, my family permanently moved to the city and I think it was a great decision given how moving to Manila had later on provided me with a lot of new opportunities and experiences that helped me become the person that I am today.
MY PAST CORPORATE CAREER
From the start of my university studies up until 2 years after my graduation, I got involved in four (4) different multinational companies here in the Philippines: Nestlé, Unilever, Siemens, and Deutsche Bank. I worked as a trainee for the first 3 corporations and it was in Deutsche (an investment bank) where I got my first full-time job at the age of 19.
MY TURNING POINT
Dipping myself since 2009 into communications, marketing, branding, and investment banking, I eventually put a stop to my corporate career in April 2013. Yes, I quit my job despite my good performance and future promotion.
For sure, it was a promising career, but I chose to leave the whole 'sense of security' and shebang that came with it…. It's just that after meeting people from different countries, hearing their inspiring stories of struggle/success, reading self-help books, and simply working on that desk for more than 8 hours a day — trying very hard to live my life well despite such a low pay* — made me decide once and for all that corporate work was NOT my passion.
I have always liked to control my own time as I work on building an enterprise that I would personally run. I also want to travel the world, to move around and to see 'new' interesting stuff as I gain location independence.
*I mentioned 'low pay' because despite my beefed up resume and university credentials, I didn't earn much at all from my past job. I was really faced with the harsh reality that no matter how good my background was, fresh graduates will always be underpaid. Add the fact that I lived in a 3rd world country then the pay was often not fair either even as time passes by. To be precise, I only earned $300 a month!
MY CURRENT LIFE
Today, everything worked out really well because I now run my own online business named as Adalid Gear as I continue to travel the globe — it's certainly the perfect lifestyle for me!
All in all, I'm glad I had the courage to 'break free' because now, I'm having the time of my life ♥
…How did it happen? Well, I came to this point in my life by relearning my true passions in life (design, marketing and entrepreneurship). To know more about how I started this kind of lifestyle in 5 easy steps, then come read this article.
To see more posts about working remotely, check this out. To see a brief summary of the timeline of my life, go here.
Why do I love being free, leaving my old life, traveling the world like a nomad, working remotely and gaining location independence? (And why you should consider it too!)
Well… let me answer you with this quote:
Make a radical change in your lifestyle and begin to boldly do things which you may previously never have thought of doing, or been too hesitant to attempt. So many people live within unhappy circumstances and yet will not take the initiative to change their situation because they are conditioned to a life of security, conformity, and conservation, all of which may appear to give one peace of mind, but in reality nothing is more damaging to the adventurous spirit within a man than a secure future.The very basic core of a man's living spirit is his passion for adventure.
The joy of life comes from our encounters with new experiences, and hence there is no greater joy than to have an endlessly changing horizon, for each day to have a new and different sun.
If you want to get more out of life, you must lose your inclination for monotonous security and adopt a helter-skelter style of life that will at first appear to you to be crazy. But once you become accustomed to such a life you will see its full meaning and its incredible beauty."
– Jon Krakauer (Into the Wild)
REASON #1 – Life Documentation
I blog to document my life. You see, with all the wonderful and memorable things that started happening to me, I stumbled into an alarming realization that my head was so FULL of these memories, adventures, and thoughts that I began to forget a LOT of things. (Let's not think that it's a disease, though at times I tend to think that it is.) So because of that, as well as the fact that I wanted my 'life record' to be in a place other than my unreliable hard drive and flammable physical journal, iAmAileen.com was a personal domain that I bought and brought to life in 2008, but officially relaunched in September 2014 as a travel blog. (More information about my blogging adventure here)
REASON #2 – To Inspire
I blog because I want to help and inspire people with my story. I want to send a clear message that following one's passion in life is always the best action to take. I also want to show that a travel lifestyle is absolutely possible no matter the circumstances and odds that you may have in your life. For instance, I was almost broke and I even held a limited third world passport, yet I made this lifestyle possible despite my dire circumstances — so surely, anyone can do it too!
REASON #3 – Sharing
I blog because I like to share travel tips and hacks that I've learned over the years. I want to impart this not only to my friends but also to the strangers of the internet, in the hopes that in one way or another, it could somehow help them reach their short, mid, and long-term goals.
REASON #4 – Love for writing
I blog because I simply love to write… A. LOT. In fact, because of this, most of my posts tend be in long-form writing. I don't plan to stop doing that though because I want to be as detailed as I could!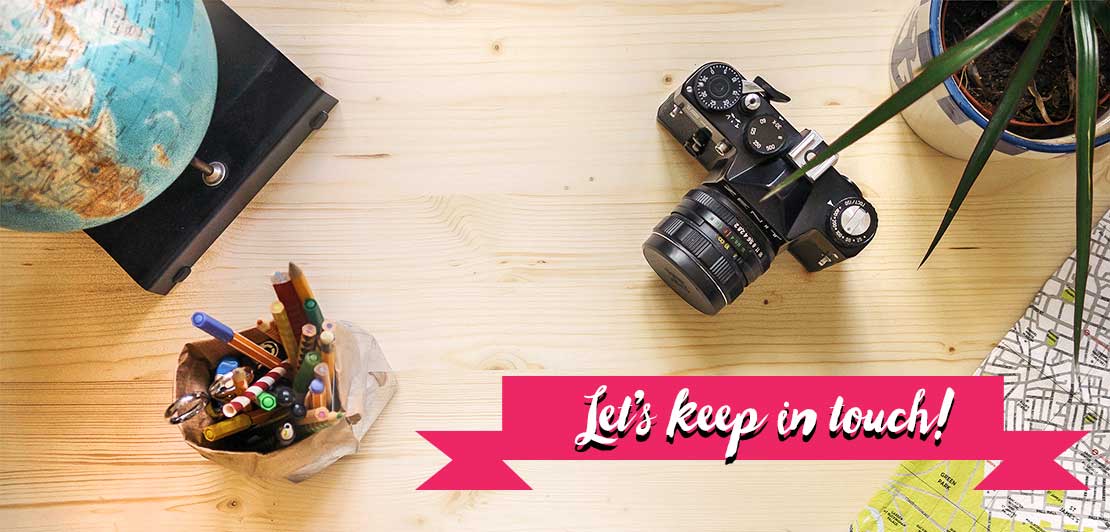 Receive my
free

monthly newsletter!

Be THE FIRST to hear about:
Exclusive travel deals, hacks, and tips
Awesome travel giveaways
My travel updates + posts
…and more!

Be assured that your email will never be shared with anyone — I won't spam you either. In fact, I only send this newsletter monthly, so give it a try!
.
To receive the latest articles, contests, giveaways, and MORE!
.
CHECK OUT MY FAQ
To see my frequently asked questions.
.
FOLLOW ME ON: