Have you heard of Snapchat? (Who to follow on Snapchat)
If you haven't, it's basically a phone app that lets you share and send photos + videos to your friends and followers. It might seem like it's another one of those so-so social medial platforms, but let me tell you that it's NOT. It's really fun to use and I personally love it! Truth be told, its exclusivity will make you want for more 'snaps' every day! Why so?
It's REAL. Snapchat is like YouTube and Instagram mashed together but less the perfection, which is nice for a change because everything is 'as is'.

All photos and videos (called as 'snaps') can only be primarily taken with one's camera phone on-the-spot. So, there's no room for pre-editing…
BUT there are awesome post-editing filters and features that you can do on your snaps. What this means then is that though everything is taken raw, with the added photo + video styles that Snapchat has to offer, you will absolutely see everyone's quirky personality!

Everything gets delivered LIVE, so you can see what everyone is doing in real time. You can actually think of Snapchat as some sort of medium for people to put up their own reality show as they display to you their day to day life!
It's SHORT BUT SWEET. Every photo and video that's collected in a day (which is called a 'story' in the app) can be set with a time limit between 1 to 10 seconds; so it's safe to say that you won't be bored to death since everything is pretty straightforward.
Snapchat is PRIVATE and PERSONAL. Unlike other social media channels wherein you can discover other users through tags or whatnot, Snapchat focuses a lot on privacy given how all 'snaps' are erased after 24 hours. Besides, if you want to know who to follow on Snapchat, you can only find and add them if they let you know their username.
Putting all of these factors together, you can get the idea now that Snapchat is unique, and as a user, I like the anticipation that comes with it as I look forward to the next snaps of the people I'm following!
Speaking of which, you're probably wondering who to follow on Snapchat now… Well, when it comes to igniting your wanderlust, I have the perfect list of travel bloggers who are more than willing to take you along in their adventures around the world!
.
Who to Follow on Snapchat: 10 Travelers
#1 – Louis of @FunForLouis
Who hasn't heard of Louis Cole? He's the popular YouTube travel personality and 'internet sensation' who documents the most amazing adventures all over the globe. He's pumped with so much life and vigor that he will make you want to instantly pack your bags and GO! And surely, following him on Snapchat will give you exclusive 'behind the scenes' footage that you wouldn't normally see in his post-edited YouTube videos.
#2 – Will of @wthatton
Will from the TheBrokeBackpacker.com is a good friend of mine, and if you're looking to follow a crazy and fun adventurer who takes the most unique trips possible, then he's the man you're looking for! He's currently on a HUGE trip from UK to Papua Guinea without using air travel. Ain't that epic?
#3 – Alex & Marko of @VagaBrothers
The creative minds behind the YouTube channel, ''VagaBrothers'', they are award-winning vloggers. With such visual 'power' and bubbly personalities, you really wouldn't want to miss out on their snaps. Besides, you will even see how unique they are as travelers!
#4 – Brooke of @BrookeSaward
Australian blogger of the well-known travel blog: 'World of Wanderlust', Brooke is a gal that you should absolutely follow on Snapchat. Charming, fun, and glamorous — you will never be bored with her non-stop wandering!
#5 – Kate of @AdventurousKate
When it comes to traveling solo, Kate of 'Adventurous Kate' is probably the first female travel blogger that comes to your mind! She's certainly an 'authority' on that, and by following her Snapchat account, you will feel like you're just right by her side as she explores various destinations worldwide.
#6 – Drew of @DrewBinsky
Do you like to party? As the online realm's 'Hungry Partier', Drew does a lot of partying and he sure does a lot of eating too! With over 60 countries under his belt, he's not going to stop anytime soon — or at all.
#7 – Mark of @Migrationology
If you're wondering about who to follow on Snapchat for snaps of food around the world, Mark of 'Migrationology' is your guy! Not only is he an established travel blogger, but he's a great influencer on YouTube too. And on Snapchat, you will see moments in his daily life as he cooks and eats mouth-watering cuisines.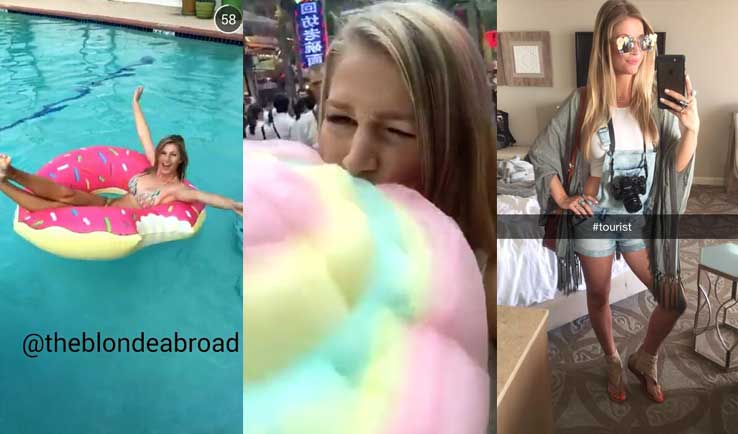 #8 – Kiersten of @TheBlondeAbroad
With her bubbly and energetic personality, following Kiersten (of 'The Blonde Abroad') on Snapchat would definitely inspire you to follow her footsteps. She's all kinds of amazing and you're in for a treat once you follow her account!
#9 – Matt of @ExpertVagabond
A travel addict for over 4 years, Matt has a way with his photographs and videos. You will see how good he is in visual-storytelling once you check his travel blog, the 'Expert Vagabond', and he cleverly uses this same talent in his engaging snaps!
#10 – Aileen of @iAmAileencom
And since you're here reading my blog, why not follow me as well? You will rarely see me talking on my travel vlogs, but here on Snapchat, I chatter away a lot so you will definitely get a feel of who I really am as a person! ♥ As a full-time traveler based in Europe, you'll get a 'behind-the-scenes' look of my adventures day by day! (Next in line? A trip to South America, South East Asia, Antarctica and more!)
PIN THIS!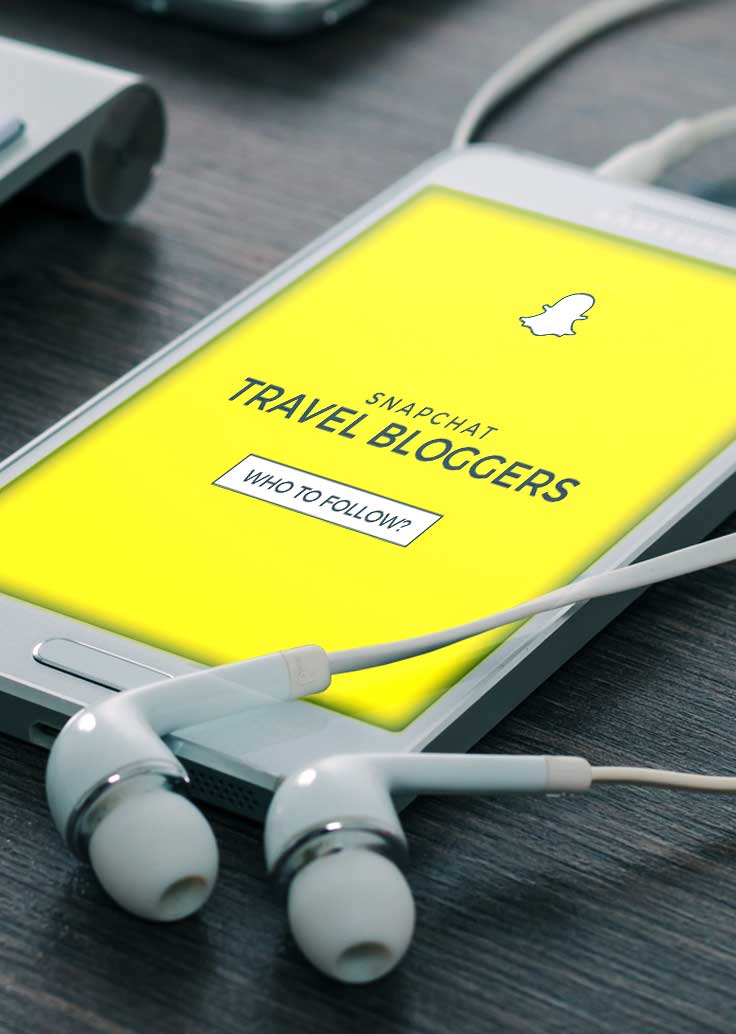 Is this the first time that you have heard of Snapchat? Do you find it interesting?
Or have you been using the app already? How is it? Do you enjoy the platform?
Who are the other travelers or travel bloggers that you would recommend?
YOU MIGHT ALSO LIKE
Older Post
Newer Post
Hey there! I am Aileen Adalid.
At 21, I quit my corporate job in the Philippines to pursue my dreams. Today, I am a successful digital nomad (entrepreneur, travel writer, & vlogger) living a sustainable travel lifestyle.

My mission? To show you how it is absolutely possible to create a life of travel too (no matter the odds), and I will help you achieve that through my detailed travel guides, adventures, resources, tips, and MORE!

NEW READER? START HERE!
CONTINENTS: 7 ~ COUNTRIES: 59
Join over 1 million people and receive exclusive giveaways, travel tips and so much more!