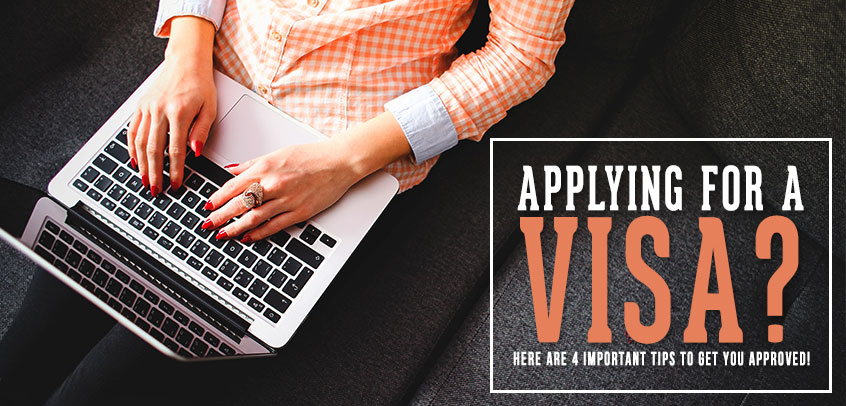 I am no stranger to visa applications. Plus, I perfectly know the struggle when applying for a visa especially since I am born in a third world country with only a third world passport — naturally, processes and interviews would always be especially rigorous for us.
But in spite of all the horror stories that you may have heard, seen, or read, getting a visa is still and absolutely achievable! Take it from me!
DISCLAIMER: I do NOT guarantee that the pointers in this post will get you approved 100% when you're applying for a visa. In fact, NO ONE can give you a guarantee; not even a lawyer, a consultant, a travel agent, or an embassy employee. Anyone who says otherwise is most likely going to be a scammer.
Take note as well that even if you have a friend who has the same income as you do and who has acquired a visa that you are also applying for wouldn't instantly mean that you will get the visa too. This is because every consulate considers a LOT of varying factors and the situation of your friend or any other person will not always be the same as yours.
Without the guarantee, what then can I give you in this article? Helpful tips to increase your chances of getting that approval.
The way I see it, applying for a visa is like dating — you lay out everything and put your 'best foot forward', hoping that by the end of it all, the answer will be a resounding YES from the other party. In this situation, I would be your proficient and supportive best friend who will help guide you on this ordeal.
So not only from the experiences that I've had but as well as lessons that I've learned from friends, here are the top 4 things that consulates or embassies usually put strict attention to! (For each of these sections, I will provide corresponding steps or workarounds that have worked really well.)
Accomplish the requirements. This is obviously 'common knowledge' but it seems like some people think that skipping out on a few documents is fine — no, it's not. You can't expect the embassy officers to say "Oh okay, just come back and submit this and that." It's always best to submit ALL the documents at once because most embassies would not even accept your application if it's incomplete. Avoid wasting your time and effort; do remember that appointments are often hard to get.
TIP: Make sure your passport is not expiring anytime soon. In addition, submit all the documents in an organized way. It helps to provide a checklist too in order to give the embassy a quick overview that you have prepared everything that's needed (though at times this is one of the basic requirements).
Mind the details. Some embassies wouldn't need an interview since they will merely rely on the documents you submit; given this process, they usually put very specific instructions and it's vital that you take note of those. (Examples: they would want you to use only a specific kind of envelope, or that you have to staple your photo to the application form and NOT paste it, or they want you to write in blue ink). These steps might seem ridiculous or tedious but you should do it still; don't slack off and don't rebel. Make it a point to read the guidelines very well which should normally be on the embassy's website.
Only submit authentic documents. Don't even try submitting fake or 'doctored' documents. There's a high chance that you will not only get denied, but you will also be banned.
Provide as much evidence as you can. One proof is fine, but if you can give more, then great! It will give them more assurance to the documents that you are trying to prove authenticity or genuineness to. In fact, overdelivering is always a good thing for as long as the things that you're submitting are relevant. And of course, providing originals are always best!
Show that you are 'well-traveled'. It can be through travel tickets/bookings or your passport stamps. Even if it's not one of the requirements, it helps to show them this to send them a message that you have traveled before, that you always came back, and that you have never overstayed abroad.
INTERVIEWS: Your interview can affect the documents you are submitting; but surely, if you are submitting genuine papers, then there's no need for you to be nervous about this because the questions are always basic: what is your purpose for visiting, how long do you intend to stay, etc. (Though depending on your answers, the visa officer can be more thorough).
At best: remember to be honest and precise when applying for a visa. Simply answer what they ask for. DON'T launch into a full-blown storytelling spree. It's not necessary for you to give out information when it's not asked for! (Besides, the officers unfortunately wouldn't care about your story, no matter how sad or tragic it might be.)
Additionally, wear something presentable (no need to be too formal), arrive early, be confident, and speak in English (or if you're more comfortable in speaking your country's language, then feel free to do so — unless the embassy doesn't allow it).
◘◘ Do I need to purchase and submit travel insurance?
I highly advise that you get travel insurance for your trip; after all, most embassies would require you to do so. To avail a travel insurance, I would highly recommend World Nomads since they offer the best price and coverage (they cover all countries worldwide too!).
TRUE PURPOSE: Apply for the appropriate visa. Read about all the information and processes that the embassy has in order to ensure what kind of visa you should be applying for — call the embassy if you ever need clarifications. This is crucial so that, for instance, you can avoid wasting your time on the requirements for a tourist visa if what you actually should be preparing are the prerequisites for 'visit a friend' visa, which is often a more specific category.
And surely, if you plan to study or work abroad, don't try and go for a tourist visa; please DON'T be one of those people who violates visa rules and conditions because that would paint your fellowmen in the same bad light. You're not helping others, nor are you helping yourself.
STRONG & REASONABLE PURPOSE: If you're applying for a tourist visa then this shouldn't be a problem; after all, you really wouldn't have any other rationale for visiting a country abroad other than for… well, tourism. Supply them the itinerary that you want to do, the places that you want to see, and the experiences that you want to achieve and you should be fine.
The same applies for work, study, fiancé, or marriage visas because those are already self explanatory — to work because you are being sent there by your company, to study because you want to develop your knowledge and the university at that country is known for their outstanding program, etc. etc.
If, however, you're applying for a visa to visit a friend or family, embassies commonly need a compelling argument to justify your plans of visiting. The first application isn't typically a problem because seeing a friend or family member for the first time should somehow already be a reasonable purpose; but for the next visits, you or your host must have a stronger cause as to why you want to come back. Such may hold true too if you are planning to apply for 2nd tourist visa to the same country and so on.
Nevertheless, again, this is where dissimilarities can happen: some people can easily get a visa after the first time, but some people cannot. It'salways a case to case basis.
You might be thinking now, "What are examples of strong reasons?" I think it all boils down to having significant or sensible events. For tourism, let's say you've been to Belgium before but currently, you want to come back because you want to see Tomorrowland; provide them the tickets for that and your motivation for wanting to see them (it happens only once a year anyway). Or maybe you have a blog and you want to experience and promote the country even more, blah blah blah. Or you want to take a gap year before you start working on your career. As for friends or family visits, if there's a birthday, wedding, or reunion, make sure your or your host mentions that too.
» At the same time, don't forget to prove the relationship you have with your host.
Ultimately, just make sure you have a decent motive or just be true to what your intention is — most of the time, your situation (no matter how simple or complicated it might be) would already be enough of a reason.
TIP: When applying for a visa, don't ever indirectly imply that you have plans of staying longer because that will go against the 4th section below. If you're going on a student visa, don't mention plans of working in their country after finishing your degree; you have to express your desire to come back to your own country.
Or if you're going on a tourist visa, don't carelessly mention that their country has a very good education system that you find fascinating, because that might incidentally hint something to the embassy officer that you might want to study there — this is a bit of an exaggeration, but you get what I'm saying. …Then again, I'm pretty sure you won't say such things if you follow the tips I've mentioned in the 1st section: which is to be 'on point' about your answers. Say nothing more, nothing less!
.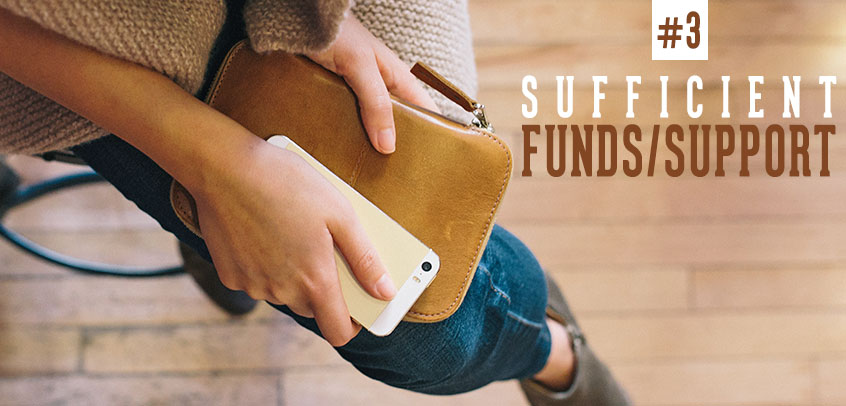 Every embassy wants you to convince them that you have enough money to support yourself because if you don't, they would be very skeptical about how you will be funding your stay and they will also doubt your purpose for visiting their country.
As a general rule, here are ways for you to prove your solvency…
For employed persons

this becomes very easy since your 'status' already secures that you are solvent and that you have a job to come back to (thereby verifying the 4th section as well below). Ordinarily they need you to issue all of the following:

Proof of employment (or COE – Certificate of Employment) with company stamp, stating your position, years of service, and monthly salary
Most recent payslips (often for the past 3 months)
Income Tax Return (ITR) for the past year

For self-employed persons it becomes tricky, because though you have your own business, they need to know that it's something stable and that you have enough cash. So other than the 1st three bullets below, it helps to provide:

Copy of Official Business Registration/ Business Permit
Tax paying certificate and/or tax statements
Bank Statement or Book of the company and Financial Reports for the last 3 months
Copies of personal credit cards, bank certificates, or bank statements in the last 3 months

For retirees if you have also launched your own business after retiring, it helps to give the documents as needed from self-employed persons and then these ones below if available:

Proof investments or financial assets
Evidence of pension such as receipts
Certification issued by competent authority stating period of time and date of retirement

For students or minors depending if your sponsors are your parents or your school, or even both:

Sponsorship letter from parents or legar guardian, with attached documents showing their solvency (as employed, self-employed, unemployed, or retiree persons)
Certification from the institution/school providing you the grant; this document must specify the amount, term, and expenses that the scholarship includes

For unemployed persons

provide as much proof as you can, submit:

Proof investments or financial assets
Copies of personal credit cards, bank certificates, or bank statements/book in the last 3 months.
Sponsorship letter from your sponsor, with attached documents showing their solvency
NOTE: The requirements for employed and self-employed persons are as applicable to freelancers too; depending on your situation, you might have to provide not only your proof of employment but even the registry of your 'business'.
Also, Please DON'T rely on this list alone; double check with your embassy as there might be some items that they would specifically want from you and which I have failed to mention here.
TIP: For most of my visa applications, I usually have a sponsor in spite of the fact that I can already support myself — I still like to include them in my applications since it adds more strength. It truly helps a lot, especially when I quit my job and started working freelance. Usually my sponsors are friends or relatives, but it's usually just on paper; it doesn't mean that I absolutely require them to fund my travels. Of course, in line with this, you would need to provide enough proof to show your relationship with these sponsors and why they are sponsoring you — and that of course you ACTUALLY have the funds to cover your trip since the immigration officers can check on this before your actual entry into their country (they have the right to ask for proof of cash on hand, credit card, bank statement, etc.)
By the way, this is another area that you can overdeliver on; feel free to provide as many documents as you can!
"But what is the minimum amount of money do I need to show in my bank account?"
This is something I can't really answer because every country would have its own minimum requirement depending as well on the time period that you are going to stay; therefore, I suggest that you call the embassy or check their website for any corresponding info about this.
But in my experience with Schengen Visas for example, most of the member countries would need you to show that you have EUR 50 (Php 2,500+) per day of your stay. This is the bare minimum, that's why I suggest that you add way more money to it.
Meanwhile, as an additional way of showing that you can 'support' yourself, they would surely need documents that shows you have a hotel booked. To obtain these documents you can (1) reserve with a hotel online or (2) make a 'dummy booking' which can usually be done online [like Booking.com and Agoda], or through a travel agency.
If however, you are going to stay over at a friend, partner or family's house, the embassy would need details of your 'host' like their ID cards, residence documents, proof of your relationship to them — all of which are easy to prepare.
.
In my opinion, this is where embassies put most emphasis on — they really need you to be bounded to your home country, and that you have strong ties that will compel you to come back at the end of your stay. They definitely don't want you aiming for ways to stay longer (illegally) nor aiming for ways to become an immigrant without going through the necessary procedures at your home country.
What are examples of 'strong ties'? They vary from country to country: they will consider your circumstances, travel plans, financial resources, and ties that will ensure your departure after the period of visit. Thus, other than the evidences already mentioned in the above sections, make sure that you've issued…
For employed persons

Leave of absence and/or certificate of employment from your employer
A letter from you, stating any other reasons why you won't overstay

For self-employed persons

Mention an affair that would necessitate your return (it can be a board meeting, company event, etc.)
Business registration
Proof of possession of real and personal property (real estate, etc.)
A letter from you, stating any other reasons why you won't overstay

For retirees

Proof of possession of real and personal property (real estate, etc.)
A letter from you, stating any other reasons why you won't overstay

For students or minors

School enrollment certificate
Approved leave of absence
A letter from you and your parents or legal guardian(s), stating reasons why you won't overstay (explanation of family situation, your long-term plans in your residence country, etc.)

For unemployed persons

as available:

Proof of possession of real and personal property (real estate, etc.)
If applicable, letter showing a job offer (wherein you'll start working sometime at the end of your trip)
If applicable, letter showing the start of your studies (school enrollment certificate, wherein you'll start studying sometime at the end of your trip)
A letter from you, stating any other reasons why you won't overstay (ex: you're planning to set up a business, etc. but then you'll also have to back up those statements with evidences)
NOTE: These are NOT absolute, chances are, one proof would already be enough; yet as usual, it helps to overdeliver on evidences. You can always ask the embassy for any other kinds of documents they might want from you to prove your situation.
I understand that some procedures when applying for a visa would require a round trip ticket to be booked and presented — this would already be a proof that you won't overstay, but I advise that you provide more evidences still since tickets are the most basic affirmation. (Though of course, most embassies nowadays do NOT require you to have round-trip tickets to be booked and presented before/during the application. If you really need to present tickets, it should be enough to show a flight reservation or itinerary).
In case you're wondering where to look for the best flight deals, my go-to platforms are Momondo, Kayak, and Skyscanner.
TIP: Your passport stamps help in justifying that you are not someone who overstays abroad.
.

I dearly hope that these tips will help you! I wish you all the best of luck!
FINAL NOTE: Even with these pointers, remember to always check with your embassy first. Please also direct any clarifications and follow-ups to your applications to their office, and NOT to me; this is in consideration of the fact that they would always know more about your situation than me. Again: this article is merely a helpful guide for you.
Do you have any other tips to share? Or things that I forgot to mention and should include when applying for a visa?
Have you ever been in a difficult situation while applying for a visa? What happened and how did you get over it?
YOU MIGHT ALSO LIKE
Older Post
Newer Post
Hey there! I am Aileen Adalid.
At 21, I quit my corporate job in the Philippines to pursue my dreams. Today, I am a successful digital nomad (entrepreneur, travel writer, & vlogger) living a sustainable travel lifestyle.

My mission? To show you how it is absolutely possible to create a life of travel too (no matter the odds), and I will help you achieve that through my detailed travel guides, adventures, resources, tips, and MORE!

NEW READER? START HERE!
CONTINENTS: 7 ~ COUNTRIES: 59