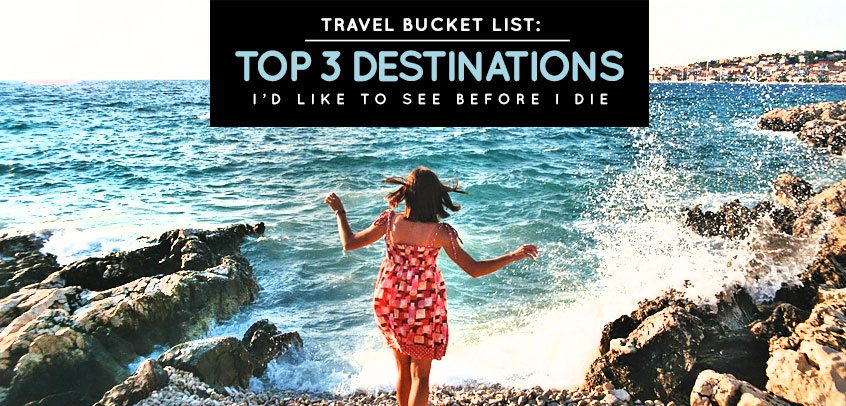 Bucket list
noun informal
– a list of things a person wants to achieve or experience before reaching a certain age or before dying.
(Source: dictionary.com)
I used to have this looooong list of things that I want to do and places that I want to see — a bucket list! But after realizing that there are far too many experiences and sights in this world, I gave up on updating the huge file. I also figured that there wouldn't be any point in keeping such a list because I might end up restricting myself in the long run. So with the absence of a bucket list, I decided to be a "YES" person instead; I will simply be open to any opportunity that I come to encounter — I'll just go with the flow!
However, over the years, I keep on receiving this question from friends, people, and readers alike. It's like an unavoidable inquiry: "What's the top 3 destinations on your travel bucket list?"
I have long abandoned my bucket lists, as I have explained above, but if the question is put in this way (figuring out just my top 3) then it's something that I could clearly answer… even though it's tough!
Yes, tough, because again, with the fact that there are soooo many interesting places around the globe, it's absolutely difficult for me to play favorites. In fact, the first time that I was asked this question, I had to think for weeks. (Yep, that's how hard it was).
But today, I will finally settle this once and for all with this article! Below, you will see the top three destinations on my travel bucket list (in no particular order and all starting with the letter A!). If you read up till the end (specifically on #3) you will even find a lovely surprise…
How big of a surpise it will be? Well… you might just win a trip to my 3rd favorite!
.
Top 3 Travel Bucket List Destinations
1.
AFRICA
.
*Cue Lion King's #1 soundtrack: Circle of Life*
I was a huuuuuge fan of the Lion King movie when I was a young kid! For sure I had that childish dream wherein I wanted to travel to Africa just to live and play with the lions! …yet after quickly learning how life-threatening that could be (unless I learn how to become a 'lion whisperer'), my dream of traveling to Africa still remained but the corresponding activity downgraded to being a simple and responsible observer — not a lion's playmate.
Why Africa? Well because it is Africa! I definitely, definitely, want to see the wild animals in their natural state, to explore the dramatic safaris, and to interact with local tribal people!
I also want to go there in order to do something meaningful! You see, after watching numerous documentaries and reading various textbooks, I decided ever since I was 13 that one of my dreams is to build something sustainable in Africa — the continent that has most of the world's poorest countries.
I want to teach African kids, develop livelihood projects, and more!
I know that I can quickly accomplish this goal by joining an existing volunteer program, and of course I will do that in the future; however, I want to stress on the word 'build'. Ultimately, I want an organization full of dedicated people that I will personally manage and control. It's just that with today's times, it's so hard to wholly depend on big names or institutions since I would never know what's happening behind the scenes — I would really like to have full supervision over everything so I can ensure that all resources are allocated and used responsibly.
For me to accomplish this, I would need some capital and a bit more financial freedom which will take a bit of a while… Nevertheless, you should bet that I'm trying to make my way! It will be a slow process but it will happen — apart from wanting to see Africa's beauty, I really want to help uplift its communities!
.
2.
ANTARCTICA
.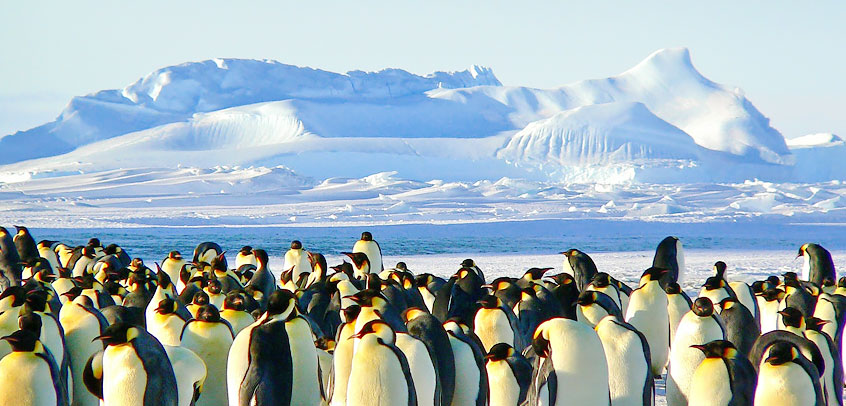 I have three top reasons why I want to see Antarctica.
First, the wildlife. Just think about the different kinds of animals that you can see here: penguins, seals, whales, dolphins and moooore! (Not polar bears though but we'll get there).
Second, the nature. I like how there's a total absence of man-made structures in this region. I've seen the pictures and it would totally be such a sight to see Antarctica in all its natural glory: glaciers, icebergs, mountains… *sigh*
Third, for the overall experience and awareness. I have that goal of traveling to every continent in the world with my third world passport, so Antarctica is certainly one of my top must-sees. But apart from that, I wouldn't dare miss out on seeing the grand beauty in this continent, nor would I want to miss out on the opportunity to learn more about the science aspect of it.
I'm crazy about science and I would give anything just to be a part of an expedition that would study global warming, climate, or even simply the behavior of the wild animals in Antarctica. (PENGUINS!!!)
Now, it's no joke to get here. I've heard that you need at least $4,000 per person to be able to join the cruise ships or tours (but on average, most would cost $9,000). So yes, it will be quite a feat! Sometimes, utter magnificence really comes with a price… Rest assured, I am eyeing on scoring a trip that would at least be around the $4K range or even lower (which I've heard would be possible if I go to Ushuaia, Tierra del Fuego in Argentina to book a ticket on the last minute!)
…Sounds like a plan, don't you think? I'm eyeing on going to this trip once I get myself over to South America which would hopefully be soon! *crosses fingers* For now, I gotta work and save more!
.
3.
ARCTIC CIRCLE
.
Last but not the least, the land known for midnight suns and northern lights: the Arctic Circle!
In case you don't know what it is, it's basically the northernmost part of the globe wherein the land is divided among 8 countries, namely: Norway, Sweden, Finland, Russia, Canada, Denmark (Greenland), USA (Alaska), and Iceland (Grimsey Island).
This is actually one of the most achievable options that I have right now in this top 3 travel bucket list since I am already situated in Europe. Five countries (Norway, Sweden, Finland, Denmark, and Iceland) are somehow very near to where I am now so it's quite an attainable journey if I say so myself!
I know that a lot of people hate the cold with intense passion… but I don't! I've just had my first snow and winter last 2014 (after living in a tropical country for all of my life) and I absolutely loved it — of course I still cower and shiver but I don't mind it at all for as long as I get to have some 'winter' fun. I'm really looking forward to experiencing this kind of environment again and the Arctic Circle is where I'd want to be in soon!
And do you know what makes me excited? Aside from the fact that the Arctic Circle is easily accessible from where I am right now, I discovered that an amazing tour operator, Transun, might just be my ticket for getting there fast!
I say this because I found out that they are running a contest that can take two people to Lapland, Finland to see the northern lights! They will give return flights* (from UK only), full board accommodation, husky safari experience (!!!), reindeer camp visit, snowmobile ride and so much more!
…Are you excited? Because I am! I would really like to win this trip! It's a way for me to fulfill my travel dreams and to continue making my way around the world. I also want to give a refreshing perspective on this majestic landscape to you, my blog readers, with the help of a trusted tour operator so I am eager to win this thing!
Though, in the spirit of sharing, I'd like you to try your chances too! To start, simply go to this link and read the details on what you have to do in order to win. Remember that the contest ends on April 30, so take note of that! Good luck to us! ♥
NOTE: I have permission and rights to post the photos above as they are under CC0 Public Domain. Also, this post is NOT in partnership with TranSun. I am merely joining their contest as a participant, and I am simply sharing this opportunity to you too.
.
I guess bucket lists aren't so bad.
After writing this piece, I realized that having a bucket list wouldn't be restricting at all if you handle yourself well as a traveler. As a matter of fact, it can actually keep you focus on your travel goals! For instance, coming up with this top 3 made me see that I should really work hard on making my #3 a possibility as it is the most obtainable option for me right now. (Cheaper than Antarctica at least!)
Now, tell me…
What are the top 3 destinations on your travel bucket list?
Do you have any specific destinations that you aim to travel to this year (2015)?
Or have you already ticked off one of your top-listed destinations? What was it?
YOU MIGHT ALSO LIKE
Older Post
Newer Post
Hey there! I am Aileen Adalid.
At 21, I quit my corporate job in the Philippines to pursue my dreams. Today, I am a successful digital nomad (entrepreneur, travel writer, & vlogger) living a sustainable travel lifestyle.

My mission? To show you how it is absolutely possible to create a life of travel too (no matter the odds), and I will help you achieve that through my detailed travel guides, adventures, resources, tips, and MORE!

NEW READER? START HERE!
CONTINENTS: 7 ~ COUNTRIES: 59
Join over 1 million people and receive exclusive giveaways, travel tips and so much more!