Hong Kong is a treasure trove of sorts given its culinary delights, bustling skyline, dynamic culture, rustic charm, and rich landscape among many others. With that in mind, you would need a lifetime in order to experience just about everything — however, with just this post, I can get you started with the top 10 fun things to do in Hong Kong to help make your stay a memorable one!
Naturally, I won't be discussing most of the typical must-do's in the city such as visiting Victoria Peak, Victoria Harbour, Lan Kwai Fong, etc. because you can refer to my Hong Kong itinerary guide for that.
Instead, I'll be listing below some exciting city activities that you, your friends or your family can enjoy for the remainder of your stay!
.
Come and check out my list of the 'Best Hotels in Hong Kong' which features the top recommended choices for cheap to luxurious accommodation choices.
.
.
Things to Do in Hong Kong
1.
Book a photoshoot
.

Say goodbye to dark, skewed or 'out of focus' vacation photos that are taken by strangers! With SweetEscape, you can finally capture your travel experiences perfectly with the help of professional photographers — no matter if you're traveling alone, with your friends or with your family.
To date, if you book via Traveloka, you can choose between an exclusive 2-hour or 1-hour photo shoot session. Once that's done, you will receive up to 40 high resolution photos that you can download online!
If you ever need some location ideas, other than the typical spots, do consider the following 'Instagrammable' places in Hong Kong:
Yik Cheong Building or 'Monster Building' and Montane Mansion at Quarry Bay
Cho Hung Estate's rainbow-colored estate buildings
Western District Public Cargo Pier, often called as 'Instagram Pier'
Street art at Graham Street, Sheung Wang, or Rich View Terrace at Tank Lane
Lok Wah South Estate's round structures
.
.
2.
Rent a cheongsam or qipao (Chinese dress)
.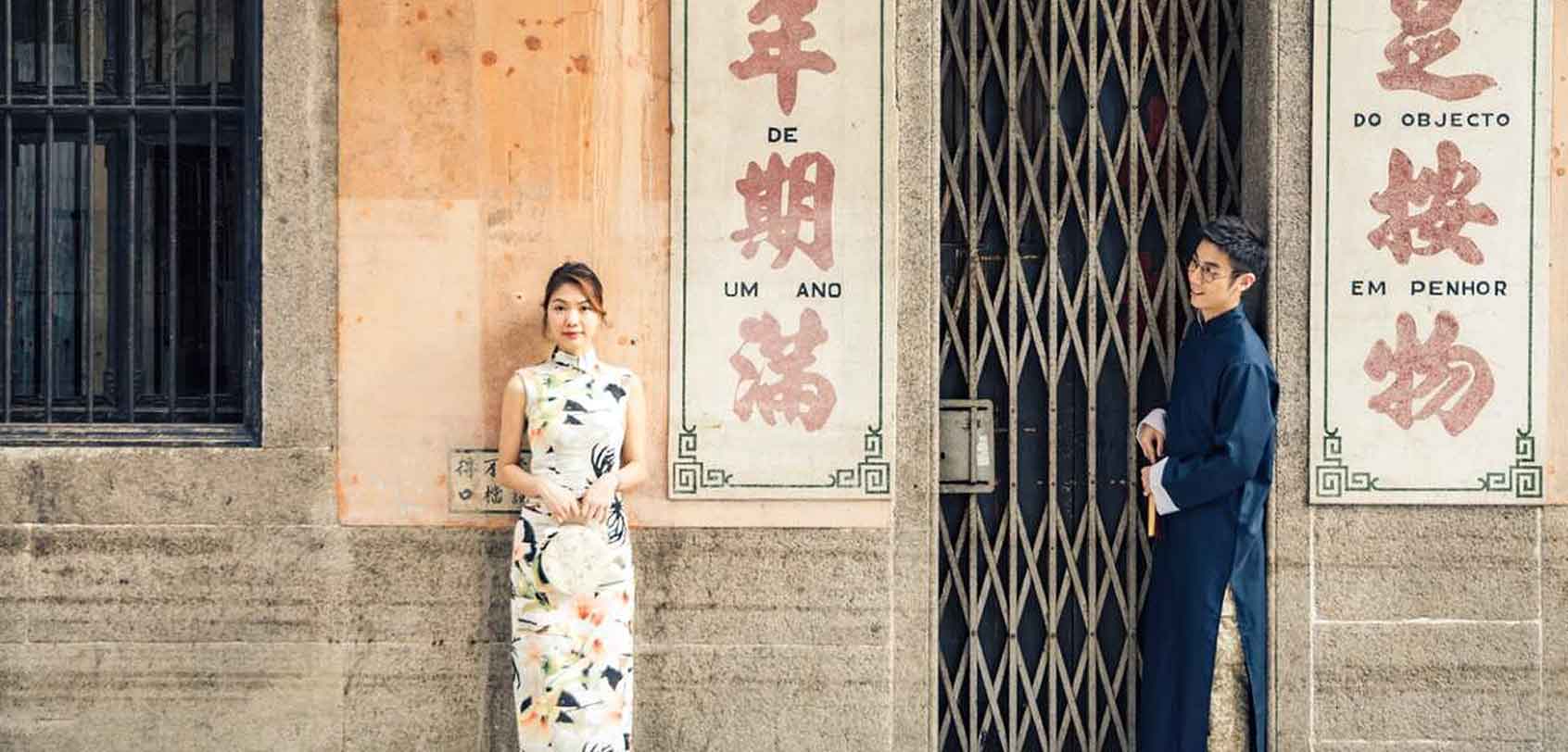 Renting traditional dresses is an activity that has been gaining popularity in the recent years. In fact, Japan and South Korea are well-known for their respective kimono rental and hanbok rental shops.
Nowadays, Hong Kong has a similar service through a shop called 'Yan Shang Kee'. For a fee of about HKD 400, they rent out qipao or cheongsam — a tight-fitting traditional Chinese dress — for a whole day. This price already includes hairstyling, accessories for rent, as well as the freedom to choose your qipao of choice.
It helps to note that the shop offers qipao in different sizes, lengths, patterns and number of buttons. True enough, this will certainly be one of the fun things to do in Hong Kong that you must NOT miss out on!
.
.
3.
Go on an exciting pub crawl to enjoy Hong Kong's nightlife
.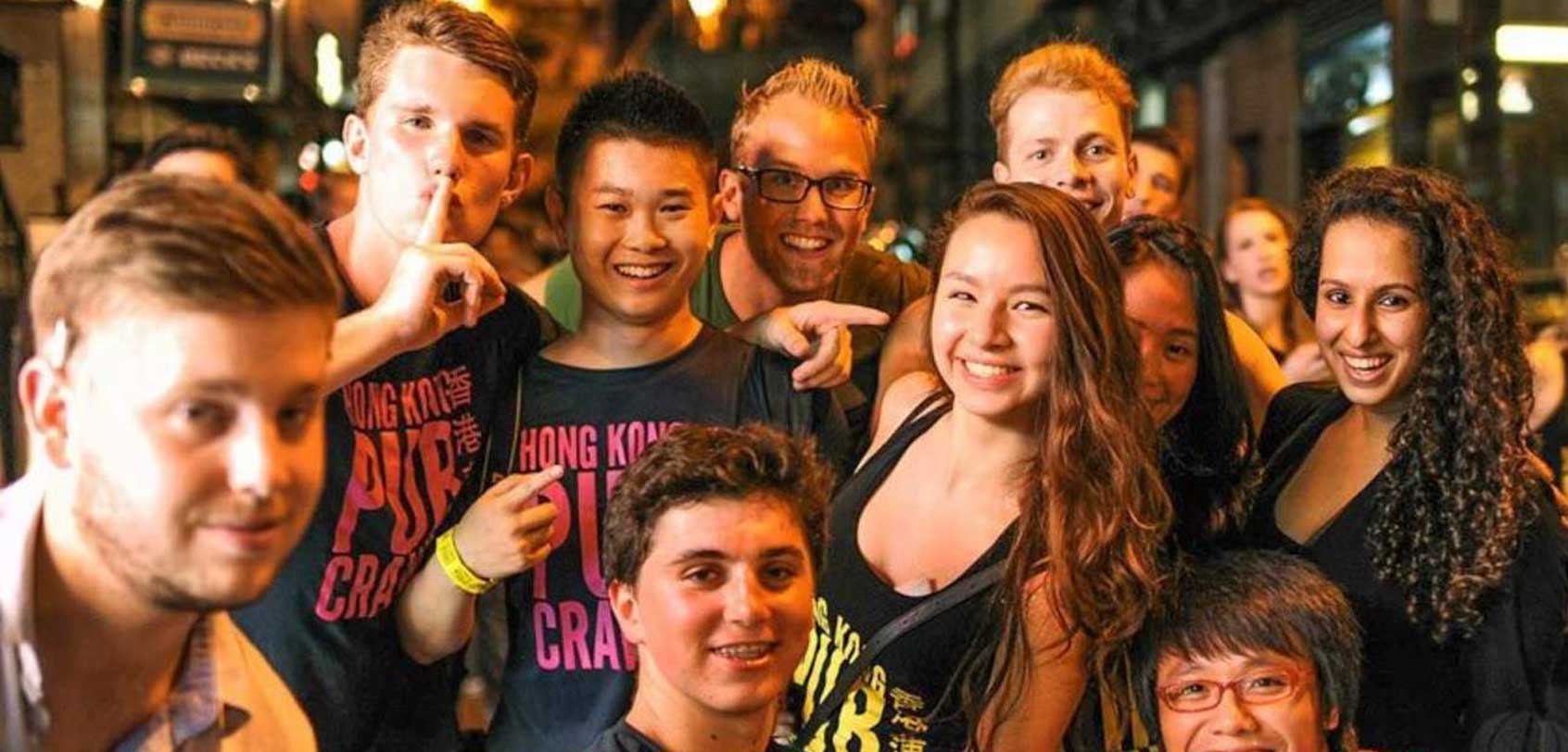 What better way to explore Hong Kong's nightlife scene than to go on a pub crawl with experienced local guides, right? The best part is that you'll get to enjoy this all with like-minded people from all over the world who are also looking to have some fun!
Hong Kong Pub Crawl is the top provider for this; after all, their 'crawl' is famous for its off-the-beaten track venues and excellent drink deals. Basically, their signature LKF (Lan Kwai Fong) Crawl in Central runs every Thursday and with it, you'll get to try free shots at different bars, enjoy free VIP entry to the hippest club in the city, as well as be accompanied by a professional photographer who will document the epic night!
So gather up your friends — it doesn't even matter if you're going solo — and enjoy the night away!


Wanna see a complete list of the top Hong Kong food and drinks that you MUST try?
Check out this blog post to find out: Top 20 Hong Kong Food Dishes to Try
.
.
4.
Hike to Dragon's Back Trail
.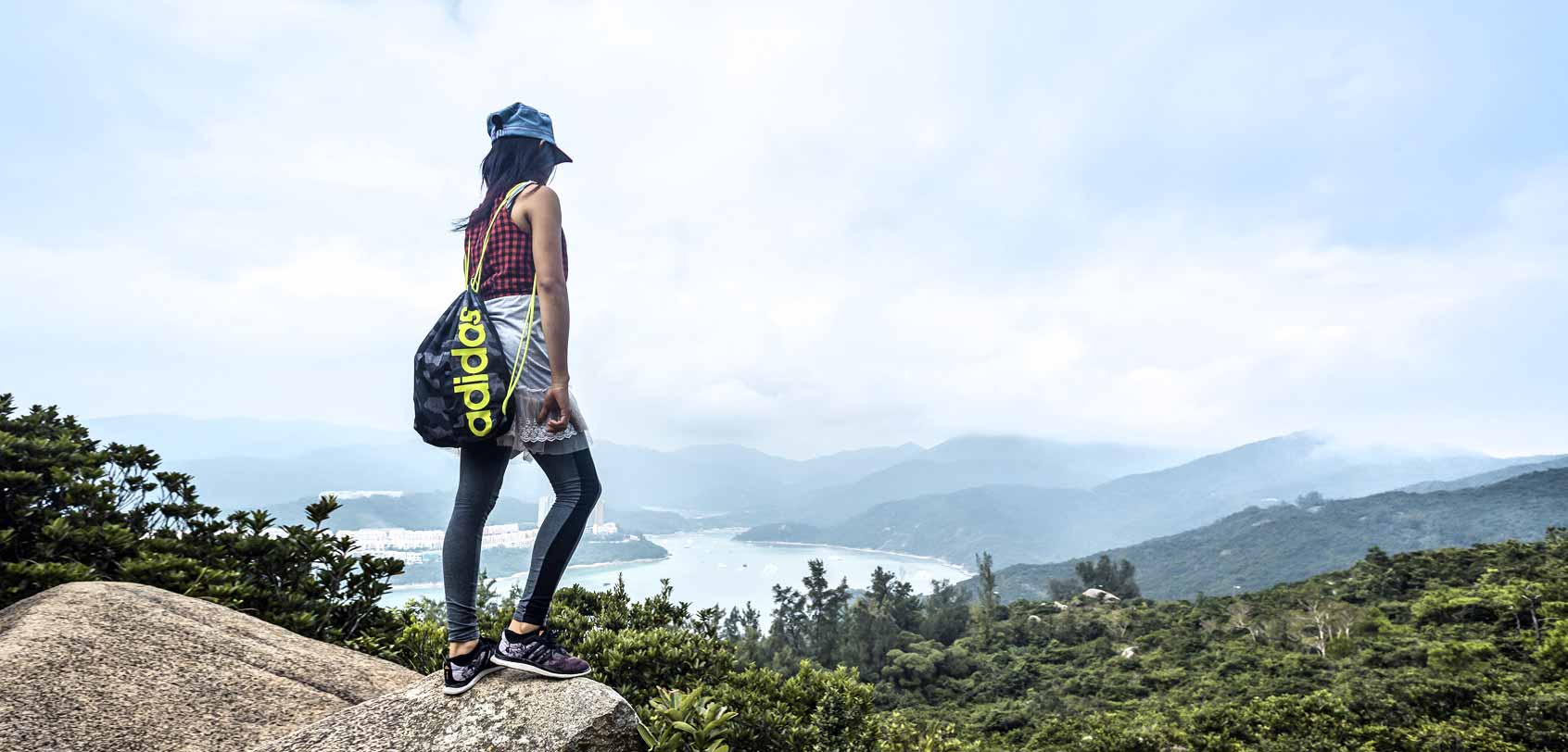 Photo from nomadsteam/Shutterstock
Not a lot of people know that there's so much more to the city's urbanised center because 2/3 of Hong Kong is actually made up of the countryside, countless small mountains and several islands. As such, hiking is a must that you should do on your list of things to do in Hong Kong!
Lion Peak Hill is one of the most popular hikes and this website even sums up all of the trails in the country (labeled accordingly with difficulty, time, etc.). But if you want something that's out of the bustling area, head on over to the famed Dragon's Back.
With this hiking tour, you can go through the trail with a professional guide. You will get to witness mountain ridges and forest trails as it leads up to the white sands of Tai Long Wan (Big Wave Bay) — where you can also try surfing!
.
.
5.
Taste the local cuisine with a food tour
.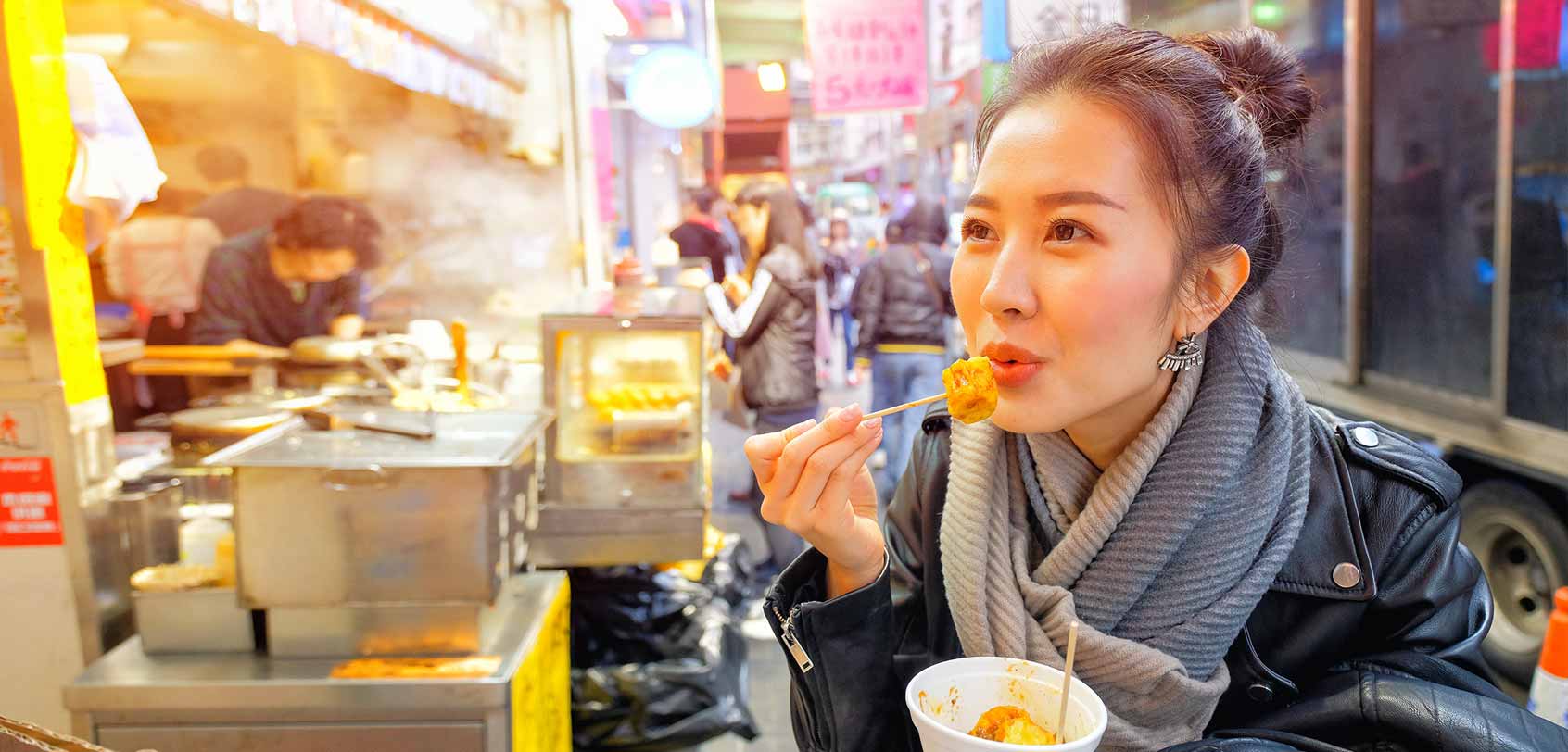 Photo from SAHACHATZ/Shutterstock
The vibrant city is a paradise for foodies, that's why dining out is a must on your things to do in Hong Kong — better yet, you must go on a guided street food tour!
With the help of a local, you can try out authentic dishes and fare as you wind through culinary places, bustling markets, and dai pai dong (food stalls) in Causeway Bay and Wan Chai among many others.
Some of the many things you'll get to try are Hong Kong's well-loved puffy egg waffles, milk tea, clay pot rice, and youtiao (deep-fried breadsticks) — food choices that will surely leave you wanting for more!
.
.
6.
Try doing tai chi with a master
.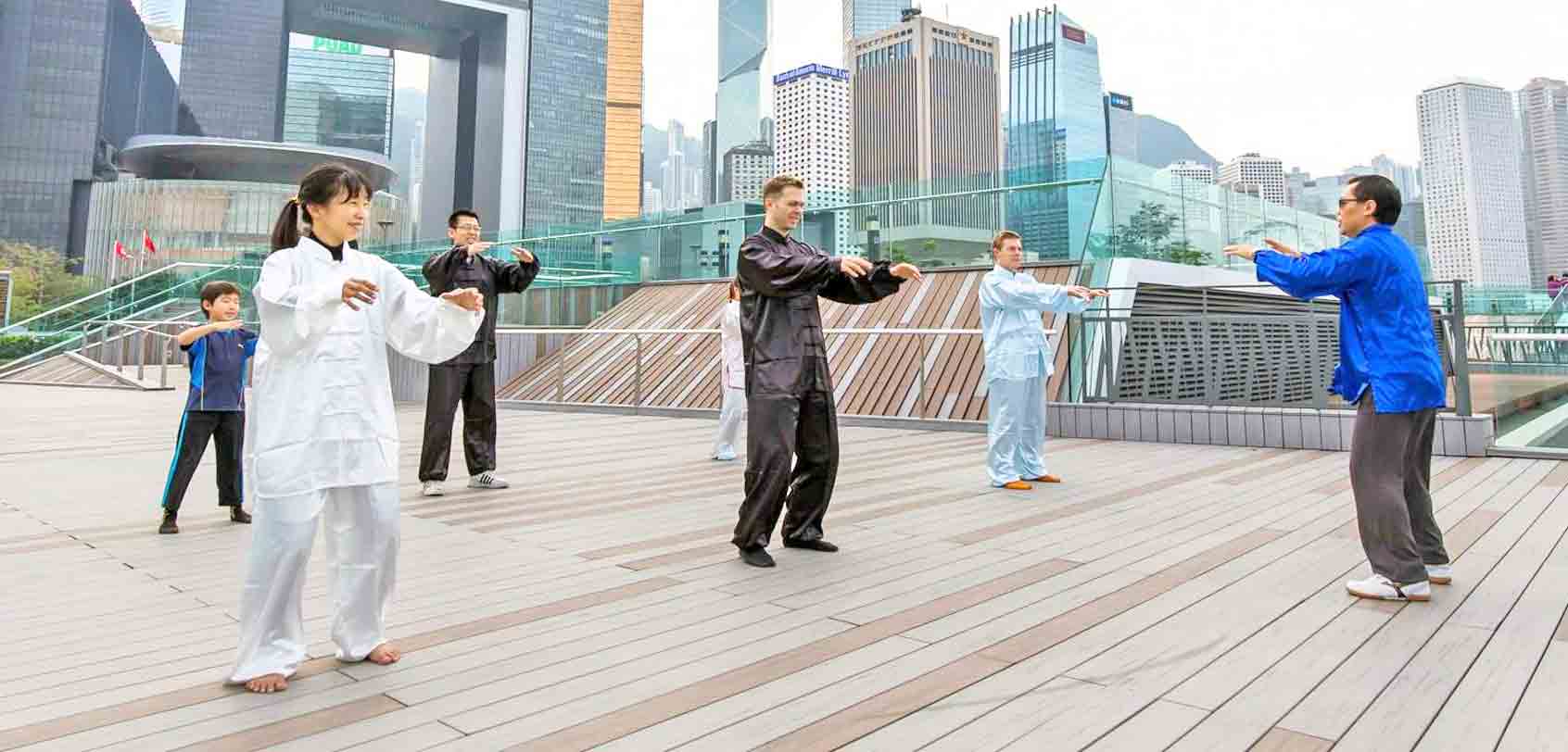 Tai chi or taiji is a Chinese martial art that's not only practiced for its defense training but also for its health and meditation benefits. More recently though, it is mostly practiced as an elegant and peaceful form of exercise that can be enjoyed by just about anyone.
So, why not give it a try? After all, it will surely be one of the most fun and unique things to do in Hong Kong that will make for a memorable experience for you!
For this, I highly recommend signing up with Taichi Place. All of their instructors are certified local masters with more than 10 years of teaching experience and they have developed an easy way to help non-Chinese people discover the essence and history of tai chi. In just an hour, you will learn beginner hand forms, proper stances, and Qigong breathing exercises that will leave you feeling better in both body, mind and spirit.
(NOTE: Classes will be done outdoors and the masters can all speak English).
.
.
7.
"Meet" famous personalities at Madame Tussauds
.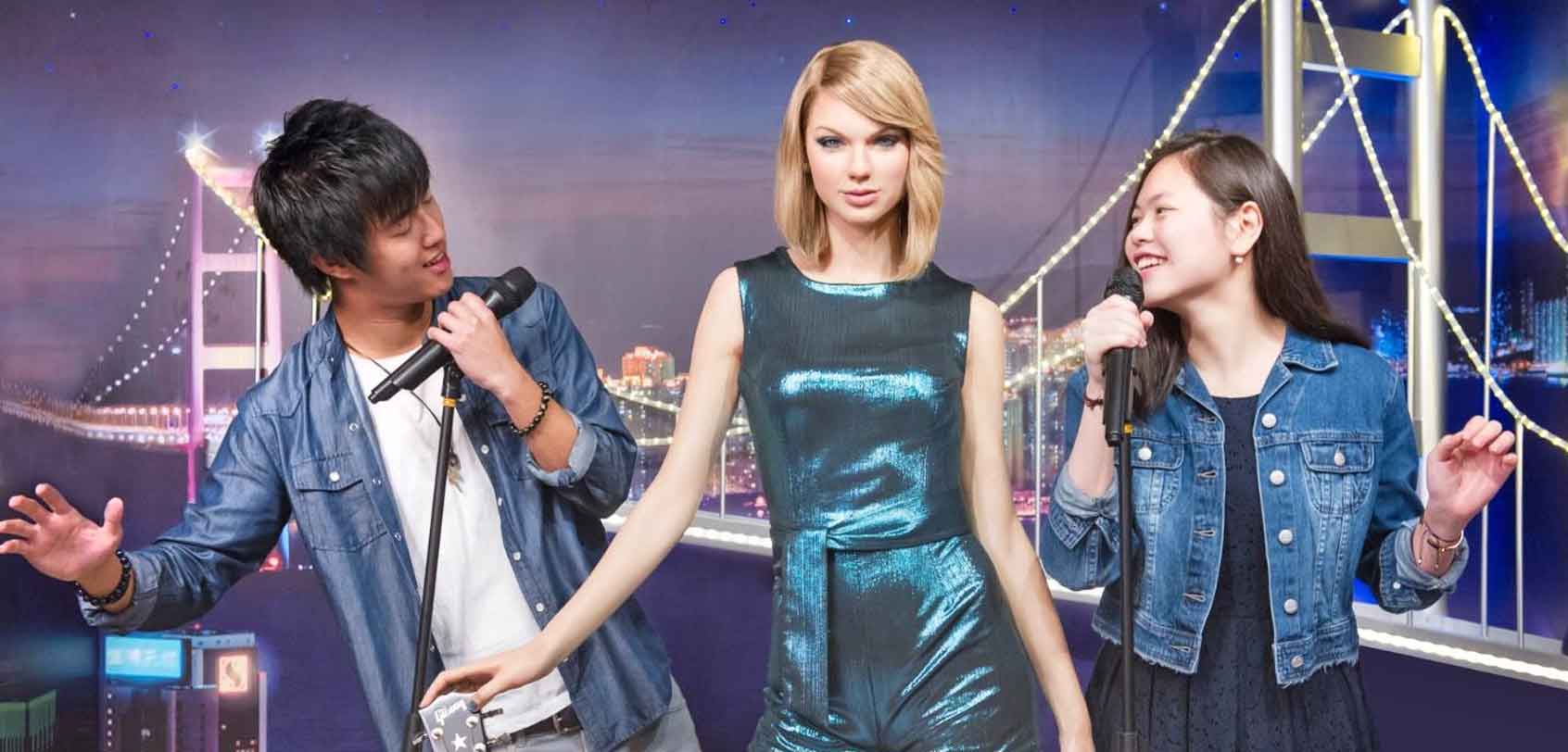 Step into the spotlight and meet over 100 incredibly lifelike wax figures in the 10 interactive zones that are found at Madame Tussauds™ Hong Kong! Besides, the personalities are not only limited to Western stars but also those who are famous in the East as well such as Jacki Chan, Yaoi Kusama, Miss Universe Pia Wurtzbach, and more.
Found on top of Victoria Peak, you just can't miss out on this attraction when you're already riding up the Peak Tram or visiting the Sky Terrace 428. After all, this might just be the closest we can get to these famous people! (*fingers crossed*)
.
.
8.
Go for some fun at Hong Kong Disneyland
.
As the largest theme park in the city, Hong Kong Disneyland is definitely one of the top fun things to do in Hong Kong! To date, it features seven (7) themed areas namely Main Street, USA; Fantasyland; Adventureland; Tomorrowland; Grizzly Gulch; Mystic Point; and Toy Story Land.
Of course this isn't just a place for children because it caters to people of all ages with the number of attractions, rides, shows and parades that the park offers. Just always stay on your toes though when you're up and about because a lot of Disney characters are open for meet-ups and pictorials!
.
.
9.
…Or try out OceanPark!
.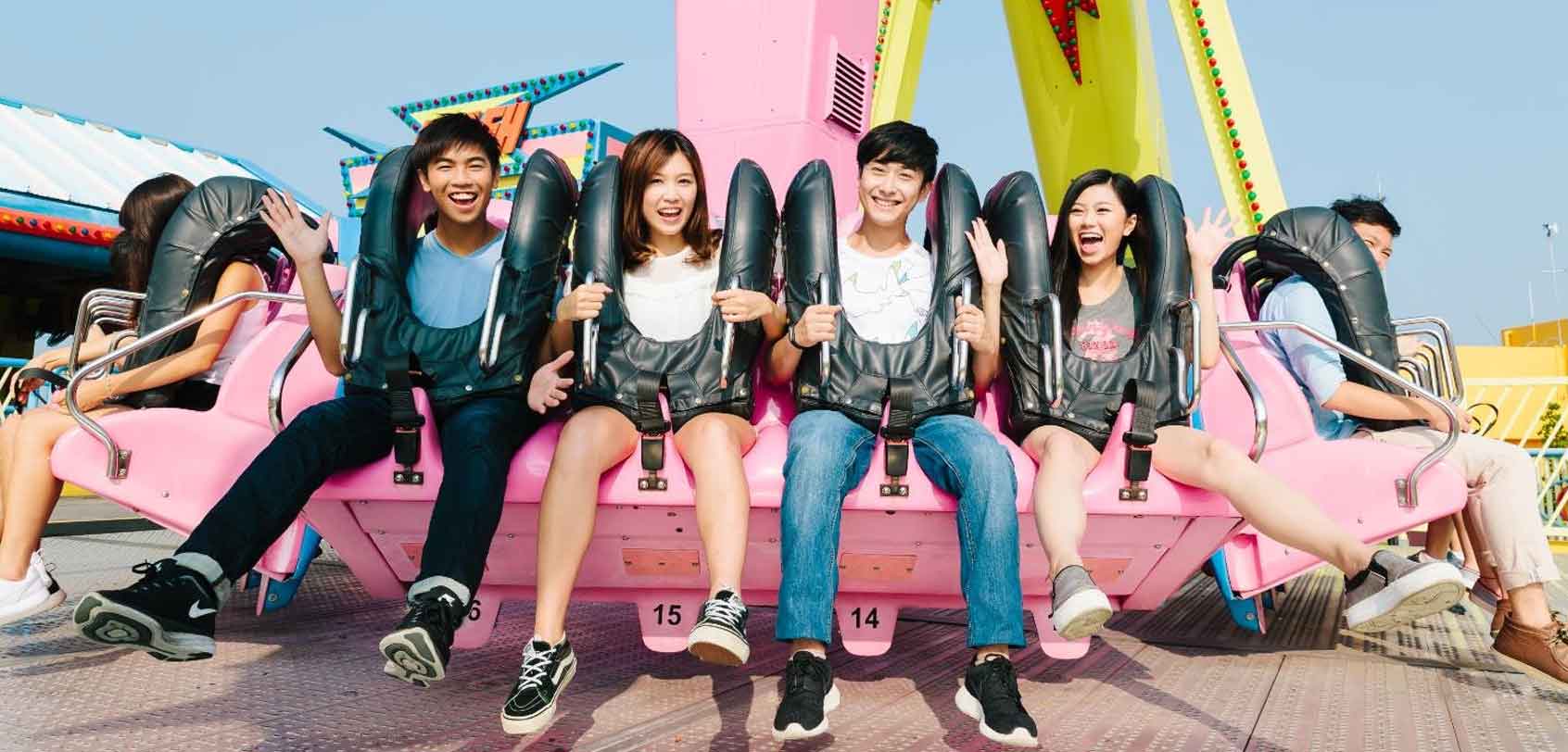 If you rather want crazier rides, Hong Kong's OceanPark is your next best bet! It helps to note though that this is an amusement park, animal theme park, marine park and oceanarium all rolled into one — so there is LOTS to do in this place.
Some of the usual favorites are the the Polar Adventure, Old Hong Kong, Thrill Mountain, Rainforest, and Aqua City among many others. If you're one for views, don't forget to cross OceanPark via a cable car to get an amazing bird's eye view of it all.
.
.
10.
See Hong Kong from above!
.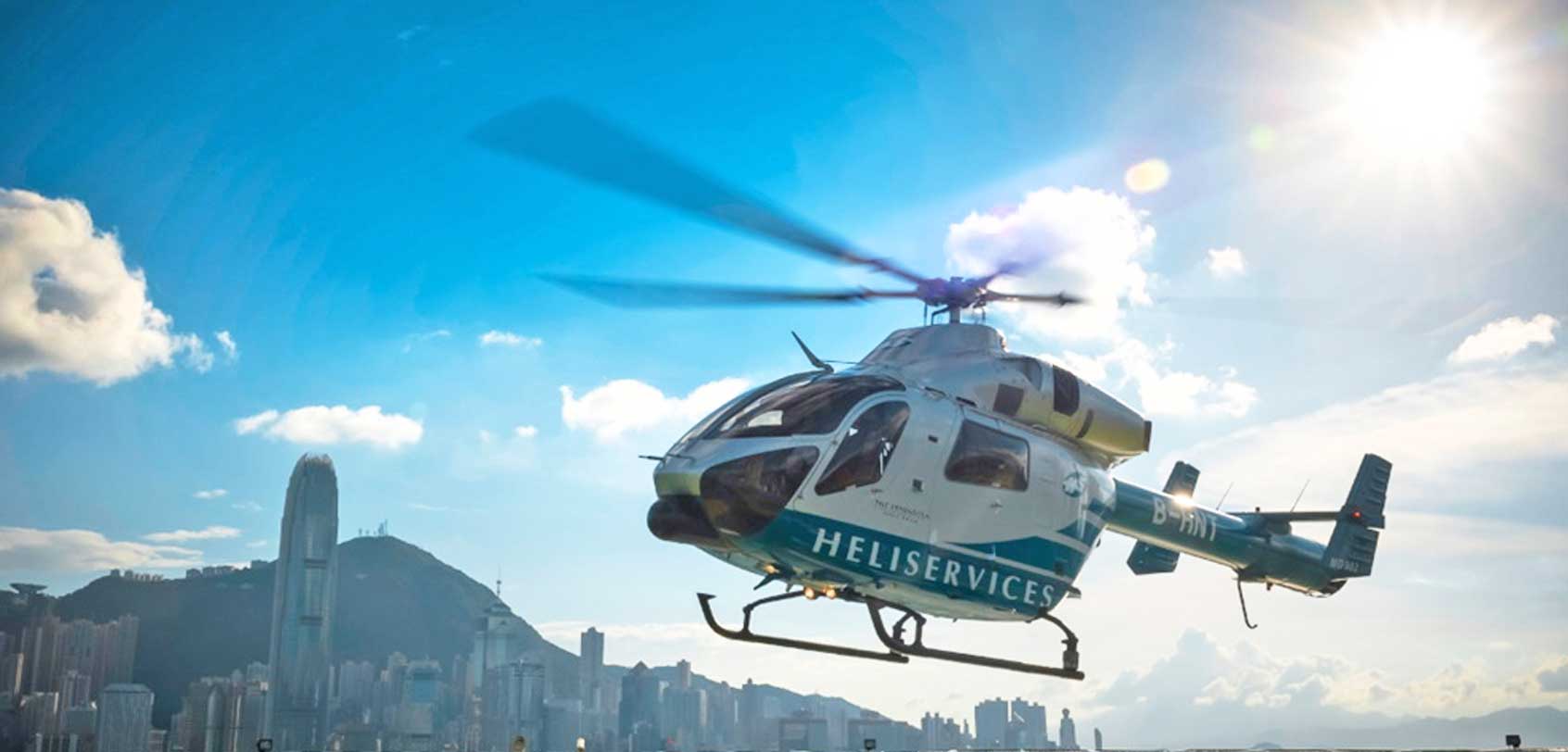 Step it up a notch and do a helicopter tour in Hong Kong! It's quite luxurious, I know, but if you've got the budget for it or if you want to celebrate a special occasion, then this is a must on your itinerary.
The Peninsula Hotel currently offers varying packages for helicopter tours in Hong Kong such as the following:
18-minute Group Tour: You will share a 6-seater helicopter with other booked passengers and it will fly over the Victoria Harbour skyline and the beaches or bays at South Hong Kong Island.
18-minute Private Tour: For something more personal, this can be a private flight for two (to a maximum of six persons) and it will already include lunch or dinner. The route will be the same as the former.
30-minute Private Tour: Want to do it longer? This option goes to Kowloon City, Sai Kung, and the Hong Kong Geopark on top of the former stops.
45-minute Private Tour: If you also want to head over to the New Territories, Big Buddha and Lantau Island, then this should be your choice of tour.
.
.
Where to get the best flight deals?
My go-to platform for grabbing the best flight deal? Skyscanner! This platform even scours through budget airlines (e.g. Cebu Pacific and Air Asia in the Philippines ).
From the airport, you can ride an airport shuttle bus that has key drop off locations in the city (see details here). Otherwise, you can ride the Airport Express train and you can buy discounted tickets for this online.
If however you are coming with a group of people and want a more hassle-free experience, you can save on transportation costs by simply booking a private transfer.
How to get Hong Kong dollars currency?
I highly advise that you do NOT exchange your money at the airport since the rates there are not competitive. What should you rather do? Either exchange your money or US dollars at a bank or at a money exchanger; or better yet, just withdraw from an ATM with your debit/credit card.
Rate exchange: HKD $1 = USD $0,10~ = Php 6~
How to get around?
It's always best to avail an Octopus Card — a prepaid contactless debit card that can be used to pay for all kinds of public transport (except taxis and some red minibuses; and if I may add, this can even be used to pay at convenience stores, supermarkets, restaurants, museums, and more). After all, Hong Kong is best explored by train (MTR) as it is the fastest mode of transportation (not to mention the efficient Airport Express train). The only time that I can recommend using a taxi is if you're in a hurry, if you get lost, or if you have 3 other people with you to share the cost (meter starts at HKD $22).
NOTE: Another alternative is to buy an MTR Tourist Day Pass.
To better navigate yourself within Hong Kong, use Google Maps' directions feature (signified by a blue icon with an arrow inside it) — I really find it as a very helpful tool if I want to reach a certain place from a particular location. (However, Google Maps doesn't work offline if you want routes or transportation schedules, so I recommend that you get a pocket WiFi or a SIM card to stay connected).
Helpful Cantonese phrases
Hello: Néih hóu
Thank you: M̀h'gōi
Please: Chíng
Goodbye: Joigin
Excuse me (to get attention): M̀h'hóu yisi
I'm sorry: Deui-m̀h-jyuh
How much: Géidō chín a?
Is there someone here who speaks English?: nī douh yáuh móuh yàhn sīk góng Yīngmán a?
Help!: Gau mehng ā!
Cheers!: Yámbūi!
There are absolutely a ton of other top things to do in Hong Kong that you must include in your itinerary, but like I said, this is a start.
All in all, I hope that this will help make your trip an experience of a lifetime.
What do you think of these things to do in Hong Kong?
Which activity would you like to try the most?
Or have you done any of these before? How was it?
YOU MIGHT ALSO LIKE
Older Post
Newer Post
Hey there! I am Aileen Adalid.
At 21, I quit my corporate job in the Philippines to pursue my dreams. Today, I am a successful digital nomad (entrepreneur, travel writer, & vlogger) living a sustainable travel lifestyle.

My mission? To show you how it is absolutely possible to create a life of travel too (no matter the odds), and I will help you achieve that through my detailed travel guides, adventures, resources, tips, and MORE!

NEW READER? START HERE!
CONTINENTS: 7 ~ COUNTRIES: 59
Join over 1 million people and receive exclusive giveaways, travel tips and so much more!