If there is one place in the world one should have on their bucket list, it would be Rome. Perfect for a walk-through on one of the world's richest history, elaborate architecture, classical culture and delectable dishes — Rome surely is where you need to be.
While it is most famous for its beautiful ancient civilisation, the food here is guaranteed to sweep you off your feet! For starters, you can eat your way to gastronomical heaven with a lip-smacking food tour that can give you a taste of real local food. But to help you out, below are some of the must-eat dishes which you simply cannot afford to miss while in Rome.
.
.
» Roman Pizza
Pizza here in Rome has a very unique taste which you cannot get outside of Italy. With the perfect balance of toppings to crust ratio, these pizzas are so delicious that you simply cannot resist eating a whole one all by yourself. After all, they are so light yet filling! They don't even leave you feeling greasy or bloated which makes this pizza all the more special. So when in Rome, go and eat pizza like the Romans do!
.
.
.
» Gelato
A trip to Italy can never be complete without a taste of their heavenly gelato. A spoonful of this creamy dessert offers a burst of rich flavours. The best part? You can enjoy this without any guilt! Besides, gelato is substantially lower in fat content than a regular cup of ice cream; therefore, a nice tub or a few scoops of this mouthwatering dessert won't mess with your waistline. The lower quantity of fat in this dessert also offers it the distinctly light and fluffy texture which brings out all of its flavors.
.
.
.
» Roman Artichokes
A surprising yet must-eat item on every traveler's food tour is Rome's brilliant artichokes. Head over to the Jewish quarters of the city for the most amazing artichoke fries, carciofi alla giudia and other artichoke-based dishes which are said to be the ambassadors of Roman cuisine. In winter you can also try out their special globe artichokes.
.
.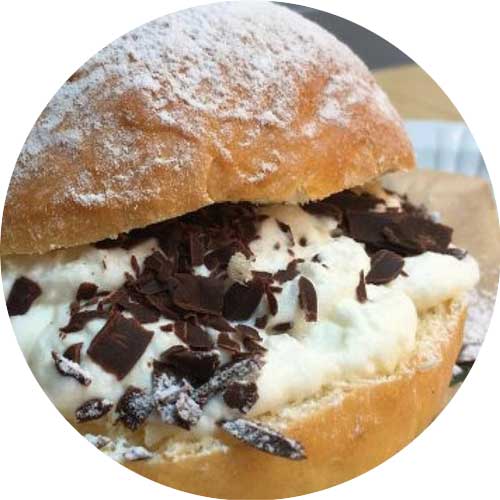 .
» Maritozzo
Maritozzo is a signature Roman breakfast which is a light sweet bun, cut in the middle and filled with a gorgeous filling of light and fluffy whipped cream. The sweetness of the bun is contrasted with the lightness of the almost unsweetened cream, making it a heavenly addition to a Roman food tour.
.
.
.
» Porchetta
Meat is an essential part of every cuisine and in your food tour Rome you must try the most delectable slow roasted pig which absolutely melts in your mouth. Every bite will certainly release a burst of flavours like nothing else you have ever tasted! Hence, a generous serving of Porchetta between two slices of bread is must to eat for a heavenly filling meal.
.
.
.
» Supplí
One of the most iconic street foods of Rome, the supplí is a delightful snack which all visitors must try. A bite into this cheesy ball of fried goodness that is stuffed with meat, rice and spices will definitely satisfy your taste buds. If I may add a tip, try out one of its fancier versions at some of the best Roman restaurants as well.
.
.
For a food tour Rome has so much to offer that's why it could literally be a foodie's paradise. From snacks to meals, from meat to dessert, it definitely serves so much on your platter — so, you will never be bored.
All in all, make sure you keep enough time in order to enjoy its delectable Roman cuisine:  your ticket to gastronomic heaven.
What do you think of these dishes?
Would you like to try them out? Why or why not?
Or have you tried any of these before? How was it?
YOU MIGHT ALSO LIKE
Older Post
Newer Post
Hey there! I am Aileen Adalid.
At 21, I quit my corporate job in the Philippines to pursue my dreams. Today, I am a successful digital nomad (entrepreneur, travel writer, & vlogger) living a sustainable travel lifestyle.

My mission? To show you how it is absolutely possible to create a life of travel too (no matter the odds), and I will help you achieve that through my detailed travel guides, adventures, resources, tips, and MORE!

NEW READER? START HERE!
CONTINENTS: 7 ~ COUNTRIES: 55
Stay updated with Aileen monthly! Sign up and receive exclusive updates, articles, giveaways, and so much more!
In a snowy wonderland ✨❄️ This photo was taken as we made our way to Mt. Asahikdake (tallest in Hokkaido) and it is… https://t.co/5PBRWjPcxI
21/03/2019 12:08:00

RT @iAmAileen: Cherry blossoms are NOT the only amazing sight you need to see in Japan this spring. If you head to the famous 'Tateyama Kur…
21/03/2019 10:40:58