Weather in Europe can get very unpredictable; so, when there's a chance of having a number of consecutive sunny days, you would expect a lot of people taking the opportunity to go on a trip—and that's exactly what we did on the last week of October this year! With absolutely no prior plans at all, Jonas and I set out on a very spontaneous 2-day getaway to Amsterdam, Netherlands!
Living in Belgium, it took us only less than 2 hours to reach it (this is by train) and of course: travelling to this capital of The Netherlands has been a great experience overall! My first impression though is that it's almost like Belgium; the architecture, the food, the customs, etc. and I guess… it makes sense, because Belgium and the Netherlands used to be one country up until the 1830s. (Though certainly, there are a LOT—quite a lot!—of distinct things that still separate one from the other).
Anyhow, should you ever decide on dropping by, here are the top 10 things to do in Amsterdam!
FIRST & FOREMOST TIP: I highly suggest that you skip out on a pre-set travel tour; it's definitely better to pick the places yourself in order to make the most out of your trip! So I earnestly hope that with this article, you can figure out the top things that you'd like to see and experience.
.
Things to Do in Amsterdam
#1

– Rent a bicycle to soak in the city sights and the grandeur of the canals!
Much like Belgium and Japan, cycling is a very common means of transportation and the city is almost saturated with these bicycles. I have actually read somewhere that Amsterdam has been dubbed as the most bicycle-friendly city in the world and well… sure, they have all the necessary and proper bike lanes that there could be, but in my opinion: the overall biking experience wasn't so 'friendly' at all. Why do I say this?
For one thing, most of the cyclists here seem crazy and reckless to me (example: while we were going around town, a LOT of them crossed the road even if the traffic lights have already turned red on them; for some reason, it makes me think that they are abusing their cycling 'road privileges' LOL.) What's more is that there a lot of small streets in the city wherein bikes and cars mix altogether that there's almost no space left on the road (picture a car going inside a small street, with a group of cyclists going along with it and another group of cyclists going the other way).
BUT I am definitely NOT saying this to discourage you from riding a bike! I didn't include this as a 'To-Do' thing for nothing; it's just that I see the need to discuss this first so that you would take the proper precautions and road awareness should you ever decide to bike around the city—which you should!
Trams are abundant but the experience of cycling in Amsterdam is a definite must! Because trams will make you wait for the next one to arrive, but with a bike, you can go wherever and whenever you want! And besides, if you let yourself get lost in this city, you will definitely find some wonderful spots along the way.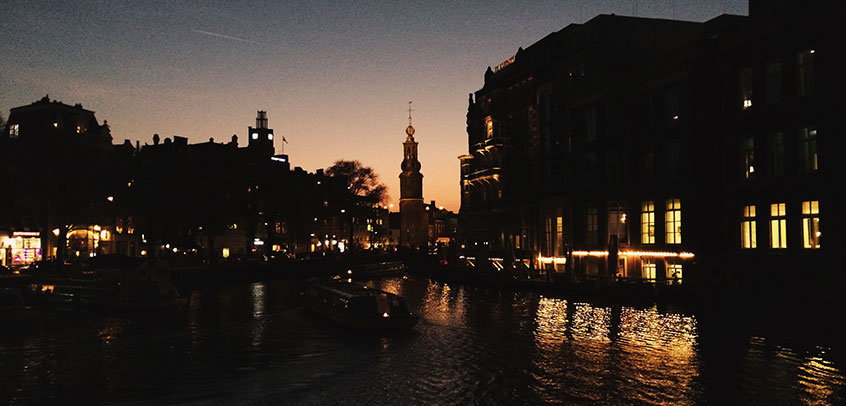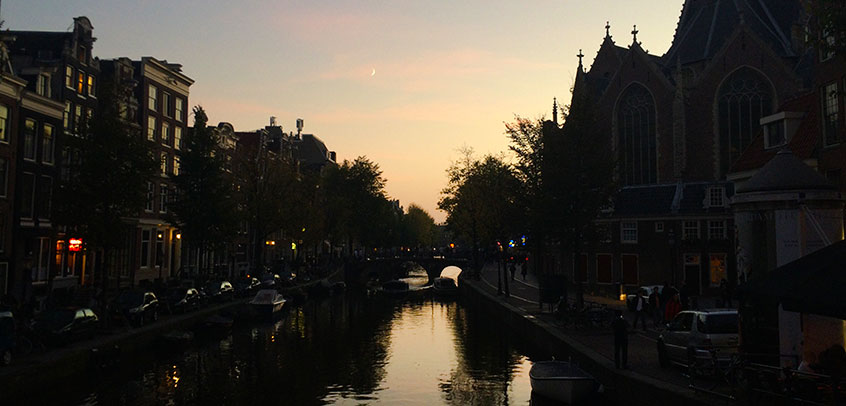 Where to rent bikes? You will find them everywhere. I promise you! Chances are, your hotel would even have their own bike rental service or they would know one that's very near. So just ask away! (And oh, take note: ALWAYS make sure to lock your bikes!)
Now of course, one of the sure wonders that you will see while biking are the canals of Amsterdam. I definitely recommend that you visit the top 3 main canals which are namely: Prinsengracht, Keizersgracht, and Herengracht—with Prinsengracht being the most picturesque (where you can also find the famous Anne Frank Huis).
The More You Know: As of 2010, these 3 canals were placed on the UNESCO World Heritage List along with another canal called as Jordaan.
*You can definitely get a canal cruise if you want, but for me, biking was a lot more fun to do!
#2

– Catch a free concert / performance at the Royal Concertgebouw or at Bimhuis!
The Royal Concertgebouw is known for its exceptional acoustics (see a virtual tour of the concert hall here.) You can book in advance for a specific performance that you would want to see, but if you want something FREE, visit the Concertgebouw during Wednesdays (lunch time) and you will be treated with a free concert!
Disclaimer: These 'Lunchtime Concerts' are not held during July and August, and sometimes, it will not be held on a Wednesday—to be properly informed about their schedule, just check their website here. Now these concerts range from public rehearsals by the Royal Concertgebouw Orchestra, to chamber music performances by young up-and-coming artists that can play more modern music. As I've said, it is completely free; so you don't need tickets, but you need to be there at least 30 minutes before performance time in order to get a seat since the free 'Lunchtime Concerts' are very popular. (The performance will last 30-minutes long).
On the other hand, if you want jazz or improvised music, go to Bimhuis! They have a monthly free night called as 'Monday Match' in which dancers and musicians will cooperate in order to come up with an improvised performance, and then usually, once the clock strikes 10PM, a DJ will take over and will continue playing dance music until midnight. There's also a series of Workshops usually held on Tuesdays (8PM) wherein there's free admission not only for audiences but for performers as well (most of the time, an impromptu performance as instructed by the workshop leader.) To see Bimhuis' schedule, go here.
Meanwhile, if you are rather looking for the perfect jazz and blues café (since Jonas and I were looking for a good one!) then you should definitely try the Jazz Café Alto at Korte Leidsedwarsstraat (in the city center near Leidseplein). Other music places that you can check out for paid concerts of different music genres (that sometimes convert into a club during the wee hours) are Melkweg and Paradiso.
#3

– Visit the famous flower market: Bloemenmarkt! Come and buy flowers, or plant tulips!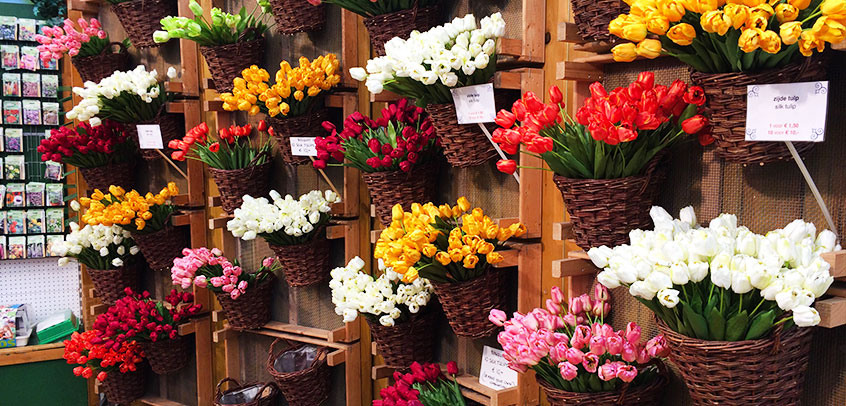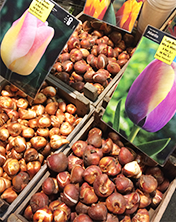 Found on the Singel canal, the Bloemenmarkt (Flower Market) of Amsterdam is said to be the only floating flower market in the world given how the flower stalls stand on houseboats or barges. This was a very colorful 'attraction' in itself that was worthy to be seen when in Amsterdam, and I say this because there were a LOT of different flowers that were being sold, and of course: the tulips!
The Netherlands is the world's main producer of commercial tulip plants so you will see a lot of them (as well as its bulbs) being sold here! I definitely advice that you buy a pack or can of tulip bulbs to plant in your own house or to give away to friends! We were told that it's best to plant them during winter or fall so that they will bloom in time for spring.
NOTE: If you are planning to take it out of the country as a souvenir, make sure that it has a customs cleared stamp on the packaging so you won't have trouble at the border or with customs.
#4

– Bike around or have a picnic at Vondelpark!
This is the largest and most popular 'green space' in Amsterdam—it is around 47 hectares! For me, it was an absolute joy to bike through the park's paths, and even more of a delight if you stop to enjoy the view and have a quaint picnic!
But other than the grand 'greenery', there are also different statues + ponds + fountains found in the park with restaurants and cafés situated in some select spots. There is even a rose garden (with 70 types of roses) and an open theater called as Openluchttheater. (In June to September, concerts and performances are held here; check out their schedule.)
It can get a bit crowded here especially on the weekends so I suggest that you come during the weekdays; but I guess the weekend crowd is an attraction in itself so I leave the choice to you!
#5

– Lose yourself at an Amsterdam neighborhood market!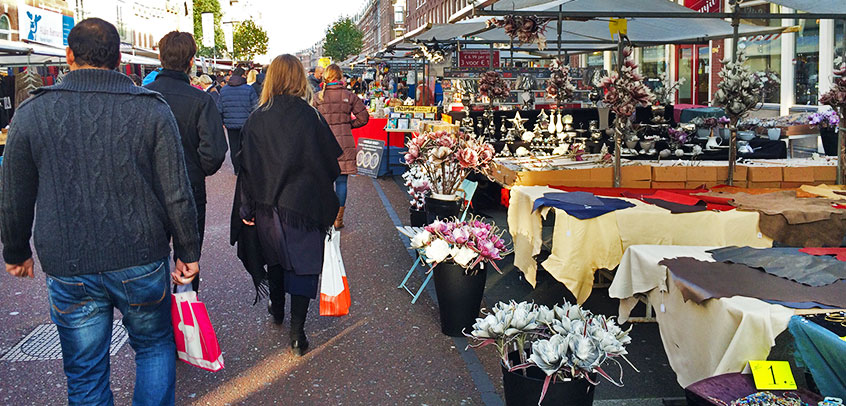 Come and buy vintage finds or local food in an Amsterdam market, and rub shoulders with the Dutch people! The most popular one is the Albert Cuypmarkt in the neighborhood of De Pijp and it has almost 260 stands that offer almost everything you can think of! (It opens from 9AM to 5PM on Mondays to Saturdays).
Other markets that you can choose from are:
Dappermarkt: general market in Amsterdam Oost (open from 10AM to 4:30PM, Mondays to Saturdays)
Lindenmarkt: food market in Jordaan (open from 9AM to 4PM, Saturdays)
Noordermarkt: (mainly an) organic food market in Jordaan (open from 9AM to 5PM, Saturdays)
Waterlooplein: flea market in (open from 9AM to 6PM, Mondays to Saturdays)
#6

– Eat Amsterdam food and snacks!
It's a must to try and eat a typical Dutch dish, one of which is the Haring 'Hollandse Nieuwe' (soused herring) which is basically a boneless raw herring fish served together with chopped raw onions and pickles—boy, it was soooooo good! The herring will be a bit salty and slimy (in a very delish way!) as it is usually marinated in a preserving liquid, whereas the pickles were simply DIVINE. This was such a good combo that I definitely recommend everyone to try it! (I personally wanted to buy the pickles alone actually, haha! And oh, apparently, some eat this with a bread bun.)
Anyhow, other than the raw herring, there are also some other popular Dutch dishes that you should try (some of which are common Belgian dishes too) and these are:
Food images from amsterdamtourist.info
Stroopwafel – it is a different type of waffle: it has two layers with a sticky syrup filling in the middle
Kroket – unlike the American croquette (filled with mashed potato), the Dutch kroket usually has ground meat inside
Poffertjes – small fluffy pancakes typically served with butter or powdered sugar
Bitterballen – (also a common Belgian snack) savory meat balls that are deep fried said to be a perfect pair for beer
Drop – Dutch black licorice which is basically a dark-colored candy snack
Kaas – Netherlands is famous for its cheese especially since they are the largest exporter of cheese in the world (the most popular types are called 'Gouda' and 'Edam')
#7

– Tour the Red Light District's female entertainers and sex shops!
We've all heard of Amsterdam's famous red light district (RLD) and I can say that it's a special 'attraction' in itself. I swear, there's nothing seedy about it; for me, it felt like it was just such a tourist-y place because you will even see a families (yep, even those with kids!) strolling around, eager to witness the 'oddity' of this area. But of course, you will also see the occasional man negotiating and talking to a 'window girl'… BUT the number of curious couples and groups were far more rampant, that the place just becomes a mystifying thing on its own.
We obviously don't have this in Asia—I'm not sure for the famed Pattaya / Thailand but our red light districts like in Manila or Cebu are mainly just in distinct closed bars and clubs (that are most of the time: illegal) and to add, they don't also hang out in front of 'red windows'. So this place in Amsterdam was a very new thing for me and I really wanted to see it because I was merely curious as to how prostituion is approached in this side of the world.
Anyhow, some of them were somewhat hot (especially the ones near the main street) but there were also unique ones… and I guess it's because some have different wants or fetishes, haha! I'll definitely discuss my RLD experience in more detail at a separate post so wait for that!
NOTE: This kind of red light district is NOT only found in Amsterdam. It's a common thing in the whole of Europe; Antwerp for example has something similar to this and it was more 'organized' in a sense that the windows are in a flowing manner, whereas the ones here in Amsterdam are very scattered and you have to walk through small streets etc.
Other than the RLD, you will also see a lot of sex shops and live sex shows (or peep shows) in the De Wallen; the sex shows weren't really our thing but the sex shops were fun LOL. You will definitely see a lot of couples giggling in these stores—obviously not buying the dildos or whatnot, but just taking photos and laughing! Anyways, there's actually one interesting shop that you should visit which is Condomerie (buy some funny souvenirs here for your friends!) and if you're into exploring sexuality in an 'olden fashion', then drop by the Sex Museum!
BEWARE: Do NOT take photos of the girls, this is an absolute no-no; do respect their privacy at least. If you do it, the girls will get mad and run after you; or worse, them or their pimps will come out to get you and crush your camera or phone (I've read of some cases, and I personally witnessed a girl getting mad at a guy who took a photo of her.) Please also be careful of your belongings since there could be pick-pockets around, and also, don't ever buy from drug or bike dealers if you ever encounter one here or else you'll get jailed.
Also, if I may add, please refrain from laughing or saying anything obscene to the women; they may be prostitutes but they are human too. I saw some people doing this and please just stop. They are just there to work, so there's no need to laugh. I wouldn't know for the number of people who were forced to be there—and of course that's something I don't support—but we have to consider the general fact that for countries like Netherlands (who legalize prostitution), majority of these prostitutes choose the profession and that kind of life, whether it be because they enjoy it or they just have to (for financial reasons, etc.)
#8

– Experience an Amsterdam coffeeshop!
It's important to know that in Amsterdam, a café and coffee house (koffiehuis) are both different from a coffee shop (coffeeshop). A café is usually a casual restaurant or bar, a coffee house or koffiehuis sells coffee, pastries, or light meals; whereas, a coffeeshop is where you can legally smoke weed or hash and eat space cakes etc. (a.k.a. where you can do soft drugs).
Ever since hash and marijuana were decriminalized in 1976, these licensed coffeeshops are spread out all across Amsterdam (and of course, Netherlands in general) but it seems like it is only in Amsterdam where you don't need to show Dutch residency in order to go inside. But of course, these shops are only allowed to sell cannabis products in small quantities (not greater than 5 grams) and have to be properly licensed (they are never allowed to serve alcohol or other drugs, especially hard drugs; and certainly, selling to minors is not allowed).
So in a sense, selling cannabis is still illegal but not punishable as long as you get it from these coffee shop establishments that follow the rules. I'll discuss my own experience with a coffee shop later in a separate post, but generally this is something that you need to experience at least once in your life (bucket list, yo!)
TIP: Once inside a coffeshop, don't be afraid to ask questions about the menu and their products. It's always best to ask the staff (since most of the time they have very weird names on their menu and hey, don't worry they are very friendly!), plus it's also helpful to ask for what they recommend and what effects might usually happen thereafter.
TRIVIA: Not a lot of Dutch people actually smoke weed and go to these coffeeshops. It's mainly tourists who flock this.
BEWARE: You can smoke weed that you've got from another coffeeshop as long as you're smoking it inside a coffeeshop. Sometimes, some Amsterdam hotels, hostels, parks, or bars allow you to smoke but make sure to check and that you're not bothering other people with your smoke.
RECOMMENDED: Abraxas coffeeshop in Jonge Roelenstg, they have a very chill ambiance! Not only do they have a nice aesthetic interior but they also have such helpful and friendly staff!
#9

– Explore Amsterdam's museums!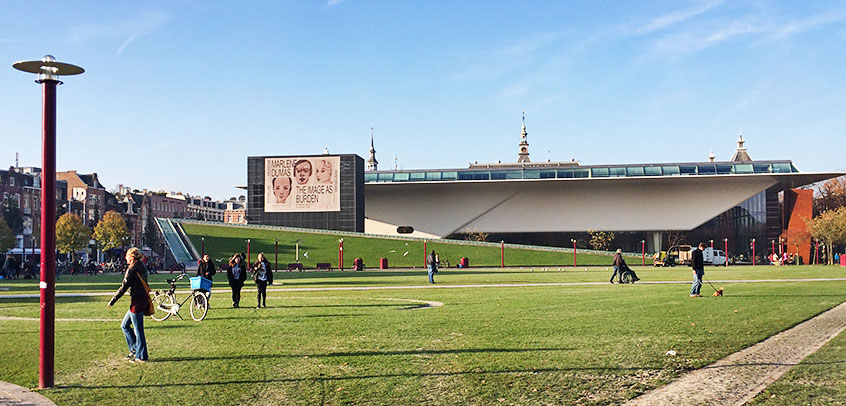 There are a lot of museums in Amsterdam, and if you're into art/history/culture, here are the most popular ones:
There's still a LOT more museums in Amsterdam (there's a cheese museum, cannabis museum, red light museum, etc.) so I'll just have to leave it up to you to choose which you would like to go to; because surely, you'll have different interests than I do. To see what these museums are, simply go to this link.
TIP: For those who have kids or teenagers, take them to Science Center NEMO! Or maybe to Madam Tussauds!
#10

– Check out Amsterdam's landmarks, attractions, and popular places!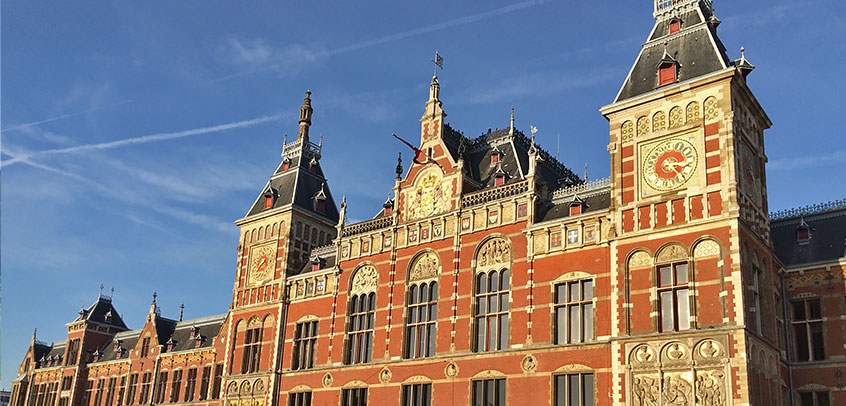 Much like Amsterdam's museums, this city also has a lot of interesting landmarks and attractions (other than the ones I've already mentioned above like the canals, etc.)! Most known are:
Centraal Station: for its magnificent architecture
Dam Square: the heart of Amsterdam! In here, you can already see other famous landmarks such as the Royal Palace, Nieuwe Kerk (15th-century church) and the War Memorial.
Haarlemmerstraat | The Nine Streets (De Negen Straatjes) | The Kalverstraat and Leidsestraat: shopping districts
Heineken Experience: if you are an aficionado of the famous Dutch pilsner, you can tour their brewery (website)
Leiden Square (Leidseplein): center of nightlife in Amsterdam, full of bars and restaurants
Central Library (Openbare Bibliotheek): largest public library with very good architecture and design
There's so much more that I haven't included in the list above, and to see the top list for this, simply go here.
BONUS: Another interesting 'landmark' that you might want to go is one of the 'I Amsterdam' slogans which usually looks like this:

» Photo by Gkamiya / CC
These 'city icons' (or what they call their city's catchphrase) are placed throughout the city—I think, one can be seen in the Central Library or at the back of Rijksmuseum. This was actually 'born' out of a marketing campaign made by the city government, and it seems like it's mostly tourists that take huge interest of this slogan, haha! I'm pretty sure you might have a hard time having the slogan all to yourself when it's in a crowded area.
.
» How to Get to Amsterdam?
By Plane. Situated 15km south-west of the city is Amsterdam Airport Schiphol (AMS). If you want to get a cheaper airplane ticket, heading off to Eindhoven and Rotterdam Airports would be best as it's where cheaper airlines usually land; but of course, this is further away from Amsterdam and you'll have to ride a train/bus afterwards.
By Train. Most trains arrive and depart from Amsterdam Centraal Station and trains from Thalys, ICE, Intercity train to Berlin, CityNightLine/Euronight, and Eurostar all pass through here.
» If you want a more detailed transportation planner, try using Rome2Rio! I am in love with this platform since it gives you all the possible routes.
» Where to Stay in Amsterdam?
» Check by Booking.com for the best deals on other hotels, inns, and hostels in Amsterdam! Otherwise, you can read my post here which lists the top 'Best Hotels in Amsterdam: From Cheap to Luxury Picks'.
.

…Amsterdam has its quirks—what with its famous Red Light District and coffee shops—but let's not think that that's all that Amsterdam has to offer. Definitely not. Given this Top 10 list of things to do in Amsterdam that I have compiled, surely you should see how this city has so much to give you; so, I suggest that you wander around and soak it all in.
Amsterdam is a wonder of its own so do make sure to immerse yourself not only with the culture (and the food!) but try to mingle with the locals too! Enjoy! And let me know how your trip to Amsterdam goes.
(Please also feel free to leave a comment below if you have other interesting attractions or places in mind that I might have missed out.)
» Top photo by Per Salomonsson / CC
Have you been to Amsterdam? What did you love about this city?
(Or) do you wish to go to Amsterdam? What would be the first thing that you would want to try or check out?
YOU MIGHT ALSO LIKE
Older Post
Newer Post
Hey there! I am Aileen Adalid.
At 21, I quit my corporate job in the Philippines to pursue my dreams. Today, I am a successful digital nomad (entrepreneur, travel writer, & vlogger) living a sustainable travel lifestyle.

My mission? To show you how it is absolutely possible to create a life of travel too (no matter the odds), and I will help you achieve that through my detailed travel guides, adventures, resources, tips, and MORE!

NEW READER? START HERE!
CONTINENTS: 7 ~ COUNTRIES: 59
Join over 1 million people and receive exclusive giveaways, travel tips and so much more!