Called as the 'Rose of the North', Chiang Mai is located 700km north of the capital city of Bangkok (BKK) and is considered as the second (2nd) largest city in Thailand. However, it only has 200,000 people compared to BKK (which has 9 million); so you can imagine how a lot of tourists would prefer to travel here on a holiday.
An example of those tourists would have to be me and my friend, Joanne, who went here last October… and I swear! We had such a great time visiting Chianbg Mai especially with its rich culture, bustling night scene, friendly locals, and natural heritage.
In short — our adventure in Chiang Mai was eventful but I guess it helps if I just break it down into a list. But before that, here's a 'recap' video that I made that shows highlights of our trip:
CURRENCY: ฿ (Thai baht) in which $1 = ฿31~ baht (or Php 51~).
Where to get the best flights deals to Thailand?
My go-to platform for grabbing the best flight deal is Skyscanner. But of course, it's always good practice to first research the budget airlines that exist in the country that you're currently staying in because they could have rock-bottom prices that are not often visible in the above flight search engines. (For example, in the Philippines, budget airlines like Cebu Pacific and AirAsia have great deals and promos that often set ticket prices at just about $1!).
Take note that Chiang Mai International Airport (CNX) is the nearest airport to the city and it handles both domestic and international flights. If you ride a taxi, it will take you 10 to 15 minutes to get to Chiang Mai's city center and it should cost a flat rate of ฿160 baht for up to 5 passengers for airport taxis or a rate starting from ฿40 baht + ฿50 baht service fee for metered taxis. You can also opt to ride a tuktuk/songthaew (for ฿50 to ฿60 baht per person) or the bus (for only ฿20 baht — look for bus number 9 or 4).
What I would suggest is to just book a private transfer for a more hassle-free experience. (It becomes a great option too if you're traveling together with a lot of people so that the cost is a lot leaser).
How can I get in to Chiang Mai?
By plane. If you're coming from Bangkok, there are about 16 domestic airlines that will take you to CNX in 70 minutes; alternatively, there are several international carriers that will take you directly to CNX.
By overnight train. You can catch a train from Bangkok's station in Hua Lamphong to get to Chiang Mai (takes about 14 to 16 hours, starting at ฿280 baht per person) or you can ride an overnight train (starting at ฿900 baht). I recommend taking the overnight train that arrives late because it gives you the chance to see varying landscapes on the way.
By bus. There are a variety of buses that leave Bangkok's Northern Bus Terminal and they offer varying choices of price, comfort, and speed. Just take note that price usually starts at ฿400 baht.
What are the best accommodation choices in Chiang Mai?
Budget: The Dorm / Mid-Range: Dusit Princess / Luxury: Shang-ri La Hotel
To search for other accommodation options at the best prices, I suggest checking out Agoda and Booking.com. (If you're rather interested in renting affordable yet comfortable houses or apartments, always check AirBnB).
How can I go around Chiang Mai?
Commuting around Chiang Mai—as well as in other parts of Thailand—is usually done with the help of songthaews and tuk-tuks. To differentiate between the two, it's best for me to show you this photo:
Image from: http://americanexpatchiangmai.com/
At this point, it helps for me to point out that you can rent a motorcycle. This is actually the best way to go around Chiang Mai if you don't want to go through the hassle of haggling with songthaews and tuk-tuks.
Where to rent bikes? They're everywhere, really. You can just ask your hotel where the nearest one is, but it's said that KPD Car Rent and Mr. Mechanic are good ones. Also, depending on the kind of bike that you want to rent, it can range from ฿150 to ฿500 baht per day. And still depending on the kind of bike, you may be required to give a deposit ranging from ฿2,000 to ฿10,000 baht (or even higher). Never leave your passport with them if they may happen to ask you so. Prices will also change (higher) if you are going to avail a package with insurance; without insurance usually means that if anything happens to you or the bike, you are going to shoulder or fix it.
Songthaews. As you can see they're bigger and for a reason — it's because it's a shared taxi and best for long distances; meaning that if you're going to a faraway place and you're lucky to be able to come along with other people going towards the same way, then your fare's price can go down.
Tuk-tuks. The are obviously smaller and cramped, specialized per se; so not advisable for long distances. Songthaews and tuk-tuks will cost you ฿20 baht (per person) if you want to go to certain parts within the city of Chiang Mai. Outside of Chiang Mai is a different topic though because this is where you'll have to apply the art of haggling, much like how you have to do it in other parts of Asia. :P But usually, an ideal non-tourist-trap rate is ฿100 baht per person, roundtrip, on a songthaew (usually to parts like Mae Sa or Mae Rim).
Metered taxis: These have a ฿30 baht basic taxi charge when you flag them down on the streets; then again, they're not usually seen on Chiang Mai streets.
Should I get a visa to visit Thailand?
If you're NOT a citizen of any of Thailand's exempted countries, you are then required to avail a visa beforehand (or you can also get a exempted). If you're from the Philippines, you can enter Thailand with just your passport and you can stay up to 30 days if entering via an international airport (or 15 days if entering through a land border checkpoint from a neighboring country such as Laos, Myanmar and Cambodia).
Helpful Thai phrases
Hello (informal): Sa-wat-dee
Hello (formal, speaker is man): Sa-wat-dee khráp
Hello (formal, speaker is a woman): Sa-wat-dee khá
Thank you: Khop khun
Yes: Chai
No: Mai chai
Goodbye: Laa kon
Goodbye (informal): Sa-wat-dee
.
Excuse me (to beg pardon): Kho thot
I'm sorry: Kho thot
Is there someone here who speaks English?: Tee-nee-mee krai poot-pa-sa Angrit dai-bang?
Help!: Chûai dûai!
Cheers!: Chai yoo!
Things to Do in Chiang Mai
So, in no particular order, here are 10 things that you should absolutely do and shouldn't miss in this Thai haven:
#1:

Visit Buddhist Temples
This capital is FULL of ancient Buddhist temples called as
'Wats'
dated way back to when Chiang Mai was originally founded (1296!) and today, there are around 200 of them in and around the city in which some are still in use—not only by Buddhist monks but of Thai people as well. Over the years, these temples have survived and it proves that the original builders possessed great talent in putting it up, and that the succeeding artisans have done well in maintaining it too.
(It is said that different Kings have left their 'mark' by building these structures.)
Surely, it would be impossible to visit all 200 temples, but let me show you the 3 popular Wats in Chiang Mai: (3) Wat Sri Suphan, (2) Wat Chedi Luang, and (1) Wat Phra That Doi Suthep.
» Wat Sri Suphan is commonly known as the 'Silver Ubosot Shrine' in which it has a special chapel (ubosot) that is made of silver, nickel, and aluminum (as Rupi silver and Hang silver are rare and expensive). This was done to exibit the work of the nearby Wua Lai silver-making community. Located at Wualai Road, it's best to visit here on Tuesdays/Thursdays/Saturdays between 5:30PM to 7:00PM since they hold a 'Monk Chat' now and then.
» Wat Chedi Luang is located in the old city near Prapokkloa Road and was ordered to be built by King Saen Muang Ma in the 14th century to house the ashes of his father. The Emerald Buddha was placed here in 1468 but was moved away after an earthquake that made the temple's upper section fall off. (The Emerald Buddha is now at the Grand Palace in Bangkok.)
Meanwhile, Wat Phra That Doi Suthep or commonly called as Doi Suthep is near the top of Mount Suthep (which translates to 'Doi Suthep' in Thai) and is the most popular Wat in Chiang Mai. For our trip, we decided to check this out. The first thing that will great you (aside from the shopping stalls) is the Naga Serpent Staircase that comprises of 309 steps.
Don't promise a vendor from the stalls that you will come back and check their goods if you're actually not going to, as they will remember your face and insist that you fulfill your promise. It's a shame that such stalls are put up on sacred grounds; but it's a common thing across Asia, even in my country, the Philippines.
If you don't want to go up this stairs, there's a cable car at the right side of the temple (as seen below in the map) which you can ride for ฿320 baht (or around $1). But come on… you can do 309 steps!
If you ever meet young kids on these steps wearing tribal clothing, be aware that when you take pictures with them, they'll expect you to give them money…
Once we reached the top, there, I saw my first temple! …BUT, not the inside, unfortunately, because I've made an error of wearing a skirt. -saddest face in history, ever- So make sure to wear pants or proper clothes so that you can go in and see the golden chedi and a copy of the Emerald Buddha.

Nevertheless, I still had a great time here. Something about ancient temples such as this has a magical beauty of its own and though I am not religious nor a Buddhist, I can feel how spiritual this place is for Thai people.
A wiharn where monks (men and women alike) as well as Thai people pray.
Since most of the text posted on the walls in Doi Suthep are in Thai, it would be nice if you have a guide to tell you what you're seeing… You can ask the locals around though! :)
Or I can help you! Haha! Well, aside from the tidbits of info that I have already provided, here are more facts: Doi Suthep was built in 1383 and it 'houses' the legend of the White Elephant wherein it was sent by King Nu Naone of Lanna Kingdom to the jungle, carrying a piece of relic that was claimed to be a part of Buddha's shoulder bone. It climbed upon Doi Suthep and trumpeted 3 times before dying, the King saw this as a sign and so then constructed this temple.
(L) These bells are rung to bring good luck. (R) Girls dancing at the outskirts of the temple
WHEN IS THE BEST TIME TO GO HERE? Best to go on weekday mornings to avoid not only the tourist crowd but as well as the local Thai people who visit here as well—but if you want to see how locals do their religious rituals then come visit here on a Sunday. Also, this is way up in the mountains and it's better if you can rent a bike (usually for ฿320 baht or $8) so you can also stop along the way to some other sites that you pass by.
We rented a songthaew for this which is a open-air shared taxi and costs ฿40 baht ($1.5) per person round trip. (To know what a songthaew is go to the bottom of this page). If you don't want to use a shared taxi, the normal metered taxi would be ฿400 baht ($12.5), roundtrip.
.
#2:

See the Natural Heritage, Come to Mae Sa Waterfall
There are various things that you can choose from:
caves, farms, gardens, etc.
One choice that stood out for us was the
Doi Inthanon
, said to be the highest peak in Chiang Mai at an elevation of 2,565 meters. But some often bring back poor reviews saying that it wasn't as high or that it was too foggy, and since it wasn't the best season for it, we rather opted to go to
Mae Sa Waterfall.
It has 8 levels and this was at level 6. We found this to be the most scenic spot.
This is in the Mae Sa Valley of Chiang Mai and closes at 5PM with an entrance fee of ฿30 baht ($1) for Thai people and ฿100 baht ($3) for foreigners. We managed to only pay ฿30 baht since we were travelling along with some Thai friends that we met in our trip… or that maybe, we just look like Thai people anyways. Haha! (Oh, there's also a ฿20 baht for parking).
It will take you 30 minutes to get here from the city; and again, you will need a songthaew for this (to know what a songthaew is go to the bottom of this page) or just rent a motorcycle if you'd like. Usually, songthaews are willing to drop you off to nearby attractions if you're going to the Mae Sa or Mae Rim areas (we paid ฿100 baht per person, roundtrip, and visited 4 different attractions).
Local Thai people usually go to Mae Sa Waterfall to hang out, swim, and do picnics; so you can do the same too! (It follows that if you don't want to hang out with the 'crowd', go here on weekdays).
*** There are shopping and food stalls near the car parking and before the start of the waterfall tiers.
.
#3:

Be an Elephant Owner at Patara Elephant Farm!
» UPDATE as of 2/5/2016: I don't think I can fully support Patara Elephant Farm anymore after the reality of their practices were fully disclosed to me. To find out why, please read this article. For a safer and more responsible place, go to Elephant Nature Park.

A. DEFINITE. MUST.
There are a LOT of elephant parks and farms in Chiang Mai (and around Thailand) but
nothing
compares to Patara Elephant Farm!
Joanne and I were looking for a place that doesn't mistreat these animals for entertainment and Patara fit the bill 100%! (It is ranked #1 in TripAdvisor too!)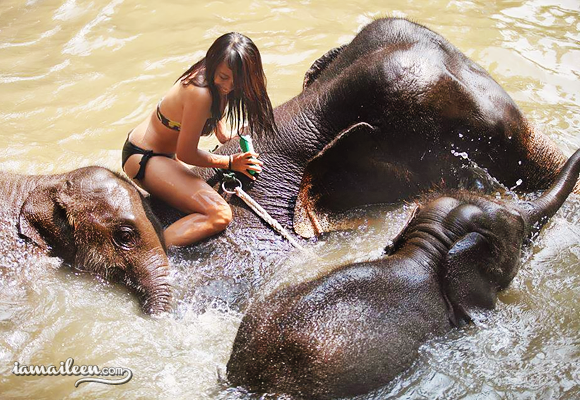 Patara Elephant Farm focuses on healthcare and breeding programs for elephants and constantly rescues elephants from harsh environments. They are partnered with a local Thai tribe (Karen tribe) who acts as their 'mahouts' (or elephant caretakers) and through their 'Elephant Owner for a Day' program, they give tourists a chance to be an elephant owner.
So, with them, we really got the chance to know the elephants and live the life of a 'mahout'. We learned how to feed them, how to check their health/well-being, how to properly ride them (not with those awful chairs!), how to bathe them well, and more!
We can perfectly see that the elephants here are handled with such care! They weren't treated harshly (other farms/parks use bullhooks, sticks, etc.) and besides, we can feel it from the elephants themselves that they are at ease. They were very playful and comfortable with their environment and are very sweet and gentle not only to us but to their mahouts as well. (We even learned that eventually, once they believe that the elephants are ready, they would release them to the wild).
It was simply just a day where we get to do the daily routine of the mahouts… so that the mahouts can take a rest, I guess. Haha!
Given their special program, a trip to Patara Elephant Farm should be scheduled since they also want to limit the number of tourists that they take in. (As you can see above, we were only a group of 8, and we were 3 batches all in all for that day; the other batches were fewer since they were a private group and I think we totaled up to only 19 in the Patara Farm that has 50 elephants).
The 'Elephant Owner for a Day' costs ฿5,800 baht per person (around $180 dollars or Php 7,800 Philippine pesos) where kids, old people, or disabled persons can sign up.
Now I understand this is a bit pricey, but I dearly recommend this place as it gives you a wonderful once-in-a-lifetime experience… it did for us!
.
#4:

Play with Tigers at Tiger Kingdom!
Do you have 'touch and play with tigers' on your bucket list? If you do, you can check that off when you go here to Chiang Mai's…
Tiger Kingdom!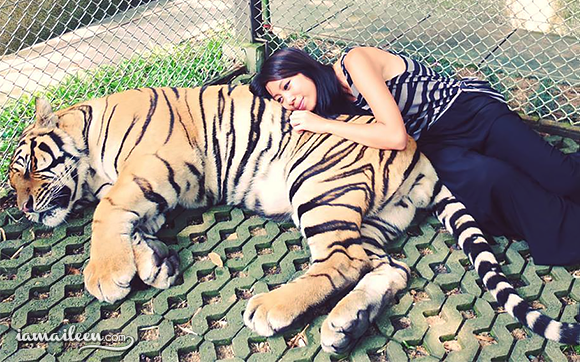 Nope. Not Photoshopped. :P
Scary? …Yeah. At first.
But after learning how Tiger Kingdom manages its establishment, we were assured that we were safe and that the tigers are fine. Why do I say this? Firstly, it's because all the tigers here have been raised to be accustomed to pats, rubs, etc. so it is natural for them to have humans around to do it to them. In simple words: they were raised like house cats.
Secondly, they're naturally lazy; so, there's no such need to drug or tranquilize them (such as what other tiger places do). And besides, they just generally care for the tigers' health so drugging obviously won't be a help.
Now I said 'naturally lazy' because tigers need 18 hours a day to sleep! They only get active when it's time to hunt which as per their nature, they do only at night. (They're nocturnal cats). But remember, since they're in captivity and are fed by Tiger Kingdom at all times, then there's no reason for them to get all aggressive. So for the rest of the day, they just sleep, not spending much energy especially during the hottest times.
…Clearly now, this one is awake. :P
But believe me when I say that they DO act like house cats. They're very domesticated, which is bad in some way… But I guess it's better for them to be cared, bred, and fed in places like this than for them to be killed in the wild by poachers in Thailand.
Much like Patara though, Tiker Kingdom needs to involve tourists in their establishments since it's a way for them to fund the expensive upkeep and feeding of this animals. It's a sad concept, for sure, because it would be very ideal if instead they would just live in the wild and be as free as they can without having the need to be 'domesticated' like this. But unfortunately, that 'ideal vision' doesn't really fully exist; what with some selfish people who are looking to sell parts of these animals… :( So the way I see it, it's a win-win situation: these animals get to live and be taken care of, while the establishments can continue their aim of breeding and protecting them.
(To date, there have been no accidents that happened here in Tiger Kingdom and they have been operating for over 5 years).
NOTE: I understand that there is some controversy about Tiger Kingdom and in no way do I condone maltreatment of these tigers (which thankfully, I did not see while I was there). So please do read this article with a grain of salt and decide for yourself if you want to visit this place yourself. Ultimately, I just enjoyed my stay with Tiger Kingdom for having the chance to interact with these tigers, and I was satisfied with what I saw and how the tigers were treated with care; that's why I have no qualms about their establishment.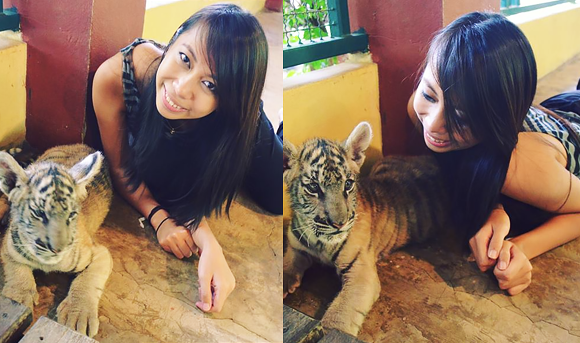 All in all, I see this as one of the things that you should do in Thailand! Especially since it's not everyday that you can get close to a tiger to pat and rub their bellys. ♥
» READ: To see a comprehensive guide/article on Tiger Kingdom (the facts, the package rates and prices, etc.) you can check the post I made here.
.
#5:

Visit (Night) Markets and Shop!
Pick and wear your most comfortable footwear ladies and gents… it's time to hit the markets of Chiang Mai!
Scattered all over the city, this is an activity that you shouldn't skip as it's the PERFECT opportunity to see the locals and even a great way to witness the different crafts and livelihood that the Thai people have in these parts. You get to shop for cheap and fresh stuff too!
With the number of markets around Chiang Mai, it could get really dizzying so I came up with this map to help you all out:
[ Click on the colored lines to see the kind of markets on these streets; it's best to put it on full screen so you can see the list of markets ]
In here you can see that Chiang Mai city has a square-like part smacked in the middle. This is actually it's old walled city surrounded by a moat as it originally was in 1296. All the surrounding areas outside this box have slowly grown/built over the years, making up the whole of the city as it is today.
The original moat is still in use but currently, parts of the old wall have already broken down: Tha Pae Gate is one of the iconic parts of this wall that is still intact.
The most popular and busiest night market of them all is the Sunday (Walking St.) Market, which as the name goes, only happens on Sundays from 4PM till midnight. It is a stretch from Tha Phae Gate all the way down to Rachadamnoen Road (the pale blue line on the map; inside the square/old city) filled with hawker shops that sell VERY cheap stuff.
But since we arrived in Chiang Mai on a Monday and have stayed for only 5 days, we didn't get the chance to see this. However, there are still a LOT of other night markets available for us and our best picks for this were Warorot Market (blue line on map above the yellow line) and the Night Bazaar (purple line on map).
(R) Candles shaped intricately into flowers.
(Be wary that some vendors won't allow you to take pictures of their goods)
And our pick for the hippest place in the city was Nimmanhemin Road (pink line on top part of map) which was full of interesting modern shops and restaurants! There are a LOT of great chic foodie spots here, and one interesting place that we've stumbled upon is iBerry: a picture-perfect-friendly gelato cafe. We really took our time in taking advantage of their quirky displays here!
Going to these day and night markets is easy: just hail down a songthaew or tuk-tuk, say the road/market's name and they'll know it. Fee for this is just ฿20 baht (less than $1) since it's just within the city. (To know what a songthaew/tuk-tuk is, click this.)
If you have extra time, then travel outside of the city to check out San Kamphaeng (for authentic Thai silk and lacquerware) or Bor Sang (for hand-painted paper umbrella craft) and then Ban Tawai (for wood carvings and furniture).
.
#6:

Eat, eat, eat! Thai 'Street Food' is Best!
While you're walking around Chiang Mai's Night Markets and shopping avenues, don't hesitate to open your senses to their culinary delights!
Thai food is surely famous for their spicy dishes, but they also have a wide range of gastronomic selections that could suit your palate! I say, take some courage and order a small sample of something, ANYTHING, that you see; especially when you see a lot of local Thai people lining up to a stall get their order!
Some of the things that you should absolutely try is their popular Khao Soi (egg noodle curry), satay, curries, pad thai, quail eggs with coconut, and more!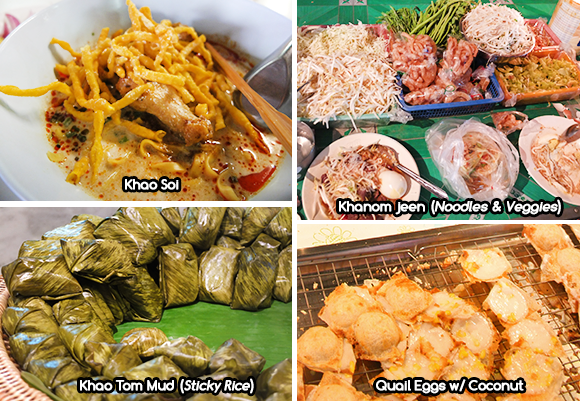 Thai Cuisine is known for its balance of the three to four fundamental taste senses in each dish or the overall meal: sour, sweet, salty, and bitter.
If eating is not enough, then why not try and learn how to make some popular Thai food dishes, right? I suggest that you try taking a cooking class from a true-blue Thai person. They're pretty common in the city, and so far, the most recommended one is: A Lot of Thai – Home Cooking Class.
.
#7:

Try Exotic Food! (And by 'Exotic', I Mean Insects!)
In the Philippines, we have our own set of exotic 'delicacies':
balut
(chicken embryo),
isaw
(chicken intestines),
durian
(that unfathomable smelly fruit), and mooooore! Aaaand I honestly don't like these at all, haha! It's enough for me that I've tried them once or couple of times… but some of my friends do like these though, and consume it for as much as they could! So yeah, it's normal.
So surely, Thailand has its own set of exotic dishes too which I guess is basically all their spicy dishes/curries, gekway (chrysanthemum drink), papaya salad, etc. etc. These are interesting in their own way and a must try!
…BUT for an added spice or flair, it's rather best that you try their exotic INSECT street food!
It's veeeeeeery big. When Joanne first saw it I was all: "Oh hell, NO!"
But then eventually, since she was trying it anyways, I got jealous (LOL) and decided to 'man up' and eat it myself. I mean, I've ate something like this before: crickets in Pampanga, Philippines, I think. But this one is a LOT bigger, so I was thinking that it would be hard to consume this one without gagging! :))
Anyways, this was a cricket too but that in these parts, they can get very big. My advice is to just clear your mind. Force it to think that you are NOT eating one; because once it's in, it just tastes like a perfectly crispy… err… 'something'. I'm sorry, but it's really hard to describe the taste as it is not similar to any existing normal food; it's almost bland. But okay, since this was sauteed and spiced with a bit of soy sauce and chili, after the crunchy bits (which had tinges of burnt parts) came the slight aftertaste of these seasonings.
It wasn't so bad, really.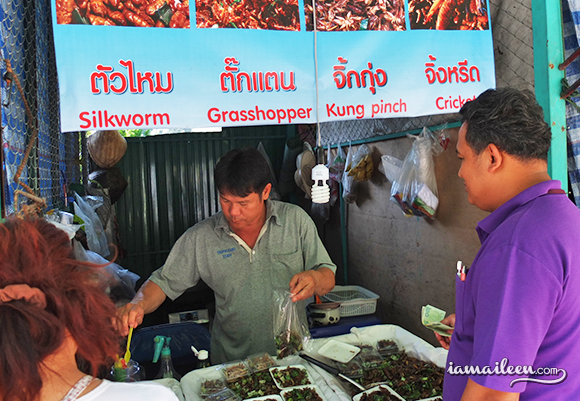 This costs ฿20 to ฿50 baht per pack but if you want to try only one piece of it, it costs ฿10 baht
Now why am I asking you to do this?
Other than having the bragging rights of having eaten one-or-some (oh yeah!) it's also a part of just 'experiencing'. And it's fun! PLUS: like what Bear Grylls keeps saying, these insects contain lots of protein and are low on fat. So why not? :P
Other than crickets, they also have silkworms, grasshoppers, ant eggs, bats, VERY BIG bugs, bats, dried lizards, and a whole lot more! Hawker stalls for these things are everywhere especially in the night bazaars and markets so it's not so hard to find them if you're looking to have some.
Enjoy it, oh brave and mighty one! -salutes-
#8:

Make Thai Friends!
This is one of the great things about travelling:
meeting new people.

Aaaaaand better if they're
locals!
We were very lucky to have met two lovely and friendly Thai girls from Bangkok who were here on a brief 'escapade' in the city; and were even willing enough to tour us around! This was AWESOME because though some Thai's know English, a lot of them don't use it as much especially here in Chiang Mai (compared to Bangkok) so having them was a joy!
Example: they did some of the haggling for us one night when we went to the Night Bazaar. S-c-o-r-e! :P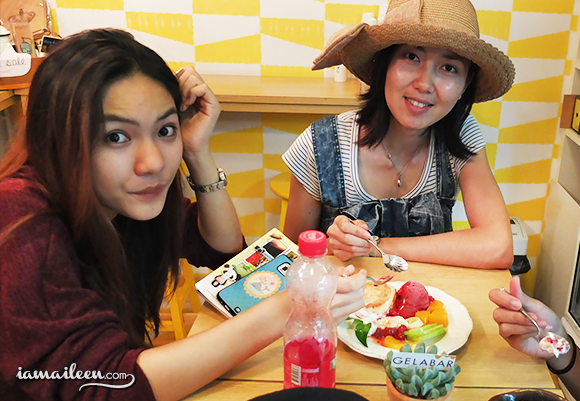 Haha! But other than that 'bonus', it was great swapping stories with them: asking about their usual customs and practices in Thailand, their travels, their life… the works!
Though we had a hard time communicating with them at times because they couldn't find the right English word to say, it was still fine; they can still converse with us in general. Again: we're lucky on this too, since not everyone in Thailand have good conversational English; even those who come from Bangkok. It's a bad generalization, I know; but I also have friends who testify on this, and articles/studies online have said so too.
Still and the same, it's not so hard to make friends even with language barriers and whatnot. :)
A lot of people said that Joanne and I looked Thai as well! Haha!
Well Thais, Vietnamese, Malaysians, Indonesians, and us Filipinos mostly look alike!
We will never forgot their hospitality as it was also fun hanging out with them! Above all, they were also very willing to accompany us; but if I think about it, if we were to meet tourists in Manila as well, we would have done the same :)
All in all: it's a must to interact! Thai people are very helpful and friendly, and they're not called the 'Land of Smiles' for nothing!
.
#9:

Do 'People / Crowd Watching'
The best way to observe Chiang Mai and Thai people! It can be extremely informative especially if you want to find out for yourself the overall rhythm of this community and how they function.
'People or crowd watching' can be really amazing. Aside from formulating your own stories/assumptions behind these people and the actions that they do; you get to acquire facts as well!
It's just a fun activity especially after a day of going around…
You'll slip into a cafe, sit down, and then pass the the time. So you watch the throng of people bustling around you. You'll notice their body language, their facial expressions, their reactions and you'll realize that watching these people is a simple but surreal experience in a very captivating way! If you're a frequent 'people watcher' (who's not creepy in any way lol) you'll know what I'm talking about ;)
So if you usually do it when you're in your own town, then do it in a foreign land!
It will be very, very, refreshing.
.
#10:

Get Lost or Just Walk Around!
Chiang Mai has a LOT to offer, and sometimes there are places that will seize and overwhelm you… so wander around, explore the sights without any guide, and soak it all in.
It's a risky activity, of course it is. I don't want to make light of TRUE instances where people get really lost because I know how scary that could be. But I say 'get lost' and 'wander' in a way that is safe: in a way where you go around a city without limits, and with an aim of a going on a journey.
Let's say you're looking for an establishment, but then you realize you're not on the right road. Don't sweat. Improvise. Go to the next busy and well-lit street, see where it takes you, and then look. Explore. Maybe there's something there that you can find after all…
Because 'getting lost' is a learning experience too, and if you're fortunate, it can even lead to unexpected adventures that make for the best memories and stories!
.
Other Things to Do: Day Trips + Activites
.


I hope this list did justice to Chiang Mai. Obviously there are a LOT more places to explore in this rose of the north, but these are just some of the places and activities that I enjoyed the most and which I hope could still help you guys on your travel plans. :)
Let me know, and thanks for sticking around despite this loooong entry. Haha!
*If you want to get sweet, discounted deals on hotels or hostels, check by Agoda! I always book with them, and I trust them for years!
Have you ever been to Chiang Mai? Or Thailand?
What are the top 3 things from this list that you would want to do?
Have you ever done a solo trip before?
YOU MIGHT ALSO LIKE
Older Post
Newer Post
Hey there! I am Aileen Adalid.
At 21, I quit my corporate job in the Philippines to pursue my dreams. Today, I am a successful digital nomad (entrepreneur, travel writer, & vlogger) living a sustainable travel lifestyle.

My mission? To show you how it is absolutely possible to create a life of travel too (no matter the odds), and I will help you achieve that through my detailed travel guides, adventures, resources, tips, and MORE!

NEW READER? START HERE!
CONTINENTS: 7 ~ COUNTRIES: 59
Join over 1 million people and receive exclusive giveaways, travel tips and so much more!