It's a fact that tulips typically bloom from early to late spring… but what if I tell you that I know of a place where tulips bloom ALL YEAR ROUND? Well, YES they really do — and it all happens in Japan's Tonami Tulip Gallery (Tulip Shikisaikan)!
Located in Tonami City within Toyama prefecture, the Tulip Gallery is a large exhibition hall that is a part of the Tonami Tulip Fair (we'll get to that later) and due to the technology that they possess, the gallery is open in all four seasons to display varying types and colors of real tulips.
This establishment might just be aptly fitting for the city of Tonami — after all, they are the biggest in Japan when it comes to tulip bulb production (they grow over 250 varieties!). By the turn of the 20th century, the city actually used the tulip as its symbol.
For such a mystifying place, I had the pleasure of visiting the Tonami Tulip Gallery earlier this year and it was definitely an enchanting experience!
.
If you're more into videos, come and take a peek into the vlog I made below which showcases my visit to Chubu Region (Tonami Tulip Gallery is featured at time slot 04:19).
When I was told that tulips in Tonami Tulip Gallery bloom throughout the year, I first thought that probably, they're not exactly real — however, I was wrong when I saw the rows of flowerbeds before me that held actual tulips in beautiful colors!
Wonder Garden. This is the first section of the Tonami Tulip Gallery and it instantly showers any visitor with a blooming flurry of tulips as well as other seasonal flowers. There are even sections where you can find tulips growing from being a bulb up until its full bloom!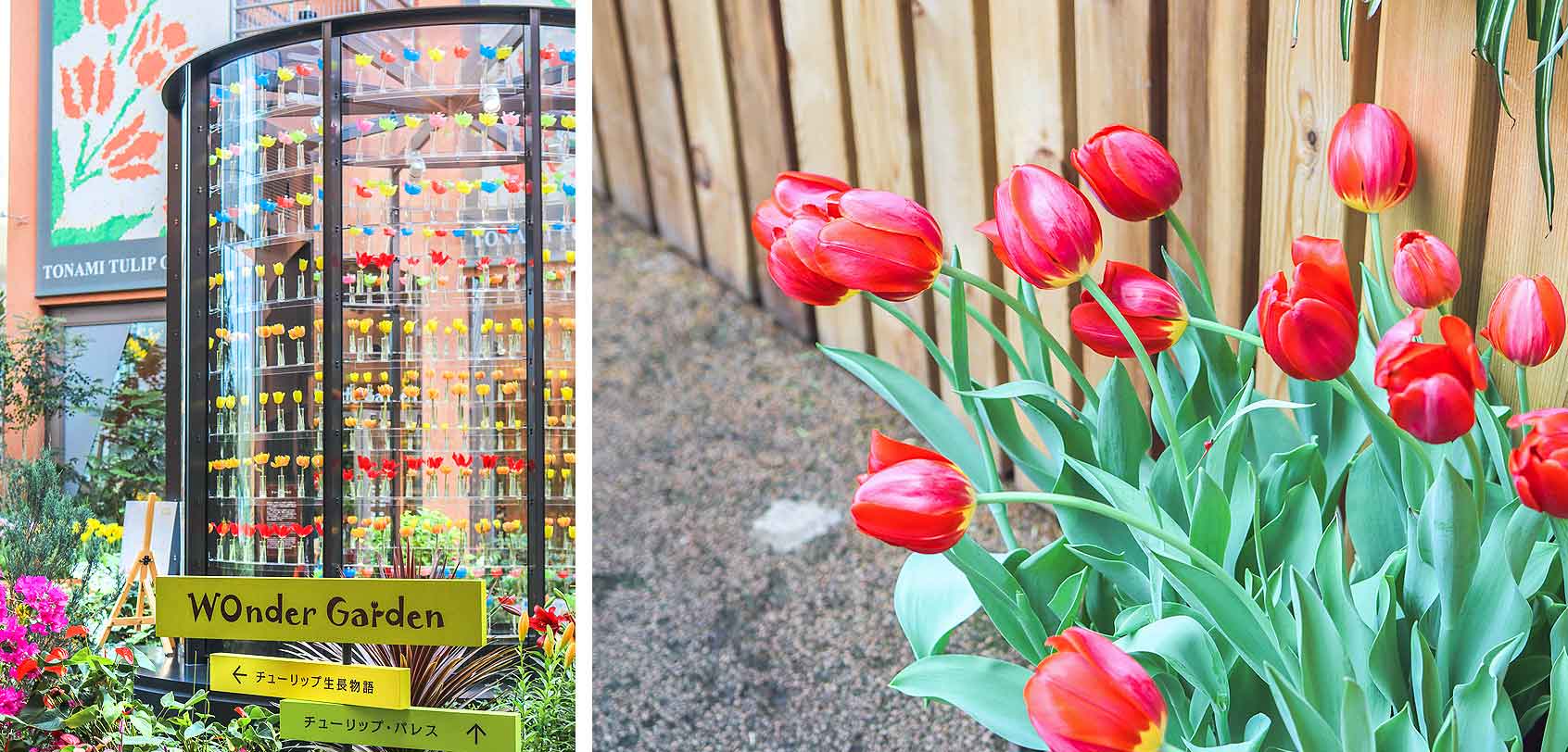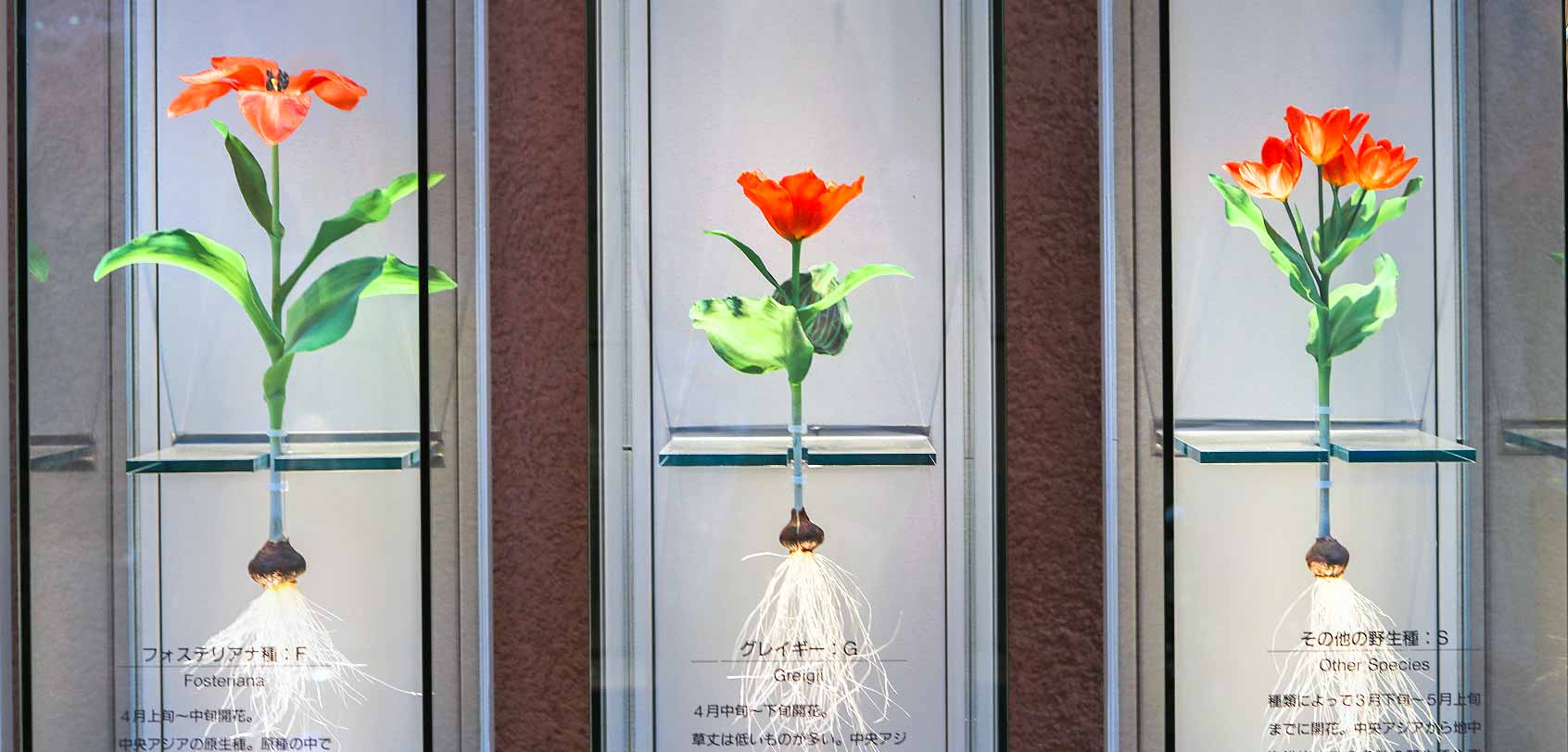 Smacked in the center of the garden would be an exhibit that they call Tulip Palace and it's basically a stunning 360 degree circular display where various tulips are placed.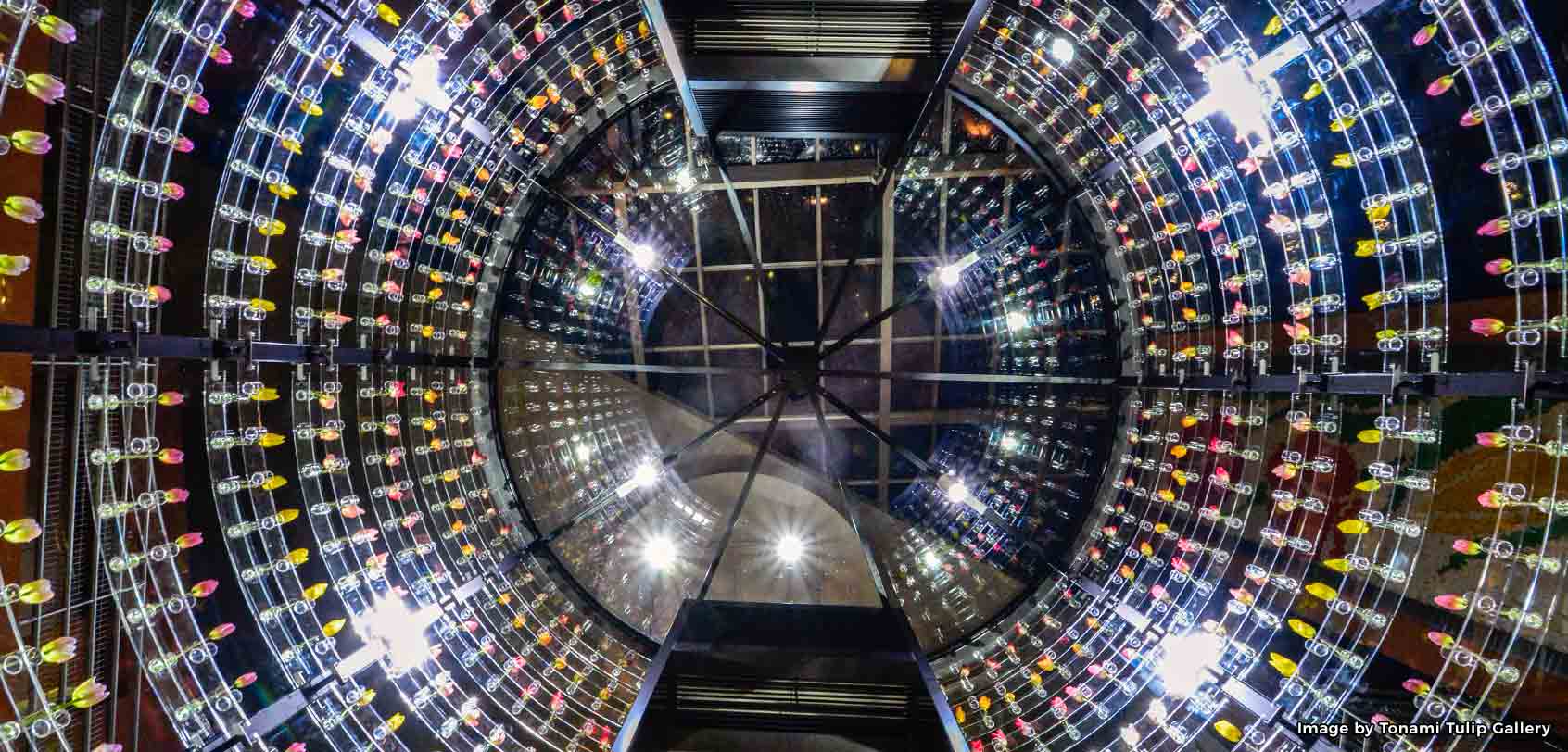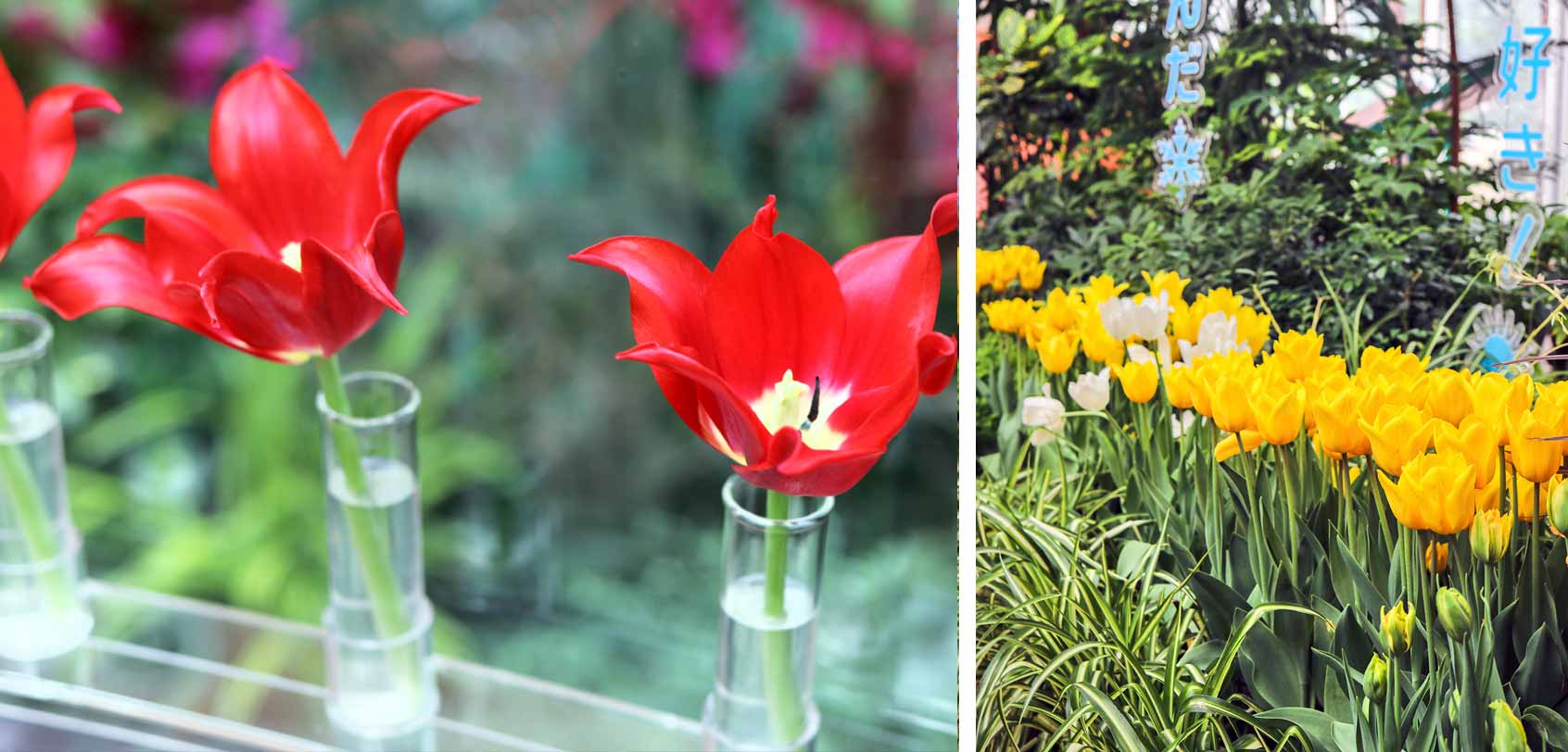 Further in was the chilly room called as Palette Garden. I noticed that there were mirrors on the walls, so even if you didn't quite catch the Tonami Tulip Fair, this garden will make you feel as though you're surrounded by fields and fields of tulips.
Once I was here, I took my time in admiring the flowers.
NOTE: Watch out for the unique ones like the baby pink tulip that I've photographed below!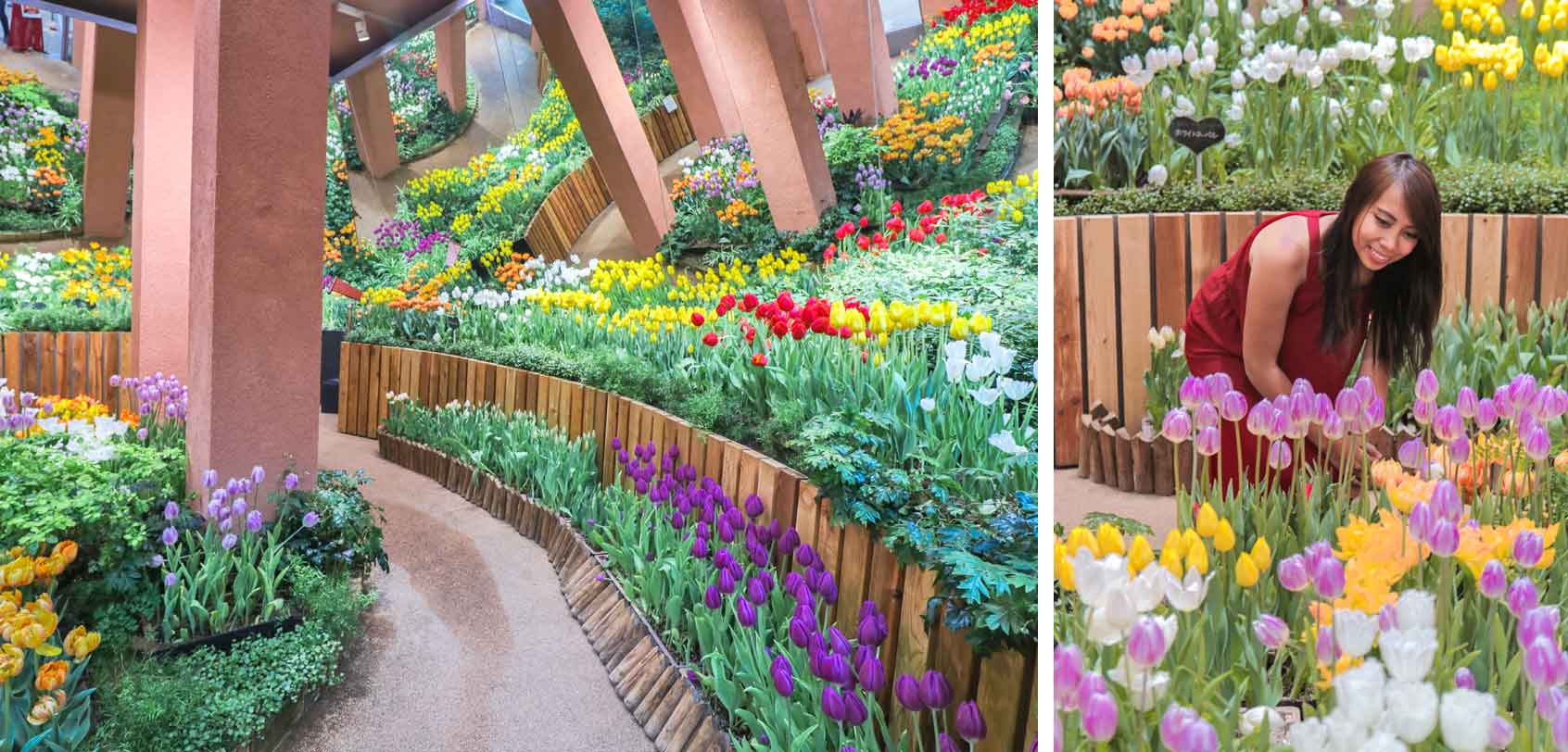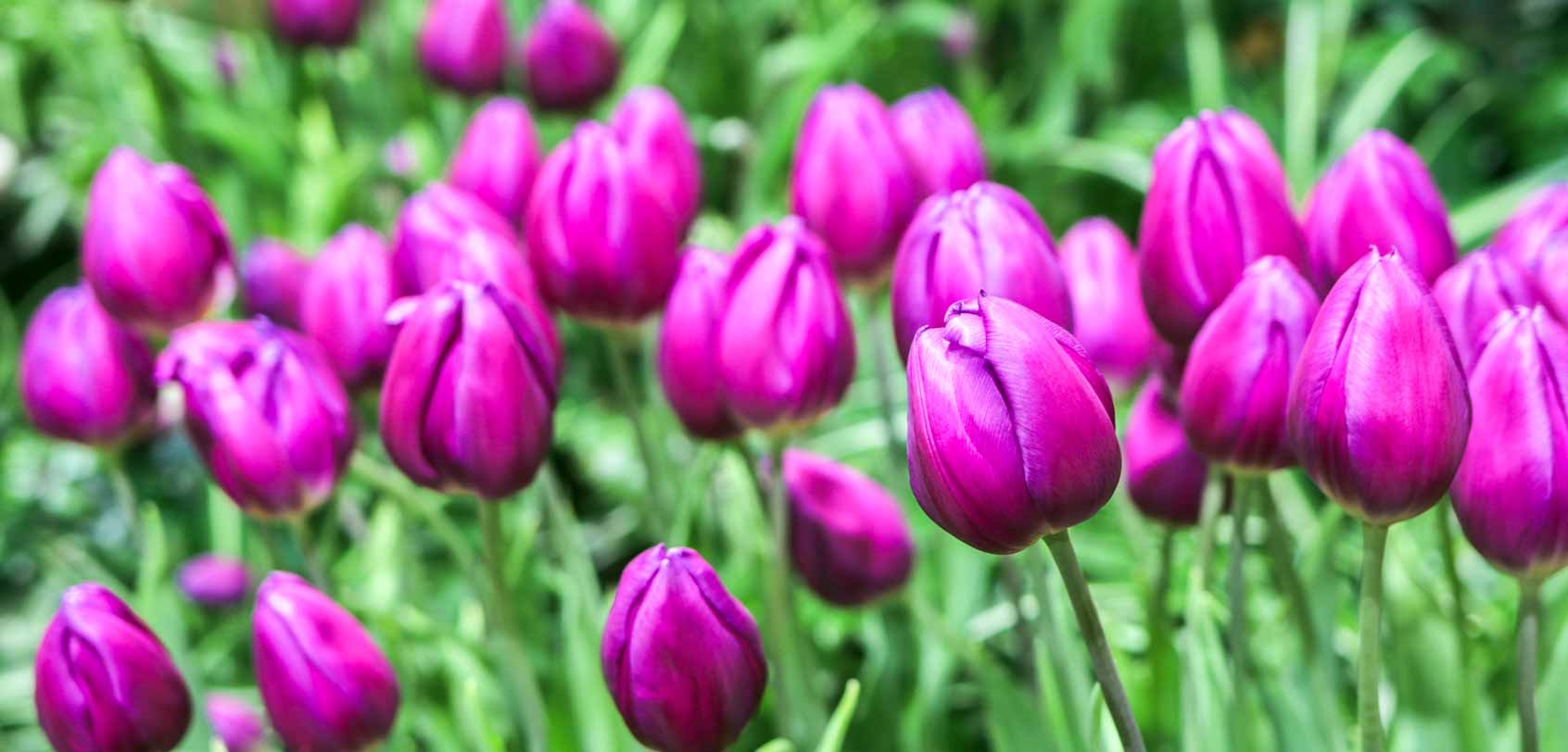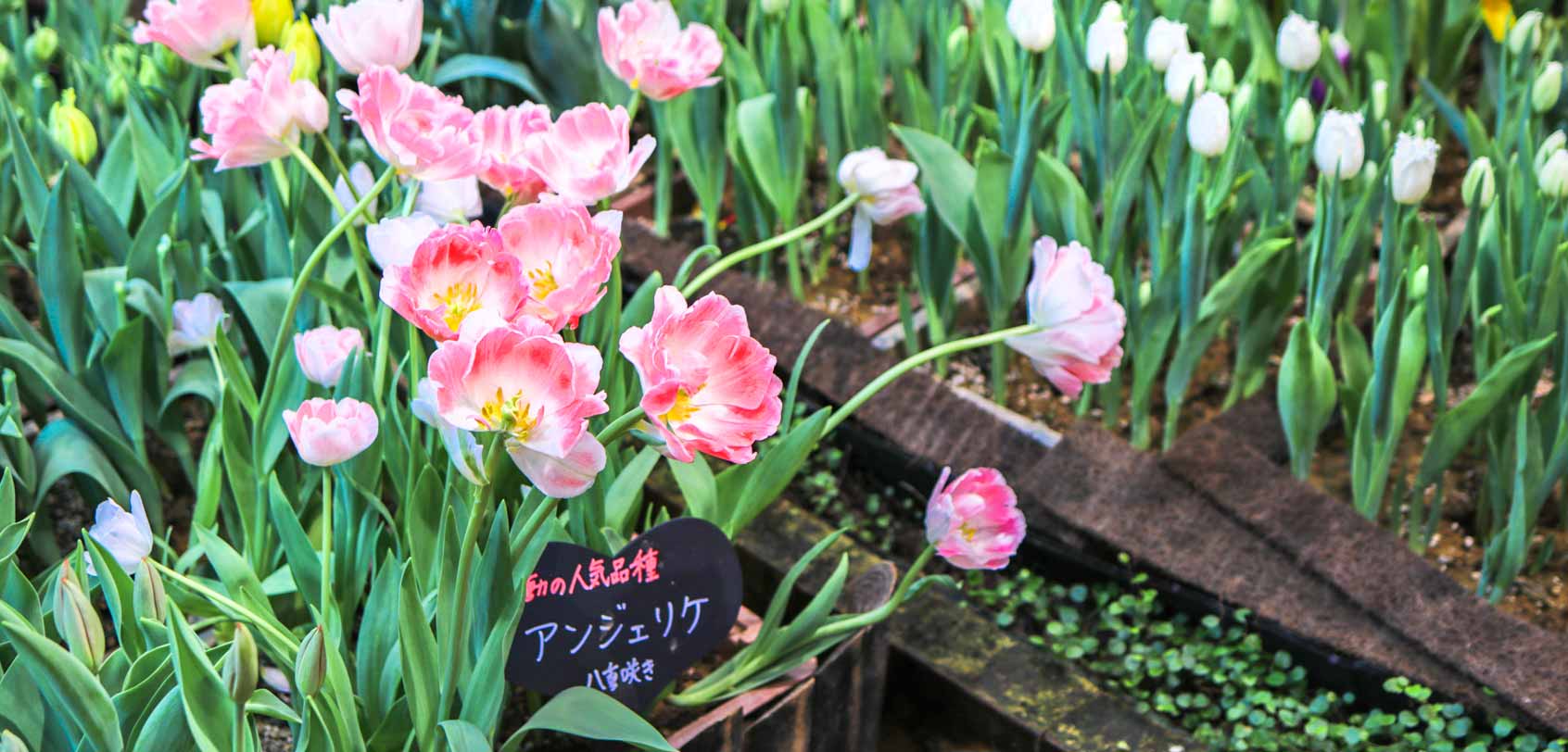 Under Farm. Further in to the Tonami Tulip Gallery is some sort of museum where you can learn everything that there is to know about tulips — from their history, their original nature, the growth stages, the cultivation, and so much more!
You'll find various exhibits and even some fun comics and videos (in their Bulb Theatre) to make the explanations even more fun and interactive.
NOTE: Most are in Japanese, but there are enough English explanations on most of the exhibits.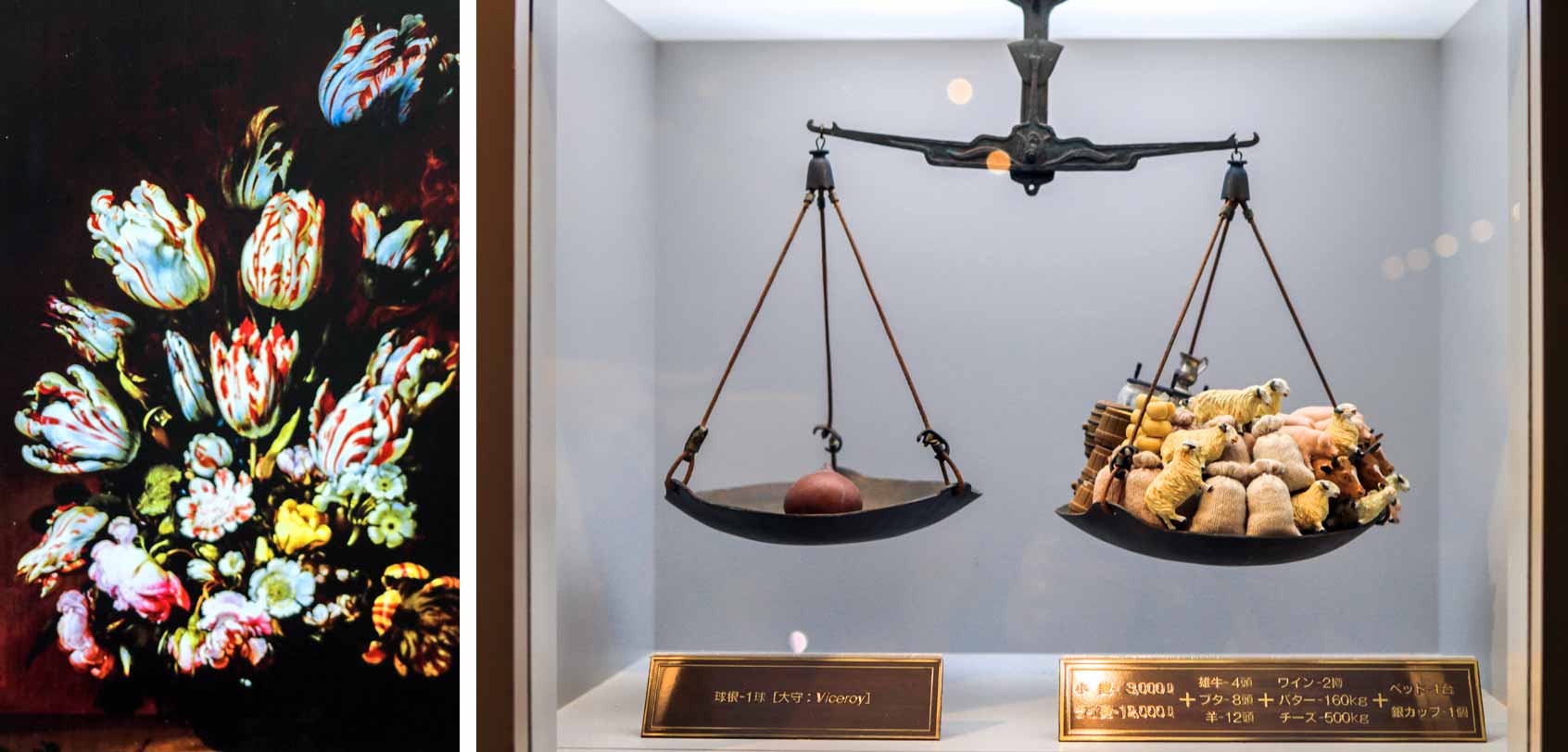 Once you're done exploring the rest of the sections, you can stop by the gift shop at the entrance to buy some unique tulip-themed items.
Alternatively, you can drop by their cafe to have some food — one thing that you must absolutely try is their Tulip Soft Ice Cream! It costs only 350 a piece and has a scent that is reminiscent of the flower itself.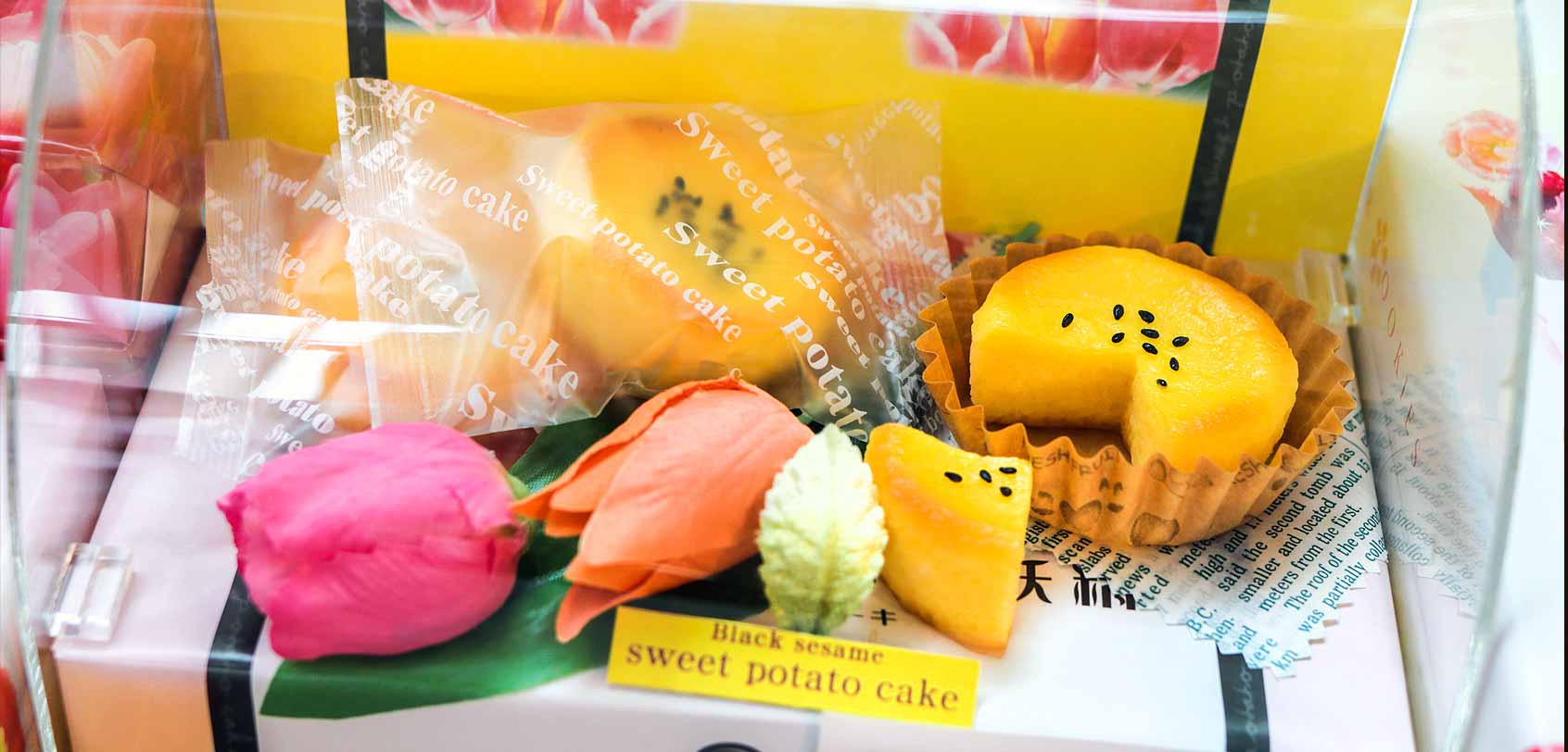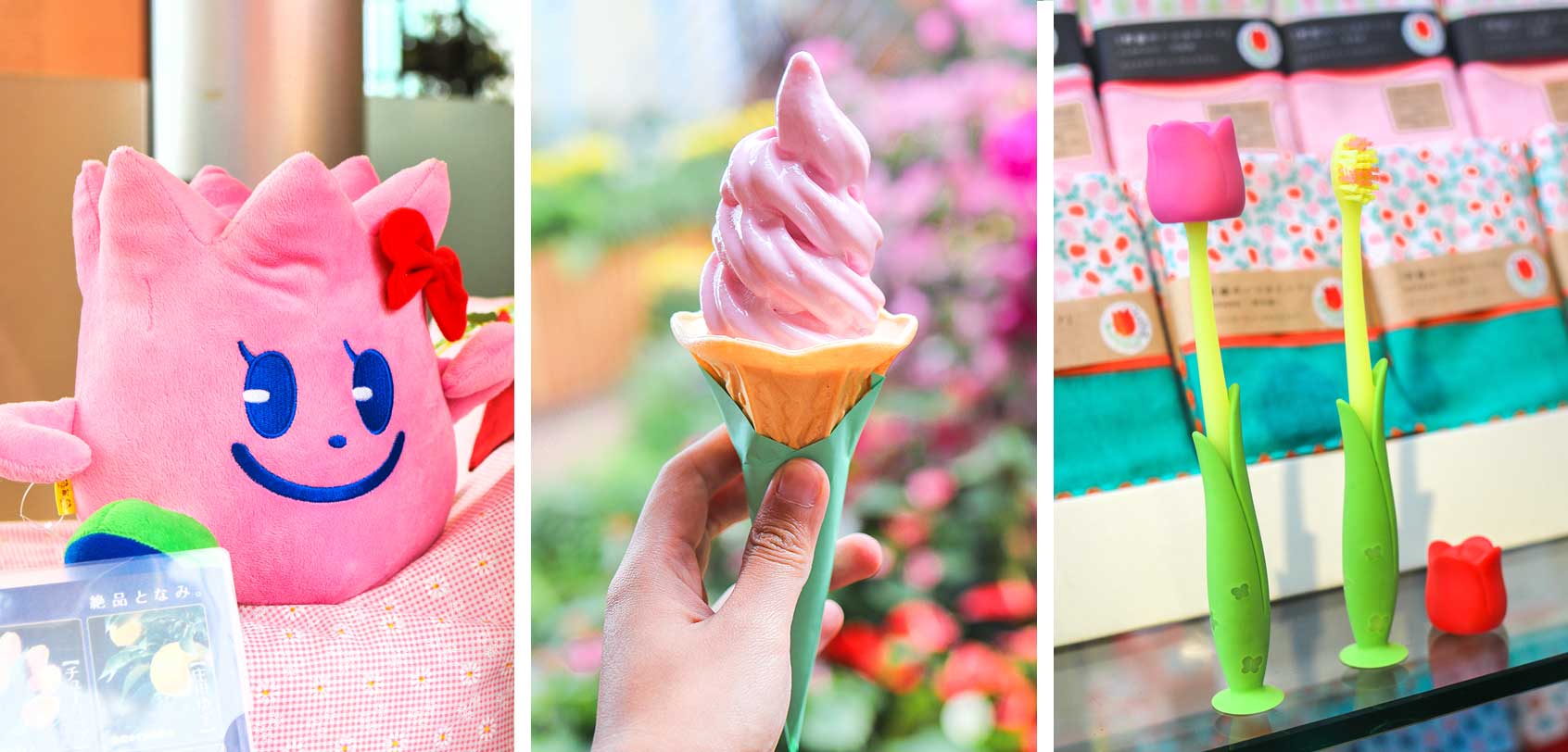 ADMISSION: ¥310 for adults, ¥250 for seniors, and ¥150 for children
OPENING HOURS: open daily (except holidays) from 9:00AM to 6:00PM
WEBSITE: http://www.tulipfair.or.jp/en/
.
If in case you're really looking for that tulip fields experience, then you MUST come visit the Tonami Tulip Gallery in spring because it's when the annual Tonami Tulip Fair is held in the surrounding park of the establishment!
Open for 2 weeks in late April and early May, the Tonami Tulip Fair is done yearly to celebrate the city's prosperous tulip cultivation — aside from it simply being a celebration of appreciating the beauty of the said flower.
So… what can you expect from this affair? MILLIONS of tulips in large flowerbeds!
Naturally, this is said to be the largest tulip fair in Japan.
First off , year after year, they change their theme and you can view it best from their Tulip Tower.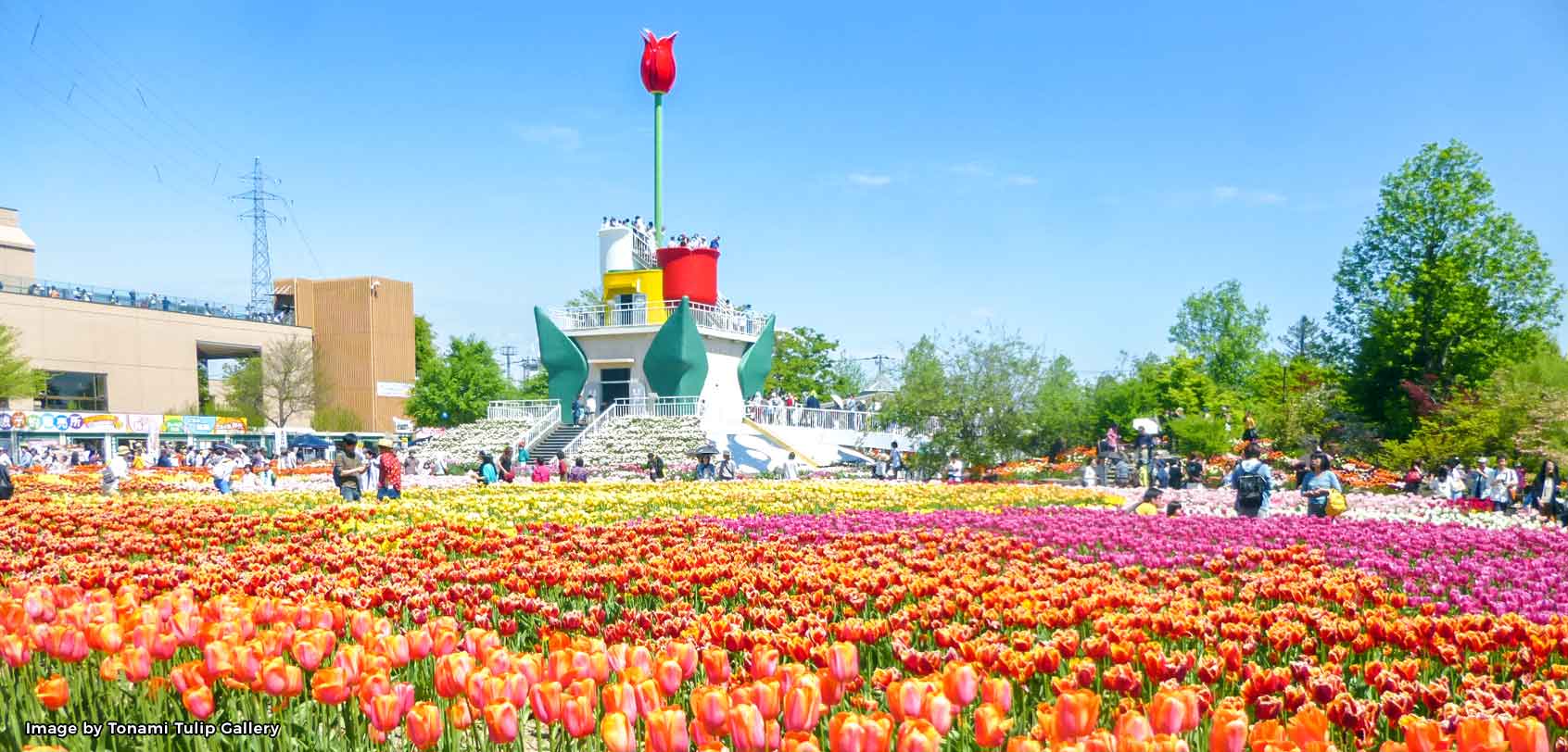 If you've heard of the Tateyama Kurobe Alpine Route's Snow Wall, the Tonami Tulip Fair has its own version — a wall of tulips, of course!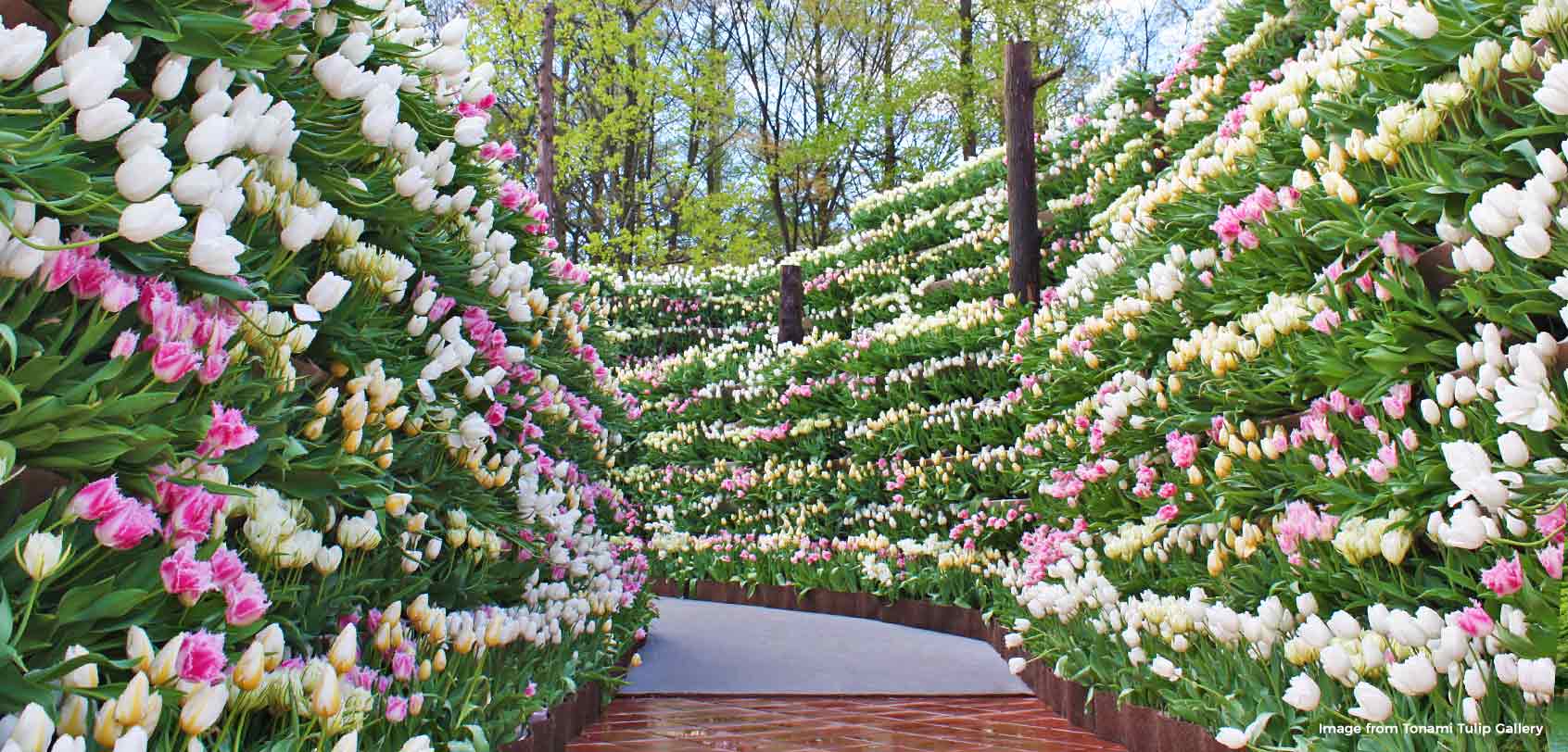 Other places of interest would be a waterwheel garden, some Dutch-style flowerbeds, floating flowerbeds, a flower road (about 400m long with surrounding sakura or cherry blossoms too), and SO. MUCH. MORE.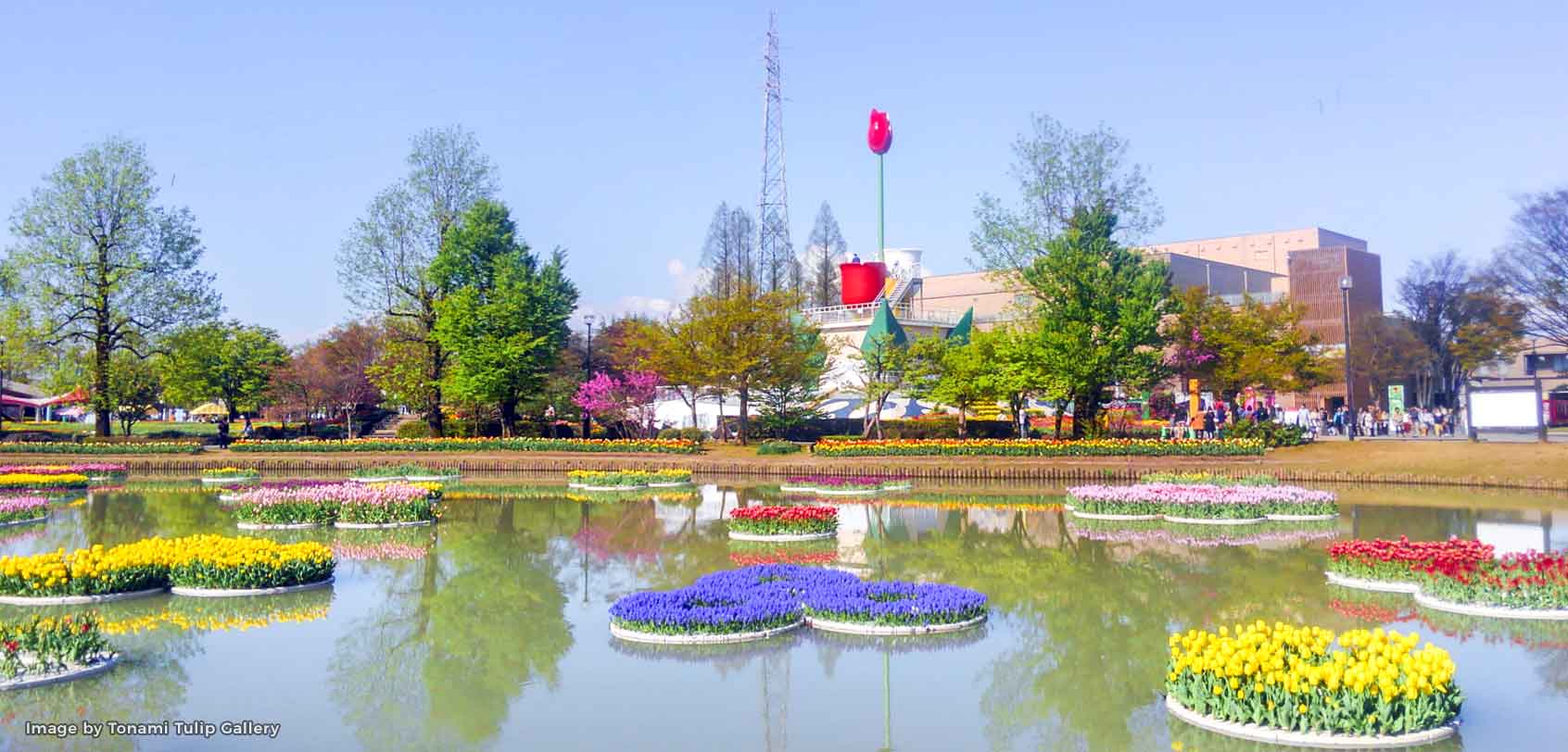 There is also a FREE shuttle with a guide that will take you a tulip farm so that you can see the tulip fields in the city!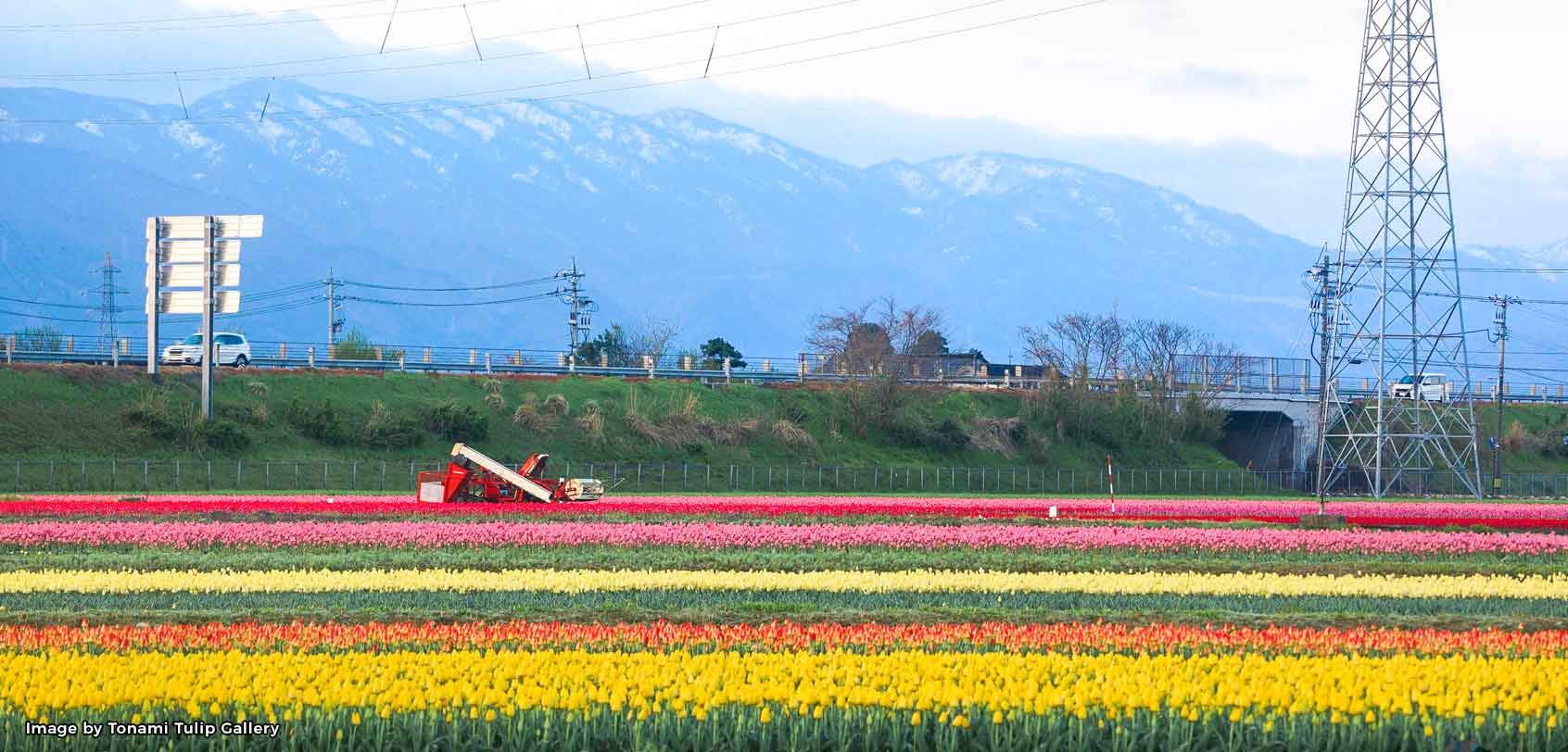 ADMISSION: ¥1,000 for adults, ¥300 for children, and FREE for those younger than elementary school age
OPENING HOURS: usually open from 8:30AM to 5:30PM (last admittance at 5:00PM)
WEBSITE: http://tulipfair.or.jp/fair/en/
.
How to get to Tonami Tulip Gallery and Fair?
You should get to Takaoka Station or Shin-Takaoka Station, followed by a ride via JR Johana Line to Tonami Station (takes about 20-25 minutes, ¥240 yen one way). From there, the Tonami Tulip Gallery and Fair area is just a 15-minute walk away.
In order to get to Takaoka or Shin-Takaoka Station…
From Tokyo: Ride the Hokuriku Shinkansen (2.5 hours)
From Nagoya: Ride the Shirasagi via Kanazawa (3 hours)
NOTE: During the Tonami Tulip Fair, there are FREE shuttle buses that run between Tonami Station and the park.
Should I get a visa to visit Japan?
If you're NOT a citizen of any of Japan's exempted countries, you are then required to avail a visa beforehand. If you're from the Philippines, you can read my guide on how to get a Japan visa in Manila here.
Helpful Japanese phrases
Hello: Konnichiwa (Kohn-nee-chee-wah)
Thank you (normal): Arigatō. (Ah-REE-gah-tohh)
Thank you (less formal): Arigatō gozaimas (Ah-REE-gah-tohh goh-zahy-mahs)
Thank you (informal): Dōmo (DOHH-moh)
Yes: Hai (Hai)
No: Iie (E-eh)
Goodbye (long term): Sayōnara (Sah-yohh-nah-rah)
Goodbye (informal): Ja ne (Jahh neh)
.
Excuse me: Sumimasen (Soo-mee-mah-SEN)
I'm sorry: Gomen nasai (Goh-men-nah-sahy)
Is there someone here who speaks English?: Dareka eigo ga hanasemasu ka? (Dah-reh-kah ey-goh gah hah-nah-seh-mahs kah?)
Help!: Tasukete! (Tahs-keh-teh!)
Cheers!: Kanpai! (Kan-pie!)
Tonami's stunning Tulip Fair is a MUST to see! But if ever a visit in the spring is not possible for you, there's always the Tonami Tulip Gallery that will give you colorful blooming tulips all throughout the year.
It's truly amazing how the city was able to develop such a technology; so if you're ever in Japan, make sure you don't miss out on this!
What do you think of of Tonami Tulip Gallery and Fair?
Would you like to visit this place? Why or why not?
Or have you been here before? How was it?
YOU MIGHT ALSO LIKE
Older Post
Newer Post
Hey there! I am Aileen Adalid.
At 21, I quit my corporate job in the Philippines to pursue my dreams. Today, I am a successful digital nomad (entrepreneur, travel writer, & vlogger) living a sustainable travel lifestyle.

My mission? To show you how it is absolutely possible to create a life of travel too (no matter the odds), and I will help you achieve that through my detailed travel guides, adventures, resources, tips, and MORE!

NEW READER? START HERE!
Widget
CURRENTLY BASED IN: The Philippines
TRAVELING NEXT TO: Antarctica
Stay updated with Aileen monthly! Sign up and receive exclusive updates, articles, giveaways, and so much more!
"Sukajan / Skajan": The Unique Souvenir Jacket from Japan via @iAmAileen / #travel #japan @JapanLoverMe https://t.co/8Bp6dWejui
20/01/2018 10:19:10

Flash SALE on @kkdayph Taiwan tours — pay for 1 person, get 2! See here: https://t.co/oIzhhLgq0q (Ends this Januar… https://t.co/s9sEmolASk
20/01/2018 05:01:48
Give Your Life Wings