I am IN LOVE with this quote and that's because it holds TRUE! For all of my life and from all of my travels, I have truly experiencedutmost happiness not through souvenirs nor any material things that I buy, but through unforgettable experiences that I reap! (Tinggly Experiences)
In fact, studies have proved that people who spend money on experiences instead of things are much happier than those who don't. Imagine then if you were to share that kind of happiness to the people you love…? With Tinggly, a new and awesome brand that launched just last 2014, it's now absolutely possible AND easy to give the ultimate travel gift to your family and friends (and even to yourself!). So come and spread that happiness through a meaningful Tinggly travel gift!
.

Tinggly makes gift-giving SO easy. As a brand, they aim to continually scour the globe in order to find the best and unique experiences of all so that you can gift it to someone as an 'escapade' that they will never ever forget in their lifetime!
I actually have this problem for years: I wanted to give a travel trip to a loved one but I've never really found a platform that can give me an array of choices to pick from. Of course there are those websites like Groupon for example wherein I can buy an 'experience' for gifting; BUT, they were never really packaged and presented well — add the fact that they expire too soon!
With Tinggly Experiences, these problems are non-existent because:
It has TONS of experiences

around the world to choose from, and they constantly add new ones every day!

You get the world's best experiences in just one gift box!

With

one price point

($125) you will get a wonderfully-packaged 'Tinggly gift box' that grants you or your giftee the chance to select from any of the Tinggly experiences. (You have the option to send your gift through email, post, schedule, or print. If you pick by post, it will be shipped worldwide for FREE!)

The travel options will NEVER expire

since they are forever there for anyone to choose from!
You will never be rushed. The Tinggly gift box will remain valid for 2 years, so you or your giftee can absolutely take time in determining the best experience to take!

Are you excited yet…?
BECAUSE I AM!
To make you even more ecstatic, do you want to see sample of experiences that are available on Tinggly? Well, to name a few, they are: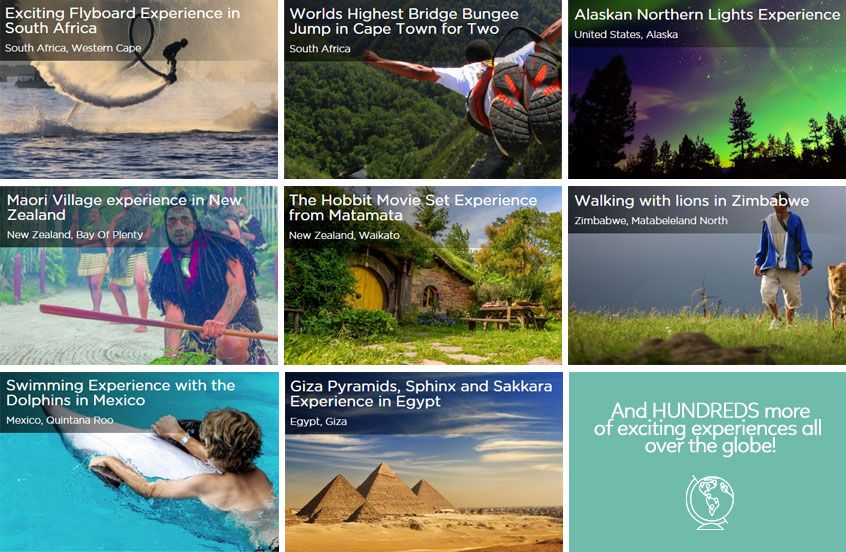 To see the FULL list of Tinggly experiences, go here.
If in case you don't want to travel too far, chances are, there would be some Travel experiences for you to check out in your own home country. Just check by Tinggly's Experiences Map and you'll have an overview of everything easily!
.
Very. Simple. And it is perfectly described by the diagram below:
I really wasn't joking when I said that Tinggly Experiences will make travel-gifting simple and effortless! So what are you waiting for…?
Head on over to Tinggly and surprise the people that you love with an experience that they will treasure and thank you (non-stop) for! Though actually, as early as now, you can already schedule the gifts that you'll be giving for any upcoming anniversaries, birthdays, and weddings, among many others this year! (Think Christmas too.)
Gift a Tinggly Experience NOW!
But hey, you know what? We've talked a lot about how 'Travel is the best gift' so since Tinggly and I both love you… how about we give you a chance to win a FREE Tinggly experience?
.
Surprise, surprise! Here's a Giveaway for You!
As a brand ambassador of Tinggly, I am very happy to present to you this awesome Tinggly giveaway!
If you're a reader of this blog, you would know how I rarely partner with just about any brand out there. I am very 'choosy' and I only team up to companies that I LOVE and trust. And well… without a doubt, Tinggly is one of those and I dearly hope that you'll come to love them too!
» What Will You Win?
One (1) winner will get a Tinggly Experience of a lifetime for TWO (2)! So if you enter this giveaway and you end up being the winner, you will then be given a chance to pick a Tinggly experience (in any part of the world) that you want to try, and then you are free to take along a companion with you!
And like any Tinggly gift, you have 2 years to book your dream experience, so you have PLENTY of time to plan your upcoming adventure.
(To see the LONG list of experiences that you can choose from, see here).
» How to Win?
Since Tinggly and I both support simplicity, the path to winning will be trouble-free! So this giveaway will be done in a raffle-like manner, and all you have to do is to follow the steps below to gain entries:
Log in to the form below (either through your Facebook account or your email)
Do the 5 required steps that will be displayed below. Each action will give you 1 entry and one step closer to winning a Tinggly Experience — take note that the last two options can be done

everyday

so you can gain more entries! (Once you finish doing these 5 required steps, it will unlock

6 other

entry options, thereby giving you even MORE entries to

increase

your chances of winning!)


.
» Terms & Conditions:
This giveaway is open WORLDWIDE.
The prize does NOT include flights or airfare.
This giveaway will start on May 20 (12AM – GMT + 8 Time) and will end on June 20 (12AM). Winner will be picked randomly and will be announced in

June 21

on the 'I am Aileen' Facebook page.
This giveaway is hosted by me, Aileen, in partnership with Tinggly; but prize distribution will be the sole responsibility of Tinggly.

.
Good luck and enjoy! Please feel free to also share this giveaway to your family and friends!
What do you think about Tinggly?
Would you gift Tinggly Experiences to your loved ones?
What Tinggly Experience would you LOVE to try?
YOU MIGHT ALSO LIKE
Older Post
Newer Post
Hey there! I am Aileen Adalid.
At 21, I quit my corporate job in the Philippines to pursue my dreams. Today, I am a successful digital nomad (entrepreneur, travel writer, & vlogger) living a sustainable travel lifestyle.

My mission? To show you how it is absolutely possible to create a life of travel too (no matter the odds), and I will help you achieve that through my detailed travel guides, adventures, resources, tips, and MORE!

NEW READER? START HERE!
CONTINENTS: 7 ~ COUNTRIES: 59
Join over 1 million people and receive exclusive giveaways, travel tips and so much more!