Your trip to Thailand will not be complete without a taste of its world-renowned cuisine and dishes. Aside from being aromatic and healthy, Thai food is also a unique blend of varying flavors and textures as it mixes around the 5 essential flavors: salty, sour, spicy, bitter, and sweet!
So yes, you're sure to leave the Land of Smiles with a happy tummy when you try these culinary delights.
.
#1 – Tom Yum Goong (Spicy Shrimp Soup)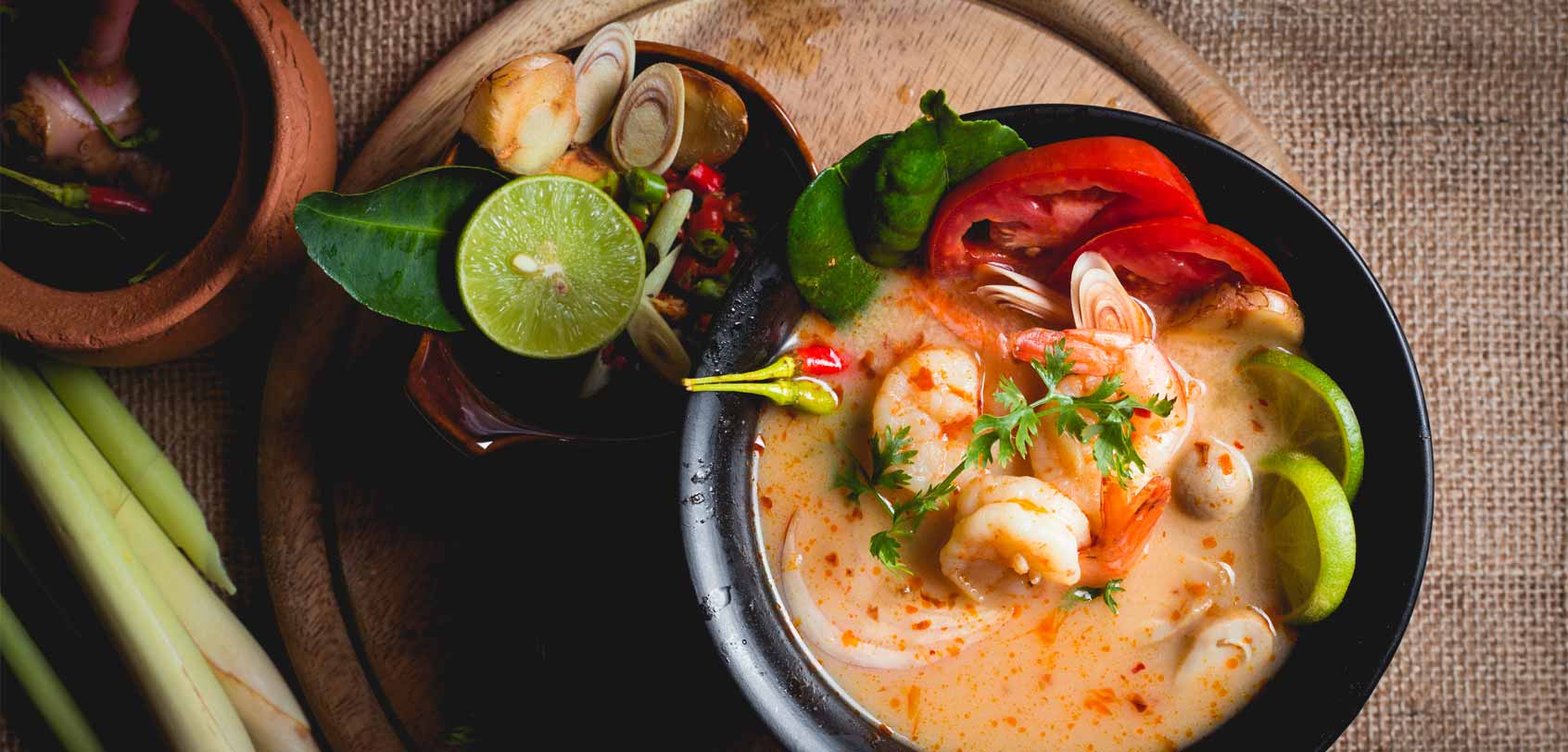 Photo from SharkPaeCNX/Shutterstock
This dish is a delicate balance of sour, salty, spicy, and sweet, so it's no wonder that this ranks high in the World's 50 Best Foods survey!
Shrimp is mixed in a hot and sour broth flavored with lemongrass, kaffir lime leaves, galangal, lime juice, fish sauce, and chili peppers for a spicy kick. You can add in your choice of meat for this which can be chicken, beef, pork, or shrimp. You can also order tom yum goong with coconut milk (tom yum goong nam kohn) or without (tom yum goong nam sai).
Where best to eat it? Pe Aor Tom Yum Kung Noodle found in 68/51 Soi Petchaburi 5, Between Soi 5 – 7, Phaya Thai, Ratchathewi. They use fresh prawns and also add fat from the shrimp heads for a creamier broth.
.
#2 – Pad Thai (Stir-Fried Noodles)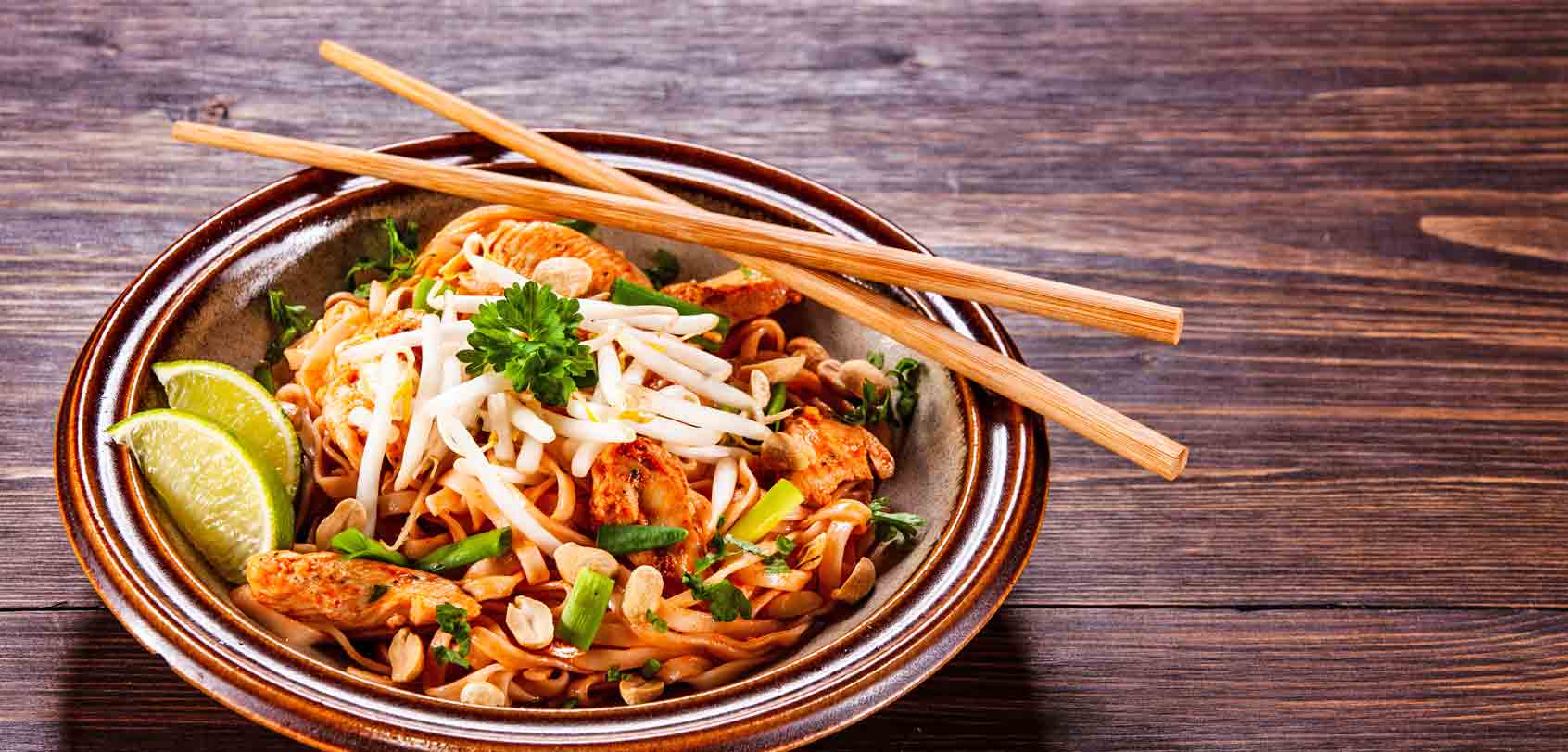 Photo from Jacek/Shutterstock
If you find tom yum goong too spicy for your liking, why not order the sweet and sour crowd favorite Thai food, the pad thai?
These rice noodles are stir-fried with tofu, bean sprouts, eggs, and either shrimp or chicken followed by some other seasonings like chili, fish sauce, ground peanuts, and sugar. If I may add a tip, add a dash of lime juice before digging in!
Where best to eat it? Pad Thai Thip Samai found in 313 Maha Chai Road, Samran Rat, Khet Phra Nakhon.
.
#3 – Gaeng Keow Wan Gai (Green Chicken Curry)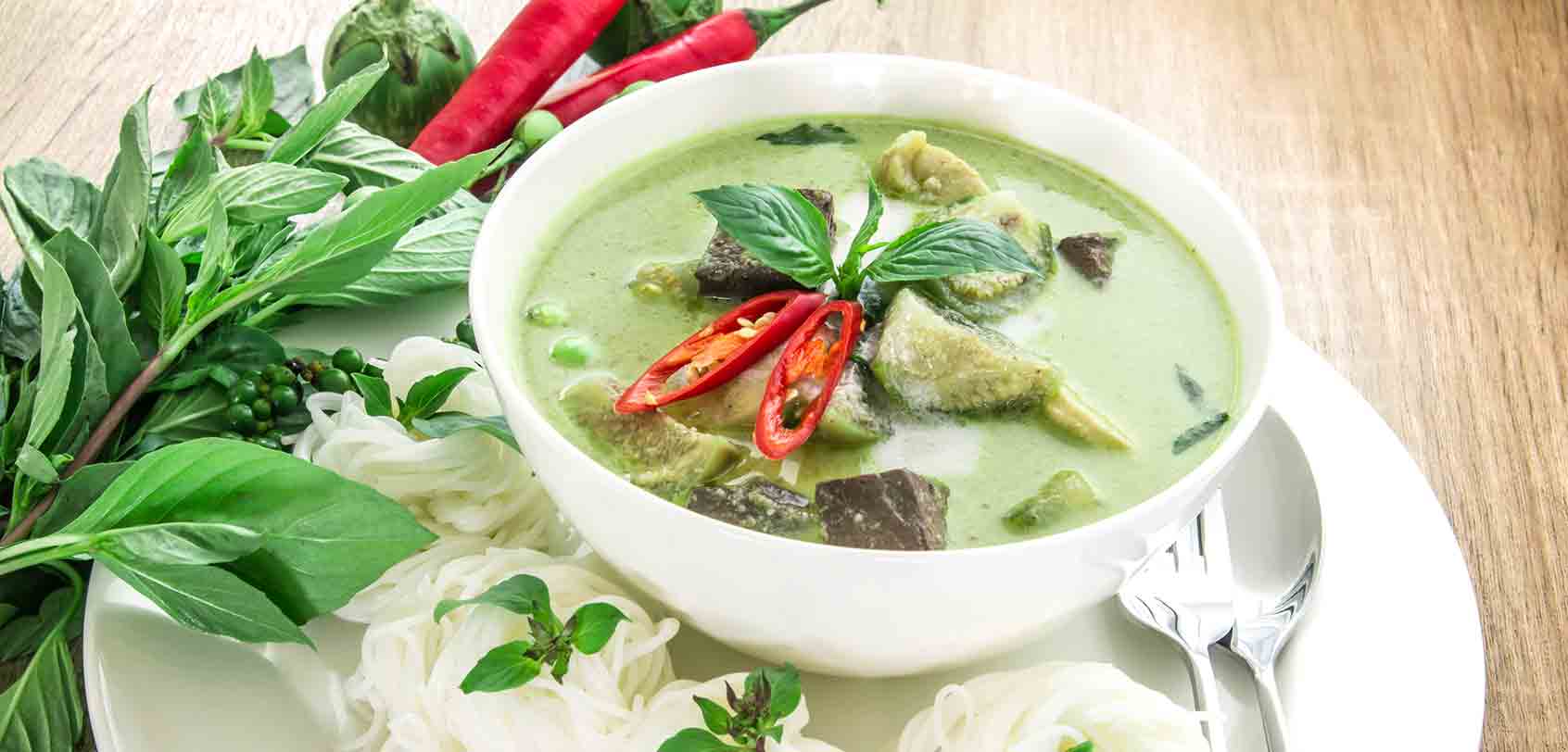 Photo from Cozine/Shutterstock
For the spiciest curry you can get, look no further than the gaeng keow wan gai!
Slices of chicken, Thai eggplant, bamboo shoots, coriander, and basil is combined with the flavourful green curry paste that's a combination of coconut milk, green chili, kaffir lime, galangal, shrimp paste, cilantro, lemongrass, and other spices. (P.S.: Gaeng keow wan gai is best served with fragrant jasmine rice!)
Where best to eat it? Sanguan Sri Restaurant found in 59/1 Witthayu Road, Lumpini Subdistrict, Pathum Wan District.
.
#4 – Gaeng Daeng (Red Curry)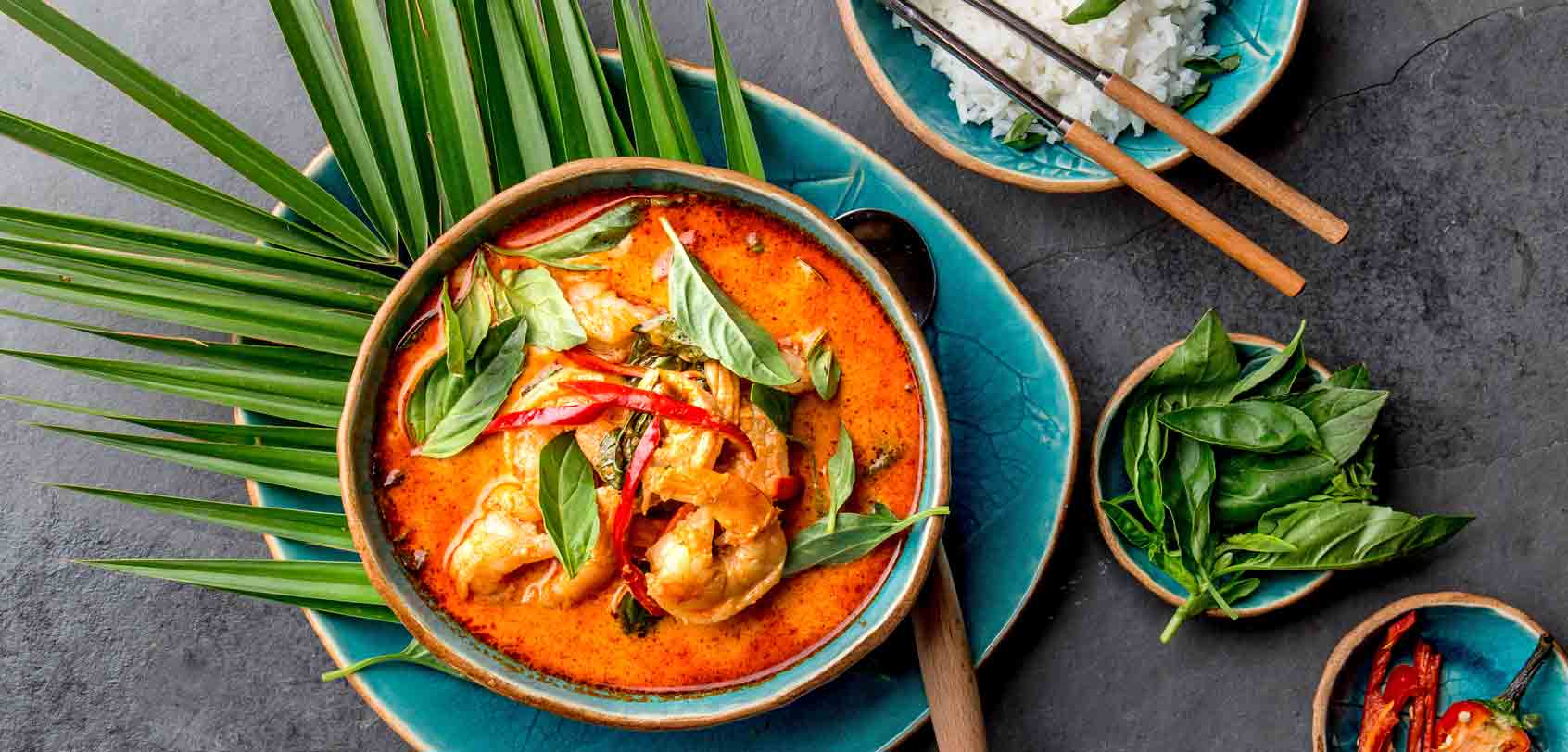 Photo from AUTHOR/Shutterstock
Select from the usual chicken, beef, pork, or maybe even duck, shrimp, or tofu. Your choice of meat is then cooked in delicious red curry paste and coconut milk.
Afterwards, it is seasoned with garlic, shallots, chili peppers, galangal, fish sauce, and kaffir lime leaves for that complex Thai food flavor! Yum!
Where best to eat it? Gedhawa found in 24 Sukhumvit 35 Rd. Wattana, Bangkok.
.
#5 – Khao Phat or Khao Pad (Fried Rice)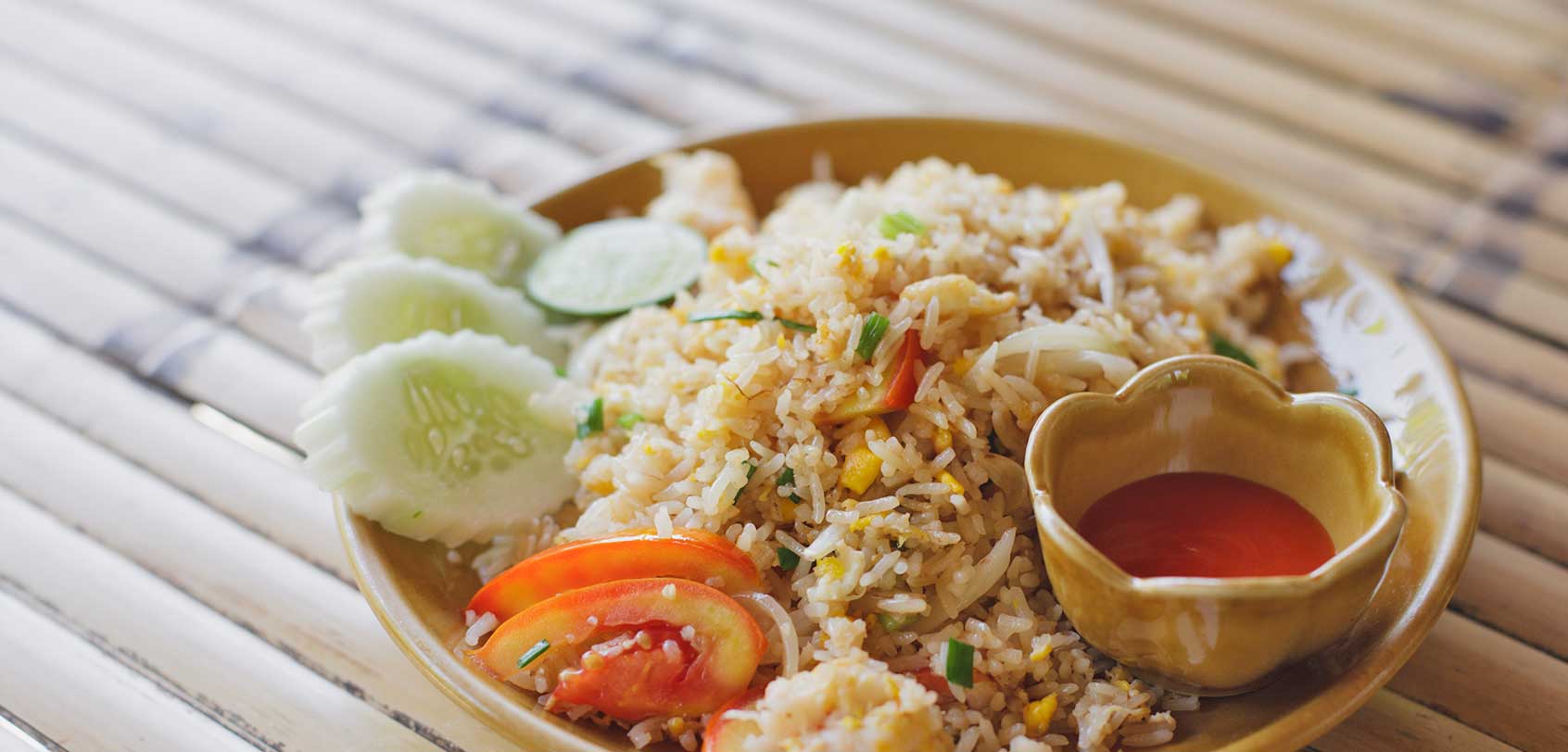 Photo from ArtemZ/Shutterstock
In the Thai language, 'khao' means rice and 'phat' relates to being stir-fried. Consisting of Thai jasmine rice, small meat slices, egg, onions, garlic and sometimes even tomatoes along with various seasonings, this Thai food dish may be simple but it packs a great mix of ingredients and flavors!
At times it comes in other variants like coconut fried rice, pineapple fried rice and basil fried rice.
Where best to eat it? Available in a lot of restaurants, shops, and even street food stalls.
.
#6 – Tom Kha Gai (Chicken in Coconut Soup)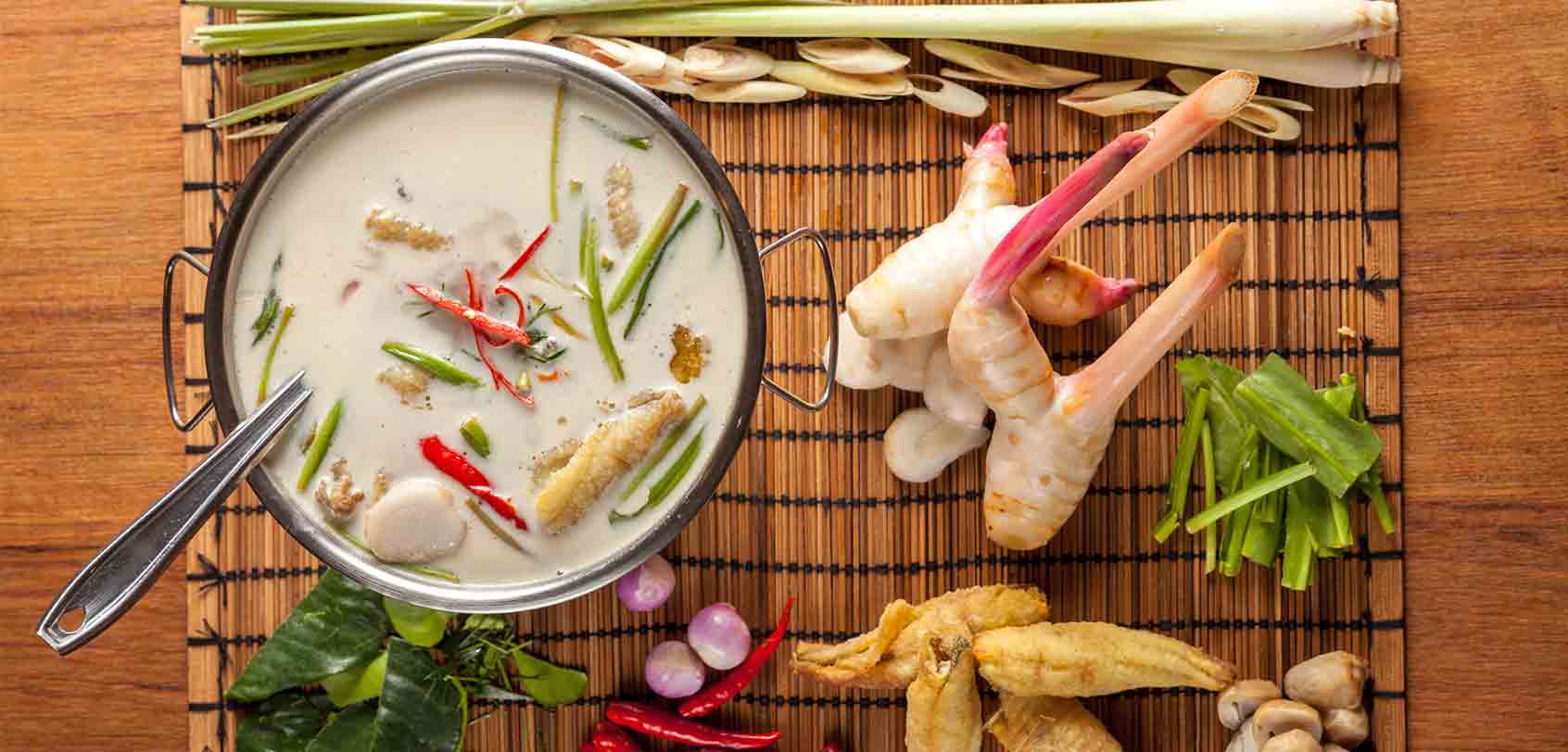 Photo from nEwyyy/Shutterstock
This sweet and tangy soup dish is another safe bet for travelers! If you're curious, this Thai food dish is made of chicken strips, chili, galangal, lemongrass, shallots, and lime that are cooked in coconut milk for a tasty meal.
Where best to eat it? Nalin Kitchen found in 1463 Charoenkrung Road Silom Bangrak.
.
#7 – Khao Soi (Creamy Coconut Curry Noodle Soup)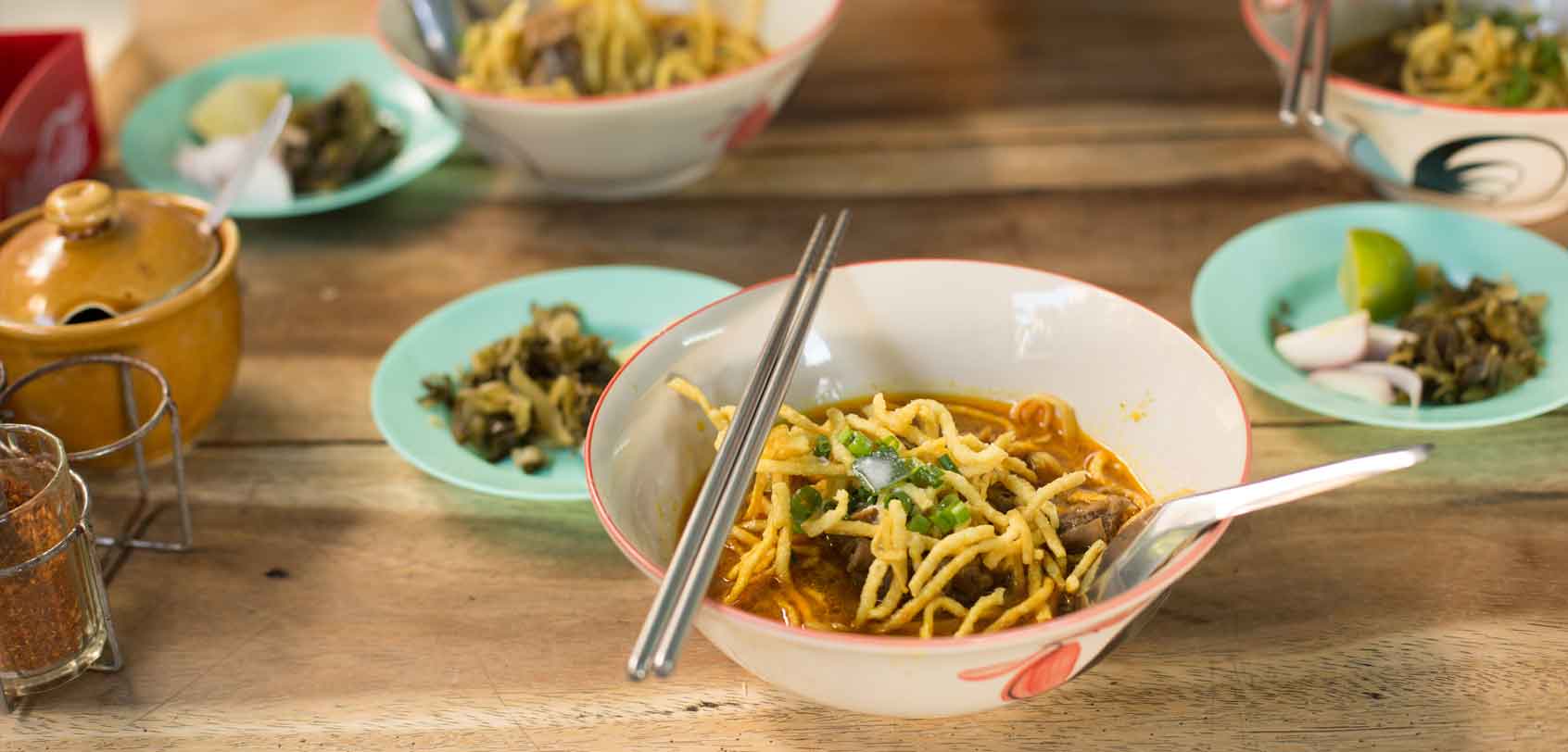 Photo from Rachel Moon/Shutterstock
Delight in the different textures of this regional specialty from northern Thailand.
This silky noodle dish is cooked in coconut milk-based curry, then garnished with crispy egg noodles. The hearty meal can also be cooked with curdled blood or rice noodles, depending on where you order.
Where best to eat it? Khao Soi Samer Jai found in 391 หมู่ที่ 2 Fa Ham, Amphoe Mueang Chiang Mai.
.
#8 – Yum Pla Duk Foo (Crispy Catfish with Green Mango Salad)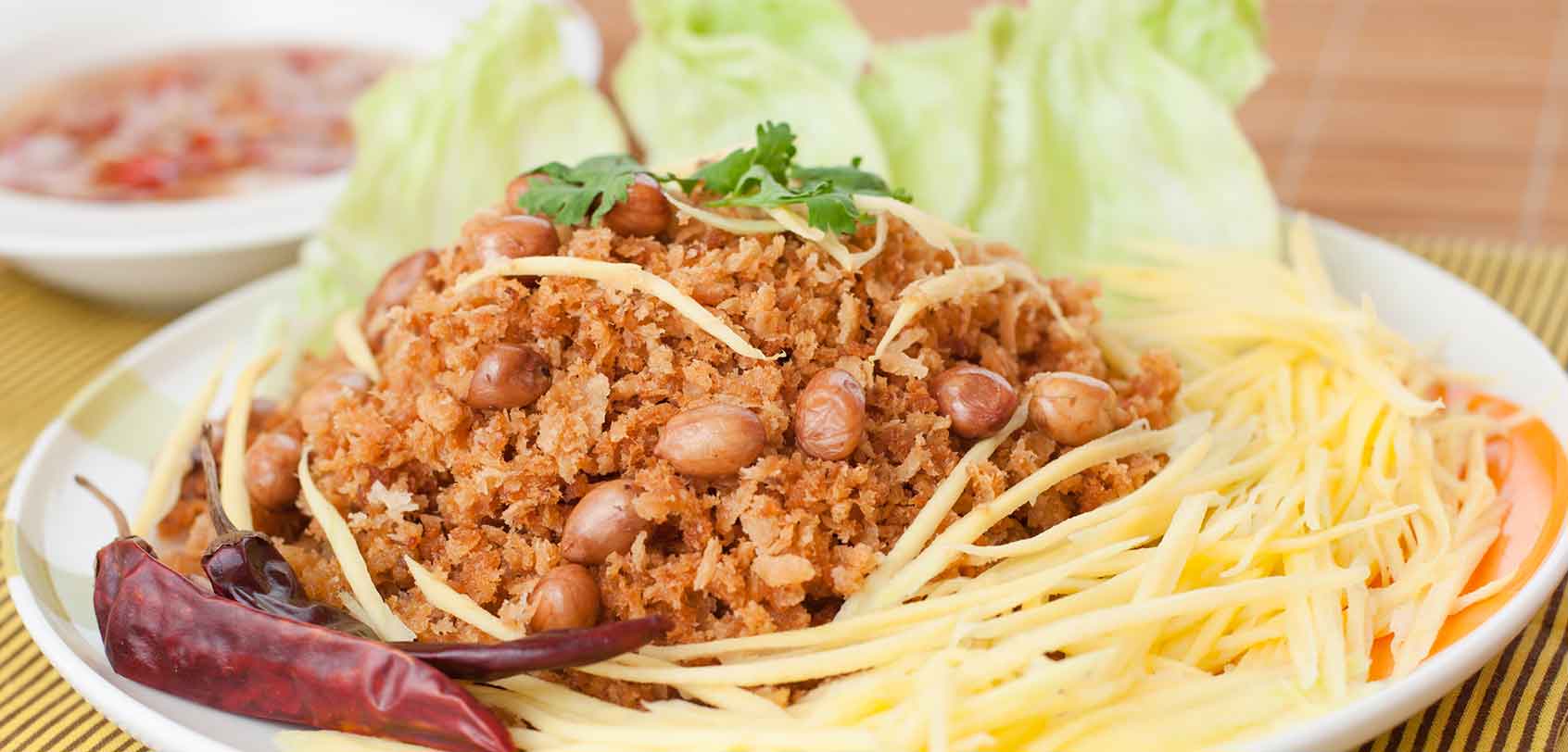 Photo from Xiebiyun/Shutterstock
Here's another play on contrasting textures and flavors when it comes to Thai Food!
So make sure to snack on this crunchy and fluffy deep-fried catfish together with tangy green mango salad. It would surely make for a great appetizer to have when visiting Thailand.
Where best to eat it? Krok Restaurant found in Soi 2 Siam Square Bangkok.
.
#9 – Som Tam (Spicy Green Papaya Salad)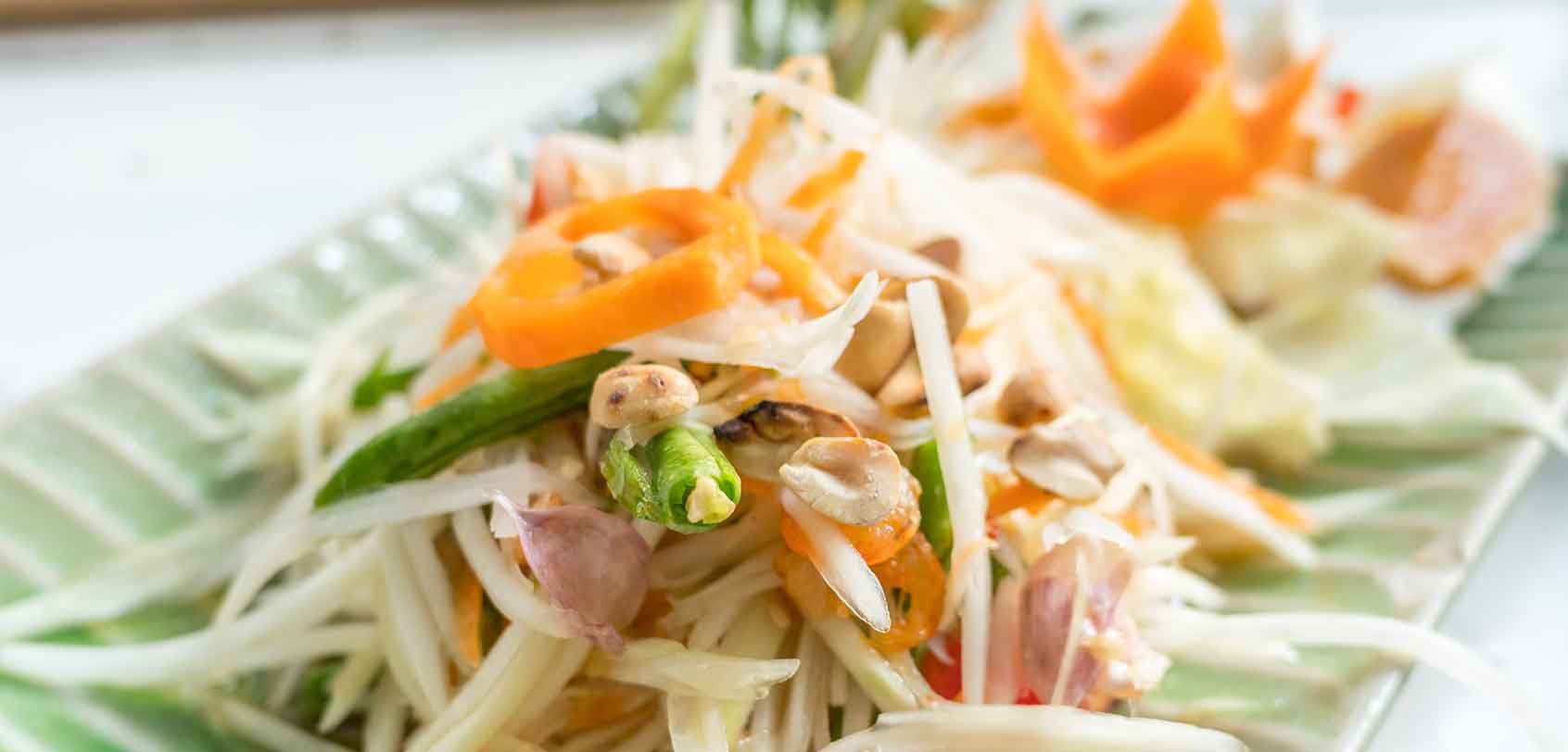 Photo from Tortoon/Shutterstock
Sample this delectable dish that originated in northeastern Thailand!
Som tam's main component is shredded green papaya, which is cloaked in the flavors of ground chili, cherry tomatoes, garlic, and green beans. Fish sauce, lime, sugar, and peanuts are also thrown in for a spicy, sweet and sour flavor.
Truth be told, it is usually eaten with sticky rice to complement the crunch of the green papaya. Other versions include crab (som tam boo), salted egg (som tam khai khem), and fermented fish (som tam plah lah).
Where best to eat it? Somtum Der found in 5/5 Saladaeng Rd, Khwaeng Silom, Khet Bang Rak, Krung Thep Maha Nakhon
.
#10 – Pad Pak Boong (Morning Glory)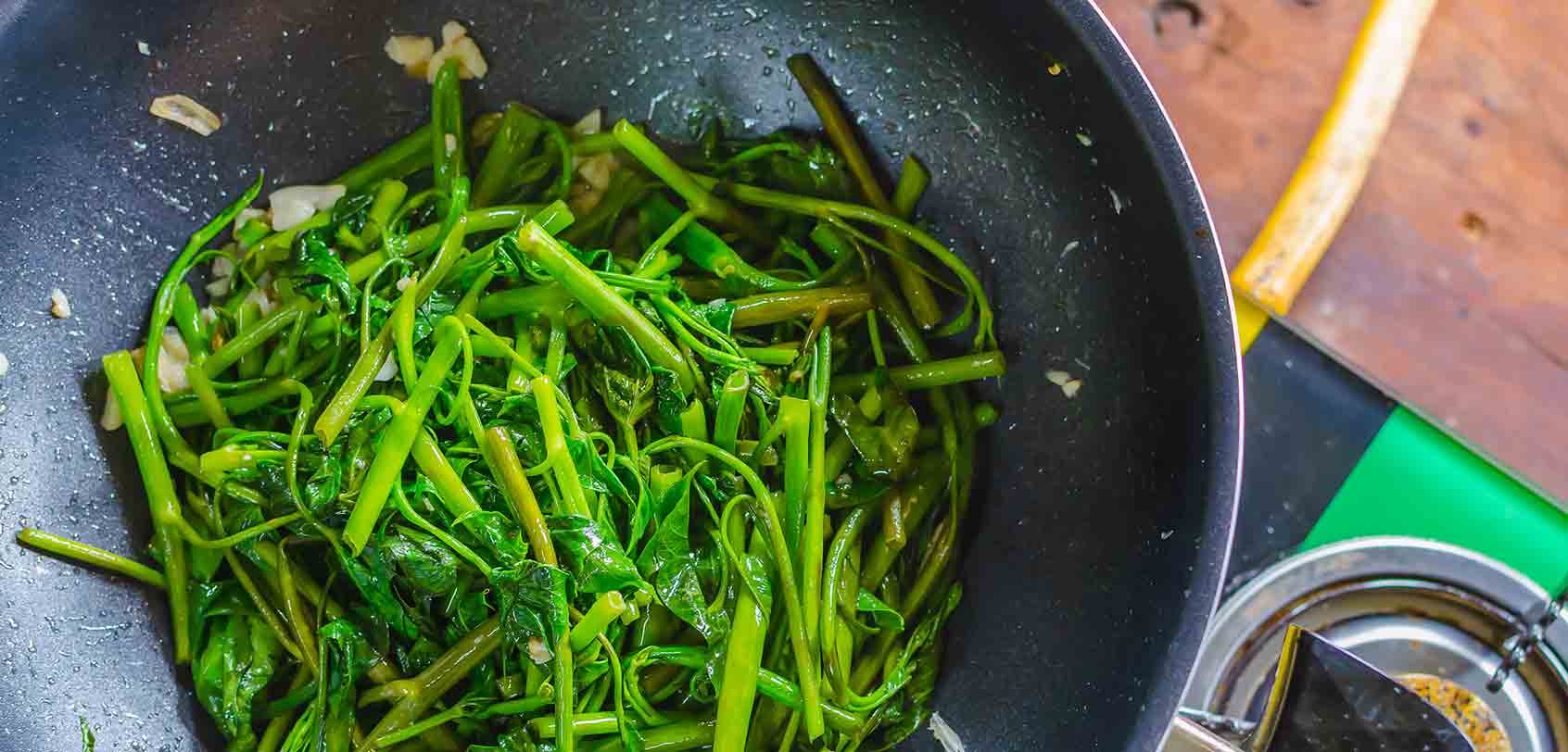 Photo from Torjrtrx/Shutterstock
The leaves and hollow stems of morning glory, also known as water spinach, are stir-fried at a high heat together with fermented black bean, fish sauce, oyster sauce, garlic, and chili.
This Thai food dish is in fact, not only healthy but also incredibly tasty!
Where best to eat it? Na's Kitchen found in Wiang Tai, Pai.
.
#11 – Pad Kee Mao (Drunken Noodles)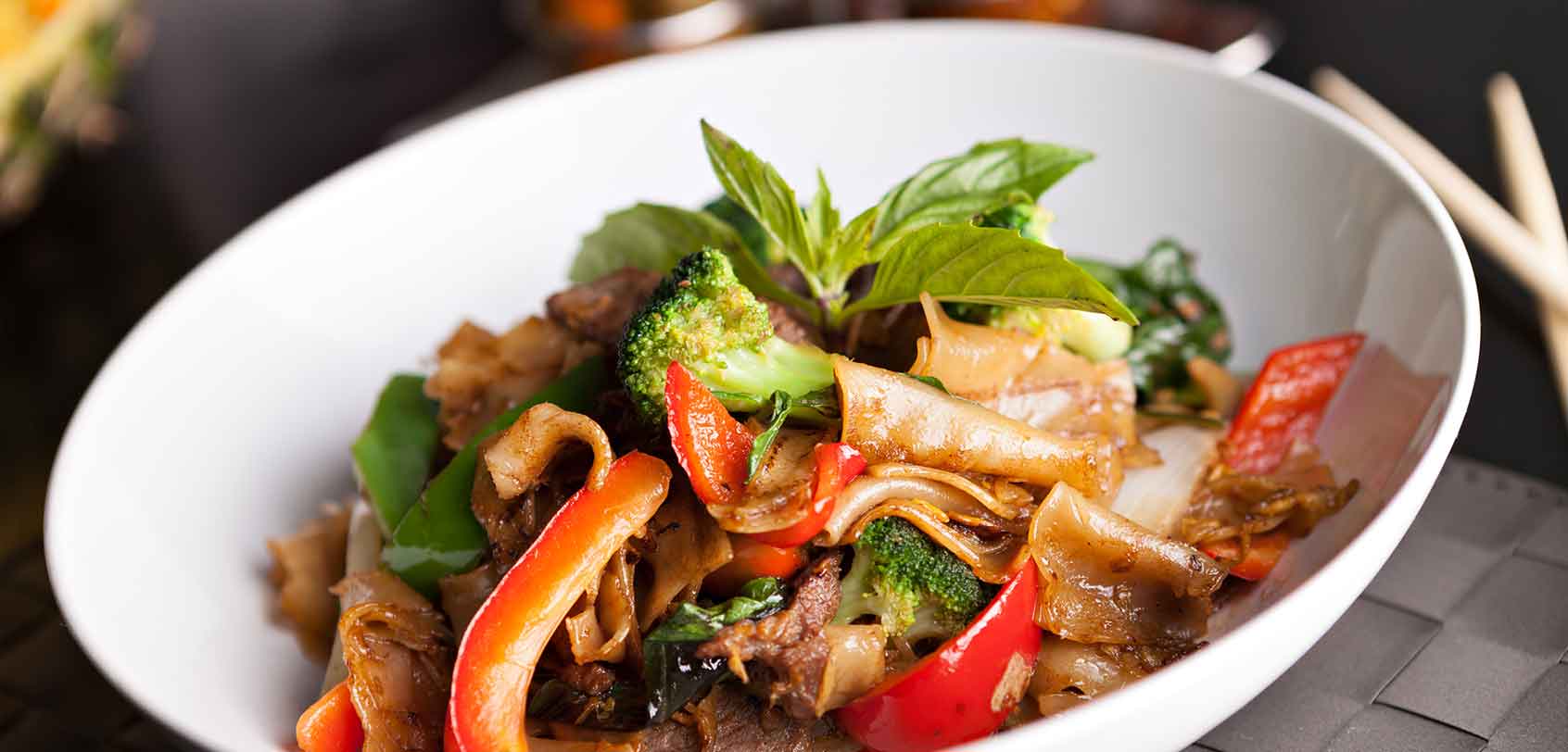 Photo from ARENA/Shutterstock
Savor a hearty dish made of stir-fried rice noodles, Thai basil, vegetables and your preferred meat tossed in fish sauce and soy sauce.
Loosely translated to 'drunken noodles', rest assured, it has no alcohol! There are several theories why this dish gained such a name but we can rely on the truth that it's quite a good dish to eat when drinking alcohol!
Where best to eat it? Michelin-starred Raan Jay Fai found in 327 Maha Chai Road, Samran Rat, Khet Phra Nakhon, Bangkok
.
#12 – Khao Niew Mamuang (Mango Sticky Rice)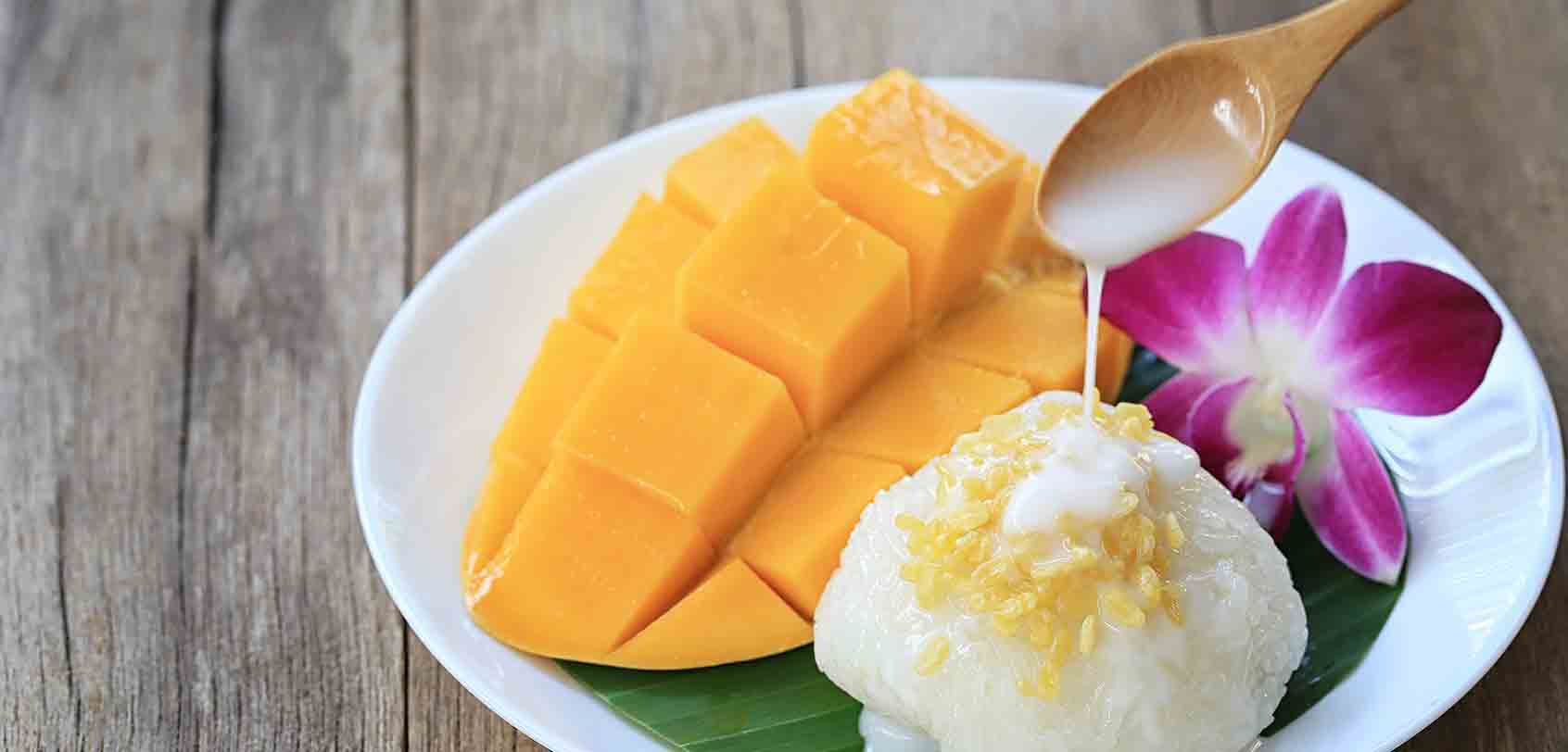 Photo from Stock2You/Shutterstock
End your meals on a sweet note with this lovely treat! Indulge in juicy mango slices and a sticky rice drenched in coconut cream or condensed milk — just thinking about this Thai food dessert makes me crave for it instantly. When you get to taste it, you'll surely understand what I mean!
Where best to eat it? Kor Panich found in 431-433 Thanon Tanao, San Chao Pho Sua, Phra Nakhon, Bangkok.
.
OTHER TOP THAILAND ACTIVITIES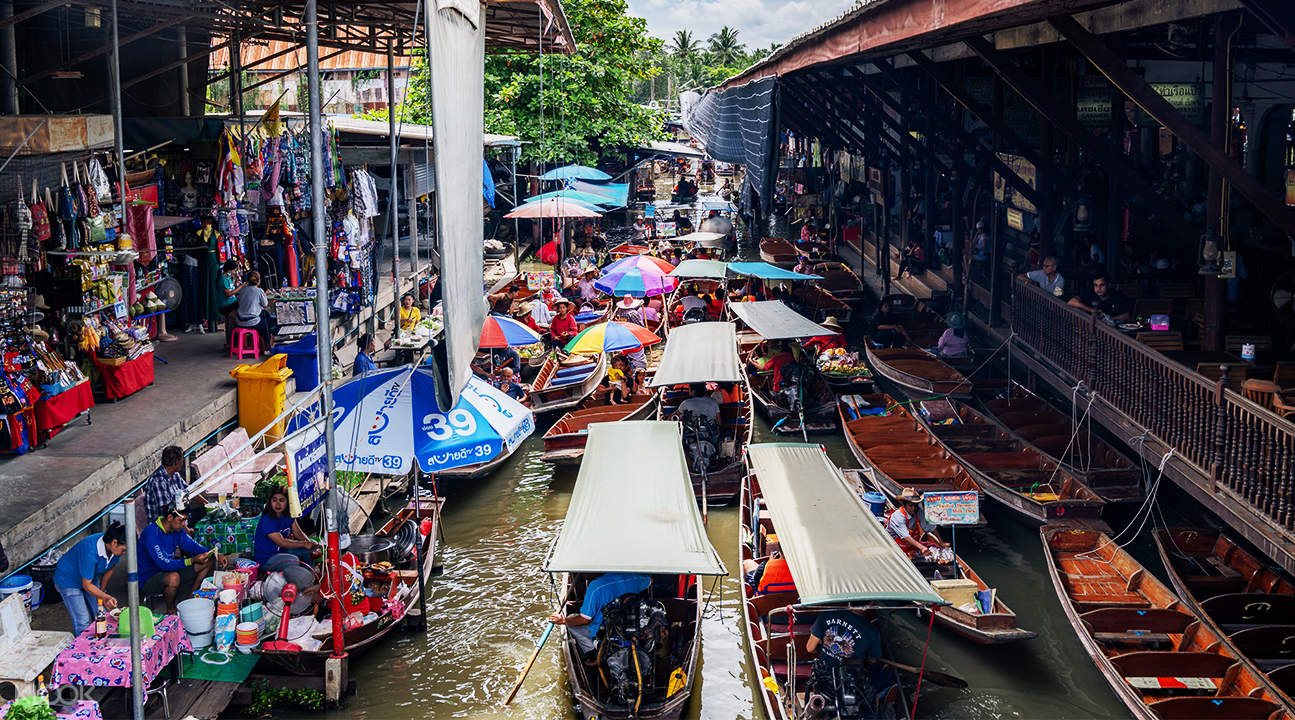 Thailand Floating Markets Tour
Visit the famous markets from Bangkok!
Thai Massage Packages
Get an authentic luxury Thai massage at Bangkok!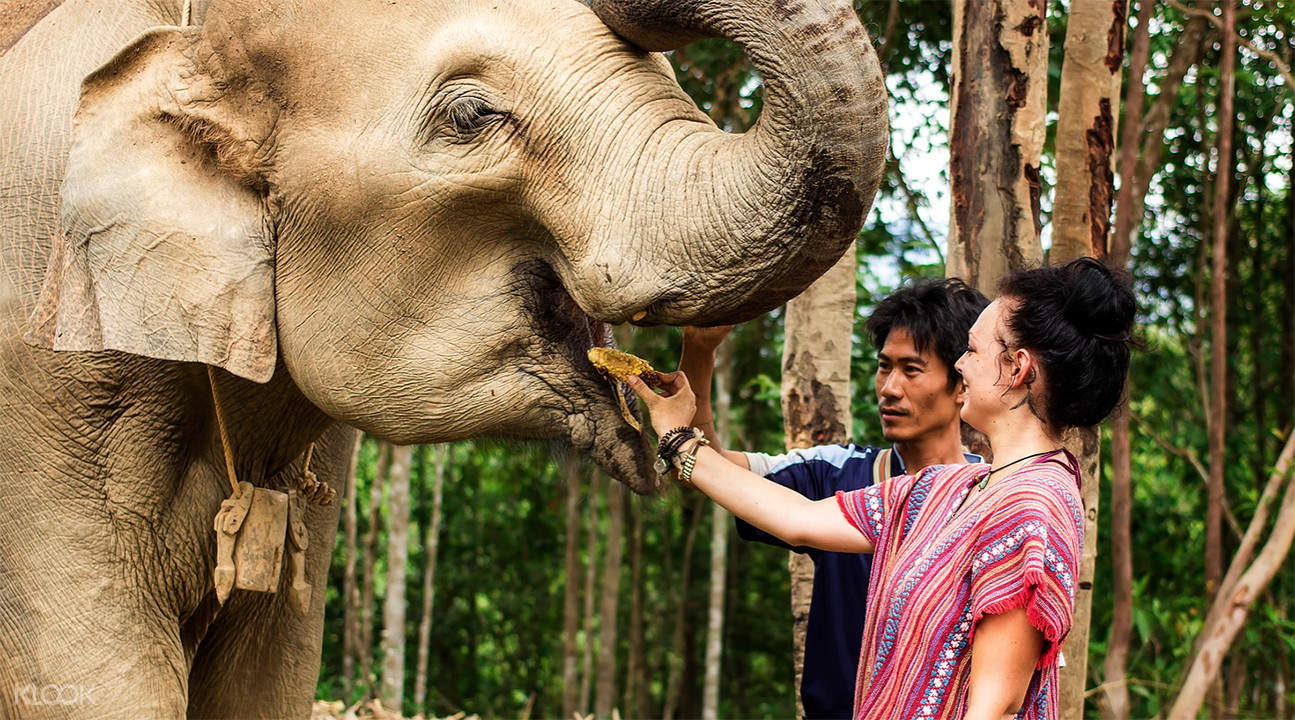 Elephant Jungle Sanctuary
Unique NO-riding interaction with these gentle giants!
.
.
Discover why Thai cuisine is celebrated all over the world with these scrumptious dishes!
What do you think of these Thai food dishes?
Which of the dishes above would you love to try?
Or have you tried any of these dishes before? How was it?
YOU MIGHT ALSO LIKE
Older Post
Newer Post
Hey there! I am Aileen Adalid.
At 21, I quit my corporate job in the Philippines to pursue my dreams. Today, I am a successful digital nomad (entrepreneur, travel writer, & vlogger) living a sustainable travel lifestyle.

My mission? To show you how it is absolutely possible to create a life of travel too (no matter the odds), and I will help you achieve that through my detailed travel guides, adventures, resources, tips, and MORE!

NEW READER? START HERE!
CONTINENTS: 7 ~ COUNTRIES: 59
Join over 1 million people and receive exclusive giveaways, travel tips and so much more!