I was born and raised in an island so it's an irony that I don't know how to swim… I simply survived my island life by staying on the beach or by staying in the shallow areas of the ocean. At one point, I think I've even actually feared the sea! (That is due mainly to numerous near-drowning experiences. LOL) And I guess, I still fear those deep blue bodies of water.
…So does that mean that I'm technically not an island girl then? Haha!
But anyway, despite being a non-swimmer, I'm an adrenaline junkie, so I certainly won't let myself reach the age of 21 without facing my fears! And luckily, back in May 26, 2012, some of my friends from work invited me to go surfing in Baler and heck, I didn't say no to that!
This was actually my first experience in surfing! To sum it up in one cliché but truthful word: EPIC.
Where is Baler?
Baler is the capital of the municipality of the Aurora province; it's roughly 230 kilometers away from Manila and the travel time by land takes around 7 hours or more (or less if you're lucky on the road). This is said to be the birthplace of surfing here in the Philippines and sure enough, there are a lot of prime spots for surfers to enjoy.
Beginners can go for Sabang Beach, while the pro-surfers should check out Cemento's Cobra Reef and Charlie's Point. There's also Linda's Point, and another unnamed great spot at the mouth of the Baler River.
Friday
We availed the trip package from Travel Factor, and our schedule for this trip was that at 11:30PM, we'd all have to meet at Ortigas and then depart for Baler. My companions and I decided to meet up after work so we could all travel to Ortigas altogether.
Lucky ol' me, I had to do overtime. (Boo!) But by 8PM I was done. I met up with Rea and Alvin at Kuppa—where by coincidence, I saw my boss in the table next to us. Haha! Anyway, we hung out and played cards while we waited for 10PM to come. (Technically, only the two of them were playing cards. I don't know shit about cards. A lot of people have tried to teach me over the years, but I just don't have the patience to really absorb it all.)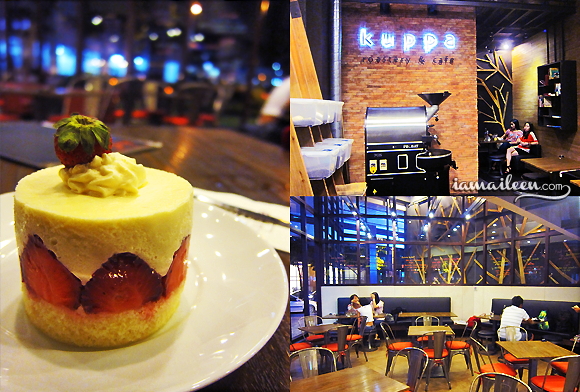 We finally traveled to Ortigas and met up with Brylle, our other companion for the trip. We then met the Travel Factor team as we were given our kits which included a cool Forever Summer shirt, bag tag, breakfast stub, and 2 stubs for free beer.
Saturday
A little after midnight, we left Manila and finally ventured off to Baler… Now at this point, let me just say that I totally blacked out. Totally. I slept like a big baby, that not even the twisting roads of the Sierra Madre mountain range woke me up! Rea even had to do the grueling task of constantly pushing my head just so I could go back to an upright position as I sleep!
Ooooh, I love you, baby girl. Haha!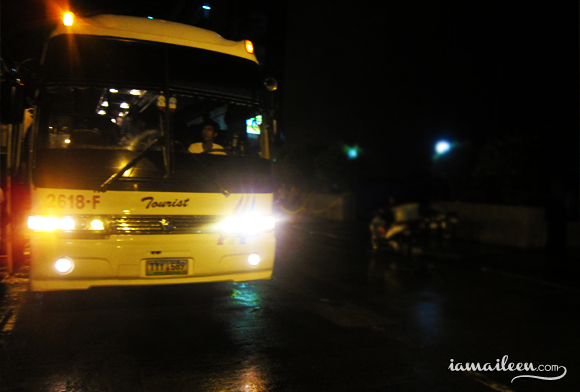 By 7AM (I think?) we arrived at Baler, and our bus stopped at the Aliya Surf Camp, our to-be place of residence during our 2-days stay.
Naturally, I was all groggy that morning, but the moment that I stepped out of the bus, I caught the familiar scent of the sea! And boy… it was all nostalgia from then on!
We walked over to the open area of Aliya to take a glimpse of the beach and… it was so exhilarating! I mean… I felt like I was back in Batanes! But the difference was that, of course, the waves in Baler's beach are way more powerful and higher; and yes, it's technically NOT Batanes. Haha, but I think that the fact that it's the province just made me miss my province. But anyway. Speaking of the 'beach', we were at Sabang Beach for this trip, which is perfect for us beginners.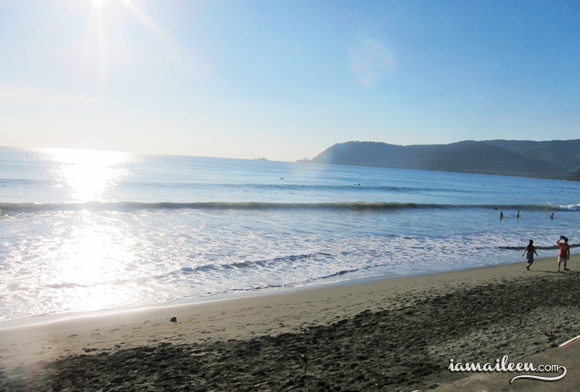 As for the Aliya Surf Camp, the place was small but neat! Apparently, there aren't grand resorts nor hotels in the area, only small and simple inns for visitors like us. (Calling all entrepreneurs!)
So for the record: everything was going really swell! But then… the trouble started.
Travel Factor informed us that we weren't checked in to Aliya Surf Camp like the rest; we were part of the people who would have to lodge somewhere else. At first we were all: it's fine, whatever. But then, to our surprise, we were led to this really not-so-good inn—which would have actually been okay, really. But just one look at the place, we instantly knew that it wasn't what we paid for. And we just can't accept that.
We raised our concerns to the team and they apologized. They offered to give us a refund of P200; but they couldn't provide a different place for us (actually, they offered another place, but it was far worse). Now, Alvin, who frequents Baler for his surfing trips, told us that a room in Bayler View Hotel (a waaaay better place) would only cost us a total of P2,000 for ALL of us four; so with everything that was going on, they're meaning to tell us that the rooms that we were going to be put in costs P1,000 each? Plus, the refund is going to be that small? It just doesn't sound right. One of the Travel Factor people even gave lip from the sides about our concerns, and surely, that was off. Alvin had to take it up to their management; whom he knows.
But things were moving real slooooow. So in the end, we didn't bother talking to them anymore.
Actually, for me, I didn't really mind this hassle because I was at Baler for the surfing experience. Besides, it's not like the place that we were moved into was inhabitable—but, it was just… not the kind of place that we paid our money for. So yes, Travel Factor was really… disappointing. With their kind of service, I don't think we'd ever go for them again. The only reason why we had to take them up was because Bayler View Hotel was already fully booked… It just bugs me though that if they really value their customers, the team would have been willing to give up their own rooms in Aliyah for us; but no, they didn't even think about that.
Err, whatever. Putting this aside, we decided to grab breakfast at Bayler View Hotel, rest for a bit, and then get on with the surfing. No joke on this one, but just the thought of having to learn how to surf made me totally forget all the fiasco with Travel Factor! Haha!
Moving on, by 10AM, we went over to Mahdox Surf where Alvin and his surfing buddies frequent in:
There, we saw the instructors who were mostly young, 'very' tanned, and very well-built. They were also really nice and friendly! Alvin went on ahead to do his own surfing thing, Brylle decided to rest in his room for a bit, and so that leaves me and Rea: and surfing it was for us! For only P350 an hour, we rented a board and an instructor. My instructor's name was Sander "Agas" while Rea's was… well, I forgot. Haha! But they had such funny/interesting nicknames! There was one who was called "Bato" and I don't know why. LOL.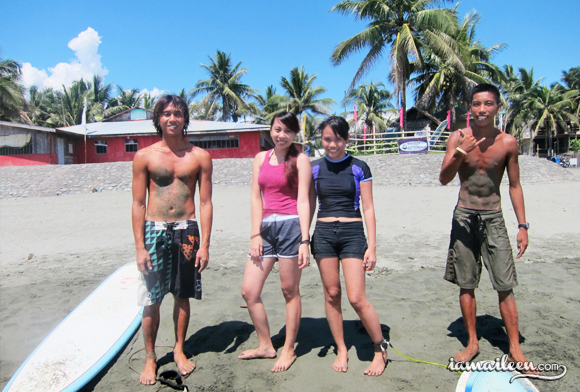 I was an hour away from loosing this color; going from fair to brown. LOL.
I remember one of my friends telling me how surfing uses a lot of 'push-up' movements, and at first I didn't believe him. But, damn…… I believe him now! HAHA! It really uses a lot of arm power and tests your balance too!
But for a start, here were some of the pointers given to us:
A surfboard has the following parts: the nose (top), rails (sides), tail (bottom) and the deck; basically where you'll be lying down on.
There's also the leg rope. Think of what foot you'd first put in front of you when walking. Mine is my right foot, so I put the leg rope on my left foot. So if yours is left, then the rope is on your right. (Basically, put the rope on the foot that's going to be resting near the tail when you stand up on your surfboard)

Lying down.

When lying down on the board, the nose shouldn't dig into the water, and your feet near the tail, so your face is basically on or near the middle part of the deck, face-down. Your hands should be on the rails or near your chest as if you're ready to do a push up.
Standing up. Lie on chest, look ahead, and hands beside your shoulders, and then push yourself up as if you're doing a push up, and then sweep your feet near the middle of the deck to stand up—but stay low; bend your knees. And then balance! It's like doing a sumo wrestler stance. Haha!

TIP

: Don't look at your feet; just look ahead. It'll help you stay on board. Haha!

Falling down.

Falling down on your surfboard is inevitable! So if you feel like you're going to fall, jump to the side. Not to the front. And when you fall and rise, look at the waves and look for your board. Ensure that your board is behind you and not between you and the waves, or else you'll get hit!
Wiped out! When you fall, best to cover your head with your elbows together to avoid getting hit by your board. You can stay underwater for as long as necessary if you're unsure of your board's location and if you know that the waves are strong.
Paddling. While lying face down, do the crawl stroke to paddle. One arm first and then the other.
Incoming waves. If you're lying face down on your board and there's an incoming wave, hold the rails or put your palms down near your chest and your head up; always ensure that you're looking ahead, or raising your head, or else, when the wave comes, your board will hit your face.
Stay calm.
So we first practiced in the sand, and I swear, it's hard to push myself up from the board! No wonder these guys have such toned bodies!
Since I'm a beginner, Sander told me that I can try standing up slowly—my left foot first so I could push myself up, and then my right foot to position myself on the middle of the deck. Whew. Work it, girl!
Our practice was brief, and with much anxiety on my part, we finally proceeded to the ocean!!! WOOT!
Now the waves for this day were mostly big and strong! So most of the time, I was lying face down on my board with Sander behind, guiding me with the board. But! It was still fun because there were these really high waves and it was great riding them over, splashing down, and—okay, I can't explain it well! But bottom line is: it was hell fun!
When there were moderate waves, Sander would turn my board around (facing the shore) and then he would shout when would I have to stand up after he lets my board go along with the wave. Of course the first attempt and the ones after that weren't successful. I would often fall off my board, mainly because my feet won't go on the middle part, or that I just can't balance myself. Haha!
So Sander told me to just relax and take my time. I took a deep breath and tried to calm down my nerves—because it was in knots! I was really nervous! Who wouldn't be? Haha! But in the end, ladies and gents… I finally stood up!!! It was awesome!!! And from that point on, I went on a roll, and I did feel so cocky that I could actually surf! LOL.
Still, I kept on asking Sander for more tips and advice; like for instance, when I'm nearing shore, he said that I shouldn't purposefully fall off the board because it's not like my board will collide with the sand and then throw me off HAHA but, yeah. Sander was really helpful!
At one point actually, he asked if I wanted to try a bigger wave. The daredevil that I am, I said yes! And when the big wave came in, it was too strong and the board was moving too fast for me, that in the end, I got thrown off even before I could stand up! It was hilarious and I kept on laughing afterwards! And can I just say? The falling down parts were also fun in itself! I don't know, but it just is! You guys should really try it out to know what I mean.
Now for my pictures!
And that's it.
I mean, these two are the only photos of me while surfing. Bummer, right? But we were all just having so much fun that we didn't really have time to take pictures of one another. YES. TOO. MUCH. FUN. that in return, if you could see me right now, I'm all red and brown. Baked and fried, baby.
I even keep on joking how I'm the girl on fire right now: red hair plus red skin. I can't actually gather the courage right now to wear a skirt nor a sleeveless top; and at times my skin will get itchy and scorching. And my body: everything hurts!
BUT I REGRET NOTHING!
And oh, surfing in bikinis is hell sexy, yes! I sure want to surf while wearing one! But I realized that with such powerful waves… I just won't risk it. Haha! My top gets taken off easily when I fall down, so how much more with a bikini, right? If I become more experienced, then yes, I probably would, but as I am now… NO. Haha!
It's a bit unfair actually, because Brylle, who is also a first-timer in surfing, managed to surf alone in first try despite renting an instructor in the process. So yes, basically, his instructor was just wading there in the sea watching him—or for the most part, watching girls' butts. LOL. So when he was finally ashore, we threw compliments to Brylle, to which he replied with: "Well, because I'm a guy!"
…Now if only we can throw punches his way too. HAHAHA! Kidding!
We finished a little after noon and decided to grab lunch by Rolling Stores. It's where these turo-turo (small and cheap eatery) stores are lined up, and I was really happy that the food tasted great no matter how cheap it could be!
After this hearty lunch, we decided to snooze. (We were all so tired from surfing! …and full!)
Funny thing is, we wanted to wake up at 3PM so we could surf again but we ended up waking a little over 5PM. Haha! In the end, we just decided to grab a snack, hang out, and then dinner at this cheap and popular buffet place in the area.
Night time: we hung out at Aliya for Travel Factor's party where we played billiards, drank booze, and listened to reggae. I actually don't drink beer, so I gave the stubs to my companions, and in exchange they bought me cocktails (as well as for Rea) when we switched places to drop by at Bayler View Hotel to meet some of Alvin's friends. The rest of the night was all about stories, liquor, and food; which was great! It's just like how I imagined us spending the time away by the beach.
Sunday
We woke up at 9AM, and what else to do after breakfast at Aliya's other than to go surfing??? Haha! Sander was my instructor again for the day and he tried to make me do my own paddling, and at some times, left me to my own devices so I could try balancing on my own.
The funny thing is, on this day, I mostly get wiped out! At one instance, I was TOTALLY wiped out that my feet was in the air! HAHAHAHA! This was when Sander wanted me to try this big wave and as per usual, I failed miserably. Sander even jokingly said, "Yesterday, you were better!" To which I replied, "I'm too tired!"
And I was! I really was! I woke up with sore arms, ribs, and knees! And it was torture… but I couldn't say no to another round of surfing! I just wouldn't!
We ended at about noon, and by this time, I started to notice how my legs and arms were starting to get really red. Minutes passed and it started to get itchy and it stung so bad! Our bus was going to fetch us at 3PM, so after taking lunch, I took a shower, and immediately applied lotion to the sore areas on my body—man, it was soothing, but it was still hurting! So much for my sunblock!
So as of now, I am sooooo brown. But there's no helping it! Haha!
Overall, all I can say is that I could get used to surfing! We're definitely going back, that's for sure! (Especially since we didn't have the chance to visit the other famous spots in Baler like the Balete Tree, etc. etc.) But not too soon though; I need to give my body and skin a much needed break. Haha! Nonetheless, I can't wait!!!
Baler, I shall see you again!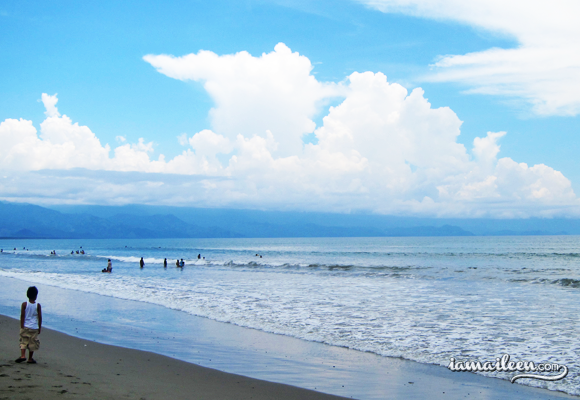 Have you tried surfing before?
What are you going to do for this year's Halloween?
Have you ever made jack-o'-lanterns before? What did you make?
YOU MIGHT ALSO LIKE
Older Post
Newer Post
Hey there! I am Aileen Adalid.
At 21, I quit my corporate job in the Philippines to pursue my dreams. Today, I am a successful digital nomad (entrepreneur, travel writer, & vlogger) living a sustainable travel lifestyle.

My mission? To show you how it is absolutely possible to create a life of travel too (no matter the odds), and I will help you achieve that through my detailed travel guides, adventures, resources, tips, and MORE!

NEW READER? START HERE!
CONTINENTS: 7 ~ COUNTRIES: 59
Join over 1 million people and receive exclusive giveaways, travel tips and so much more!