Last November 18, 2012: despite being swamped with work at Deutsche Bank I took a spontaneous trip to Cebu over the weekend to see Jonas. This was still during our 'dating' phase! He was supposed to be the one to come over to Manila to see me, but he already did that last October 2012 for more than 3 weeks so I thought that this time around, it should be my turn. Especially because we really wanted to see each other. :)
And so, I booked a flight then and there! (You could not believe how good that feeling is when you do something spontaneous: it's like a refreshing feeling, mixed with a bit of anticipation, excitement, and freedom as if you've done something very brave, haha!). Anyhow, he was very thankful, so for the rest of my stay there, he planned the rest of our trip… and so, he took me to Bantayan!
Bantayan Island is located in the Visayan Sea, and at the west part of the northern end of Cebu. It is actually one of the 20 islands of Bantayan Island Group but said to be the largest of them all.
How To Get There BY CAR: Jonas drove a car from Cebu and I think it took us around 2 and a half hours to reach Hagnaya Port in San Remegio.
BY BUS: If you don't have your own car, you can take a bus from the Cebu City North Bus Terminal, and buses like Ceres bus leaves for the port every hour.
Once you reach the Hagnaya Port, you will have to take a boat that will take you to Sta. Fe Port, Bantayan and it usually takes more or less 1 hour and 20 minutes. The boats available for travel which you could pick could either be Island Shipping (P160) or Super Shuttle Ferry (P170). You can check out the schedules here. There's also a terminal fee but it's very minimal, around P25 that would total for all two ports.
We took the Island Shipping boat and picked the open air seats so that we can have a better view of the ocean. :)
Once at Sta. Fe Port, be wary of the people who will try to give you absurd prices for a ride (of course the two of us were a magnet to these guys because Jonas was white, haha!). Anyways, our hotel was pretty near: we took a tricycle.
Accommodation Hoyohoy Villas was one of the highly-rated hotels in Agoda, so Jonas picked that one for us! (Awww, he really wanted us to have a good time!) It's a bit pricey though for a night (starting at P5,000+) but trust me when I say that the 'pricy-ness' was worth it! (We stayed here for two nights and had a beach front villa which is a bit pricier than the regular villas. Better to book with Agoda to get a discount, rather than to book directly at Hoyohoy's website.)
The hotel only has 7 villas available and each 'villa' has its own balcony. Now one of the many things that I love about our villa is the bathroom! It's an outdoor type one and it has a very nature-y vibe going on! Apart from that, the high-ceiling property of our room was splendid; the overall feel just gives off a very 'vacation house' effect.
Plus! We came here off-peak, so the place was almost deserted… and I really liked that! It really felt like everything was exclusively for us! :) And oh, don't expect too much on the swimming pool; it looks good on pictures, but in actuality, it's a bit small and weird in some way. :P But no worries, because right outside your doorstep is the beach front anyways!
But according to the locals, Hoyohoy isn't exactly located in the best 'part' of the island's beach, so if you want to see a better beach, you can go around town and search for the Sugar Beach. Or if you have more time, rent a boat and go to Virgin Island.
For us though, we were contented where we were! I think we embodied 'getaway' too much that for the most part, we just lazied around the beach, watched TV, or take strolls along the beach. We actually planned on renting motorbikes (I think it's around P300/day for motorbikes and regular bikes) for us to go and explore the town but like I said: we enjoyed lazing around Hoyohoy too much. It was perfect. And it was just so relaxing AND their staff was even really accommodating too!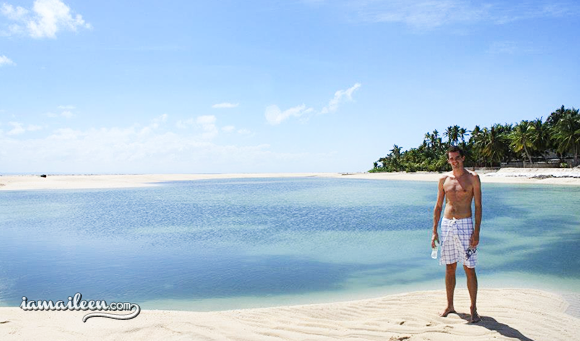 A 'lake'/'body of water' within the beach…
Weird sea shit… we don't know how these were formed but they seem to be naturally made by the water! Weird…
UPDATE: Apparently, these are caused by lugworms and called as 'lugworm cast'. (See article here). "Lugworms are not typically visible, but the casts produced by their burrowing make distinctive patterns in damp sand."
We had a rally great time! :)
So other than one of the other famed islands in Cebu (Malapascua), why not give Bantayan a try?
…Meanwhile, to continue our story, surely, I felt that something else was going on. With all the nice gestures he was showing and doing for me: I knew he had something to say at that day. I could feel it. But "when" was the underlying question! Haha! Throughout our stay in Bantayan, despite talking and talking and talking, he didn't mention a thing. I guess he was still in a war with himself whether he should push through saying it or not.

Eventually, we were back in Cebu and my flight was scheduled the next morning (20th). I guess he though that it was a 'now or never' deal, and so… he told me this:
Jonas: "Gusto kita."
Me: "Aw, thanks. Yeah, I like you too."
And then a perplexed look creeped in into his face.
Me: "Uhm, the 'gusto kita' thing. I told you that one too last month right?"
Jonas: "Huh? No. you didn't."
And that's when it hit me… HAHA! Okay, at this point, I should have known what he was trying to say, but believe me: I was clueless, he just blurted it out all of a sudden that it took me by surprise. I really thought it was just a reply to the 'like confession' that I did last October to him. But seeing the look on his face told me otherwise, so I had to ask again.
Me: "Ohhhh… Do you mean to say the other thing…? I mean the other meaning? You know? The…?"
Jonas: *nods* "Ah… but now it will sound like it's forced. But yeah… I love you."
SHAWALAKALABAAAAAAAAAAAAAAAM. ♥
Haha! Pardon me for the cheesiness, but I'd like to mention this moment. Especially because it was also very funny (he seem to have acquired a wrong translation during his research). Add the fact how some of my friends even wondered why he didn't confess to me while we were on the island because that could have been the perfect place! (Indeed, I do remember a night stroll that we did and the sky + stars + moon mixture was DIVINE.) But I had to explain to them that he really was just nervous, which was cute and funny! He has also been single for a while (same as me) so he really had to think about it thoroughly too. If I may say: I actually felt it all throughout the trip that he really wanted to tell me something but he was just a bit stuck and in a very deep thought :))
Anyways, I really love this boy; and we had a great time in Bantayan as it marked something really new that started between the two of us. And yes, it's the most memorable trip that I had last year!
Hope it becomes a memorable one for you too, as it did for me. :) Happy trip!
What's your love story? :)
Have you ever been to Bantayan?
Have you ever done a spontaneous trip? Where did you go?
YOU MIGHT ALSO LIKE
Older Post
Newer Post
Hey there! I am Aileen Adalid.
At 21, I quit my corporate job in the Philippines to pursue my dreams. Today, I am a successful digital nomad (entrepreneur, travel writer, & vlogger) living a sustainable travel lifestyle.

My mission? To show you how it is absolutely possible to create a life of travel too (no matter the odds), and I will help you achieve that through my detailed travel guides, adventures, resources, tips, and MORE!

NEW READER? START HERE!
CONTINENTS: 7 ~ COUNTRIES: 59
Join over 1 million people and receive exclusive giveaways, travel tips and so much more!