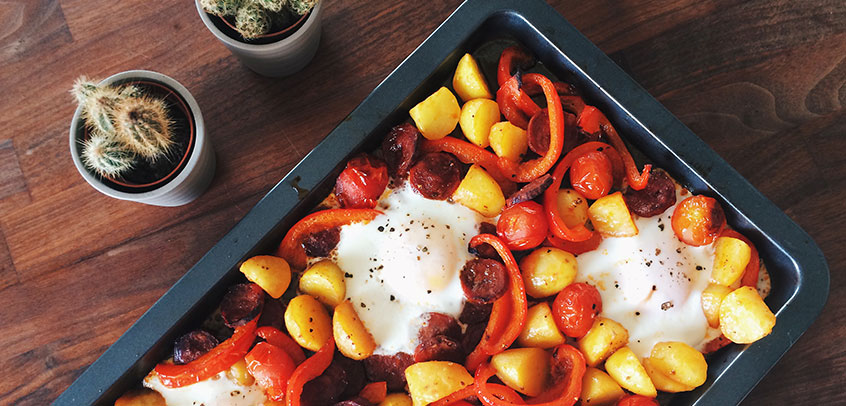 After finally sorting out our visa and apartment matters here in Belgium, I now have the ample time to collect the recipes + food photos that I had for the past months! Oh… if you're a new reader of my blog, I will now inform you that my 2nd hobby (other than travelling) is cooking & eating!
So starting today, to quench my love for cooking, you will see recipes that I've tried and tested in my kitchen (I won't post these recipes a lot, don't worry; I won't suddenly turn into a recipe blog since I still will and always talk more about my travels!). As for the eating part, it's covered in most of my travel posts and top lists so no worries there.
Anyhow, today, I am sharing a recipe that I got from Jamie Oliver. It's actually meant to be done in a wood-fired oven; but since I don't have that, I edited the recipe a bit to fit conventional oven settings. This is the PERFECT breakfast for me! (I guess it's because I just really love that salty and fatty taste of chorizos). Let me know if you find yourself loving this brunch / breakfast recipe too!
» Ingredients & EquipmentPreparation Time: 30 minutes
Serves: 3
2 medium potatoes, peeled & diced
Salt
Freshly ground black pepper
150g raw iberico chorizo, cut/sliced into chunks
1 red pepper, deseeded & cut to strips
1 large handful of ripe cherry tomatoes
4 large eggs
Parsley (best if fresh)
Toasted bread (or rice)
*Large non-stick oven frying pan or large baking pan


.
» Instructions
Pre-heat the oven to 200°C.
Parboil the potatoes in salted water for 5 to 6 minutes or until it is almost cooked through. Drain and set aside.
Get your pan, scatter around the chorizo and pop it in the oven. Let it cook for 2 minutes or until it gains a bit of color and the oil/fat starts to ooze out.
Take out the pan, mix in the sliced peppers ensuring that the fat from the chorizo soaks the peppers. Cook for 2 minutes or until you can see the peppers start to look soft.
Take the pan out and add the potatoes and tomatoes. Mix everything well, making sure that everything's coated with the chorizo's oil. Put it back into the oven for 3 minutes or until the tomatoes look slightly 'roasted' or colored.
Put out the pan again; this time we're going to put in the eggs. Using the back of a spoon, make four 'wells' in the mixture; crack the eggs, one by one, into the wells.
Sprinkle some salt and pepper into the mixture then put it back into the oven for 3 minutes. Keep a close watch if you want your eggs runny or cooked through. (As you can see in the photo above, my eggs were cooked through).

To make the process of cooking faster, you can choose to change the oven setting to broil or grill. This will 'brown' the other ingredients too especially if you want that added crisp to your potatoes. Be mindful though, that for this, you have to keep a close watch or else everything might end up burnt.

Once done cooking, sprinkle some parsley and serve with either toast bread or rice. Enjoy!
PIN THIS!
What do you think of this breakfast dish?
YOU MIGHT ALSO LIKE
Older Post
Newer Post
Hey there! I am Aileen Adalid.
At 21, I quit my corporate job in the Philippines to pursue my dreams. Today, I am a successful digital nomad (entrepreneur, travel writer, & vlogger) living a sustainable travel lifestyle.

My mission? To show you how it is absolutely possible to create a life of travel too (no matter the odds), and I will help you achieve that through my detailed travel guides, adventures, resources, tips, and MORE!

NEW READER? START HERE!
CONTINENTS: 7 ~ COUNTRIES: 59
Join over 1 million people and receive exclusive giveaways, travel tips and so much more!