Sonya's Garden is undeniably one of the popular Tagaytay destinations that no tourist or local should ever miss out. Owned by Sonya Garcia herself, this bed and breakfast place used to be her own 'secret garden' that was set up after her retirement—a haven that was exclusively for her, her friends, and her family. But sure enough, with a 'paradise' like this, demand arose so Sonya eventually decided to share it to the public. ♥
Sonya's Garden is technically a bed and breakfast establishment with other amenities such as the Sensuous Spa, Restaurant, Panaderia (pastry shop), and Country Store.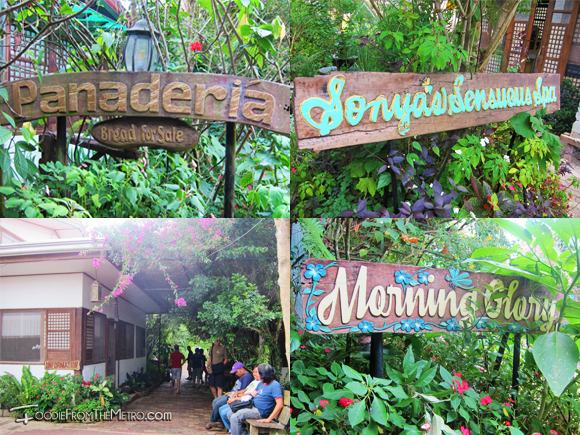 AMBIANCE & DECOR: After our overnight trip at Batangas last weekend, my friends and I dropped by Tagaytay's Sonya's seeing how most of us haven't tried their buffet yet; in my case, it was my second time around but I was really excited! Besides, I think it has been more than two years since my last visit, and I swear, before our actual meal, I was already fantasizing about their salad and pasta buffet!
To be precise, we were here during Easter Sunday so naturally, the place was packed! I was worried at first that we'd have to wait for hours because I remembered how the dining area didn't have that too many tables. But to my surprise, there was another dining area aside from the one that we were in before (the one that's near the Panaderia)! So to cut the story short, despite the throng of people, we were seated in to our table rather quickly.
But before I get to show you a peek of the dining place, let me first show you the pictures around Sonya's Garden because it would be a crime if I wouldn't. Haha! Really now, the place was a bit nostalgic for me because growing up in a rural area like Batanes, you could say that I missed the calm and green scenery of my hometown and I was glad how Sonya's offered me a slice of that. There were a lot of plants, flowers, and decorations sprawled all over the establishment and I took my time taking pictures of those.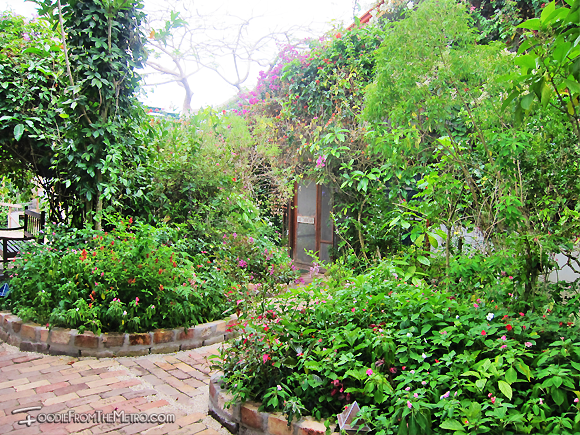 Of course, some of my friends took the liberty of goofing around with one of the many 'Quiet Zone' sign boards. Haha!
Finally, inside the dining area, I was greeted with that feeling of entering a 'greenhouse' as predominant hues of white, brown, and green played right before my eyes. There were wooden chairs and hung chandeliers too. Sure enough, the place emitted such a clean and natural atmosphere that I can't help but feel that I'm on a place that's very very far away from the bustling life that I lead in the city.
All the tables had white napkins, cloth, and place mats and I can't help but wonder how they manage to keep it in such a clean white state! (I am concerned because I live by myself and I do know the pain of doing the laundry. LOL.)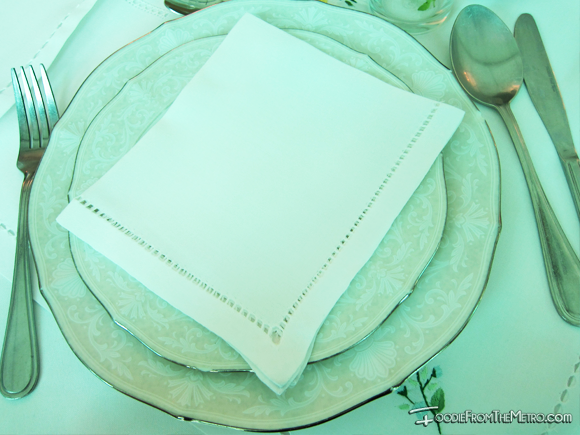 FOOD & PRICE We all opted for the Set Meal/Eat-All-You-Can which was worth P610.00 per head. This first started off with Garden Salad Greens which was composed of freshly harvested lettuce, arugula, nasturtium, dill, oxalis, and edible flowers. We were then given servings of different garnishes for us to make our own salad of choice.
(1) Shredded egg, (2) broad beans, (3) jackfruit, (4) pineapple, (5) mango,
(6) singkamas, (7) cucumber, (8) papaya, and (9) melon. (May include other fruits that are in season).
For the dressing, you can choose from the balsamic dressing or Sonya's Super Secret Salad Dressing. I go gaga for balsamic dressing but Sonya's Super Secret dressing was good! It tasted like honey mustard but with a slight kick, differentiating from other dressings of the same type. Anyhow, my type of salad is mixing the leaves of lettuce, shredded eggs, and broad beans and then drizzling it with lots and lots of balsamic sauce! YUM!
Next up was their Freshly Baked Whole Wheat Sesame Bread (from their Panaderia) served with an array of homemade dips and toppings. What I have to commend for this one was the bread! It was soft, warm, and fragrant! My favorite partners for the bread were the white cheese and mushroom pate.
(1) Bruschetta tomato toppings, (2) white cheese, (3) anchovies, (4) basil pesto,
(5) mushroom pate, and (6) black olive tapinade
Onwards to the pasta, this was served al dente and with two kinds of sauces: Sun Dried Tomato and Chicken Cream. I wasn't too awed with the red sauce, but I fell smitten with the thick white sauce! ♥
TOPPINGS: (1) Ratatouille, (2) shitake mushroom, (3) capers, (4) black olives,
grated parmesan cheese, and savory salmon belly (below)
This was how my pasta plate looked like!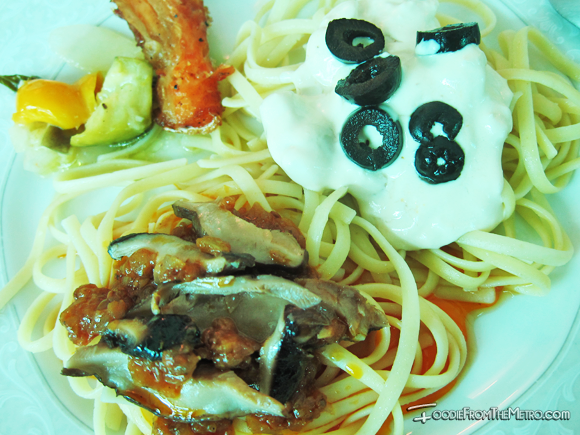 After several rounds of pasta and salad orders, we finally asked for dessert and this was comprised of Glazed Sweet Potato and Banana Rolls (which I didn't get the chance to take a picture of.) These two were good in taste but there wasn't anything too outstanding about it. The banana rolls (turon) did have sesame and jackfruit (langka), but other than that, it's the same ol' turon that I know of.
Nonetheless, this is where their Homemade Chocolate Cake came in, redeeming our dessert experience because it was moist and sufficiently chocolatey! The size and flavor combo was even enough to fulfill me, besides, this didn't have that kind of sweetness that would make me get sick of the chocolate taste.
Also, this set menu comes with bottomless Pulpy Dalandan Juice and Tarragon Tea. My favorite was the dalandan juice because it tasted just right, freshly squeezed and refreshing too! Due mainly to my 'addiction' to this, I didn't have the chance to try the tarragon tea. But my friends said that it was soothing and a bit minty. Well… tarragon or not, my second Sonya's experience was more than A-tops!
OVERALL Sonya's is one great choice for fulfilling one's palate. Aside from that, they have such great natural ambiance and service which then totals into one unique dining experience! I know that some find the set meal's price as expensive but I personally think that this buffet is worth its price. The two other desserts (turon and kamote) for instance were a bit of a downer but it can be easily overlooked given Sonya's fresh organic ingredients and wonderful medley of flavors. I really couldn't actually ask for more; because as of now, I'm already looking forward to my next trip!
Now, other than this set buffet meal, Sonya's also offers the following choices:
Address: Brgy. Buck Estate, Alfonso, Tagaytay City, Cavite
Business Hours: MON – FRI: 8AM to 7PM | SAT – SUN: 8AM to 10PM
Phone: (+63917) 532-9097
Budget: Php 500↑
Payment: Cash and Credit Card
Website: http://www.sonyasgarden.com/
Facebook Page: http://www.facebook.com/pages/Sonyas-Garden/160897990614391
Want to know more of other places in Tagaytay? Come check it out here!
Are you a fan of Sonya's Garden?
What do you like about Sonya's Garden?
YOU MIGHT ALSO LIKE
Older Post
Newer Post
Hey there! I am Aileen Adalid.
At 21, I quit my corporate job in the Philippines to pursue my dreams. Today, I am a successful digital nomad (entrepreneur, travel writer, & vlogger) living a sustainable travel lifestyle.

My mission? To show you how it is absolutely possible to create a life of travel too (no matter the odds), and I will help you achieve that through my detailed travel guides, adventures, resources, tips, and MORE!

NEW READER? START HERE!
CONTINENTS: 7 ~ COUNTRIES: 59
Join over 1 million people and receive exclusive giveaways, travel tips and so much more!