As a traveler, I am always exposed to various elements and different types of weather so it can be quite challenging to stay fresh and fragrant for the whole day as I go on my adventures. But thankfully, there exists the colognes of Lewis & Pearl ScentShop!
They are truly a 'heaven sent' brand for a traveler like me because of their two main features:
Compact, non-bulky size – with various size selections (125ml, 75ml, 50ml, 25ml) I can easily take my pick for the kind of quantity that I need and surely, it doesn't take too much space in my luggage! It's a perfect and convenient little scent bottle that also doesn't spill!
Great fragrances – with over 13 scents, you can choose the best scent that suits you. But truth be told, they all smell perfect that I just had to own all of the types for myself.
That being said, I just love knowing that I can explore the world while smelling great all the time — it's truly ideal for summer sprees, beach trips, and holiday getaways!
As an inspiring line of scents for guys and girls, here are ScentShop's wide range of scents that lets you experience endless possibilities:
.
.
.
Get Inspired: Signatures
With its all-time classic scents, Lewis & Pearl ScentShop continues to share life's best experiences. To stay fresh and inspired everyday, try out the inspiring fragrances of Summer, Cool Fantasy, Dew Drops and Dream.
.
.
.
Be You: His & Hers
Adventure is always in the air! These adventure-inspired scents are perfect for guys and girls that are daring to have a great time anywhere, anytime. Possibilities certainly await with every splash of Blue Navy, Rain and Ice Water.
.
.
.
Go Places: Travels
What's next on your "Places to Visit" bucket list? As you seek and accomplish new adventures, splash on one of ScentShop's destination-inspired scents: New York Beats, Rock'n Rio and Sweet Paris.
.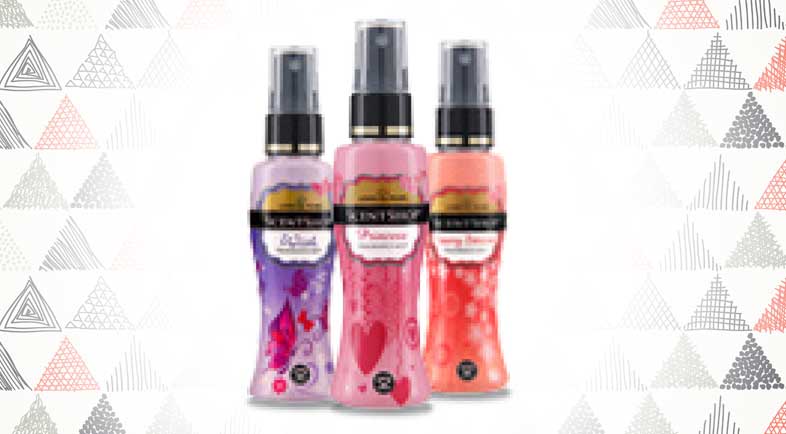 .
.
Spray on Freshness: Fragrance Mists
Let inspiration fill the air with each misty spray of the Fragrance Mist Collection in the inspiring scents of Wish, Princess and Cherry Blossom.
.
.
My favorite scent? It's hard to play favorites given how ScentShop has a great fragrances, but I guess if I really have to pick only one, it will be Sweet Paris from the Travel collection since it definitely helps me stay sweet-smelling as I travel (and it does remind me of the amazing atmosphere that Paris has!)
True enough, I create the best memories with my favorite ScentShop scent and whenever I smell this great, I inspire possibility in whatever I do — I can do anything without inhibitions!
So come and find inspiration too from ScentShop on Facebook or Instagram. For as to quickly get a cologne bottle of your own, simply go to the nearest grocery or convenience store in the Philippines.
Let's all #InspirePossibility with Lewis & Pearl ScentShop!
Would you like to try these fragrances?
What collection would you like to try first?
Or do you already own this cologne? How is it for you?
YOU MIGHT ALSO LIKE
Older Post
Newer Post
Hey there! I am Aileen Adalid.
At 21, I quit my corporate job in the Philippines to pursue my dreams. Today, I am a successful digital nomad (entrepreneur, travel writer, & vlogger) living a sustainable travel lifestyle.

My mission? To show you how it is absolutely possible to create a life of travel too (no matter the odds), and I will help you achieve that through my detailed travel guides, adventures, resources, tips, and MORE!

NEW READER? START HERE!
CONTINENTS: 7 ~ COUNTRIES: 55
Stay updated with Aileen monthly! Sign up and receive exclusive updates, articles, giveaways, and so much more!
RT @iAmAileen: Supporting another person's success won't ever dampen yours.
24/04/2019 02:37:15

~Jigsaw by @Daniel_Sloss on Netflix https://t.co/kFxB6H1Q9g
21/04/2019 13:08:46