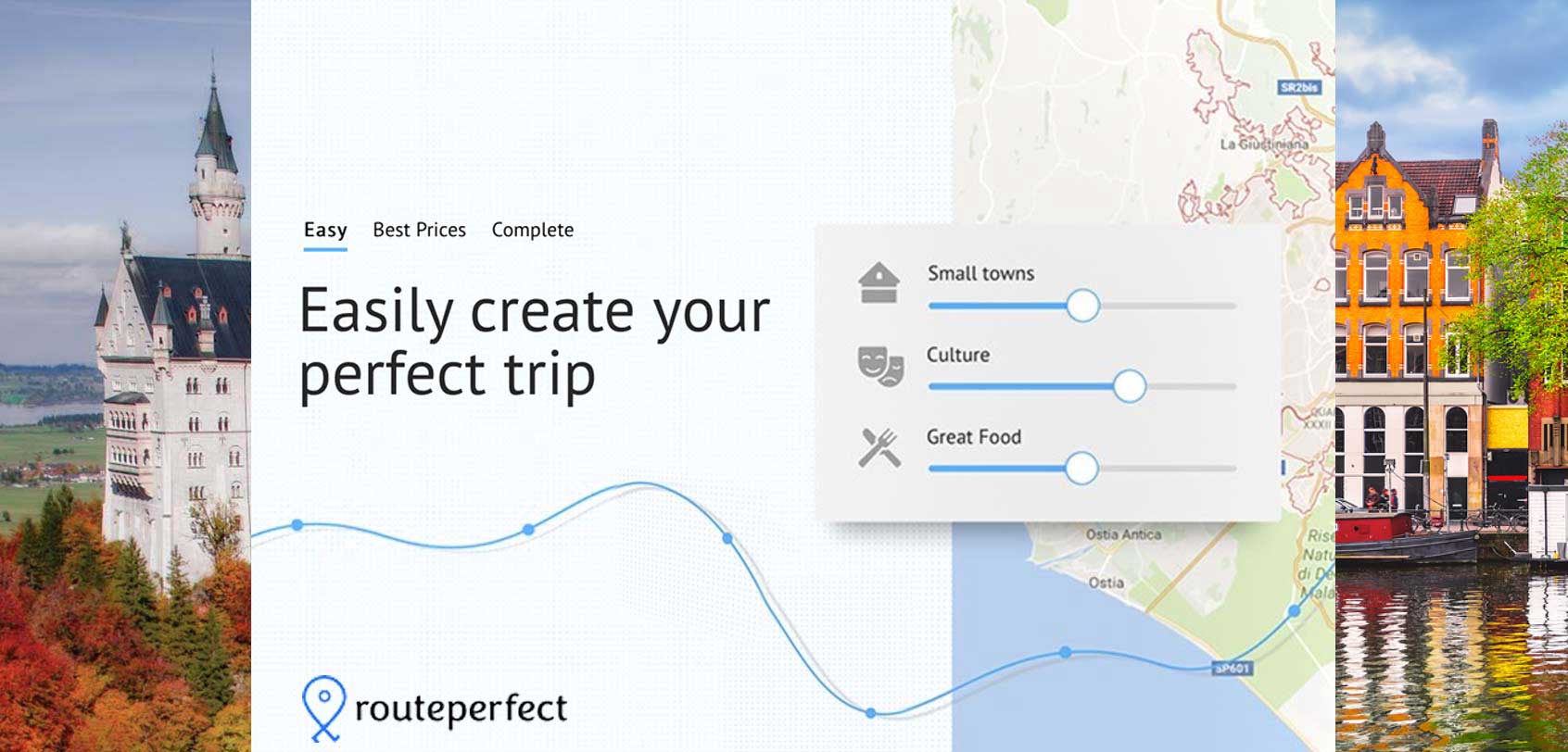 A few days ago, I stumbled across Routeperfect, and I just had to share it with you all! After all, it's such a useful trip planning tool.
First off, I was looking at how best to plan a Europe trip from Athens to Paris for 21 days and with a limited budget: where to go, what to do?, etc. Usually, I spend hours and hours researching routes, transfers, recommendations, as well as cross- checking hotel sites and it takes me forever! (Plus, let's face it, time is money!). But with this site, I had an outline of my trip in less than a few minutes, and even 10 minutes later I was already booking. I just couldn't believe how easy it was!
.
» What is Routeperfect?
Routeperfect is a free travel planning tool that allows you to quickly generate a customized trip. YOU choose your start and end date, where you want to fly in and out of, what your budget is and what type of trip you're looking for (solo, romantic, family or friends). And the coolest part: once the basics are done, you can choose all the things you like to do and get rid of all the things you don't. Check out below what the trip planner generated for me:
If in case you can't see it clearly from this screen shot, there are eight interests you can customize your trip on and these are: beaches, small towns, culture, food, nightlife, nature, active and historic places.
.
» Putting Routeperfect to the test
I wanted to see if the route would change dramatically if I updated my preferences, and I was surprised at how much it did! Instead of beaches and nightlife I chose small towns and historic places, and the route totally changed from coastal cities to inland ones (and a couple that I have never heard of!) which I thought was pretty neat.
I think the best thing about the tool is that you can discover new places that you probably wouldn't have even thought about. Clearly, the technology is able to update according to your preferences, and that the towns it suggests are even dependent on what the system believes you would enjoy the most!
Have a look at my new updated trip which now contains more nature and small towns, and less beaches:
I read that every single location was entered manually into their system and given a score for each individual preference, so that it knows what to suggest based on how you like to travel — that's such a smart programming, right?
For each location, Routeperfect also includes information about each town and suggests a bunch of different attractions and things to do. But the cool thing is that although it has suggested to me some places I didn't originally think of going to (because, as I said, I was interested in small towns and historic places), it still ensured that I spent the right amount of time in the larger cities, such as Paris, that needed more time to get around. In any event, you can delete a place if you don't want to go there and manually change out your route.
Needless to say, if you suffer from FOMO, like I do, Routeperfect is great for you!
.
» Sightseeing and activities
So not only does it help you to organise the overall trip, you can go deeper than this and even work out what you're going to do each day! The site shows the main attractions to see in a place, according to your interests. Either way, all the info on the destinations it suggests for you is included in the site, so you can decide if you want to go there.
.
» Booking the hotels
When it comes to planning your overall itinerary, Routeperfect also shortlists the hotels for you, so all of the logistics are sorted at once.
Each of the accommodations that were suggested were around the three star mark. This was great considering I set my budget to 'Moderate.' Apparently the site's algorithm is so clever it works out exactly what type of trip you're on (in my case solo) so it sorts through tens of thousands of accommodations from thousands of suppliers to shortlist the right ones for me. For example, if I was was travelling with a family, I guess it would find me availability for family rooms.
Moreover, the site shortlists approx 3 to 4 hotels for each location. I definitely like to scrutinize my accommodation, which is great, as the system is integrated with TripAdvisor so you can quickly see what the hotel is like. In this example the hotels picked by Routeperfect were clearly good quality as they all came up as, at least, four stars on TripAdvisor. And if you don't want to stay in one of the hotels they've shortlisted for you, not a problem, you can just scroll for more options!
.
» The price
They say that "customers save up to 20% on their trip because Routeperfect allows access to hidden rates by bundling hotels together as a package."
For those of you who aren't travel buffs, this basically means that they offer such a great discount given that the actual rate of each individual hotel is unknown. Hotels usually have a certain allocation of rooms they can sell at a much lower rate; however, they also don't want to cheapen themselves by publicising these really low rates, and undercut some of the big well-known booking sites! With that in mind, Routeperfect has special accreditation to access these hidden rates, so when you see on their site that you can save up to 20% — trust me, it is for real!
Just to check though, (I'm ever the sceptic!) I tried to plan the exact same trip by myself with flights, hotel and a car to see if it really was cheaper… and well, I couldn't believe that it was about 18% cheaper! Not only that, but it took me hours to plan, and remember, for all of us – time is money! So if you take this aspect into account you could say Routeperfect saves you even more money.
Want some more ways/ideas for saving money while traveling? Read my money-saving tips!
.
Well, if you're looking for a really fun and easy way to plan and book your next trip (without the need for a travel agent!) I would definitely check these guys out – besides, they're way ahead of the pack with their technology thereby making everything hassle-free for us.
Not to mention, I also discovered new places I could go also which was cool in itself. Routeperfect's site goes very granular too, so once in a place, I can even see what attractions I should visit there! But anyway, if only to save 20% of the cost.. you really can't lose!
What do you think of RoutePerfect?
Would you like to try out their platform? Why or why not?
Or have you tried them before? How was it?
YOU MIGHT ALSO LIKE
Older Post
Newer Post
Hey there! I am Aileen Adalid.
At 21, I quit my corporate job in the Philippines to pursue my dreams. Today, I am a successful digital nomad (entrepreneur, travel writer, & vlogger) living a sustainable travel lifestyle.

My mission? To show you how it is absolutely possible to create a life of travel too (no matter the odds), and I will help you achieve that through my detailed travel guides, adventures, resources, tips, and MORE!

NEW READER? START HERE!
CONTINENTS: 7 ~ COUNTRIES: 55
Stay updated with Aileen monthly! Sign up and receive exclusive updates, articles, giveaways, and so much more!
In a snowy wonderland ✨❄️ This photo was taken as we made our way to Mt. Asahikdake (tallest in Hokkaido) and it is… https://t.co/5PBRWjPcxI
21/03/2019 12:08:00

RT @iAmAileen: Cherry blossoms are NOT the only amazing sight you need to see in Japan this spring. If you head to the famous 'Tateyama Kur…
21/03/2019 10:40:58