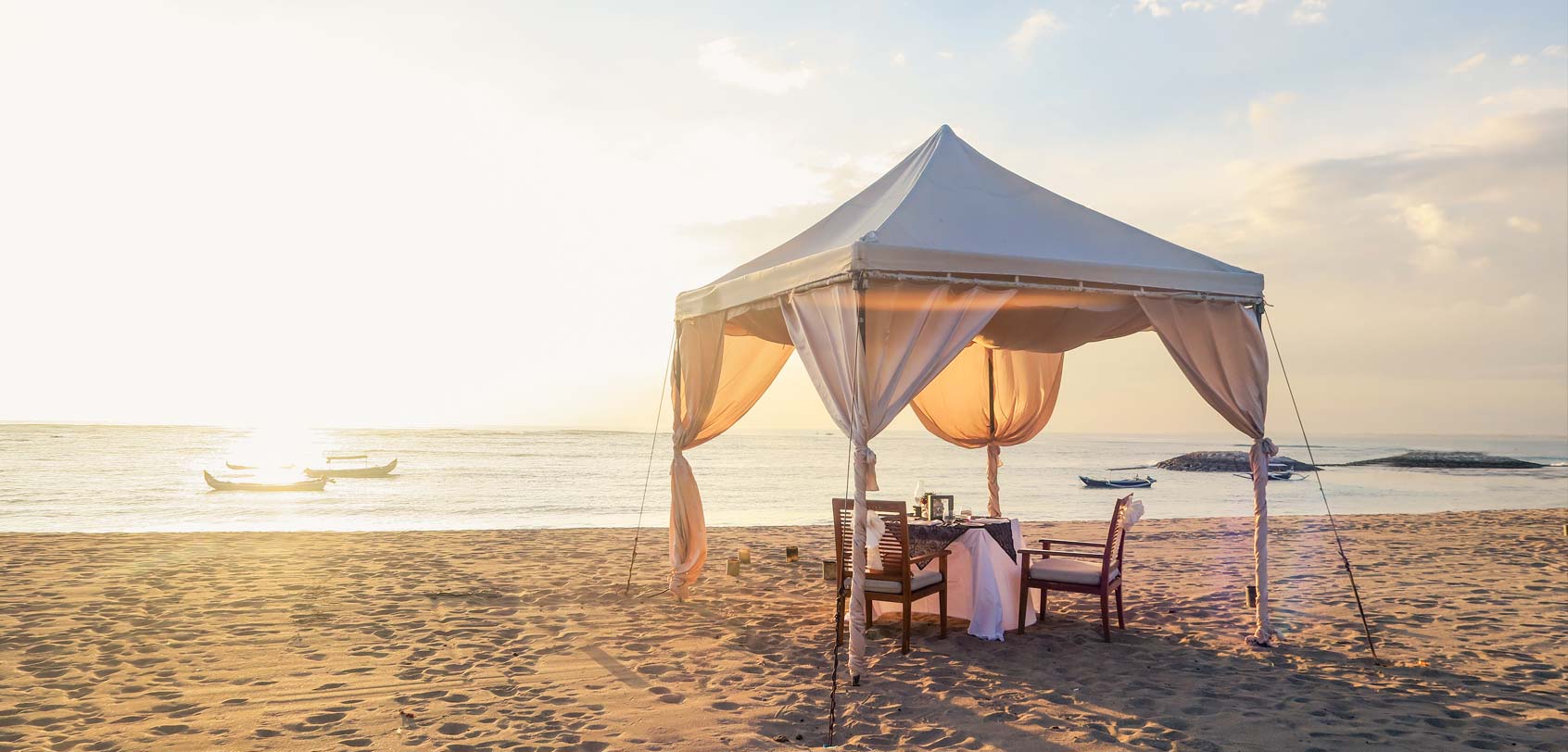 When it comes to a Bali romantic dinner that's different from the typical restaurant dine-ins that you've been doing with your loved one, a sunset date by the beach is an affair that's worth considering!
So if by any chance you're in Bali, Indonesia for your couples vacation or honeymoon, head over to Kuta at Ma Joly to enjoy an enchanted fine dining that not only offers a scrumptious 6-course dinner under a beautiful tent, but also offers a magnificent view of the Indian Ocean and a beautiful sunset that will be etched to both of your memories forever.
My friend and I took up the chance to try this romantic setting and it was an experience that we will never forget!
.
Bali Romantic Dinner at Kuta
This Bali romantic dinner package offers a free pick-up service — a really great inclusion since it took away the hassle of finding a taxi during such a peak hour. By the time that we reached the venue, I kid you not: we were blown away by the glorious scene before us as we got our first glimpse of the tents by the beach!
*In the middle is a designed section that's originally intended for wedding events, but it could also be a dining spot other than the tents.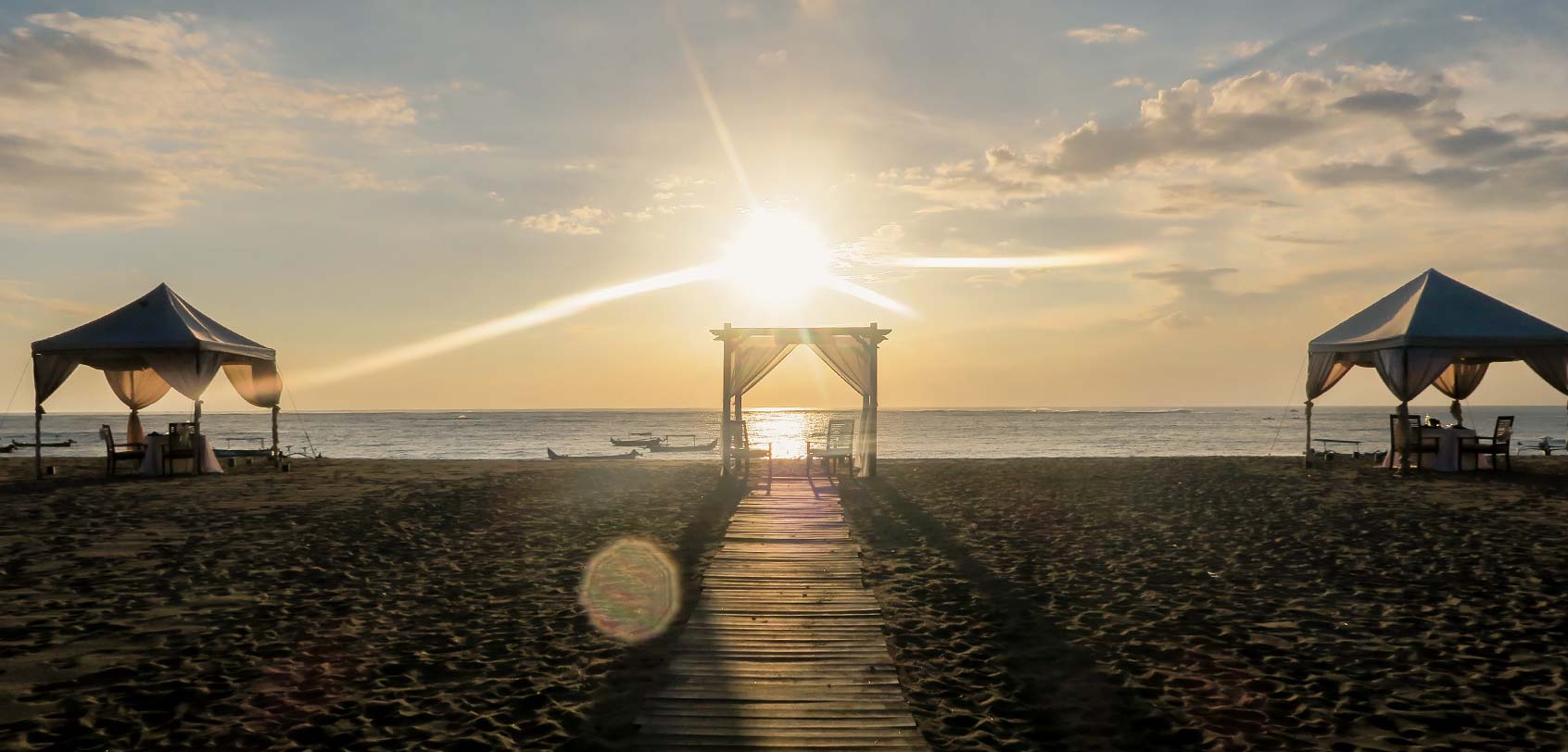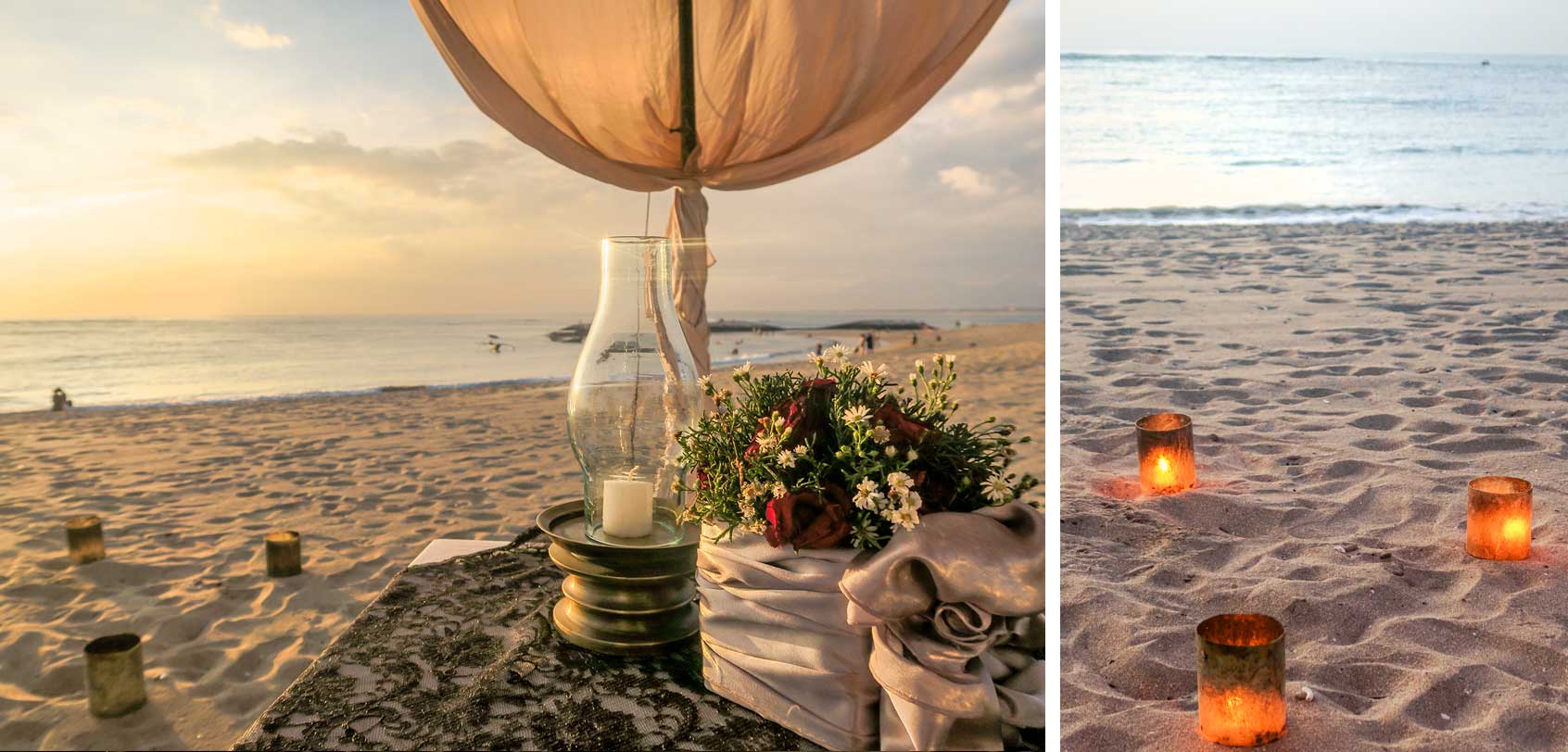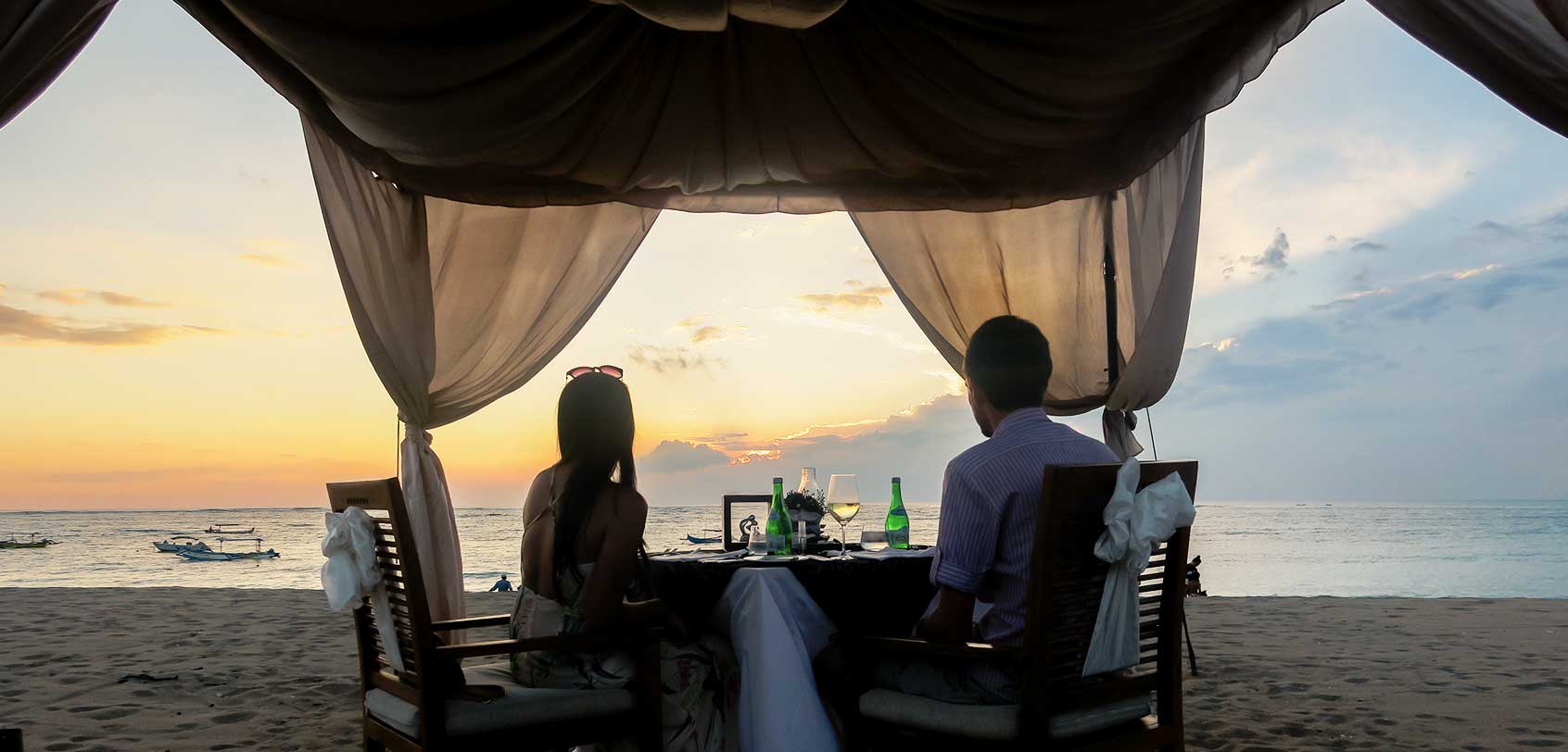 We were quickly ushered to our seats and in a couple of minutes, our personal waiter introduced himself to us as he presented a paper that showed the details of our 6-course dinner. This could change depending on the season and availability, but customarily, their Bali romantic dinner menu would look like this:
APPETIZER
Pistachio-Salmon Terrine (cucumber salsa, mango emulsion, scallion cream cheese, caviar)
SOUP
Thick Lobster Bisque (seafood ravioli, tomato confit and fresh herb dill)
OR
Creamy Pumpkin Soup (with shitake mushroom tortellini, crumbled feta cheese)
THIRD COURSE (FISH)
Poached Prawn with Fresh Tarragon (potato-coriander mayo, jackfruit relish, seaweed with sesame seed dressing)
OR
Duck Confit (baby beetroot, pomelo, cherry tomato, toasted walnut, black olive, organic baby mesclun salad, honey-orange dressing)
FOURTH COURSE (SORBET)
Strawberry Sorbet
OR
Lime Sorbet
FIFTH COURSE (MAIN)
Seared Beef Tenderloin (mousseline sweet potato, balsamic warm baby vegetables, rosemary flavored beef jus)
OR
Crispy Skin Red Snapper Fillet (green pea puree, angel hair vegetables, mussel-pepper fricassee)
DESSERT
Tiramisu (espresso, mascarpone cream, java coffee ice cream)
OR
Mango Fruit Tart (raspberry coulis, strawberry ice cream, sweet lime skin)
Bali Coffee
OR
Java Highland Tea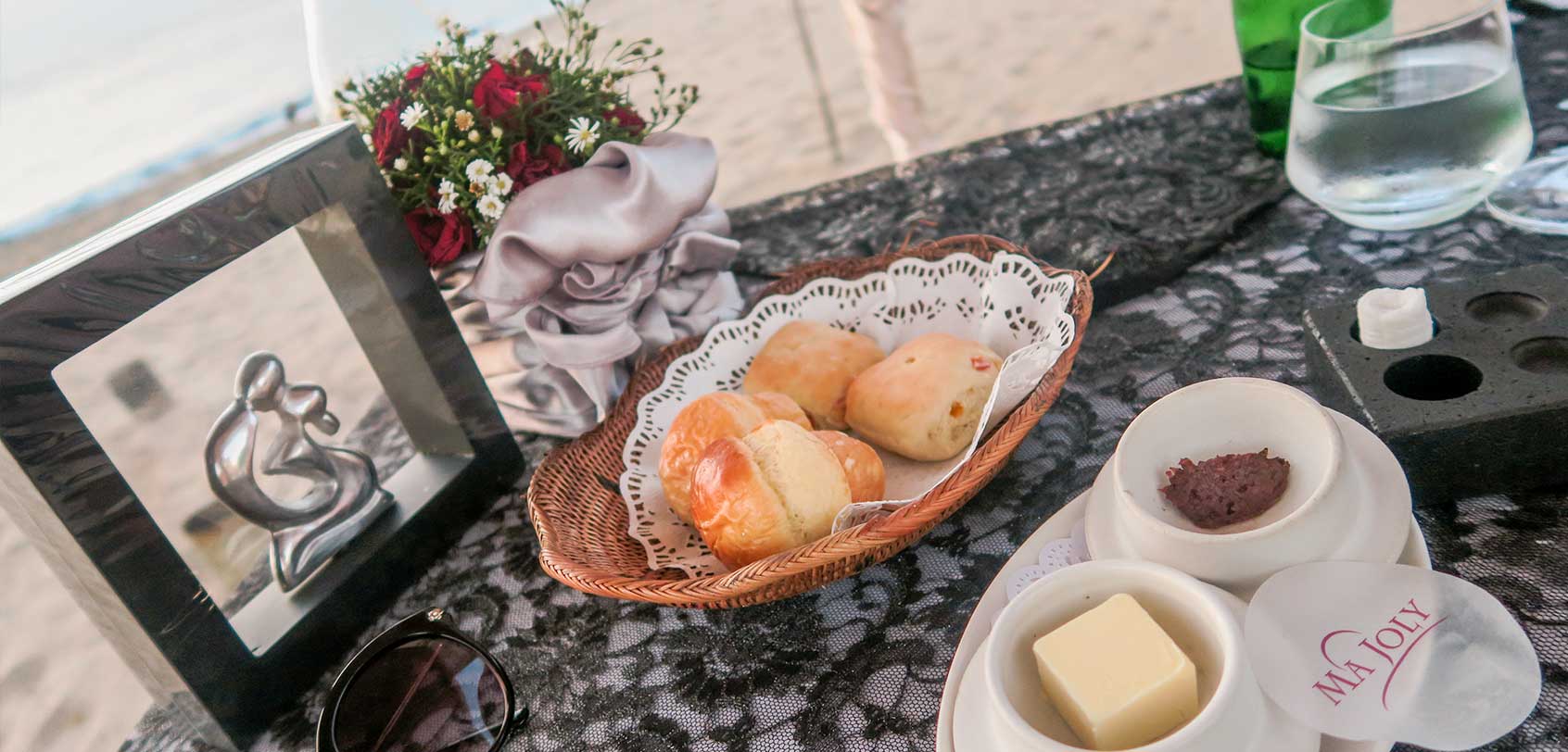 While we were enjoying our dinner, we were also enjoying the breathtaking view before us as the sun slowly melted down the horizon…
…it was all so perfect.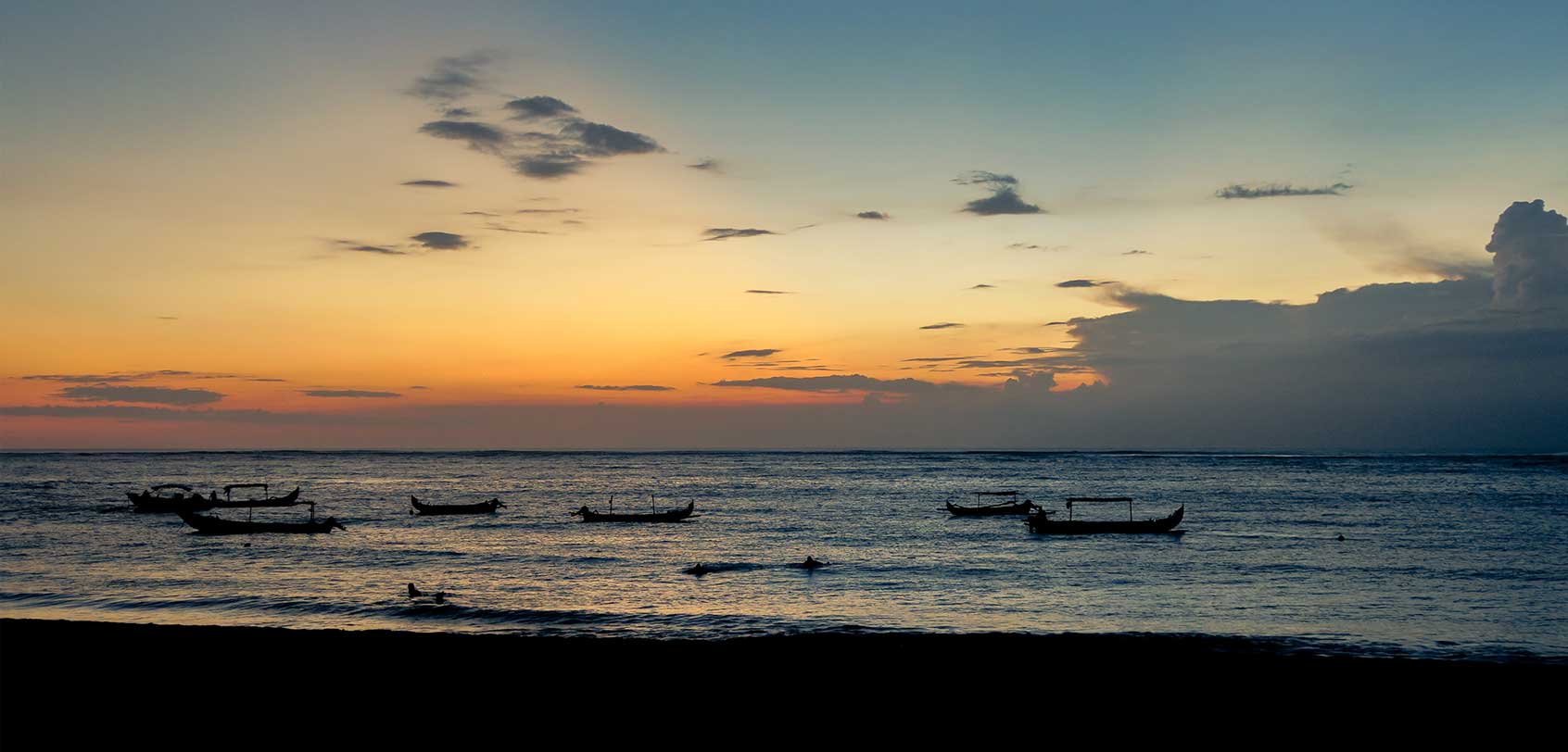 » Bali Romantic Dinner Info
Pick-Up: 4:30PM
Time: 5:30 PM
Price: $91 USD (or Php 4,380~) per adult
Link: eOasia
Inclusions:
Pick-up transfer at your hotel
Dinner
Extras:
Hand bouquet of local flowers: red, white & pink roses at $45 (Php 2,165~)
Hand bouquet of imported flowers: white, pink or red roses at $62 (Php 2,980~)
Drop off transfer service for Kuta and Tuban area after the dinner: $8 (Php 385~)
*In case of adverse weather, venue will take place at dining room.
.
The way I see it, a Bali romantic dinner by the beach complete with good food, candlelights and a sunset view make for an amazing night for a couple!
So no matter if you're just looking for an opportunity to express your love to your partner, or if you're considering to propose for a lifetime vow, Kuta's Ma Joly venue is an impeccable choice to mark your romance.
BOOK A BALI ROMANTIC DINNER NOW
*Many thanks to eOasia for providing me with this complimentary helicopter tour! Still and as always, all views that are expressed here represent only those made by myself and NOT of any other entity in their favor.
What do you think of this Bali romantic dinner affair?
Would you like to try this with your loved one? Why or why not?
Or have you done something like this before? How was it?
YOU MIGHT ALSO LIKE
Older Post
Newer Post
Hey there! I am Aileen Adalid.
At 21, I quit my corporate job in the Philippines to pursue my dreams. Today, I am a successful digital nomad (entrepreneur, travel writer, & vlogger) living a sustainable travel lifestyle.

My mission? To show you how it is absolutely possible to create a life of travel too (no matter the odds), and I will help you achieve that through my detailed travel guides, adventures, resources, tips, and MORE!

NEW READER? START HERE!
CONTINENTS: 7 ~ COUNTRIES: 59
Join over 1 million people and receive exclusive giveaways, travel tips and so much more!