This was actually my first time to cook lamb, and as a first-timer, I was quite nervous about how it will all turn out! I was anxious at first but thankfully, I'm glad that it ended up being juicy in medium rare doneness. Yum!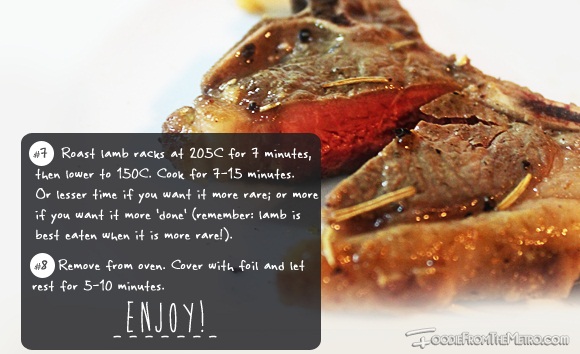 I served this with some french fries and some mint jelly for our 'lamb dip' (I bought mint jelly at Santi's!). So yeah. Why not whip this up for your loved one to surprise them? *wink*
Just a note though: about the roasting part in the lamb recipe, you don't need to follow my minutes by heart. You can adjust it as you like, especially since we all have different ovens that tend to have different heat levels, settings, etc. (For mine, I used convection type of heating.)
NOTE: In case the images above don't load, I'm retyping the recipe below:
INGREDIENTS
– 8 pieces of lamb rack
– 2 tsp rosemary
– 2 cloves of garlic
– 1/4 cup olive oil
– pepper
– salt
PROCEDURE
Mix all of the ingredients to marinade the lam overnight (or for at least 4 hours). Take note to remove lamb from the fridge 1-2 hours before you cook it.
Preheat oven to 205 degree celsius.
'Score' the lamb by making sharp shallow cuts through the fat, spaced about an inch apart. Spread generously with salt and pepper.
Brown both sides of each lamb in a pan briefly (only for 1-2 minutes on each side).
Get a pan and place a baking sheet on it. Sprinkle it with oil (or with oil spray).
Place each lamb rack, bone side down (fat side up). If there are exposed ribs (since you might have bought French cut lamb racks) then wrap those ribs in foil so they don't get burnt. Sprinkle with salt, pepper, parmesan, and rosemary.
Roast lamb racks at 205 celsius for 7 minutes, then lower to 150 celsius. Cook for 7 to 15 minutes longer (or lesser time if you want it more rare / or more if you want it more 'done' — but remember, lamb is best eaten when it is rare or medium rare).
Remove from oven. Cover with foil and let rest for 5 to 10 minutes. Enjoy!
Leave a comment below if you need any help, or if you have suggestions. :)
Do you like the taste of lamb?
YOU MIGHT ALSO LIKE
Older Post
Newer Post
Hey there! I am Aileen Adalid.
At 21, I quit my corporate job in the Philippines to pursue my dreams. Today, I am a successful digital nomad (entrepreneur, travel writer, & vlogger) living a sustainable travel lifestyle.

My mission? To show you how it is absolutely possible to create a life of travel too (no matter the odds), and I will help you achieve that through my detailed travel guides, adventures, resources, tips, and MORE!

NEW READER? START HERE!
CONTINENTS: 7 ~ COUNTRIES: 59
Join over 1 million people and receive exclusive giveaways, travel tips and so much more!