A lot of people enjoy partying these days; with the rise of the swanky nightclubs spread out all over the metro, the party animals now have a wider range of places to choose from! …HOWEVER! If you're looking for a premier nightlife experience that is beyond what we normally have here, then it's best that you check out The Party Bus Manila!
Adapting the popular party bus concept overseas, the Party Bus Manila is the first of its kind here in the Philippines that let's you 'bar hop' or 'pub crawl' for 1 night to 4-5 five popular nightclubs in Manila. And the best part is: you get to do all of that in a pimped up 'bus' that would be free-flowing with alcoholic drinks! They'll take care of everything else too: the lines, the tables, the games, and more!
Since its inception last August 4, 2012, the Party Bus has already been through three runs and for their fourth, they amped up the VIP experience even more by substituting their usual black bus with….. a white hummer limo!
And of course, here comes the epic fact of this entry: I got to party with the Party Bus during this voyage! So yes, sweetie! I got "Party in a limo" crossed out in my bucket list now! And as per usual, we were allowed to bring +1, so I decided to bring my good ol' party buddy: Elaine! Woot, woot!
Basically, in this post, I will do a recap on how our September 29, 2012 trip went! FIRST BAR was at Izumi at BGC, The Fort. In here, we first had the chance to meet the rest of the 'crazies' that we will be partying with for the rest of the night!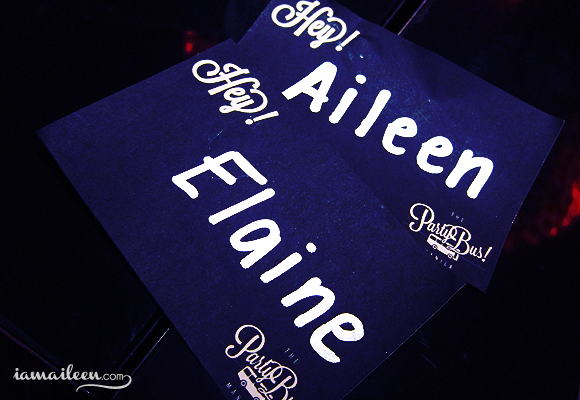 While we were waiting for the rest of the people, the Party Bus crew handed us these innocent-looking gummy bears. But hey, we were there to party so I knew that there was something up with these kiddie goodies. Besides, I've read an article before in Tumblr wherein gummy bears are soaked in vodka or something. True enough: this was soaked in alcohol!
It was disgustingly good …if there's even such a thing!
Once everyone was in, we settled into playing a bit of an ice breaker. We were all partnered-off and made to share facts and secrets to one another. When that was done with, we immediately went out of Izumi to great our dear ol' hummer limo!
I swear, I still can't get over the fact that I was actually in that limo last Saturday! Haha! But of course, still in line with the Party Bus fever, we were told that to get in, we should take a shot!
All of us were in and it was really funny… because at one point, I noticed how we were all so suddenly quiet and proper. My best bet was because each person was still in awe of the fact that we were in a ridiculously long and awesome limousine…
…so imagine when that 'phase' passed! Like a snap of one's fingers, we were back to wild mode! HAHA! Bring out the props, the booze, and the attitude!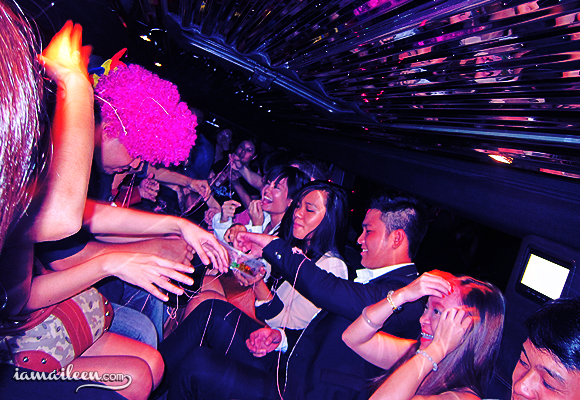 SECOND BAR: Izakaya at Greenbelt! This was my first time going in to this bar and after we had our drinks, we launched into wild rounds of Pinoy Henyo games! We used dirty words alright, and at one point, we just had to cheat! It was more fun that way!
Silly Spaniard! To think you eat this everyday! HAHA Kidding! Go Antonio!
See how we had to cheat to help him guess it? LOL.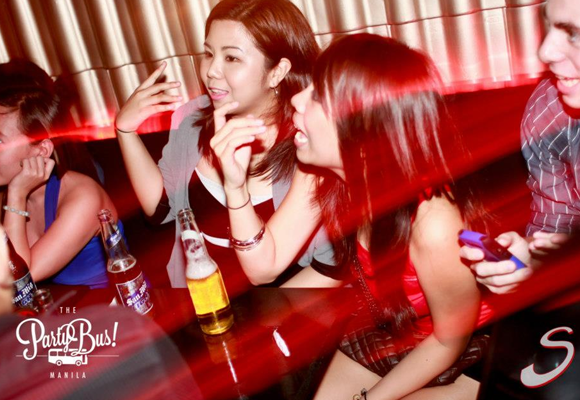 There I am trying to help people guess their words!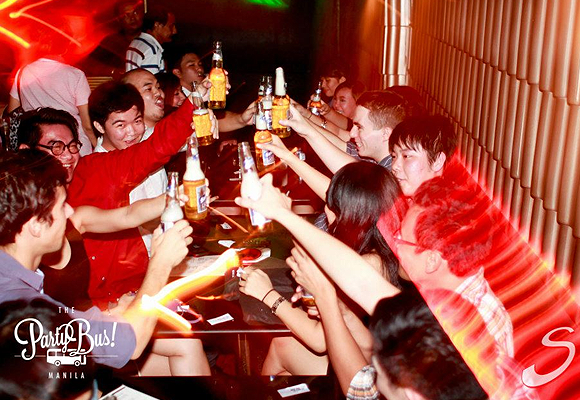 We went back to the limo after our time at Izakaya. Of course, during our voyage towards the 3rd nightclub, we decided to take advantage of our good ol' hummer, so you can say that we practically raped the moon roof. HAHA! Let's take Raymond for instance who, due to sheer and innate craziness, swiftly went through the moon roof and out of the limo! Look at how this f*cker stood on the roof while the limo was moving! CRAAAAAAAY! But still epic!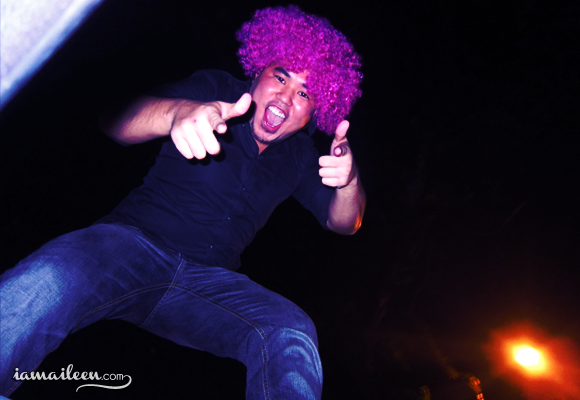 THIRD BAR: Skye Lounge at BGC! This was my 2nd (or was it 3rd?) to Skye and as usual, the crowd here are all in such a laid-back mood. But heck, we are THE Party Bus so we brought the wild party to them!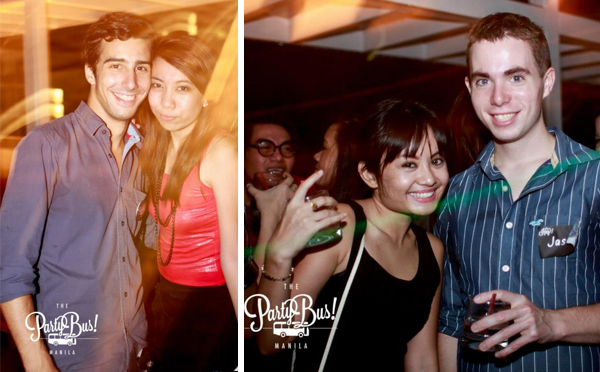 With picture shots getting lesser and lesser (since people were starting to get drunker and drunker, haha!) we went back to the limo, ready to party at the 4th and last nightclub stop! At this point, we just continued being our crazy selves!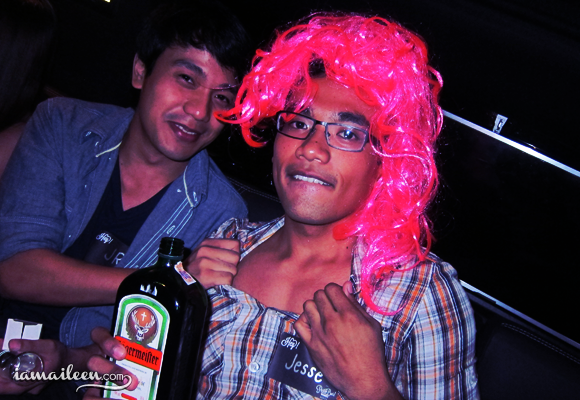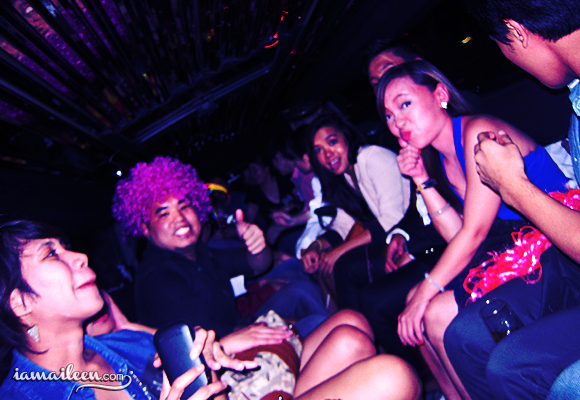 FOURTH and LAST BAR: Privé Luxury Club! This is where everything started to get wilder! Just look at 'em people!
 These girls know how to work it!
I don't party a lot, but when I do, I try to make the most out of it, and clearly, this Party Bus Saturday was no exception! FYI: I didn't get really drunk-drunk even. I rather enjoyed dancing more, making people dance, making them drink more, watching them go about and around…. HAHA! But seriously, this bunch was rockin'!
I know for a fact that any party experience would have to depend on the crowd you're with and quite fortunately, with the Party Bus, you'll get the guarantee that you're going to be partying the weekend away with the greatest crowd!
So when you're up for some serious VIP treatment or if you're simply up for partying and serious ownage, hop on the Party Bus and embrace the nightlife scene LIKE A BOSS!!!
*Do take note that they only have two voyages a month so you better call them out fast!
The Party Bus Manila
Mobile: 0917-790-7373
Email: [email protected]
https://www.facebook.com/ThePartyBusMNL
http://www.twitter.com/ThePartyBusMNL
» My experience with Party Bus was complimentary as I was asked to review their service in partnership with WhenInManila.com. As always, all views that are expressed here are entirely of my own and NOT of any other entity in their favor.
Do you like partying? Where do you usually go to party?
Would you like to try the Party Bus Manila? Why or why not?
YOU MIGHT ALSO LIKE
Older Post
Newer Post
Hey there! I am Aileen Adalid.
At 21, I quit my corporate job in the Philippines to pursue my dreams. Today, I am a successful digital nomad (entrepreneur, travel writer, & vlogger) living a sustainable travel lifestyle.

My mission? To show you how it is absolutely possible to create a life of travel too (no matter the odds), and I will help you achieve that through my detailed travel guides, adventures, resources, tips, and MORE!

NEW READER? START HERE!
CONTINENTS: 7 ~ COUNTRIES: 59
Join over 1 million people and receive exclusive giveaways, travel tips and so much more!