Opus isn't all about wild fun partying; it's actually more than that! Because what's also worth noting in this "IT" nightclub is their restaurant counterpart: a swanky dining spot that serves breath-taking modern European cuisine!
Owned and managed by the metro's big wigs, this place is truly a promising one! Opus owners are namely: Erik Cua (nightlife prince of Manila), Carlo Miguel (superstar chef), Fernando Aracama (gastronomic genius), GP Reyes (PR creative force), Ivan Zalameda (promotions forerunner), Jason Soong (person behind Jaguar, Maserati and Land Rover), Louie Ysmael (nightlife king), Manolet Dario (Manila DJ), Marco De Guzman (nightlife entrepreneur), Raj Sadhwani (man behind Distillery), Robbie Carmona (fashion director), Stephen Ku (marketing maverick), and Tim Yap (THE party man).
A masterpiece of its own, you could definitely say that I was more than happy when I was invited along with my WIM friends to try out this lavish and luxurious dine in!
AMBIANCE & DECOR
When I first arrived at Opus, I was instantly sure of one thing: the place screams of elegance and posh. I didn't have the chance to take much pictures of the area, but do trust me when I say that it was amazingly designed. From the entrance, you'll first see a well-lit bar and then far down, you'll see the hallway wherein on both sides, there are sections of glass-encased dining areas.
These dining areas have high walls that are adorned with art murals, complete with plush booths or high-back chairs as well as wood and marble tables. Everything felt rustic, and there was even this kind of renaissance vibe going on. What's even more interesting about these dining galleries is that you could request for them to draw the curtains if you want some privacy while eating.
If yo go on further, you'll arrive at the lounge/bar area which has a more futuristic feel to it! But hey, for this blog, I have to be the 'Foodie from the Metro' so I won't leak out the party-girl side of me in here. (HAHA JK).
Now apparently, it was Erik Cua who was behind this grand interior design and he had it down right to the smallest details; it will definitely feel like you were transported to another place once you step in to Opus!
FOOD & PRICE
In Opus, you'll get to have dishes prepared by a superstar chef: Chef Carlo Miguel, a cooking pro who already has 15 years of culinary experience abroad and locally. He has even received such amazing awards that will surely convince you that he definitely knows what he's doing!
As they say, every artist needs his own gallery and for Chef Carlo, it's Opus as he brings to life a modernist restaurant that defies the traditional gastronomic experience. What he rather brings forth is a modern European cuisine that has no pretensions and no right/wrong way to dine. With his unique molecular dishes, everything is as he says: "open to interpretation".
To start our own promising adventure in Opus, we were first told by Chef Carlo that we were going to be served with a starter salad. But when the waiter came in, he served us this plate:
I had to make a double-take. "Wait. What. Is this salad?" Examining it closer, this piece was made of crispy prosciutto (representing bacon), croutons, anchovy, and egg salsa.
And then as if the initial surprise wasn't enough, the waiter came in again carrying a teapot. From there, he proceeded to pour this green sauce over the plate!
In my head, the thoughts kept on raging! I was all: "What's going on here? Is this really a salad?" I didn't utter a thing actually; I just went in and took a bite… and guess what? It tasted like salad! But in soup form!
It was of course a bit weird at first, but after every single bite, I just couldn't get enough of it! This Caesar Soup Salad according to Chef Carlo is a dish wherein he made use of this sauce concept which is called as velouté in French. Usually, velouté is made of chicken or fish stock but Chef Carlo made use of romaine lettuce instead, thickened with probably cream, butter, and flour. And with that, let me tell you this: I was blown away! I mean, it was good thinking!
At those times, I didn't realize it but I was laughing and grinning a lot. Chef Carlo pointed that out and said: "That! That's the reaction I'm looking for!"
 Caesar Soup Salad (P280.00)
Next up, we also had another salad. This time around, it looked more like salad, but! There were a lot of unique and fun elements in this dish: the Modernist Caprese Salad!
A usual caprese salad is made up of sliced tomatoes, basil, and mozzarella. But we're talking about Chef Carlo here, so he spiced up the dish a whole lot! First things first: have you ever thought of turning tomatoes into ice sorbets? Have you tried one? Well with Opus, I have! In the below picture, those are the orange parts that's nestled around the leaves of basil. And then, instead of simply putting sliced mozzarella for instance, Chef Carlo transformed these buffalo mozzarella into pearls! You should be careful in scooping these white ones up; better not to break it, just let it break inside your mouth!
To add more pizzazz to the dish, it is placed with a blanket of foam and sprinkled with black caviar that has a distinct balsamic taste to it; this gave the salad more dimension in the taste department.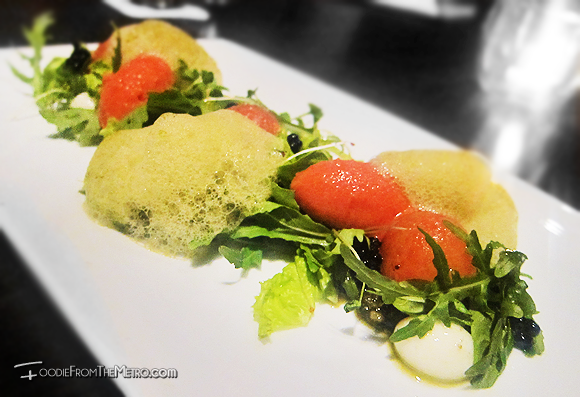 Modernist Caprese Salad (P380.00)
For the main meals, we were given a more sophisticated version of our good ol' Pinoy favorite: sisig! Opus presents it as: Duck and Foie Gras Sisig! If I get rich enough, this will definitely be the kind of sisig that I wouldn't mind eating ALL DAY LONG! It was too darn tasty and rich! Composed of smooth risotto, the sisig part was made up duck leg meat, chicharon, and chopped foie gras; and then on top of it is a dollop of calamansi foam/air!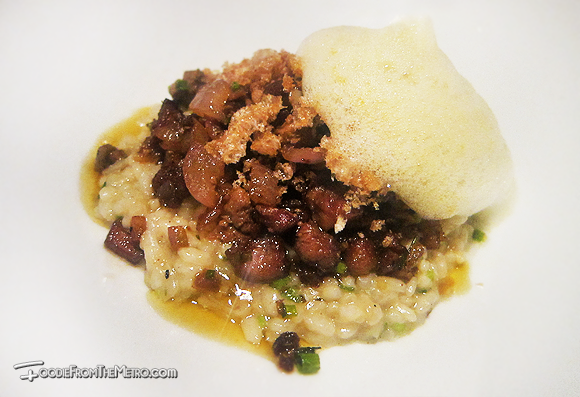 Duck and Foie Gras Sisig (P420.00)
It was apparent at this point what kind of elements are recurring in Chef Carlo's dishes. Other than the calamansi foam, this sisig dish was also served with Knorr foam! (Like come on, a sisig dish is not complete without good ol' Knorr!)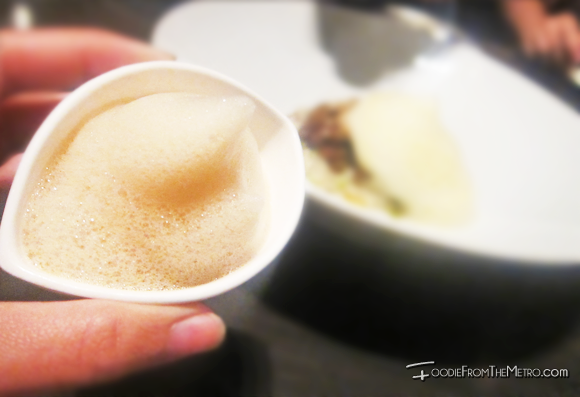 For a taste of the sea, we were given the Crispy Chicken Salmon Fillet that has this Thai-esque kind of flavor and the salmon was cooked well enough: soft and not too fishy. To complete the ensemble, it's made up of Chilean mussels, coconut sauce, coriander gnocchi, and kaffir lime foam as the sauce.
A dish that could be an instant hit with carnivores: Sous Vide Aged U.S. Beef Short Rib, beef that was cooked sous vide for 2 days! (Sous vide is a boil-in-bag kind of cooking.) With this, you would expect that there's no need for you to use your knife because the beef was as tender as it could possibly be! This had red wine sauce and pieces of porcini and also served alongside interesting pieces of baked onions wrapped around bacon (left) as well as roast garlic pudding (right).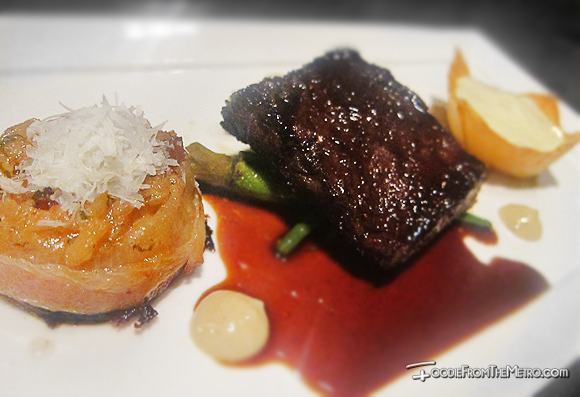 Sous Vide Aged U.S. Beef Short Rib (P980.00)
Onwards to dessert, we had the classic banoffee pie! But like I said, when you're dining with Opus, you should expect something different served to you—and different it was! Opus' Banoffee Pie 2012 (inspired by the artist Haring) was treated like a machine, deconstructed and shown into its individual parts! Caramelized banana slices, frozen dulce de leche ice cream, graham, and peanut butter podwer: here's a definite fun way to eat banoffee!
 Banoffee Pie 2012 (P280.00)
So how about we get cigar for dessert? *wink* Sounds ridiculous? Well in Opus, you could. With the Chocolate Bacon and Hazelnut Cigar (a dessert inspired by the artist Dali) you'll be served with this dessert concoction that looks, well, yeah, a cigar! Wrapped around a crackling coating of chocolate like what you see below, both ends of this 'cigar' have the chocolate bacon and hazelnut ice creams blocked by a layer of dry caramel.
 Chocolate Bacon and Hazelnut Cigar (P280.00)
I did say that I was in Opus only to dine, but hey, we wouldn't leave without trying at least one of their signature cocktails from their lounge!
LEFT GLASS: White Peach Margarita – this was mixed with Cuervo 1800 and strawberry puree with pink salt and sugar on the rim. Not too strong, but not too faint either; it's the perfect drink for the ladies.
RIGHT GLASS: Strawberries and Lemons – made up of strawberries, lemons, and Absolut Vanilla Vodka. And then here's an interesting thing: I didn't know that mixing balsamic vinegar reduction and coarse cracked pepper could be done on cocktail drinks! I'd definitely be picking this one out when I come to Opus for drinks.
And then my favorite cocktail of all: Molecular Lychee Martini! Now why do I love it? Mainly because of the organic coconut foam on top! LOL. It was that good! And then at the bottom of the drink, you'll have a sweet surprise before finishing it because you'll encounter the small molecular lychee pearl!
*Drinks from Opus' Lounge were conceptualized by international mixologist, David Dennis.
OVERALL
When you're looking for your next luxurious feast, then it should be Opus all the way! You'll be assured of the quality of every dish because each and every bit of it is treated like an art piece that's meticulously prepared and thought of! Aesthetically, it doesn't disappoint. Gastronomically, it doesn't even disappoint either! So if you're looking for that new and unconventional way of experiencing food, you should drop by Resorts World Manila and say hello to Opus. It will definitely help you rediscover and redefine the 'fun' part about dining!
» My dining experience with Opus was complimentary as I was asked to review their establishment in partnership with WhenInManila.com. As always, all views that are expressed here are entirely of my own and NOT of any other entity in their favor.
Have you tried Opus' Restaurant? How did your dining experience go?
If not, would you like to try them?
YOU MIGHT ALSO LIKE
Older Post
Newer Post
Hey there! I am Aileen Adalid.
At 21, I quit my corporate job in the Philippines to pursue my dreams. Today, I am a successful digital nomad (entrepreneur, travel writer, & vlogger) living a sustainable travel lifestyle.

My mission? To show you how it is absolutely possible to create a life of travel too (no matter the odds), and I will help you achieve that through my detailed travel guides, adventures, resources, tips, and MORE!

NEW READER? START HERE!
CONTINENTS: 7 ~ COUNTRIES: 59
Join over 1 million people and receive exclusive giveaways, travel tips and so much more!