I've been reading some online articles lately and I've stumbled into a very important news announcement which you, my readers, should absolutely know about — most especially if you are a non-EU (European Union) national who is planning to travel or is currently traveling in Europe's Schengen Area.
The news? Apparently, last October 18, 2013, member states have agreed to redefine the concept and calculation of 'short stay' in the Schengen Area and this change can truly affect your travel plans! It's an old news, but still, it seems like a lot of people do now know it yet (with some travelers being deported or fined) so I wanted to discuss this in more detail.
.

OLD DEFINITION: Non-EU foreign nationals are only allowed to stay for a total of 90 days within a 180-day period from the date of 1st entry.
NEW DEFINITION: Non-EU foreign nationals are only allowed to stay for a total of 90 days within any given 180-day period.
NOTE: This ONLY applies to short-term business/tourist visas or 'short stays', regardless if you are a non-EU national that is visa-required or exempt. On the other hand, those who have a residence permit or are allowed to have a long-term stay in the Schengen Area *(that is longer than 3 months) are NOT included in this rule.
…So, what does this mean? And what's the difference…?
The basic rule that a short stay not exceeding 90 days (3 months) remains, however, the way to calculate the length of 180 days (6 months) is the concept that has been changed.
» In the old definition… …non-EU nationals are allowed to enter Schengen for 90 days within each period of 180 days, wherein the 1st day is calculated from the date of the first entry. Over the years, this had led to a lot of confusion and varying interpretations that resulted to:
Unexpected entry denials by Schengen Countries
Reduced duration of stay
Non-EU nationals taking advantage of an 'unclear' rule
Regarding the 3rd bullet above, it is said to be typically done by those who are visa-exempted and those who are granted multiple-entry visas.
For you to better visualize how it worked, let's take an example that is discussed in this article. Accordingly, "the old rule made it possible for a person to spend most of the 90-day period in the Schengen Area at the end of the 180-day period. [And then they will] enter again for another 180-day period and spend the allowed 90 days in the beginning of that new period."
This is at the most extreme but apparently, some countries had allowed it because it's how the old rule was phrased anyway. To best illustrate this, see the diagram below:

You will clearly see how it can enable a non-EU national to stay in the Schengen period for almost a continuous 180-day period. They only have to leave the Schengen Area for probably a day or two (usually called a 'reset'), spend it in a nearby European country that is not part of the Schengen territories (like the U.K.), and then come back in again to fulfill another period.
Often times, so as not to put it in such a severe way, some would do it like this:

Still and the same, it would seem like one can stay in the Schengen zone almost in a steady manner with only short breaks of exits in between.
» With the new definition… …the above scenarios will no longer be possible. You can still country hop in Europe, alternating from one Schengen country to a non-Schengen one and then back to another Schengen country; however, you won't be able to do it in such a quick and continuous manner.
Given the phrase'at any 180-day period', instead of calculating forward from the first date of entry into the Schengen Area as per the old rule, you will now have to calculate your 180 days by looking backwards at each time you enter (re-enter) the Schengen Area. In a way, there is like this "moving 180-day reference period" that you have to consider.
Sounds confusing? Maybe the illustration below will make it clearer for you: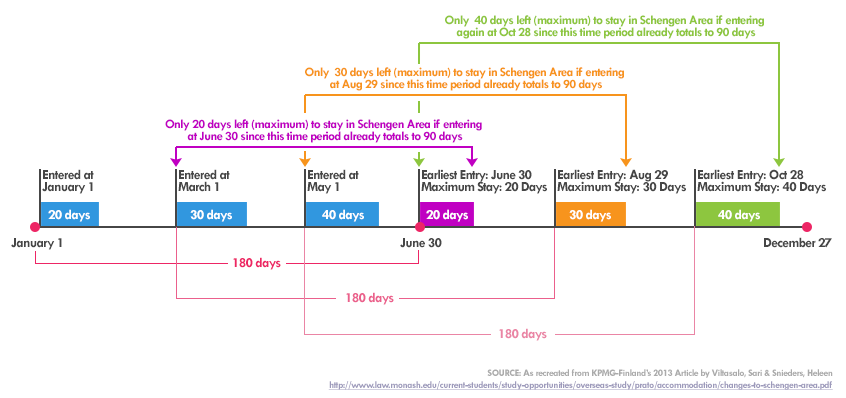 If you still find a hard time understanding this, you can always head to the European Commission's official Schengen Short Stay Calculator wherein you can input your travel itinerary in the Schengen Area to ensure that you will not overstay.
.

As previously mentioned, this new rule ONLY affects non-EU foreign nationals (also called as third country nationals) that are:
On a multiple-entry short-term business or tourist visa
On a short-stay as a visa-exempted national (passport already serves as a 'visa')
.
However, be advised that the new rule does NOT apply to:
Non-EU foreign nationals who are on a long-term or long-stay visa
Non-EU foreign nationals who have a residence permit or any other long-term immigration permits
EU / EEA (European Economic Area) nationals
> EU: Austria, Belgium, Bulgaria, Croatia, Republic of Cyprus, Czech Republic, Denmark, Estonia, Finland, France, Germany, Greece, Hungary, Ireland, Italy, Latvia, Lithuania, Luxembourg, Malta, Netherlands, Poland, Portugal, Romania, Slovakia, Slovenia, Spain, Sweden and the UK.
> EEA: Includes EU countries (above) as well as Iceland, Liechtenstein and Norway that are non-EU member states. Switzerland is neither an EU or EEA member but have the same rights as EEA countries therefore they are still a part of this group.
"Visa waiver agreements concluded by the EU with countries such as: Antigua and Barbuda, The Bahamas, Barbados, Brazil, Saint Kitts and Nevis, Mauritius, and Seychelles where the old definition ("3 months stay during a 6-month period following the date of first entry") continues to apply
.
If in case you are wondering what European countries are member states of the Schengen Area and who are the visa-exempted nationals, simply check this article wherein I have discussed all these things in detail.
NOTE: Another thing that you should know about is that the Schengen Area requires passports to be issed within the past 10 years and have at least 3 months of validity remaining beyond the intended date of departure from the Schengen Area.
.

WHAT HAPPENS IF YOU OVERSTAY?
As a general rule, anyone who overstays will be fined or deported — worst case scenario is that the offender will be banned from the Schengen Area for a period of time (1 to 3 years) or even indefinitely! So please make sure that you are fully aware of this new rule; share it as well to your friends who are planning on a 'Eurotrip' sometime soon.
NOTE: Actually, every country has its own set of rules and policies; some would simply ask that you pay a fine, others would deport you, while the rest would ban you from entering. It is said that since it is a new rule, there are a few countries that are currently strict on checking and calculating your number of days (e.g. Slovenia, Germany, Belgium, and Greece). However, this does not mean that other countries won't check — they might and they will, and as time passes, they will become stricter too.
DISCLAIMER: I do not guarantee that the information stated here will remain to be true, if let's say, you are reading this article by the year 2020. This post is definitely based on official articles that I have read as of March 2015, but it is your responsibility to ensure that the facts I have stated here are still up-to-date or true at your current time.
SOURCES:
What do you think about this new rule/definition by the Schengen Area?
Do you have anything to add to this article?
Please feel free to share this to your friends and family so that they are well-informed!
YOU MIGHT ALSO LIKE
Older Post
Newer Post
Hey there! I am Aileen Adalid.
At 21, I quit my corporate job in the Philippines to pursue my dreams. Today, I am a successful digital nomad (entrepreneur, travel writer, & vlogger) living a sustainable travel lifestyle.

My mission? To show you how it is absolutely possible to create a life of travel too (no matter the odds), and I will help you achieve that through my detailed travel guides, adventures, resources, tips, and MORE!

NEW READER? START HERE!
CONTINENTS: 7 ~ COUNTRIES: 59
Join over 1 million people and receive exclusive giveaways, travel tips and so much more!