A lot of you would have known by now how I adore New Zealand — and that's not just because it's the set for 'Middle-earth'.
Regrettably, first trip to this country felt incredibly short; after all, I barely scratched the surface of the wonders held within the North Island, and I didn't even manage to drop by in the South Island. So when Wild Kiwi invited me to go on a 21-day tour to both of the islands, you bet that I said 'yes' in a heartbeat.
Looking back, it has surely turned out to be the one most epic road trips that I have ever done in my life. With that, I hope that the rest of this post will show you why a tour with Wild Kiwi will be worth your while, if not give you ideas for your own New Zealand adventure!
Find out more about Wild Kiwi and why I have chosen to go with them (despite the number of other New Zealand tour companies who have extended their invitations to me) by reading the post below…
READ: My Next Big Adventure to New Zealand with Wild Kiwi
.
.
Where to Stay in New Zealand?
.
Pre-Travel Guide for New Zealand
Roy's Peak from Shutterstock.com
IMPORTANT: New Zealand has STRICT quarantine laws for undeclared food and other biohazards. This means that you should not bring in any kind of fresh food such as bananas, apples, honey, etc. as you make sure that you dispose of them before going through the baggage claim area. Processed or packaged food can be accepted but you are supposed to declare them on your arrival card. If you're ever in doubt, ask for clarification — otherwise, you will be charged with a hefty fine.
If you've got outdoor equipment like diving gear, hiking boots, etc. you must clean them before you travel to New Zealand in order for the inspection process to go more quickly for you. Be advised that New Zealand is firm about this given how they have sniffer dogs and bio-sensitive X-ray machines to detect any unwanted items.
.
What is the currency in New Zealand?
New Zealand Dollar (NZD) wherein about NZD 1.40~ is equal to USD $1, €0.85~ or Php 50~ (this is as of May 2018).
When exchanging your money to NZD, I highly advice that you do NOT exchange it at the airport since the rates there are not competitive. So what should you rather do? Either exchange your money at a bank or at a money exchanger in your home country or in any of New Zealand's city centers. Better yet, just withdraw from an ATM with your debit/credit card (do one big withdrawal to minimize fees with your bank). Speaking of cards, a lot of New Zealand's establishments accept credit cards but it's always advisable to have cash on hand.
When is the best time to visit New Zealand?
Technically, there is NEVER a bad time to go to New Zealand; yet of course, since both the North and South Islands are long and narrow, weather is not uniform. But as an overview, below are New Zealand's seasons:
Summer: (December to February) This is the most popular time; hence, the busiest — but the beaches are great during this time of the year. Take note by the way that January will be the warmest month. Thinking about this, New Zealand is a great escape for these months of the year if you want to get away from harsh winters.
Autumn: (March to May) This time is gorgeous as the leaves change colors and it's also one of the best times to plan a getaway or a hiking spree since the summer crowds are mostly gone. To add, rates are on an 'off peak' level.
Winter: (June to August) Queenstown for instance will be your winter wonderland, but there surely are a number of ski areas around the country. If you come in June you can enjoy the Queenstown Winter Festival.
Spring: (September to November) This is one of the 'off peak' seasons as you get to enjoy warmer days and longer daylight hours.
If I go with Wild Kiwi, what routes can I take or choose from?
To date, Wild Kiwi has over 7 kinds of routes and combinations that you can choose from:
The following are the basic inclusions for all the tours…
Expert local guide/driver
Daily road transportation and stops
Unlimited WiFi
Accommodations
Daily breakfast
Local flight (as applicable to the route)
If you are on the 21-day NZ Discovery tour like I did, you get some more extras such as the following…
Surf lesson in Raglan
Wai O Tapu geothermal park admittance
3 free dinners
What should I pack for this Wild Kiwi holiday?
Of course this will depend on what month and what locations you will be visiting as per the road trip circuit you choose with Wild Kiwi; but for a start:
– Bring comfortable walking shoes (for those city strolls + hiking sprees) and a rain jacket (just in case).
– In summer, bring a towel, swimming gear, light summer clothes, flip-flops and a light jacket.
– In winter, make sure to pack a warm jacket and lots of layers since the South Island can get really chilly.
– Don't worry about bringing fancy dresses because New Zealand has a very casual dress code.
– It's best to bring a day bag that can hold some of your essentials since it will be important for the stops you'll be making.
– Get a refillable bottle too. After all, New Zealand tap water tastes better than the bottled stuff (not to mention, it's free, which saves you the cost of buying the expensive bottled water).
– Remember to pack sunscreen or a hat because the sun can be quite strong in some places.
– Feel free to bring your own snacks or alcoholic beverages during the road trip.
– Bringing insect repellant is a good idea as well because there are little pests called 'sand flies'.
– Lastly, you must buy travel insurance especially with how you'll be doing a lot of adrenaline-pumping activities. For this I highly recommend buying from World Nomads. I've been buying my travel insurance with them for years and they're amazing. They have a wide coverage, they service worldwide and they have a fast and easy purchase process online.
Where to best stay (for accommodations)?
There is of course a range of accommodations in New Zealand for you to choose from. To search for the best accommodations at the best prices, I suggest checking out Agoda and Booking.com. But if you're rather interested in renting comfortable houses, check AirBnB.
Anyhow, if you're coming with Wild Kiwi, your accommodations will be taken care of during the tour (a mix of inns and hostels); but it is highly recommended that you book your own accommodation for at least 1 night before and after your Wild Kiwi road trip journey to allot some time of relaxation before and after your flights. For a list of the top accommodations, see my posts below…
Should I get a visa to visit New Zealand?
You can check this list of countries to see who does NOT need tourist visas to enter New Zealand. Naturally, if you're NOT a citizen of any of the listed countries, you will then need to apply for a tourist visa in the New Zealand embassy that's near you. If you're a Philippine citizen like me, you can read my guide on 'How to Apply for a New Zealand Visa'.
Helpful Māori phrases
English is the dominant language spoken by most Kiwis (New Zealanders) but the country's de jure official languages are Māori and New Zealand Sign Language (NZSL). Rest assured, Māori people are bilingual and can speak English too, but they'll be happy to hear you try and speak the Māori language.
If you want to learn a few helpful phrases, make sure that you pronounce the following properly!
Hello (to 1 person, formal): Tēnā koe (Te-na koy)
Hello (to 1 person, informal): Kia ora (Key-oar-rah)
Thank you: Kia ora (Key-oar-rah) ~ pronounced with a rising intonation
Yes: Āe (I)
No: Kāore (Kao-re)
Goodbye (said by person leaving): E noho rā (E-noho ra)
Goodbye (said by person staying): Haere rā (Hayre ra)
.
I'm sorry: Aroha mai (Ar-ro-ha-mai)
Help!: Āwhina! (Af-fin-nuh!)
Cheers!: Kia ora! (Key-oar-rah!)
New Zealand Road Trip Itinerary
NOTE: The following sections are in a tabbed format; so, in order to see the next day's contents, just click the headings.
.
» Northern Voyager «
• • •
» Southern Loop «
• • •
» Southern Voyager «
◘◘ From Christchurch to Franz Josef Glacier
After meeting new additional people to our tour, we departed from Christchurch in the morning and headed for the dizzying heights of Arthurs Pass and the stunning snow-capped Southern Alps. Mid-way, we stopped by a lake (wherein some of our companions were crazy enough to jump into the icy waters) and Castle Hill (which was named as such because of its imposing array of limestone boulders that were reminiscent of an old run-down stone castle).
After we had our fun, we finally arrived to our destination which was Franz Josef Glacier Village.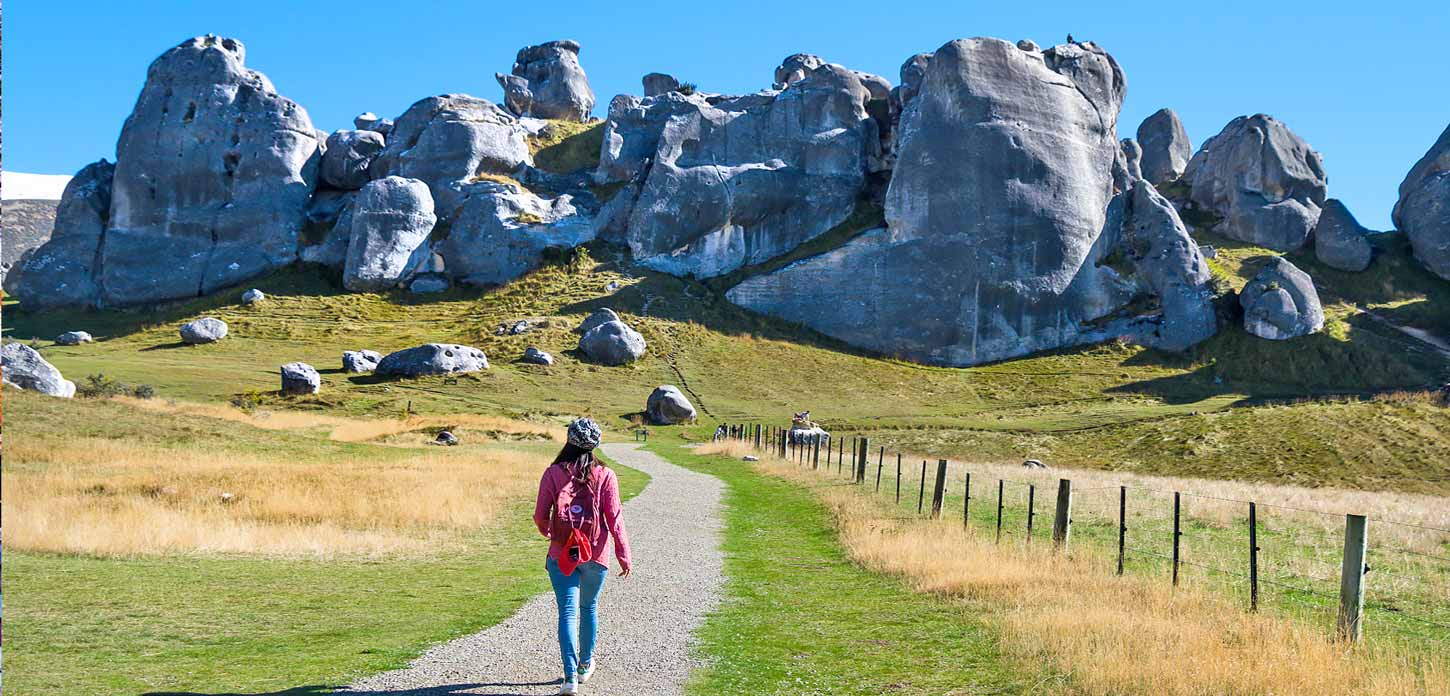 Castle Hill from Shutterstock.com
◘◘ Franz Josef Glacier
Together with Fox Glacier, Franz Josef Glacier is surrounded by the World Heritage Site park of Te Wahipounamu. As a lush area filled with fantastic sights, there is a diverse number of things that you can do here: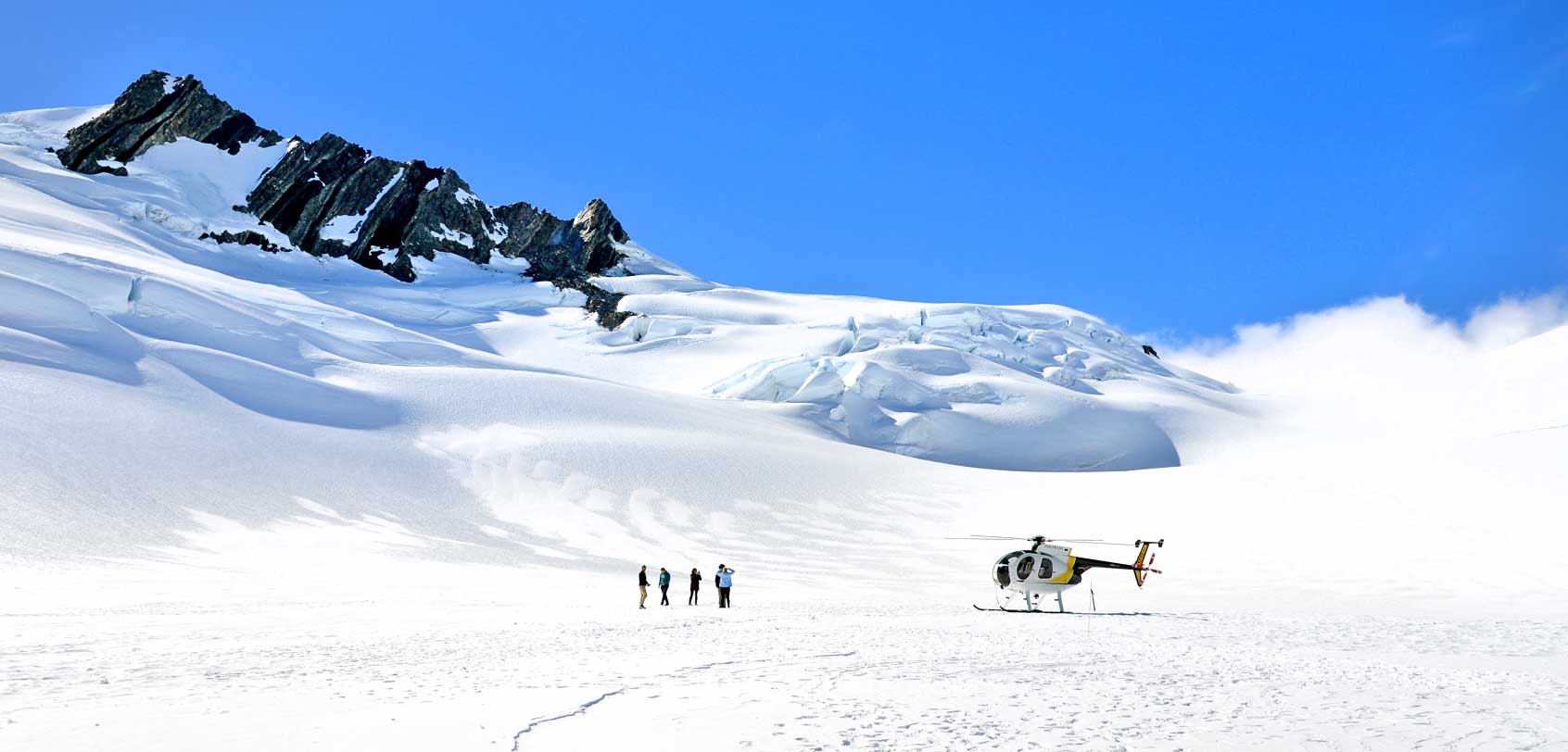 Franz Josef from Shutterstock.com
◘◘ From Franz Josef to Queenstown
For this day, we're finally making our way to the 'adrenaline capital' of New Zealand — Queenstown! It's a bit of a drive though, so before we arrived in the city, we passed by the following places first..
Lake Matheson: This lake offers awe-inspiring mirror reflections of Mt. Cook (the highest mountain in New Zealand) and Mt. Tasman. It basically involves a short circuit walk, and if I may share a tip, it's best to hike here during dawn or dusk in order to see the best lake reflections of the surrounding snowcapped mountains.


.

Haast Pass: A mountain pass found in the Southern Alps that's brimming with beautiful short walks, rainforests and waterfalls. Some of the breathtaking waterfalls we have seen were Fantail Falls and Thunder Creek Falls.


.

Wanaka: We stopped in this resort town to take a brief driving break, and it was such a serene place to lounge or have a picnic in! It was also a fascinating experience to see the 'recently famous' Wanaka Tree (a fence post that has now turned into an online sensation — and it's easy to see why because this lone tree was perfectly backdropped by the alps and the surrounding terrain).

NOTE

: If you happen to have a full day to spare in Wanaka, I suggest doing the 16km return track to Roy's Peak that grants views over Lake Wanaka, Mount Aspiring/Tititea and its surrounding peaks.
TIP: When you arrive in Queenstown around night time, drop by Fergburger for dinner. This is New Zealand's most famous burger joint and it helps to note that it is NOT a chain — you'll only find them in Queenstown, so it's a must to give them a try. Sure enough, they do have great-tasting burgers. (But if you want a less crowded place, Devil Burger is a great alternative!).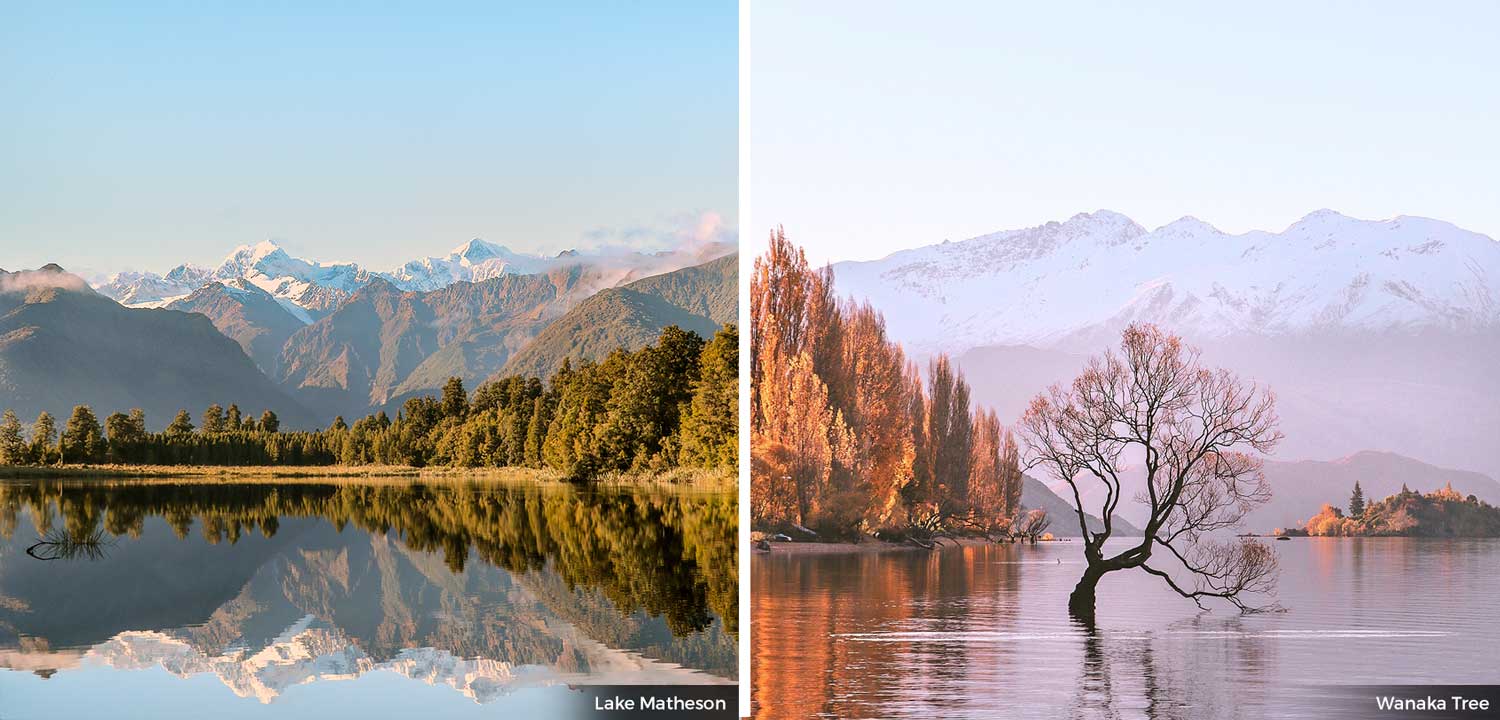 ◘◘ Milford Sound
A trip to the South Island is not complete without visiting the UNESCO-listed fiord of Milford Sound. It takes 5 hours to drive here from Queenstown, but I assure you: this will be worth your while because for one thing, the road that leads to Milford Sound are scenic. And once you arrive, you'll be indulging in the towering Mitre Peak, the lush rainforests and the high waterfalls like Stirling and Bowen falls that both plummet down its sheer sides. Not to mention, this fiord is home to fur seal colonies, penguins and dolphins — so you're sure to have a fun time overall.
Now, the best way to see this all would be through a boat cruise (NZ$80~), but if you want to take it a step further, you can also do a helicopter tour over Milford Sound!
NOTE: If you end up with some spare time, check by the tab marked as 'Day #19' to see the other activities that you can do in and around Queenstown.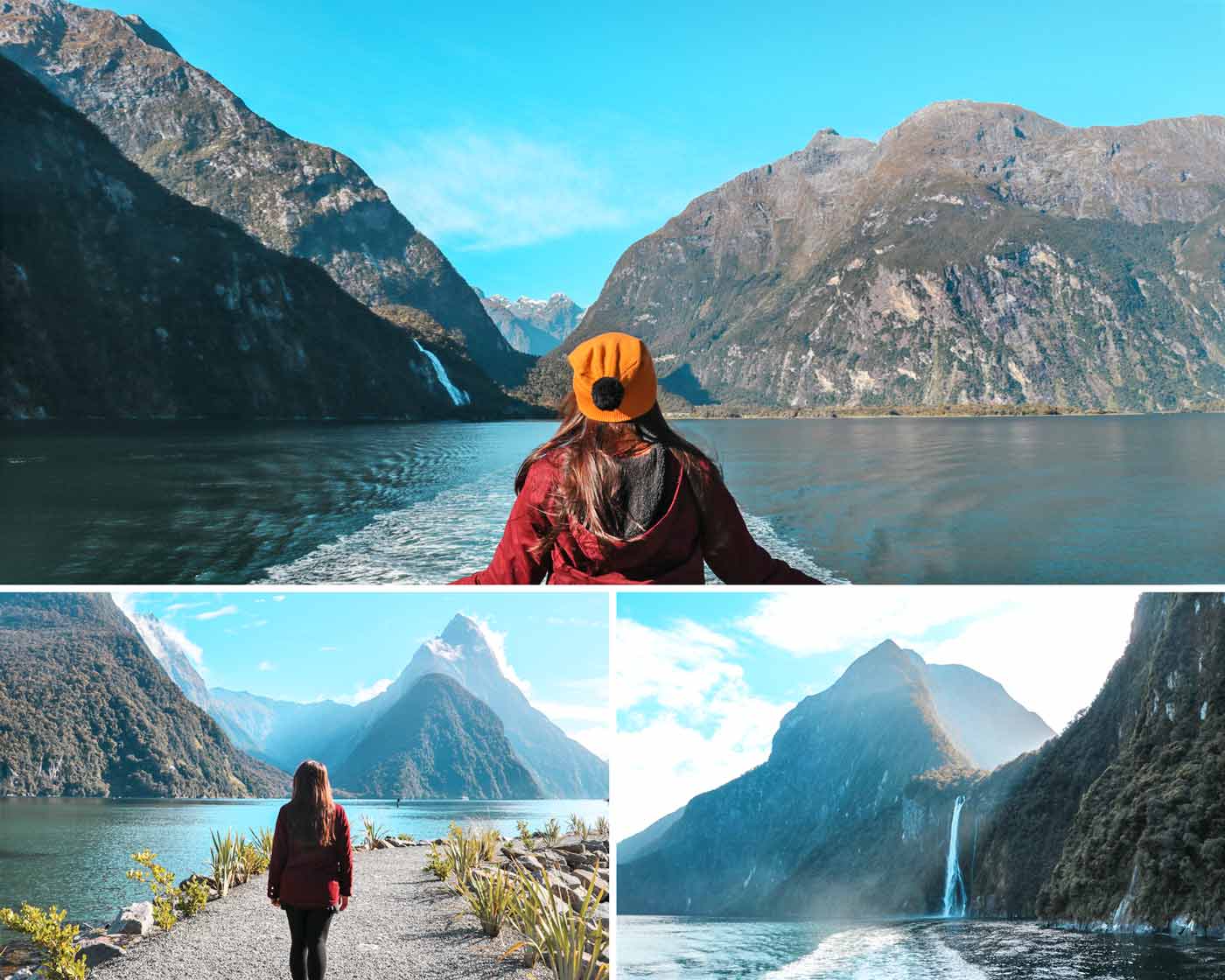 ◘◘ Queenstown
For our last day in Queenstown, we made sure to fill it up with adrenaline-pumping activities! Some of my companions went bungee jumping and others did canyon swings. As for me…? Like I've already mentioned before, I made it my goal to do sky diving in Queenstown so that it could help me overcome two of my top fears: heights and flying in a plane — and so I did: I jumped out of a perfectly-functioning plane at 15,000 feet and boy, it was the most amazing thing that I have ever done in my life!
For a complete list of action activities you can do, see below…
Sky Diving: (Starts at NZ$330~) Queenstown is said to be the birthplace of tandem skydiving; therefore, there's no better place to do it than here! And if you want the best provider possible, do it with NZONE Skydive. With their years of operation and highly-trained dive masters, you're sure to be in good hands when you jump out of an aircraft at 12,000 or 15,000 feet (your choice). The thrill of free falling for about 60 seconds as you plummet towards the ground at 200kph is a sensation that you'll forever remember and cherish. I've done this myself and I'm so glad that I did it with NZONE!

Bungy Jumping: (Starts at NZ$60~) This is New Zealand's highest bungy jump at 134m above the Nevis River, and it offers 8.5 seconds of pure free fall! Though this looks dangerous to your eyes, be assured that your safety is wholly assured because AJ Hackett has been operating this since 1988 with over 1.5 million jumpers who now hold the bragging rights. (

NOTE

: If in case you want some added 'oomph' to your trip, you can also package this with a roundtrip helicopter ride).

Combo = Combine this bungee jumping activity with a Nevis canyon swing for the ultimate adrenaline rush!


.

Ledge Swing:(NZ$160~) Yet another daredevil affair, the Ledge Swing will set you flying 400m across and over Queenstown! Located at the top of the Skyline Gondola, the Ledge Swing will first take you on a relaxing panoramic ride up and after you're strapped in, they will pull the 'trigger' to send you swinging over the mountain.


.

Jet Boating: (NZ$150~) This is an adrenaline-pumping activity that is also invented by New Zealand. If you like speed, spins, and thrills combined with marvelous water scenery on the Shotover River, then going on this Queenstown jet boating activity will be worth your while!


.

Quad Biking: (NZ$240~) This is the best fun you can have on four wheels! For this, you will be provided with a full set of protective equipment and clothing gear as you go on a 2.5-hour ride through panoramic vistas of Queenstown.


.

Luge: (Starts at NZ$45~) Somewhat of a mix between a go-kart (without the engine) and a toboggan (without the snow), "Luge" is a fun and fast-paced adventure activity that is great for people of all ages! (

NOTE

: It also already includes a gondola ride).


.

Lord of the Rings Tour: (Starts at NZ$185~) Journey through Middle-earth and visit the 'cinescapes' from Peter Jackson's Lord of the Rings and The Hobbit trilogies in this amazing half-day tour. Some of the places you'll be visiting are "Isengard", 12 mile Delta, Misty Mountains, Pillars of the Kings — and more! Without a doubt, this will be a treat for the franchise fans (like me!).


.

Helicopter Tour: (Starts at NZ$800~) Soar high above Queenstown as you make your way to UNESCO-listed area of Te Wahipounamu which encompasses Mt. Cook, all the way to Milford Sound which has acres of dense forests, streams, lakes and towering mountains. From this bird's eye view, you'll definitely have rare access view of the landscapes you'll be seeing — and that's not all, because you will also experience a snow landing in the secluded Southern Alps!


.

Skyline Gondola: (Starts at NZ$30~) Slow down and get on the Skyline Gondola which gives you one of the best vantage points of the city. For the best views and photos, go here when the sun sets, and if the sky happens to be clear, you must grab the chance to go on their stargazing tour.
◘◘ Mt. Cook
We said our goodbyes to Queenstown today, but we shook away the blues because we knew that we were heading off to the iconic Mt. Cook which is New Zealand's highest peak (at 3,724 meters!). As must as we would have loved to climb the summit, we were happy enough to do a hike in the valley and one of the popular trails that leads to Mt. Cook was the Hooker Valley track. This is a 3-hour hike that goes through gorgeous alpine sceneries and you can do it by yourself or with a knowledgeable guide. Now… if I say so myself, this has got to be one of the most amazing hiking trails that I have ever done in my travels, so don't skip out on this!
Once the night falls, don't also forget to go out and do some stargazing in the beautiful Aoraki Mount Cook National Park.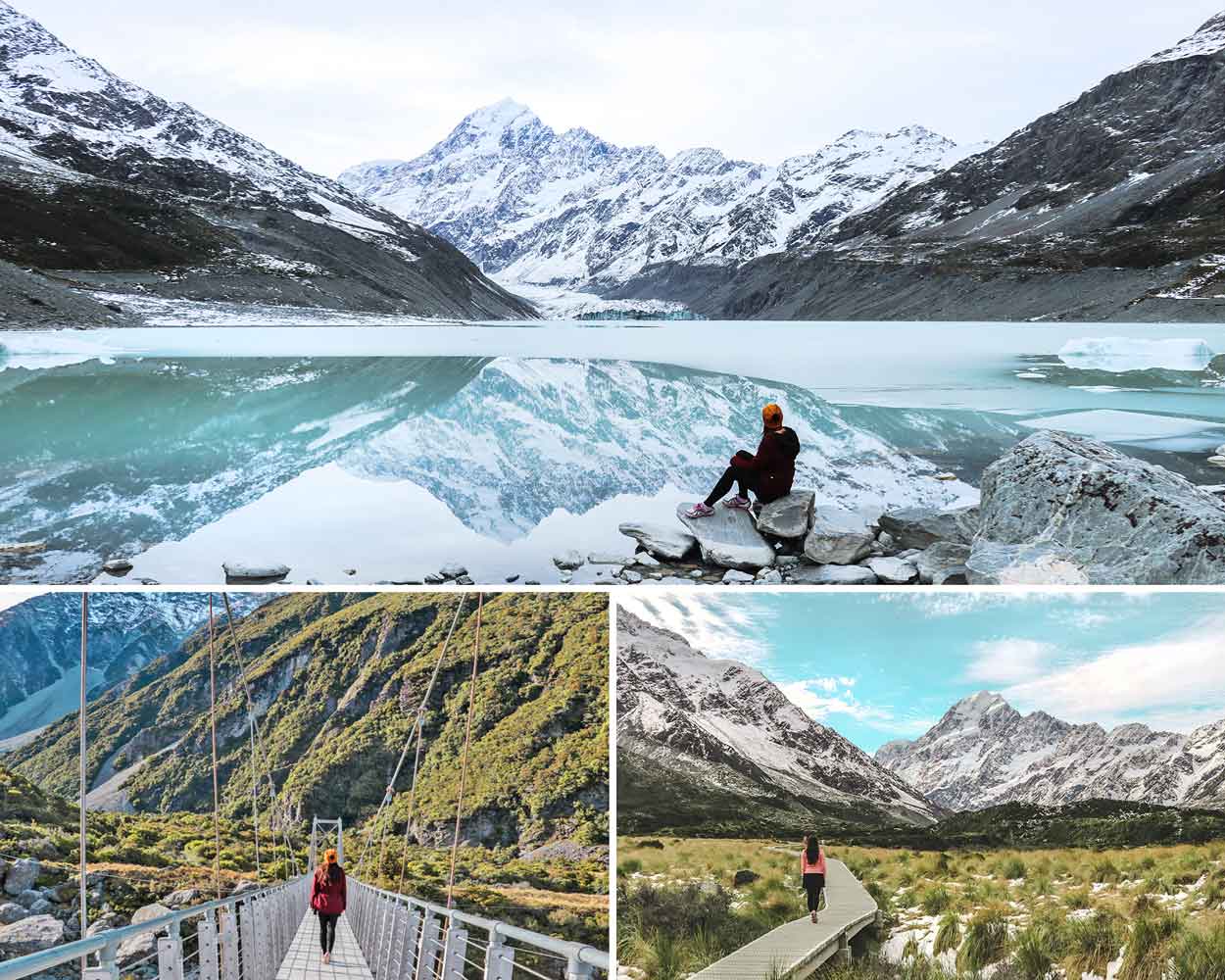 ◘◘ Back to Christchurch
Sadly, this was our last drive with our companions and Wild Kiwi — but of course, we were all smiles as we think back at all the memorable things that we've done or seen! …And as if we were still hungry for more, we made sure to make some stops along the way before finally arriving back to Christchurch, and some of the spots we've dropped in were: Tasman Glacier, Lake Tekapo, and Church of the Good Shepherd.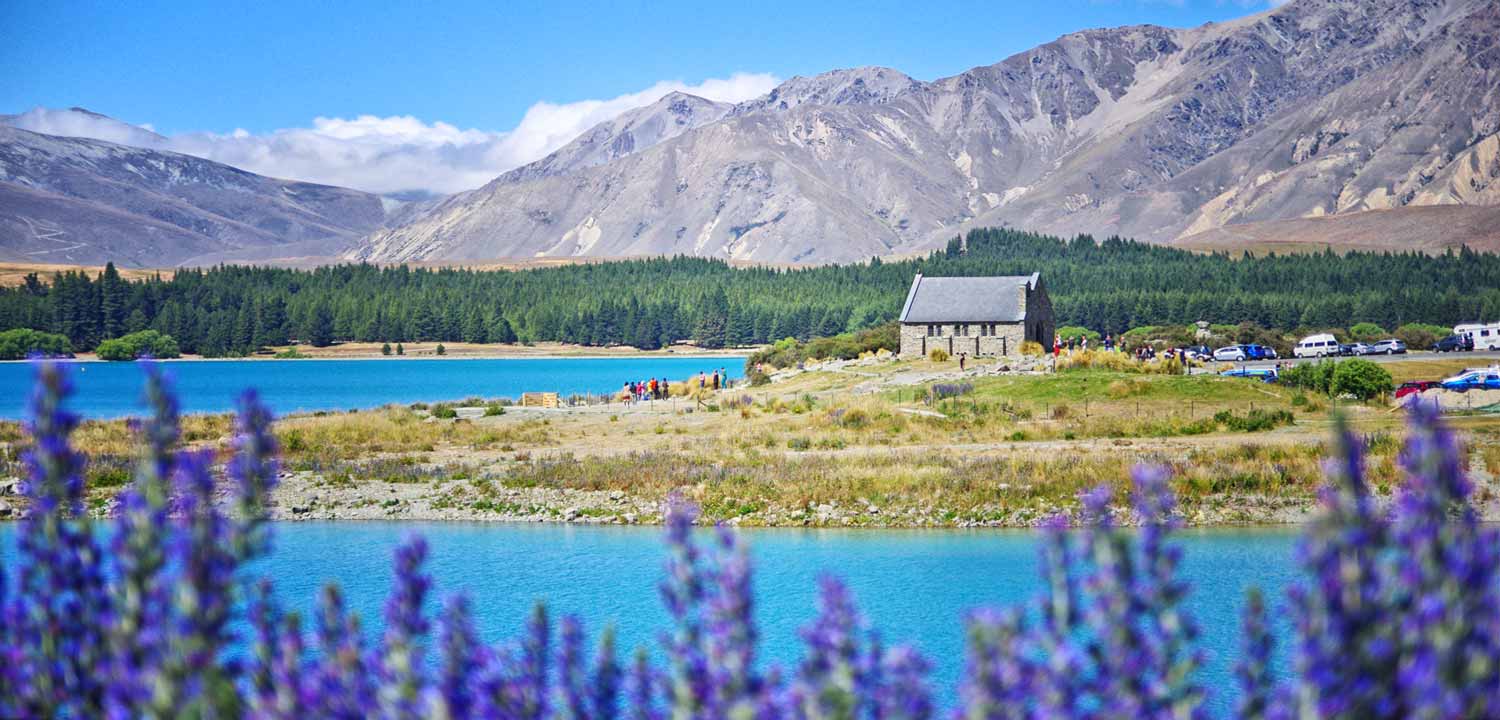 Lake Tekapo & Church of the Good Shepherd from Shutterstock.com
It's plain to see that this has been an ultimate adventure for me — and it's all thanks to Wild Kiwi!
With that said and done, going for their 21-day NZ Discovery tour is a must if you want an all-encompassing great-for-value trip of the country North and South Island; however, if you're pressed on time, any of their 7-day or 14-day tour will already fit you well.
NOTE: Some of you have been asking me as to which of the 7-day tours is best to take. Well… this is quite a difficult question to answer because each of those tours have their own charm. But depending on your preference, it can be an easy pick; therefore, what I can say is that the 'North Voyager' offers the best of New Zealand's culture, the 'Southern Loop' takes you on a laid-back trip of sorts, and the 'Southern Voyager' provides the best adventure and adrenaline choices.
What do you think of this New Zealand road trip itinerary?
Would you like to try out one of Wild Kiwi's routes? Why or why not?
Do you have any other tips to add?
YOU MIGHT ALSO LIKE
Older Post
Newer Post
Hey there! I am Aileen Adalid.
At 21, I quit my corporate job in the Philippines to pursue my dreams. Today, I am a successful digital nomad (entrepreneur, travel writer, & vlogger) living a sustainable travel lifestyle.

My mission? To show you how it is absolutely possible to create a life of travel too (no matter the odds), and I will help you achieve that through my detailed travel guides, adventures, resources, tips, and MORE!

NEW READER? START HERE!
CONTINENTS: 7 ~ COUNTRIES: 59