Nepal is a destination that is known for its grand vistas which are a mix of astounding Himalayan views, lush jungles, colorful villages, and anicent temples. As such, there is undoubtedly a ton of things that you can do in the country to fill up your time — but when it comes to the wildlife, nothing beats the UNESCO World Heritage site of Chitwan National Park (which is a mere 20-minute flight from the capital of Kathmandu). To date, there are a number of accommodations in this famous safari that could give anyone the opportunity to enjoy Chitwan's rich habitat; however, the newest luxury jungle lodge of the Taj Hotels named as Meghauli Serai is a place that you must not miss out on.
I actually had the amazing chance to stay here during my visit to Chitwan last year in Nepal, and right from the first day, I easily saw how it is an opulent staycation that will be worth anyone's time and money. In fact, I honestly don't think that there is any other place surrounding the Chitwan National Park that could beat Meghauli Serai!
To further prove my point, below are the top 10 reasons why a stay in this luxurious jungle lodge is a MUST!
.
Top 10 Reasons to Stay in Meghauli Serai
#1 – Lush and upscale jungle safari escape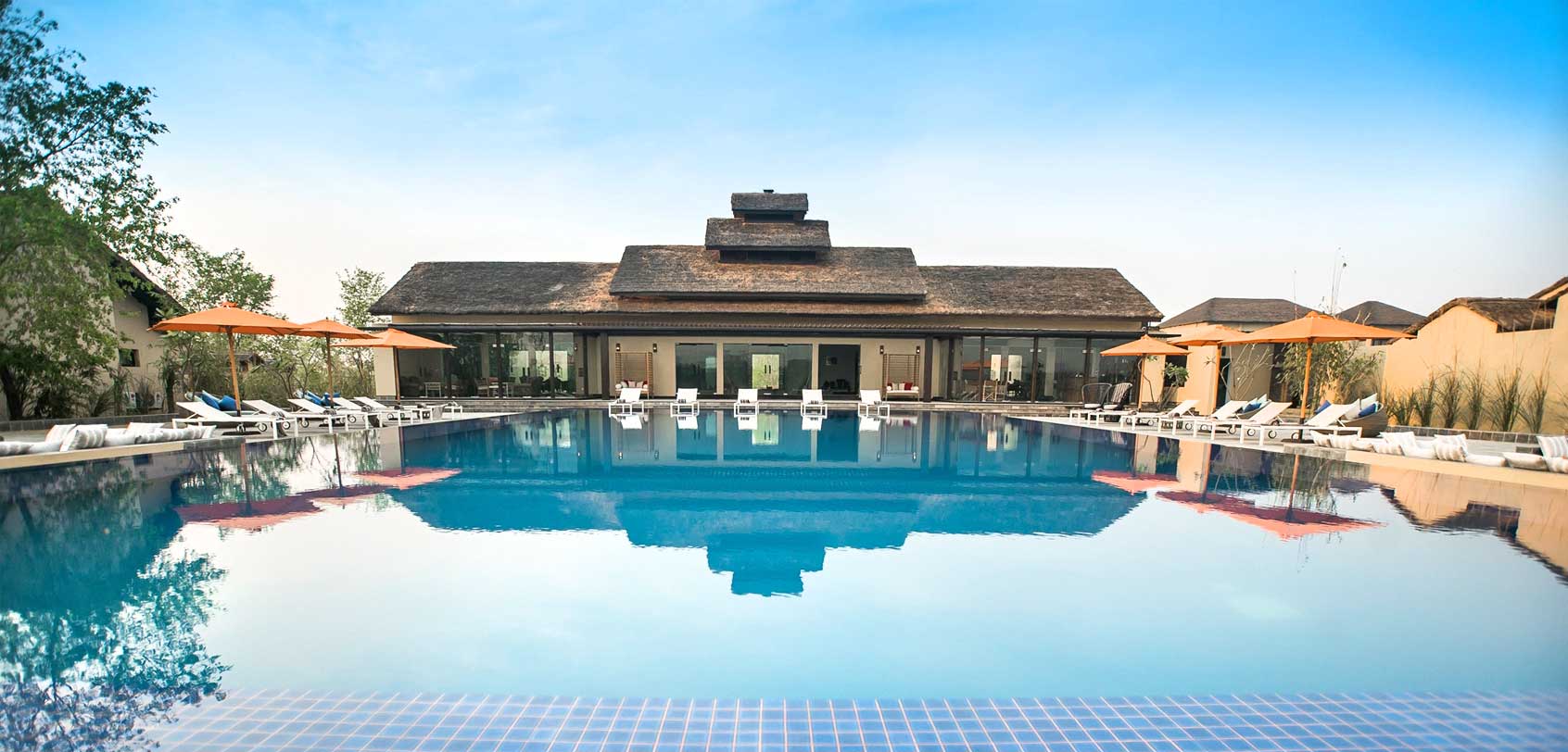 Nestled on the picturesque banks of River Rapti, Meghauli Serai is actually a newly opened safari launched just last 2016 under the popular Taj group of hotels. It is the first of their luxury lodges that is located outside of India; but as expected, it exudes the same signature grandeur that the group has come to be known for worldwide.
First and foremost, Meghauli Serai boasts 13 rooms, 16 pool villas and 1 presidential suite that have all been basked in earthy tones along with a distinct focus on local designs (as exemplified by the furniture and hand-painted murals not only in the rooms but in the whole property too).
To add, the lodge even has a large outdoor infinity pool that faces the jungle-scape as well as several dining area options in order for the guests to fully enjoy the surrounding terrain.
.
#2 – Perfect location right in the heart of Chitwan National Park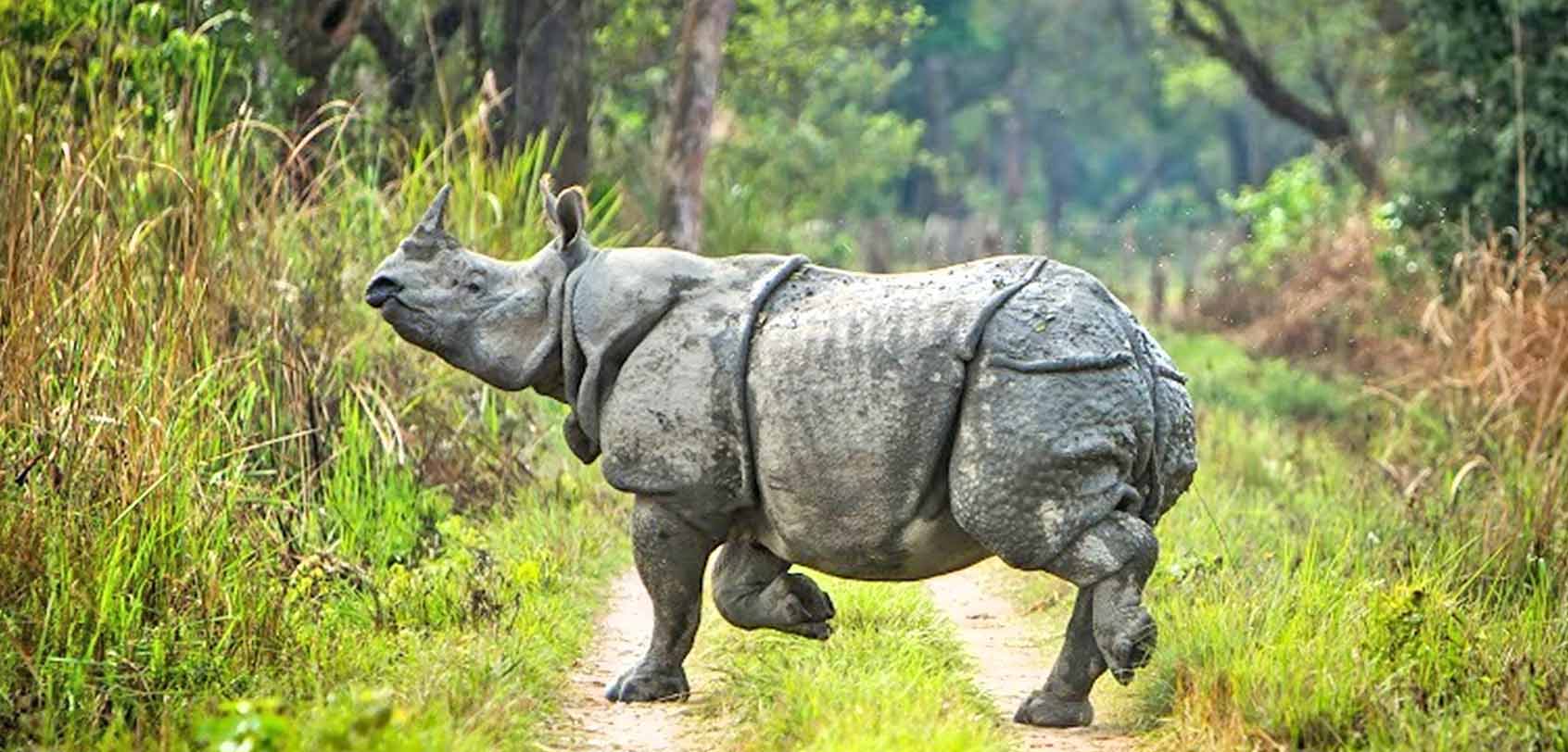 Like I've already mentioned previously, Chitwan ("Heart of the Jungle) National Park which is Nepal's first national park is a UNESCO World Heritage site, and Meghauli Serai is perfectly smacked right on the buffer zone of this safari by the River Rapti. So naturally, it comes as no surprise that guests will often enjoy sightings of wild animals who will come drinking or bathing by the river — and come night time, their sounds will even pleasantly waft in from time to time.
TRIVIA: Chitwan is regarded as one of the best wildlife-viewing safaris in Asia due to its exceptional natural beauty and the number of animals that are protected within it. The most well-known of them all would be the endangered Indian Rhinoceros or 'greater one-horned rhinoceros' of which only 3,000 remain in the wild (and 605 are found in Chitwan alone). Other than this, there are the unique-looking Indian Gharials (crocodiles), tigers, leopards, elephants, sloth bears and various bird life.
.
#3 – Luxury rooms and suites to suit anyone's fancy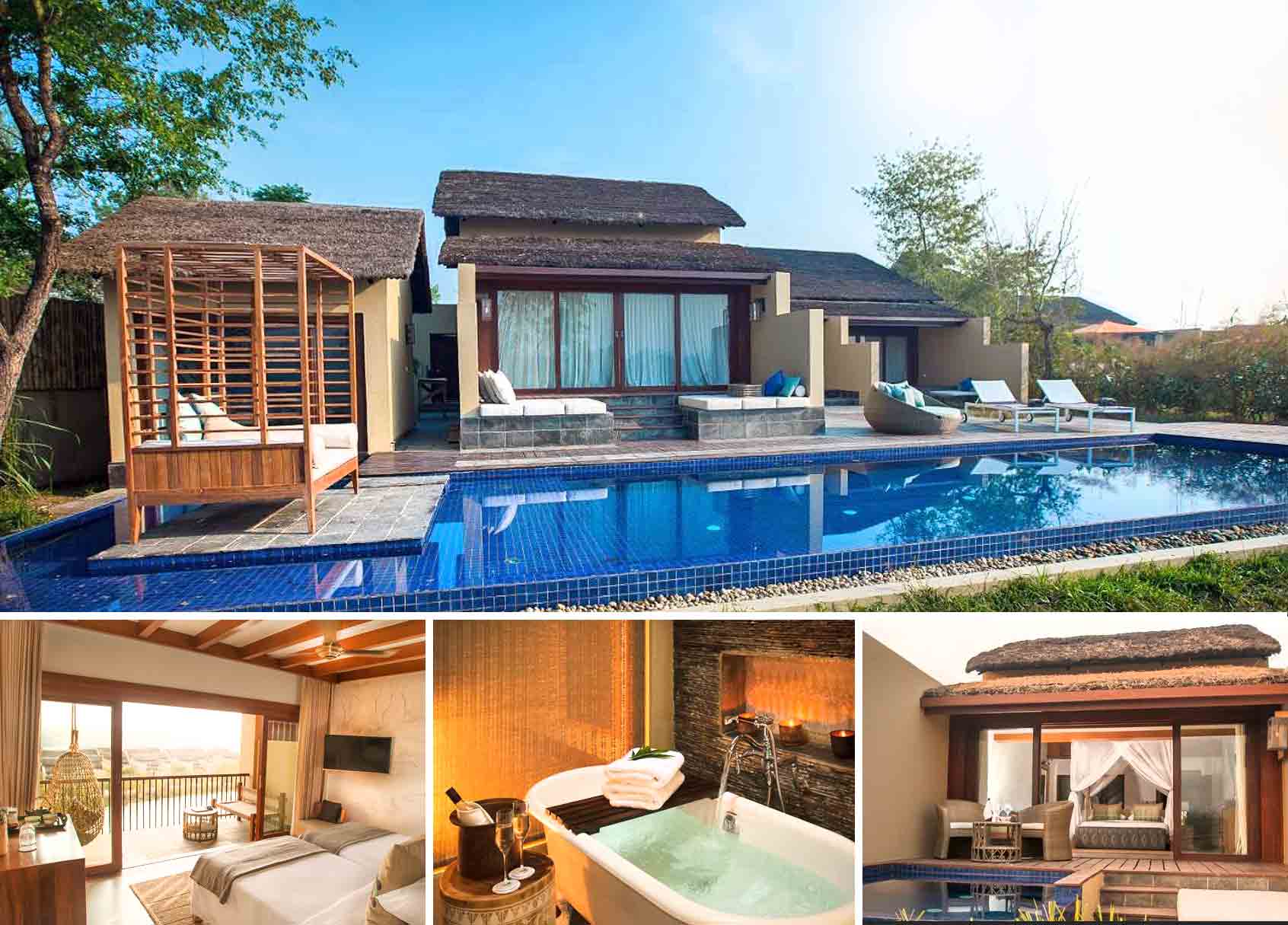 All of Meghauli Serai's rooms connect the guests to Chitwan's lush nature given the uninhibited views it provides of the river and the national park. No matter what your budget or fancy may be, the following rooms will give you the comfort and luxury that you're looking for!
13 Meghauli Rooms
With quirky rhino motif designs, each of these rooms open up to a spacious balcony that overlooks the Himalayas and the Terai grasslands.

42.73 sq. metres
Signature shower cubicle

16 Rapti Villas
Drenched in pastel hues, these villas each offer a spacious living space woth great closer views of the river and the national park.

83.61 sq. metres
Signature indoor and outdoor showers
Outdoor private plunge pool

1 Rapti Mahal
A presidential suite with a private river view deck and larger plunge pool for ultimate privacy and lux.

102.19 sq. metres
Signature indoor and outdoor showers
Outdoor private plunge pool (larger than the villas)
Luxurious 5 fixture bathrooms and standalone bath tub


.
#4 – Delectable food in unique dining settings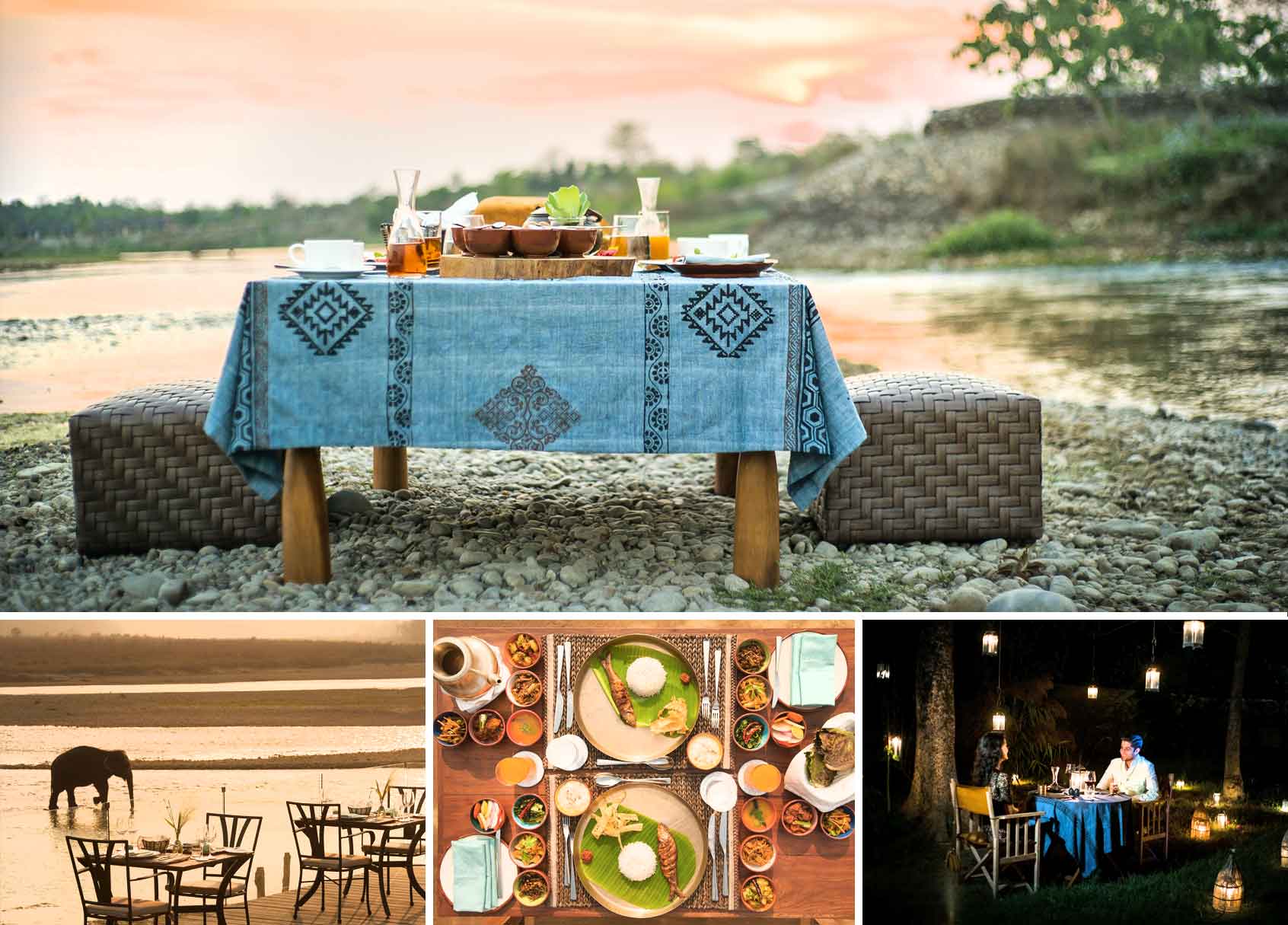 Every meal in Meghauli Serai was like a celebration! Not only were they always freshly-prepared but they were also made with organic home-grown ingredients that celebrate the rich influences of the region dominated by 4 ethnic groups: Newari, Sherpa, Pahariand, and Tharu. Hence, guests can absolutely savour Himalayan and Tibetan flavors all day long — not to mention, everyone is free to have it in any of the following venues too:
Bonnet: for breakfast, have it by the pool or by the hood of your safari vehicle when you're out exploring the national park. You'll have choices of freshly-baked muffins and cookies along with some fresh fruit and savory dishes!
Tharu Village: typically done during dinner, you can enjoy authentic local cuisine in a small village that has been recreated within Meghauli Serai. Traditional dishes like sticky rice and spicy duck will be some of the sample dishes that you will enjoy while local Tharu dancers entertain you for the rest of the night.
Bada Ghar: in Tharu culture, the locals live in a large family home which they call 'Bada Ghar' (meaning: 'big house') and this dining area in Meghauli Serai is based on this concept as it offers a large dining area with an array of food options.
Riverside: perfect for a sunset meal, there is an elevated deck in the premises called as "Rapti Kinara" which gives vantage views of the Chitwan jungle-scape. With this option, guests can enjoy a taditional 'sekuwa' barbeque dinner on candle light.
Private: other than having your meals in the comfort of your own room, you can also ask the lodge to prepare it by soft sandbanks of the River Rapti or under a tree with the light of oil lamps — it's your call!
.
#5 – Meaningful immersions with local ethnic groups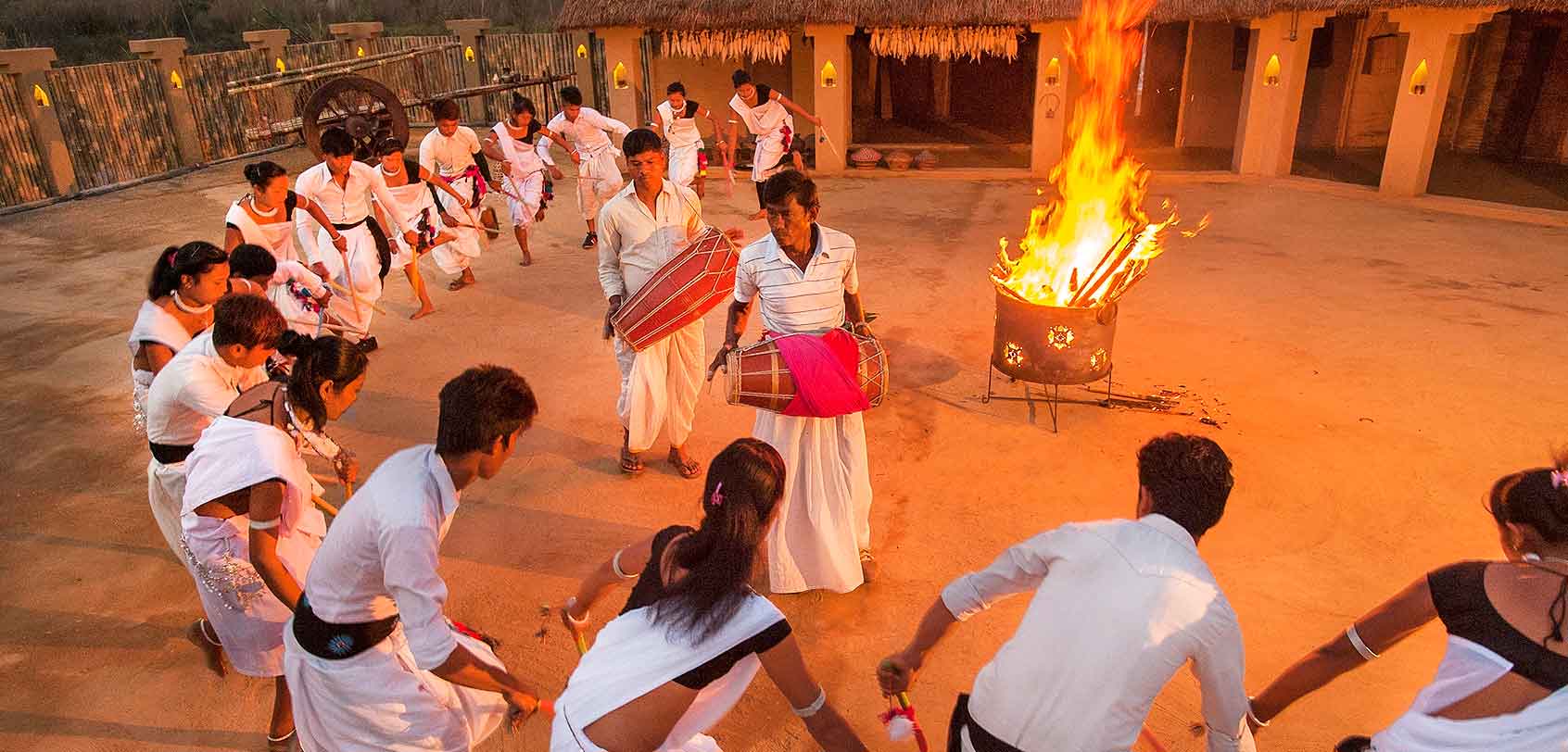 The region has several ethnic groups and Meghauli Serai gives their guests the opportunity to get to know the local Tharu tribe who call themselves the 'people of the forest'.
For a start, there is the option of attending a 'Gala Dinner' wherein Tharu locals will perform their signature dances in tune with a drum beat while you feast in some of the authentic local cuisine. This will be held in an open courtyard that is modelled after a typical Tharu village given how the structure is plastered with mud, has a thatched roof, and decorated with traditional tribal patterns.
Otherwise, the lodge can also arrange actual village visits so that you can get to interact with the Tharu tribals, learn more of their culture, and witness their quaint daily lifestyle.
.
#6 – Jeep or walking safaris to sight rare wild animals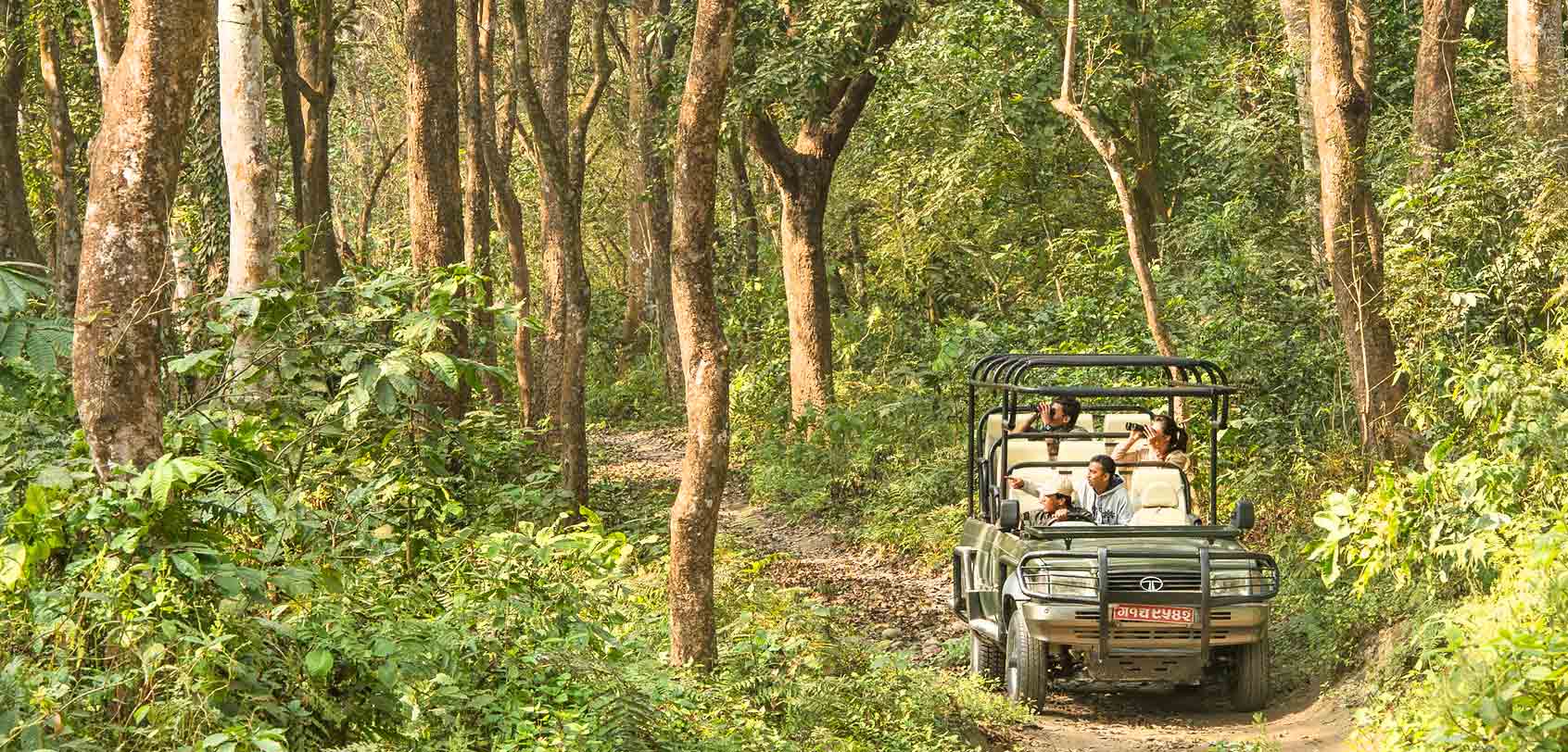 Meghauli Serai has jeep safaris that are done in customized 4×4 vehicles and done by skilled expert naturalists who can interpret the sights and sounds of the forest for you. Naturally, this is an activity that you absolutely should NOT miss out on!
For starters, go and meet the various wild animals within Chitwan National Park — one of which is the endangered one-horned rhinoceros. As I've pointed out before, there are only 3,000 of them remaining in the world and there are about 600 in Chitwan National Park; hence, sighting this rare animal is often not too hard in this safari. When I had my jeep safari experience with Meghauli Serai, we managed to see several of them bathing and it was such an amazing experience!
TIP: Head out early at dawn and if you want to be a lot closer to the animals, you can also choose to do a walking safari. Take note as well that jeep safaris are not done during monsoons (months of July to October).
.
#7 – Magical canoe trips down Rapti River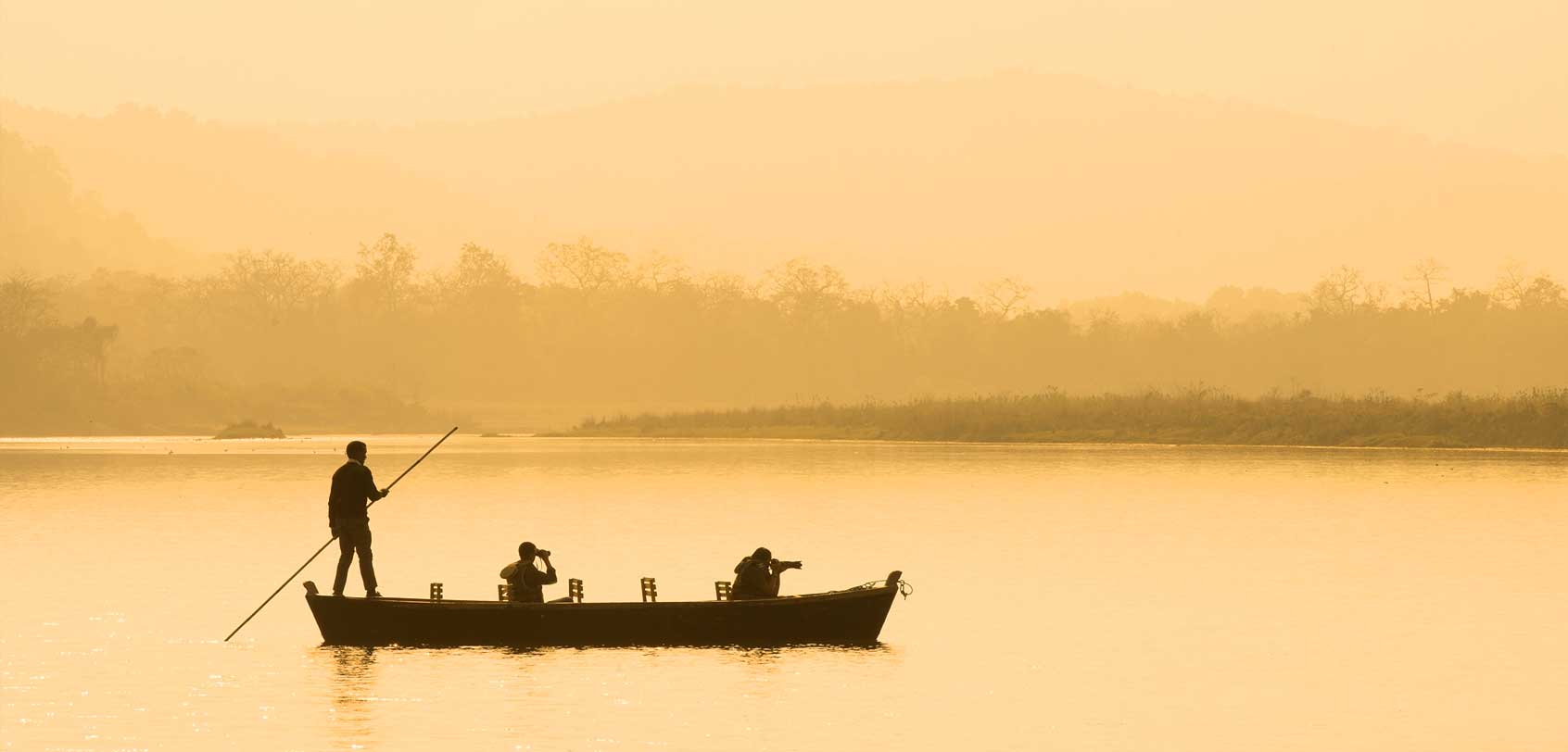 For a subdued jungle activity, try Meghauli Serai's canoe trips either during sunrise or sunset. After all, it is a leisurely journey that traverses down through the Rapti River which makes for a magnificent way to take in the whole natural diversity.
When I did this, the overall experience was so calming and by the end of it, the lodge even prepared an amazing picnic beside the river! It was pure bliss.
NOTE: If you're rather looking for an adrenaline rush, Meghauli Serai also offers whitewater rafting through another river called as Trishuli.
.
#8 – An array of other fun and cultural activities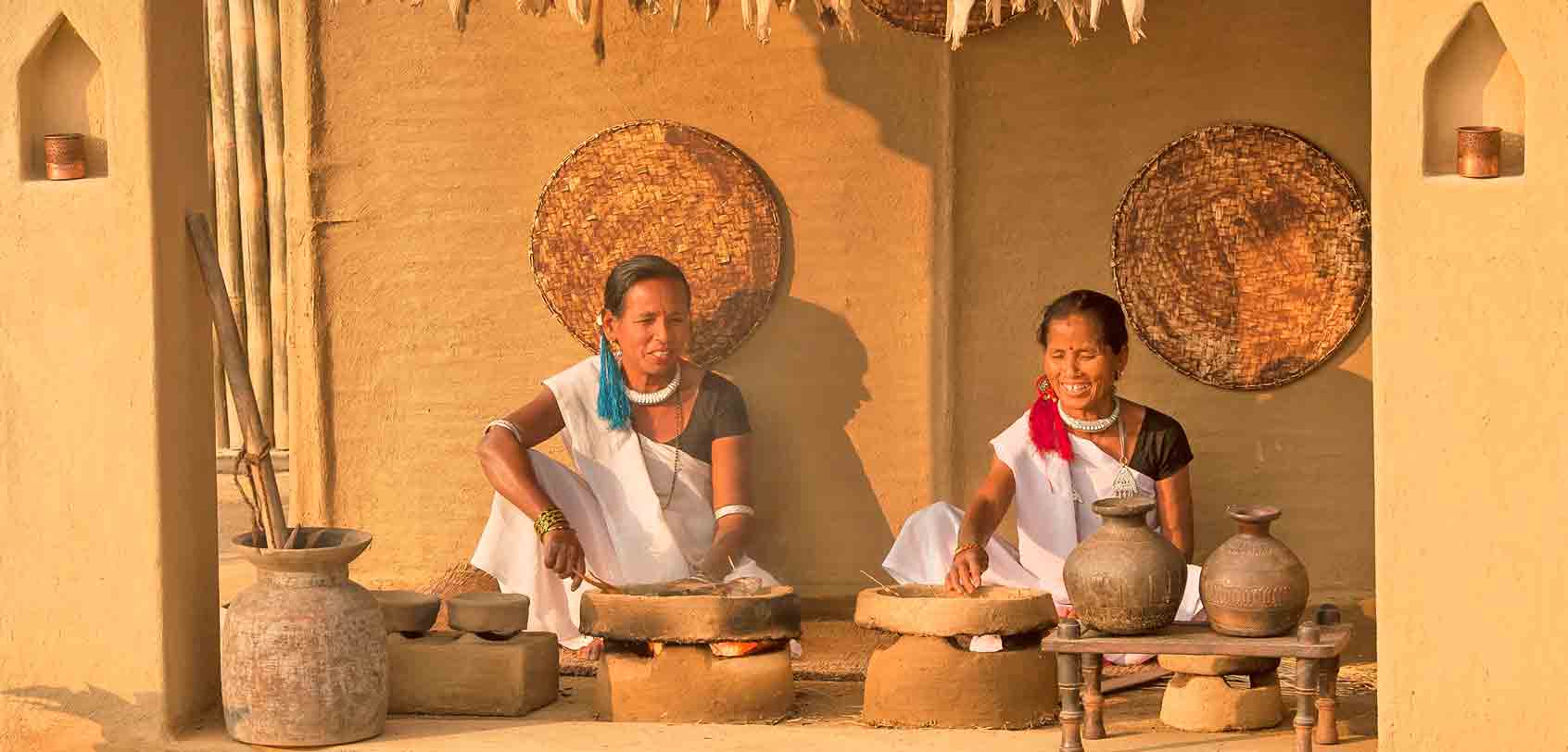 Shopping. There are various local markets nearby where you can find unique Nepali products to take home as souvenirs or gifts (such as colorful masks, Hindu or Buddhist iconography, charms, puppets, dolls, etc.). The top two towns nearby that you will be checking out will be Narayangarh and Bharatpur.
Elephant interaction. There are elephants being kept in Chitwan National Park and if you're up for it, other than doing an elephant safari, you can also get to bathe and feed them.
Hands-on. If you're up for it, the lodge can also take you out and experience pottery on a real potter's wheel of a Tharu local!
.
#9 – High-quality ancient wellness treatments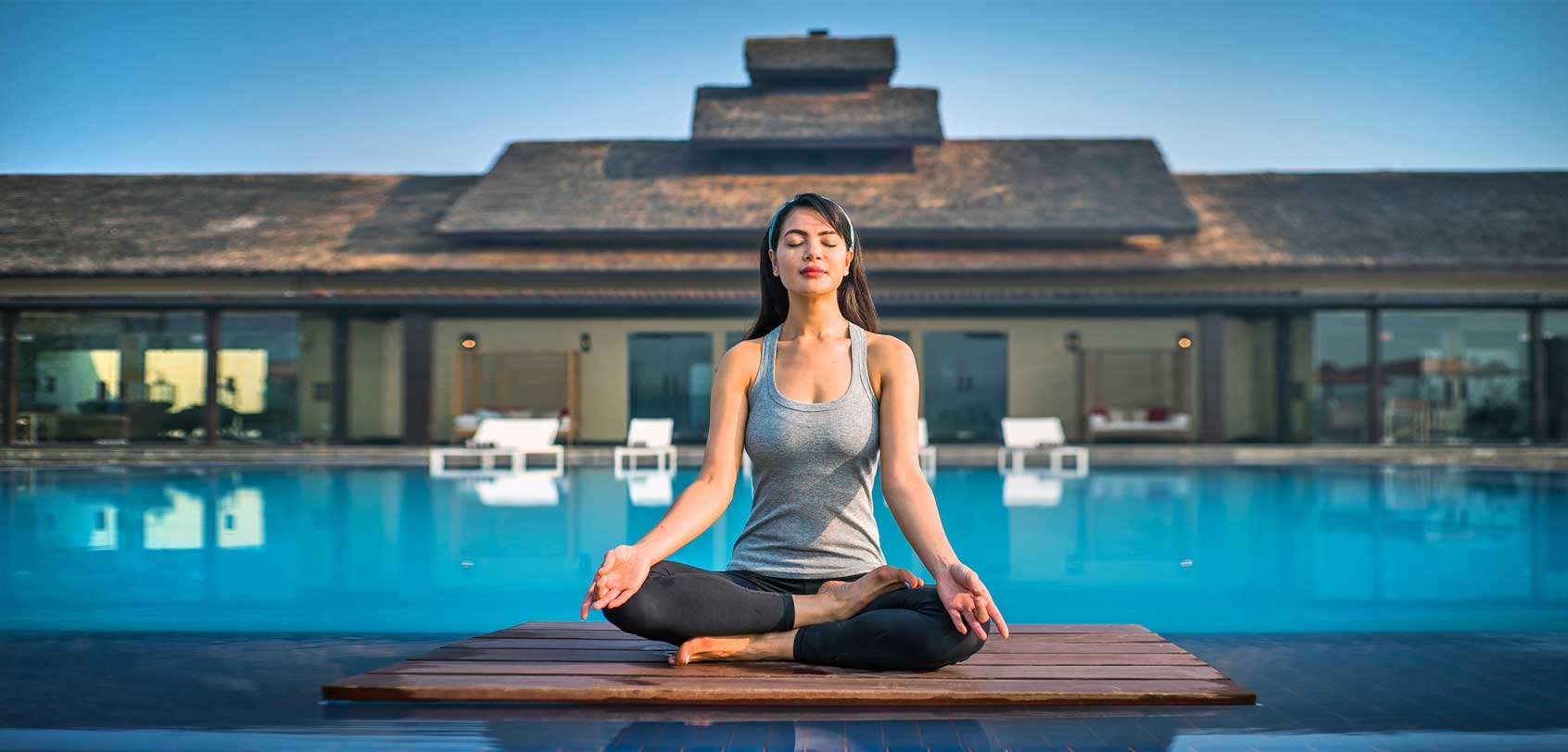 After all the activities that you'll be doing around Chitwan National Park, you will surely need some time off to relax. Rest assured, Meghauli Serai's amazing 'Jiva Spa' offers ancient wellness treatments to pamper you silly.
For this, you can opt to enjoy it in the privacy of your own room or villa, or you can also have it at one of the massage rooms in Jiva Spa (there is also a couple massage room if you want to have that for you and your partner).
.
#10 – Guaranteed 5-Star service 24/7!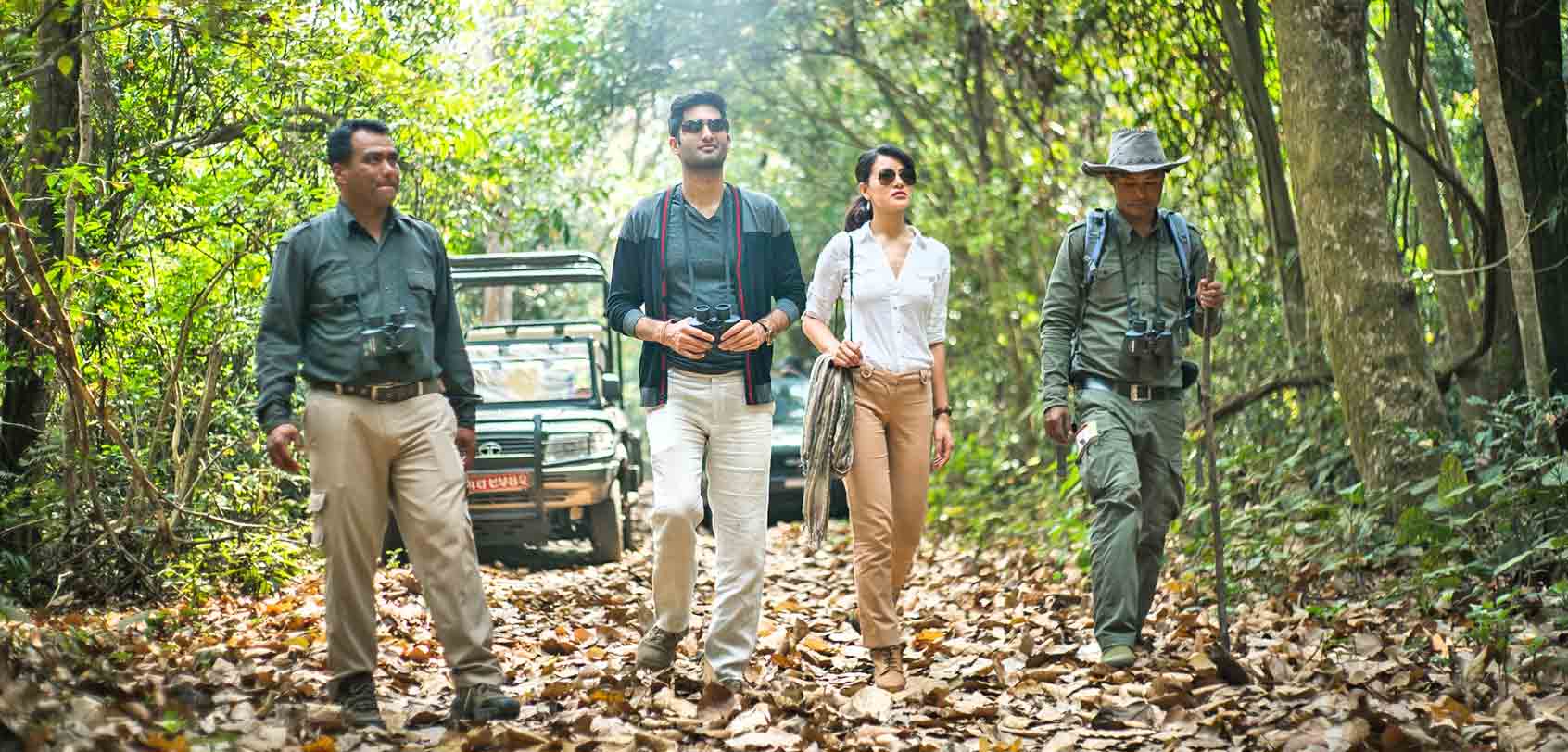 As a guest of Meghauli Serai, your comfort and safety will always be of utmost priority! With all the villas and the suite, you will have your own private butler that will attend to each and every single one of your needs. You bet that I felt pampered and right at home given the service that they have given me throughout my stay!
Moreover, as part of the Tag group's commitment for providing top-tier safari lodges, they have a venture with Africa-based "andBeyond" — therefore all of the lodge's guides are highly-trained naturalists who will offer you a world-class experience when you're in Chitwan. Guaranteed!
.
» INFO «
Booking: See the BEST deals and prices for Meghauli Serai on their website, Agoda, or Booking.com!
Address: Meghauli Serai, Meghauli Ward #1, Narayani Nager Palika, Chitwan National Park, 44207 NEPAL
Hotel Classification: 5-Star
Check-In: 1:00PM / Check-Out: 11:00AM
Best Time for Safari: From November to March when game viewing is at its best. April to June is warmer, however wildlife sightings are still good. July to October, however, is sultry with good sightings.
Disclaimer: Thanks to Taj Hotels for sponsoring my stay; but as always, all thoughts that are expressed in this article are fully my own. (Images above are of Meghauli Serai).
.
When is the best time to visit Nepal?
Below are the prominent 4 seasons in Nepal…
Spring

: March to May with pleasant temperature averaging from 16ºC to 23ºC. This is the 2nd most popular season with its warmer days and flower blooms such as the rhododendrons which is the national flower of Nepal. The only con for traveling during this time is that there's higher chance of haze that will obscure the mountains from lower elevations.

Summer

: June to August, hot and wet, averaging from 23ºC to 30ºC. There is high humidity and there's rain almost every day so it's not an ideal time to visit especially if you want to explore the nature. (But city visits is fine since there will be lesser crowds).

Autumn

: September to November with cooler temperatures, averaging 15ºC to 25ºC. This is the best tourist season given that the weather is more pleasant, bringing in clearer views of the mountains. Furthermore, big Hindu festivals like Dashain and Tihar happen during these months so it can get quite lively.

Winter

: December to February with cool weather averaging 9ºC to 12ºC. This is also the season where the skies are clear, but just make sure that you are well prepared especially when going out on treks since the temperature drops significantly at night time.

Where to get the best flight promos to Nepal?
My go-to platform for grabbing the best flight deals is Skyscanner since it scans all possible airlines that fly to and from your destination. I can even set up alerts so that it notifies me when the prices suddenly drop or rise.
Nepal's main international getaway is Tribhuvan International Airport (KTM) which is located about 6km from Kathmandu city. In order to get to the center (such as that of Thamel), you can arrange a hotel transfer, a prepaid taxi (approx. 700~ NPR), a regular taxi (approx. 400~ NPR), or a bus (approx. NPR 10~).
As for going over to Chitwan, take note that Narayangarh in Bharatpur is the main transportation hub and there is an airport that operates flights to and from Kathmandu and Pokhara.
How to change your money into Nepal currency?
Nepal's currency is called as Nepalese Rupee (NPR). I highly advice that you do NOT exchange your money at the airport since the rates there are totally not competitive. What should you rather do? Either exchange your money or US dollars at a bank or at a money exchanger in your home country or in Nepal; or better yet, just withdraw from an ATM with your debit/credit card. Remember to keep the exchange receipt because you will need it when you need to change back your NPR to your original currency.
Rate exchange: USD $1 = NPR 103~ = Php 50~
Should I get a visa to visit Nepal?
Yes, ALL foreigners (except Indians) are required to have a visa to visit Nepal. Rest assured, the process is fairly easy and fast. To know the whole process and details, see my 'How to Apply for a Nepal Visa on Arrival' guide.
Helpful Nepali phrases
Many local Nepalese have no difficulties speaking English as a second language, and it becomes more prevalent when you're in the capital of Kathmandu. But of course, it doesn't hurt to learn a bit of Nepali.

Hello: Namaste / Namaskār ((Nah-MAH-stay / Nah-MAH-skar)
Thank you: Dhanyavād (DHAN-naii-bat)
Yes: Hajur / Ho (HA-jur / HO)
No: Chaina / Haina (Chai-NA / Hai-Na)
Goodbye: Namaste / Namaskār ((Nah-MAH-stay / Nah-MAH-skar)
.
Excuse me (begging pardon): Maaf garnus (MA-af-GAR-nus)
Excuse me (getting attention): Sabai le sunnus ta
I'm sorry: Ma maafi chahanchu
Is there someone here who speaks English?: Koi English bolne cha? (Ko-i English bol-ne-cha?)
Help!: Aapat paryo. (Aa-pat par-yo)
This is truly a safari that you should check off on your bucket list! Much like me, I'm sure you'll have a memorable time as you get to enjoy the best of what Nepal's wildlife could offer.
What do you think of Meghauli Serai?
Would you like to stay here when in Nepal? Why or why not?
Or have you stayed with them before? How was it?
YOU MIGHT ALSO LIKE
Older Post
Newer Post
Hey there! I am Aileen Adalid.
At 21, I quit my corporate job in the Philippines to pursue my dreams. Today, I am a successful digital nomad (entrepreneur, travel writer, & vlogger) living a sustainable travel lifestyle.

My mission? To show you how it is absolutely possible to create a life of travel too (no matter the odds), and I will help you achieve that through my detailed travel guides, adventures, resources, tips, and MORE!

NEW READER? START HERE!
CONTINENTS: 7 ~ COUNTRIES: 59
Join over 1 million people and receive exclusive giveaways, travel tips and so much more!