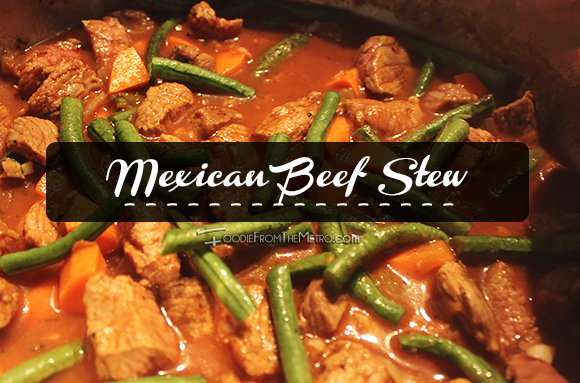 No offense to all the people who have served me 'kaldereta' before here in the Philippines, but I really hate it when the meat is really tough. Being a lazy person like myself, it was always a chore to chew through every single bit that I get to throw into my mouth. The scenario almost always goes like this: "Whew, I think I'm done here! …Oh, wait. No. Ugh. Oh goodness, this is hard meat… Aaaah… My jaw… Aaah, bloody hell, when will this end?"
So it's always a joy whenever I get to eat some sort of oven-braised stew that is fork tender! Beccause that, my foodie friends, is legit heavenly food! That's why for last night's dinner, I decided to make Mexican Beef Stew (or yes, you can call it kaldereta if you want to. -wink-) I also decided to bring along an old friend of mine for my cooking because this baby would definitely give the sauce a good kick! What else but Maggi Magic Sarap!

(Serves 4 to 6 people)
Preparation Time: 3 ½ hours
1 kilo boneless beef short ribs, beef brisket, or beef stew meat (cut into 1½ inch cubes)
1 tbsp chili powder
1 tsp salt
1 tbsp olive (or coconut oil or butter)
1 medium white onion (thinly sliced)
1 medium tomato (or 1 tbsp tomato paste)
6 garlic cloves (peeled, could be smashed or minced)
½ cup tomato sauce or roasted salsa
½ cup chicken stock
½ tsp fish sauce
2 tsp Maggi Magic Sarap
4 stalks of green beans (chopped into 2 inch pieces)
2 carrots (sliced and diced)
¼ cup parsley or cilantro (optional)
*Oven-proof pot or dutch oven
Pre-heat your oven to 300°F or 150°C. (Position your rack in the middle).
In a large bowl, combine your beef cubes, chili powder, and salt—toss it all well. Set aside.

Bring out your pot, and under medium heat, warm up your oil (in my case, I used butter). Toss in the onions and sauté them until translucent.

Stir in your tomato (or tomato paste) and fry for 30 seconds. Toss in your garlic, as well as the seasoned beef cubes.

Next, pour in the tomato sauce or salsa. Also add the chicken stock and fish sauce. For the sauce, I used the below:

Add the Maggi Magic Sarap spice!

Toss in the carrots and the green beans. Mix well and then bring to a boil.

Now cover the pot and then put it inside the oven for 3 hours or until beef is tender. Once it is done to your liking, add some more spice if you deem it necessary. And then, there! You're done with your fork-tender beef! You can top the stew off with some parsley or cilantro.
I served my Mexican Beef Stew Recipe along with some healthy brown rice and lettuce-tomato salad. The verdict? OH YUM! I actually cooked this for my best friend, Jonas. He's Belgian, and he usually finds it quite hard to like certain Filipino dishes (such as this; like me, he had the unfortunate experience of tasting tough beef caldereta meat). But thanks to this oven braising technique, he found joy in eating this dish!
He also quite liked the sauce, and I've got Maggi to thank for that! The Magic Sarap concoction is definitely a great cooking partner. It actually goes along with everything! As long as you need some added spice and kick to your recipe; it's definitely there at your service. So if you want to check out other recipes that you could try out with Maggi Magic Sarap, then check by this link.
Have fun cooking!
MAGGI
https://www.facebook.com/maggi.ph
http://www.maggi.ph/
Do you use Maggi products?
YOU MIGHT ALSO LIKE
Older Post
Newer Post
Hey there! I am Aileen Adalid.
At 21, I quit my corporate job in the Philippines to pursue my dreams. Today, I am a successful digital nomad (entrepreneur, travel writer, & vlogger) living a sustainable travel lifestyle.

My mission? To show you how it is absolutely possible to create a life of travel too (no matter the odds), and I will help you achieve that through my detailed travel guides, adventures, resources, tips, and MORE!

NEW READER? START HERE!
CONTINENTS: 7 ~ COUNTRIES: 59
Join over 1 million people and receive exclusive giveaways, travel tips and so much more!