I love imparting food trivia because I believe that being a foodie isn't only about the taste and the wondrous gulps, it's also about knowing the dish before you. So in part, that's also one of my intentions for this blog: to educate myself and my readers. As such, I have come across articles of beef meat doneness—or beef steak doneness to be exact (the condition of being cooked to the desired degree) and I wanted to share it with you guys because apart from the fact that I love beef steak with a passion, I also want to inform you on how you can best enjoy beef – wherever in the world you may be.
So here's an easy diagram for you:
RARE (120F)

It is typically seared quickly for it to remain mostly red in the center. Once it is taken out of heat and left to rest, the steak should achieve the perfect tenderness and juiciness. This is said to be The Perfect Steak condition.

MEDIUM RARE (125F)

Also seared and after doing so, it should be warm with the center mostly pink and becoming red towards the center. This condition will make the steak soft and juicy on the inside; though this is said to be past the point of having 'The Perfect Steak' state, this is actually my favorite 'doneness'.

MEDIUM (134F)

This kind of 'doneness' has a mostly pink center, but it is said that grayish-brown colors should be more prominent than the pinkish color. This is specially drier and tougher than 'The Perfect Steak'.

MEDIUM WELL (150F)

Only has a slight tinge of pink inside and will mostly be grayish-brown. This is often picked by those who want a slightly juicy steak without it having any signs of 'red' or 'blood' in it; this condition is way past the condition of being 'The Perfect Steak'.

WELL DONE (160F)

This is 100% brown with no signs of pink coloration and usually has a slight char outside. Well done steaks are said to be a waste of good steak meat; for those who favor this, it should be cooked very slowly on low heat or else it would become very, very, hard and chewy.
What's not included in the illustration above is the steak doneness called as 'Blue Rare' (115F). This is not commonly done, but this is how die-hard carnivores can enjoy something very raw; it is said to be also seared on the outside, will be completely red and will be very difficult to chew. Juices will not even flow off/out the meat as easily.
Isn't Eating 'Almost Raw' Meat Bad?
For chicken, pork, and ground beef: YES!
But beef steak? NO. It is a different case altogether since it does not have the parasites that are found in chickens and pigs! Most of the time, bacteria lies only on the outside of a cut beef steak; therefore, just cook it well and handle it cleanly so that eating it 'almost raw' would be fine.
Though as I have indicated, ground beef, is a different thing. Though it's the same 'beef', given its 'grounded' nature, bacteria will be spread throughout. That's why it's best to go for a well-done hamburger since there are chances that you can get E. Coli from an undercooked patty.
But the beef steak will have blood all over!?
I know a lot of people who would cringe at the sight of 'blood' oozing out from rare to medium rare beef steaks, but here's a fact: it's meat juice, NOT blood—and by 'meat juice', I am saying that it contains water, fat, and myoglobin. Speaking of myoglobin, it is actually the main reason why raw meat looks so red and again: NOT because of hemoglobin found in blood. (Take note: myoglobin it is a type of protein found in the muscle tissue.)
Besides, it is said that a beef steak would contain hardly any blood at all if it has been properly cleaned and prepared.
I can honestly say that after learning these things, I am now perfectly convinced and I would love to try a rare steak next time as it is claimed to be the 'Perfect Steak'!
COOKING GUIDELINE ON 'DONENESS'
If you're planning on cooking meat, there are two ways to checking the 'doneness': (1) Meat thermometer or through the (2) finger test. A meat thermometer is a bit expensive, so the finger test is a cheap but sure way to check. It's simply comparing the feel of the meat with the texture/feel of a part of your hand: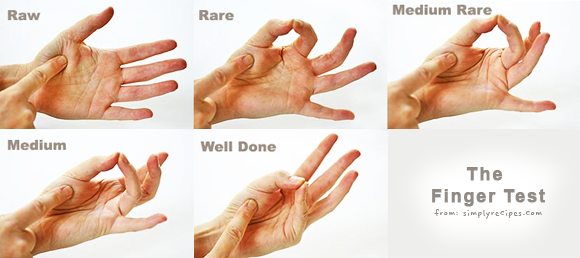 I must say I had a bit of fun playing with my fingers when I saw this. But there it is!
I really hope this helps. Happy beef steak eating!
How do you like your steak?
Rare, medium rare, medium, medium well, or well done?
YOU MIGHT ALSO LIKE
Older Post
Newer Post
Hey there! I am Aileen Adalid.
At 21, I quit my corporate job in the Philippines to pursue my dreams. Today, I am a successful digital nomad (entrepreneur, travel writer, & vlogger) living a sustainable travel lifestyle.

My mission? To show you how it is absolutely possible to create a life of travel too (no matter the odds), and I will help you achieve that through my detailed travel guides, adventures, resources, tips, and MORE!

NEW READER? START HERE!
CONTINENTS: 7 ~ COUNTRIES: 59
Join over 1 million people and receive exclusive giveaways, travel tips and so much more!