As chaotic as it seems, Manila still stands as a grand and vibrant megacity in Asia — and though a lot of travelers pass through this bustle to explore the country's prized islands, most people will often find themselves with at least one free day in this metropolis (after all, it is the main connection hub to the other places in the Philippines). Otherwise, there are those who are fortunate enough to have a keen eye as they see that past Manila's gleaming buildings are an array of amazing activities and spots. So if you ever find yourself needing a great accommodation within the heart of the metro, the towering Marco Polo Ortigas hotel is your best choice!
Naturally, there are tons of other Manila hotels to choose from but below are the top 5 reasons as to why a stay in this luxurious 5-star hotel is a must on your itinerary!
.
Top 5 Reasons to Stay in Marco Polo Ortigas
#1 – Prime location and luxurious ambience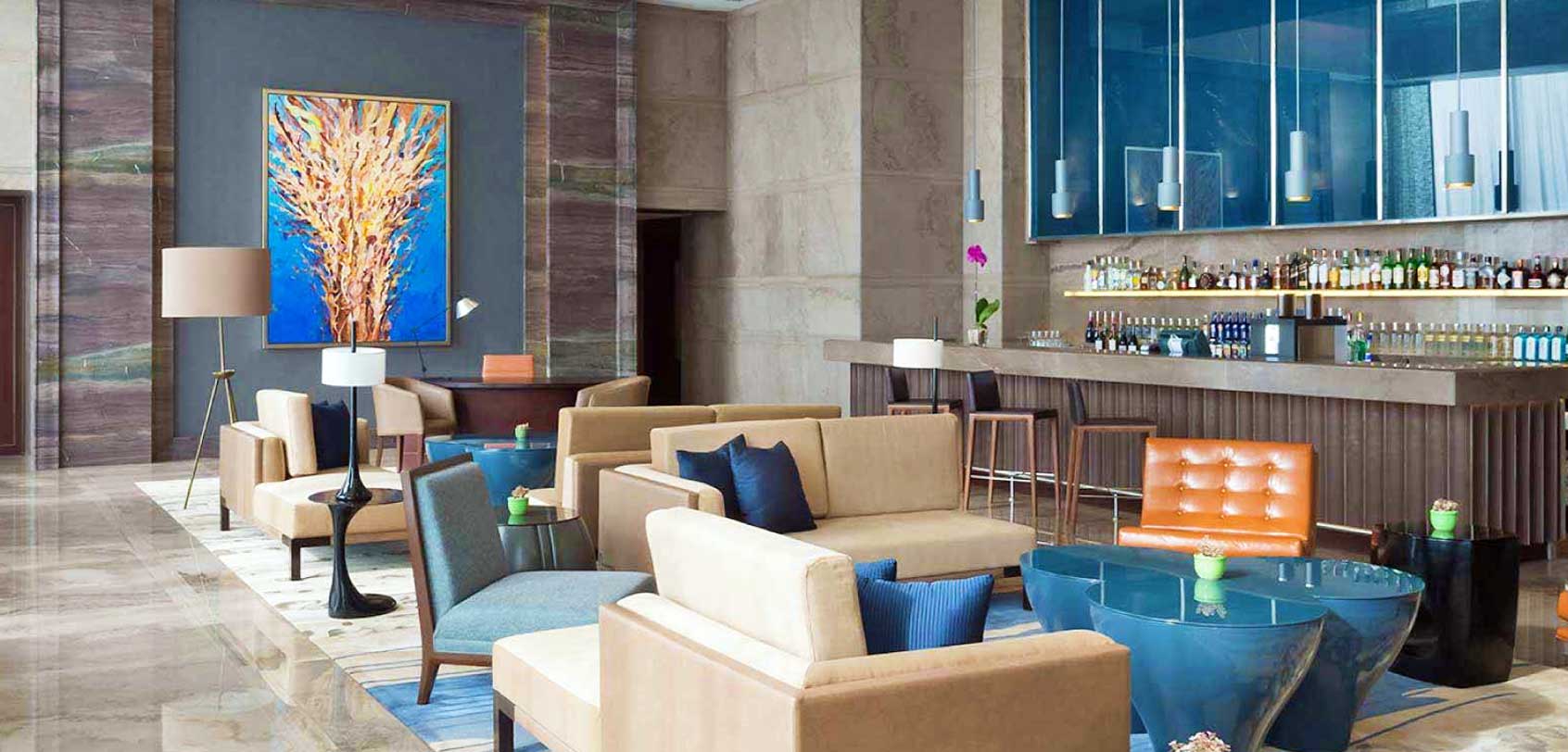 Towering within Ortigas' Commercial Business District, Marco Polo Ortigas is centrally located in Manila but without too much of the city's infamous hustle and bustle (cue: traffic!) which you will actually typically find in the bigger areas such as Makati or BGC.
Nevertheless, the hotel still has a prime location since the city's top attractions and districts are always within reach — not to mention, shopping and entertainment areas such as SM Megamall, The Podium, Robinson's Galleria and Shangri-La Plaza Mall are just a short walk away. For foodies, the vibrant establishments of Tiendesitas, Greenhills and Eastwood can also be reached in just a few minutes by car.
Now, when it comes to luxury, Marco Polo Ortigas retained its elegance and standing ever since its inception. In fact, it even covets the "Five-Star" Award for the 2nd time now as awarded by Forbes Travel Guide for 2018. This award is truly well-deserved because I have seen for myself how the whole building had an unforgettable ambience of lux and style that can awe any kind of traveler out there.
.
#2 – Stylish rooms to suit anyone's fancy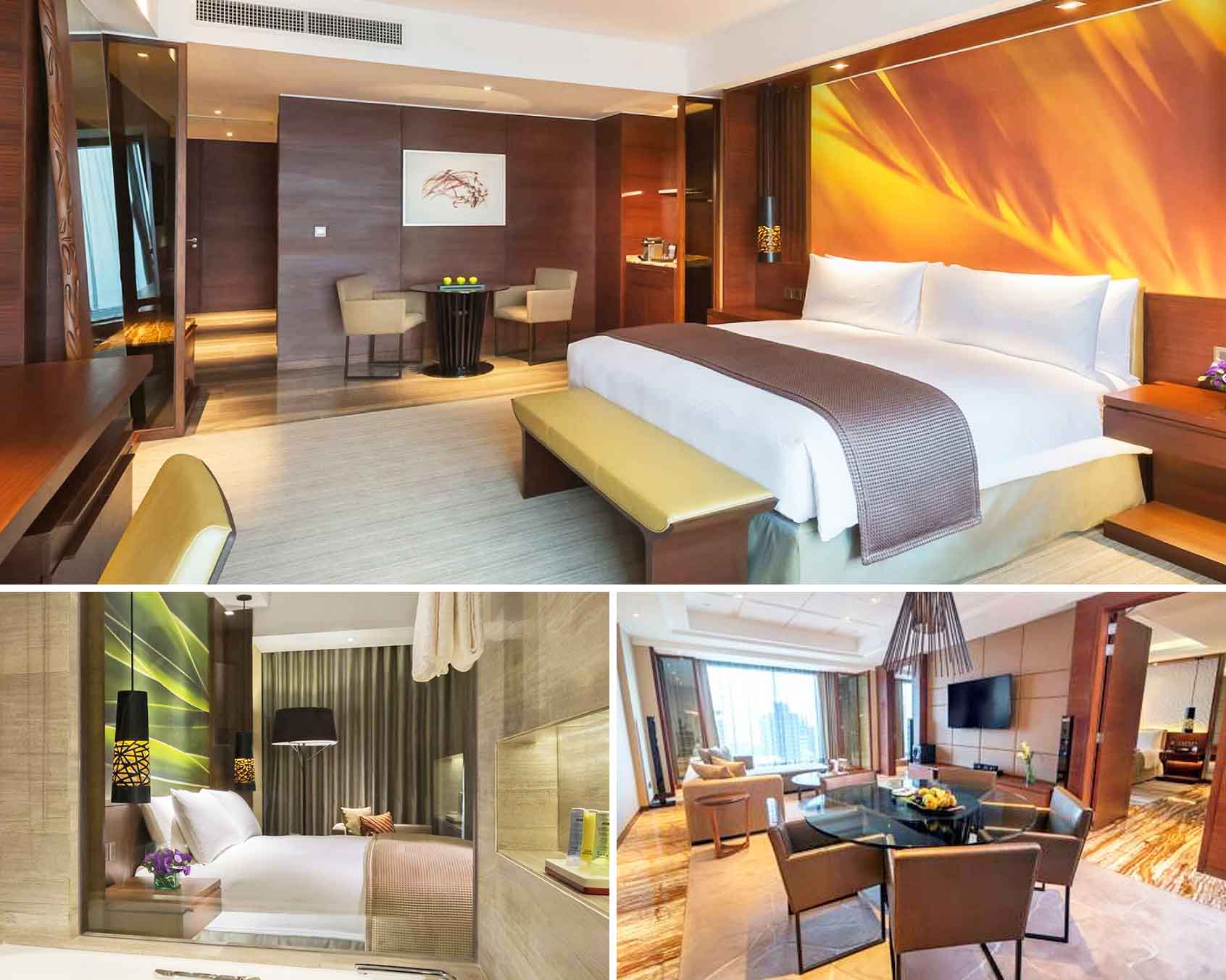 To date, Marco Polo Ortigas Manila has 316 guestrooms that all offer grand views over the city skyline. As a guest, you'll always be assured that the rooms are spacious and stylishly appointed with the standard features such as: plush goose down bed toppers, Nespresso coffee machine, multi-docking device with Bluetooth technology, complimentary high-speed WifFi, LCD color TV with cable channels, rain showers, marble bathtubs, and more!
To give you an idea on the kind of rooms that they have, there are…
STANDARD ROOMS:

Superior = 38-55 sqm
Deluxe = 38-40 sqm
Premier = 51-61 sqm

SUITES (all located on higher floors of the hotel):

Superior = 51-61 sqm
Deluxe = 107-111 sqm

CONTINENTAL CLUB (situated on two levels at the topmost floors of the hotel with access to Continental Club Lounge):

Superior = 38-55 sqm
Deluxe = 51 sqm
Suite = 150 sqm


.
#3 – Distinctive dining experiences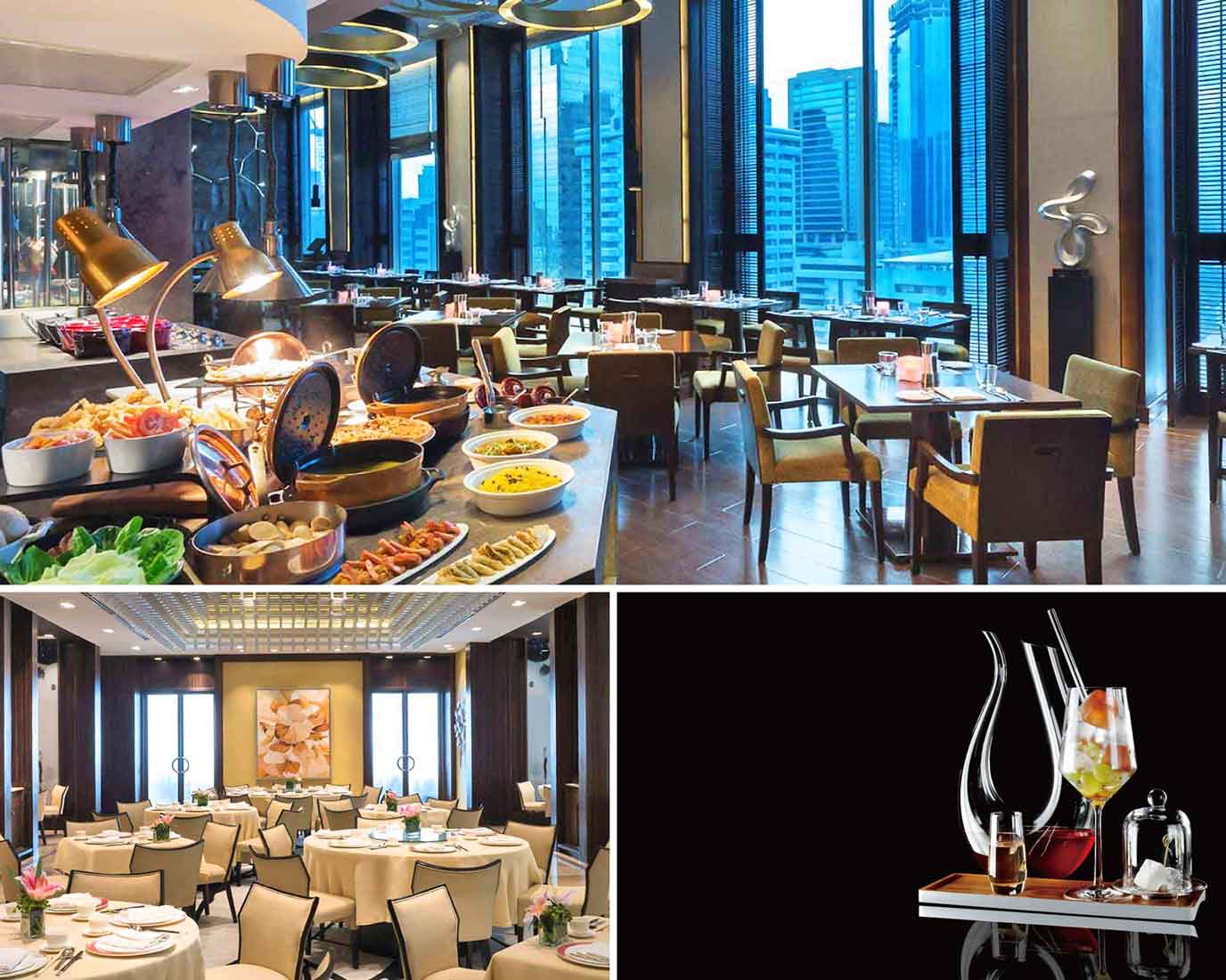 Manila holds a dizzying number of restaurants, cafes, and stalls that can satisfy any palate, but before you venture out into this gastronomical abyss, there are already a handful of notable restaurants within Marco Polo Ortigas itself that you MUST try during your stay.
Cafe Pronto: (Open 6:30AM to 9PM) Great for coffee lovers who are in a hurry and are in need of a quick fix. This small cafe offers a range of choices on sandwiches, savories, cakes, breads, chocolates, cookies, coffees, and teas.
Cucina: (Lunch Buffet 12PM to 2:30PM, Dinner Buffet 6PM to 10:30PM) Perched on the hotel's 24th floor is this open kitchen that features a wide selection of fresh and healthy buffet choices that cover Continental and Asian Cuisines. By the way, for breakfast, this is also where it is typically served.
Connect Lounge: (Open 7AM to 12AM) Ideal for those who want to hold informal meetings or seek a place to lounge in, this lounge offers dessert samplers, snacks, coffees, teas and wine with a panoramic view over Ortigas' cityscape.
Lung Hin: (Lunch 11:30AM to 2:30PM, Dinner 6PM to 10:30PM) This is your go-to place if you want to taste authentic Cantonese cuisine and fresh seafood. You will also love the chic interiors of the restaurant, making it ideal for intimate gatherings with friends and family.

TIP

: Don't forget to try the hotel's signature Earl Grape Iced Tea

Vu's Sky Bar & Lounge: (Open 5PM to 2AM) A great space for spending the night away, Vu's Sky Bar and Lounge is where you can indulge in signature cocktails, alcoholic drinks, antipasti samplers and breathtaking night views. Every night, there are also different performers on stage to keep you company.


.
#4 – Premium spa and wellness facilities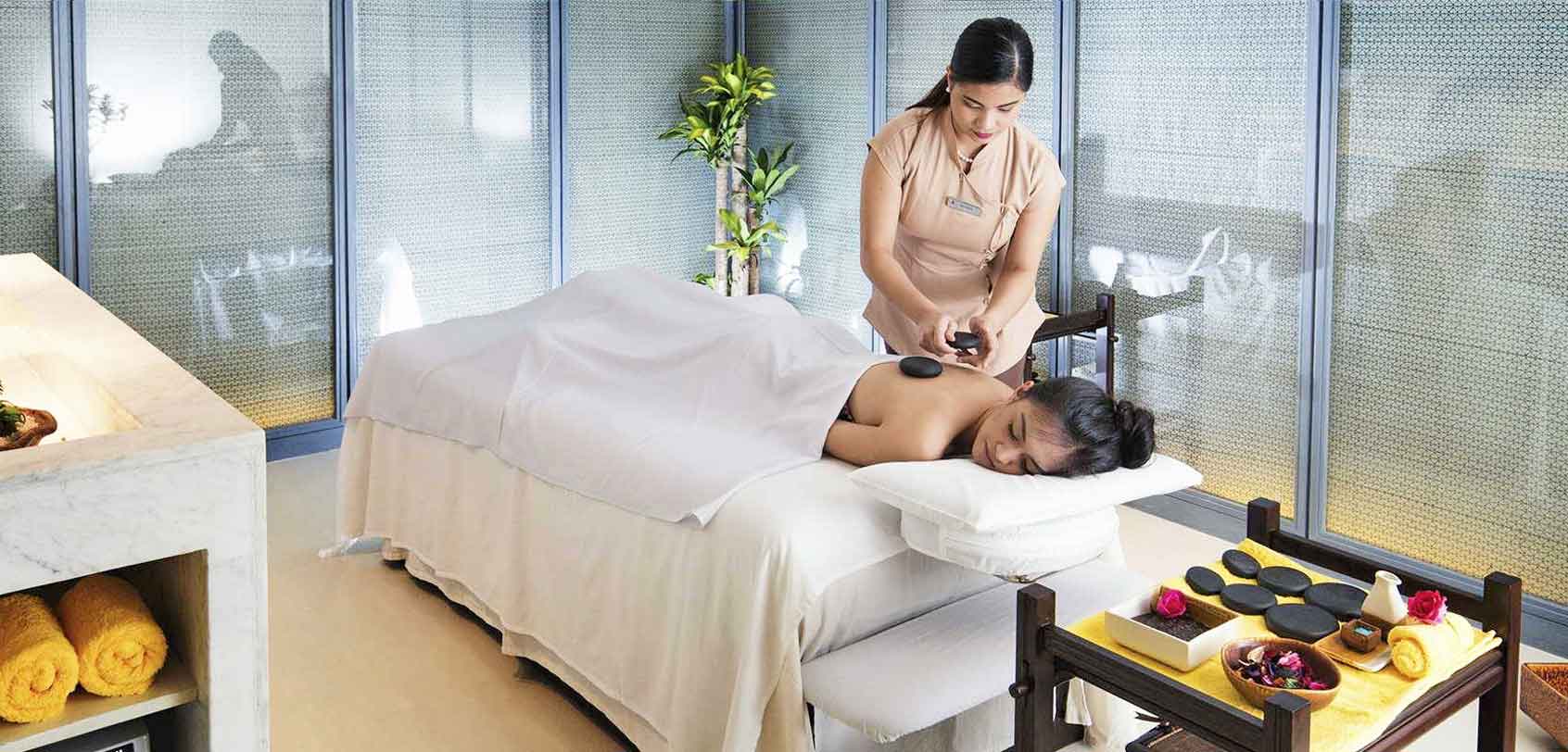 If you want to further extend your level of comfort and relaxation, Marco Polo Ortigas also has the following facilities for you:
Flow Spa: (Open 9AM to 12AM) Choose from a wide range of treatments and massage services that will surely help unwind your body and mind.
Flow Fitness Center: (Open 24 hours) Don't wanna skip on your fitness goals? This gym has modern equipment to keep you on check, and while you're at it, you'll have great views over the distant Sierra Madre mountain ranges. To add, fruits and citrus-infuced water are also provided to guests for free here.
Indoor Swimming Pool: (Open 6AM to 10PM) Styled like an infinity pool that makes you feel like you're floating high above the building, this place is perfect for a relaxed swim as you overlook Manila's skyline.
NOTE: Wanna keep the little ones occupied while you're out to pamper yourself? Marco Polo Ortigas has a 'Piccolo Kids Club' too!
.
#5 – 5-Star service, through and through!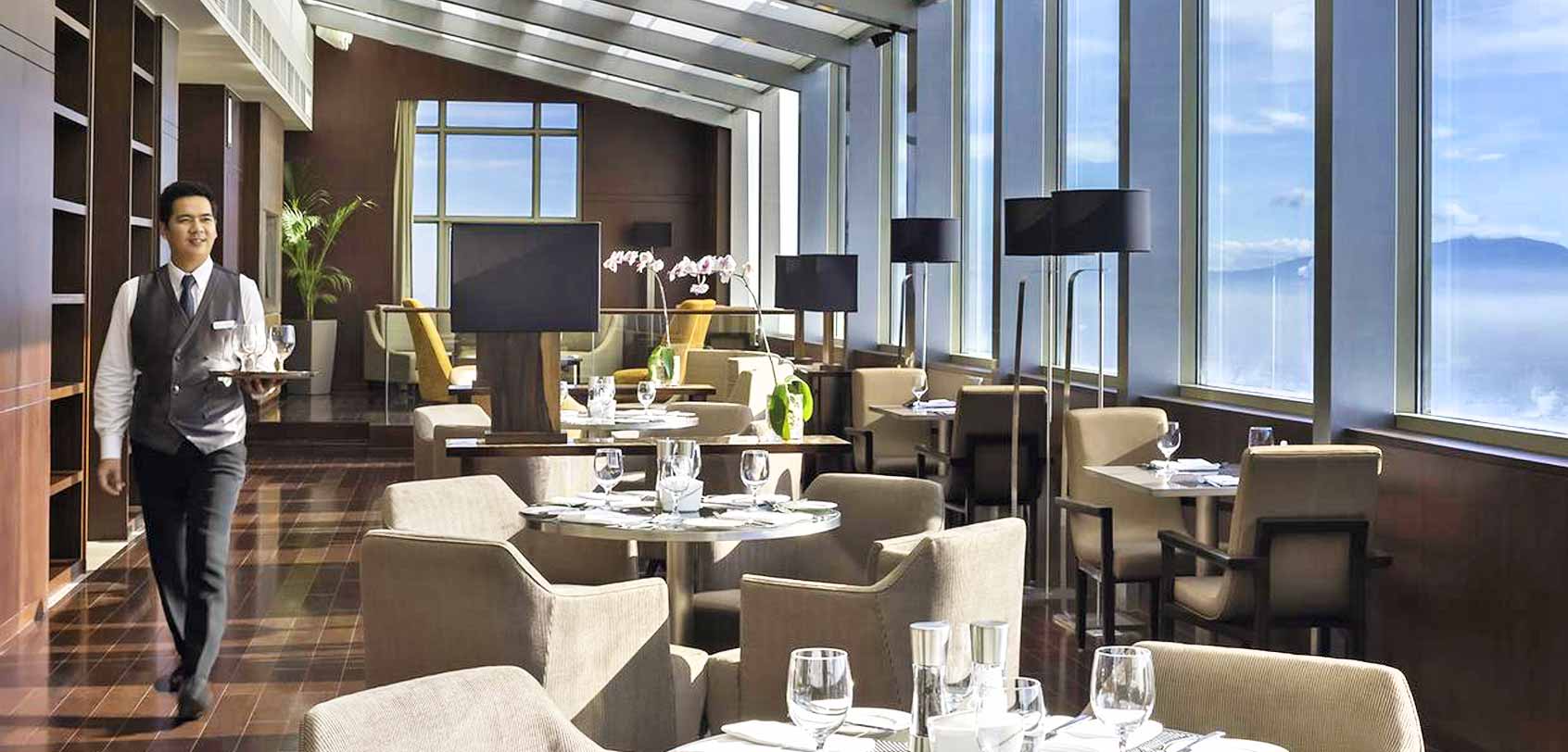 Together with their highly-acclaimed 5-star rating, you're sure to expect consistent 5-star service from all of their staff too!
Truth be told, all throughout my stay, I felt truly pampered and well taken care of. All of my needs were attended to swiftly and each staff even goes above and beyond to ensure my comfort.
This high level of service is extended to every hotel guest so you're sure to have a swell time like I did!
.
» INFO «
Booking: See the BEST deals and prices for Club Paradise Palawan on their website, Agoda, or Booking.com!
Address: Meralco Avenue & Sapphire Street, Ortigas Center, Pasig, 1600 Manila, Philippines
Hotel Classification: 5-Star
Check-In: 2PM / Check-Out: 12PM
Disclaimer: Thanks to Marco Polo Ortigas for sponsoring my stay; but as always, all thoughts that are expressed in this article are fully my own. (Images above are by the hotel).
.
When is the best time to visit Manila?
Much like the rest of the country, Manila mainly has two seasons: dry (December to May) or wet (June to November). However, notable of these months are March to May as the hottest and July to September as the rainiest — which leaves us December to February which typically have better weather as well as cooler temperatures.
With this, I think December to Februray are the best months to come over for a visit or a stopover.
Where to get the best flight promos to Manila?
My go-to platform for grabbing the best flight deals is Skyscanner since it scans all possible airlines that fly to and from any destination (including budget airlines in the Philippines like Cebu Pacific, Air Asia, etc.). I can even set up alerts so that it notifies me when the prices suddenly drop or rise.
Manila's main international airport is Ninoy Aquino International Airport and it has 4 terminals, with Terminal 1 to 3 catering to international flights (it helps to note that these terminals are not inter-connected). In order to get to the city center or to your hotel, I highly suggest booking a Grab taxi (similar to Uber, but Uber does not service Asia anymore). I don't advise you to take the taxis or private services at the airport so that you can avoid drivers that might charge you too much. Rest assured, taxis in Manila are relatively cheap compared to the USA for example (e.g. it should only cost about $4 to reach Makati for instance).
How to change your money into Philippines currency?
The Philippines' currency is called as 'peso' (₱ or Php). I highly advice that you do NOT exchange your money at the airport (if arriving from Manila or Cebu or any of the major cities) since the rates there are totally not competitive. What should you rather do? Either exchange your money or US dollars at a bank or at a money exchanger in your home country or in any of the cities/towns; or better yet, just withdraw from an ATM with your debit/credit card.
If going to more rural areas or islands, it's best to exchange your money in the major cities since it's possible that ATMs or money exchanges are rare.
Rate exchange: USD $1 = Php 50~
Should I get a visa to visit the Philippines?
Check this link to see the complete visa policy in the Philippines.
Helpful Filipino / Tagalog phrases
Many locals have no difficulties speaking English (after all, it is one of the official languages in the country). However, it always helps to learn the following phrases 'just in case' — or simply just to have fun interactions with Filipinos.

How are you?: Kumusta ka? (koo-MOOS-tah kah?)
Thank you: Maraming salamat (mah-RAH-meeng sah-LAH-maht)
Yes: Oo (OH oh)
No: Hindi (HEEN-dee)
Goodbye: Paalam (pah AH-lahm)
.
I'm sorry: Paumanhin (pah oo-MAHN-heen) / Patawad (pah-TAH-wad)
Is there someone here who speaks English?: Meron ba ditong marunong mag-Ingles? (MEH-rohn bah DEE-tohng mah-ROO-nohng mahg-een-GLEHS?)
Help!: Saklolo! (sahk-loh-LOH!) / Tulong! (too-LOHNG)
True enough, Marco Polo Ortigas embodies Asian hospitality and warmth together with Western comfort; so no matter if you're in Manila for business or leisure, you'll never go wrong by staying in this luxurious accommodation!
What do you think of Marco Polo Ortigas Manila hotel?
Would you like to stay with them? Why or why not?
Or have you stayed with them before? How was it?
YOU MIGHT ALSO LIKE
Older Post
Newer Post
Hey there! I am Aileen Adalid.
At 21, I quit my corporate job in the Philippines to pursue my dreams. Today, I am a successful digital nomad (entrepreneur, travel writer, & vlogger) living a sustainable travel lifestyle.

My mission? To show you how it is absolutely possible to create a life of travel too (no matter the odds), and I will help you achieve that through my detailed travel guides, adventures, resources, tips, and MORE!

NEW READER? START HERE!
CONTINENTS: 7 ~ COUNTRIES: 59
Join over 1 million people and receive exclusive giveaways, travel tips and so much more!