Do you agree with this quote by Mark Twain? Because I do! The way I see it, travel can make or break bonds. It does not only give you the chance to share new experiences with another person, but it also gives you the opportunity to put that relationship to a test. In fact, it's a really good way to test all kinds of relationships — with a family member, a friend, a new acquaintance, or a significant other!
Why? What makes travel a great relationship test? For starters, travel puts us out of our comfort zone, so we tend to get vulnerable. Pretenses will slowly disappear over time, and when things start to go wrong (which is usually the case when traveling) there is a high chance that your core personalities would show — the same goes for the person you're traveling with, and it is in those moments that you can see if the two of you are still compatible or can still work together as a team.
What's more is that since you're with your companion for 24 hours a day, you will even get to see their trivial and profound habits or quirks. Once those truly become transparent, you can then decide if they are things that you can still deal with in the future.
To better illustrate how travel can make or break relationships, I give you the following stories below!
.
RELATIONSHIP TEST RESULT: "MAKE"
» A partner-in-crime in Asia to Europe, and beyond! By: Me (Aileen), 'I am Aileen'
From the very first time that we met, Jonas and I 'clicked'. And like most love stories out there, we started out as friends. Several long conversations later, we decided join up to go on several trips given how we were both passionate about travelling. (At that time, I was based in Manila and he was in Cebu). After some adventures here and there, we went to this amazing island of Bantayan and it was in this place that Jonas ended up asking me to be his girlfriend — surely after all the wonderful experiences that we have been through, I gladly said yes!
It has been almost 3 years now that we have been together and it has been swell! From adventures in Asia to Europe, hand in hand, we have lived a traveling lifestyle and have even come to build a successful online business just last year. (We really make a great team!)
Going by our story, travel really played a HUGE part in our lives — it did not only bring us together, but it also strengthened the bond that we have, and pushed us to go beyond our abilities. We have truly discovered parts of ourselves, grew more as individuals, and learned a lot of things… about life, the world, and about one another (that I bet we wouldn't have normally learned if we stayed stationary somewhere).
Because of this and more, I absolutely recommend travel to anyone who wishes to get to know another person more. This does not only apply for couples of course, but for friends and families too!
» A friendship strengthened after a 6-week trip By: Rachael, WanderCrush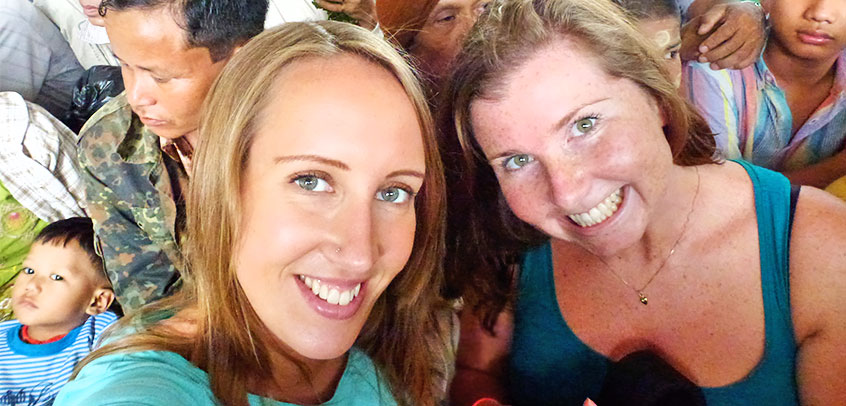 It was in the summer of 2012 that my friend Anekka and I traveled around the world in six weeks, beginning in South East Asia before heading to the Philippines, Hawaii, and then mainland USA. It was an intense six weeks that saw us literally spending every waking (and sleeping) moment together. From trekking through Myanmar to long road trips and nights in a tent in America, it was one of those trips that had the potential to make or break our friendship. We had known each other for less than a year, so I really did not know how we would get on living in each other's pockets.
Fortunately, our time together was what we now consider to be one of the happiest times of both our lives. We probably 'squabbled' on about three occasions in total, usually because I was being impatient, but the rest of the time we laughed, played silly games, and generally just enjoyed being on the road. Even the ten-hour, uncomfortable bus journeys were fun!
Our travelling styles were sometimes different: Anekka was much more trusting of people whereas I was wary. To this day, I credit spending so much time with Anekka as the reason why I became less cold towards others in my general day-to-day life. Her calm nature mellowed me and I feel that I am a much better person because of her influence. We both agree that it will be hard to beat that summer, and that we probably would not travel as well with anyone else.
» An indestructible couple on a worldwide adventure By: Tangerine, A Travelogue by Brock & Tanj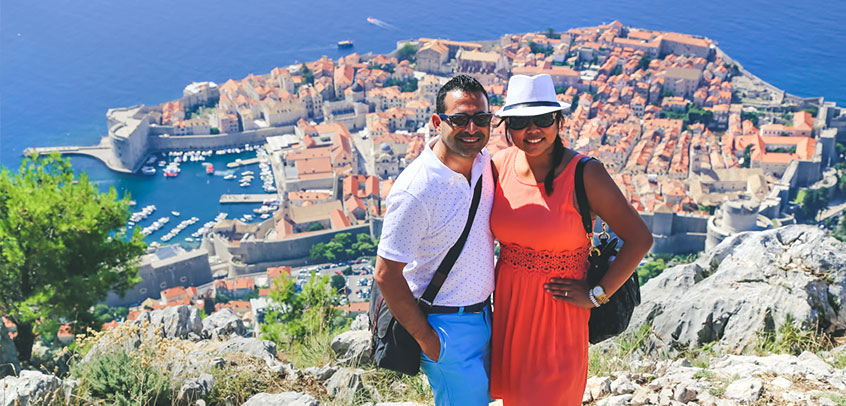 Adventure and travel has always been part of our story. Brock and I have been married for 6 years. We have been living abroad and traveling the world together ever since. Traveling has been a part of our lives and it's the blood flowing on our veins. Based on our experience, we are firm believers of "traveling will make or break relationships". You will definitely get to push each other's buttons since traveling is sometimes stressful. There is no secret about this, only lessons learned.
On our recent Balkan road trip, we travelled to Europe for 25 days and that's a long vacation that will drain you. Brock and I usually bicker on small things because we are just tired or recovering from a jetlag. Not having enough sleep from a red-eye flight, or just because we are tired from a long day of walking. Tired from a long drive or just simply lugging around heavy luggage and changing from city to city can really be challenging. Let's face it; we all get grumpy or say things we don't really mean when we are exhausted. When we are tired and hungry, we cannot control our emotions. This is when you really see your partner's attitude while dealing with stress that comes with traveling.
I don't blame him for that. We usually just give each other space to recover from this episode and have a temporary pause to get over stress. When we travel, we realized that regardless of what we feel towards each other, we could only rely at each other anyway! So, we talk about our frustrations, figure it out and then we move on. We know how to push each other's buttons but at the same time know how to hash it out.
» A couchsurfing stranger turned newfound friend By: Audrey, Audreynaline Rush
A few years ago, I found myself at the airport of Manila about to embark on my first ever solo trip to the world-renowned Siem Reap. My phone was beeping off the hook with messages from a guy I met from the CouchSurfing website. I was a newbie to the whole couchsurfing phenomenon back then, and I didn't really know what to expect. I had won a trip to Cambodia but I had to travel alone, so I gave the community a try. That was where I met this Spanish dude named Robery. (Define sketchy name.)
Filipinos, in general, are very conservative and cautious, so I was unsure of my decision when I told him about my late night flight details and the hotel I was staying at. He told me he would meet me at my hotel upon my arrival so we could go out right after. I thought this was unusually eager of him and wondered if I should cancel on this potential creep. But I was feeling adventurous and trusting so I went with it. That was one of the best decision I've made!
Robery was such a sweetheart! He was one of the friendliest and most outgoing people I know. He wasn't a creep at all and I really wasn't his type (if you know what I mean). He just really wanted a companion, and he was this passionate traveler who would drag me to interesting places of Siem Reap and get me off my lazy ass. I have met many friends from Europe through him because of his fluency in different languages and he was my temple photo buddy. In such short days, I met a lifetime friend and I look forward to the day we meet again when I visit him in Spain.
» A trial trip that launched a year-long honeymoon By: Mark, 365 Travel Dates
I had always wanted a year-long honeymoon trip with Camille but I wasn't sure if she was up for it. So I proposed an idea to do a 40-day backpacking trip in Cambodia & Southwest China to see if she could actually handle backpacking.
The trip would be a series of firsts for both of us. We had no idea what each of our travel styles were but we soon found out a lot of about our tolerance with various accommodation from couchsurfing to nice boutique hotels. We temple ran Ankor Wat for 3 days. Then we took the one of the worst overnight buses to date to Phnom Penh because of the terrible roads and our seats being in close proximity with a stinky bathroom. We learned about the genocide history in Cambodia, tried exotic foods, did our first overnight hike together in Tiger Leaping Gorge -Yunan, China (Camille's longest hike at that point), and even hiked up to a glacier. We saw fake schools on Tonle Sap and had our own discussions about poverty, scams, and our moral obligation to other people. There were other bus rides that either had a dirty toilet stop or no toilets at all.
Had I pushed her too hard into this whole travel thing? Probably, but it was all worth it.
We ended the trip short satisfied but a bit exhausted so we chose to go back home to Shanghai to rest before heading back to work, and ended up finding ourselves more in love and refreshed. As a first rugged trip, we pushed ourselves near the brink of our comfort zones and sometimes beyond it. We learned to negotiate and compromise with each other which was one of the most difficult things in our first year of marriage. In the end we treated this as a trial run which eventually became a turning point to commit to a year-long honeymoon.
RELATIONSHIP TEST RESULT: "BREAK"
» A group trip ushering the desire to be more selective By: Alouise, Take Me to the World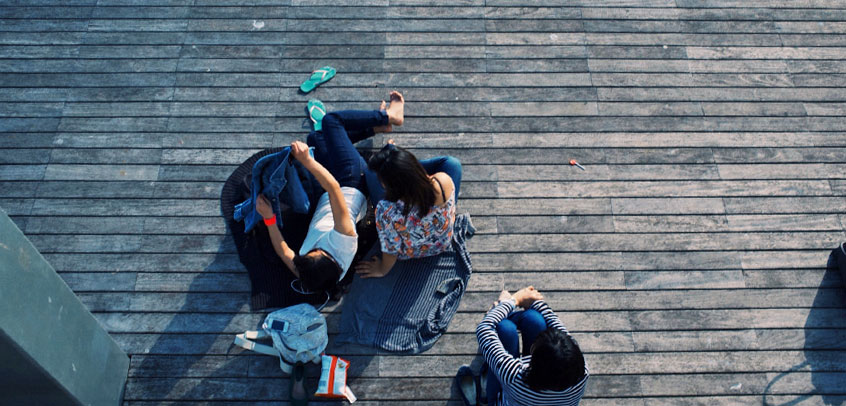 In 2007, two friends and I went on an almost 3,000km (1864 miles) road trip to the Grand Canyon and Las Vegas. We spent 11 days traveling together. Both of my travel companions and I were not only good friends, but also coworkers. Additionally, one of my travel companions was my roommate at the time.
We made a lot of memories on that trip, but for me it was an overwhelming experience. I need time to do things on my own, and my friends, particularly my then roommate, wanted us to do everything together. At one point my roommate and I had a huge fight over something trivial. I was exhausted and angry, more at myself than anything because even before we left, part of me was apprehensive about traveling with my friends.
Despite the negative things, we did have fun on our trip, I'm still good friends with both of my travel companions. I've even traveled with each of them (individually) since then. But that Vegas road trip reinforced what I already knew in my heart, I can travel with other people but only for short trips. Even then, I still need time and space for myself. It also taught me that I need to be more honest communicating what I want and what I can do when I travel.
Often I go along with what other people want, just to keep the peace, which in the end makes me resent myself and the people I'm with. As tempting as it is to travel whenever and wherever I've learned just because the opportunity arises to travel with someone, doesn't mean that you should. I'm much more selective about who I travel with, and now I prefer to travel on my own.
» A stay gone bad By: Sarah, Five Foot Traveler
After being unceremoniously dumped in the middle of the Argentine desert, a friend from my study abroad program and I made it to our hostel fourteen hours later than planned (by hitchhiking our way there).
The following night, upon returning from UNESCO sightseeing, we decided to walk around no-wheres-ville for a bit before calling it a night. Somewhere in the darkness my friend dropped her phone, but didn't realize it until we were back in our dumpy hostel. While I got ready for bed, she decided to go back out with the guy working in the hostel and said she would be back in approximately 20 minutes. So, I crawled into bed while a creepy old man in my room (like 70+ years old) kept talking to me in incomprehensible Spanish.
A few hours later, as there were no curtains in our room, the sun shone in and I was instantly awake, feeling that my friend never returned. Lo and behold, I glanced at her bed to find it empty. Running around the hostel, she was nowhere to be found. We checked all the rooms, asked all the staff, no one saw her. I waited and waited and waited. Nothing. I was starting to think the worst. Could she have been hurt? Lost? Kidnapped? Raped? Murdered? After all, she didn't have a phone.
After about six hours of panic, she came waltzing into the hostel mid-day with a grin on her face, having no idea how much fear, anxiety, and panic she had caused me. Turned out, she smoked and passed out at the guy's house, not thinking to use his phone and let me know.
» A friend gone haywire By: Alyssa, My Life's a Movie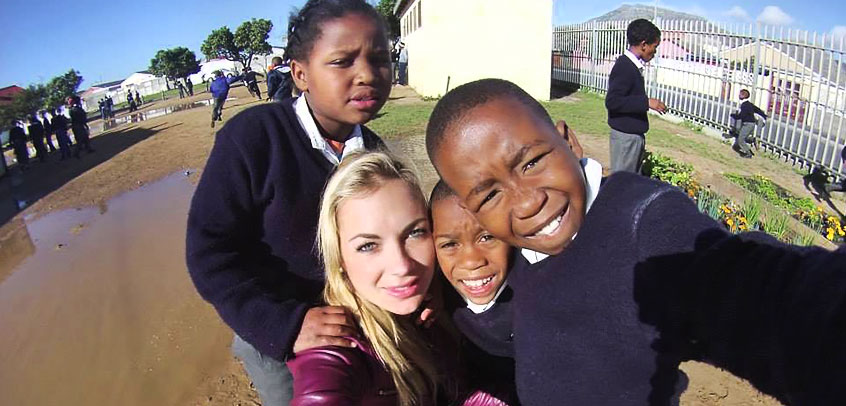 I had planned a volunteer trip to South Africa, and a few months before my trip, a guy I dated years ago showed interest in coming. I thought to myself "The more volunteers the better" and thought it would be nice to have someone I know come along.
I was SO wrong. While most of the volunteers and myself were there with a main focus on volunteering… this guy, who was also a lot older than the rest of the volunteers, had other intentions. Not only did he want to go out and party every night, but he was also the type of person who wanted to "volunteer" so that he could take photos and post them on Instagram to say he was "volunteering" when he really didn't help at all.
The final turning point, was when he had "told on me" for sneaking food to some of the kids at the underprivileged school in South Africa. Then a few days later, while standing in a group with other volunteers, he said, "Hey we should sneak some of our food from the volunteer house to the kids!" It was as if he needed to be in the spotlight at all times.
We had plans to travel to Thailand after South Africa… needless to say I ended up going without him.
» A misjudgement in Barcelona By: Annemarie, Travel on the Brain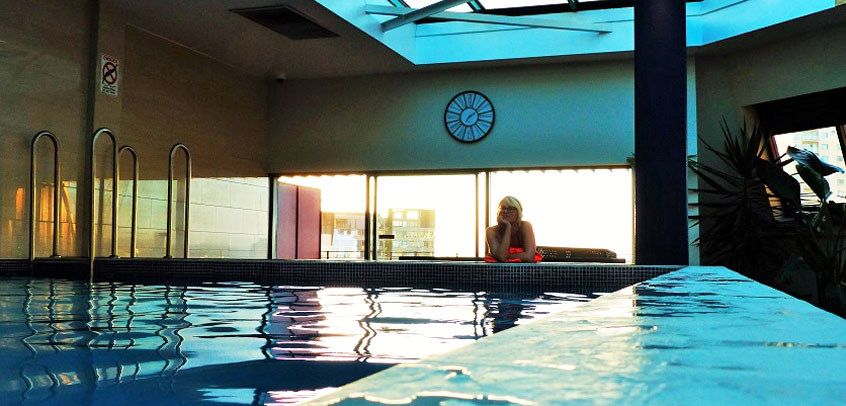 I wish I had known my advice two years back. The advice is to always think twice about who to take as a travel buddy. But then again, I wouldn't have arrived at this wisdom without having met that certain person. It started out as a wish to have a trip after graduation and when I met her through a friend we both clicked.
Booking was tedious, she insisted on the cheapest hostel. It turned out to be gross. Then she insisted we walked. Everywhere. My feet were blistered. We even shared tapas because she was the worst cheapskate there was. We never shopped. We didn't go to museums. We didn't take the famous furnicular.
Sure, we saw the big attractions, ticked off the must see list and the obligatory photos. That is, her photos. She had me take loads of posing photos and when I tried to give her my camera, she had already walked off. And she kept on talking. All the time. About herself. Her life. Her boyfriend. However, her being young, she soon ran out of stories and started over again. Sometimes I attempted to shift the subject, commenting on a building or maybe stopping to rest my sore feet. Oh the stories that followed about her having been in more remarkable places and having had even sorer feet.
Don't get me wrong, we are still friends but I will never travel with her again. It goes to show that spending limited time with someone does not necessarily mean that you get along for long. One friend I had insisted on not wanting to travel with her bestie. They were just too different. So my new advice is: always check expectations. Ultimately, it is a good relationship test, if you will.
Make or break. Travel can truly do a lot of things as it brings forth tons of realizations and lessons to every individual. Of course there are various situations and ways out there that can help test a relationship or the compatibility between two people, but I believe that traveling is one of those top options!
So if you ever feel the need to put a relationship to the next level, try traveling with that person. Even if the result ends up as being a bad one, I bet that you would still find it as a worthy experience because it's better to discover some things now rather than later, right?
Do you agree that traveling is a great way for testing relationships?
Do you have a make or break travel story of your own? What happened?
YOU MIGHT ALSO LIKE
Older Post
Newer Post
Hey there! I am Aileen Adalid.
At 21, I quit my corporate job in the Philippines to pursue my dreams. Today, I am a successful digital nomad (entrepreneur, travel writer, & vlogger) living a sustainable travel lifestyle.

My mission? To show you how it is absolutely possible to create a life of travel too (no matter the odds), and I will help you achieve that through my detailed travel guides, adventures, resources, tips, and MORE!

NEW READER? START HERE!
CONTINENTS: 7 ~ COUNTRIES: 59
Join over 1 million people and receive exclusive giveaways, travel tips and so much more!