If it's about choosing a great European summer getaway, it would be a mistake to miss a trip to the Mediterranean's well-known sunny mecca: the island of Mallorca (or Majorca). With its rugged coastline that spans for more than 550km, there is surely no shortage of stunning beaches, dramatic landscapes, towering mountains, vibrant towns, and mouthwatering Mediterranean cuisine to enjoy. Villa in Mallorca.
That being said, jetting away to this destination for a well-deserved vacation will be best done with family or friends — but before you decide on booking an all-inclusive hotel or a spacious apartment in the city for you and the gang, you should seriously consider booking a villa in Mallorca instead!
It's no news after all that this island receives about 8 million of tourists worldwide especially during high season; so if you're after an accommodation packed with homey comfort, tranquil serenity and grand views that's away from the crazy throng and bustle of the crowd, the haven of a private villa in Mallorca would surely suit you best. For a start, you can just imagine all the fun and freedom that you can have without fighting your way through a packed pool or restaurant! It would be bliss, won't it?
You've got to trust me when I say this because I had my own fun in a private luxury villa in Mallorca together with my 2nd family in Europe and I wouldn't have had it any other way! And it's all thanks to Travelopo that we managed to secure a fabulous 4-bedroom villa in the attractive town of Pollença (Pollensa) — one of the rustic towns in the island which has not succumbed yet to the sheer weight of tourism.
.

If you're more into videos, come and take a peek into the vlog I made below which showcases my week-long adventure in Mallorca, Spain:
[ COMING SOON ]
.
A Week-Long Stay Retreat to a Luxury Villa in Mallorca
» Travelopo
Travelopo is one of Europe's leading holiday rental agencies which has over 100,000 professionally-maintained rental villas, apartments and chalets across not only across Mallorca but to other places as well like Ibiza, Menorca, Croatia, France, Italy, Turkey, Canary Islands, Greece, Malta and more!
For sure, there are other sites out there that provides the same service as Travelopo does; however, here are the reasons why I chose to book with Travelopo instead:
They only work with established property managers and agencies so that they can offer the most efficient and secure luxury retreats at the best available prices
They handpick all of their rental properties to ensure quality and safety
They have superb customer service especially with their local agents are also always available on location should customers have any concerns, needs, or further requirements
They offer a wide range of rental homes and their partner properties are growing in numbers everyday
Their website has a refined searching mechanism so that you can specify your needs (example: if you want BBQ facilities, heated pool, disabled access, sea view, and more)


.
» Our Chosen Villa in Mallorca
The moment that I landed on the page of available villas in Mallorca on Travelopo, I was floored — everything looked like they were straight out of a lavish Hollywood movie! That being said, it was quite tough to choose the villa that we really wanted (I wanted them all)… but eventually, we found the best one for us called and it was called Finca Can Mos.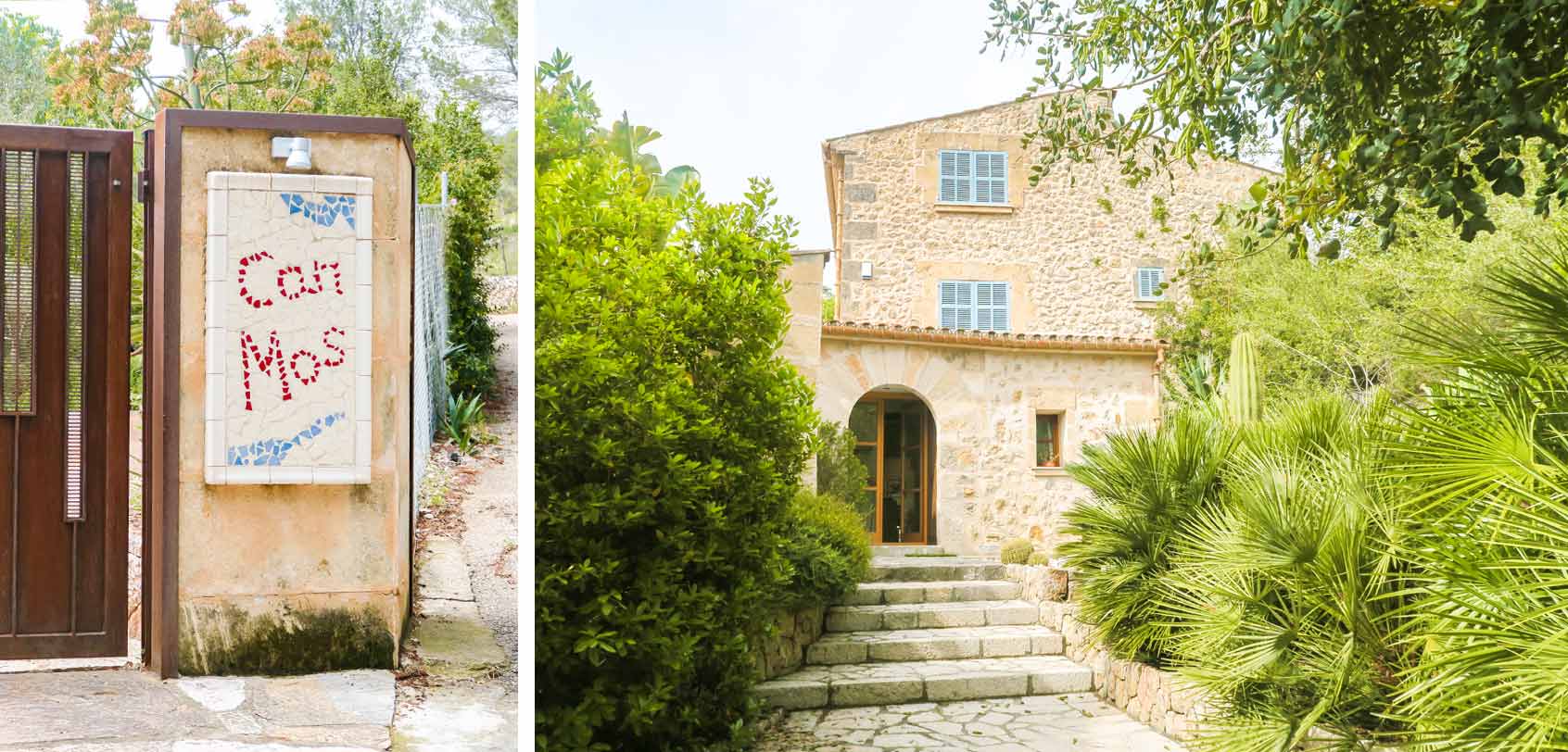 It was a gorgeous stone villa that had 4 bedrooms, 4 bathrooms, two swimming pools (one of which was an indoor pool that was styled like a Roman Bath), a fully-equipped kitchen, an indoor dining area, a living room, an outdoor BBQ with outdoor dining table, an outdoor pingpong table, an indoor gym, a spacious garden with fruit trees for picking, and a foosball.
Now of course, I know how some photos can be deceiving but from the moment that we drove into Finca Can Mos' private gravel driveway and then stepped inside its doors, everything looked as it was online — if not better!
Every room and space in the house was clean and spacious, decked with sturdy furniture and adorned with beautiful decorations that made us feel that it hasn't been lived in before. After some time of 'ogling', we all visited the four bedrooms in this villa in Mallorca, and each couple immediately picked out their favorites. My friend and I settled into the master bedroom which had a sizeable king-sized bed, walk-in closet, work area, and bathroom. (Mind you, our bathtub was even a jetted tub!)
Outside would be the vast garden and 10-meter pool which had a picturesque backdrop of the town's surrounding Puig de Maria mountain range. For the duration of our stay, we had a lot of fun doing mini parties in the garden, grilling some BBQ, making fresh juices (from the garden's orange, lime and lemon trees), basking under the sun, tiring ourselves silly from playing in the pool, holding pingpong matches, going on nearby hikes, heading out on day-long road trips, doing movie + karaoke nights, etc.
For the fitness buffs — don't fret! Their gym has a lot of good equipment; if not, Pollenca's surrounding trails or even just the town itself makes for a great place to go out on a run for. After all, the neighborhood in Finca Can Mos was truly pleasant and peaceful. We even chatted with some of the neighbours around us and found out that the people beside the villa in Mallorca were actually the owners and they were so very kind!
• NOTE: By the way, we had a kid with us and it was a nice surprise to find toys by the foosball so Brent (my friend's nephew) had a lot of fun while we there in the villa in Mallorca. Also, we only stayed here for a week but if you were to stay more, the linens will be changed after a week. (Towels and a light cleaning spree will be done every mid-week). Nevertheless, there are enough cleaning supplies available if in case you make a mess of your surroundings (which is really appreciated given that we did have a kid with us).
• PRICE: Finca Can Mos was priced at around $3,000 a week. If your budget is tighter, there are an array of other stunning villa listings in Travelopo that will surely fit your needs.
.
» The Mallorcan Adventures & Escapades
The island is a treasure trove of all sorts of rural, urban, land and water adventures! As expected, the location of our villa in Mallorca was a prime spot since there were tons of noteworthy attractions that were just a few minutes away. And if your aim is to visit the capital which is Palma de Mallorca, it will be just a 40-minute drive away by car.
To give you an idea of what we have managed to do during our week-long stay, below are some of the memorable activities that we did!
◘◘ Explored the town of Pollenca
Located at the north-eastern side of the island, Pollenca is a charming little town that's nestled at the feet of the Serra de Tramuntana mountain chain on Mallorca's northern coast. Its name comes from the Roman settlement of "Pollentia" which are the excataved remains that lie in Alcúdia (a municipality located a few kilometers away). From the first time that we strolled through this town, I instantly fell in love with its postcard-perfect views of small stone houses that were confined in narrow streets! Some of the things we did that you must do are to…
Visit Plaça Major on Sundays: This is the town's central square that is dominated by the large 13th century church of 'Our Lady of the Angels' (Esglèsia de Nostra Senyora dels Àngels) and filled with cozy outdoor cafes. During Sundays, you must stop by around 8:00 in the morning in order to see the square come alive with stalls that are filled with food, crafts, shoes, clothes, and greens! (The stalls stretch out to the nearby streets as well as Ca Les Monnares Square. By 1:00PM, the market closes).
Do the 365 Calvari Steps: As the name implies this is a long climb and also a steep one too as it leads from the central square up to a small old chapel called as Calvario (which has great panoramic views over the town). On Easter, these steps are the famous setting for a dramatic religious procession that re-enacts the Stations of the Cross.
Do a Tapas Route: Every Thursday from 8:00PM until midnight, there are about 13 eateries in Pollenca who offer a glass of beer or wine and tapas for a set of €2 only! It's an amazing way to acquaint yourself with local delicacies and restaurants in town and we absolutely had so much fun doing this. Just look out for flyers at the tourist office or posters in the center to see the participating 13 eateries for the week (since they change monthly).
◘◘ Climb up Puig de Maria
Puig de Maria is a prominent hill in Pollenca and its monastery, the 'Santuari de la Mare de Déu del Pui' stands tall at the top overlooking the town. We decided to climb this up and the trail was easy to find off the main road (Ma-2200) given that it had a lot of helpful signposts that led the way. At an ascent of over 2km, the climb up can be done in just less than an hour and once you reach the monastery, it will offer you grand views over Pollenca, its port, and the surrounding countryside.
◘◘ Drive to Cap de Formentor
This spectacular cape that's also called as the 'Meeting point of the winds' is a the most northern point of the island and I can guarantee you that the scenery here is incredible beyond words when you see it with your own eyes! The best part? It's just a 20km drive from Pollenca. So make sure that you make a stop by Formentor beach, the viewpoint called as Mirador des Colomer, as well as the Formentor Lighthouse at the end of the road. (If you are a cycling enthusiast, you should definitely bike through this route).
◘◘ Visit the capital, Palma de Mallorca
This is not only the capital of Mallorca but it is also the largest city of the autonomous community of the Balearic islands in Spain. In this place, we witnessed some of its top landmarks, namely…
Eat and drink at Mercat de L'Olivar: This market shows a dazzling display of local goods that come at very good rates! Open from Monday to Thursday (from 7:00AM to 2:30PM), Fridays (7:00AM to 8:00PM), and Saturdays (7:00AM to 3:00PM), you can also hang out at some of the tapas bars to enjoy a glass of sangria, champagne, brandy and whatnot.
Witness the Cathedral of Santa Maria of Palma and L'Almudaina Palace: The cathedral that's commonly called as 'La Sea' is a Gothich Roman Catholic cathedral that's quite a sight near the bay. Beside it, you will find the royal palace of La Almudaina which looks like an Arabian fortress. This used to be a royal residence but today, it is owned by the Spanish government and operated by an agency of the Minister of Presidency that manages assets of the State for the Crown (and also used as an offidical residence for ceremonies and State receptions).
Drop by Bellver Castle: This Gothic-style castle was built in the 14th century for King James II of Majorca and one of the few circular castles that you can find in Europe. Once a residence for Kings and later on a military prison, it's now a public tourist attraction where the city's History Museum can be found.
◘◘ Stroll through the town of Alcúdia
This is an old town in the north near Pollenca that is well preserved; truth be told, it has houses that date back to the 13th century, some remains of a Roman town in front of the Church of St. Jaume, as well as a high medieval wall that surrounds the old town. Other than seeing these sights, we also had a swell time going through its shopping streets inside the old town!
◘◘ Go and explore the rest of the island in a car
I would highly recommend getting a rental car when in Mallorca as it gives you the freedom to explore the rest of the island and discover less crowded beaches. Other than the trips we made to some of the amazing places near Pollenca, we also drove around aimlessly during our last day. Together with my friend's parents, Beatrix and Walter, we ended up seeing amazing viewpoints along the Serra de Tramuntana Panta mountain range, and we even witnessed Panta de Gorg Blau (a lake) which is a breathtaking artificial reservoir that provides water to the city of Palma and the surrounding areas.

.
Where to get the best flight deals to Mallorca?
My go-to platforms for grabbing the best flight deals are Momondo, Kayak, and Skyscanner. But of course, it's always good practice to research first the budget airlines that exist in the country that you're currently staying in, since they could have rock-bottom prices that are not often visible in the above flight search engines (example: RyanAir is one of the cheapest airlines to fly with if you're flying from somewhere in Europe).
The main airport in Mallorca is called as Palma de Mallorca Airport (PMI).
When is the best months to visit Mallorca?
It would be the off peak season with mild temperatures that spans from March to May . Summer would start from June to September but that would mean hotter temperatures, higher rates, and more hordes of tourists! Otherwise, visiting Mallorca during fall or winter is an option too (October to December); but expect some rains on some days and colder temperatures.
What's the best way to go around Mallorca?
There is inland public transportation but it becomes severely limited if you go out further to the more rural areas (it becomes even more limited during lower season and during night time). Nevertheless, transportation between major holiday resorts in the center will not pose to be a problem at all.
That being said, it's really best to rent a car for your own especially if you're going to spend some time in the island. You can hire a car at the airport without reservation but it's always best to book in advance (as rates will also be better online too).
On the other hand, if you're here for a short time, it's better to just join a conducted tour that will take you to the main spots around the island.
Helpful Spanish phrases
People in Mallorca speak Spanish and Mallorquí (a local variatn of Catalán). Rest assured, due to the number of tourists that come to the island, English and German are widely spoken. With that, you'll surely win the hearts of the locals if you try to speak Mallorquí, but speaking Spanish is already definitely okay!
.
Hello: Hola (OH-lah)
Thank you: Gracias (GRAH-syahs)
You're welcome: De nada (DAY NAH-dah)
Yes: Sí (SEE)
No: No (NOH)
Goodbye: Adiós (ah-DYOHS) / Hasta luego (AHS-tah LWEH-goh)
Excuse me (to get attention): Disculpe (dees-KOOL-peh)
Excuse me (to beg pardon): Perdone (pehr-DOHN-eh)
I'm sorry: Lo siento (LOH SYEHN-toh) / Perdón (pehr-DOHN)
Is there someone here who speaks English?: ¿Hay alguien que hable inglés? (I ahl-GYEHN keh AH-bleh een-GLEHS?)
I don't understand: No entiendo (NOH ehn-TYEHN-doh)
Cheers!: ¡Salúd! (sah-LOOD)
Staying in a villa in Mallorca was the best decision that we made as we spent our European summer away last year! With that said and done, I highly suggest that you also book a villa for yourself through Travelopo if — like me — you enjoy having a place for yourself in order to have a more intimate and fulfilling time with your family or friends!
What do you think of staying in a villa in Mallorca?
Would you like stay in a villa in Mallorca too? Why or why not?
Or have you tried it before? How was your experience?
Categories: Accommodation, Activities, Europe, For Families, Reviews, Spain, Travel & Adventure
Tags: Islands, Luxury Travel, Mallorca, Travelopo, Villas
YOU MIGHT ALSO LIKE
Older Post
Newer Post
Hey there! I am Aileen Adalid.
At 21, I quit my corporate job in the Philippines to pursue my dreams. Today, I am a successful digital nomad (entrepreneur, travel writer, & vlogger) living a sustainable travel lifestyle.

My mission? To show you how it is absolutely possible to create a life of travel too (no matter the odds), and I will help you achieve that through my detailed travel guides, adventures, resources, tips, and MORE!

NEW READER? START HERE!
CONTINENTS: 7 ~ COUNTRIES: 59
Join over 1 million people and receive exclusive giveaways, travel tips and so much more!