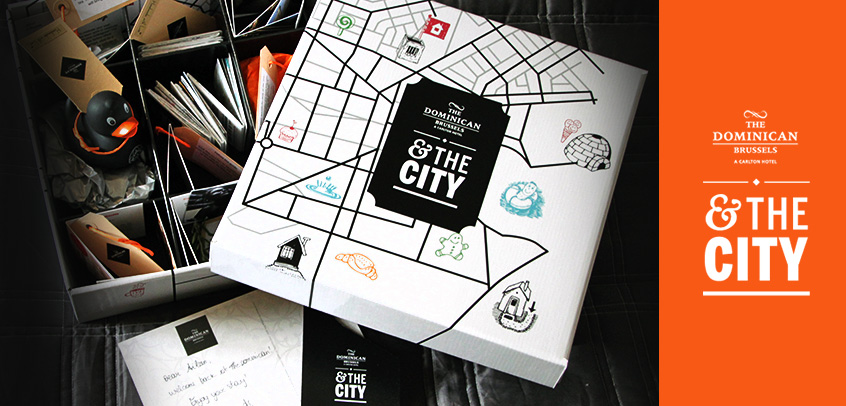 Wouldn't it be great to experience Brussels — the 'heart of Europe' — like a local?
Like any traveler, I bet that you would want to discover this famed metropolis by following the advice of real locals that truly know the city inside out! Brussels might not be that big of a city compared to the bigger hubs in Europe, but it's definitely a bustling center that can drive you crazy… most especially as a first time visitor.
So if you want to have a great time while skipping ALL the tourist traps, I highly recommend that you check out the awesome package: The Dominican & The City!
.
Like a Local: What is The Dominican & The City
"Leave your guide at home and take our hand…"
Offered by my favorite boutique hotel in Brussels, The Dominican, this is an all-in-one ultimate experience that will make you discover new places and experience memorable moments — all in the aim of making the most out of your trip!
Reasons as to why I love it:
It's a complete bundle. Save yourself the hassle of booking separately for accommodation and tours! With The Dominican & The City, it's a one-time-pay package that takes care of all your needs: a stay in the luxury hotel of The Dominican, a royal breakfast, an array of carefully-curated city tours, and a

bonus

acquirement of surprising treasures and gifts!
It's an absolute time-saver. Time certainly passes by too quickly when you're exploring an unknown city. In order to prevent wasting your precious time, The Dominican & The City will arrange everything for you! Together with their local colleagues and friends, they will take you on a personalized and unforgettable journey through Brussels' known and unknown (secret) hot spots like a local.
Option to take the guided tours or to go off on your own. Depending on your needs, The Dominican has it all covered. If in case you're the kind of traveler who wants to explore solo, the package will provide you all the data, maps, instructions, and places that you should take note off as based on your 'personal program'. Otherwise, if you don't mind going on a special guided tour, The Dominican & The City's team will sweep you off your feet and indulge you to the fullest!


.
I would LOVE to expose all the various things that I have come to enjoy and receive through this package, but since they value the element of surprise with this bundle, I will have to refrain from explaining all the details… BUT! What I can do is to give you a sneak peek!
For starters, let me express how I'm absolutely thankful for acquiring the opportunity to try 'The Dominican & The City' because right from the moment that I stepped into the hotel, I instantly felt how I will be well-pampered by their staff. Besides, once I got into my room, I was even warmly welcomed by this box of joy!
It included plans, treasures, and gifts, and I swiftly felt a nostalgic feeling as though it was Christmas! I won't divulge all the details of each 'surprise' but for sure there were maps and guides, and of course the special treats like a free bottle of champagne at the hotel's bar, a free book of all the secrets in Brussels, and so much more!
There's even the possibility that the hotel will open up some secret doors for you as well… -wink-
As for the tours, I can assure you that you can and will be exploring a mixture of any of the following:
Chocolate shops
Belgian beer culture
Small creative boutiques
Art & fashion
Unknown historical gems
City landmarks
Street art
Comics culture
Mouthwatering eats
…and more!


.
Are you excited yet? Intrigued enough…?
Trust me on this one. This is really the best deal that you could ever find as a first-time visitor in Brussels, especially if you want a partnered luxury accommodation. So come and book your spot in order to try this ultimate experience!
Another great thing about this is that if you like the idea, you can gift the package to a friend or family! Let them live a life of adventure right now and they're sure to have an unforgettable stay to enjoy for years to come.
What do you think about this package?
Would you also want to be pleasantly surprised?
YOU MIGHT ALSO LIKE
Older Post
Newer Post
Hey there! I am Aileen Adalid.
At 21, I quit my corporate job in the Philippines to pursue my dreams. Today, I am a successful digital nomad (entrepreneur, travel writer, & vlogger) living a sustainable travel lifestyle.

My mission? To show you how it is absolutely possible to create a life of travel too (no matter the odds), and I will help you achieve that through my detailed travel guides, adventures, resources, tips, and MORE!

NEW READER? START HERE!
CONTINENTS: 7 ~ COUNTRIES: 59
Join over 1 million people and receive exclusive giveaways, travel tips and so much more!