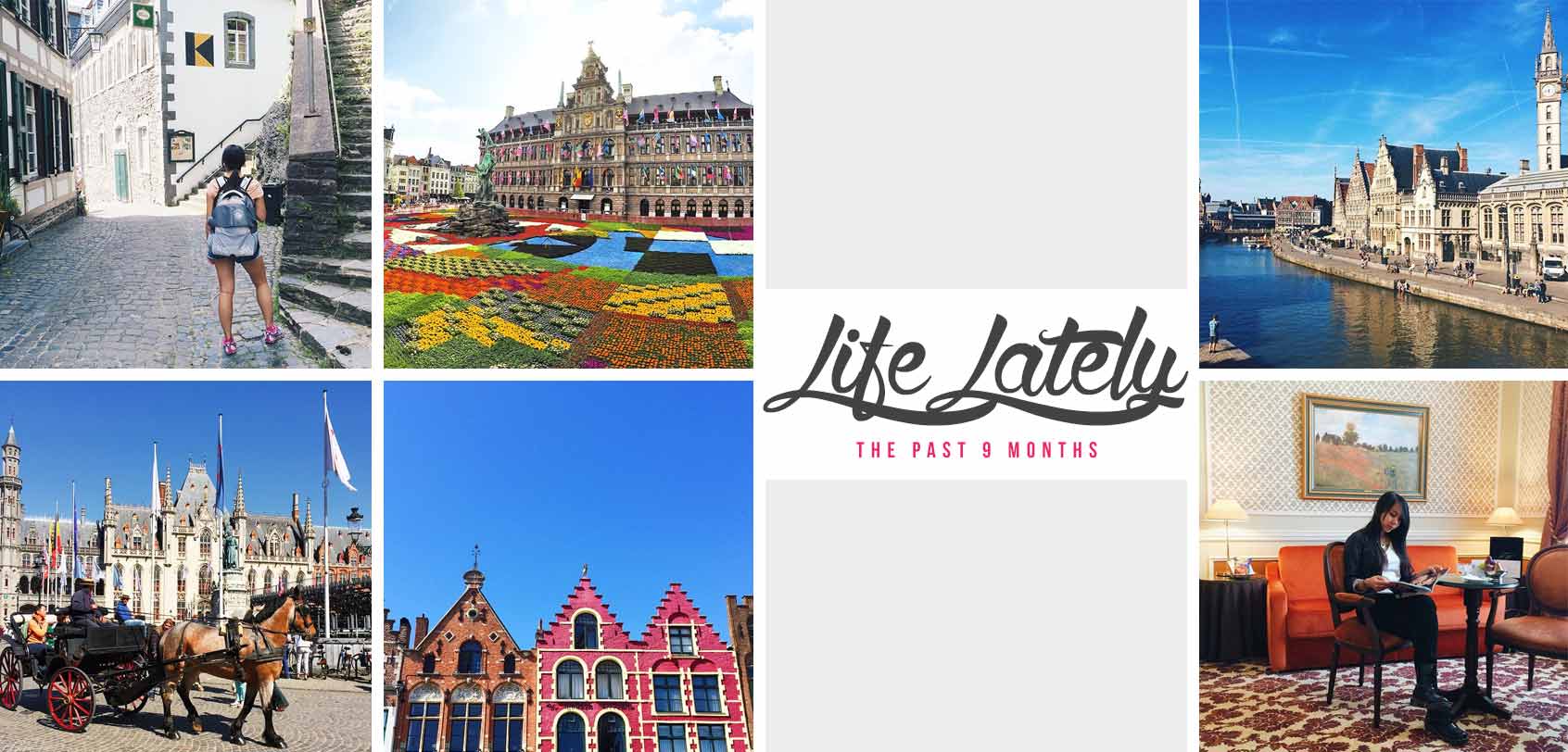 It has been a loooong while since I last did this kind of post. In fact, my last 'Life Lately' update was in December 2014 — so surely, there's a need for a recap on the past 9 months that have passed! And boy… I am telling you now that a lot of things happened in my life and this travel blog. (And oh, I just celebrated my 24th birthday this month!)
Now, I don't want to make this too long so I'd just pick the top 3 'developments' that I've been through:
Surprisingly gained TONS of exposure online and offline for my travel blog these past months.
I launched this blog in September 2014 and all that I was aiming for was a chance to write my travels and experiences after I quit my job in April 2014 to become a digital nomad. I simply wanted to share it all online to my friends and to the 'few' people on the web who would happen to pass by my blog; however… somewhere along the way, after a successful article or two about my life, my blog received a lot of readers. It was all so surreal for me, and the months after that were a whirlwind of trending articles, collaborations with travel brands, exposures on big websites (like National Geographic, Lonely Planet, BuzzFeed, etc.), features on prints (apart from Philippine publications, I was also published on Belgium's biggest newspaper! You can see more information on my media page) and press trips too!


.


It has been AMAZING. And I have you guys to thank! I honestly wouldn't have been able to write more nor would I have been able to have well-shared articles if not for everyone's support, encouragement and suggestions. (Up till today, I still continue to receive messages from you guys, thanking me for the inspirational pieces that I wrote. I honestly never thought that one day I would help and inspire others, so it truly makes me happy whenever I hear these from anyone. You guys give me strength, and it assures me that what I'm doing is right! ♥)

If you want to join my travel community, I set up a Facebook group called: 'Ultimate Travel Group'. Come and connect with like-minded individuals there! I also regularly share blogging and travel tips, resources, deals and giveaways weekly. I hope you'd love the group!

Exploring more of Belgium and becoming more 'Belgian' day by day!
I have been trying to process my long-term visa here in Belgium especially after transferring our online business, Adalid Gear, from Hong Kong. The business set-up was finished easily but the approval of my visa is taking quite a while, and such a procedure prohibits me from traveling to other countries. But that didn't dampen my spirits since I resorted to taking my own sweet time into exploring more of the places here in Belgium! Apart from the trips that I took with Jonas, I also did several solo trips so that I can explore new places by myself. (Ghent, Bruges, Brussels, Leuven, and more!)


.


To add, I am slowly integrating myself into the 'Belgian society'. (I have been here for a year now so you can say that I'm already a true-blue Belgian person, haha!) But yeah, apart from an integration class, I have also been taking Dutch classes and as of this moment, I'm already on Level 2. (Each level takes two months). Now, I can't really speak fluently yet, but I can already understand texts and speeches. It's quite hard… but also easy. I am unable to explain it, but one thing is for sure: it is an exciting experience to learn a new language! I already know 3 (English, Tagalog, Ivatan) and I guess after I master Dutch, I will try to take on French since half of Belgium uses it.
Planning and doing big trips!
Once my visa is done with, I will be going on 3 BIG trips in 2016, so I'm using this time to plan it all well. First one would be a long trip to neighboring southern and eastern European countries by train as I still have a pending partnership with Eurail that needs to be executed.Second one would be a trip back to Asia. I will be visiting my home country, the Philippines, for a bit to see some of my friends, my family, and also because it's my sister's wedding. After that, I plan to (finally) go to Japan (so stoked for this one as I am a HUGE fan of their culture) and then to China (to visit some places but mainly to visit our business suppliers). If I would still have time, maybe a side trip to South and North Korea as they are along the route.Last of the 'series' would be to South America to not only visit some of our nomadic friends but to also, of course, explore the amazing countries packed in this dynamic continent. I'm reaaaally excited!
P.S. I plan to do this every month instead of every week, which I did before. But… I actually just received an awesome vlogging camera for review, so I'm still contemplating as to whether I should make this more frequent along with a video/vlog update. So we'll see!
What have you been up to lately?
Do you like this 'Life Lately' series? Should I continue doing it or not?
Would you prefer a weekly update or a monthly update?
YOU MIGHT ALSO LIKE
Older Post
Newer Post
Hey there! I am Aileen Adalid.
At 21, I quit my corporate job in the Philippines to pursue my dreams. Today, I am a successful digital nomad (entrepreneur, travel writer, & vlogger) living a sustainable travel lifestyle.

My mission? To show you how it is absolutely possible to create a life of travel too (no matter the odds), and I will help you achieve that through my detailed travel guides, adventures, resources, tips, and MORE!

NEW READER? START HERE!
CONTINENTS: 7 ~ COUNTRIES: 59
Join over 1 million people and receive exclusive giveaways, travel tips and so much more!