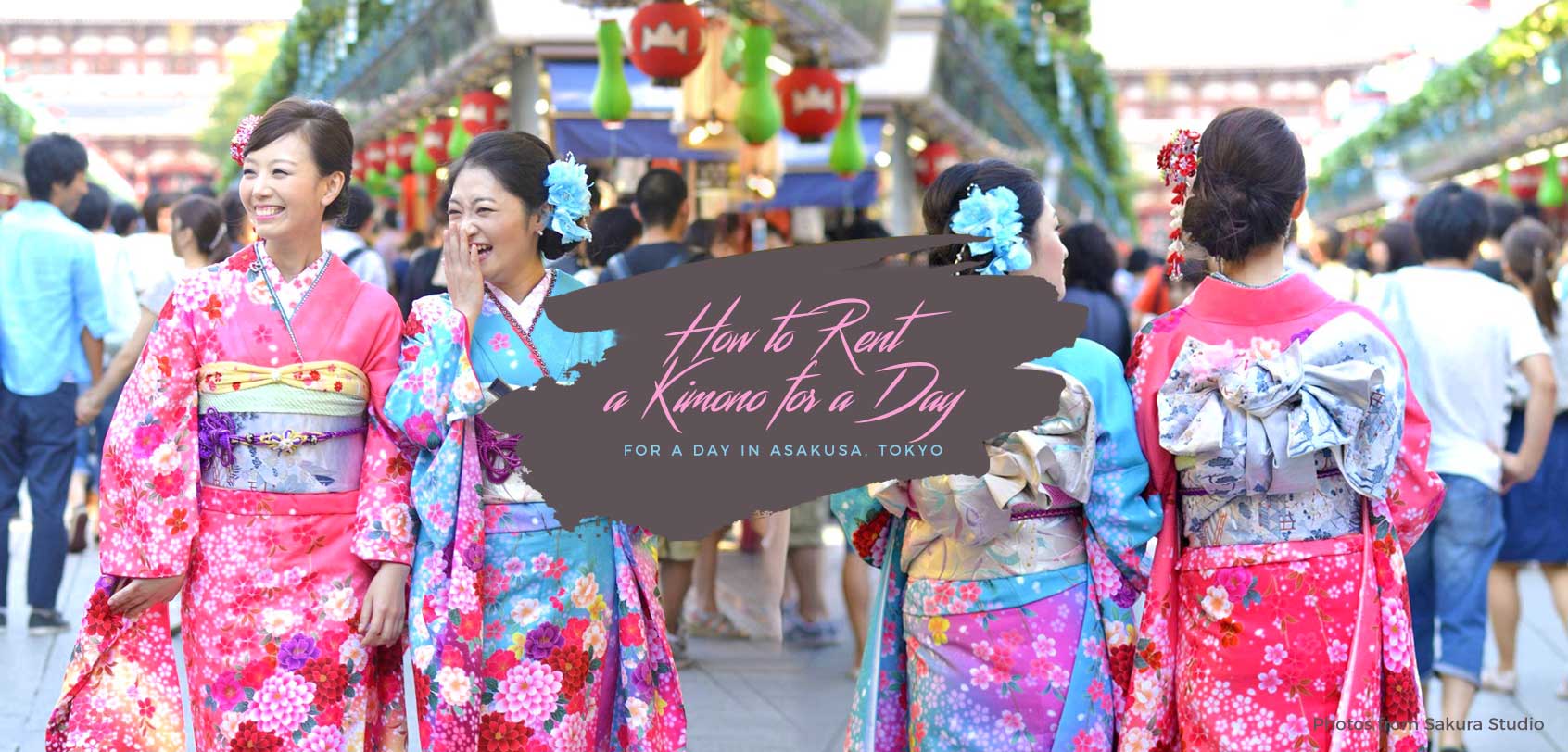 One of the things that you absolutely should do when visiting Japan is try on their traditional full-length garment called: the kimono. This beautiful and elegant piece used to be worn by the Japanese on a daily basis; but nowadays, it is mostly only being worn by the locals during formal events, graduation programs, tea ceremonies, and festivals (Japan's geisha still wear it almost every day).
That being said, it can be quite a rare sight to witness a crowd of Japanese people wearing kimono on the streets — unless there's an event. In fact… if you see someone dressed up in a kimono in public, that person would most likely be an expat or a tourist!
With that in mind, as a non-Japanese person, it IS possible for you to put on a kimono, walk around with it for a day, and take lots and LOTS of photos; you can do this simply by going to kimono rental shops that are spread out all over Japan.
The quintessential place to rent and wear a kimono would be in the ancient city of Kyoto; but if you're short on time and can only explore the capital of Tokyo, don't fret! Much like what I did, simply head over to the district of Asakusa and make full use of its picturesque shrine and temple as well as its olden Edo era buildings and surroundings as perfect backdrops for your pictures.
Now… don't think that you can just buy your own kimono and proceed to put it on by yourself! First things first, a full kimono set customarily costs a fortune (a lot of Japanese people actually end up renting since it's a lot cheaper; plus, they rarely use it too). Secondly, a kimono is an extremely intricate piece of clothing to put on as it involves a LOT of layers and knots; so, you can't just wear it whimsically without any prior experience and knowledge. (Besides, someone typically helps put on a kimono for another person anyway, and these professionals usually take classes to learn how. Truth be told, one of the reasons why the Japanese rarely wear kimono nowadays is because they can't put it on by themselves.)
With all those factors considered, it's truly best that you head on over to a professional Japanese kimono rental shop in order to get a hassle-free experience that will save you time, effort, and money — and with the help of this guide post, it's my hope that the overall process will be smooth for you.
After all, I personally rented a kimono for a day while I was in Asakusa, Tokyo during my first trip to Japan, and it was an experience that I will truly never forget and that I absolutely recommend for you to try alone, with friends, with family, or with your partner!
.
How to Rent a Kimono for a Day in Asakusa, Tokyo
» Where to rent a kimono
Finding a good kimono rental shop can be tricky if you don't speak Japanese since many of the owners in Asakusa — or just Japanese people in general — don't speak English fluently, or at all. Rest assured, there are shops (like those I will list below) that do have employees who can speak a little bit of English.
So where did I go off to? I rather went to a rental shop called Sawadaya whose staff in-store didn't speak English at all, BUT I managed just fine with the help of 'Google Translate' and some finger pointing.
You're probably wondering why I picked Sawadaya despite the language barrier… Well, when I was browsing for rental providers online, I noticed that Sawadaya was providing more luxurious and sophisticated-looking kimono ensembles and designs compared to the other rental shops in the area (it was complete with ribbon obi, decorative strings, etc. — somewhat the same as Sakura Photo Studio which has a 'luxury option'). To illustrate:
Right photo from Sakura
What's more is that a matching tote bag, a complete hair styling session, and several hair accessories were already included in their base price. Also, it's close proximity to the Sensoji Temple was a big plus for me!
✮ Sawadaya
Taito-ku, Tokyo Asakusa 2-3-27
Hours: 10:00 to 18:00
Telephone: 03 3841 3396
Email: [email protected]
Google Maps: [link]
Website: [link]
Facebook: [link]
✮ Sakura Photo Studio
Tokyo Taitoku Kaminarimon1-12-12 Suzuki Bldg 4F
Hours: 9:30 to 17:00
Telephone: 03 6802 8814
Email: [email protected]
Website: [link]
If, however, you want to check out the other kimono rental shops in the area who offer cheaper options on kimono (but with simpler/modern design), click the (+) symbol below to expand the following section:
**CLICK TO OPEN** : Other Kimono Rental Shops in Asakusa
Aiwafuku
2-3F NW Building, 1-11-4 Hanakawado, Taito-Ku, Tokyo
Hours: 09:30 to 18:00
Telephone: 03 6231 7554
Email: None (reservations are made via their online booking form)
Website: [link]
Asakusa Kimono Koto
2F Daigen bldg., 2-18-12 Kaminarimon, Tokyo
Hours: 09:30 to 18:00
Telephone: 03 6802 7018
Email: None (reservations are made via their online booking form)
Website: [link]
Asakusa Shichihenge
2-29-21 Asakusa, Taito-ku, Tokyo
Hours: 10:00 to 17:00
Telephone: 03 5830 7100
Email: None (reservations are made via their online booking form)
Website: [link]
Miiko
2/F, 1-18-9 Asakusa, Taito-ku, Tokyo
Hours: 10:00 to 18:00
Telephone: 03 5830 7100
Email: None (reservations are made via their online booking form)
Website: [link]
» The cost and duration of the kimono rental
When it comes to Sawadaya, the cost of their kimono rental is at ¥5,400 yen per person — that's Php 2,500~ or $50.
This is complete with FREE clothing accessories, tote bag, complicated hair styling, and elaborate hair ornaments.
It's at a higher price than others but that's because all of their kimono are new and made of more premium material and designs.
In winter, a coat or haori and fur shawl is provided for FREE (other stores charge for this — the photo on the right shows a fur shawl on top of the kimono).
Price for couples is at ¥9,800 yen only (Php 4,200~ or $85~)
Cost can go lower if you come in a group — just inquire about it when making a reservation.


.
As for the other cheaper stores I listed above, they average at around ¥3,200 yen only per person (Php 1,380~ or $28~), as they offer simpler kimono styles, hair styling, and accessories.
**NOTE: All of the rental shops do NOT rent tabi socks which are essential for when you're wearing the wooden slippers that they will provide. For hygienic purposes, they sell these instead at an additional price of around ¥600 yen (Php 250~ / $5~).
For payment: Sawadaya and the rest of the rental shops I listed (except Sakura Photo Studio) only accept cash, to be paid on the date of your experience. Sakura Photo Studio only accepts bookings if you pay in advance via credit card or PayPal — they will send you the invoice after you send them your booking request. 

The duration: With the above rates, the kimono rental shops do allow you to walk around Asakusa in their kimono for a day. You only need to return an hour before their closing time, BUT Sawadaya allows you to return on the time that they close which is 6PM; so, you technically get more time in the night compared to the other shops.
If you want to rent the kimono for MORE than a day, it is sometimes possible. Just inquire with the shop and they can give you more details. (It can cost around ¥1,000 yen only or Php 430~ / $9~).
» Tips when placing your reservation
Every rental shop requires their customers to book in advance. This is important so that they can secure a time slot for putting the kimono on you — which can take at most an hour! Walk-ins can be done but not advised since it's quite likely that you'll not be accommodated, or that you'll be waiting for hours until your turn.
So when making a reservation, if you can't speak Japanese, of course it's best that you email them (or just fill out their booking form) instead of making a phone call. It's also absolutely fine to send them a message in English because most of those rental shops will reply to you — often with a response that might have been seemingly translated on Google Translate.
When emailing Sawadaya at [email protected], indicate your name, telephone number, time and date of your intended visit, the number of people who will be coming with you, and the kind of rental you would like to make (and any other requests).
TIP: If you chose to contact either Sawadaya or Sakura Photo Studio and they still haven't replied to your email in 3 business days, it's time for you to follow up OR send them a message in Japanese — just translate your text in Google Translate! When I sent my message to Sawadaya, I also included a brief apology if my Japanese was bad; I explained that I don't speak the language and that I hope they could reply to me in English. 'Lo and behold, they replied a day after in English saying that my Japanese was okay (woot!) and that I was booked for the date and time that I wanted.
TIP #2: As I've indicated previously, the other rental shops would want you to fill out a form on their website when making a reservation. Often times though, it's not translated in English. When this happens, make sure that you open the page in a Google Chrome browser because once it detects a webpage that is in a foreign language, Chrome instantly translates the text for you in English. (You can also do it the hard way by translating phrases and sentences one by one via Google Translate).
For cancellations: For Sawadaya, it's okay to do so a day before but if you cancel on the day itself, they will charge you 100%. The other Asakusa kimono rental shops might not have the same policy, so make sure to check. For example, cancellations within 7 days prior to your booking with Sakura Photo Studio will be non-refundable.

For exchanges: If you want a different kind of service or kimono, it's typically okay to change it on the day and time of your booking.

For any delay: Kindly just inform the shop in advance. Often times, if you're late more than 30 minutes, they will refuse to dress you up in order to make way for the person who's booked for the time slot after you.
» My thoughts and experience
The shop owners Kayo-san and Mikiko-san in Sawadaya were very warm, friendly, and patient despite the language barrier that existed between us. Once they ushered me into their store, they let me take my time in choosing the kimono design that I wanted, while also making suggestions once in a while.
Since I was there during sakura (cherry blossom) season, I chose a pink kimono from the 1,000 other designs that they had. Kayo-san immediately suggested a golden obi (sash belt), a pink obijime (cord) and purple obiage (inner scarf) and they all matched perfectly with my kimono! Before dressing me up though, she first styled my hair beautifully and this took about 15 minutes.
She then proceeded to dress me in hadagi (some undergarment) and I was astounded at the number of tight knots that she did around my waist before finally putting on the 2nd layer: a pink nagajuban (silk robe).
When she finally put on my kimono and obi (this all took less than an hour), she made me pick a hair accessory. Naturally, I picked a bunch of pink sakura to go along with my outfit.
TRIVIA: Apparently, a lot of layers are needed to be placed above the hadagi in order to hide the curves and contours of a woman's body. Unlike other dresses, this is a typical feature for wearing a kimono. I asked Kayo-san why and apparently, the traditional view of beauty in women depicts a straight figure with clothing that is elaborate and which constricts their footsteps. Additionally, she believes that it originally gave men the chance to wonder what's 'underneath'.
Kayo-san even told me that putting on all these layers and knots are an art in itself because it's important to not only keep me comfortable and keep the kimono's shape, but to also ensure that all these robes won't fall apart nor open once I start walking around.
Feel free to watch the video below to see how the overall process went, as well as the number of places that I visited around Asakusa as I wore this wonderful kimono!
» READ: For ideas on what to do around Asakusa, read here. Of course the places that are not to be missed are Sensoji Temple and Nakamise-dori Street, among many others!
One of the amazing perks when you rent a kimono for a day is that you turn into some sort of mini celebrity. The moment that I stepped out of the shop and walked a few meters away, a rush of tourists started to take pictures of me AND with me! Several Japanese people also started smiling and throwing compliments my way — well… I don't know exactly what they said but I did pick up the words kirei (beautiful), utsukushoii (pretty), kawaii (cute) and sugoi (amazing) from their speech. Additionally, some old grandpas and grandmas even gave me a thumbs up!
NOTE: If you're a white or black gaijin (foreigner), the attention and picture-taking spree will surely double!

TIPS: When walking, don't take wide strides; revel in small in-toe steps. When you sit down and stand up, put your hands and feet together with your back straight — actually, it's not hard to keep your back straight because the stiff obi helps keep it that way. As for when you're taking photos, make your stance a bit diagonal in order to slightly show your obi's back bow as well as your hair accessories. It also helps to put one foot on top of the other as you lean a bit backwards.
.
FAQ (Frequently Asked Questions)
◘◘ Can males rent a kimono too?
Yes of course! It helps to note though that a male kimono is more simple and subdued.
◘◘ Are there any other traditional Japanese clothing that I can rent to wear?
In summer which is during the months of June, July, and August, kimono rental shops usually rent out yukata which is basically like a kimono but a lot lighter and thinner in material (the price for a yukata would also be cheaper than a regular kimono, but not so much).
Another traditional Japanese clothing you can try on is a 'hakama'. This is often worn by shrine maidens or by students during their graduation ceremony (price would be around ¥7,000 yen or Php 3,000~ / $60~). If you want a more 'luxurious' kimono clothing, try the 'furisode' that is distinguishable by its longer sleeves, worn by young unmarried women in Japan (priced at around ¥10,000 yen or Php 4,300~ / $87~).
For a more special kind of 'dress up' experience, there are other rental shops (mostly found in Kyoto) that can transform you into an oiran (traditional Japanese courtesan) or a geisha (traditional Japanese entertainer). The price for both can start at around ¥13,000 yen or Php 5,500~ / $110~ and up (with the oiran dress up experience mostly only done indoors).

First 3 photos from Sawadaya
» NOTE: I tried dressing up as an oiran when I was in Kyoto. Watch out for my post + guide about that SOON!
◘◘ Is it cultural appropriation to wear a kimono in Japan as a foreigner? Or to dress up as a geisha or oiran?
Not at all. The Japanese never refer to it as cultural appropriation because they deem it more as cultural 'appreciation'. Besides, they like it a lot when other nationalities take an interest in their culture, customs, and clothing — which is unlike other countries who might often refer to it as appropriation. This is the reason why makeover studios and kimono rental places are so popular in Japan! My experience also serves as proof because as I've mentioned above, a lot of Japanese people walked up to me to appreciate the fact that I was wearing a kimono. Some of them even gave me a thumbs up!
◘◘ I'm very tall. Will there be problems if I wear a kimono?
For women, rental shops generally have kimono pieces that can fit a height of up to 175cm; whereas for men, up to 185cm. My best friend, Jonas was with me during this kimono-wearing experience and Sawadaya had a kimono that fit him perfectly — mind you, he's 6'4!
◘◘ Is it possible to rent even on a rainy day?
Absolutely! Rental shops will just make sure that you wear a kimono that won't drag along the ground.
◘◘ After changing into my kimono, can I leave my stuff at the rental shop?
Yes, you can leave your luggage in the rental shop, but make sure you bring your valuables with you by putting them in the matching tote bag that they will be providing.
◘◘ Is there anything that I should bring to the rental shop?
No, you do not need to bring anything since all of the items that you will need are already available and provided for in the rental shop.
◘◘ But what if I have my own kimono?
Kindly inform the store and they will gladly dress you up in it, and then charge a lesser fee.
◘◘ Are there any other things I can do while wearing my kimono?
Apart from the fact that you can wear the kimono and stroll around Asakusa for a day, almost all rental shops provide the extra services of doing an indoor shoot, an outdoor shoot, or a rickshaw ride for an additional cost.

Photos from Sakura Photo Studio
◘◘ Can I take my time choosing a kimono?
Sure thing! But as a courtesy, make sure you don't spend more than 30 minutes looking through their kimono designs.

◘◘ Can I select my obi or kimono accessories? How about my hair accessories and the kind of hairstyle I want?
The staff of the rental shop will usually suggest matching accessories for you; but of course, you're absolutely free to choose what you want to put on your kimono and hair. If you want a certain hairstyle, it's best that you prepare a photo of it so that you can show it as reference to the staff people.
◘◘ How long does it take them to dress me up in a kimono?
It normally takes about an hour (including hair styling).
◘◘ Can they do my makeup too?
Some of the rental shops can do your make up. Just ask them about it, and I believe it will cost about ¥4,000 yen (Php 1,700~ / $35~). If you ask me though, I think it's best that you just do your own make-up.
◘◘ What if I want to extend for one more day?
It's possible with some rental shops. Just inquire about it and it would usually cost an additional ¥1,000 yen only (Php 430~ / $9~).
◘◘ Can I buy their kimono?
Most of the rental shops sell their kimono, so feel free to ask.
» PRE-TRAVEL GUIDE
Where to get the best flight deals to Japan?
If you're planning to fly economy and just looking to get from point A to point B, make sure to check out local airlines for good deals. But if you're looking to turn your flight to Japan into an unforgettable experience… let Ultimate Class Airfares arrange a luxury First Class or Business Class flight for you! They have a special team dedicated to handling travel to and from Asia, and they can help you find the best airlines and routes to Tokyo (and other popular destinations like Hong Kong) with discounts of up to 75% off! They can even help you make those tricky, spur-of-the-moment last-minute travel arrangements. So whether you're traveling for business or pleasure, Ultimate Class Airfares can help you reach your destination in comfort and style.
How to get to Asakusa in Tokyo?
The closest station to the kimono rental shops is Asakusa Station and it is easily accessible via Ginza Line or Asakusa Line. If you need further help, just use the directions feature in Google Maps (signified by a blue icon with an arrow inside it) — I find this as a very helpful tool if I want to reach a certain place from a particular location. (Google Maps doesn't work offline though, so I recommend that you get a pocket WiFi to stay connected online).
Helpful Japanese phrases
Hello: Konnichiwa (Kohn-nee-chee-wah)
Thank you (normal): Arigatō. (Ah-REE-gah-tohh)
Thank you (less formal): Arigatō gozaimas (Ah-REE-gah-tohh goh-zahy-mahs)
Thank you (informal): Dōmo (DOHH-moh)
Yes: Hai (Hai)
No: Iie (E-eh)
Goodbye (long term): Sayōnara (Sah-yohh-nah-rah)
Goodbye (informal): Ja ne (Jahh neh)
.
Excuse me: Sumimasen (Soo-mee-mah-SEN)
I'm sorry: Gomen nasai (Goh-men-nah-sahy)
Is there someone here who speaks English?: Dareka eigo ga hanasemasu ka? (Dah-reh-kah ey-goh gah hah-nah-seh-mahs kah?)
Help!: Tasukete! (Tahs-keh-teh!)
Do you need to apply for a Japan Tourist Visa?
.
If you're looking for a unique activity that will totally immerse you in the Japan travel experience, renting a kimono and strolling around in it for a day is something that you should NOT miss!
After all, it makes for a wonderful memory and a great opportunity to take amazing pictures in the 'Land of the Rising Sun'. Enjoy!
DISCLAIMER: This post contains a sponsored mention of Ultimate Class Airfares. Still and the same, all opinions are as always: my own.
What do you think of this kimono-wearing experience in Japan?
Would you like to try it? Why or why not?
Or have you rented a kimono before? How was it?
YOU MIGHT ALSO LIKE
Older Post
Newer Post
Hey there! I am Aileen Adalid.
At 21, I quit my corporate job in the Philippines to pursue my dreams. Today, I am a successful digital nomad (entrepreneur, travel writer, & vlogger) living a sustainable travel lifestyle.

My mission? To show you how it is absolutely possible to create a life of travel too (no matter the odds), and I will help you achieve that through my detailed travel guides, adventures, resources, tips, and MORE!

NEW READER? START HERE!
Widget
CURRENTLY BASED IN: The Philippines
TRAVELING NEXT TO: Antarctica
Stay updated with Aileen monthly! Sign up and receive exclusive updates, articles, giveaways, and so much more!
Talking to some of my college blockmates and it made me realize how "adulting" is tough. So KIDS, make the most of… https://t.co/aTOf9mPY7h
22/02/2018 12:18:21

Update: Okay, I'm not going to wear this dress EVER again. Now my UBER driver thinks I'm pregnant. (Or yeah, sure,… https://t.co/wsSyiZEPBX
21/02/2018 03:46:03
Give Your Life Wings