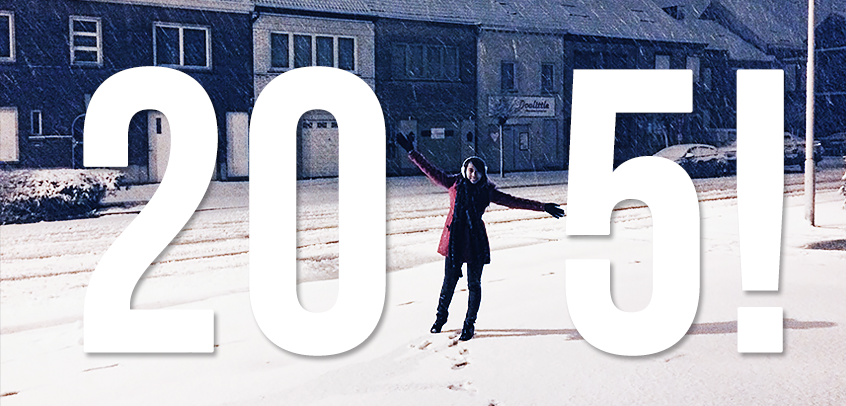 First of all: Happy new year!
(I'm pretty sure I've been saying this greeting a LOT for the past days to you guys, but there's no harm in doing things in excess :P)

Much like what I do every start of the year, I always want to have a post about the past and the coming future because there's just so many things to appreciate and to look forward to! And so, for 2015, I will be listing my goals below—big and small—to declutter and focus my thoughts!
.

» Personal
Travel more! – This is a constant wish that I have every year and I know that it might not seem much of a goal since it's quite achievable (given how I'm a 'digital nomad'…) But you see, after deciding to stay here for a year in Belgium with Jonas, I'd like to make it a point for us to still both continue traveling around and to never forget about it since it will be the perfect opportunity to see more of Europe!
Get even more fit & healthy – If you're a reader of my blog, it's no news that I'm into healthy living and eating. But somehow, in the last quarter of 2014, I neglected my daily exercise habits and that… just made me sad. So I aim for 2015 to be more consistent on this goal and to find more ways to be more active than ever! (I actually find it hard to run outside when it's cold; it seems I'm too conditioned still to work in a humid + hot environment so I hope I find a way to adapt myself quicker).
Pick up another hobby or skill – I'm definitely going to take classes for Dutch this year, but other than that, I want to pick up a new hobby! What I currently have in mind is learning the piano (to pick up where I left off when I was still a kid), entering a dance studio/class (to continue my passion for dancing) or joining a band (to also continue my other passion which is singing). Let's see what I'll end up with…
Meet more new people – Since I will be living in Belgium for a while, I have to find ways to meet new people here (other than the friends of Jonas) so that I can have a circle of my own. But of course I will do this without forgetting the friends that I have back at home!
Read more books – The past year, I have NOT read a book at all and I want to change that! (Well okay, I might have read some eBooks online but I'm talking about the real physical ones with pages). I've already taken steps because the books that I ordered from the U.K. are now gradually being delivered to our address here. Therefore the only thing left for me to do is to make sure that I actually take some time off regularly so that I can relax and read a good book. Due to all the busy (good) things that happened to me in 2014, I have been too immersed with the internet; and as much as that's productive, I would still want to indulge myself in a real and actual book from time to time!
» Business & Blogging
Post more articles – I have a very LONG list of articles that are not published yet; they're all in my drafts and they're all about my travels since 2013 as well as some other lifestyle + recipe posts. I really have to pick up some speed on that… I really should!
Proactively do more collaborations – A lot of other bloggers have told me that I could have wider reach by now if only I could be more proactive with partnerships with other bloggers, etc. So I plan that in 2015, I will reach out more to others who are in the same niche as mine so that I can also meet more folks online who are working remotely while traveling the world. (If you're one of them and reading this, please get in touch with me!)
Expand our business to U.K, Germany, & Japan – As you all might know, I have my own business now named as 'Adalid Gear' and we've been doing really good in the past months in Amazon U.S. But of course I don't want to stop there, I would like to expand. So Jonas and I will definitely make it a point to spread out to other countries, and eventually, in Asia too. Wish us luck!
Create more passive income – I honestly think that I already have enough income not only from my freelance work but also from our online business… however: I want to earn more. Not because of greed but because of security. I want to retire before my 30s or if permitting, before I turn 25! (It's a BIG goal but I really think that I can do it if I really set my eyes on it!)
Start & finish writing a book – It has always been a dream of mine to finish a book. I have these unfinished fictional stories rotting away in my files and I'd really want to take some time to look into those again to try and finish it. Or if not, I can try coming up with a different book that would help inspire others to quit their job and start a life of travel! There are so many things I can write about so I just hope I can make a way for this!
.

Goals I've Accomplished in 2014
In accordance to my past 2014 goals, here are the things that I've achieved in 2014:
» Personal
Traveled to more places and scored a Visa to Belgium – Other than the various trips I've done (like that in Amsterdam, Germany, etc., other parts of the Philippines, etc.) I am very thankful (first and foremost) that I managed to get myself a Visa for Schengen! I really have a 'hate relationship' with VISA processes because they're so stringent, that's why it's such a huge relief whenever I manage to finish and achieve it—which I have! Woop!
Sang in front of a crowd (again) – …after soooo many long years! (If you want to see the video, go here). This was such a refreshing experience because I really just miss singing in a band!
Got accepted to a university – Though I didn't actually push through with this (since I decided to focus on our online business more) I found this as quite an accomplishment still because it made me realize how much I have still manged to retain my knowledge from school. I say this because it just simply amazes me whenever I remember how I aced the GRE tests simply by just reviewing for it in just a day. LOL yes… a day only. When in fact, others usually take a course to review for this; thereby resulting to my acceptance into the University of Antwerp. Now if you ask if I regret not signing up for school, my answer would be NO because I think that my decision to focus more on our business brought great results (which I will discuss below in the Business section).
Gained more life skills – This will be very vague but I won't bother enumerating all the life skills I've learned but I just want to mention this because it was mainly due to my entrepreneurial venture that I have managed to learn a whole LOT more about life, negotiations, and marketing. There really is just so many things to discover and I am glad that I am bit by bit immersing myself into those areas.
Polished my cooking skills – Never in my wildest dreams have I thought that one day, I could cook such complicated meals… but apparently, I could! And as per the feedback of those who have ate it: they liked it a lot! (Thank you, thank you!) I have actually had people asking me if I want to be a chef… haha. I'm really flattered, but ultimately I'm just so happy that I have this great life skill. I really have come to enjoy cooking too, so it just really works out for me. (To see my list of recipes, go here; it's not updated yet so as per my goals for 2015, I hope I get to write more about my dishes).
» Business & Blogging
Built my own business – Like I've already mentioned, it's 'Adalid Gear'! And I feel VERY fulfilled that I have finally set up a business of my own (in partnership with my partner-in-crime, Jonas). This was definitely the highlight of my 2014 and with this, I would like to say that I am very thankful for the friends who have supported me, as well as my past boss for his tips (the one I worked for online when I started being a digital nomad in 2013 and his business is what we adapted).
Had great product launches – We first started with a beach blanket and that kicked off quite well; so, we reinvested our profits to come up with another product and that was a hydration belt. So far, we now have a total of 3 products that are selling pretty good. We're still currently looking into other profitable ones and we hope to continually succeed at it!
Achieved HUGE sales – The holidays is about gift-giving so naturally, our retail business went off like a bomb! Maybe even more like an atomic bomb because this December, we hit such a big milestone that never in my wildest dreams have I thought that I could one day achieve such a number at such a young age and through my own business venture. Of course, this isn't just about me, but I have to thank my partner Jonas too as well as our business mentors. THANK YOU!
Doubled my blog audience – It was only during the last quarter of 2014 that I focused more on my story (quitting my job to travel the world and work for myself) and that gained me more readers and audiences. So I would like to take this moment to thank you guys for your support and for following! I will really try to write more about my travels and entrepreneurship adventures so please do stay tuned.
Got featured & contacted by influencers – I have some pending articles that are about to be published by great influencers online. I won't announce who they are (yet) since I want it to be a surprise! But overall, I'm just so happy that I got noticed and that these people find my story worthy to be shared. Again: THANK YOU!
What are the things you've accomplished in 2014 that you are proud of?
What are your goals for 2015?
YOU MIGHT ALSO LIKE
Older Post
Newer Post
Hey there! I am Aileen Adalid.
At 21, I quit my corporate job in the Philippines to pursue my dreams. Today, I am a successful digital nomad (entrepreneur, travel writer, & vlogger) living a sustainable travel lifestyle.

My mission? To show you how it is absolutely possible to create a life of travel too (no matter the odds), and I will help you achieve that through my detailed travel guides, adventures, resources, tips, and MORE!

NEW READER? START HERE!
CONTINENTS: 7 ~ COUNTRIES: 59
Join over 1 million people and receive exclusive giveaways, travel tips and so much more!