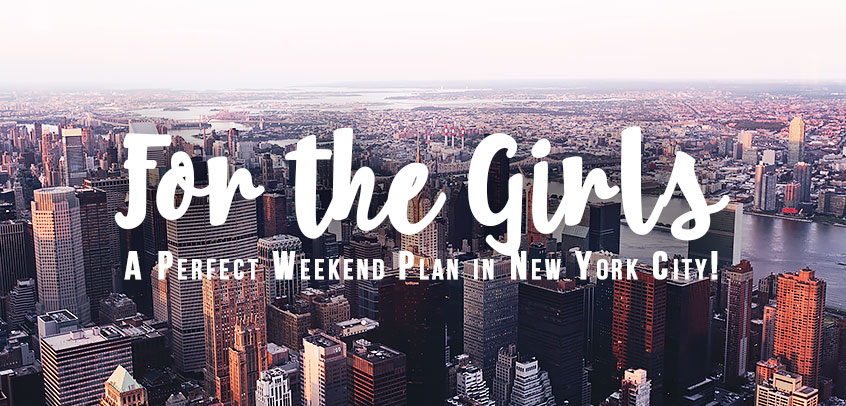 New York City is one of the best destinations in the world especially if you are in need of some time off or if you simply want some time away with the girls.
Called as the 'City That Never Sleeps', the 'Big Apple', and the 'City with Everything', New York is a melting pot of some of the world's best attractions, activities, art, culture, entertainment, restaurants, nightlife, and shopping — surely a trip to this big and bright metropolis of North America will be an experience that you will never forget!
However, I understand that there is an underlying truth that a getaway to New York can burn a hole in your wallet… yet again, you shouldn't worry. There are a lot of things that you can do or see for a cheap price, and with this guide, I can help you plan a perfect weekend with your girl friends to truly enjoy your brief stay!
» Where to Stay
Manhattan is the place to be, and in order to ensure that you're on the right track of saving cash (without sacrificing comfort and style) come book your stay to Pod 39!
People often say that the 'best things come in small packages' and for this hotel that has tiny but modern rooms, such a statement is true. But don't let the word 'tiny' fool you; it's not so cramped here — the rooms have more distance between the walls! In fact, they even have this huge Play Room that has a fireplace, two ping-pong tables, ample bookshelves, and a 25-foot bar where you can enjoy a drink or meet fellow travelers. As day passes by, you can satiate your food-cravings at Pod 39's colorful taqueria/cantina called as 'Salvation Taco', and when the night creeps in, you can head to their rooftop lounge to unwind.
Other than these things, you can also benefit a lot from the hotel's prime location! It's just a 6-minute walk away to the Grand Central Station and famous places such as the Times Square, Rockefeller Center, Central Park South, Broadway district, and the Museum of Modern Art are not so far away.
Without a doubt, because of these and more, you will have an enjoyable stay in New York at a budget price in Pod 39!
» What to Do
You can definitely enjoy the sights by just walking around the streets of New York, but if you want a more relaxed experience without the hustle and bustle of the city, do consider sailing through the Hudson River! It would be nice to take your sweet time sipping wine and eating cheese, as you enjoy the incredible views of Manhattan's skyline, right? Well with Wine Tasting Sail, this vision is possible!
With an affordable rate, you will have a dreamy time away as you ride their spectacular 82-foot 1929 vintage yacht that is well-maintained and has even been featured on famous publications like The New York Times, In Style Wedding, and Gourmet Magazine. To add more to the 'allure' of this vessel, it has even been featured on NBC's show: The Apprentice!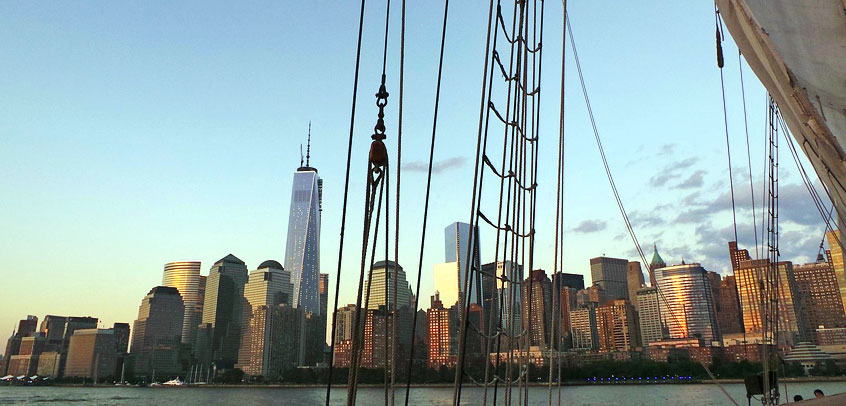 However, if you are in the mood for some 'walking time', apart from enjoying the sights, come and take this opportunity to unleash your shopaholic side! Besides, New York is a 'haven' for all things fashionable and chic, and at one point or another you and your friends would want to come home with glamorous finds from the streets of Manhattan.
Now, you don't need to fear because you can find a lot of stylish stores that won't hurt your budget. It sounds too good to be true, but it really is true; with the help of the Insider Shopping Tour held by Robin, a fashion stylist and NYC-local, you can be swept away to boutiques and shops that have ridiculously huge discounts and sales!
» Overall
There are absolutely a LOT more things that you can do while in New York, but for a quick and perfect weekend getaway for yourself or with your girls, the things mentioned above can already give you a fulfilling and unforgettable experience!
Have you ever been to New York? What other places would you recommend for a girl's getaway?
Would you like to try the recommendations that I've mentioned above?
DISCLAIMER: This post was put together in partnership with Yonderbound to promote these things in NYC that I would personally want to do myself when I get there.
YOU MIGHT ALSO LIKE
Older Post
Newer Post
Hey there! I am Aileen Adalid.
At 21, I quit my corporate job in the Philippines to pursue my dreams. Today, I am a successful digital nomad (entrepreneur, travel writer, & vlogger) living a sustainable travel lifestyle.

My mission? To show you how it is absolutely possible to create a life of travel too (no matter the odds), and I will help you achieve that through my detailed travel guides, adventures, resources, tips, and MORE!

NEW READER? START HERE!
CONTINENTS: 7 ~ COUNTRIES: 55
Stay updated with Aileen monthly! Sign up and receive exclusive updates, articles, giveaways, and so much more!
In a snowy wonderland ✨❄️ This photo was taken as we made our way to Mt. Asahikdake (tallest in Hokkaido) and it is… https://t.co/5PBRWjPcxI
21/03/2019 12:08:00

RT @iAmAileen: Cherry blossoms are NOT the only amazing sight you need to see in Japan this spring. If you head to the famous 'Tateyama Kur…
21/03/2019 10:40:58