Growing up in the islands of Batanes in the Philippines, I am no stranger to natural terrains and formations that can easily take anyone's breath away. In fact, I'm quite hard to please when it comes to such things; but of course, this does NOT mean that I do not appreciate nor acknowledge the beautiful sights that I see in my travels — because I do! However… in order for me to be in utter awe and wonder, the landscapes must be far incredible. To date, there have only been a few places that has made me felt this way and on top of that list would have to be the far-flung yet stunning Faroe Islands.
Right from the moment that I landed there, I have felt as if I was sucked into a grand fairy tale — every where I looked, there would be something that will draw my breath in awe, as I constantly question myself if I was still on Earth!
Yes, it was that majestic and surreal.
It might still be an understatement to say that the Faroe Islands are a natural masterpiece; but either way, it is my hope that you will see the outstanding beauty of this place in the flesh!
I bet that you have this now on your travel bucket list and surely, it would be my pleasure to help make your travel planning easier… and so, with this post, I give you the ultimate travel guide for the Faroe Islands — complete with infos, tips, resources, things to do and itinerary that you're free to customize depending on the length of your stay or the style of traveling that you will do! Enjoy!
.
Faroe Islands : 5-Day Itinerary
» PRE-TRAVEL GUIDE
But before we go on, let me give you some quick and basic facts about the Faroe Islands…
It's a self-governing small group of islands under the external sovereignty of the Kingdom of Denmark. The Faroe Islands or Føroyar are quite far from Denmark; truth be told, its 18 rocky and volcanic islands are closer to Iceland, Norway and Scotland. But one important thing to mention is that though Denmark is part of the European Union, the Faroe Islands are not.


TRIVIA: One of the inhabited islands, Koltur, has only one resident! (…Or two, because I keep seeing conflicting info online; but some of the locals said that there's only one left there. Maybe they were talking about 1 family which are these 2 residents.)

.

Locals are called as 'Faroese'. They are of mixed Norse and Gaelic origins and number at about 50,000 only in the 17 inhabited islands (but there is an estimated number of 21,000 Faroese living in neighbouring countries). The language is also called as Faroese but Danish still has equal status in all official affairs. If I say so myself, I looove the language here. Every word sounds like it sprang out from books like Lord of the Rings!


TRIVIA: The Faroese language is said to be one of the North Germanic languages and it is closely related to Icelandic and the now extinct Old Norse Language. Anyhow, English is widely spoken especially by the younger ones.

.

The sheep are taking over. The nation's symbol is the ram, and rightly so because the Faroe Islands is packed with 70,000 sheep!!! Remember how there are about 50,000 people living here? Without a doubt… they're outnumbered! And as a tourist, you'll certainly find sheep as your typical surrounding companion — much like I have.


TRIVIA: The name of the islands first appeared as Faereyjar (in 1225) which means "Sheep Islands" that was given by the Viking age settlers from Norway in the 9th century.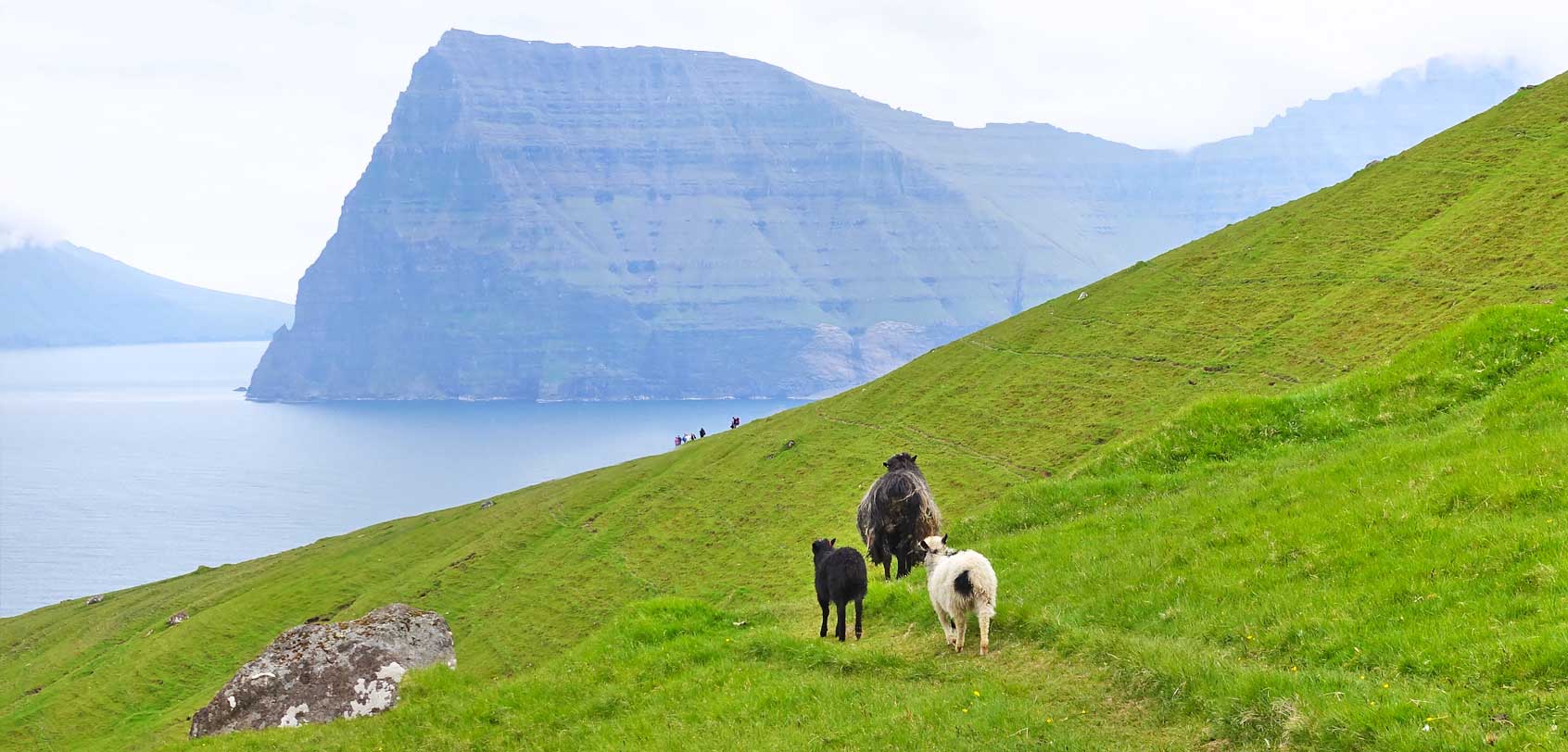 When is the best time to visit the Faroe Islands?
Weather here can be quite unpredictable. It's common to somewhat experience all 4 seasons in just one day! But yes, generally, sunny days here are rare because the islands are mostly windy, cloudy and chilly. For starters, expect cool summers (with an average temperature of 13°C) and mild winters (with an average temperature of 3°C). I went here in the summer around end of June and the days can really have long hours of sunlight with the sun setting after 11PM or even later! (The longest day will be in June 21 spanning at almost 20 hours). As for winter, it can be as short as 5 hours — imagine that…
With all that said, it's best to visit the archipelago around June to September to enjoy the green scenery. Don't forget to pack your jacket! ;)
How to get to the Faroe Islands?
By air. There are currently 2 airlines that fly to the Faroe Islands. First is Atlantic Airways that has 2 flights per day from Copenhagen, Billund, Aalborg, Bergen and Reykjavik. Flighs cannot be booked through travel websites so you'll have to book directly on Atlantic Airways website here. The other one is Scandinavian Airlines (SAS) that just started having daily flights to the Faroes.
By sea. Smyril Line's ferry, M/S Norröna, sails to the Faroe Islands from Hirtshals in the north of Denmark and from Seyðisfjørður in Iceland. It doesn't sail as frequent though so make sure to check by its website for the scheduled departures.
What kind of clothes should I pack?
If you're coming around May to September to the the Faroe Islands, you should pack for chilly weather so your bare essentials should be a sweater, a raincoat, and a set of good comfortable (hiking) shoes. If you're like me who can get cold quite fast, go and pack a warm hat or even some gloves just in case!
Of course if you visit around winter or the colder months, your clothing essentials will be different. The same goes for when you're coming here mainly to camp or hike.
Where to best stay (for accommodations)?
The central city of Tórshavn is where you will find most of the accommodations and it's a strategic place to base yourself in for all your adventures around the islands. (Of course it can get cheaper if you get places outside of Torshavn, but for the best capital picks, they would be the following).
Luxury: Hotel Foroyar / Mid-Range: Hotel Hafnia or AirBnB / Budget: Kristjanshavn or AirBnB
How can I go around the islands?
By car. Driving your own car is highly recommended (to make the most of your time!) and you can arrange a rental online before your arrival on the islands. Rest assured, you can rent a car (from small cars to SUVs) on-the-spot when you land at the airport since there are stalls there by Sixt, AVIS, HERTZ, and Unicar. Once you start driving around the Faroe Islands, be mindful of the driving conditions and rules because for instance, there are one-way tunnels in the islands and you have to make way for incoming vehicles (you can find all the details in here).
By bus. The main inter-town bus that they have is called Bygdaleiðir (they're easy to spot since they're big and in the color of dark blue). To see the complete timetable of the buses, go here. It helps to note, however, that public transportation is expensive in the Faroe Islands, so it's best to buy a travel (multiple-ride) card beforehand with Strandfaraskip Landsins (the mother company of Bygdaleiðir) at the airport or at the main bus terminal in Torshavn. This travel card already covers busses and ferries around the islands (except to Mykines Island) and can cost 500 DKK ($70~ / Php 3,500~) for 4-days or 700 DKK ($100 / Php 4,900~) for 7 days.
By ferry or by helicopter. Since this place is made up of islands, some are not connected by roads so you'll sometimes need to hop on a ferry. The schedules for this can be found on Strandfaraskip Landsins. Now if a helicopter ride seemingly sounds expensive to you, don't worry! Here in the islands, the service is subsidized by the government so it's quite cheap and it is serviced by Atlantic Airways (see timetable here, and remember, booking in advance is mandatory). With these affordable helicopter rides, I say take advantage of it!
By bike. Some districts like the capital, Tórshavn, can be explored on city or sports bikes. You can rent these from Visit Tórshavn that is located in Steinatún in the city centre. The cost for a day can start at DKK 150~. To book, just send an e-mail to [email protected] or call (+298) 302425.
What tour operators can I contact?
In case you don't like to DIY your trip and want to have someone take care of everything for you, I suggest that you book through local operators in order to help support the local economy. Some of them are as follows:
Should I get a visa to visit the Faroe Islands?
Even if the Faroe Islands are connected to the Danish immigration policies, like I've already mentioned above, there are some differing factors to take note of. So…
If you come from a Nordic country: showing off your document of identification with photo is enough to enter the islands.
If you come from an EU (European Union) or Schengen country: if you're an EU citizen, you may enter with just your ID card with photo. However, EU residents are not part of such scheme because you must be a citizen (so for instance, it follows that if you have a Danish residence permit, you still need a visa to the Faroes). If you have a Schengen visa or Danish visa, it is NOT applicable for entry to the Faroe Islands — you still need to apply for a separate visa that is specific to the islands (the requirements will be similar to obtaining a Danish visit visa).
If you are of any other nationality: naturally, you need to apply for a Faroe Islands visa (remember: NOT a Schengen visa) at the Danish embassy in your country of residence — unless your nationality is exempted from getting a Danish visa then you can enter the Faroe Islands.

Helpful Faroese phrases
the official language of the faroe islands is faroese which is a Germanic language that descended from Old Norse. Since they are within the Kingdom of Denmark, the locals also speak Danish. Rest assured, most of the people can speak English (sometimes even German and Norwegian). All in all, it doesn't hurt to learn a few of the local phrases.
Hello: Halló (hahloh)
Thank you: Takk fyri (Takk fi-reh) or Takk (Takk)
Yes: Ja (Ya)
No: Nei (Ney)
Goodbye: Farvæl (Far-vyel)
I'm sorry: Orsakið meg (Or-sha-kee mey)
Excuse me (getting attention): Orsaka (Or-sha-ka)
Excuse me (begging pardon): Umskylda (Um-shil-da)
How much does that cost?: Hvat kostar tað? (Kvat kost-ar tay?)
Is there someone here who speaks English?: Dugir nakar her eingilskt? (Du-cheer nak-ar her ain-gilsk?)
Help!: Hjálp! (Yolp!)
Cheers!: Skál! (Is-kol!)
Now, before I begin with the itinerary guide, if in case you're more of a visual person, you can already watch my video below to get a ' brief peek' into what the islands can offer.
IMPORTANT NOTE: The following section is in a tabbed format; so, in order to see the next day's contents, just navigate through by clicking the headings below.

Wondering where to dine in the Faroe Islands or the local dishes that you must absolutely try?
Check out this blog post to find out: Top Faroe Islands Restaurants
.
.
.
It's clear to see that the Faroe Islands has an untouched beauty that's worthy to be seen and explored! I guarantee you that it is the kind of place that will fit your fancy, NO matter the kind of traveler that you may be.
Besides, it's a destination that a lot of travelers have NOT heard of yet, so why not be one of the "forerunners" (like me) who will sing its praises? Through that way, the Faroe Islands could soon be known by more people, thereby paving the way for its popularity — which they so rightly deserve!
What do you think of the Faroe Islands?
Would you like to visit? Why or why not?
Or have you visited here before? How was it?
Categories: Denmark, Europe, Faroe Islands, Itineraries & Things to Do, Travel & Adventure
Tags: Islands, Kalsoy, Mykines, Nordic, Streymoy, Vagar, Vidoy
YOU MIGHT ALSO LIKE
Older Post
Newer Post
Hey there! I am Aileen Adalid.
At 21, I quit my corporate job in the Philippines to pursue my dreams. Today, I am a successful digital nomad (entrepreneur, travel writer, & vlogger) living a sustainable travel lifestyle.

My mission? To show you how it is absolutely possible to create a life of travel too (no matter the odds), and I will help you achieve that through my detailed travel guides, adventures, resources, tips, and MORE!

NEW READER? START HERE!
CONTINENTS: 7 ~ COUNTRIES: 59
Join over 1 million people and receive exclusive giveaways, travel tips and so much more!