Hong Kong is the first place abroad that I have traveled to; but in that particular trip, what I mainly did was just eating and shopping as I accompanied a friend of mine back in university. So when I was able to finally come back again this year to do a more proper 'tour' of the city, I did my best to cover as many activities and attractions possible! And today, I am sharing with you my 5-day itinerary to Hong Kong (which includes a day trip to the nearby city of Macau; it also includes an array of other must-dos that you can consider doing if in case you have more days to spare or if you have a different travel style).
But before I go on, I think it's best that I give you a bit of some background about the geographical area of Hong Kong because a lot of people actually have this misconception that there's not much to do there, or that there's not much green at all — two things that are absolutely NOT true.
First things first, there's more to the well-known urbanised center because 2/3 of the country is actually made up of the countryside which is full of countless small mountains and several islands.
To illustrate, Hong Kong is made up of Hong Kong Island, the Kowloon Peninsula, the New Territories, and over 200 offshore or outlying islands (the largest of which is Lantau Island).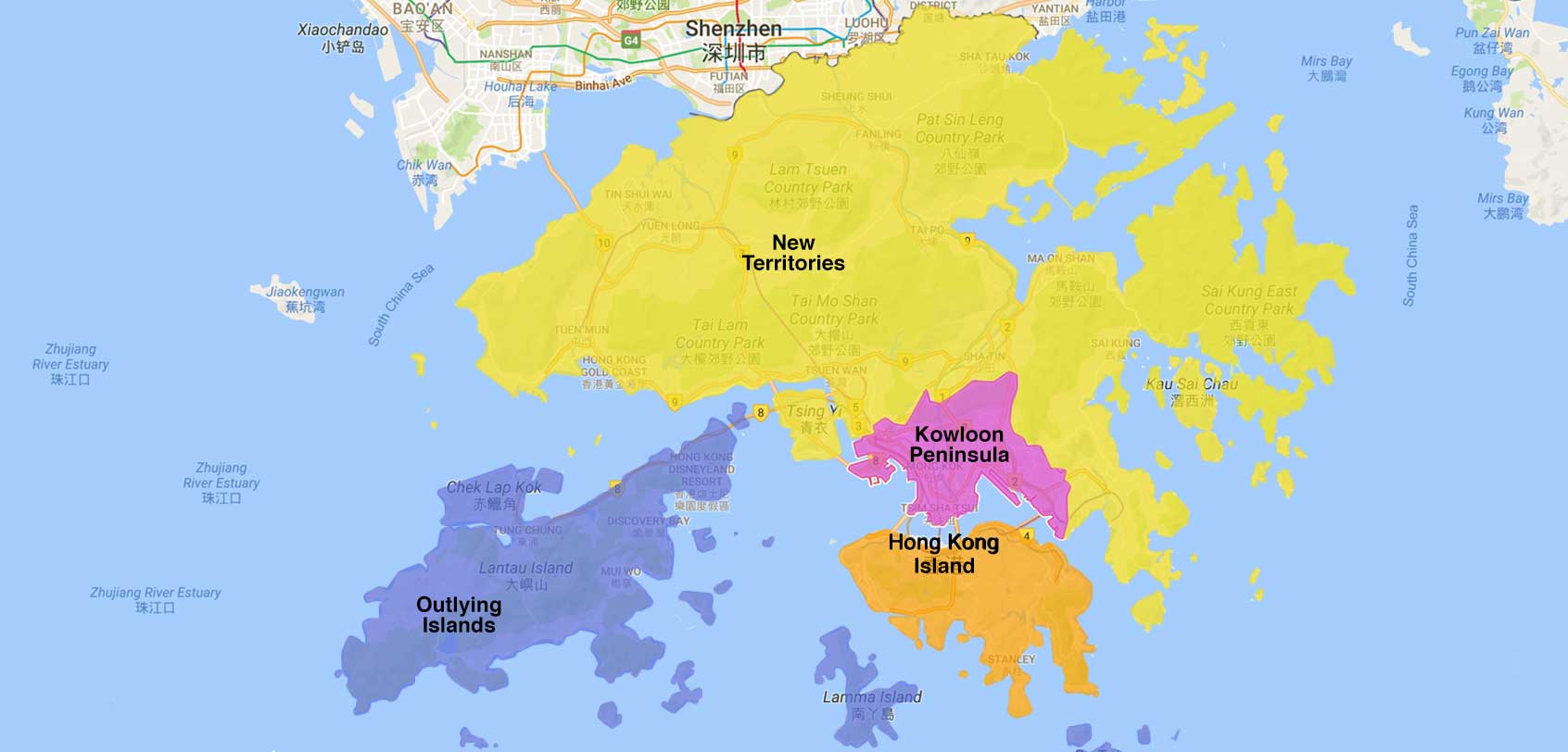 The area that which most tourists tend to only explore is that of the center: Kowloon Peninsula, and the northern edge of Hong Kong Island.
Rest assured, everything is well-connected by bus and train (MTR – Mass Transit Railway), so going from point A to point B wouldn't be a big problem at all. If in case you get lost or you get confused about public transportation, Google Maps' directions feature is your best friend — this nifty piece of technology has helped me numerous times whenever I'm traveling to foreign countries.
…Now, with all that said and done, let me present to you the things to do in Hong Kong when you're traveling there for 5 days (or even more!)
.
Where to stay in Hong Kong?
.
DIY: 5 Days Itinerary in Hong Kong
» PRE-TRAVEL GUIDE
Where to get the best flight deals?
My go-to platform for grabbing the best flight deal? Skyscanner! This platform even scours through budget airlines (e.g. Cebu Pacific and Air Asia in the Philippines ).
From the airport, you can ride an airport shuttle bus that has key drop off locations in the city (see details here). Otherwise, you can ride the Airport Express train and you can buy discounted tickets for this online.
If however you are coming with a group of people and want a more hassle-free experience, you can save on transportation costs by simply booking a private transfer.
How to get Hong Kong dollars currency?
I highly advice that you do NOT exchange your money at the airport since the rates there are totally not competitive. What should you rather do? Either exchange your money or US dollars at a bank or at a money exchanger; or better yet, just withdraw from an ATM with your debit/credit card.
Rate exchange: HKD $1 = USD $0,10~ = Php 6~
How to get around?
It's always best to avail an Octopus Card — a prepaid contactless debit card that can be used to pay for all kinds of public transport (except taxis and some red minibuses; and if I may add, this can even be used to pay at convenience stores, supermarkets, restaurants, museums, and more). After all, Hong Kong is best explored by train (MTR) as it is the fastest mode of transportation (not to mention the efficient Airport Express train). The only time that I can recommend using a taxi is if you're in a hurry, if you get lost, or if you have 3 other people with you to share the cost (meter starts at HKD $22).
NOTE: Another alternative is to buy an MTR Tourist Day Pass.
To better navigate yourself within Hong Kong, use Google Maps' directions feature (signified by a blue icon with an arrow inside it) — I really find it as a very helpful tool if I want to reach a certain place from a particular location. (However, Google Maps doesn't work offline if you want routes or transportation schedules, so I recommend that you get a pocket WiFi or a SIM card to stay connected).
You can avail an Octopus Card online, at the airport or at any MTR station, and it can also be reloaded at any MTR station or merchant stores that accept Octopus (7-Eleven, McDonalds, etc.). A basic Octopus Card costs HKD $150 in which $100 can be used as credit and the remaining $50 serves as refundable deposit. You can load it to a maximum of HKD $1,000 but you can only refund remaining credit if it's less than $500. It stays valid for 1,000 days after your last top-up or 'load' and can be reactivated anytime afterwards. Rest assured, your card can go negative (for as low as HKD $-35 but this isn't really negative since your $50 deposit secures it). However, it can only go negative once and you can only use the card again after you reload.
Helpful Cantonese phrases
Hello: Néih hóu
Thank you: M̀h'gōi
Please: Chíng
Goodbye: Joigin
Excuse me (to get attention): M̀h'hóu yisi
I'm sorry: Deui-m̀h-jyuh
How much: Géidō chín a?
Is there someone here who speaks English?: nī douh yáuh móuh yàhn sīk góng Yīngmán a?
Help!: Gau mehng ā!
Cheers!: Yámbūi!
Now before I begin with the itinerary guide, if in case you're more of a visual person, you can already watch my video below to get a 'peek' into the adventures that I did during my recent trip to Hong Kong!
Take note that the 5-day Hong Kong itinerary (with stopover to Macau) below does not take into account your arrival day in Hong Kong — at any rate, if you're staying longer in the city, you can make use of the last tab called as 'Extra Days' to see the other activities or trips you can do for filling up the rest of your vacation days both in Hong Kong and Macau.
NOTE: The following section is in a tabbed format; so, in order to see the next day's contents, just click the headings below.
.
Best Tours in HK & Macau?
.
.


Hong Kong may be a small destination, but it has more than enough activities and attractions to keep you occupied.
I tried my very best to be as detailed as I could with this guide, so that you won't be missing any of Hong Kong's (and Macau's) highlights! That being said, feel free to tweak this itinerary as well as my suggestions to make your trip shorter or longer and better fitting for your travel style. Enjoy and do let me know how your trip goes!
What do you think of this itinerary?
What are the top things that you would LOVE to do?
Or have you already been to Hong Kong and/or Macau? How was it? Any other tips to add?
YOU MIGHT ALSO LIKE
Older Post
Newer Post
Hey there! I am Aileen Adalid.
At 21, I quit my corporate job in the Philippines to pursue my dreams. Today, I am a successful digital nomad (entrepreneur, travel writer, & vlogger) living a sustainable travel lifestyle.

My mission? To show you how it is absolutely possible to create a life of travel too (no matter the odds), and I will help you achieve that through my detailed travel guides, adventures, resources, tips, and MORE!

NEW READER? START HERE!
CONTINENTS: 7 ~ COUNTRIES: 59