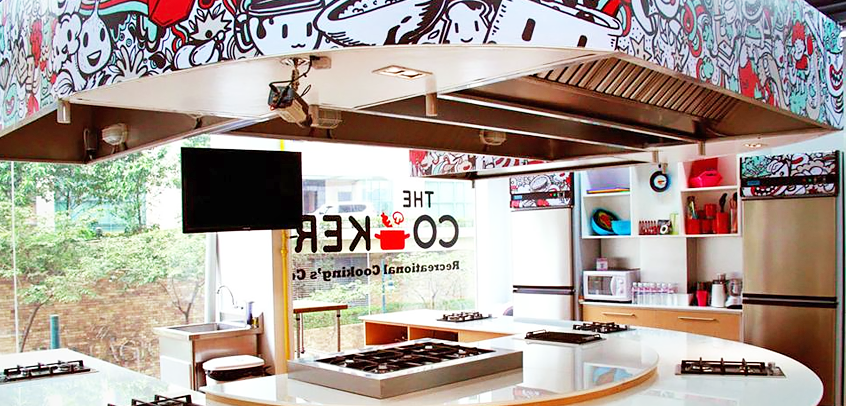 I was invited to a foodie event during back in May 2012. That was a weekday, so I was glad that it was just at The Fort's Burgos Circle! (Near my previous workplace!)
I initially thought that I was going to a 'sit and dine' event, but while I was looking for the venue—The Cookery Place, which was just near Bellagio—I was surprised to see this big kitchen set-up from the establishment's glass walls. I was about to assume that I was heading to the wrong place, but I dismissed the thought, thinking that it might really be the kitchen of the place. Besides, it has the logo 'The Cookery' anyway. But… but… but… no restaurant would ever think of putting their kitchen in full view, right?
So I started to have a feeling that this was a really different event altogether. And once I came in and stood at their door, I realized that I was right! (I should have paid more attention to the words below their logo!)
Recreational Cooking's Cool!
It was indeed a different event! And apparently, The Cookery Place isn't exactly a restaurant at all! Needless to say, I was getting so excited with every passing minute!
Err.. actually, I was nervous too! I've only started exploring my 'cooking skills' ever since I started living independently (which has been like only a year!) So I hope I won't set fire to the kitchen or something! Haha! But heck, with just one look at the place, I wasn't that intimidated at all.
I mean, even if the dining area looks oh-so-posh, the kitchen rather looked like a fun place! A playground, to be exact! ♥
Yes! Just look at those doodle designs! The kitchen definitely looked less intimidating when they slapped this art on, hiding those bare stainless steel. Apparently, the doodles were made by the awesome group that makes up WeeWillDoodle! Check them out! They have such really cool designs!
Now, before everything else, we had a chance to sit down and have some Asian pica-pica snacks while we each introduced ourselves. Most of us were bloggers but there were media people like Aya from GMA—it was great to meet such new faces! But there was one familiar face for me that night, which was Sarj, and oh, I also finally had the chance to meet Ms. Annesy!
But wait, about those pica-pica! It was all so divine! These were whipped up by the owners (chefs) for us, who I will be introducing in a while… But for now, let me just say that I really loved their Coconut Cake w/ Pineapple Frosting as well as the Coconut Tapioca Pudding!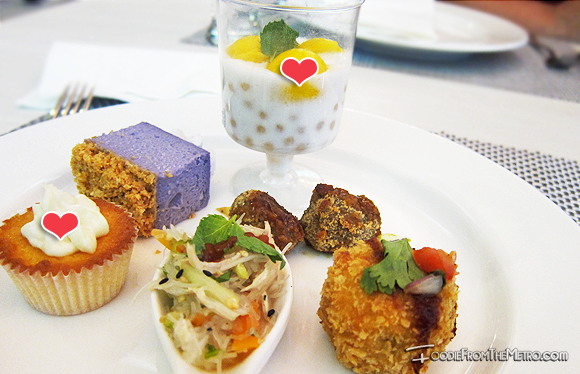 After we had our fill, we finally started the cooking portion!
And as I've mentioned above, the owners of The Cookery Place were three young chefs:
From left to right, they are Chefs Jan Viray, Rhenee Sy, and Paul Samson; and they each took turns in demonstrating the three different Thai dishes that we would be cooking for the night. They told us that in terms of 'flavor profiling', the Thai cuisine is distinguished for mixing four tastes: sweet, sour, salty, and spicy. I'm not really that acquainted yet with Thai, but I was ready enough to venture more into it!
We finally proceeded to the colorful kitchen, and it was mentioned that all kitchenware were children friendly wherein any dangerous materials are kept away from reach—apparently, The Cookery Place is a hit for kids who are looking for a fun cooking party! I bet from now on, it's going to be a hit for all age groups too! Since there are a lot of us who would love to learn how to cook in a way that's informal and fun!
 But we've got a menacing-looking knife because, you know, we're grown-ups LOL!
Grouping ourselves into three, I was grouped together with Sarj and Edwin.
The order was: (1) Chef Renee with the Grilled Beef Salad, (2) Chef Jan with the Pineapple Fried Rice, and (3) Chef Paul with the Chili Prawns.
It was funny when Chef Paul was cooking the Chili Prawns because when he started flipping and tossing the prawns in the pan, we were all like: "Wait. Do we have to do that too?!" To which Chef Paul replied, "You can try." But in my mind, I was: "Oh, if I want to see prawns up this ceiling, I guess I would!"
So after these demonstrations were done with, we were given an hour to prepare the same dishes that they've done. Yep, only an hour, because all the ingredients were already prepared for us anyway; so the taste would of course be a different thing altogether. Haha! And it must be good because we would be eating our prepared dishes!
But before anything else, we made sure to wash our hands; a crucial first step which was stressed by the chefs. Why of course… no one wants to eat a dish that's prepared by someone's dirty hands! But just to sum up our cooking plan: Sarj mainly dealt with the cooking, Edwin with the grilling of the beef, and me? I dealt mostly with the aesthetics. Haha! I found joy in decorating the food. But I did help in the cooking too!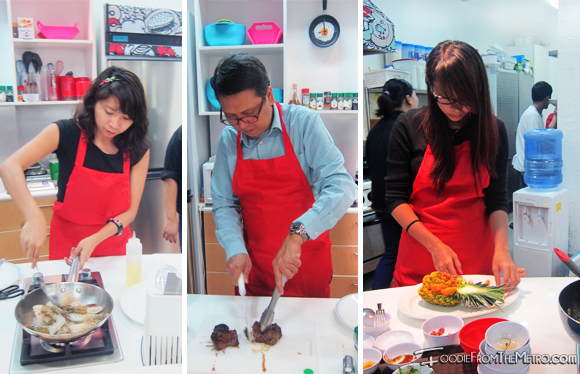 Sarj, Edwin, and me!
The chefs would often go around and help us here and there; they were really nice! They would even tell us stories from time to time and entertain any of our queries.
And then finally… here were our group's prided dishes!
 Grilled Beef Salad
 Pineapple Fried Rice
 Chili Prawns
 Little miss sunburnt me. Haha! This was just right after our surfing trip in Baler.
All of us went back to the dining area to taste our own cooked dishes, and I must say that I really loved our Chili Prawns! Props to Sarj! Meanwhile, our Pineapple Fried Rice was a tad too spicy. Sarj and I both had a laugh when we remembered how she asked me, "What do you think? Will I pour in all of this curry?" to which I replied, "Uhh, I guess, just put all of it in there. I love me some curry!" And she did! HAHA! I love curry but this just came out too spicy for us. It still tasted great though! As for the salad, I'm not much of a fan of fish sauce, but I enjoyed the grilled beef slices that Ed had prepared.
We also had a chance to taste the other group's dishes, and for the rest of the night, we enjoyed chatting and dining after an hour of hard work. Haha!
The chefs have also joined in, answering our questions as to how The Cookery Place had started. I'll be discussing this in detail for another entry so that you guys could also see specifically the services that they could offer. But while you're reading this, The Cookery Place is a product of the three chefs dreams: a place where they could not only impart their knowledge, but a place where they could also have fun in, along with other people!
They offer different classes for people of whatever age or type; there are classes for kids, for couples, for working people, for stag parties, etc. etc. I'm actually planning on suggesting this place to our team because we usually hold monthly 'fostering' events where we would dine out and stuff. So I was thinking that The Cookery Place would be a breathe of fresh air for us! Besides, I've experienced it already for myself! It's really fun exploring my 'inner chef'; add the fact that the instructors over here are very friendly and knowledgeable to boot!
If you're interested, you can check out their website http://thecookeryplace.com
Have you been to a cooking class before?
YOU MIGHT ALSO LIKE
Older Post
Newer Post
Hey there! I am Aileen Adalid.
At 21, I quit my corporate job in the Philippines to pursue my dreams. Today, I am a successful digital nomad (entrepreneur, travel writer, & vlogger) living a sustainable travel lifestyle.

My mission? To show you how it is absolutely possible to create a life of travel too (no matter the odds), and I will help you achieve that through my detailed travel guides, adventures, resources, tips, and MORE!

NEW READER? START HERE!
CONTINENTS: 7 ~ COUNTRIES: 59
Join over 1 million people and receive exclusive giveaways, travel tips and so much more!