The Philippines is dotted with thousands of tropical islands that can fill up a lifetime (or more) of adventures, but if there is one place that you must NOT miss, it would be Coron in the province of Palawan. After all, it is famous for its limestone cliffs, World War II (WWII) wreck dives, scenic lakes + lagoons, rich aquatic life, white sand beaches, and so much more! Because of this, it's no wonder that the island is filled with accommodations to cater to every traveler out there — however, if you want the best experience and staycation, I would highly recommend that you look into Club Paradise Palawan.
I recently had the chance to stay in this private island resort and from the moment that I stepped off the boat shuttle, I knew that I was going to have the time of my life! To further prove my point, below are the top 10 reasons why a stay in this luxurious accommodation is a MUST!
.
Top 10 Reasons to Stay in Club Paradise Palawan
#1 – Lush and serene staycation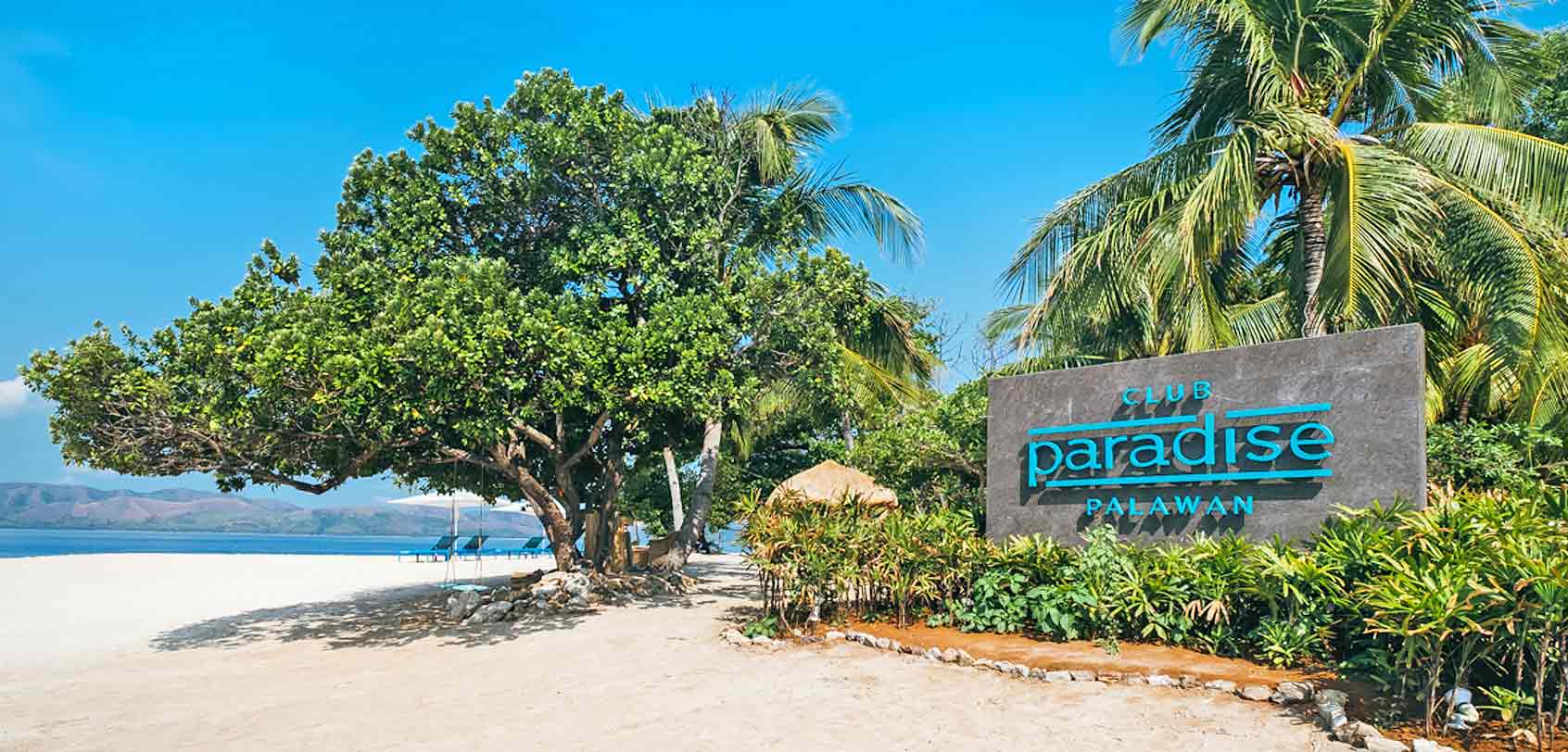 Spanning over 19 hectares, Club Paradise Palawan is an exclusive and luxurious haven that's found in Dimakaya Island — which, mind you, is actually considered as a UNESCO Biosphere Reserve. As such, this tropical paradise has lush, unspoilt landscapes and seascapes that will make make anyone's jaw drop.
To add, given that it's a private resort, you're sure to be away from the hustle and bustle of the city center as it gives you the privacy and relaxation that you're seeking for. But of course, though it's a lone island in itself, it's still perfectly situated that you can reach not only the center of Busuanga but also that of Coron's top highlights.
..
#2 – Luxury rooms and villas to suit anyone's fancy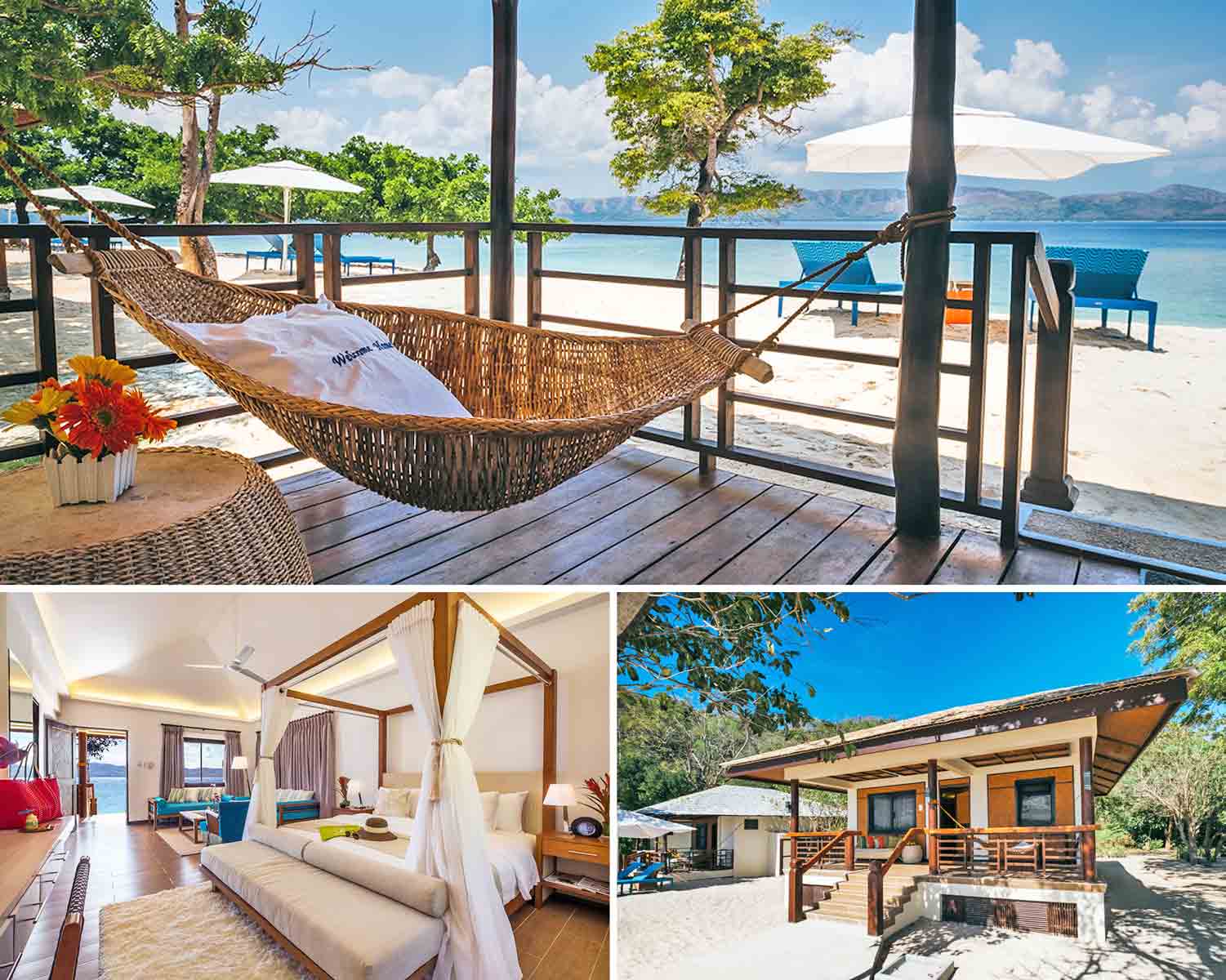 To date, Club Paradise Palawan boats 48 modern accommodations including traditional Filipino huts/cottages that each have private balconies. To illustrate, below are the room choices available for guests for an indulgent stay:
Sunrise Villa:As the name suggests, these villas face majestic sunrises.
Sunset Villa: Alternatively, yes, this faces the west and is perfect if you want to be greeted by colorful sunsets. I actually chose this for my stay especially because it's at a more secluded part of the island (and it faces the beach too). For this, you could choose a Deluxe (34sqm), Standard (20sqm), or Premier (60sqm) villa.
Garden View Room: Priced lower but still with the same indulgence, these rooms are enclaved within the lush greens of the resort so you can enjoy the island's fragrant flora.
Garden Suite: These rooms are the standard hotel rooms but with added flair as it has its own private balcony where you can lounge around and enjoy the surrounding vista.


.
#3 – Delectable food and settings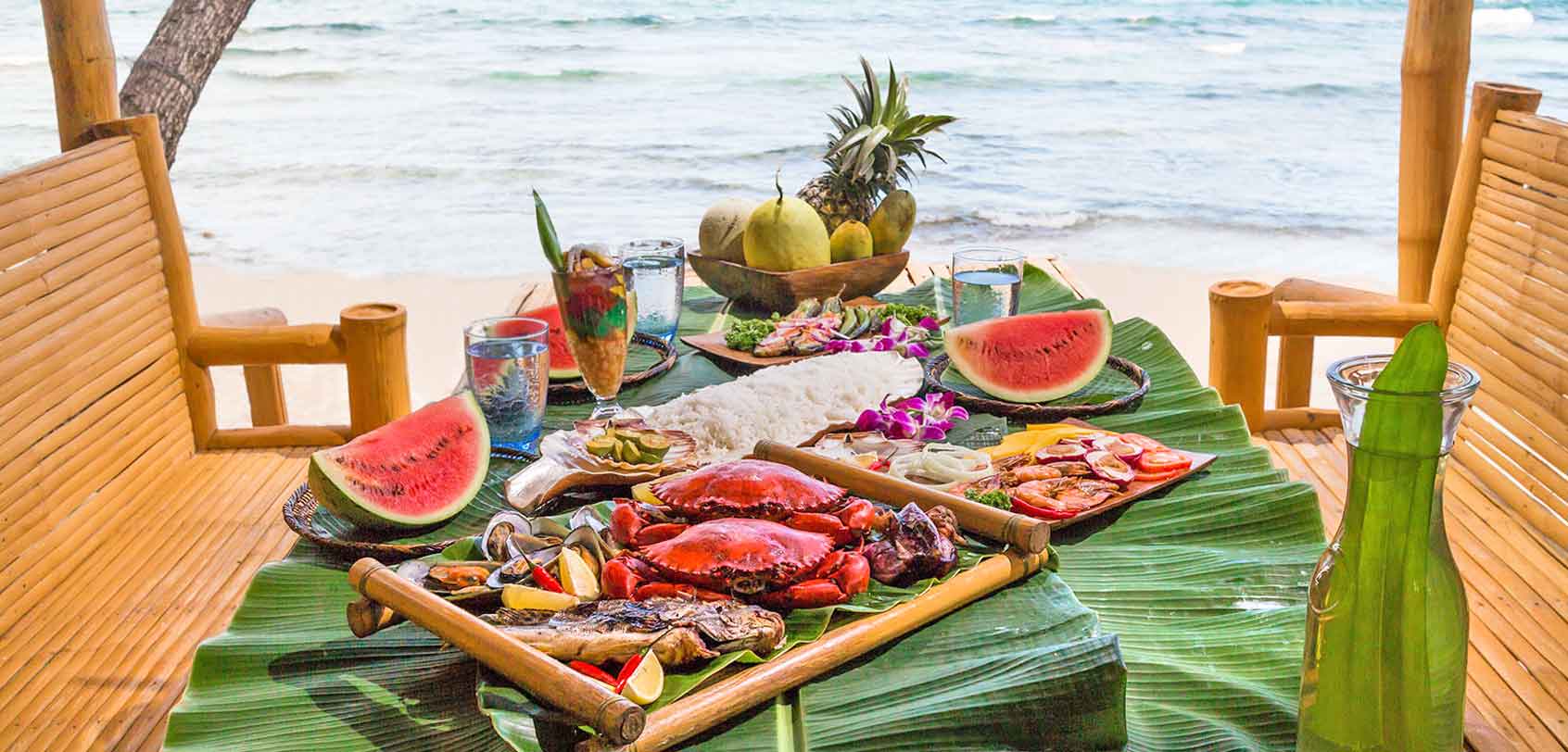 You'll find everything that you need when you stay in Club Paradise Palawan, and with that, you're sure to never go hungry with the rich selection of dining options that they have:
Firefish Restaurant: Offering fresh seafood, tender meats, fruits, organically-grown vegetables and spices, this restaurant features various local and international dishes to suit anyone's fancy. (This is also the place where breakfast is typically served; if you've got special gatherings, they can even arrange beach and island picnics for you! ~ Open from 6AM to 11PM).
Dugong Bar: Refresh and lounge with their eclectic selection of wines, cocktails, spirits and non-alcoholic beverages. For some added flair, you can even enjoy their indoor entertainment that includes billiards, table tennis, darts and foosball. (Open 10AM to 12AM; Happy Hour from 5PM to 7PM).
Shack Bar: Conveniently-located next to the resort's pool, you can quickly get refreshing shakes and healthy juices made from fresh topical fruits! (Open 7AM to 6PM).
Sand Bar: Even more for your ease, the Sand Bar sits just by the beach where you can order drinks that can satisfy even the most discerning taste buds.


.
#4 – Endless white sand beach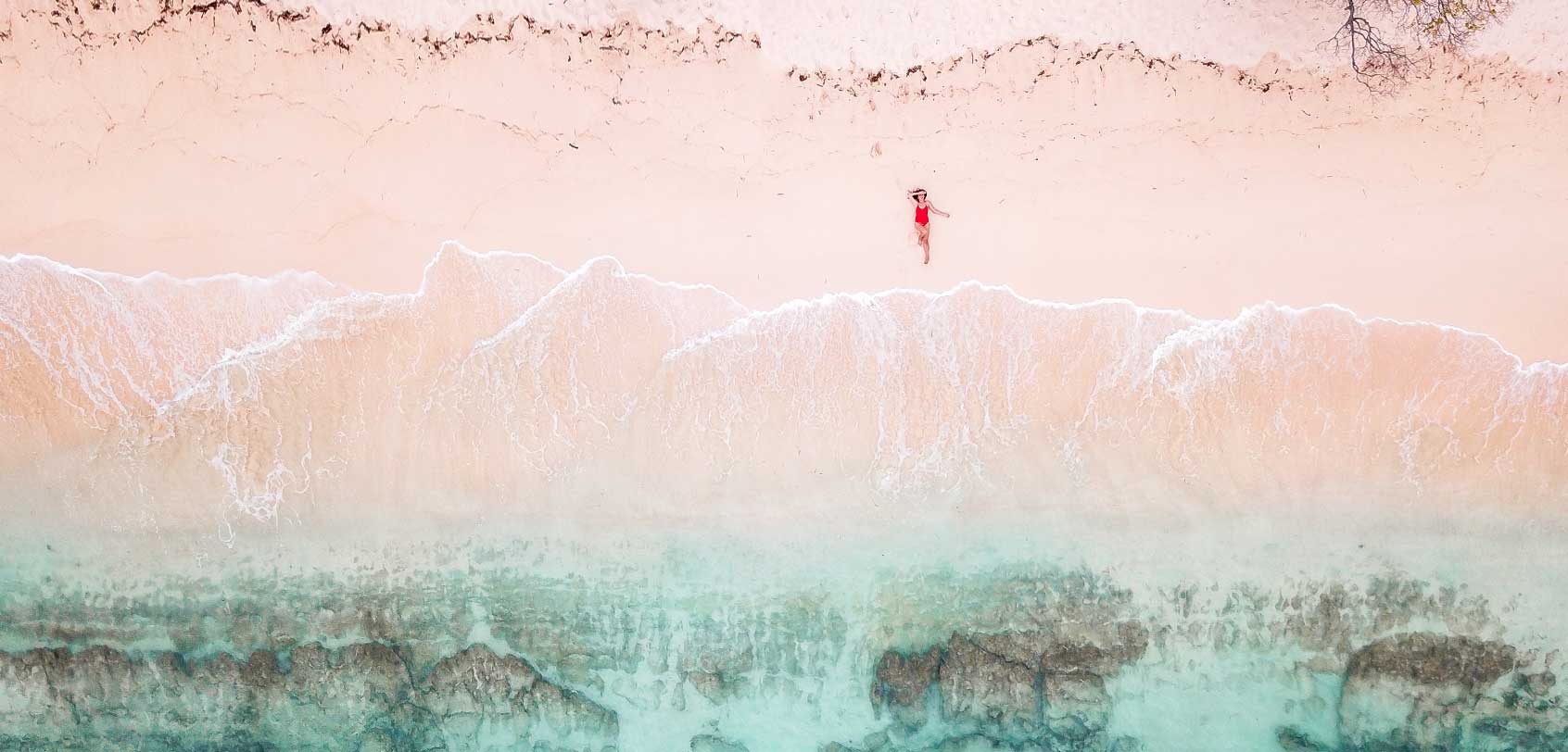 Amidst the azure waters, Club Paradise Palawan has a long 700-meter pristine beach that's perfect not only for lounging but also for other activities such kayaking, snorkelling, paraw sailing, diving, etc.
As if that's not already enough, it even has a hidden beach as well as strategic areas that are perfect for grand views every sunrise and sunset. Needless to say, it will instantly make you feel as though it's your own tropical paradise.
.
#5 – Rich wildlife and sanctuary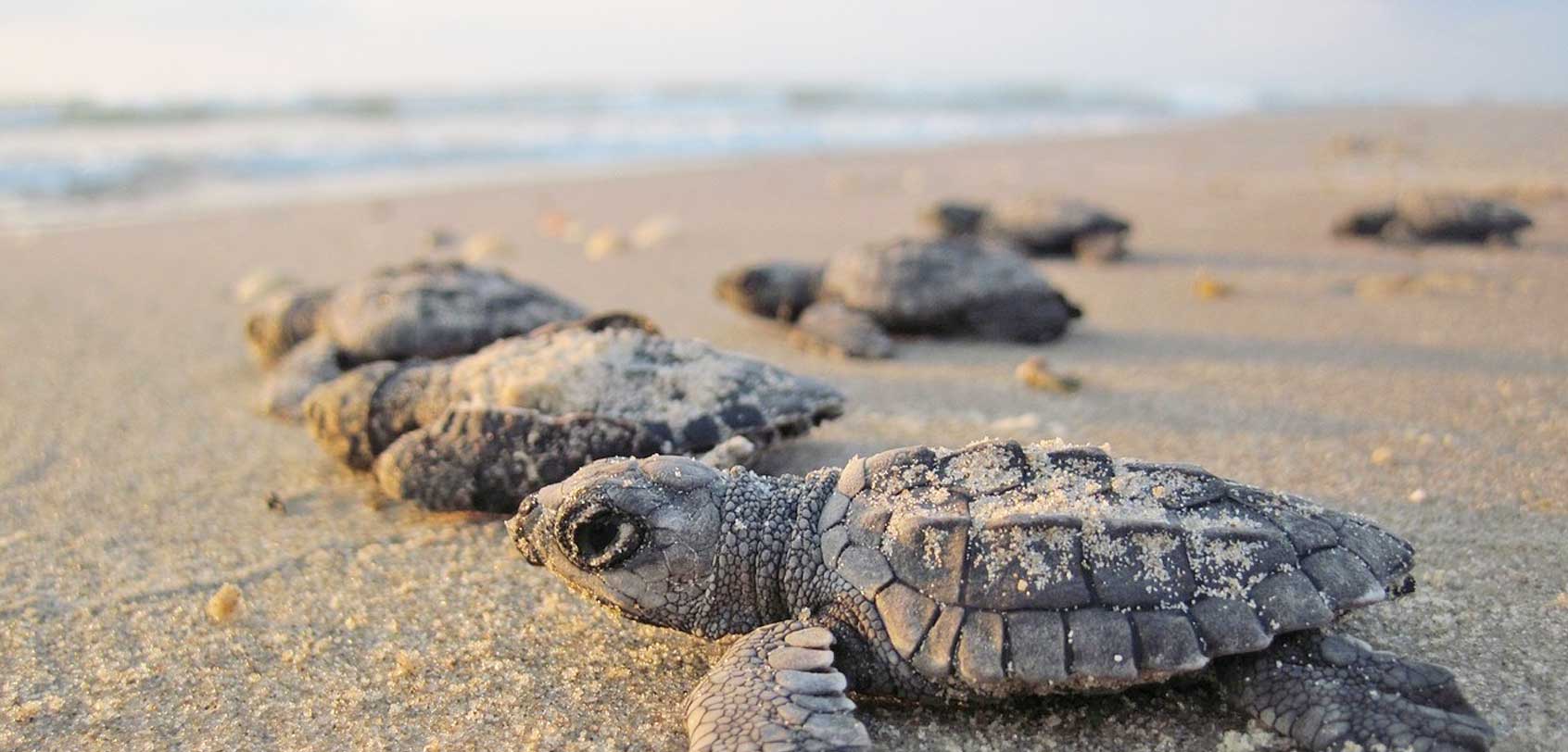 The island is a UNESCO Biosphere Reserve for a reason! For instance, it serves as a turtle sanctuary, so from December to February, you can witness endangered hawksbill green sea turtles who come to visit the island's shores to lay eggs at night. To protect them, the resort fences the eggs and then once hatched, the baby turtles are released and guided to the sea with the help of the guests. How's that for a memorable experience?
Apart from this, you can also find other animals in Club Paradise Palawan such as bayawak (monitor lizard), bats, birds, and others. Of course, this is aside from the waters that hold rich marine life!
.
#6 – Great diving spot with colorful reefs and marine life
Speaking of rich marine life, much like the rest of Palawan, you can find a diverse number of creatures in the waters of Club Paradise Palawan. Truth be told, the resort has surrounding house reefs that have been protected for the last 15 years so it is filled with colorful soft + hard corals and array of fishes such as frogfishes, damsel, parrot, etc. You could even witness Giant Clams, turtles,
dugongs
(sea cows) and manta rays.
Together with their in-house dive center, you can be equipped with the right scuba diving gear so that you can explore places like Apo Reef, Kyokuzan Maru (1 of the 12 diving wrecks from World War II), Barracuda Lake, and more.
.
#7 – High-quality wellness spa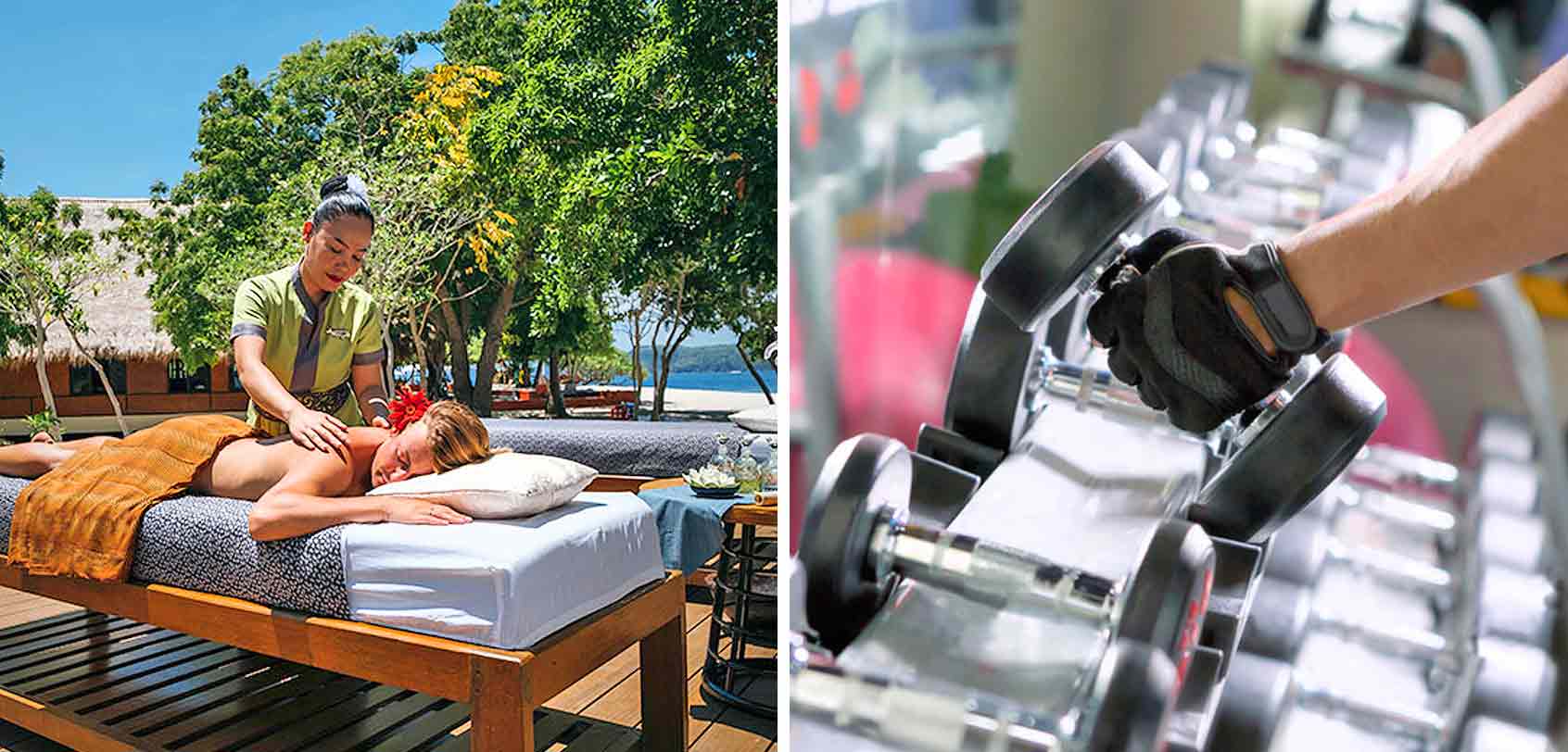 After all the fun that you'll be doing in and out of Club Paradise Palawan, you will surely want to slow down to relax and pamper yourself. For this, the resort's Glow Spa (open from 10AM to 10PM) will be more than happy to offer you heavenly treatments that are sure to rekindle the harmony of your mind and body.
Some of the massages that you must try are "Four Hands" (where 2 massage therapists will do choreographed techniques to revitalize your tired body) and "Organic Massage" (uses a herbal ball bundled with select medicinal leaves found in Coron).
Otherwise, if you want to keep your blood pumping, Club Paradise Palawan also has a gym that is equipped with cardio and strength training equipment.
.
#8 – Guaranteed 5-Star service 24/7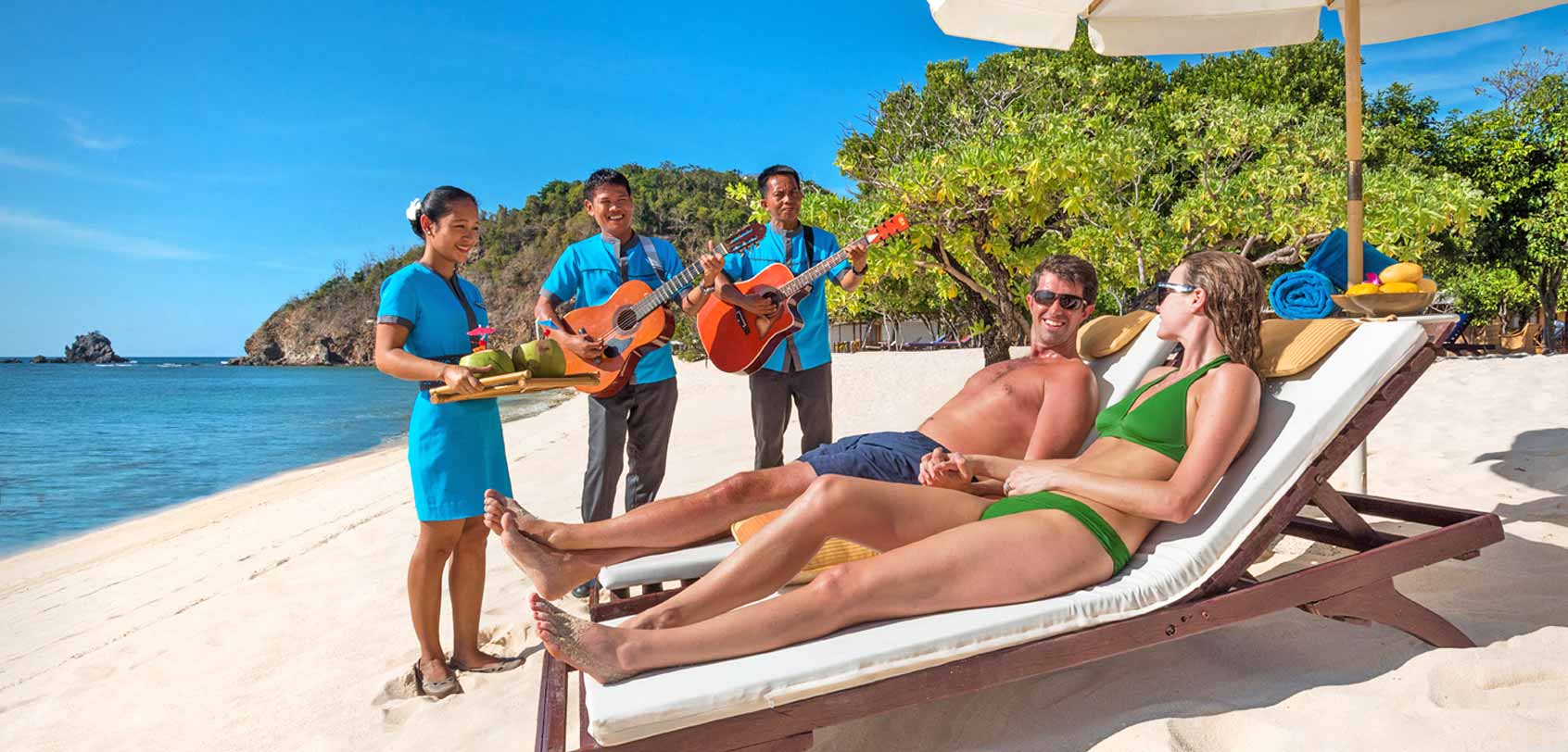 Starting from day #1, I can assure you that your comfort and needs will always be met — and even more, right from check-in up to check-out! Besides, I had an amazing time here myself. I was even always greeted by the warm and friendly staff that wanted nothing more than to ensure that I had the perfect vacation!
We all know how a hotel/resort's service can make or break a staycation, and with Club Paradise Palawan, they're sure to make your experience with them a wonderful memory that you will never forget!
The icing to the cake? They put high regard to sustainability and social responsibility, so staying with them means that you're also helping in giving back to the society as well as nature itself.
.
#9 – Offers an array of fun activities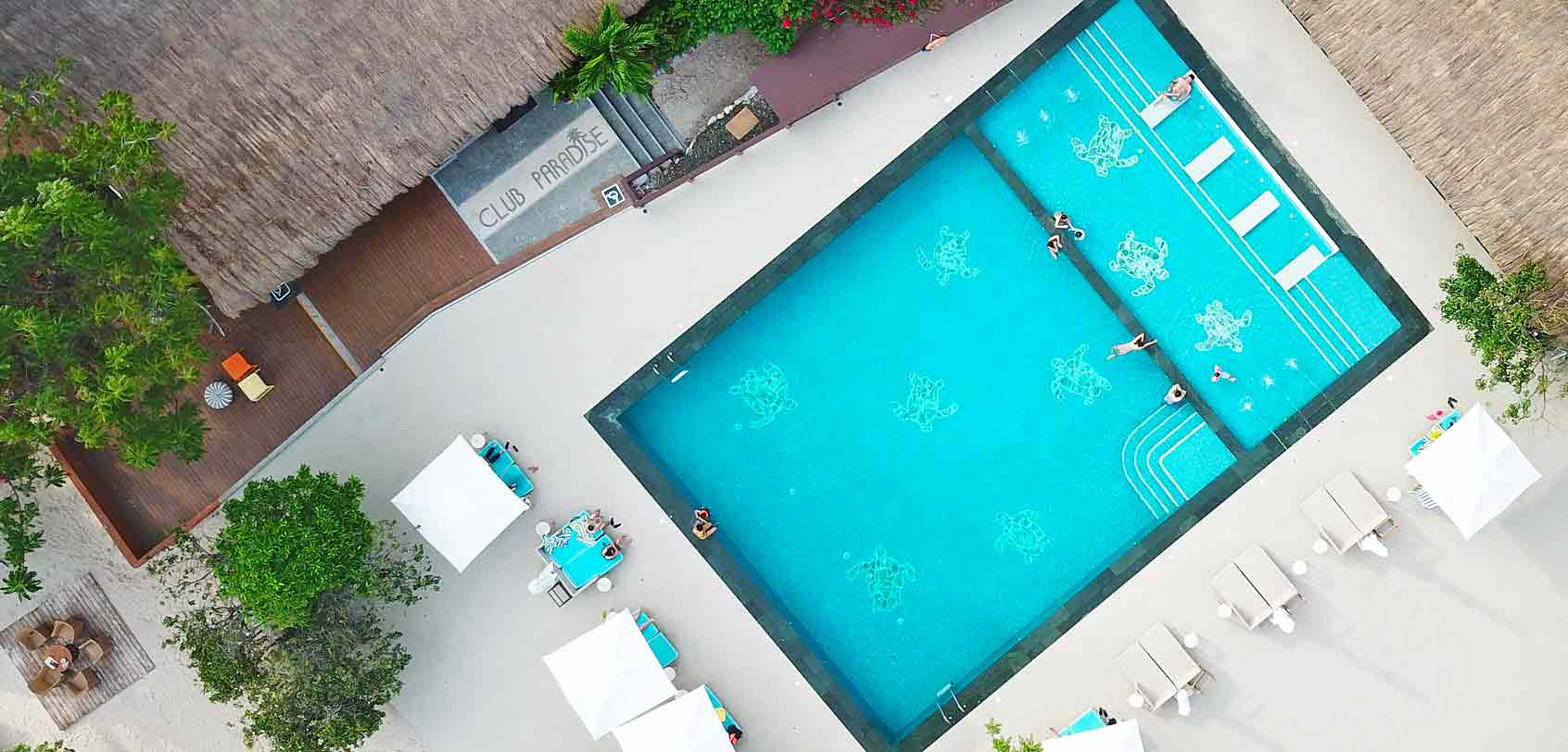 You will NEVER be bored during your stay at Club Paradise Palawan. Some of the many things you can do aside from enjoying the beach and the dives…?
Hiking: You can take an exhilarating climb up a nearby trail to reward yourself with breathtaking views on top of Eagle's Point which is the island's highest peak. If I may give a tip, this spot is great during sunset time!
Ocean Breeze Tour: Embark on a daytime or sunset scenic cruise in one of the resort's paraw sail boats as you circle around the exclusive island.
Island Scout Activities: Perfect for those who have kids, this experience start at 4PM daily at the Tree House, and it helps develop the little ones' love for 'Mother Earth' through activities such as tree planting, etc.
Extras: Everyday, there are daily activities that the resort arranges and they can vary. Rest assured, you will be given a calendar to help give you an idea about the things that you can do during your stay.


.
#10 – Various choices of island-hopping tours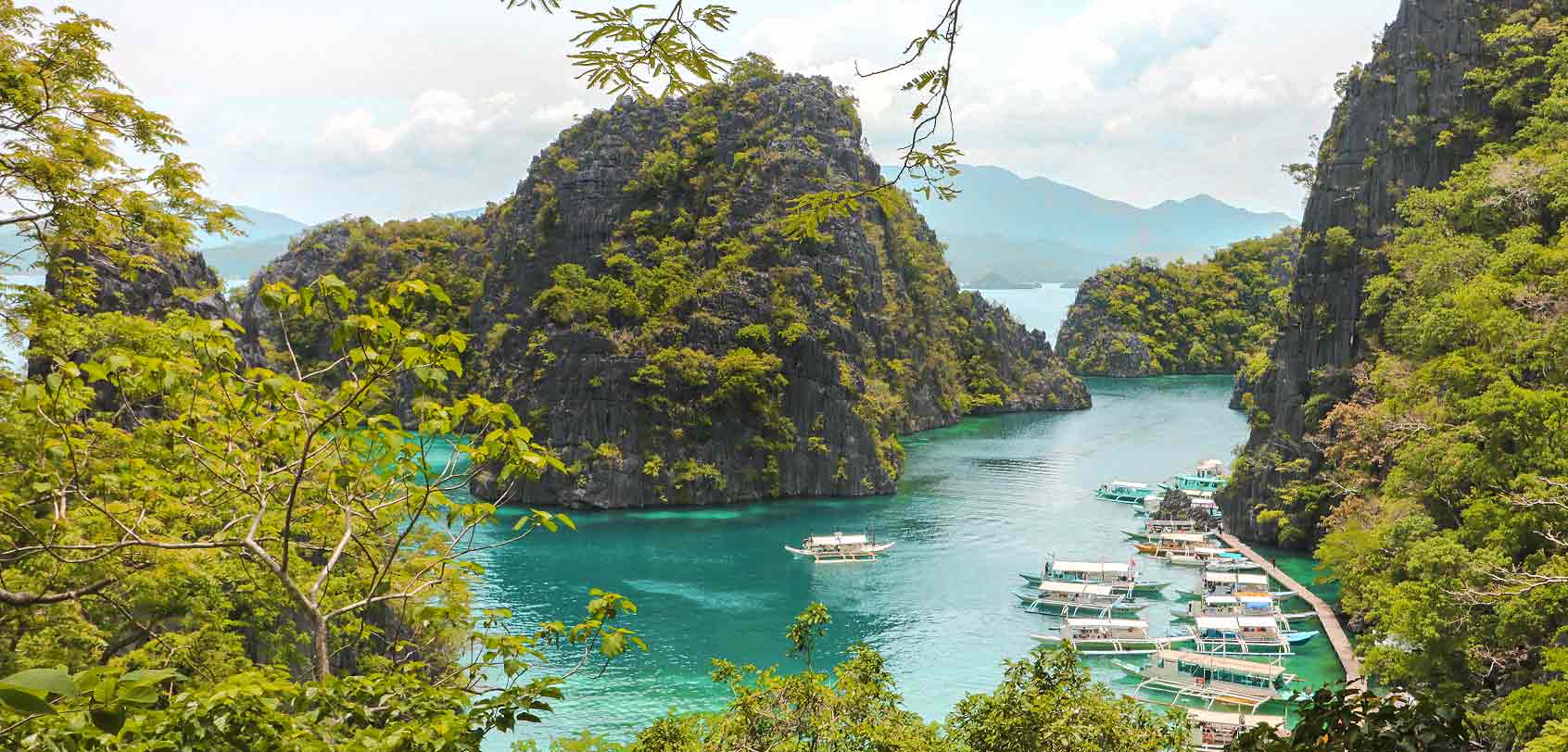 Now of course, you will need to explore out of the island too and take in the rest of Coron's beauty! To date, Club Paradise Palawan can arrange the following boat tours:
Calauit Safari Tour: This tour takes you to Calauit Safari Park, a 3,700-hectare game reserve and wildlife sanctuary that's just off the coast of Palawan. In here you can find various pecies of exotic African and endemic Palawan flora and fauna where hundreds of giraffes, elans, waterbucks, Calamian deer, monkeys, fresh water crocodiles, zebras, bear cats, bushbuck and a variety of birds roam freely.
Coron Island Tour: A whole day tour that takes you not only to the main island's town but also to its nearby attractions such as Kayangan Lake, Twin Lagoons, Siete Pecaods, and Maquinit Hot Spring. (Snorkeling masks, fins, life jackets, personal guide, and roundtrip land + boat transfers are provided with this activity).
Coron Island Hopping: Explore the natural playground of Palawan as you discover 3 unique private islands…

Malpagalen Island: A sandbar that's just next to Club Paradise Palawan.
Dimalanta Island: A deserted island that boasts vibrant flora, tall corals, and rich marine habitat.
Diatoy Island: A great snorkeling destination that's necklaced with a long stretch of white sandy beach.

Splish, Splash Tour: This is a day trip to Diatoy Island which inlcudes a 'Boodle Fight' lunch and an exciting speed-induced Banana boat ride with your family and/or friends.


.
» INFO «
Booking: See the BEST deals and prices for Club Paradise Palawan on their website, Agoda, or Booking.com!
Address: Dimakya Island, Coron, Northern Palawan, 5316 Philippines
Hotel Classification: 5-Star
Check-In: 1PM to 2PM / Check-Out: 12PM to 1PM
Disclaimer: Thanks to Club Paradise Palawan for sponsoring my stay; but as always, all thoughts that are expressed in this article are fully my own. (Some images above are from the resort).
.
When is the best time to visit Coron, Palawan?
It's ideal to come around October to early June if you want hot or dry weather, but basically, the weather patterns in Palawan are as follows:
April to early June

: Best time for sea travel, mostly dry and hot.

Late June to September

: Wet season that usually brings heavy rains due to monsoon peaks (but the prices are considerably cheaper.

December to February

: Cooler and drier weather but the winds can foul up boat schedules.

Where to get the best flight promos to Coron, Palawan?
My go-to platform for grabbing the best flight deals is Skyscanner since it scans all possible airlines that fly to and from any destination (including budget airlines in the Philippines like Cebu Pacific, Air Asia, etc.). I can even set up alerts so that it notifies me when the prices suddenly drop or rise.
Coron's nearest airport is Busuanga and you can ride van transfers to town that typically are priced at around Php 150 per person of Php 1,500 for a whole van.
It's also possible to come to Coron by boat and they run from Puerto Princesa, Manila, Mindoro, and El Nido (with El Nido being the nearest).
How to change your money into Philippines currency?
The Philippines' currency is called as 'peso' (₱ or Php). I highly advice that you do NOT exchange your money at the airport (if arriving from Manila or Cebu or any of the major cities) since the rates there are totally not competitive. What should you rather do? Either exchange your money or US dollars at a bank or at a money exchanger in your home country or in any of the cities/towns; or better yet, just withdraw from an ATM with your debit/credit card.
Take note though that in Coron, there are only about 4 ATMs but it's highly advisable to stock up on cash beforehand. Most hotels accept credit cards but town shops or restaurants mostly won't. As for money exchanges, I'm not sure but I don't think there are any in Coron, so do remember to exchange your money in the major cities such as Manila or Cebu before you fly into Coron.
Rate exchange: USD $1 = Php 50~
Should I get a visa to visit the Philippines?
Check this link to see the complete visa policy in the Philippines.
Helpful Filipino / Tagalog phrases
Many locals have no difficulties speaking English (after all, it is one of the official languages in the country). However, it always helps to learn the following phrases 'just in case' — or simply just to have fun interactions with Filipinos.

How are you?: Kumusta ka? (koo-MOOS-tah kah?)
Thank you: Maraming salamat (mah-RAH-meeng sah-LAH-maht)
Yes: Oo (OH oh)
No: Hindi (HEEN-dee)
Goodbye: Paalam (pah AH-lahm)
.
I'm sorry: Paumanhin (pah oo-MAHN-heen) / Patawad (pah-TAH-wad)
Is there someone here who speaks English?: Meron ba ditong marunong mag-Ingles? (MEH-rohn bah DEE-tohng mah-ROO-nohng mahg-een-GLEHS?)
Help!: Saklolo! (sahk-loh-LOH!) / Tulong! (too-LOHNG)
It's clear to see that staying in Club Paradise Palawan for your Coron vacation will help make your vacation a whole lot better! So, what are you waiting for…? *wink*
What do you think of Club Paradise Palawan?
Would you like to stay with them? Why or why not?
Or have you stayed with them before? How was it?
YOU MIGHT ALSO LIKE
Older Post
Newer Post
Hey there! I am Aileen Adalid.
At 21, I quit my corporate job in the Philippines to pursue my dreams. Today, I am a successful digital nomad (entrepreneur, travel writer, & vlogger) living a sustainable travel lifestyle.

My mission? To show you how it is absolutely possible to create a life of travel too (no matter the odds), and I will help you achieve that through my detailed travel guides, adventures, resources, tips, and MORE!

NEW READER? START HERE!
CONTINENTS: 7 ~ COUNTRIES: 59
Join over 1 million people and receive exclusive giveaways, travel tips and so much more!