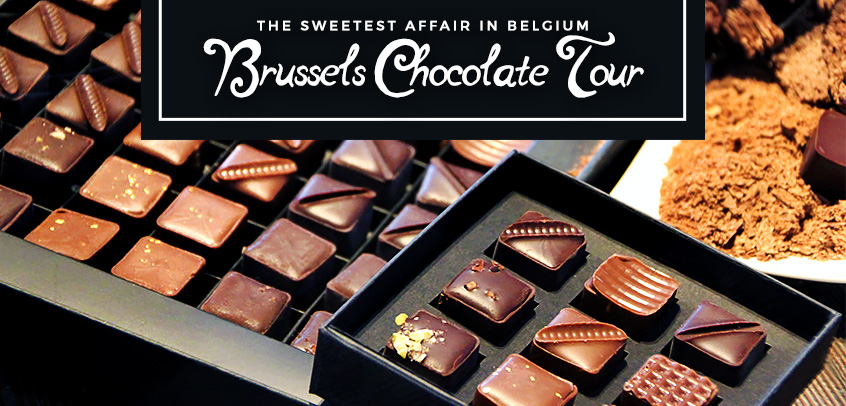 Belgium is known worldwide for a LOT of things. Apart from its important political position in Europe (as the de facto capital of the European Union), its oddities (ever heard of the Manneken Pis?), and its charming small towns (I'm looking at you, Bruges!), Belgium is also known for its delectable food, snacks and drinks.
Say hello to sinfully-good fries, mussels, waffles, beers, and of course — chocolates!
Fortunately, you're in for a treat today as I share with you my sweetest affair with the world-famous Belgian chocolates. Thanks to the Chocolate Walking Tour and Workshop of Global Enterprises Tours, this experience was all made possible when I did another solo visit to Brussels this month!
.
OVERLOAD: Brussels Chocolate Tour
The awesome thing about this 4-hour chocolate tour is that apart from the gastronomic indulgence, their experienced tour guides will also be discussing the history behind certain statues and landmarks throughout the center of Brussels. So if you're new to the city, you bet that this is an activity that you can do on your first day since it's sure to be a sweet introduction to this bustling metropolis!
Available on Tuesdays, Wednesdays, Fridays, and Sundays, the Global Enterprises' chocolate tour is typically scheduled at 9AM. It's only on Saturdays that they have a 2PM slot so you could say that I was lucky when my trip landed on this day (besides, a sleepyhead like me might have had a hard time waking up in time for such an early morning schedule).
The meeting point was set in the heart of the city, the Grand Place or Grote Markt, specifically in front of a Godiva chocolate store (which apparently was the very first store of Godiva, launched in 1926). In here, I met our tour guide, Naomi. With her cheerful personality, I was pretty sure that our tour would be setting off on the right foot!
NOTE: They only take a maximum number of 20 people per tour and you can show up on this meeting point at the last minute (without booking online beforehand) as long as there are slots left.
Once all the participants were in, Naomi started off with a quick introduction about the area of the Grote Markt. Now, since I have been to Brussels for numerous times already, you would expect that I wouldn't be hearing anything 'new', but I actually did especially because Naomi often had some tidbits of trivia that I haven't learned yet!
Rest assured, these 'stops' to Brussels' landmarks were only done briefly since the highlight of the day was the chocolate of course!
And so, our first chocolate-tasting stop was to Corné Port-Royal, the brand that first introduced the famous Belgian chocolate: Manon Sucre — a handmade praline that is made of smooth cream with crisp nougatine and fresh walnuts! We had a taste of this as we set foot in the store, and it was a great delight to my palate! And as if that wasn't enough, they even gave us the chance to pick another praline of our choice!
This was surely the start of my 'chocolate' pampering session and I was already very excited for the upcoming treats!
By the way, in order to arrive to this wonderful spot, we had to go through the eye-catching Galeries Royales Saint-Hubert, a covered shopping gallery filled with elegant-looking shops and is said to be Europe's first covered shopping gallery as it was built in 1847.
TRIVIA: It is here in Geleries Royales Saint-Hubert that you will find the oldest store of the notable and famous Belgian brand, Neuhaus, who invented the chocolate bonbon or praline. Much to my delight, this along with Godiva were not part of this chocolate tour and it's not because I don't want to taste them! But of course, these two brands are so heavily commercialized that we typically buy them from the supermarket and eat it in our homes, so it's great that this tour involved more of the other famous chocolate brands here in Belgium.
Afterwards, we drifted away from the gallery and ended up in Chocopolis. It didn't look as lavish as Corné Port-Royal and all the other similarly-lavish shops that we previously passed by, so I was absolutely intrigued as to what this establishment could possibly offer to us in this chocolate tour.
Though as soon as I got to taste some of their pralines, especially their Dark Cocoa Ganache — I was in love! Surely, you really can't judge anything by appearances alone, and as I listened to Naomi, I found out that Chocopolis is a unique chocolate shop because their chocolate factory is already located in the building that we were standing on. This would mean that they have avoided any transportation time, thereby keeping all their chocolates fresh and in their prime original flavor! From this point on, I could definitely see how Belgians are the masters of chocolate since they really put so much importance in quality.
Next up, we took a break from walking and went on to pursue the promised chocolate workshop in a cozy premise just outside the center of Brussels. In here, we each had our own workshop table as we were guided by a chocolatier who helped educate us about all things chocolate! At first, she let us have our sweet time in dipping various fruits, cookies, and sweets in a pot of melted dark chocolate.
After that, she showed us how to make our own chocolate-shaped desserts so that we can decorate them with our preferred choice of ingredients and toppings like exotic fruits, sesame, sea salt, coconut shavings, and more. (This will later on be frozen so that we can take them home in our own personal goodie bags).
For a more vivid experience, we also launched into praline-making as they guided as through the simple 3-step procedure into how it is made. Since the other steps are a tad too complicated (as it is for the pros), we still had the chance to do the fillings of the pralines, and then once that was done, we were given more chocolates to taste!
…I have to say that it was at this point that I was starting to feel what we would call a chocolate overload.
A part of me wanted to give up, but a bigger part wanted more of some chocolate goodness and that part won. Thankfully!
We continued on to our chocolate tour and not so surprisingly, we made a stop to the world-renowned Manneken Pis which was packed with tourists as per usual.
Now, I have to say that I don't know myself what's so special about this little pissing boy that tourists around the world flock to Brussels to take a picture of (the locals themselves wouldn't know why either) but for sure, we ALL know that its peculiarity is amusing so I guess it's really worth the look!
For our third stop: Pierre Marcolini. Naomi noted that this was the start of our chocolate tour wherein we will be visiting the more high-end Belgian chocolate brands, and I had no doubts about that because Pierre Marcolini's shop was truly posh and stylish! From the packaging, to its displays, and up to its chocolates, they all looked like art pieces that were carefully-crafted by professional artisans! (Which I bet they are.)
After they handed out the chocolates that we were free to taste, I suddenly realized that I should start 'stocking up' and so it was here that I started to buy boxes and boxes of chocolates!
Next up was a brand made by one of Belgium's finest chocolatiers, Frederic Blondeel. An expert cocoa roaster, he makes use of a Santos Palace Coffee Roaster that dates back to 1953. Though the process is historic, his creations are not as he paves his way into producing the grand cru of chocolates!
We all tasted some unique caramel salted chocolates, topped off with their special hot chocolate drink! And I so wanted to cry because of two things. First, it was too delicious. Second, I was reaching my peak for handling all the sweetness; but I pushed myself since there was only one store left and it would be the grandest of all!
…What else but the best artisan of chocolates: Mary! Brimming with flavor and creativity, did you know that Mary Delluc is the prime chocolate supplier of most of the famous Belgian and French personalities? In fact, it was in 1942 that Mary was first awarded the title of "Certified Royal Warrant Holder of Belgium" as she took the great honor of being the chocolate purveyor to the Royal House of Belgium.
This award has been renewed two times: in 1990, by His Majesty King Baudouin I, and in 1994, by His Majesty King Albert II.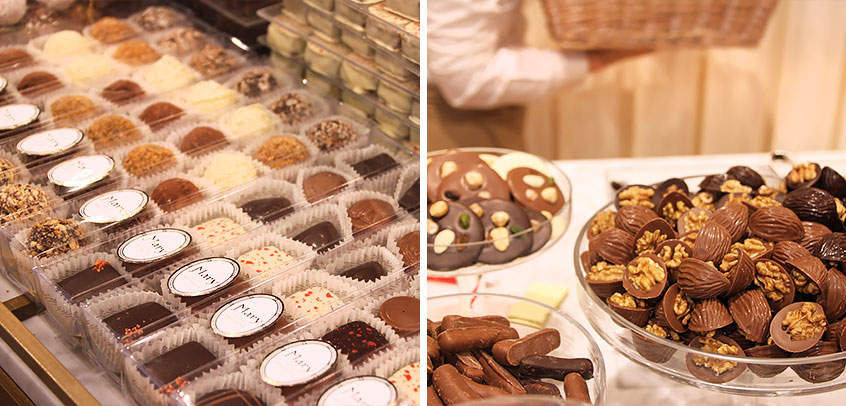 Knowing this fact as well knowing the tremendously good taste of Mary's chocolates, I surely went crazy buying chocolates in this shop… Needless to say, it was the best-est 'cap' to this delicious and ultimate Brussels chocolate tour!
.
You might know me as one of those travelers who typically wouldn't take an arranged tour in a new destination, since I would often want the chance to curate my own itinerary. But when it comes to Belgian chocolates, surely, I would be needing the help of those who are more knowledgeable about it; so I suggest that if you're looking into the chance of indulging your inner chocoholic, Global Enterprises' Chocolate Tour is an experience that you shouldn't pass!
I, myself, had a delightful time with them and Naomi as a tour guide was a pleasure to be with! One could clearly see how she loves the city of Brussels and how knowledgeable she is about her craft.
For details about this chocolate tour, see below:
Website: Brussels Walking Tours by Global Enterprises Tours
Booking: Can be done online through their website, or in person during the tour itself
Meet-Up Point: Grand Place 21, Brussels (In front of Godiva chocolate store)
Price: 70€ for Adults and 40€ for Children under 6-12 years old
TIP: Book directly with Global Enterprises Tour to get the best price! Their tour is typically listed in pages like Viator, etc. but as you will see, the prices are higher there.
Schedule: 4-hour long tour / 9AM slot for Tuesdays (Apr-Oct), Wednesdays, Fridays, Saturdays, and Sundays / 2PM slot for Saturdays only.
Disclaimer: This was a sponsored trip that was made possible by Global Enterprises Tours. But as always, all thoughts that are expressed in this article are fully my own. I would like to give my special thanks to Alina and the rest of the team for arranging this tour, and my thanks to Naomi too for an awesome experience!
.
Where to Stay in Brussels?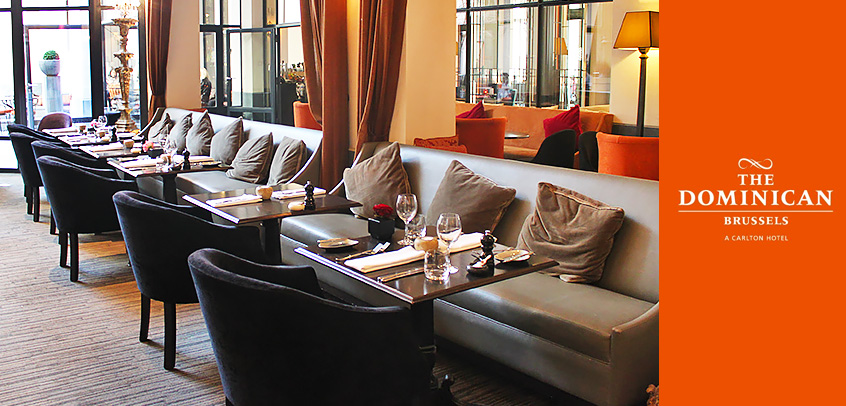 The elegance and convenience that the boutique hotel of The Dominican can offer is unforgettable, and it is the perfect accommodation for you after you spend the day walking through the heart of Brussels and enjoying its famed artisan chocolates. A luxurious yet affordable stay, this is situated near to the Grand Place!
To learn more about The Dominican, read here my hotel review.
.
Would you like to try this chocolate tour in Brussels?
Have you tried authentic Belgian chocolates before?
What Belgian chocolatiers are your favorites?
YOU MIGHT ALSO LIKE
Older Post
Newer Post
Hey there! I am Aileen Adalid.
At 21, I quit my corporate job in the Philippines to pursue my dreams. Today, I am a successful digital nomad (entrepreneur, travel writer, & vlogger) living a sustainable travel lifestyle.

My mission? To show you how it is absolutely possible to create a life of travel too (no matter the odds), and I will help you achieve that through my detailed travel guides, adventures, resources, tips, and MORE!

NEW READER? START HERE!
CONTINENTS: 7 ~ COUNTRIES: 59
Join over 1 million people and receive exclusive giveaways, travel tips and so much more!