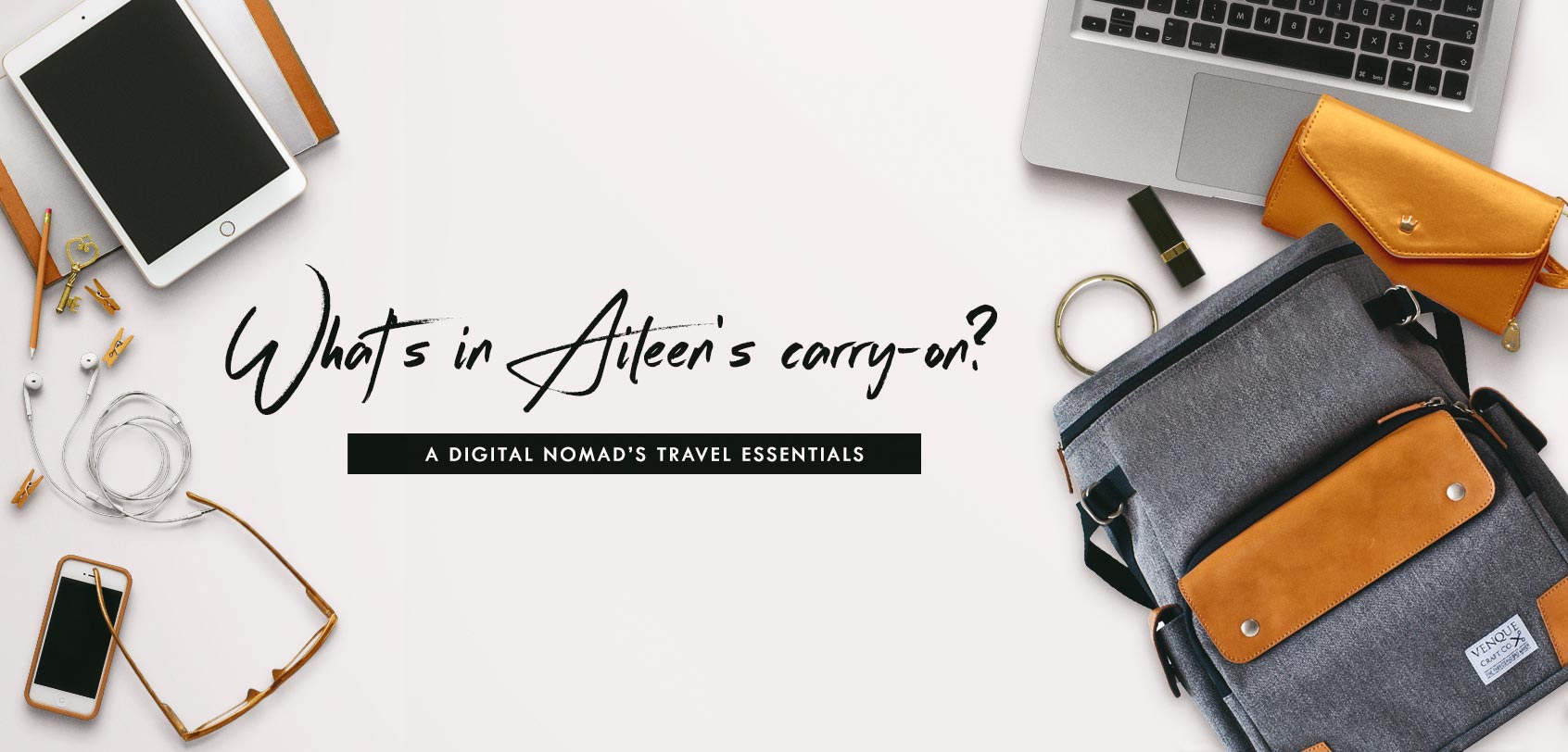 Hey Aileen! I am planning on becoming a digital nomad as I go on a RTW (round-the-world) trip next year. For my journey, I will have a check-in luggage where I will put all my clothes and shoes in, and when it comes to my laptop, camera, and electronics, I would like to put these valuables in a carry-on. But I'm having difficulty in finding the right way to pack them! I also don't want to miss on any essentials during a flight (may it be a short one or a long haul). I follow your updates and live feed on Snapchat, and it seems like you always manage to pack well and light for your travels. As an experienced traveling digital nomad, I would love to know how you pack valuables in your carry-on!
– Nana from France
.
I know how nerve-wracking it can be to pack for a trip — you gotta bring the essentials with you, but without making things bulky nor heavy.
Besides, none of us would want to face the dire situation of forgetting a vital thing, and thereafter go through various hassles in a foreign country. For sure, we wouldn't want to travel around like a mule either!
And so, as with any travel journey, there are two things that you typically pack for: your check-in baggage and your carry-on bag. The items that you should pack for check-in is a discussion that I'll tackle on later; but for today, in order to answer Nana's question, we'll focus first on the essentials for your carry-on luggage and/or backpack.
The way I see it, a carry-on should be able to:
Contain things that can assist you no matter if it's a short or long flight
Contain things that can serve as a 'safety net' in case your check-in baggage gets lost during transit (which happened to me several times already)
With these in mind, it follows that your carry-on is basically a "bag of goodies" that is non-changing, and after traveling around the world for 3 years now, I can say with confidence that I've already perfected my carry-on packing routine — which I would now be sharing with you.
Hence: no matter how long your trip may be and no matter where you're going, below is a list of my typical carry-on essentials and gear that can keep you "properly equipped" during all of your travels!
(*My lifestyle is basically that of a digital nomad — enterepreneur-slash-blogger — but with today's time, I believe that the items below applies to EVERYONE anyway since, we've all become such tech junkies!)
.
– The "Carrier" –
Most airlines allow one (1) carry-on cabin luggage that is under their respective weight limit (typically around 5 to 10kgs only).
Fortunately, there are also some airlines that allow two (2) items: one (1) carry-on and one (1) personal item (a handbag, a backpack, a laptop bag, an umbrella, a briefcase, etc. that can be stowed under the seat before you.) Given this fact, there have actually been times that I do NOT have any check-in baggage at all: I only bring along one carry-on backpack, and one small rolling luggage that contains my clothes — a set-up that is VERY helpful for avoiding long check-in lines.
Often times though, I am faced with preparing just 1 carry-on bag, while the rest is stored in my main luggage. Nevertheless, as dependent upon your trip and the airline that you'll be riding in, it just really helps to have bags ready that are generally within the standard limits for cabin luggage.
My recommendations would be:
A Backpack
For years, I have been on the hunt for the PERFECT backpack that can properly organize and protect my carry-on items. This is because most small backpacks are thin and "top-loading" (where you simply shove items into the depths of it and wish that you'll find them easily later on). I rather wanted a versatile one that can keep my tech gadgets secure and can segregate my other carry-on items better for ease and swift access.
Thankfully, my search ended last year when I was introduced to Venque's innovative CamPro Bag! Now why has this become my ultimate carry-on backpack?

The bottom section is 'front-loading' (like a suitcase) and can be sectioned into compartments with the help of its adjustable velcro dividers which is as you see in the image above. You can even take off all these velcros and convert it into one big space — so yes, its layout can be changed in order to fit your needs.
The upper compartment is sectioned off too, with its own velcro dividers. (Rest assured, you can also take these velcro dividers off and open it up towards the bottom section if in case you want to convert the CamPro into the typical full top-loading backpack.)
The insides are very well-padded and there's even a zippered section at the back that can fit 15″-sized laptops. The quality of the material is also superb as it is made of leather and innovative quanta fabric that is ever-lasting, stain-repellant, and anti-scratch. It even comes along with a water-resistant cover in case it rains!
Slim (15.7″ x 7″ x 12.1″), comfortable, with lots of pockets and extra features. For instance, it comes with buckles on the sides where you can strap on a tripod for instance, and it even has removable buckles to balance and transfer the weight that you carry.
*You can buy this awesome bag at Urban Traveller & Co. They ship worldwide and if you use the coupon code: DigitalNomad you'll get 10% off!
.
Or a Handbag / Small Rolling Luggage
For fast and easy access, AND a great way to exude your femininity, I highly suggest a travel handbag. If you want something that can store your camera gear still, I highly suggest checking out Aide de Camp's camera bags.
As for luggage, as I've already mentioned, the dimension limit for a carry-on varies across all airlines. I've done my research, and so far, in order for you to be in the 'safe' side of such limits, you need a luggage that is within or around this standard size: 22″ high, 14″ wide, and 9″ deep.
I personally use a Samsonite Luggage Winfield 20 because I love how lightweight and strong it is. I've been using it for a while now and it has truly withstood the wear and tear from all of my travels.
.
IMPORTANT NOTE: All the items that are listed below can fit inside my CamPro bag alone. In fact, after everything is packed in, I always have ample space left for extras (around 20%).
Yep. It's that amazing!
– Gadgets & Tech –

 Smartphone
Its benefits are a no-brainer, one of which is the fact that a smartphone can hold tons of helpful travel apps that can help assist me in the duration of my trip. If you're curious, I own an iPhone 5s which has superb camera specs (I actually have a handful of my travels where I only packed my 5s, making it as my sole photo-taking gadget).
.
 eReader or Tablet
I'm a bookworm and I LOVE the feel of a good ol' book as I flip through its pages with my fingertips. However, the truth of the matter is: books can be very bulky. This is why I own an eReader and my Kindle Paperwhite has been my travel companion ever since! (For entertainment during long flights, long bus/train rides, chill afternoons, etc.)
I can store TONS of books in it and its battery life is also mind-blowing. I've been on a week-long vacation before and I used my Kindle every single day — when it was time to go home, its battery life still had more than half! Later on, I've learned that there's no need for me to pack my Kindle's charger because it can last a long time.
*You can pack a tablet instead like an iPad Mini, but I fell in love with a Kindle when it comes to reading (it's more easy on the eyes). Besides, an iPad Mini is basically like a bigger version of my smartphone. Overall: as dependent on your personal preferences, you can pack an eReader OR a tablet. It's up to you!
.
 Laptop
Yet another no-brainer item to bring in my carry-on. As a digital nomad, my laptop is my lifeline. I never travel without it, and I'm glad that my CamPro bag protects it well and good during my travels.
I work with a Macbook Pro 13″ for years now, and I know it's not as light nor thin as a Macbook Air, but since I wanted a machine that has the capacity to handle my graphic and video processes while I'm on the road, I rather opted for the Macbook Pro. (The difference between the two in weight is not so huge after all. My Macbook Pro is still very slim and it's also more compact than most laptops out there.)
.
 Earphones
Perfect for cancelling out the noise and for slipping into my own music-filled world. I also question the cleanliness of the headphones offered during long flights, so I always make sure to pack my own earphones.
Some people find headphones, like the noise-cancelling ones, as a better item to pack in their carry-on. However, they can be quite huge and it often puts stress on my head and my ears. I find that as long as you purchase earphones that are powerful and well-fitted to your ears, they can offer almost the same benefits as headphones. (I recommend Panasonic's ErgoFit In-Ear Earphones).
.
 Cameras
As a travel writer, I travel with different cameras in stow. My typical photography arsenal are below:
If you're not particular with photography and you just want a great point-and-shoot camera for your travels, I recommend Canon's Powershot G7 X. There's no need to bring along a massive DSLR.
.
 Plugs, Adapter, Chargers, etc.
For organizing my chargers and to avoid them from tangling altogether, I place them in one velcro section of my CamPro bag and twist the wires around with a Nite Ize Gear Tie. When it comes to a travel adapter, I use Ceptics.
.
 Power Bank
This is very helpful for emergencies or for simply just prolonging your gadgets' lives. I once got lost with my phone dead; thanks to my Anker power bank, I got myself out of that mess in a jiffy.
You also have to remember that though there are electric outlets in the airport or in cafes, most of the time those are being hogged by other people. Therefore: it's better to be safe and prepared, than sorry!
.
 Pocket WiFi
This is an optional item. If I know that I'll be staying somewhere fixed with a decent internet connection, I wouldn't bother getting myself one. But in times that I have to hop from one place to another (most especially when it's a trip that spans for more than a week), a pocket WiFi is a must to have and I have stood by Tep Wireless for years now. I simply trust their product and service for they have never failed me. Tep Wireless is also a lot cheaper than other providers like HipPocketWiFi, My-WebSpot and xCom Global.
With them, you can choose to either rent a unit, or just buy one and be charged whenever you use it. (I just purchased my own Tep Wireless unit given how I frequently travel — which saves me the shipping cost everytime I rent one).
.
 Data Storage Items
Some people bring along bulky hard drives, but I rarely have the need to do so — I just leave that at home. Instead, when it comes to backup data storage, I would just bring along a memory card (in case one of my camera's memory cards gives up on me) and a USB stick (with lots of storage space).
.
– The Small Stuff –

Earplugs
I initially ignored the benefits that earplugs could bring. But once, I was given some during a flight and I thought: why not try it out? Oh goodness gracious, it was heaven sent! It really cancelled out unnecessary noises — crying babies, snoring seat mates and more. If you're planning on buying these, I would recommend Hearos Xtreme.
Often times, people buy neck pillows and eye masks along with earplugs to make it a complete set and you're absolutely free to get these too. (However, I actually find these as uncomfortable so I'm not listing it out above.)
.
Snacks & Mints
Surely there are airlines that offer free snacks and meals during flights, but at times they don't — you either have to pay for it or procure them yourself. So why not just bring some small snacks along like nuts, trail mix, biscuits, bars, fruits, etc.? (Take note: plane food is usually unhealthy and bland anyway). While you're at it, pack along some mints as well for that tinge of refreshment and ~fresh breath~ during your journey. You can also pack chewing gum instead to help make your ears 'pop' (but sucking on mints or candy as well as drinking can help you accomplish this).
I would have suggested a water bottle too along with this section, but after packing one in several flights, I discovered that I never had the need for this bulky item (unless it's a trip that involves lots of hiking later on). Buying a bottle of water after the security checkpoint in an airport proved to be enough for me. After all, there isn't an abundance of water stations to refill a water bottle with; plus, flight attendants can also just serve you water in case you need it during your flight. But definitely, if you're easily dehydrated (unlike me), best to pack this in your bag.
.
 Pen & Pencil
Very vital items since most places abroad warrant travel and customs forms to be filled. You certainly wouldn't want to wait until the person before you finishes using the free pen at the immigration (and then watch in horror as she decides to claim it as her own — yep, happened to me). So save yourself the trouble and pack these babies because you'll never know when you'll need them.
You can even bring along a notebook to complete this 'set', but I personally don't bring this anymore; thereby saving myself some weight. You see, I've long lost the art of writing things down (yes, I blame technology). "There's always spare paper lying around", is what I regularly think too and that's true.
.
 For the Eyes
Apart from a good pair of sunglasses, I also pack along my graded glasses and its case (since I am short-sighted). I also wear contacts but I stow these away along with the cleaning solution in my check-in luggage since I customarily don't wear contacts during flights given how it can dry up my eyes quickly — more so during long flights.
.
 Toothbrush & Toothpaste
Simply put: I store smaller versions of these items to save space.
.
 Medications
I still remember the hassle that I went through when I found out that I forgot my pills during a road trip in Europe; and unlike Asia, they just don't give away pills without a prescription. Thankfully, I had a friend who gave me some spare pills of hers.
So apart from the medication that you personally need, I find it imperative to pack the basics too: medication for headaches, diarrhea, nausea, and fever. (This is of course separate from my first aid kit which I put away in my main luggage).
.
 Etc.
Those marked with an * below means that it's something that boys can pack and use too:
Lip balm*
Hand sanitizer

*

Deodorant

*

Lotion

*

Perfume* (do you know those small vials that you get as samples for perfumes in department stores? I keep those and pack them when I travel. It's better than packing a whole bottle of my perfume)
Wipes (wet wipes, feminine wipes, facial oil-absorbing sheets)
Basics make-up kit: for me, that's my lipstick, liquid eyeliner, and eyebrow kit.
Napkins or tampons (better yet, wear a menstrual cup)
— IMPORTANT NOTE: Make sure that ALL liquids are NOT larger than 100ml (3.4oz) and they should be stowed away in at most a 20cm x 20cm resealable see-through bag.
.
– Required & For Emergencies –

 Passport, IDs, & Business Cards
.
 Cash & Debit – Credit Cards
.
 Paper Copies
In case of loss, theft, and other emergency situations, I always make sure to bring photocopies of my: passport, identification cards, and other travel documents (accommodation booking, emergency contacts, etc.)
.
 Travel Insurance
Have you ever asked yourself: "Do I need travel insurance?" I bet you have and no matter how many times you pose this question, my answer will always be a resounding YES.
You do NEED travel insurance because you never know what can happen while you're overseas. I personally like and use World Nomads Travel Insurance because it encompasses a LOT of countries worldwide, insures your baggage, belongings, and flights, covers medical emergencies, it's affordable, and can be extended while you're on the road (no need to go back home to apply for one). 

 Spare Clothing
In case you loose your luggage, it helps to stow at least one outfit (I pack an extra light dress) and undies in your carry-on. Sure, you can always buy them abroad but it's best that you save yourself from those costs and hassles. Be prepared like a girl scout!
Along with this, I pack along a medium-sized microfiber travel towel because it's not only small and light but it can absorb water fast and dry fast too! I'm telling you: it's unlike normal towels because it's the kind that doesn't consume a lot of space.
.
 Other Valuables
Like jewelry and keys that I wouldn't want to put in my check-in luggage.
Optional: In case my destination forecasts rainy weather for the majority of my stay, I make sure to pack a small umbrella.
.
– To Wear –
In case you're curious about what I frequently wear during flights, my clothing highly depends on the weather situation of my travel destination; however, as a standard, the following items keep me comfortable during my journey from point A to point B:
Shoes
I typically wear doll shoes or slippers/sandals since they're the most comfortable footwear for me! But should my trip necessitate heels or boots, I would then opt to wear my heaviest or bulkiest in order to save space in my main luggage. It's not going to be comfortable especially in a long flight, but I can always take them off during transit.
.
 Compression Socks
I was told by my traveler friends that this in an important item that they wear during long flights (that span for more than 4 hours) since it helps reduce the risk of DVT (deep vein thrombosis), blood clots, and leg swelling. It basically squeezes your legs gently to move blood up your legs. Ever since I've learned of this fact, I made it a point to wear compression socks.
.
 Sweater and/or Scarf
I have low tolerance toward the cold so I always pack a sweater. If I'm heading to hot place, a light long-sleeved cardigan or a huge scarf already works best for me.
.
These may seem a lot, but it actually isn't. Again, like I've told you: ALL these items fit nicely and lightly inside my CamPro bag, and it even leaves enough space still for extras.
You probably have other stuff that I haven't listed above and that you would like to pack in your carry-on — you're free to do that of course, but just make sure that they're things that you'll really be needing for your trip! (Otherwise, you'll just be packing extra baggage or clutter.)
Rest assured, the items I listed above are the basic travel essentials that have served me well all throughout the years of my traveling lifestyle, and it is now my hope that it gives you the peace of mind that you're going to be adequately and properly equipped for your trip!
What do you think of this packing list for my carry-on?
Is there anything that you might want to add?
YOU MIGHT ALSO LIKE
Older Post
Newer Post
Hey there! I am Aileen Adalid.
At 21, I quit my corporate job in the Philippines to pursue my dreams. Today, I am a successful digital nomad (entrepreneur, travel writer, & vlogger) living a sustainable travel lifestyle.

My mission? To show you how it is absolutely possible to create a life of travel too (no matter the odds), and I will help you achieve that through my detailed travel guides, adventures, resources, tips, and MORE!

NEW READER? START HERE!
CONTINENTS: 7 ~ COUNTRIES: 55
Stay updated with Aileen monthly! Sign up and receive exclusive updates, articles, giveaways, and so much more!
~Jigsaw by @Daniel_Sloss on Netflix https://t.co/kFxB6H1Q9g
21/04/2019 13:08:46

Supporting another person's success won't ever dampen yours.
21/04/2019 13:00:01