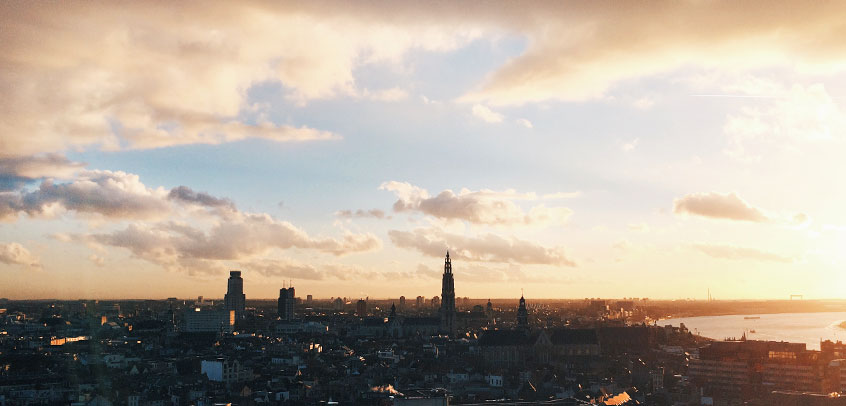 After several days of heavy rain and strong winds, I had the huge urge to get out of the house; so as the skies cleared up 2 days ago, my friend and I went to visit the nearby city (Antwerp). Other than to walk around, we decided that it would be the perfect time to finally get a glimpse of his university as well as visit another famous museum that we haven't seen yet: MAS (Museum aan de Stroom which means 'Museum at the River' in English) especially since it grants a great 360 view from the top.
MAS is built by the Scheldt River and it is said to be the largest museum in Antwerp. It is easy to spot with its striking red bricks and curved glass panel construction. It's certainly very modern compared to the rest of the museums in the city!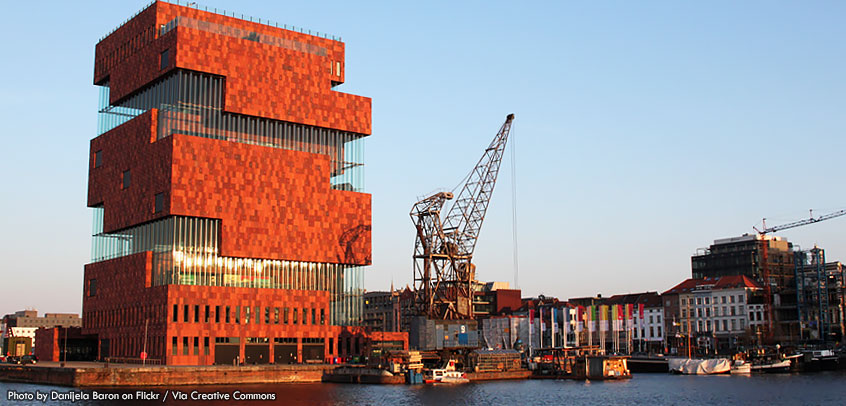 As a museum, it primarily focuses on Antwerp and its long history as a major international port—but it also highlights other cultures; I was especially ecstatic when I saw the Japanese displays of Samurai armors and weapons! (I'll discuss the museum in more detail in another post).
Now one of the things that you should surely do when you're visiting MAS is to head to the rooftop in order to see a 360 view (panorama) of the city! MAS stands 62 meters high, and since there's not a lot of skyscrapers (which is a common thing for countries in Europe), it was not hard to enjoy the whole view of Antwerp.
A city full of tall buildings have its charm, but a city that's like this has a more distinct charm that I am in favor for!
As we were high up, below are the shots that I took. I didn't take panoramic photos but I did take shots of the north, south, east, and west!
.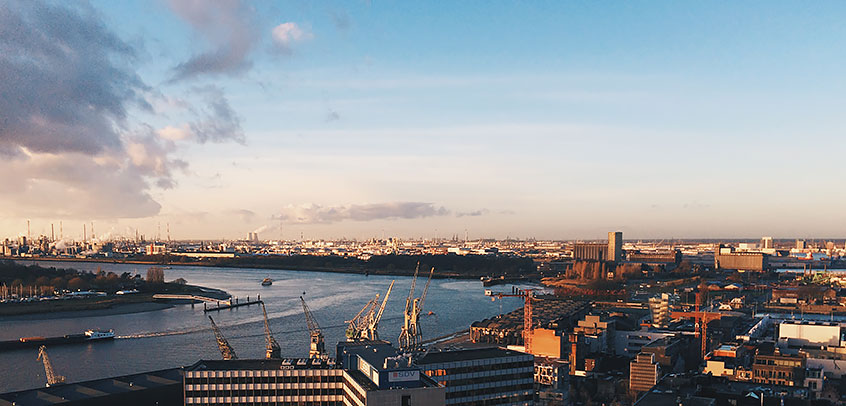 Majority of the north comprises of the Port of Antwerp which is said to be the 2nd largest sea port in the whole of Europe, ranking just behind Rotterdam. Given it's geographical and inland location (located at around 80+ kilometers south-east of the North Sea), it enjoys a more central location in Europe as compared to the rest of the North Sea ports.
Note: Close to MAS and in view of the north is the Eilandje district which is mostly comprised of other docks.
.

What you'll mainly see on the west is the Linkeroever which basically means the left bank of Antwerp (said to be the 'older' side). The notable areas here are:
The Scheldt River: an important waterway in Europe which is 350km long from the southwestern part of Netherlands, to this western part of Belgium, and up until the northern part of France.
Sint-Annatunnel (St. Anna Tunnel): a 572 meters long pedestrian and bicycle tunnel under the Scheldt river which was built in 1931 and finished in 1933. It's said to connect the 'old' (linkeroever) to the 'new' and I've managed to visit this on New Year's Eve! It was really old; for instance, you can still see how the escalators have not been changed. Rest assured, this tunnel is well-maintained and kept by the city. If you're into walking, it's nice to walk through this tunnel!
Galgenweel: a quiet and popular getaway for locals especially for sailing enthusiasts. It's basically a semi-natural brackish water lake that is about 40 hectares with a depth of 2 to 15 meters.
Boeienweide: a green field full of buoy decorations and it has a quaint playground too that looks like a shipwreck. It's one of the good spots where you can enjoy a view of Antwerp's city skyline.
Note: Just below MAS in the direction of the west is a small dock called as Bonaparte Dock. It was the first lock and dock in Antwerp back in 1811 that was ordered to be constructed by Napoleon Bonaparte himself; at that time, he quickly recognized the city's huge potential for future trade.
.

South view consists most of the city center. What's distinguished here is the 'Cathedral of Our Lady' (Onze-Lieve-Vrouwekathedraal) in the first photo. As you can see, it is the highest building in the city of Antwerp, towering at 123 meters.
It's definitely refreshing when for once, the highest one is not a modern skyscraper!
The rest of the city is full of residential homes and famous landmarks that I will discuss in different posts; but some of which are the Antwerp City Hall, Grote Markt, Central Station, Antwerp Zoo, Meir Shopping Center, and so much more!
.

In the first photo, you can see the Willem Dock, the 2nd dock built after the Bonaparte Dock (and these two are just side by side). It's named after the Dutch King at that time: 1813.
Most of the eastern view here comprises of residential areas (other than certain parts of the city center). But I guess one of the significant places in this direction is Park Spoor Noord (24 hectares big) which used to be a railway marshaling yard in 2008 to 2009. It's now a large panoramic green park for leisure, sports, and events. It even has a BMX and skate bowl!
Way beyond the further east would also be Sportpaleis Antwerp (sport palace) which is an arena or multipurpose hall that's said to be the 2nd most visited event hall in the world, with the first one being Madison Square Garden in New York. (It has a seating capacity of around 15,000+).
All in all, it was such a breathtaking and exhilarating day! To have the beautiful sunset as a backdrop was the perfect 'icing to the cake'! So should you ever pass by the city of Antwerp, make sure to drop by the MAS too! Not only to soak in a bit of culture but to also witness this dreamy 360° view of the city.
What do you think of these shots? Would you like to see this view?
Are you planning on visiting Belgium? Where will you be going?
YOU MIGHT ALSO LIKE
Older Post
Newer Post
Hey there! I am Aileen Adalid.
At 21, I quit my corporate job in the Philippines to pursue my dreams. Today, I am a successful digital nomad (entrepreneur, travel writer, & vlogger) living a sustainable travel lifestyle.

My mission? To show you how it is absolutely possible to create a life of travel too (no matter the odds), and I will help you achieve that through my detailed travel guides, adventures, resources, tips, and MORE!

NEW READER? START HERE!
CONTINENTS: 7 ~ COUNTRIES: 59
Join over 1 million people and receive exclusive giveaways, travel tips and so much more!