The love month is here! Whether you are planning romantic getaways, a honeymoon spree, an anniversary celebration, or an adventure for one (to seek for love, perhaps?) — I surely know the dilemma of picking out the best 'intimate' destination… there are 'gazillions' of great places to choose from!
So what better way to narrow down your options than to ask for advice from those who are well-traveled?
Don't worry though, because I have saved you the trouble of 'asking' by compiling below the guaranteed romantic getaways suggested by some of the top travel bloggers on the web! A mix of the predictable, the semi-clichéd, and the unknown; here are 15 places to get couples and singles alike into the mood for romance!
.
#1 – Bern, Switzerland By: Kiersten, The Blonde Abroad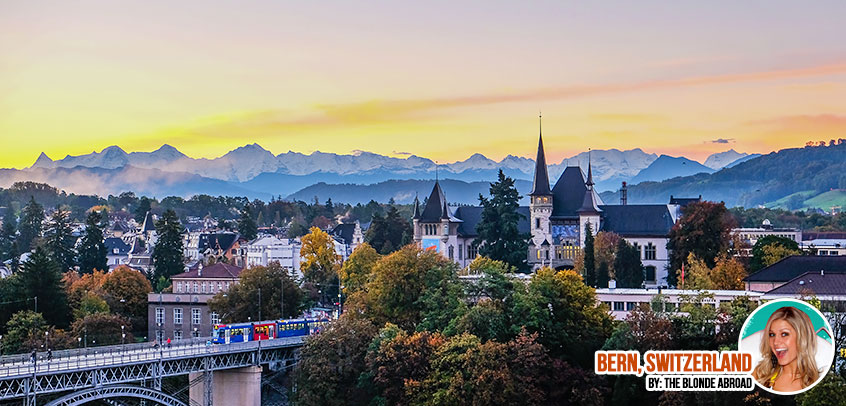 Bern, Switzerland is the essence of fairy tales. While European destinations like Prague and Venice are well-known for their charm and splendor, Bern is by far one of the most romantic getaways I've ever been to. The Old Town features cozy wine bars and gorgeous hotels perfect for a getaway with your partner.
I highly recommend staying the the Bellevue Palace for one of the best hotel views in Bern. Whether you prefer traditional Swiss fondue for two, or to satisfy your sweet tooth with some Swiss chocolate, Bern has something for everyone. I also recommend taking a romantic stroll to the Rose Garden for an incredible sunset view.
#2 – Marrakech, Morocco By: Sabina, Girl VS Globe
Although I only spent five days exploring Marrakech, its colorful whirl of glass lanterns, heady incense and exhaust fumes managed to put a spell on my heart. Although the word "romantic" is not the first adjective that comes to mind when I think of this enchanting Moroccan city, I definitely think it could be just that. The noise, the clamor, the haggling, the smiles, the mystery, the sweetness – it is basically the destination equivalent of a wild romance.
Spend the days indulging on avocado smoothies and spiced tagine. Forget your watch at home and get lost in the souks without making more than a half-hearted attempt to find your way back home. Look over the medina from the comfort of a sheltered riad or get pampered in a hammam. No matter what you end up doing, keep your eyes and heart open. You will soon find yourself falling in love with Marrakech, as well as whoever the lucky person travelling alongside you happens to be—even if that person is "just" you.
#3 – Tasmania, Australia By: Megan, Mapping Megan
Tasmania's Freycinet National Park has to be one of the best destinations in the world for romantic getaways. A world-renowned National Park, this is the best destination to discover Tasmania's rich natural beauty; it is also the home to Wineglass Bay, named as one of the top 10 beaches in the world!
Freycinet Lodge is a beautiful luxury eco-lodge within the National Park, and, in a spectacular natural setting, boats some of the most romantic lodging Australia has to offer. Spend the afternoon taking a short stroll around the National Park, watch the sun set over the ocean with your loved one from the lodge deck, or take a romantic stroll along one of the Peninsulas' white sand beaches. A mecca for bushwalking, explore the park's walking trails and bushwalks – the Wineglass Bay Lookout walk is 1 and a half hours return, and adding an extra hour to your walk will take you through the forest and onto the world-famous beach itself.
#4 – Toulouse, France By: Dale & Franca, AngloItalian
Many people across the world love the 'Pink City' of Toulouse, but nowhere near as many are choosing it for romantic getaways – and we can't understand why!
The city of Toulouse is a perfect destination for people who like to enjoy the luxury side of travel due to the high content of high fashion brands and activities that fill up the city; but for budget travelers like us, there are enough beautiful historic buildings to enjoy, plus a high quantity of other enjoyable attractions and activities. It really has everything for a romantic holiday getaway, but it's also great for solo and family travelers too.
#5 – Amsterdam, the Netherlands By: Agness, eTramping
My favorite city and one of the best romantic getaways is certainly Amsterdam. Whether it's February and you're spending a couple of days with your Valentine, or it is August and you feel like going somewhere beautiful – Amsterdam is the perfect place!
The city offers plenty of options for couples who want to experience the dream-like qualities of Amsterdam; whether indoors or in the open-air, over-the-top expensive or absolutely free. Take your pick of these romantic things to do in Amsterdam. For example, the magical quality of Amsterdam at night will put you in the romantic mood all by itself! Think of these bridge lights glowing in the canals and couples walking hand-in-hand along cobbled streets as they peek through the windows of stately canal houses. Amsterdam by night, especially in the grachtengordel , or "canal belt," offers lovers (or friends who hope to be) a shimmery scene to explore together!
#6 – Cape Town, South Africa By: Michaela, Awe Inclusive
I fell in love with Cape Town the moment I stepped out of the airport. This is an amazing city with a beautiful landscape, friendly people, and tons to do. From full-body massages, to sightseeing, to shark dives, travelers to the southern tip of Africa will wonder why they didn't visit sooner.
For couples, Cape Town is a dream city. There are so many activities to choose from that you won't have a problem finding something that interests you both. Enjoy romantic mountaintop sunsets or catch a sunrise from the beach while relishing in the beautiful scenery around you. Have dinner on Long Street with its vast selection of restaurants that offer cuisines from around the world. You could even spend the entire day just visiting the numerous shops at the V&A Waterfront!
I suggest planning a long vacation to take in everything this city has to offer. But, no matter how long your trip lasts, Cape Town has a way of making you wish you could stay longer.
#7 – Raja Ampat, Indonesia By: Robert, Leave Your Daily Hell
If there's one place I've ever been during my dozens of solo trips that made me wish I wasn't romantically inept, it's Raja Ampat, Indonesia. This archipelago, whose name translates to "Four Kings", is located just to the west of Papua island, and may be the world's last paradise.
It's difficult to reach – it takes almost a full day, even from Jakarta – but all the hassle is worth it. Plus, no matter which island you stay on, it's extremely private, which means you can do whatever you want on the beach.
#8 – Galle, Sri Lanka By: Enzo, Inguaribile Viaggiatore
Galle is a town in Sri Lanka that offers the possibility of romantic walks in a perfectly preserved historical center.
Get lost in wonder in the town alleys that are a mix of East and West; otherwise, the presence of the majestic sea and the dreamy sunsets would pose to be another option as it is an ideal location for a pair of lovers, who can sit to drink an aperitif in one of the many romantic spots. Couples could even choose to take a river safari tour to take in the beauty of the surrounding flora and fauna.
#9 – Pai, Thailand By: Lois, We Are Sole Sisters
Pai is love. It's as if an entire small town, nearly off the map in northern Thailand, has conspired to make its visitors fall in love with it again and again. It's the perfect spot to celebrate Valentine's day with someone, and if you're single, you're bound to meet someone here anyway.
Hop on a motorbike, take a dip in the waterfalls or hot springs, explore rice paddies and hairpin turns. And just right before the day ends, climb up the Pai Canyon and watch a dazzling sunset turn everything beautiful and golden. Cap the night with some Edible Jazz.
#10 – Rome, Italy By: Bianca, Nomad Biba
With its historical monuments, flair for fashion and rich culinary heritage; Rome is one of the most romantic getaways on earth. For an ideal romantic itinerary, start your day by making a wish at the iconic Trevi Fountain. Then head to the Campo de' Fiori market for a taste of local Roman cuisine.
The best way to discover Rome, however, is to simply wander around its streets; in this enchanting city there's always something magical to experience. Don't forget to visit one of Rome's many parks, they are great for taking a break from sightseeing. To finish off your day in style, head over to Trastevere to have dinner and a drink with your sweetheart.
#11 – Paraty, Brazil By: Marcello, Wandering Trader
I will give you one in Brazil that is an off the beaten track destination. The city is called Paraty and it is south of Rio de Janeiro. It has colombial streets that are lined with very old colonial bricks.
From there, one can take a boat to many different beaches, locations, and even do some hiking as well. I would highly recommend it to anyone that would want to get away from the crowds in order to experience something different. I also had the best wine I have ever had there in Paraty as well.
#12 – Budapest, Hungary By: Cristina, Lookn Walk
Budapest tells the "tale of two cities", with Buda on one side and Pest on another. Go up Gellert Hill all the way to the Citadella and look across Danube to get a stunning view of the Parliament all the way to Margitsziget. Then move your eyes to the right and see the St. Istvan Cathedral and the bridges which cross Danube. Take a walk on The Chain Bridge, the capital's oldest bridge and then follow the Danube Promenade.
The most romantic thing in Budapest is not something you can do, but how the city makes you feel. And that feeling is "special". The city embraces you and makes you love it. It makes you take your lover's hand in yours and explore the majestic Heroes' Square and walk on the grounds of Vaydahunyad Castle.
#13 – Leukerbad, Switzerland By: Carol, Wandering Carol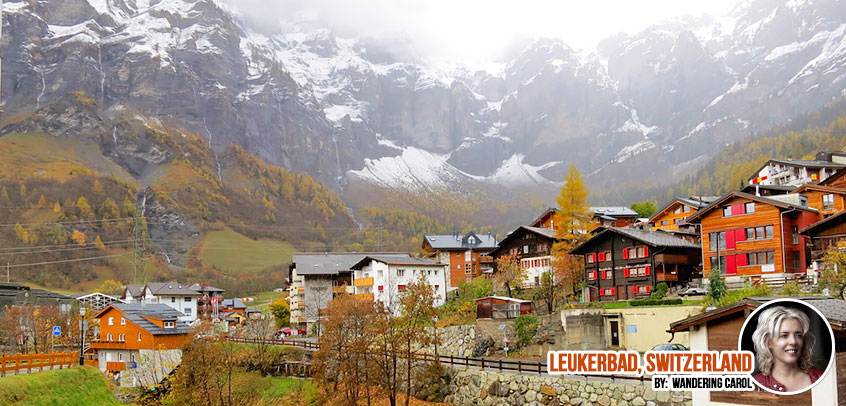 Just over a year ago, my husband and I spent our honeymoon in the Swiss alpine town of Leukerbad. With stunning hiking trails, wood-paneled fondue restaurants and plenty of steaming thermal water to soak in, there is plenty to occupy your day.
Our biggest surprise was going to the Sauna Village in one of the town's bathing complex's called the Wallister Alpentherme, where every sauna is built like a different Swiss-style dwelling and where clothing is forbidden. Once I got over the shock of wandering around with no clothes, I grew to love the various saunas – and it was a unique moment of romance when a staff member came into the sauna my husband and I were sweating in, sprinkled rose oil on the hot stones and began to whirl hot rose-scented air at us.
#14 – Venice, Italy By: Jen & Sean, Venturists
Venice is one of those places that everyone has seen photos of countless times. But it still takes your breath away the minute you arrive. Seeing the gondolas gliding by in this sinking ancient place is a sight like no other. Make your way off the beaten path and you will find sights that are iconic Italian. People lingering together in squares talking and sipping coffee. Life has a slower pace here and when you find that pace, yours begins to slow.
Linger over a fabulous meal sipping wine and watching boats go by as you dine. Wandering through St. Marks Square marveling at the architecture while tasting some of the world best gelato. But the best and most romantic thing to do in Venice is to get lost. You are going to anyway, so enjoy it. In Italy there is the expression: "Il dolce far niente" – The sweetness of doing nothing. Truly romantic and unforgettable.
#15 – Paris, France By: Aileen, I am Aileen
Bet you've seen this coming! But there's a reason why they call Paris as the 'City of Lights, Love & Dreams' and that's because it is. It's really not so hard to be seduced by this city's charm – it's very easy, like love at first sight – most especially when the night starts to creep in. The darkness, partnered with the city lights, clearly help in adding to the wonder and marvel of this place.
The Eiffel Tower and the Champs Elysées are a given, but other than that, go and experience the perfect moment by taking the opportunity to cruise along the Seine. And before the day ends, just take your time strolling through the boulevards to soak everything in—the beautiful architecture, the bustle of the people, and the sound of the city. It will surely strengthen the flame between lovers and singles would enjoy the mystifying allure of it all; besides, in this 'City of Dreams', there's always a chance for romance!
BONUS – Annecy, France
Since Paris is one of the predictable romantic getaways and you might be one of those people who want to discover something 'hidden', then let us give you this bonus spot: a hidden place that's still in the country of France… Annecy!

This quaint little town is a beauty; dubbed as the 'Venice of the Alps', make sure to venture into the older part of town. Go through the stone-paved alleys and be enthralled by the glorious canals, the silence of the city and the charming little shops. If you want to share a taste for thrill, go and book a paragliding adventure since this will reward you not only with the majestic view of the mountains but also with the glorious beauty of Lac d'Annecy—the 3rd largest lake in France and the cleanest of Europe! By the time that the night falls, make sure to hang nearby the lake; the view is definitely mesmerizing!


.

We each have our own interpretation of what's romantic; as they say, it's an experience and a sentiment that is different for everyone. So it's expected that some of you might not agree with some of the places above… However, I do hope that this list had at least gave you a sense of it, or at least an idea as to what you can do to celebrate love (if not seek for it); because in my honest opinion, if you are truly open to the idea, you can find romance anywhere and everywhere!
What other romantic getaways would you suggest?
Would you plan to go to one of the romantic getaways listed above? Or have you already been to some of them? Which ones?
YOU MIGHT ALSO LIKE
Older Post
Newer Post
Hey there! I am Aileen Adalid.
At 21, I quit my corporate job in the Philippines to pursue my dreams. Today, I am a successful digital nomad (entrepreneur, travel writer, & vlogger) living a sustainable travel lifestyle.

My mission? To show you how it is absolutely possible to create a life of travel too (no matter the odds), and I will help you achieve that through my detailed travel guides, adventures, resources, tips, and MORE!

NEW READER? START HERE!
CONTINENTS: 7 ~ COUNTRIES: 59
Join over 1 million people and receive exclusive giveaways, travel tips and so much more!