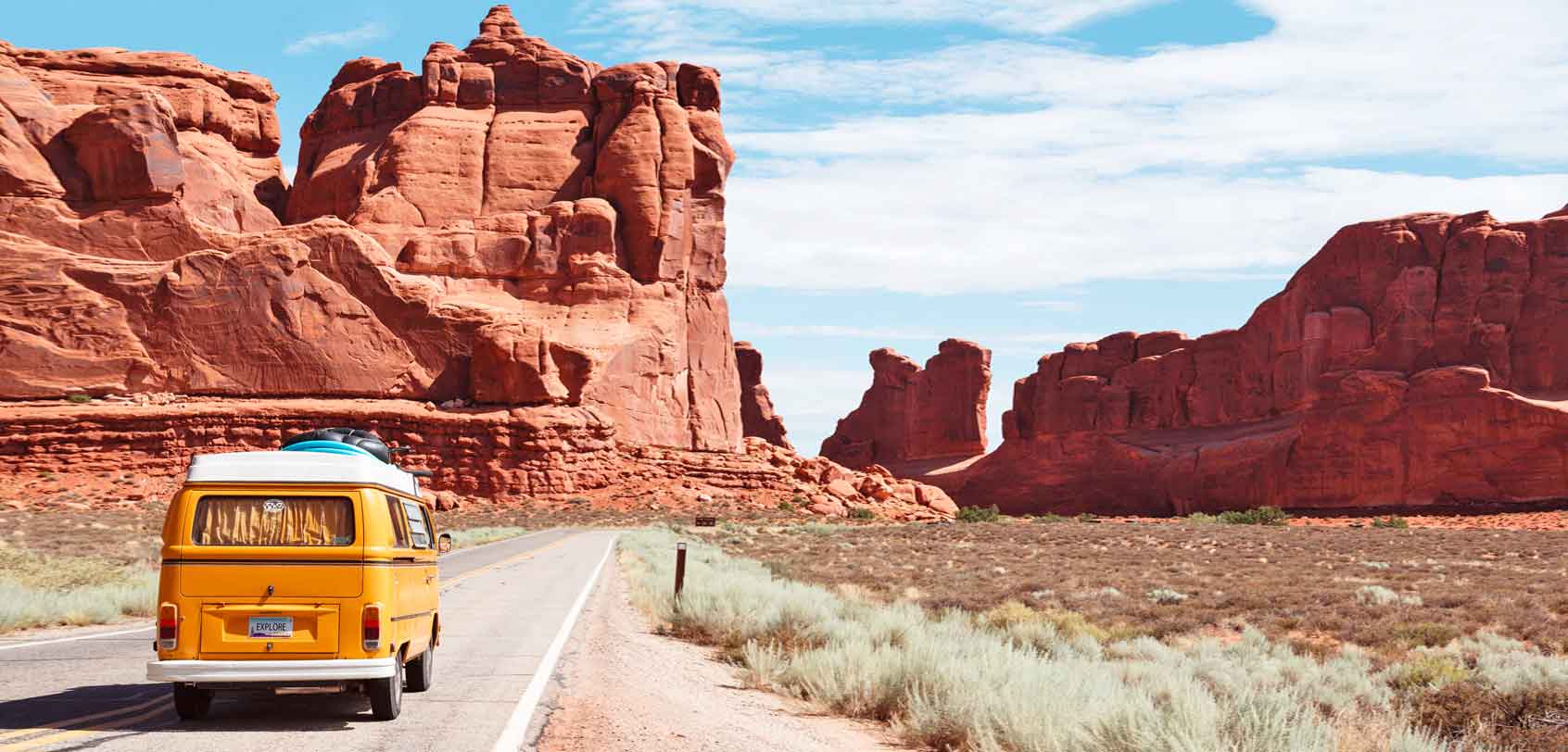 When you go to the United States for a first visit, you would surely want to maximize it, especially if you are visiting using an Esta USA Visa. Without a doubt, you are likely attracted to the "big elephants in the room" — places like Las Vegas, New York, Los Angeles, and many other world-class, most visited cities in the USA.
But these cities, though popular, are not the only great places to visit in the US. There are several other incredible must-see places! San Francisco, Waikiki beaches, the Hawaiian Islands, Florida, etc. are just some of the prime hot spots for vacations and tourism.
Yet of course, the combination of all these picture-perfect destinations makes it hard for travelers to decide where to visit. The good news is, we have done all the legwork on your behalf and we have some suggestions!
Find below our list of great places to go to in the United States for a first visit.
.
10 Best Places in the United States for a First Visit
1. New York
New York City, or NYC as it is popularly known, is home to many landmarks and centers of attractions such as the Empire State Building, Time Square, Statue of Liberty, Brooklyn Bridge, and Rockefeller Center.
These places is but just one of the many things that make New York a center of attraction to tourists around the world. And of course, for vacations, New York City has great restaurants, museums, theaters, and several attractions perfect for relaxation and entertainment.
.
2. Las Vegas

Las Vegas earned the name as being "The Entertainment Capital of the World" owing to the extensive entertainment options available in the city.
After all, it is home to huge resort complexes with each resort distinguished in its unique way of entertaining visitors. Many music stars even call Las Vegas home and play their music to the audience every night.
Plus, there are plenty of surrounding areas within a day-trip distance to the city such as the Valley of Fire State Park, Grand Canyon, and Hoover Dam. So go and pick up your Esta USA Visa and get ready for top-notch entertainment in the city of Las Vegas!
.
3. San Francisco
For singles, families, or couples, this charming West Coast city is a suitable getaway destination. The combination of its beautiful streets, charming sites, great outdoor dining options, fabulous views in the city of San Francisco such a great destination for visit.
You can take a tour of famous places like the Alcatraz, or the Fisherman's Wharf. Take a drive over the Golden gate bridge, or go on a streetcar to explore various locations and sites in the city. In general, San Francisco is a fun place to visit.
.
4. Los Angeles
Among the big cities known for tourism and great vacation possibilities is the city of Los Angeles or LA as it is popularly called.
LA is a city of glitz and glamour being the home for Hollywood while places like Bel Air, Beverly Hills, expose visitors to pop culture. Places like Disneyland attract families while shoppers will find shopping across the Los Angeles area a fun activity.
If you will prefer places to surf and experience fun outdoor activities, there are many beaches around Los Angeles. The summary of it all is that LA offers travelers all types of vacation experiences and it's a vacation destination for all.
.
5. Washington DC
Washington DC should be on everyone's list of places to visit in the United States for a first visit. First things first, the city is the capital of the US as well as the seat for many national treasures in America and famous sites. You could take a visit to the White House as well as the Capitol Building for starters.
The National Zoo and the Smithsonian museums housing over 19 museums and 9 research centers are top picks too. Either way, the city offers an array of options available for the whole family. A larger percentage of its attractions can be enjoyed by everyone but fret not as this is a city for budget-conscious visitors.
.
6. Miami
Florida is home to many great beaches and Miami is one of the destinations hosting many of those.
You'll love how the atmosphere in Miami is different from other cities in the US with the experience of the summertime beach and awesomely warm weather. The city also has a wonderful nightlife with an excellent variety of food. You are bound to practically love everything about this city.
.
7. Seattle
The city of Seattle offers so much to see and do especially when you're in the United States for a first visit. Simply walking around the streets of Seattle is in itself a fun activity for visitors.
The city is home to plenty of quirky museums such as the Experience Music Project Museum. Other prominent sites in the city include the Waterfront, Space Needle, and the Pike Place Market. Within a short drive beyond the city are places of attractions like the mountain landscapes, Hoh Rain Forest, beautiful beaches, all waiting to welcome you.
.
8. New Orleans
New Orleans is a city of mixed cultures. It has around-the-clock nightlife and spicy cuisines that reflect its mixed culture of African, French, and American history. The city is also home to Jazz music and a vibrant live music scene.
Without a doubt, New Orleans is a dynamic, eclectic, and fun place to visit in the United States for a first visit. However, the best times to visit the city are between December and May. The weather is usually hot and stormy from June to November.
.
9. Orlando

The city of Orlando is synonymous with big attractions and parks. Venues like Universal Studios, Walt Disney World Resort, and SeaWorld are big names in the entertainment world located in Orlando.
Adults will love the many park locations, golfing venues, etc. while kids will route for Disney and the entertainment venues. The combination of these places and many other parks and attractions make the city of Orlando the best vacation destination for traveling families.
10. Denver
Denver is the delight of many travelers and tourists because of its great entertainment spots such as the Coors Brewery. To get a full package from the city, take a tour of the Denver Zoo and its many Museums. Other fun stuff to do in the city includes ice-skating, snowmobiling, and tubing.
.
By now, you have an idea of great places to visit in the US. The list goes on, however, you can pick from any of the locations above and you can be sure you will have the best visiting experience.
What do you think of these places in the United States for a first visit?
Which state would you like to visit the most?
Or have you been to any of these before? How was it?
YOU MIGHT ALSO LIKE
Older Post
Newer Post
Hey there! I am Aileen Adalid.
At 21, I quit my corporate job in the Philippines to pursue my dreams. Today, I am a successful digital nomad (entrepreneur, travel writer, & vlogger) living a sustainable travel lifestyle.

My mission? To show you how it is absolutely possible to create a life of travel too (no matter the odds), and I will help you achieve that through my detailed travel guides, adventures, resources, tips, and MORE!

NEW READER? START HERE!
CONTINENTS: 7 ~ COUNTRIES: 59
Join over 1 million people and receive exclusive giveaways, travel tips and so much more!