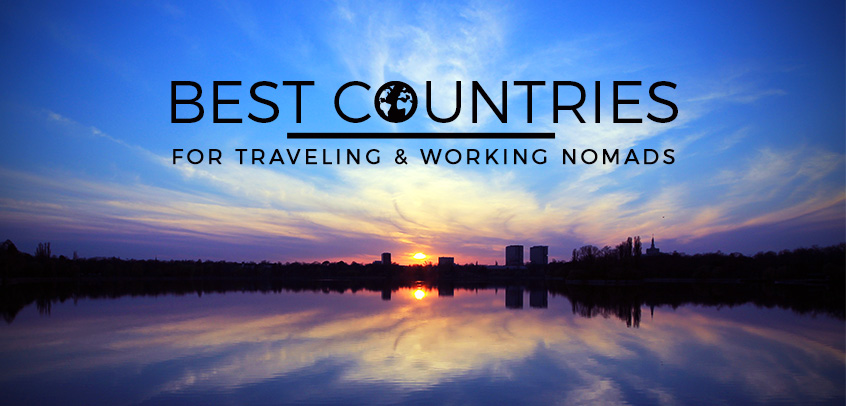 Do you want to move abroad and work remotely as a digital nomad? Do you want to start a traveling lifestyle and country-hop as you go?
For these kinds of decisions, it's always important to identify the best countries in the world so that you can make a well-informed decision for where you will be setting off to. To determine these places, the sample factors that you would surely want to know as dependent on your goals and preferences are the cost of living, the safety 'score', the weather situation, and the internet speed (especially for digital nomads).
However, it could be such a dizzying experience to do all that research for yourself, most especially if you want an up-to-date and unified resource. Fortunately for us though — the traveling and working nomads — this is where the ultimate guide, NomadList, comes to play!
Curated by digital nomads and perpetual travels around the globe, NomadList has come up with a comprehensive website that showcases all the details that you would ever want to know! The data on their site are easily filterable by a mix of the criteria below:
Places (cities, countries, or regions)
City-Type (small city, big city, or mega city)
Visa-Free Places (as based on your nationality)
Cost of Living (low to high as applied to locals, long-term expats, or short-term nomads)
Overall Weather and Temperature (cold, mild, warm, humid, dry, or comfy)
Internet Speed (mbps)
Safety Rating (can rank places that are female-friendly)
Traffic (as measured by TomTom's index)
Air Quality (as measured by AQI index)
One Way Airplane Ticket Price (from where you are located)
Community (English-speaking, friendly, fun, or good nightlife)


.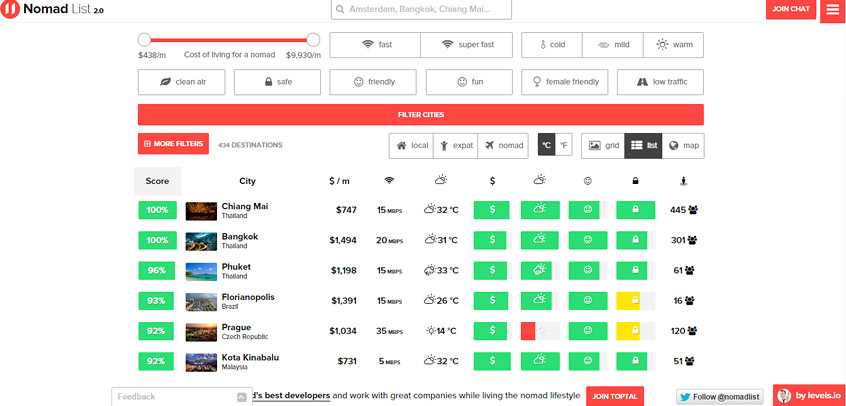 .
Isn't it amazing? Because I think that it definitely is! They even have an algorithm: NomadScore™ that ranks the places based on the summation of the metrics (like cost, weather, etc.). And as a bonus, their website also has a hub for all traveling and working nomads around the world given their dedicated forum and meet-up sections. They also have a lot of other features in store! In fact, the team behind the platform are constantly coming up with new apps and systems to help all the wandering souls out there, so come and visit their site:
To summarize their data…
.
Best Countries In the World for Traveling & Working Nomads
Take note though that this is a summation of all their metrics; which means that it's not only based on cost but also the weather, internet speed, safety, etc.
Czech Republic
Hungary
South Korea
Rwanda
Bosnia-Herzegovina
Croatia
Portugal
Thailand
Serbia
Armenia
If you rather want to know the best cities (since by country takes the area as a whole), then the top-rated ones would be:
Chiang Mai, Thailand
Bangkok, Thailand
Phuket, Thailand
Florianopolis, Brazil
Prague, Czech Republic
Kota Kinabalu, Malaysia
Taghazout, Morocco
Las Palmas, Spain
Oaxaca, Mexico
Budapest, Hungary
Now, if you want to know the cheapest and most expensive countries in the world in order to know what you should take note of and what you should avoid, I will be making use of the data of Numbeo — the world's largest database of user-contributed data on costs and prices around the world.
.
Countries With The LOWEST Cost of Living
India
Nepal
Pakistan
Tunisia
Algeria
Moldova
Egypt
Macedonia
Syria
Colombia
Bangladesh
Indonesia
Georgia
Morocco
Philippines
.
Countries With The HIGHEST Cost of Living
Switzerland
Norway
Venezuela
Iceland
Denmark
Australia
New Zealand
Singapore
Kuwait
UK
Ireland
Luxembourg
Finland
France
Belgium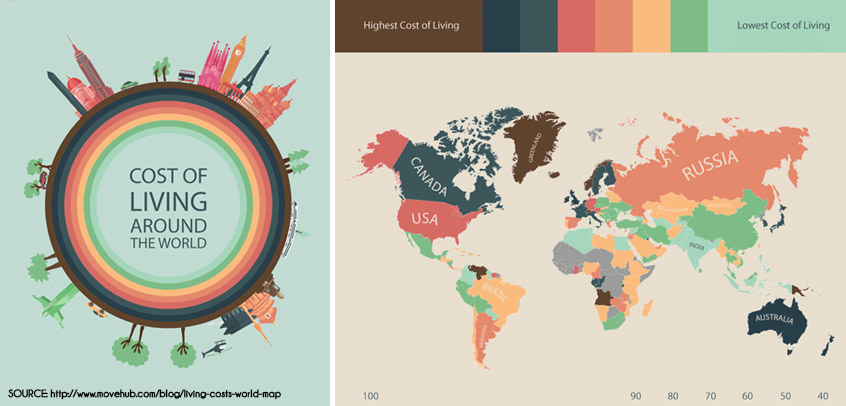 DISCLAIMER: Numbeo's data above is as of January 2015 (which is unlike NomadList's data that is updated regularly). Numbeo also compiled this list with a traveling and working nomad in mind; NOT a person who is looking for an office job abroad, etc. It is also per country as a summary, so chances are, some of the cities or towns in the countries listed above could have a cheaper or more expensive cost of living than that of the above.
With this in mind, it helps then to mainly refer to NomadList's data! And if I may add, if you really want to know the best place to start your nomadic lifestyle, start thinking of ASIA. It's a known fact that most of the countries in this continent do not only have good conditions but very low cost of living as well. What's more is that you'll find a LOT of your fellow nomads there!
TIP: If you're a digital nomad, heed NomadList's advice and head out to Chiang Mai in Thailand! In my opinion, it really is the BEST place for a remote worker like you and me!
PIN THIS!
What do you think about this data? Do you have any comments to add about these best countries in the world?
Have you lived in any of the countries or cities above? How was it?
YOU MIGHT ALSO LIKE
Older Post
Newer Post
Hey there! I am Aileen Adalid.
At 21, I quit my corporate job in the Philippines to pursue my dreams. Today, I am a successful digital nomad (entrepreneur, travel writer, & vlogger) living a sustainable travel lifestyle.

My mission? To show you how it is absolutely possible to create a life of travel too (no matter the odds), and I will help you achieve that through my detailed travel guides, adventures, resources, tips, and MORE!

NEW READER? START HERE!
CONTINENTS: 7 ~ COUNTRIES: 59
Join over 1 million people and receive exclusive giveaways, travel tips and so much more!